Running for weight loss can be one of the most effective ways of losing weight. It doesn't take much equipment, no expensive gym membership plus there's no need to follow a ridiculously low calorie diet. Just strap on a pair of running shoes and away you go.
Yet it's not without it's pitfalls, lose too much weight, not losing enough or even putting weight on. This guide will help you navigate the danger zones, emerging fitter and healthier…
This post contains affiliate links. This means I receive a commission if you make a purchase through my links, but this is no additional cost to you. Please read my disclaimer for more information.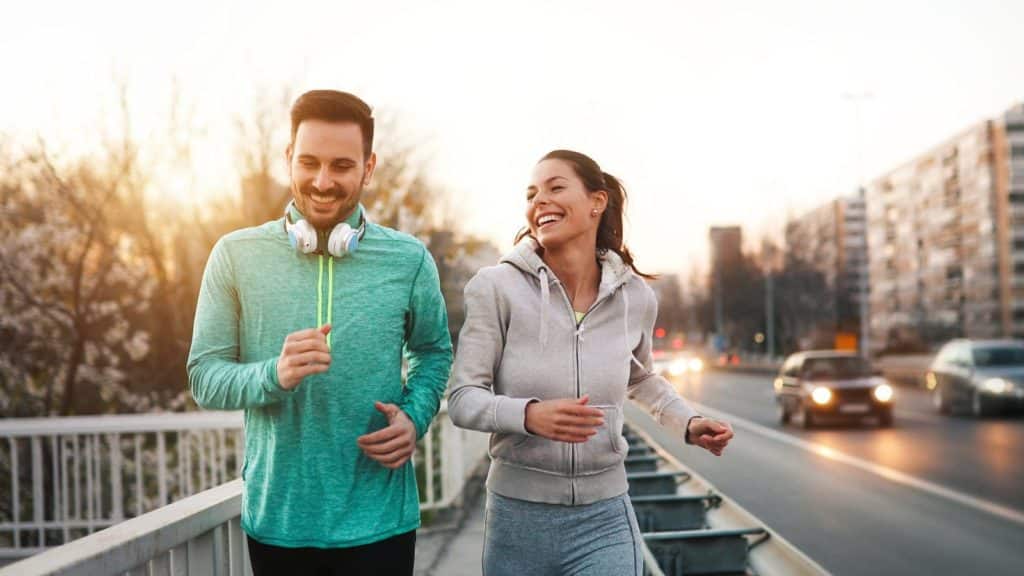 Is Running For Weight Loss Effective?
Running one mile burns around 100 calories. More if you're a heavier runner and less if you're an experienced, efficient runner, but 100 calories is a good rule of thumb. If you want more accurate information, this is a neat little calculator.
Losing weight is just simple maths. In general, it takes 2000 calories a day for women and 2500 for men to fuel their normal day-to-day activity (NHS calorie checker).
One pound of fat (0.45 kg) is equivalent to 3,500 calories, so if you want to burn off one pound a week you need to run 35 miles.
This where running for weight loss plans start to go pear shaped for beginner runners.
35 miles a week is too much for beginner runners
Launching straight into a 5 miles a day/ 35 miles a week training plan is too much for many runners. It's easy to end up injured and unable to exercise with the weight just piling on.
The sensible approach is to build your weekly mileage gradually, swapping run miles for walking in the first few weeks. Walking still burns up to 80 calories a mile if you keep up a fast pace and you're less likely to get injured. Most people can manage walking 5 miles a day. Alternatively the Couch To 5K Program has helped a lot of people start running and provides a steady build up of mileage..
It's easy to overeat.
You're actually getting out running. It's hard work and you're really chuffed with yourself. So what do you reach for as a reward as soon as you complete the run? A glass of water and a healthy apple? A low calorie protein snack to fill you up without blowing your daily goals?
This is where weight loss problems set in. It's easy to think – "Hey look at me! I've just been for a run! Hmm that slice of cake looks good. Maybe I deserve a reward". One hour of running effort and all those good intentions blown on a 500 calorie sticky treat!
Your appetite sky-rockets!
Running can make you hungry! Really hungry! Dragging yourself around those first few runs, as a beginner runner, can leave you starving. It's easy to flip into eating everything on sight.
One way to counter this is to fully hydrate as soon as you finish your run. Water is best. Also pre-plan what you're going to eat. Your body needs to refuel – carbohydrates to replenish your glycogen stores plus a little protein to help your muscles recover.
It can be a good idea to run before your main meal. Finish your run, drink some water to hydrate, than eat a balanced meal as normal. No extra calories.
You cut too many calories
It's easy to trigger starvation mode when you launch into a training plan. You're making your body run, possibly for the first time in years. It's trying to adapt as fast as it can by building muscles to cope with this increase in exercise.
If you cut calories or don't eat enough to compensate for the extra effort, your body may start to resist and go into starvation mode. Your metabolism slows down, your body holds on to everything it can and it's almost impossible to lose weight.
Avoid starvation mode by aiming for a smaller weight loss, maybe even just half a pound per week. That doesn't sound like much but your body will be building muscles. Muscles are much denser than fat and take up less space giving you a leaner more defined body shape. You'll be dropping clothes sizes, (and feeling great), even if your weight loss is slow.
Stick to healthy eating
Some of the trendy diets don't really work for runners. Fat free foods can leave you hungry and the verdict is still out for the low carb keto diet when it comes to the performance for runners. This is the best article I've found about running on a Keto diet.
Striking a balance with moderate carb intake seems to work best when you still want the energy to run. The problem with the Keto diet is it's hard to adjust back to normal eating when you finish the diet. It messes with your perception of what's healthy and a lot of people just pile the weight back on.
Slow and steady weight loss, finding pleasure from daily exercise and being aware of the benefits to your body from healthy eating, these are key to maximising the fun in life. Not restrictive diets, deprivation and being constantly hungry.
Focusing on weight loss can ruin running performance
Sadly, at the top end of athletic performance, feeds the ugly disease of the mind – anorexia. I've known far to many excellent runners take their weight loss too far and end up sabotaging their mental and physical health for the sake of a few pounds.
There's the runner who lost a little weight, started running faster and winning events. In her head, her weight and winning were related. Lose weight – run faster. Eventually she became so thin she no longer had the energy to run.
Or the runner who's relationship with food is so messed up he can no longer enjoy a full healthy meal and every snack is a mental struggle.
Shedding excess pounds can make you run faster but if either of these scenarios reminds you of yourself, it's time to get professional help.
Which Running Is Best For Weight Loss?
When it comes to weight loss, not all running is equal. Basically, the faster you run, the more calories you burn. This is why High Intensity Interval Training (HIIT) sessions are so popular at the moment.
Running intervals increases the calories burned per minute and your body continues to burn calories when you're no longer moving. A popular session for beginners is to run 30 seconds hard and jog to recover for one minute. Try to repeat for 10 intervals. As you get fitter you can increase the number of intervals or reduce your recovery time to 30 seconds.
Fartlek is another good way to boost intensity. It's a Swedish term meaning speed play. Vary your pace during your run mixing up hard and easy running.
Include Strength Training
If you're new to running, your body needs to build muscles to become stronger, run better and avoid injury. These essential exercises work well. Yoga for runners is also a great way to build strength and avoid muscle imbalance.
Plan For Beginner Runners
For complete beginners or runners who haven't laced up their shoes for years, the Couch To 5K is the best place to start. The program builds gradually from mainly walking over the first few weeks, to being able to run continuously for 30 minutes by week 9.
If you're already used to exercise you may want to start at a higher level. Here are some examples of training plans for beginners. The problem is most training plans seemed to be aimed at older age groups or people who never exercise. They completely underestimate the capabilities of beginners who don't fall into these categories.
Bear in mind the comedian Eddie Izzard once ran 43 marathons in 52 days off a 5 week training plan. He was 47 at the time and has since gone on to run similar feats recently completing 29 marathons in 29 days in February 2020. The human body is capable of far more than we give it credit for.
Most people can manage to walk 5 miles a day, especially if they break it down into 2 sessions. Try walking 5 miles a day for the first two weeks then gradually switching walk miles for run miles. It's best to run every other day at first and increase your running distance gradually.
Weeks three and four you could be running a mile every other day and the rest of your miles would be walking. By weeks five and six, this could be two miles every other day and the rest walking. It really depends on your level of fitness starting this program. Just make sure you don't over do it and end up injured. Tune into your body, push when you can and rest when it wants to rest.
Fitting in 5 miles a day is a big time commitment but you can always walk to work, to the shops and try to avoid jumping in the car. Just remember our bodies are designed to move!
---
For me the benefits of running are about more than weight loss. Many runners start off wanting to lose a bit of weight and discover a lifelong sport that they fall in love with. Running can be sociable, help with stress and be a constant source of adventures. Read more about how running changes your body and add your comments below. I'd love to know if running has helped you lose or maintain your weight.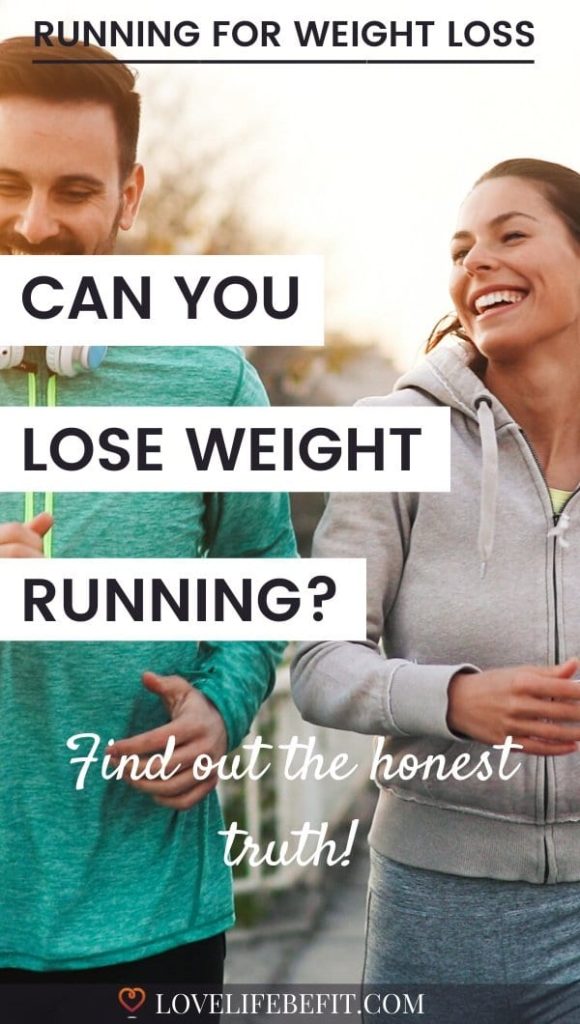 Is running for weight loss effective?
Running is one of the best ways to burn calories. Running just one mile burns around 100 calories. To burn one pound of fat a week you need a calorie deficit of 3500 calories which is the same as running 35 miles. It can be a very effective way to lose weight but it's easy to get hungry from running and replace the calories you've lost by eating more.
How much do you need to run for weight loss?
To lose one pound a week you need to run approximately 35 miles and keep your food intake the same. It can be better to adopt a healthy eating plan as well as taking up running. It's never a good idea to try and go from zero running to running 35 miles a week. Build up slowly.
What type of running is best for weight loss?
All types of running will burn calories. Running faster burns more calories per mile so it can be a good idea to include speedwork in your runs. Interval training boosts your metabolism so the benefits of running continue after you stop.
What to eat when running for weight loss?
You get faster results if you combine running with a healthy diet. Try and keep to the recommended daily intake of 2000 calories per day for women and 2500 calories per day for men if you want to lose weight. If you're trying to maintain your weight you will need to increase your food intake to make up for the calories you burn exercise. Allow around 100 calories per mile. Try and fill up on fruit and vegetables with lean protein and cut back on treats and junk food.