Taking up running will change your life. I mean it. running isn't just a way of exercising, it's joining a community (and not in a scary religious cult type of way). Yet the question most would-be runners want to know is "How running changes your body".
Most of it's good. Really good. But if you're body obsessed, or just trying to get in shape, I'm sure you'll want a few more details. Here's my observations from a life spent running…
You Will Lose Body Fat
It's simple really, weight loss is about the balance between calories in verses calories out. Running is a great way to burn calories. You burn nearly double the amount of calories compared with walking. Develop a regular running habit and you will lose weight.
There is a caveat. Running makes you hungry. If you're running to lose weight, make sure you combine running with a healthy eating plan.
Strength building exercises and high intensity interval training (HIIT) will boost your metabolism AND do wonders for your running.
Your Thighs Will Become Toned
Always wanted to get rid of fat at the top of your thighs? Running is the answer. It's hard to think of any regular runners who don't have toned thighs.
Running gives your legs a terrific workout. Run regularly and your thigh fat will be history.
---
Reading Tips For How Running Changes Your Body
---
---
Your Boobs Will Shrink
This is a downside. To be fair, it's a downside to losing weight full stop. Most women (and men) will lose weight off their chest when they take up running.
You can still have an attractive cleavage. Just make sure you wear a sports bra even if your breasts are small (no-one wants saggy boobs).
You Will Develop Envious Calf Muscles
Best chat up line ever? Walking around a bookstore in Sydney I was asked "How did you get such great calf muscles? You must be a runner!"
Now my calf muscles have been admired by many, but using it as a chat up line was a first!
Running will build your calf muscles giving you shapely legs.
There is a downside. You will no longer be able to fit into skinny jeans, skinny boots or anything that requires stick thin skinny legs. Will it bother you? I doubt it. You'll be too busy running…
Your Arms Will Shrink
This is another downside of losing weight. If you're running intensely, the muscles you're not using will slim down. That means no more arm muscles.
There is a way to prevent weedy arms. Combine running with yoga or any other weight bearing exercise that give your arms a good workout.
You Will Have The Best Butt Ever
Running doesn't just tone your legs, it tones everything below the waist. Think stomach muscles of steal and a butt to die for.
When you run you're really working your gluteal muscles. That means an envious butt without having to hit the gym.
You'll Sleep Better
Physical exercise increases the amount of time in deep sleep and can help with insomnia. The only proviso is to avoid intense activity in the hours before bedtime.
Run earlier in the day and feel the benefits when it's time to get some shut eye. Sleep soundly and awaken refreshed.
You'll Feel Terrific
Running just makes you feel great. It gives you energy, builds confidence and makes you more outgoing. However, when it comes to "How running changes your body" it's about more than just the physical side.
It's a wonderful way of making friends and you'll find yourself enjoying your journey towards becoming a fitter, healthier person.
Being able to move better, run to catch a bus, get the maximum use out of your body, just makes you feel terrific.
---
You'll Become Obsessed With Gadgets
---
You'll Stop Overthinking Everything
The runner's high isn't a myth. Running releases endorphins creating a natural high. This way you get to feel good without any side effects.
It could be the endorphins or just the benefits of exercise, but running creates positive outlooks, helps you stop overthinking and sweating the small stuff. Life's just better when you're running regularly.
---
I hope this insight into "how running changes your body" will convert you to take up running. It's been a big part of my life for years and taken me on all sorts of adventures. I'd love to hear about yours…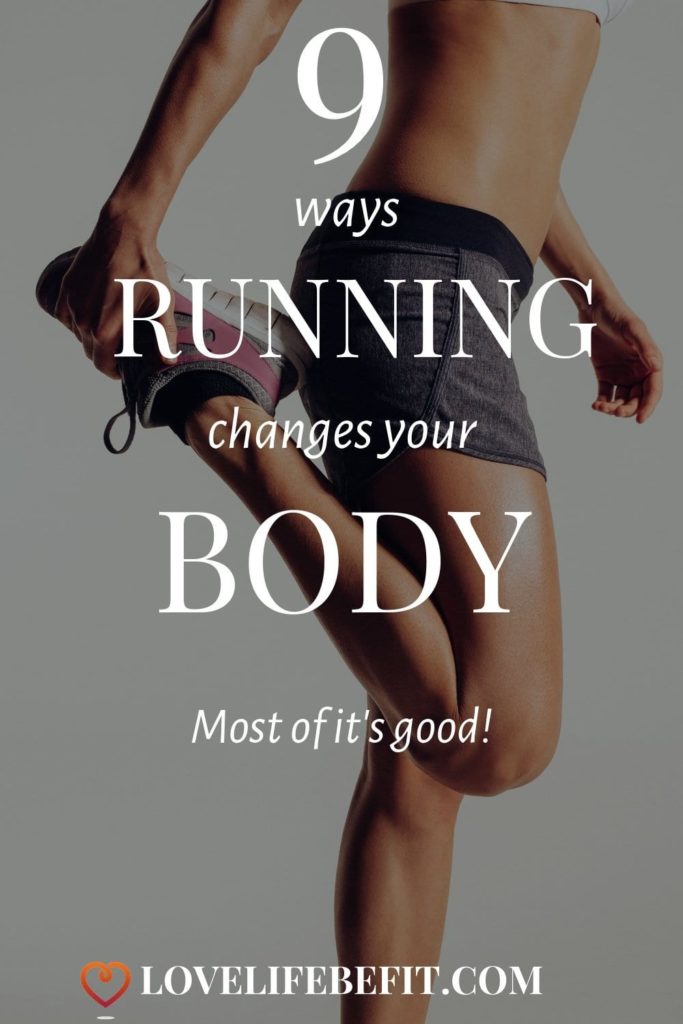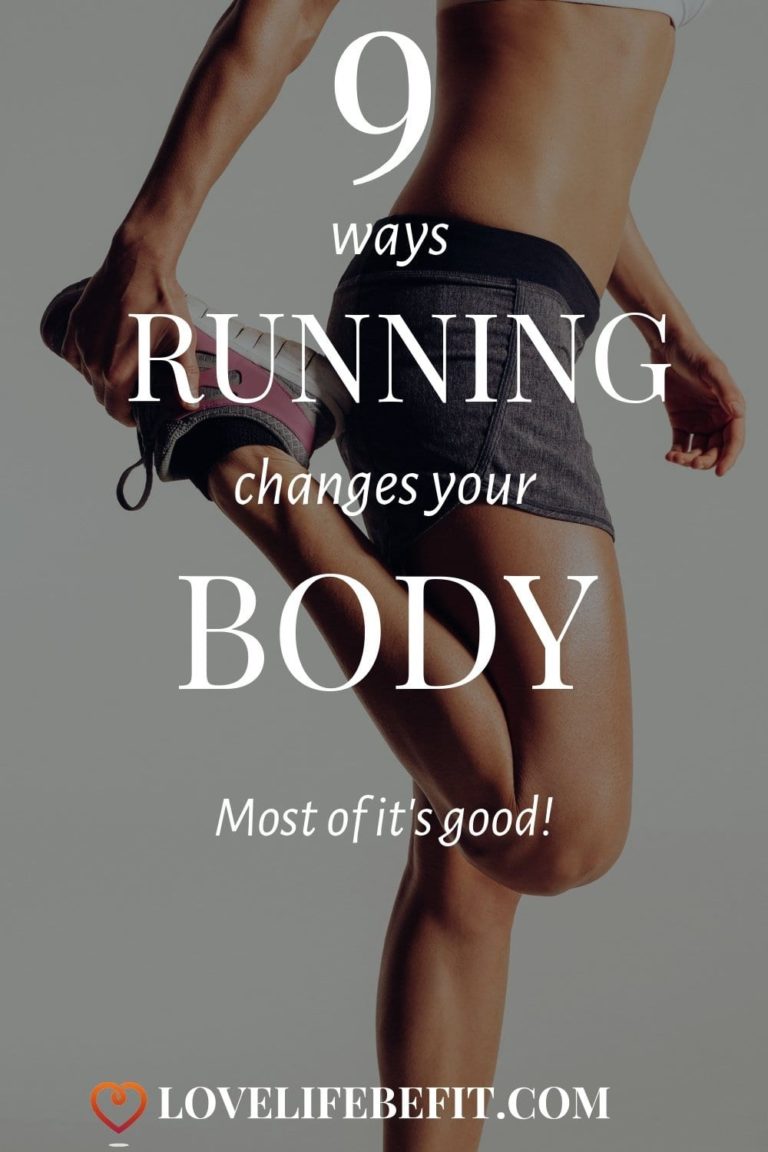 Frequently Asked Questions – How Running Changes Your Body
How running changes your body?
Running is a terrific way to get fit. This cardio exercise will burn calories aiding weight loss. It's best to combine running with a healthy eating plan if you're trying to lose weight. Running tones your lower body, legs, glutes, abdominal muscles. Combine with upper body exercises for all over fitness.
How does running change a woman's body?
Running is a great way to burn calories and can help with losing body fat. However, if you're trying to lose weight, you need to combine running with a healthy eating plan. Running will tone your legs and give you a perfect butt. There's a good chance your boobs will shrink. Running makes you feel terrific. It's not just a runner's high, you feel more energetic, it builds confidence and makes you more outgoing.
Can you get in shape by just running?
Running is excellent cardio and if you combine running with healthy eating you can achieve a really high standard of fitness. But running does neglect some muscle groups, especially your arms, so it's good to add one or two weekly gym workouts, yoga or HIIT to your training schedule.
What happens to your body when you run every day?
It's best for most runners to take at least one rest day a week. Beginner runners should run no more than alternate days. Running every day won't give your body a chance to recover and could lead to injury. Building up to a routine of running just 1 to 2 miles a day is achievable and will have terrific cardio benefits such as reduced risk of heart disease. Running is a terrific way to get in shape.
Will running 2 miles a day tone my body?
Running 2 miles a day will definitely tone your body. For best results combine running with healthy eating. If you're a beginner runner don't jump right into running every day. You need rest days for your body to recover and to reduce risk of injury.
Does running make you skinny?
Running is an excellent cardio exercise. The intensity of the exercise can mean you burn more calories per minute compared with walking, cycling on the flat or swimming. Weight loss happens when you use up more calories than you consume. Running can help you lose weight provided you don't over-eat afterwards. You need a calorie deficit to lose weight and running can be a terrific aid to achieve this.