It's daunting, following your first running plan. Just because millions of new runners all around the world successfully complete Couch to 5K doesn't make it easy. But it's definitely doable – even if you haven't exercised in years and even if you think you hate running. Just give it a try. Commit to at least the first 9 sessions – after that, you might find running enjoyable.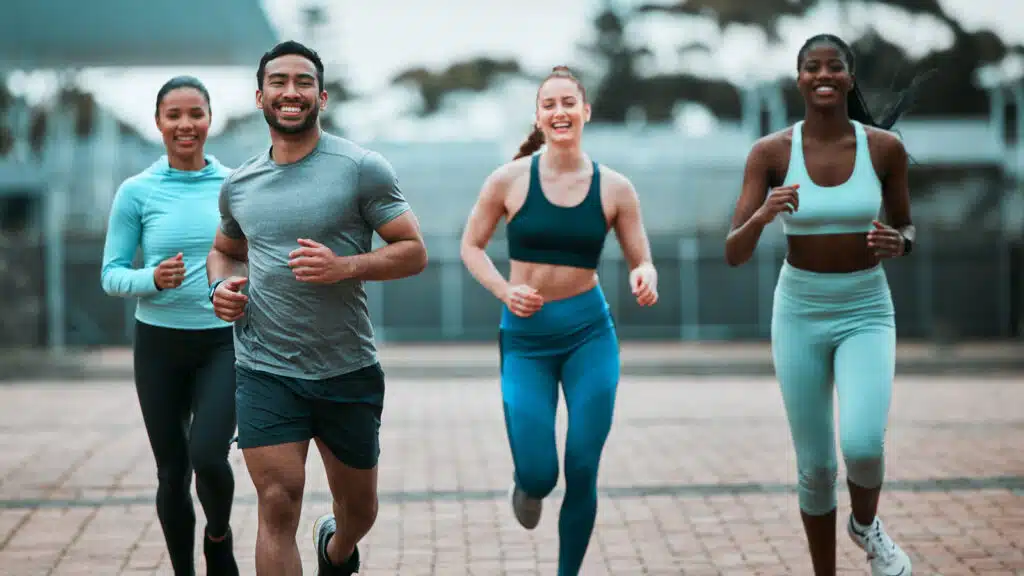 Couch To 5K Tips
Get a head start with these Couch to 5K tips and avoid common Couch To 5K mistakes.
Tip #1 Find A Running Program
Find a C25K plan to follow. An app will give you the most encouragement but if you're old school a written plan works just as well. Choose from one of these Couch to 5K plans – you can run outside or follow a Couch to 5K treadmill plan.
Pick a plan based on your current fitness level. Most people follow the standard 9-week training plan but if you're starting from a very low fitness base – use the 12-Week Couch To 5K Plan.
Related post: How Many Miles Is 5K? Training Plan & Race Tips
Tip #2 Make A Commitment
Tell yourself that no matter how hard it gets you will complete the first 9 sessions. No cop-outs. No ifs or buts. You owe it to yourself. All those times you've thought about how much you'd like to be fit – well this time you're going to do it. Couch to 5K is a great way to get fit.
After 9 sessions you'll be committed. Invested in the program too much to idly pull out. Plus it's normally a tipping point where your body just seems to click and go – oh so this is what running is about.
Tip #3 Buy Some Proper Running Shoes
Think you can run in those expensive fashion trainers you bought on a whim? Think again. You need supportive, comfortable, cushioned running shoes. Did I say comfortable? I'm saying it again.
Go and try some shoes on in an actual independent running store if you can find one. Or if you buy running shoes online, get 2 or 3 pairs, wear them around the house, pick the ones that feel great and send the others back. If shoes feel too tight, rub, or make you walk strangely in your living room, they will only get worse when you try running in them.
Tip #4 Find A Running Buddy
Yes, you can do Couch to 5K on your own but it's so much easier with someone who's equally committed. You will both have bad days but probably not at the same time. Running with someone else will help to get you out the door when you've had a hard day at work, your teenager has just screamed at you or someone ran over your cat.
It could be a friend, or a family member – someone at a similar level of fitness.
Tip #5 It's Not A Competition
Don't go searching for those "I completed Couch to 5K in 4 weeks" headlines. Who cares. It's all about you completing the training sessions at your own pace. Your fitness journey.
Shut out the rest of the world and their performance. You're the star in this running plan. Not Janet in accounts, your brother-in-law, or that annoying neighbor who definitely waits for you to leave the house just so he can run past you shouting lovely day for a run.
Tip #6 The First Few Runs Will Feel Awful
If you start Couch to 5K expecting to be out of breath running and for everything to ache, you've got the right mindset. It will get better. Just get through the first week, then the second week… take one week at a time.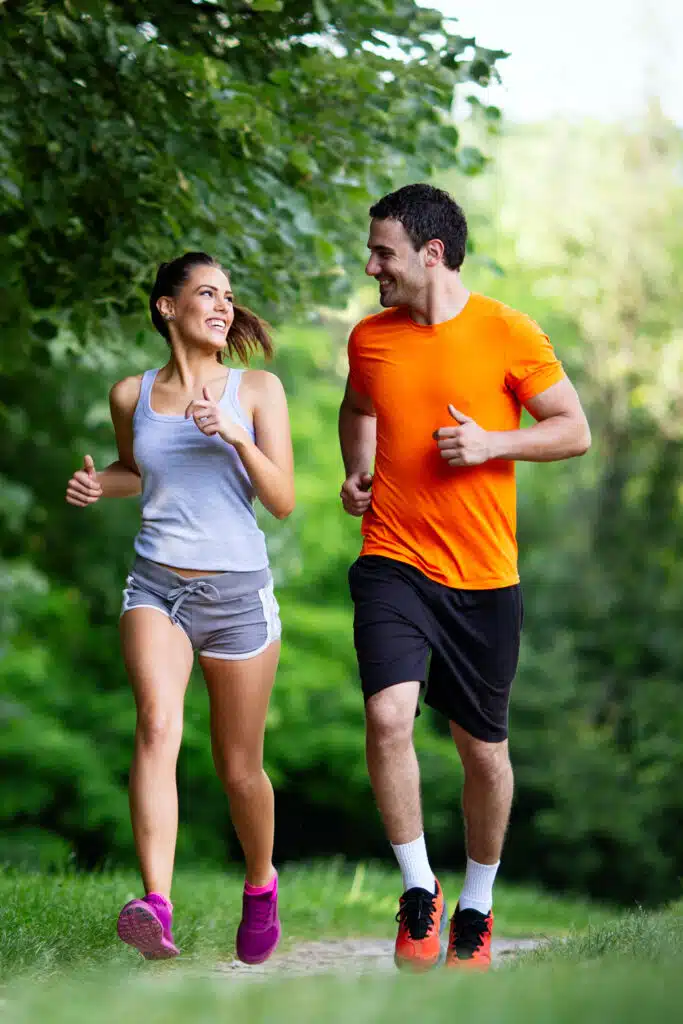 Tip #7 Slow Down
Most people set off too fast. In their head, they're running cross country at school. In reality, it's 10-plus years (20, 30, 40!!) since they pulled on some running shoes. Bodies change. If you're starting this fitness journey to lose weight and regain the fitness of your youth, be patient.
Slow down and stop looking at the pace on your watch. The Couch to 5k plan is about reintroducing your body to running. Speed will come later. Right now you're building the engine of your runner's body.
Tip #8 Repeat A Week
Find a week in the program too hard? It just means you're progressing too fast. The best Couch to 5K tip is to repeat a week when the going gets tough.
Just a reminder, this is your fitness journey. How long it takes to get to 5K has got nothing to do with anyone else. Take as long as you need. If that means repeating several weeks of the program – that's okay.
Tip #9 Don't Expect To Lose Weight
At least not to begin with. If you've started Couch to 5K for weight loss this can be a bit of a blow. But Couch to 5K isn't a weight loss program. It's about fitness and the zillion health benefits of running.
Weight loss is mainly down to keeping to a healthy diet but if you keep your junk food eating in check and try to eat better, running is a great help with weight loss. Just don't expect miracles in the first few weeks. To begin with, your mileage will be low and the calories you're burning won't be enough to make a big difference to your daily calorie burn.
As you get fitter and run further, your calorie burn will increase, and running becomes a terrific aid to losing weight.
Top #10 It's Okay To Walk
Of course, the aim of this plan is to become a runner. To be able to run continuously. But I don't know all about you. You may have health issues and physical reasons that make running continuously for more than 10 to 15 minutes unachievable.
This is a reason a lot of new runners are discouraged when they hit week 5 of the Couch to 5K plan and are asked to run for 20 minutes non-stop. Sometimes repeating week 4 will help, and sometimes all the effort in the world isn't going to get you past week 5 and running for 20 minutes continuously.
Don't despair. It's okay to walk!
The run-walk method was made popular by Jeff Galloway in the 1970s and it applies just as much today. Simply adapt the continuous run sessions to include brisk walking intervals. For example, a 20-minute run could be 9 minutes running, 1-minute brisk walk – repeat.
Keep the walking intervals as short as possible and gradually try to increase the length of your running intervals. The aim is to keep progressing, getting fitter and stronger. If the last few weeks of the Couch to 5K plan don't work for you – adapt the sessions.
People use the run-walk method to cover all sorts of distances from 5K to half marathons and more… all ultra runners will walk at some stage in their races unless they're elite runners racing a road ultra.
Tip #11 Set A Goal
The Couch To 5K Program is about reaching a goal. It doesn't matter how long you take to get there. It does matter that you set yourself a goal of actually running 5K. If possible enter a race. It could be a park run or a friendly fun run but entering a race with other people will make a big difference to your running.
Some people won't enter a race because they're afraid of being last. I've been there and felt the same way. I can tell you from experience that the runners at the back get the biggest cheers!
Tip #12 Enjoy The Journey
I know this is in contrast to my tip about the first few runs feeling awful, but try and enjoy your running. The more you relax into your running pace, switch off from worries of work and family and see your running as #metime, the more enjoyable it becomes. Running isn't just about getting fit and losing weight, it's just as much about reconnecting with your body and realizing what's important in life. Running changes you. Come out the other side of the Couch to 5K plan as a fully fledge runner and it could change your life.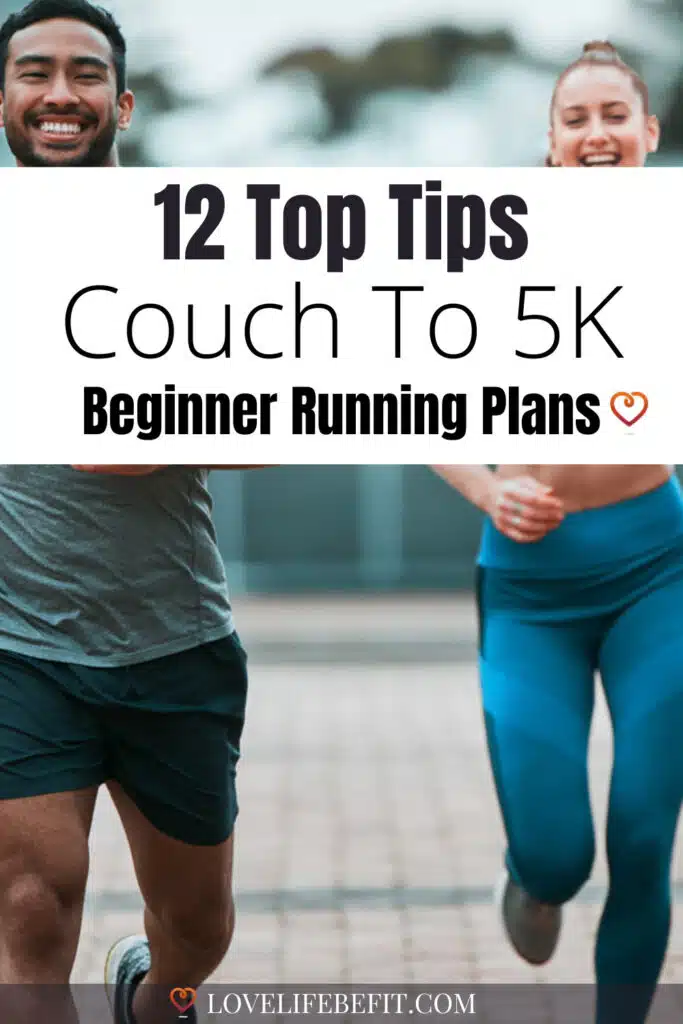 The Complete Couch To 5K Guide
A good starting point for Couch to 5K is this comprehensive guide. Find out everything you need to know about completing couch to 5k from how to warm up before a training session to your running technique.
This site is full of useful information for new runners from buying a decent pair of running shoes for heavy runners to how to breathe while running. Learn about rest days, strength training, the mystical long run, and how to minimize the risk of injury.
The Next Step
Completed your first 5K? Congratulations! You can call yourself a runner.
It's now time to plan your next step. Try to run faster or further. Train for another race, try and complete 10K, or even train for a half marathon.
Running 101 Training Guides & Walking Schedules
5K Training Plans
5K Walking Guides
10K Training Plans
Walking Schedules