How long does it take to run 5K? The time of course depends on your running speed. But it's helpful to have an idea of average 5K times to give yourself a goal to aim for.
The time it takes you to run a 5K depends on many factors, from your age and sex to your fitness level and how long you've been running. This post includes an average 5K time by age and sex chart for different experience levels.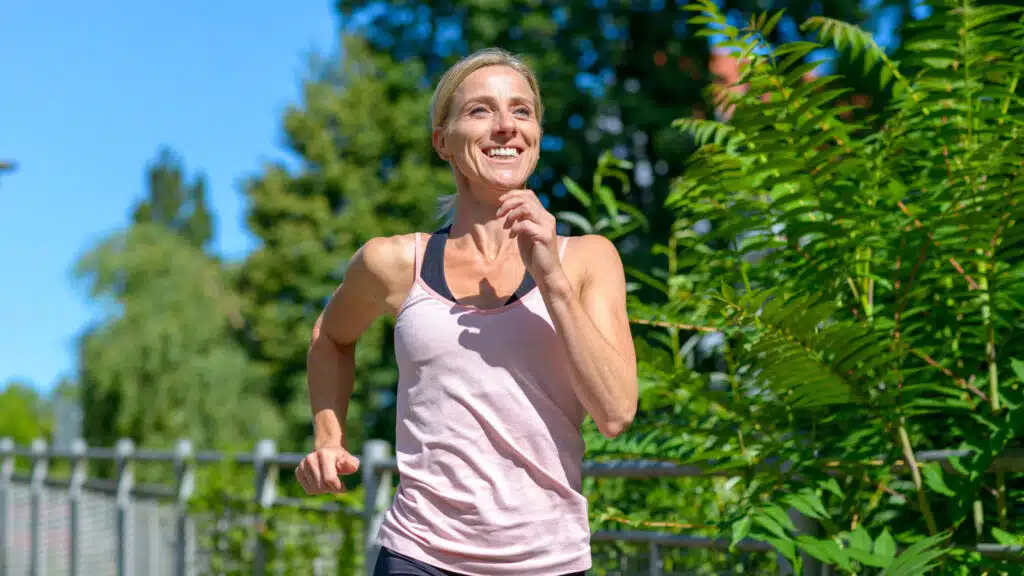 How Long Does It Take You To Run A 5K?
Firstly, running doesn't have to be competitive. Of course, it is at the top end of the sport but for the average person, it should be as much about enjoyment and being healthy.
That said, runners do like to compare their times and gauge how they're doing.
So, how long should it take you to run 5K?
The answer to this question depends on a number of factors:
How long have you been running?
Do you run regularly?
What's your current fitness level?
How old are you?
Your sex.
Your bodyweight.
Appropriate running shoes.
Motivation level on race day.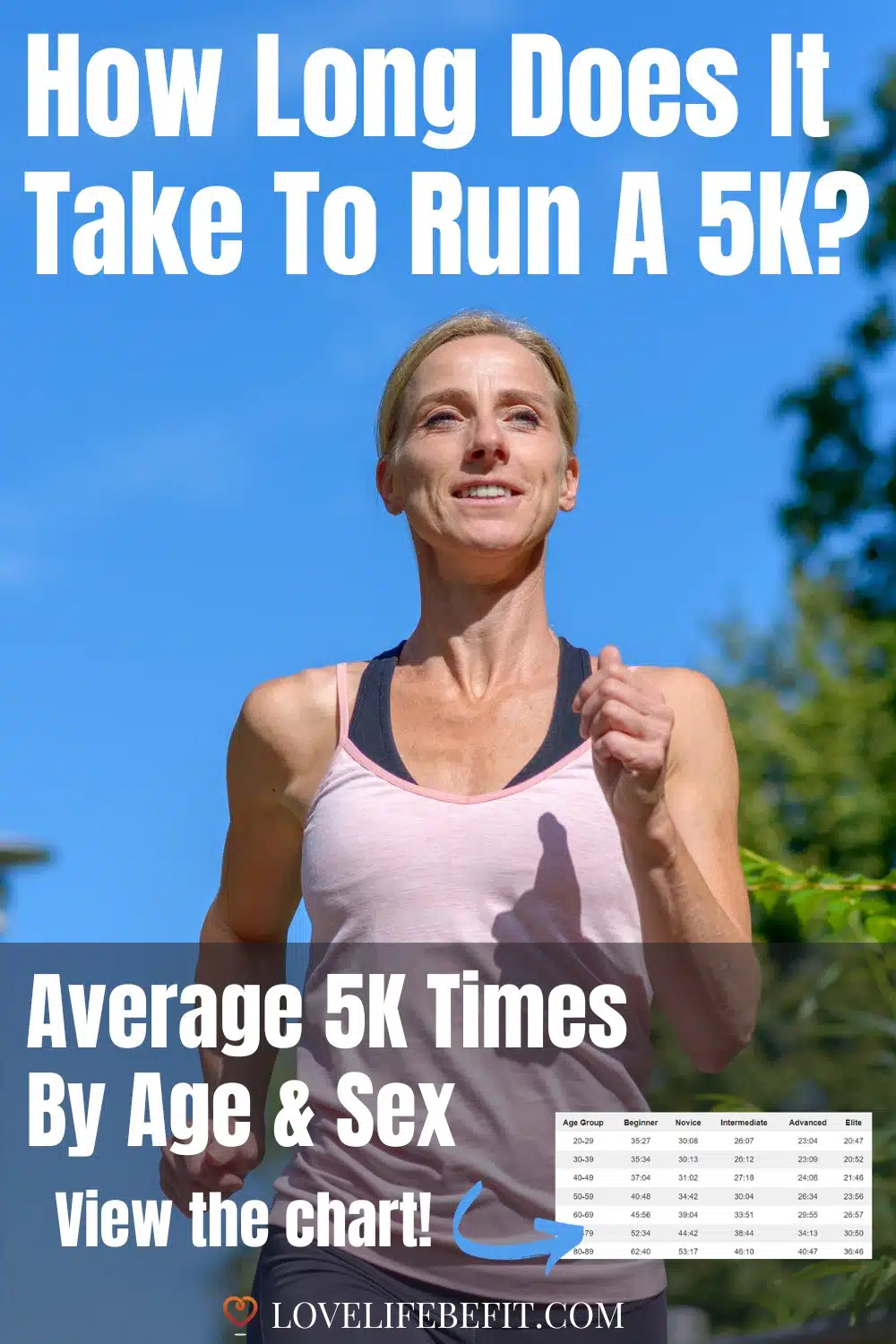 Age and sex (gender) of course are factors you can do little about. The good news is everything else can be changed!
If you follow a training program you can improve your fitness.
Most runners will improve at running as they become more experienced.
Improving your diet (combined with running) will usually reduce excess body fat.
Replacing old shoes can improve your running time.
Good preparation leading up to your race will help with your motivation and race-day nerves!
The weather can make a big difference on the day of your race and so can the course. If it's a hilly route, train for hills and be prepared for hot weather with sunscreen and a hydration plan.
5K Distance In Miles
Before we dive into average times, let's quickly cover the distance itself. A 5K race is equivalent to 3.1 miles.
It can seem a long way for complete beginners and for experienced runners, it's a challenging distance to run at a faster pace.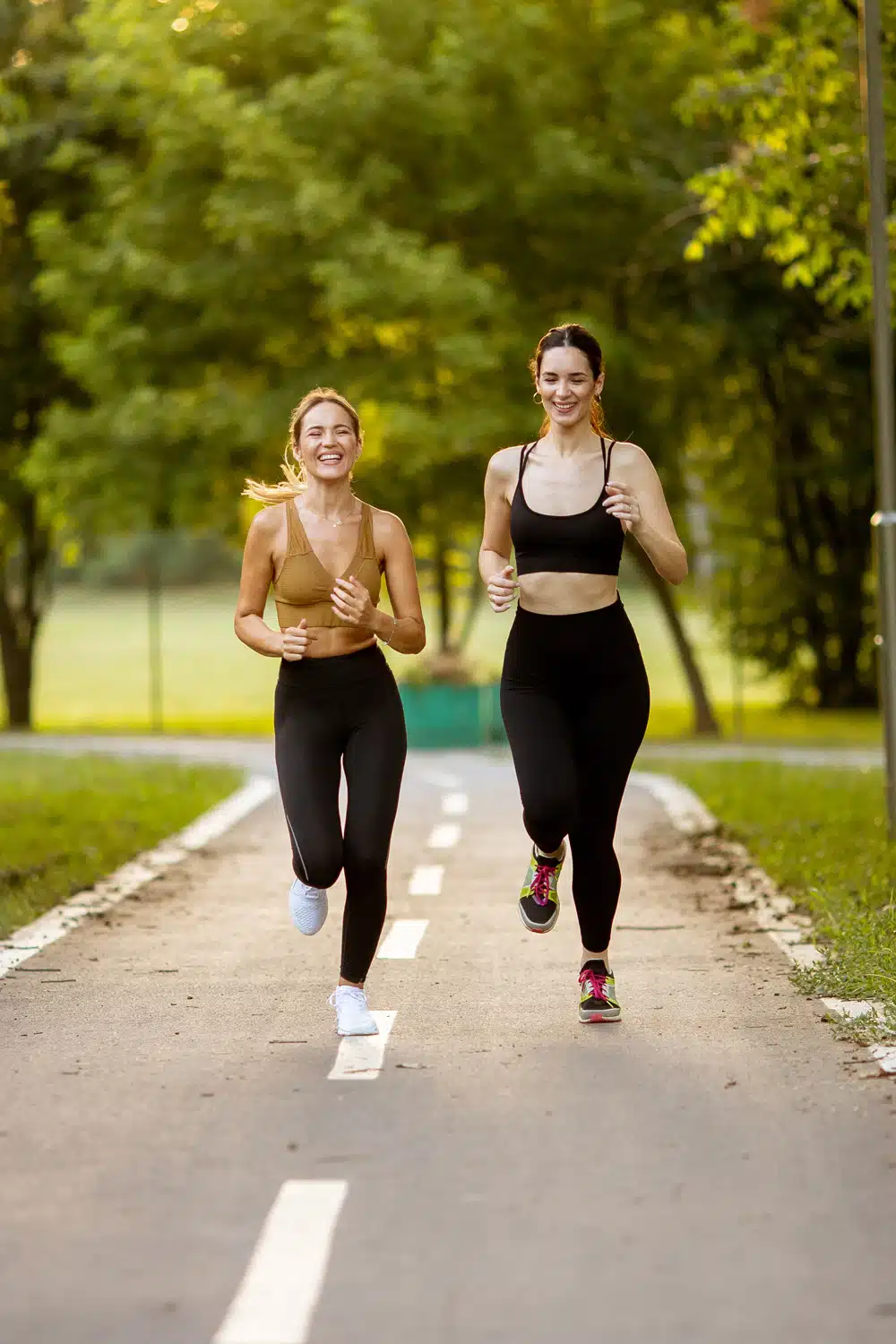 Average 5K Times By Age And Sex
The current world record and the times of advanced runners are in a different league to the average running times.
The world record for 5K is currently 12:449 for men held by Berihu Aregawi and 14:25 for women held by Agnes Ngetich.
(Note: times for running 5000m on the track are faster).
By comparison, the average 5K time for men across all ages and abilities is 22:31 and for women, it's 26:07. Almost twice as long!
But don't be disheartened – age, sex, and experience level make a huge difference to your running times. You may not be running anywhere near the times of an elite runner but that doesn't mean your 5K time isn't good.
5K Times By Age And Sex Chart
These are average times across all abilities and experience levels taken from race times.
Average 5K Times For Women
| | | | | | |
| --- | --- | --- | --- | --- | --- |
| Age Group | Beginner | Novice | Intermediate | Advanced | Elite |
| 20-29 | 35:27 | 30:08 | 26:07 | 23:04 | 20:47 |
| 30-39 | 35:34 | 30:13 | 26:12 | 23:09 | 20:52 |
| 40-49 | 37:04 | 31:02 | 27:18 | 24:08 | 21:46 |
| 50-59 | 40:48 | 34:42 | 30:04 | 26:34 | 23:56 |
| 60-69 | 45:56 | 39:04 | 33:51 | 29:55 | 26:57 |
| 70-79 | 52:34 | 44:42 | 38:44 | 34:13 | 30:50 |
| 80-89 | 62:40 | 53:17 | 46:10 | 40:47 | 36:46 |
Average 5K Times: Female
Average 5K Times For Men
| | | | | | |
| --- | --- | --- | --- | --- | --- |
| Age Group | Beginner | Novice | Intermediate | Advanced | Elite |
| 20-29 | 31:29 | 26:19 | 22:31 | 19:44 | 17:40 |
| 30-39 | 31:44 | 26:32 | 22:43 | 19:54 | 17:49 |
| 40-49 | 33:47 | 28:15 | 24:11 | 21:05 | 18:58 |
| 50-59 | 36:32 | 30:33 | 26:08 | 22:54 | 20:30 |
| 60-69 | 39:46 | 33:15 | 28:27 | 24:55 | 22:19 |
| 70-79 | 44:19 | 37:03 | 31:43 | 27:46 | 24:52 |
| 80-89 | 54:39 | 45:42 | 39:06 | 34:15 | 30:40 |
Average 5K Times: Male
Running Abilities
Beginner: running for at least a month. Faster than 5% of runners.
Novice: running at least 6 months. Faster than 20% of runners.
Intermediate: run regularly for at least 2 years. Faster than 50% of runners.
Advanced: running for over 5 years. Faster than 80% of runners.
Elite: dedicated training over 5 years, running competitively. Faster than 95% of runners.
What's A Good 5K Time For Beginners?
If you're a complete beginner running your first race, aim to run continuously and get to the finish line. That in itself is a massive achievement.
Going from not being able to run more than a few steps to running over 3 miles without stopping is something to be celebrated. Even if you take a few walk breaks – you'll have come a long way since your first teetering steps on a Couch To 5K Plan.
(A little-known secret is it can sometimes be faster to take walking breaks than trying to run the whole distance without stopping. Your body gets a brief and you'll naturally restart running at a slightly faster pace.)
Once you've completed your first 5K it makes sense to aim for a faster time. Just by running regularly, most beginner runners can run under 30 minutes (for men) and under 34 minutes (for women). Add a few minutes extra for older runners over 50.
How To Run Your Best 5K Time
This site is full of tips to help you train for a 5K and run your best times. These are some of the steps you can take to improve your PR.
Follow a training plan. This is so important for keeping your training on track and making sure you improve gradually without overdoing it and risking injury. It will also help with your motivation. Download our full set of training plans.
Weekly interval training. Interval training is essential for improving your speed. Running at a challenging pace over a short distance will help you run faster. It's not recommended for beginners but it's an important part of our Intermediate 5K Training Plan.
Running regularly is essential to improve as a runner. The best runners will run at least 5 days a week.
Strength training. All runners can benefit from strength training – even beginners. Improving your muscle mass, particularly leg and core muscles will make you more resilient as a runner preventing injuries and helping you to run faster.
Get a running coach. A coach will help identify your weaknesses, help with motivation, and tailor your training plan to suit your current running ability. Alternatively, join a running club and benefit from the advice of other runners.
Cross training. Most runners benefit from cross-training. Find out more about cross-training for runners.
The weekly long run. Advanced and intermediate runners will benefit from a weekly long run. When you run long and slow once a week, it's easier to race short and fast. The race distance will seem short when you're capable of running at least twice the distance.
Many runners step up the distance to 10K or a half marathon after their first 5K race. But improving your 5K time is a good challenge. If you can run faster, you'll be in a better position to tackle longer distances.
Running 101 Training Guides & Walking Schedules
5K Training Plans
5K Walking Guides
10K Training Plans
Walking Schedules