The original Couch To 5K training plan is 9 weeks. This 10 Week 5K Training Plan gives you an extra week to prepare for race day. It's a plan for complete beginners and will ease you through the first few weeks of running.
If the thought of running terrifies you – relax. This plan uses run-walk intervals to make those early training sessions more manageable. If you can already walk at a brisk pace for at least 20 minutes, this free training plan is for you.
This 10 week training plan will help to build your runner's body. You'll get stronger and build your running endurance until you can run continuously.
Follow the plan and make it to the finish line of your first race!
This guide covers:
How far is 5K?
Can you train for a 5K in 10 weeks?
5K training for beginner runners
Our 10 Week 5K Training Plan for Beginners
Let's get started!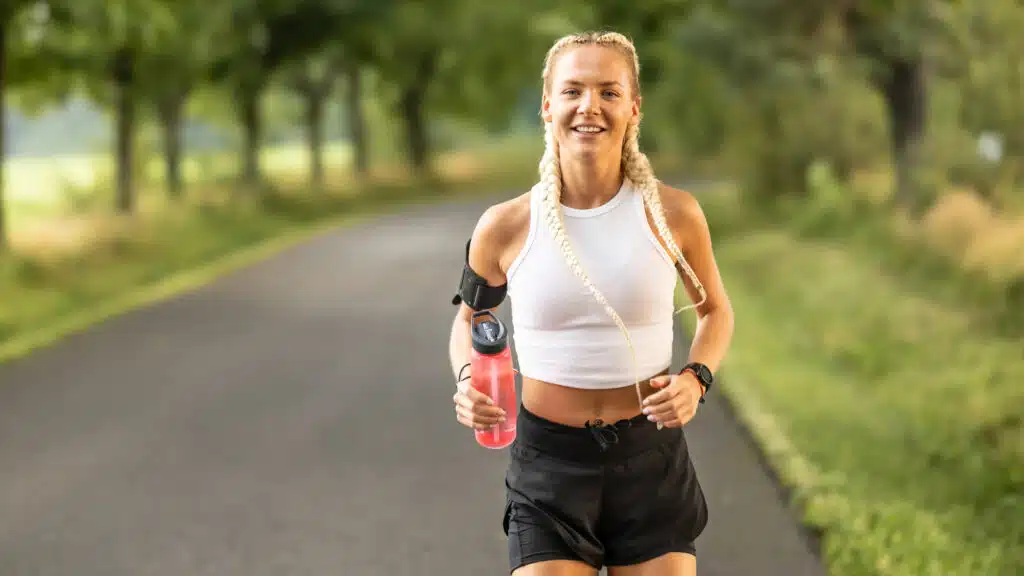 How Far Is 5K?
The "K" stands for kilometers a unit in the metric system. 5K represents 5000 meters.
If you're more used to miles, 5K in miles is 3.1 miles.
Can You Train For A 5K In 10 Weeks?
Irrespective of your current fitness level, 10 weeks is adequate to train for a 5K race and run the race without stopping. Provided you complete all the training sessions and run the race at an easy pace, you'll be able to run continuously.
This 10-week 5K training plan is for complete beginners who can walk at a brisk pace for 20 minutes. If you want to take a little longer, try our 12 Week 5K Training Plan.
If a brisk walk for 20 minutes is challenging try our Couch To 5K Walking Plan instead. Train to walk your first 5K then complete a running plan as your next step. If you find brisk walking easy, you may be ready for our 8-week 5K training plan.
If it's a long time since you last exercised, you're carrying a lot of excess weight, or have any existing medical issues, get checked out by a health professional before you start this plan.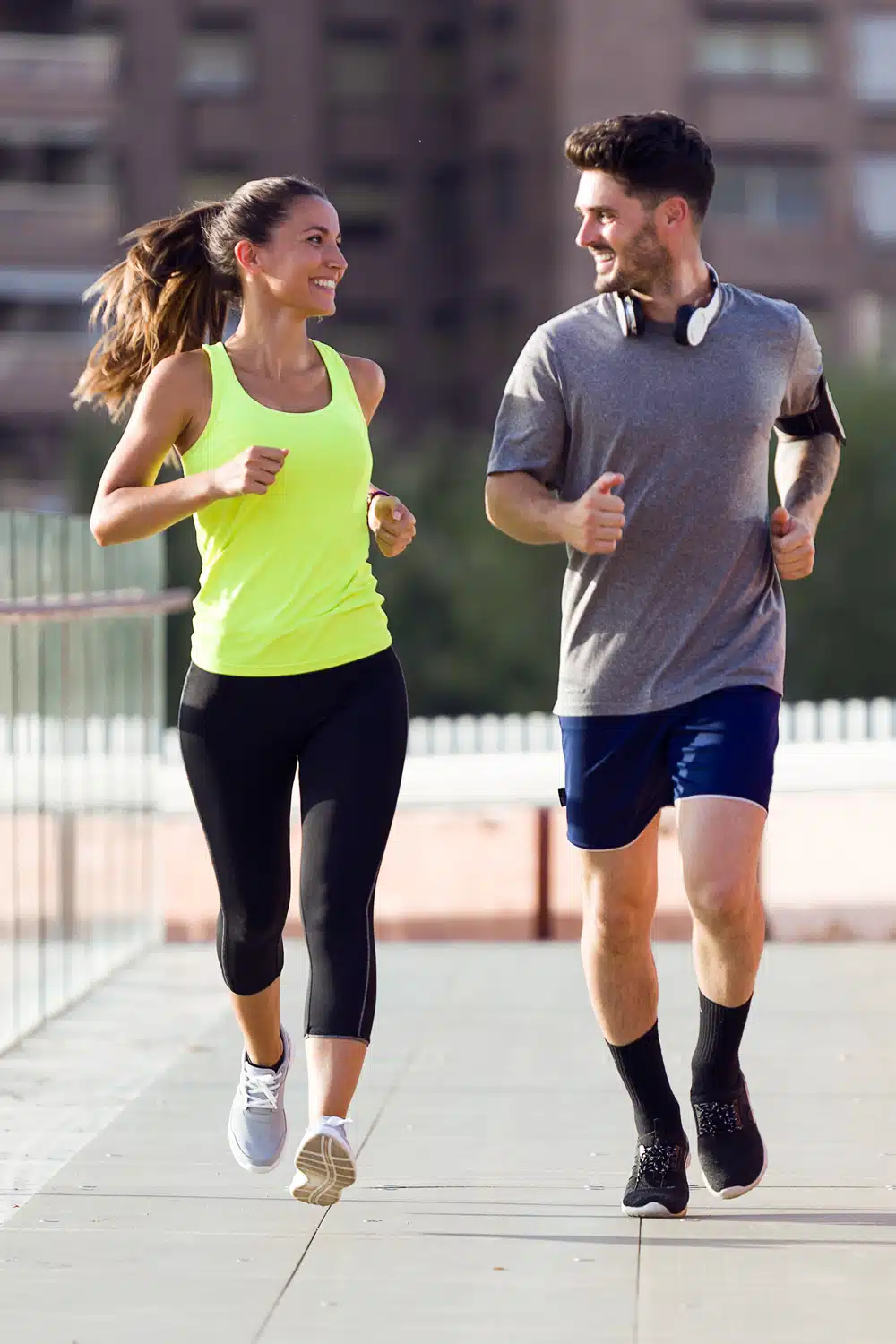 5K Training for Beginner Runners
For your first 5K, your aim is to run consistently to the finish line. It's not about running performance and race times.
Most beginner runners will take 30 to 40 minutes to run 5K but there's no shame in taking longer. Average 5K times vary based on your age and sex. The runners at the back of the race always get the biggest cheers!
Warm Up
Always warm up with a 5-minute brisk-paced walk. You can also try dynamic stretching to get your muscles moving and improve your range of motion.
Running Sessions
Run at a conversational pace where you can run and talk at the same time. If you find yourself getting out of breath – slow down!
The sessions are based on running time rather than distance. This way all new runners spend the same amount of time on their feet no matter how fast or slow they run.
Long Runs
Runners typically include one long run a week in their training plan and we introduce this concept in week 6 of the training plan with a 20-minute run.
By week 9 your long run will be 35 minutes. For some people, this running time will equal 5K in distance but for others, it will be a little less. Don't let this concern you – on race day adrenaline will help you dig deep and complete the 5K course.
Always run your long runs at a consistent steady pace. Start running slowly at an easy pace.
Cross Training
The two cross-training sessions a week are an important part of your training plan.
You can cross-train by walking, cycling, swimming… just about any activity that keeps you active for about 30 minutes. Find out more about cross-training for runners.
If you're tired or sore after a running session, just go for a gentle walk. Moving will help ease your muscles and tendons.
Rest Days
There are two rest days a week – don't skip them! Rest and recovery are important. If you feel sore from running you may need to take an extra rest day.
As a general rule, if the soreness eases off during your warm-up it's normally okay to continue training.
Actual pain is a red flag. Get any persistent niggles or painful areas checked out straightaway by a physiotherapist.
Strength Training
Making time for strength training will help you avoid the typical running injuries experienced by beginner runners.
Aim for 10 to 15 minutes twice a week of these bodyweight exercises for runners. Add them at the end of your cross-training sessions.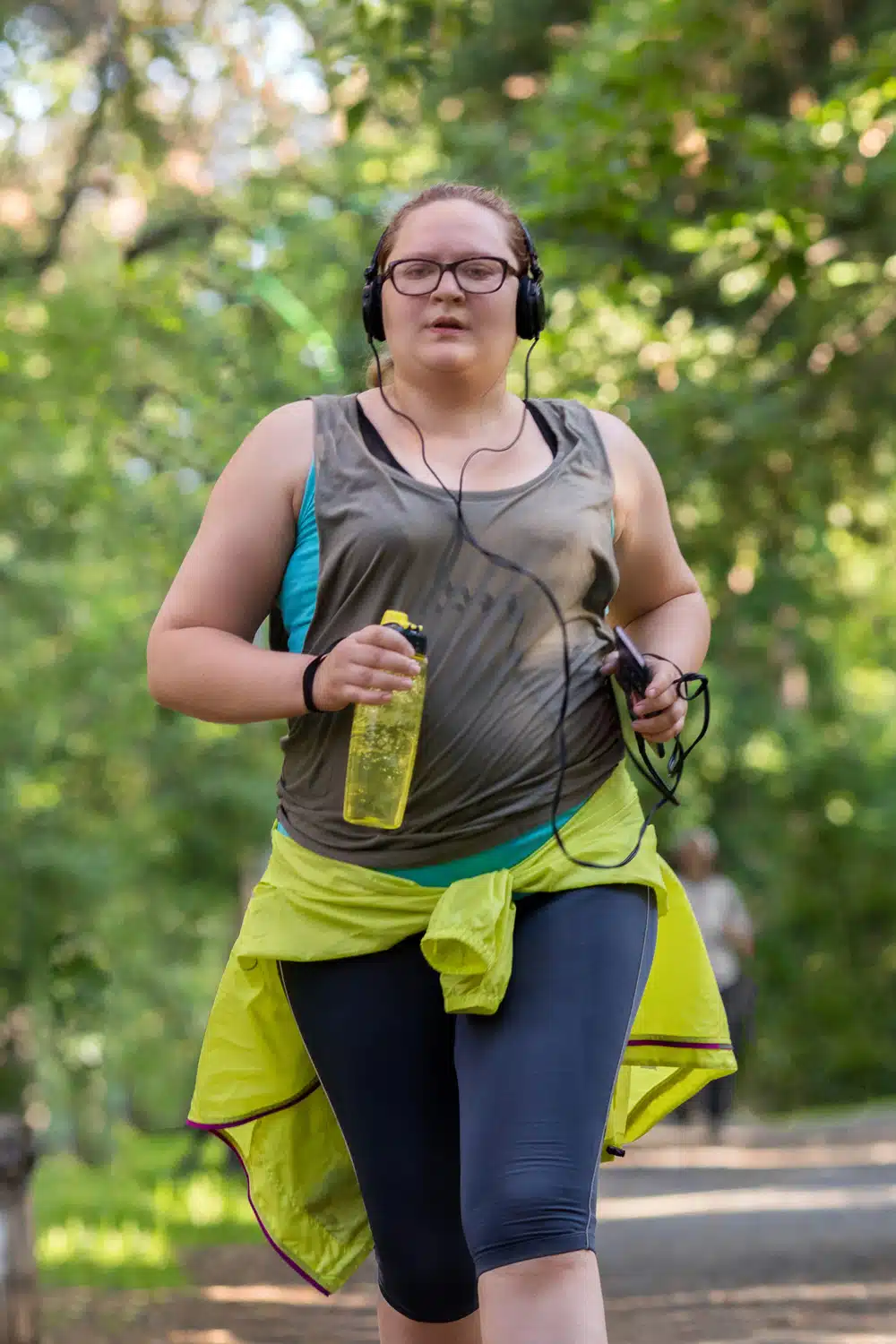 Our 10 Week 5K Training Plan For Beginners
Lace up your running shoes – it's time to start running! This plan will get you to the starting line in the best possible shape.
For your first race, the aim is to run consistently – a fast race pace can come later when you're a seasoned runner. Aim for easy running.
As you adapt to running and improve your leg strength, you'll naturally start to run faster.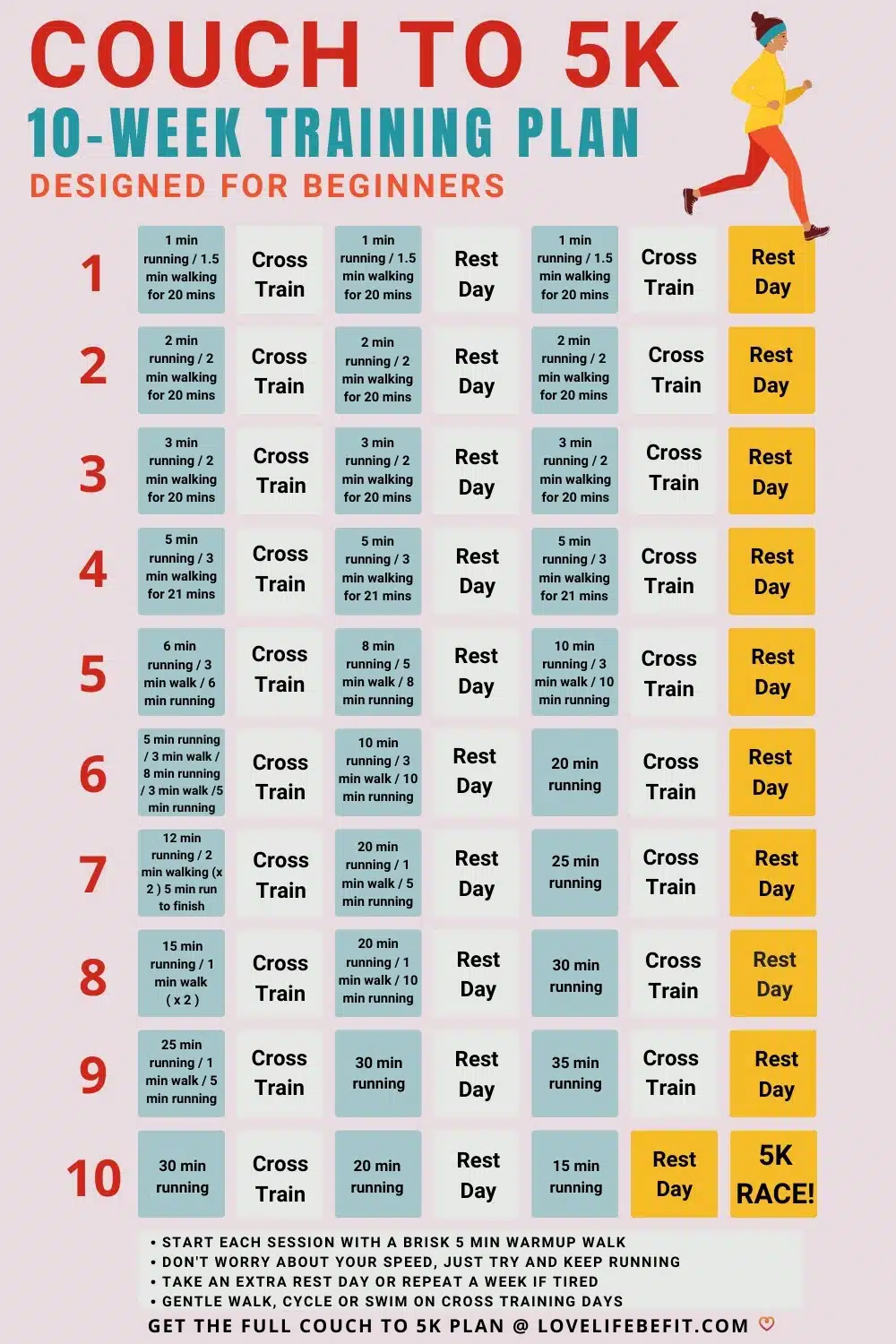 Advice From Love Life Be Fit
Enjoy your race and remember to celebrate when you cross the finish line! When you've completed your race, set a new running goal. We suggest running a few more 5K races before stepping up the distance to 10K or even a half marathon.
It's good to build a running base when you're a new runner with 3 to 6 months of solid running at an easy pace before working on your performance and running speed.
Other training plans in this 5K series include our 6 Week 5K Training Plan and our 4 Week 5K Training Plan.