Running is one of the easiest and most accessible ways for you to get fit. As the New Year approaches, I know many of you are all thinking of the latest resolutions to get 2023 off to a bang.
For anyone that's overweight, there may be some concerns. Is running suitable for you or not? The good news is that it is definitely fine for overweight people to start running – just check in with your doctor first.
However, you do have to think about certain things before you get started. Mainly, you need a decent pair of running shoes that provide you with enough support when you run. Get this wrong and there's a risk of running-related injuries such as knee pain, shin splints, and the dreaded plantar fasciitis.
Lucky for you I used to run an outdoor store and I've had a lot of time to research the best options for heavy people. If you scroll through this guide, you'll find the best running shoes for heavy runners that you can buy right now.
If you're eager to see the shoes and nothing else, take a look at the top picks. But read on for the answers to some questions explaining why your choice of running shoe is incredibly essential!
This review is based on my own independent product knowledge and testing. If you like what I do, you can support me through my chosen links. I may earn a commission but it's at no additional cost to you. Learn more about my product recommendations.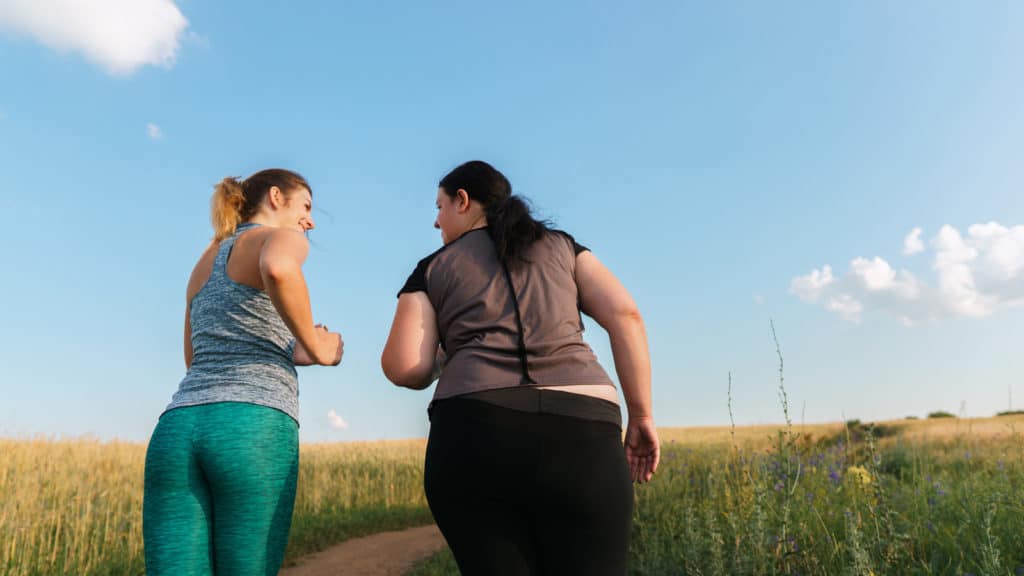 My Top Picks For Road
Best for cushioning: Hoka One One Arahi 5 at Amazon
An insane amount of cushioning that's just right for the heavier runner.
Best for support: Asics Kayano Lite 2 or Asics Gel-Kayano 28 at Amazon
Two great support shoes with very different approaches: the Kayano Lite 2 is a modern shoe relying on its unique geometry for a more natural feel while the Gel-Kayano 28 is the tried and trusted traditional approach to support.
Best for budget: Saucony Cohesion 14 at Amazon
A good beginner's shoe with lots of cushioning for both walkers and runners.
Best for motion control: Brooks Adrenaline GTS 21 at Amazon
Maximum support for overpronators in a reliable shoe with a long heritage.
My Top Picks For Trail
Best for cushioning: Hoka One One Challenger ATR 6 GTX at Amazon
The brand Hoka One One has revolutionized comfort with its high stack oversized shoes.
Best for budget: Asics Gel-Venture 8 at Amazon
Durable trail running or walking shoes with good cushioning.
Best for traction: La Sportiva Mutant at Amazon
An excellent grippy sole, lots of cushioning, and great stability on challenging terrain.
Does weight affect running shoes?
Yes, yes, I know you're all wondering why this post specifically targets heavier or 'overweight' runners. Surely the best running shoes for lighter people are still the best ones for heavier ones? Well…no, that's not always the case.
Does weight affect running shoes? Absolutely.
How?
Mainly, it's all to do with your feet. According to the trained pedorthists, Foot Solutions, in an ideal runner's body, our feet act as natural shock absorbers.
As your foot hits the ground, the toes flex pulling up the arch of your foot so it's at its highest. As your weight comes onto your foot your toes press down and your arch flattens out. This helps spread the impact shock across your entire foot.
Feet absorb shock in three different ways. First, by pronation. This is the motion of your foot during the gait cycle, as you land and take off again. The foot hits the ground on the outside edge of your foot and rolls inward to absorb shock and support your body weight.
Secondly, the traverse arch under the ball of your foot flattens out. The traverse arch runs across the five metatarsal bones in your foot. As it flattens, it can widen the ball of your foot by as much as 15%.
Lastly, shock is absorbed by your toes splaying out. This also provides a greater area of contact with the ground and helps with stability – less chance of a sprained ankle.
If you're heavy, you're hitting the ground with extra force and your feet may need some extra help. Your typical lightweight cushioned running shoes may not be up to the job.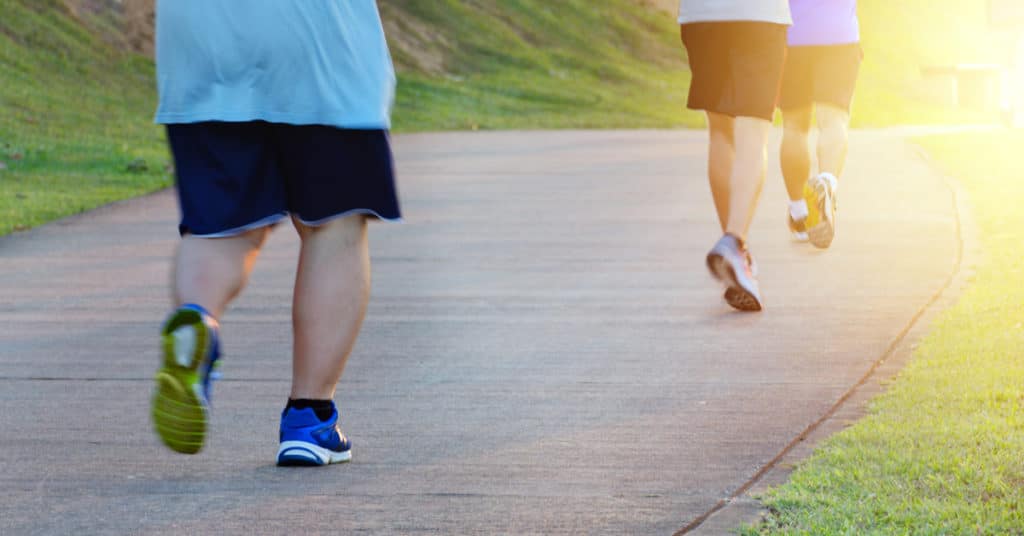 Heavier runners need denser cushioning.
Typically, lightweight running shoes come with a stack of soft cushioning. This part of the shoe is called the midsole.
Often a heavier runner will bottom out this soft cushioning, hitting the pavement with each footstrike. That's not much help with shock absorption!
Now running shoe technology is improving all the time, but in general, a heavier runner will need a denser midsole. That does make your shoes a bit heavy but the extra weight is going to be worth it when it stops you from getting injured.
Heavier runners may need more support.
Okay. Let's explain stability shoes and motion-controlled shoes because it's a topic everyone finds difficult. Even I do and I spent years selling running shoes. It doesn't help that there's a lot of wrong information out there!
We've talked about the ideal runner and pronation where the motion of your foot as you hit the ground and push off again helps to absorb shock. The problem is most of us aren't ideal.
All runners, whatever their weight can be classed into three different types: neutral runners, overpronators, and underpronators (also called supination).
Neutral runners or neutral pronation means that when you land on the outside of your foot and your foot rolls inwards to absorb shock, it doesn't roll too far.
The impact forces are absorbed across your entire foot, your arch provides stability and your knee stays neutral in the center of a theoretical line drawn from your hip to the midpoint of your foot.
Unfortunately, most of us don't have a perfect gait, and our foot rolls in too much. This is called overpronation and can affect your knee alignment. Possible consequences can be all sorts of issues with your knee and hip joints.
The shoe industry has come up with two solutions:
Stability shoes
Stability shoes support the arch of the foot. They can be slightly stiffer and heavier than neutral shoes.
Motion-controlled shoes
Motion-controlled shoes take pronation control a step further. Instead of just providing arch support, they have additional heel cup support and other features to control the motion of the foot through the gait cycle. These can be stiff and heavy shoes.
Heavier runners who overpronate normally need motion-controlled shoes.
Why?
Because the impact forces with heavier runners are greater. Standard stability shoes won't give you enough support and you'll bottom out the cushioning.
Running shoes for supination
It's less likely as a heavier runner that you'll struggle with supination – more on that later – but it's still a possibility.
Supination is when your foot doesn't roll inwards enough and you're pushing off through your little toes. This places a huge strain on your ankles and the bones of your feet.
The best shoes for supination have extra cushioning. As a heavier runner look for shoes with a thick amount of dense cushioning to relieve some of that strain.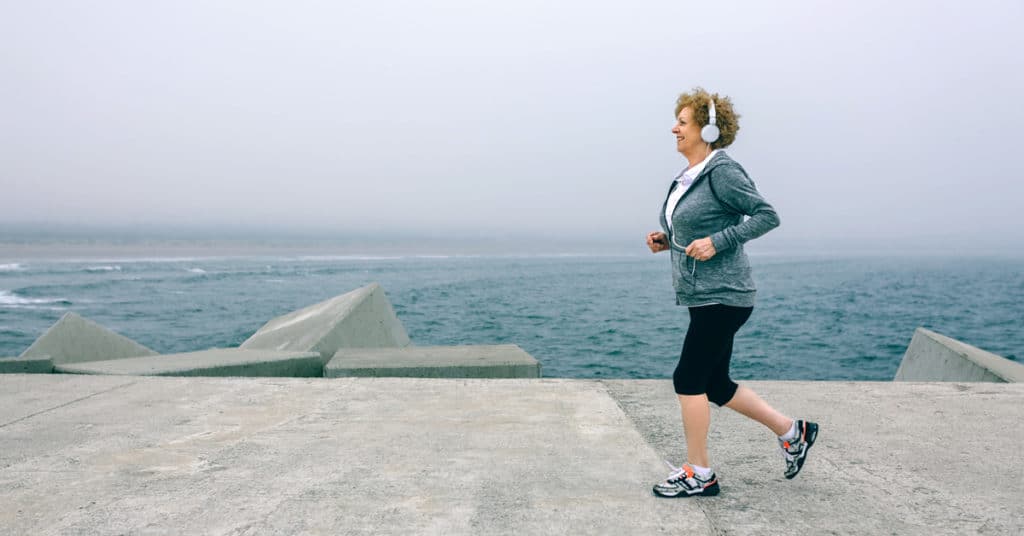 What type of runner are you?
The best way to find out what type of runner you are, (neutral, overpronator, supinator), is to get checked out by a specialist running shoe store. The best ones will be able to analyze your gait and look at the wear pattern on your existing shoes to get a good idea of how you run.
A rough and ready check is the wet test. You basically stand with a wet foot on a piece of paper and look at the impression your foot makes. Overpronators will see an imprint of most of their foot. Supinators, the foot is very narrow under the foot arch. For neutral runners, it's somewhere in-between.
The test doesn't always give the correct result. It's only an indication of how you may run – not how you actually run.
Your biomechanics are mainly dictated at birth. It's in your genes. My son and his father have identical feet – almost completely flat!
If you're overweight or a heavier runner, you may find you have flat feet where your arch is barely noticeable. Your feet are supporting a lot of weight and the arches will tend to flatten over time. (It's also a problem for older runners. Your feet spread as you age getting longer and wider).
What shoes are good for heavy people?
I always advise people that comfort is key when you're choosing running shoes. It's the same for overweight men and overweight women.
Try your new shoes out around the house and if they're not comfortable return them! I promise you they won't get better after 5, 10, or 100 miles!
Choosing shoes based on whether you pronate or not isn't exactly a science. There are so many different factors that affect how you run.
You can have flat feet with flexible joints but not suffer the side effects of overpronation. Instead, you may be compensating somewhere else in your feet, knees, or hips. That might become a problem as you age but right now you might just need a cushioned shoe with a firm midsole.
Other heavier runners who overpronate may decide to go straight for motion-controlled shoes. It really is down to what works for you. The minimalist running trend, led by newcomers such as Hoka One One has seen less motion-control but broader platforms with guided motion to help your foot act more naturally.
Just remember – comfort comes first.
Orthotics
Runners (and walkers) with foot problems are often advised to use orthotics. These are devices that fit into your shoes to provide extra support where it's needed. Orthotics correct your overpronation, (or supination), and provide an alternative to motion-controlled shoes.
Orthotics can be custom-made and hideously expensive, or you can buy off-the-shelf orthotics which are often just as good for a fraction of the price. I'm currently using some off-the-shelf ones fitted by my physio.
Mine just fit under my insole and are really helping to correct my rather severe overpronation. If you think you may need orthotics make sure you buy shoes with removable insoles.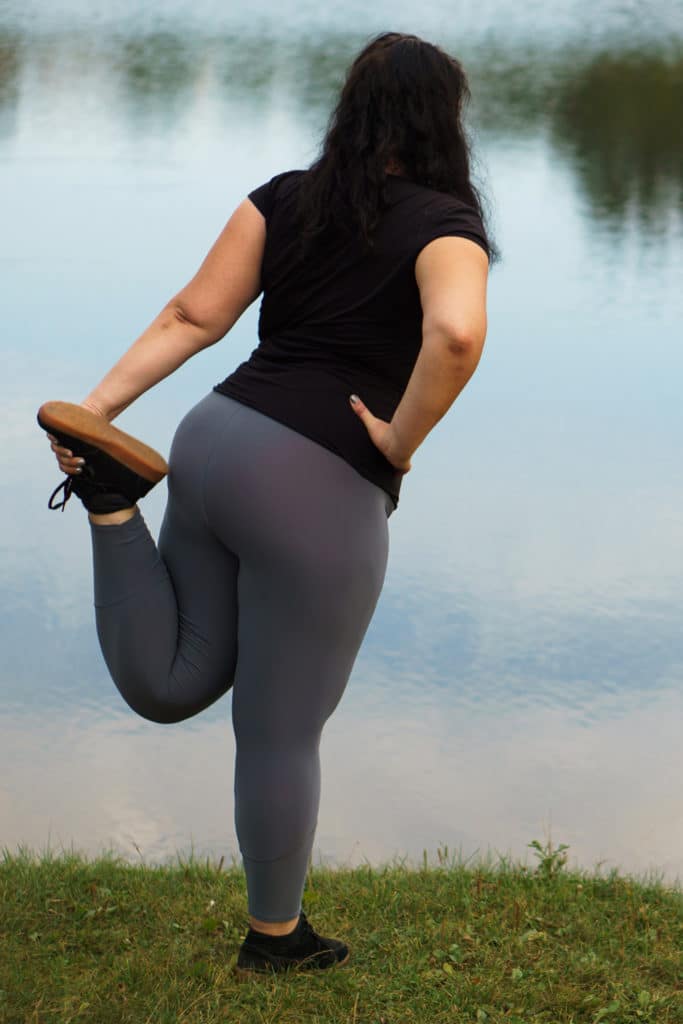 What is considered a heavier runner?
There's a huge misconception that if you're overweight you're a heavier runner. Having a BMI over 25 has got nothing to do with the type of shoes you should be wearing.
Of course, being overweight puts more impact force through your running shoes, but that doesn't make you heavy. You can be petite but overweight, and it's more than likely your running shoes will cope.
You're heavy if you weigh more than 180 to 200 pounds for men (80 to 90+ kg) or 160 to 180 pounds for women (70 to 80+ kg). That's the type of parameters used to design running shoes. So a top tip for heavy women could be to buy men's running shoes.
Of course, being overweight will still put extra loads on your feet and ankles, (and indirectly your knees, hips, and back), but it's not the same as being heavy. You may still be light enough to prevent your feet from slamming into the pavement in lightweight cushioned shoes.
My son is really fit, but he's very tall with big muscly legs from mountain biking. He falls into the category of heavy runners. It's nothing to be embarrassed about. It just means you need specific shoes to run comfortably and free from pain.
The Best Road Running Shoes for Overweight Runners
After reading all of this, I'm sure you're keen to see what's on offer in terms of running shoes for people carrying some extra weight. Based on buying for an outdoor store, helping out customers, talking to brands, and getting feedback from all my running friends, these are the shoes that consistently come out on top:
Right away, there's a telltale feature of the Arahi 5 that makes them perfect for heavy runners. These shoes possess a very thick base, which offers maximum cushioning for the runner. Seriously, the bottom of these shoes is THICK.
Your natural reaction to this is that it surely makes the shoes really heavy and horrible to run in, right? Well, no, not at all. Somehow, Hoka One One has managed to give you thick soles that provide exceptional cushioning, without adding too much weight to the shoe. It makes you feel like you're running on clouds because the sole supports and absorbs shocks so effectively – you barely feel the impact.
The Arahi 5 also has something called flat-waisted geometry, which is a fancy way of saying it's been designed to be as stable as possible. It's combined with Hoka's J-Frame(™) technology, which is specifically created to stop excessive overpronation. All in all, you've got something that ticks all the boxes for overweight men and women: it's highly supportive, offers excellent cushioning to absorb shocks, and it's built to correct overpronation.
If you just need cushioning but in a neutral shoe, take a look at the Hoka One One Bondi.
Asics are one of the biggest brands in the running shoe industry, and they come highly recommended from lots of different runners – particularly those carrying a bit of extra weight. There are plenty of different Asics running shoes that can be ideal for heavy runners, but I've found that the Kayano Lite 2 is right up there as one of the best around.
Why? Because Asics have completely reinvented the cushioned shoe. These are lightweight athletic shoes with a firmer midsole but have still been designed to provide maximum cushioning. It may not be important to you but the sole is actually made from organically derived materials – yes there are plants in these shoes!
The shoe has an oversized sole, a little like the Hoka shoes, to provide more stability. This means you get a smoother landing and toe-off.
It's not just a heavily cushioned shoe, this shoe is for people with a tendency to overpronate, which would include a large percentage of overweight runners. As a result, it will stop your feet from putting too much pressure on the inner edge, offering a more pain-free running experience.
Unlike more traditional offerings from Asics, these shoes don't use a guide rail. They rely on the unique geometry of the midsole to prevent overpronation. And it works!
Now, these shoes won't suit everyone. It's a firmer ride, designed for mid and forefoot strikers. If you land on your heels when you run, check out the more traditional design of the Asics Gel-Kayano 28. (Or try and do something about your running form!)
There's some pretty impressive tech in this shoe and they should help to improve your gait efficiency. Basically, this means you run in a way that uses less energy and so should mean your feet aren't as sore when you get home. That's a big plus for you – and for whoever used to rub your feet after your runs.
If for whatever reason, the Kayano Lite 2 isn't up your street, Asics has another option from the Kayano line. The Asics Gel-Kayano is a legend amongst runners. Now on version 28, it's a good example where if something ain't broke don't fix it!
When a shoe is this popular, Asics can come up with lots of slightly funkier and more stylish colorways. There should be something to please everyone.
Of course, the shoe has been tweaked over the years since it was first released in 1993 but it's stayed true to everything that makes this shoe great. Maximum cushioning, support for overpronation, and GEL technology cushioning in the heel to satisfy the heaviest of heel strikers.
Plus, they feature FF Blast ™ technology in the midsole, bringing more cushioning to the shoe. It gives you a smooth and supportive feel in each step, cradling your feet and helping each landing feel softer with less force going through your joints. The sole itself is really thick, which is perfect for heavy runners as it won't wear down very easily and lose all support. Great shoes for long runs!
Saucony is yet another brand that you might have heard of while doing your research into the running shoe world. They produce a wide range of shoes for different types of runners, including the Cohesion range – which is a brilliant option if you're on a budget.
Running shoes can get really expensive, so I don't want you to be put off just because of the cost. The Cohesion 14 may be an entry-level shoe but it's a good option for heavier runners when you're just starting to run.
The Saucony Cohesion 14 model also works well for walking shoes. If you haven't exercised in years, or need to lose a lot of weight, walking for weight loss is a good way to start your fitness program.
These shoes come with ample VERASUN cushioning in the midsole. They're neutral shoes, for runners who don't need any extra support. So good for supinators or runners who don't need any extra stability.
You can't really write about shoes for heavier runners without mentioning the Adrenaline GTS. This is another shoe that has withstood the test of time.
Now on its 21st edition, the Adrenaline GTS 21 is still a go-to choice for heavier runners looking for a motion-control shoe. Better still, this shoe won't break the bank.
Brooks has made some improvements on this already popular shoe with the GTS 21. Here, you have a running shoe that's designed for everyday runs and is perfect for big guys and girls carrying some extra weight. It features a new DNA Loft plus GuideRails support, giving you comfort that's custom-made for your stride. These shoes will be good for your knees!
It has all the hallmarks of a good pair of running shoes for heavy people and comes with lots of colors to choose from. These shoes are the workhorse of the running world, reliable, comfy trainers. With such good support, they also make the best walking shoes. It's no wonder they're so popular.
Another popular shoe for beginner runners is the Brooks Ghost. If you don't need the support of the Brooks Adrenaline GTS, the Ghost is a good option for a highly cushioned shoe.
If you've already had a look around for running shoes, you might see some people recommend the Mizuno Wave Rider. While still a good running shoe, I believe the Wave Inspire 17 offers better features for heavier runners.
Primarily, the support is much higher, giving you an ultra-stable base to really offset overpronation. There's more cushioning in this running shoe too, letting you protect the soles of your feet from pain while you run. It also helps with the always important shock absorption to prevent joint pain when you run for long periods.
Ultimately, you get everything you get from the popular Wave Rider collection, but with added stability and cushioning for heavier people.
The Best Trail Running Shoes for Overweight Runners
You've seen the best road running shoes for heavy runners, and that could be all you care about. I do have a few extra points that are worth reading at the end of this piece, so please feel free to jump ahead and have a read before you go. But, if you are interested in trail running, here are the best running shoes for people carrying some extra weight:
Again, we'll start with an offering from the brand Hoka. It makes great shoes for heavier runners and all runners with any foot problems. The Challenger ATR has been a popular trail running shoe for some time. The ATR 6 GTX is the sixth generation of the shoe, building on what was great from previous models.
The GTX actually stands for gore-tex, which is a special type of waterproof material you often see on raincoats. It's designed to make the shoe as waterproof as possible, so it can be perfect for wet, muddy trials and tribulations of trail running.
I always like gore-tex for walking shoes in winter. I find a walking shoe really needs to be waterproof – otherwise, you really get cold from wet soggy feet. For trail running, it depends on the temperature. Take my advice and never wear gore-tex shoes for running when it's hot – not unless you want to overheat! Opt for the Challenger ATR 6 non-gore-tex version.
From a heavy runner's perspective, the ATR 6 GTX (which sounds more and more like a car every time I type it) gives you really balanced cushioning and excellent stability.
Trail running shoes don't really talk about support because you're running on uneven ground and not locked into one repetitive gait. So most trail running shoes are neutral. Instead, it's all about stability on difficult terrain – shoes that will keep you upright and not going over on your ankle.
The ATR 6 GTX is designed for the uneven trail routes you might take, meaning your foot finds a comfortable spot with every step.
If you're running on really rough trails go for the Hoka Speedgoat with its Vibram sole and excellent traction. The Speedgoats are particularly good for wide feet.
Okay, the Caldera 5 are pretty crazy to look at. They're almost impossibly thick on the bottom, yet there's a springiness to the cushioning that makes them ideal for heavy trail runners. The midsole will absorb everything you throw at it – great for running downhill, where even more force is exerted with every step.
Combine this with rugged traction on the sole, and you have a comfortable running shoe for ultra running. It maybe won't cope with the harshest terrain but it's a good shoe for clocking up endless miles. Definitely, one to try.
Their main downside is they take forever to dry out. These are shoes for dry trails!
Again, Asics are also joining the party for trail running shoes. The Gel-Venture series are durable shoes and a favorite of heavy runners – especially if you're on a budget. Often called the Asics walking shoes, they also make a good pair of shoes for overweight walkers.
The Gel-Venture 8 may not be the most cushioned shoe, but the outsole has good deep lugs and excellent traction. These are shoes built to last.
This brand may be better known for its climbing boots but it's developed a seriously impressive range of trail running shoes.
Out on top for the heavier runner is the Mutant. Aside from jokes about the name, these shoes offer some really impressive cushioning.
Not surprisingly for a climbing brand, they have a durable rubber outsole with incredible traction. You won't be afraid to explore difficult terrain in your Mutants – adventure awaits.
Great stability and highly durable, if you're after trail running or walking shoes, the Mutants will protect your feet from rugged terrain. There's no feeling the sharp rocks under your feet in these shoes so you won't get battered and bruised!
What happens when overweight runners don't buy the right shoes?
Right, you've reached the end of the list of best running shoes for heavy runners, and now only a few key questions remain. Firstly, what happens if you decide to ignore all of this wonderful advice and buy shoes that aren't designed for heavier people?
Well, you'll likely suffer from the following:
Plantar fasciitis – this is the medical term for chronic foot pain along the base of your foot. It happens to a lot of people who overpronate because their tendons and ligaments are under extra strain. The inflammation is tough to get rid of and can lead to lots of ongoing pain. It's also an over-use injury occurring when people do too much too soon. So if you're a beginner runner, don't do too much too soon!
Foot and ankle pain – according to the physicians SportsMED, your feet contain 26 bones, 33 joints, and over 100 muscles, tendons, and ligaments. There's a lot that can go wrong plus pain in your feet and ankles has a knock-on effect for your knees, hips, and lower back.
Shin splints – pain along the shin bone, typically caused by overpronation, or supination, or running too far too soon. Shoes with good cushioning will help – especially if you're a heavier runner.
A higher risk of injuries while running – picking the right running shoes for you isn't just about looking good and running faster. There's a reason some shoes are made for people that are heavier than others; they help to protect you from common running injuries. That includes all of the above, plus avoidable accidents – like rolling over on your ankle.
So, if you want to get fit and start running, it's super important that you spend a bit of time researching the different types of running shoes for heavy runners. As a very brief recap, you mainly want ones that offer excellent arch support for flat feet/overpronation, and brilliant shock absorption to handle the excessive force bearing down on your feet with each step.
I've listed the top products that I can find for both road and trail running, so feel free to check any of them out. To get the best running shoes for overweight runners, try on a few different models and keep the ones that feel the most comfortable.
If you have any questions that haven't already been answered, don't hesitate to drop a comment below and we can have a discussion! Read my post on the best running blogs to follow to find more running tips! And don't miss my detailed guide – How to start running.
If you're also looking for running clothing, check out the advice in my gear section including the best socks for runners, rain jacket for running, and women's running clothing.