It's a fact of modern-day life that one of the first question's a newbie runner asks is: "Where to put your phone when running?"
If you want a heated discussion with a group of runners just slip "what's your choice for running with a phone" into the conversation and wait for the sparks to fly.
Yes it's a big deal and holding your phone in your hand as you run just isn't the answer. Your arm muscles will get tired and you won't be able to run efficiently.
Plus unless you protect your phone with a plastic bag, it's going to get very sweaty!
Take some advice and find a way of stashing your phone safely. Just stuffing it in the waistband of your shorts isn't the answer. You need a solution where it won't bounce around and stays secure.
Read on to find the perfect phone holder for running!
This post contains affiliate links. This means I receive a commission if you make a purchase through my links, but this is no additional cost to you. Please read my disclaimer for more information.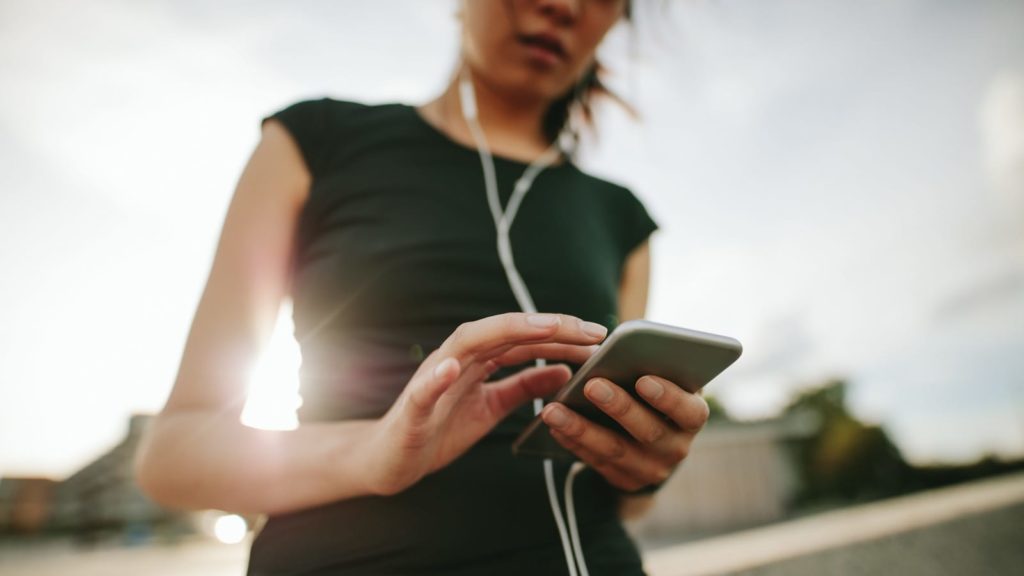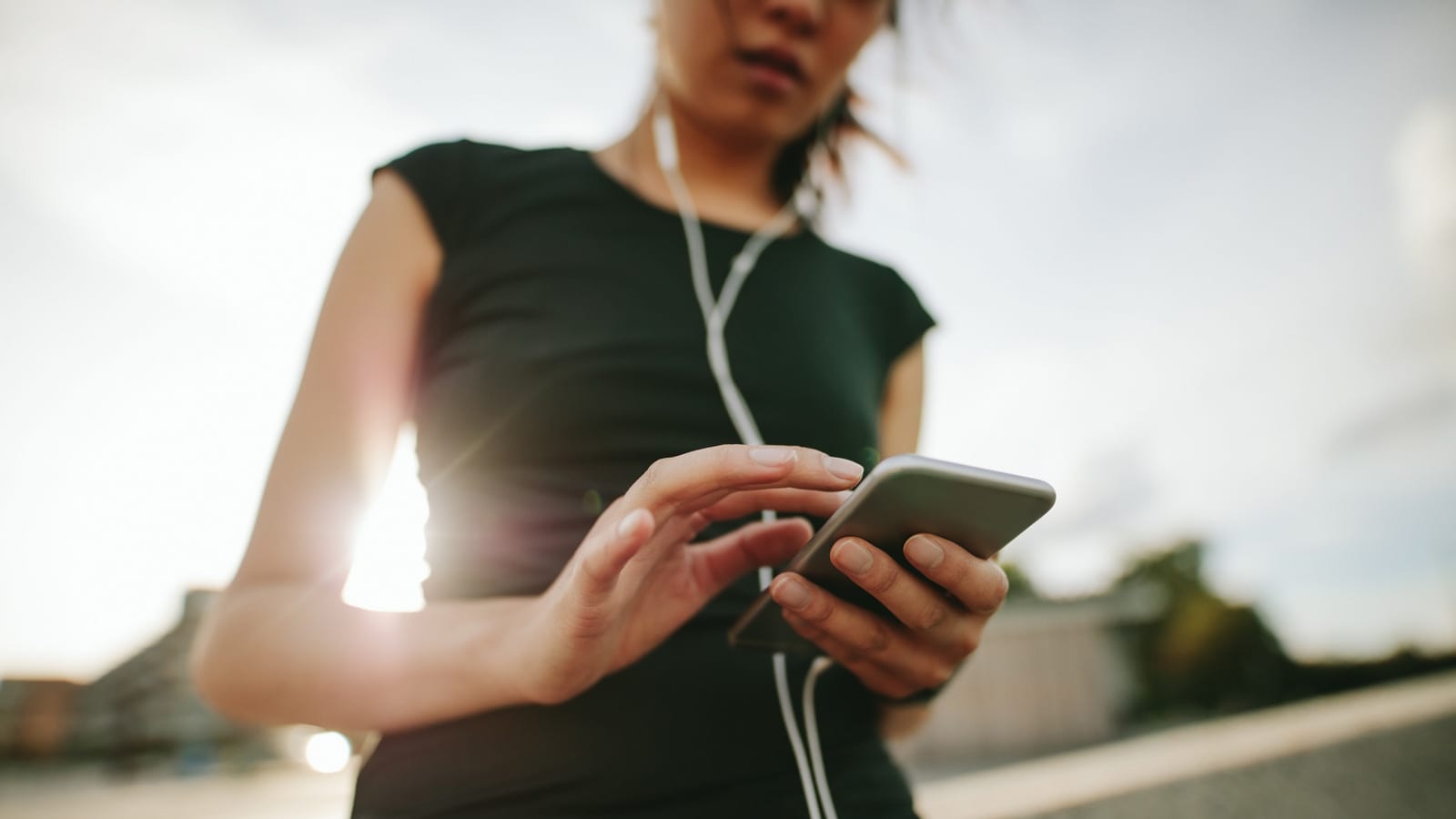 Keep reading to the foot of the post to get my favorite solution! 😍 Alternatively you can steal a quick peek here…
Where To Keep Your Phone When You Run?
I've tried out a lot of solutions over the years and here's my low down on how to carry your phone while running…
In Your Shorts Pocket
First up is a pocket in your running shorts. This can be a great solution for how to run with your phone if you find a pair of shorts you love with a secure pocket.
Just make sure the pocket is big enough for your phone, (many won't be), and avoid garments with just a stash side pocket.
There's a lot of up and down movement when you run and you don't want to end up with your phone falling out and hitting the pavement.
Look for shorts with a secure zip pocket or something similar.
I'm a fan of these Sport-it Active Shorts. There's also a men's range with phone pockets and a cute running skort.
I like the way these shorts have a very deep tubular pocket to keep your phone secure. There's also lots of cover if you don't want your shorts to be too revealing!
The problem with keeping your phone in your running shorts is;
It can still get sweaty,
You can't see the screen when you run,
Your most comfy shorts may not have a phone pocket!
Now personally I'd rather have my phone stashed out of sight – otherwise it's too distracting. Yet Strava fans may disagree and, of course, phones are handy for navigation when you're following a new route.
So my next option is…
Strapped To Your Arm
This option works for a lot of runners. There's a huge range available and the ones that swivel on your arm are really neat! (If not even more distracting!)
I like the way this option is sweat resistant and sits securely on your arm.
It's not a great option in bad weather; in heavy rain it's best to keep your phone out of sight in a plastic bag.
If strapping your phone to your arm works for you – go with it. I find I start to really notice the weight on longer runs. (Maybe I just have puny arms!)
The next option is just for women…
In Your Sports Bra
Yes really! Now I have seem someone suggest you can stash your phone in the front of a North Face Stow-N-Go Bra! Wow. I have one and I just can't work out how it would fit!
These bras are great for carrying your keys as you run, but your phone?
Of course it makes far more sense to stash your phone down the back of your bra. I was so excited to find this option!
The only problem…as any female runner will tell you, it can take years to find the perfect running bra. There just isn't a one bra suits all solution.
I love the colors and the idea but there's just not enough support for most runners. It's best to find a good high impact running bra for your shape and find some other way of stashing your phone!
Opt For The Handheld Device
Yeah but didn't you say this wasn't a good idea?
It isn't unless you have one of these…
The case includes a strap which lets you hold your phone without gripping. It means your hand doesn't tire so easily and your shoulder clench up as your run.
It's a great solution but I would only use it for shorter runs or you're still risking shoulder problems. You can also get versions without the handy water bottle but this Nathan one really wraps securely round your hand.
In Your Race Vest
Now this option is getting more pricey, but a race vest is just the best way to carry stuff when you're running. I love a good race vest…
You can get some really lightweight race vests, one's you barely know you're wearing. They're the best option when you need to take water with you for running on a hot day.
This one's my all time favorite. If you can get it for less than $100 snap it up!
I know it's not a cheap option but it's a good investment for trail running or summer marathons – and a lush way of carrying your phone!
✅ The Best Way To Carry Your Phone When Running – Around Your Waist With A Flip Belt
Carrying your phone around your waist and out of sight is my favorite way to run. I can just get on with running with no distractions.
There are lots of different options for running waist belts but the Flip Belt comes out top. Watch out for inferior imitations!
It's all in the name – slide your phone, your keys, anything you want to keep secure, in the large pouch and just flip it over to secure.
The Flip Belt sits neatly around your waist with no bounce. It's quick and easy to reach your phone but it won't slip out.
Black may be the most popular color but there's lots of options to choose from. I rather like the Neon Punch version – it's bright! Nathan have a similar bounce free belt with a zip pocket if you want the extra security.
---
Do you have a favorite way of carrying your phone when you run? I'd love to hear your ideas in the comments below…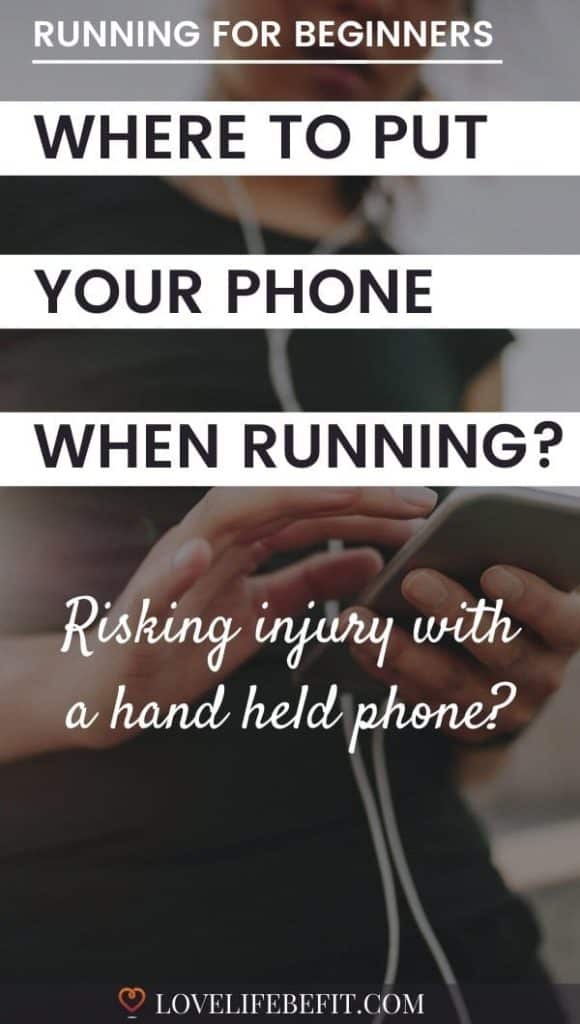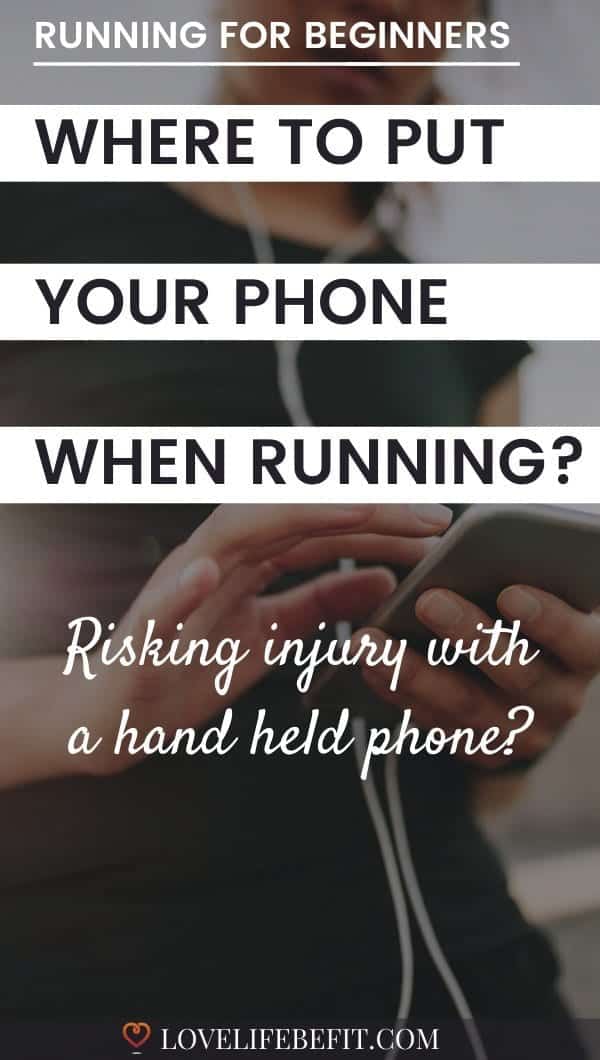 Where to put phone when running?
Top ways to carry your phone safely when you run: in your shorts pocket, strapped to your arm, in your sports bra, a secure handheld device, in your race vest or round your waist with a flip belt.
How do you carry your phone when running?
Favorite choice is around the waist with a Flip Belt or a running belt with a secure zip pocket. Alternatively for longer runs, especially for trail runs, opt for a race vest.
Do you carry your phone when you run?
Avoid carrying your phone in your hand as you run. It can lead to muscle imbalance and often causes shoulder problems. A waist belt is a much better option.