It's a fact of modern-day life that one of the first questions a newbie runner asks is: "Where to put your phone when running?"
If you want a heated discussion with a group of runners just slip "What's your top choice to carry your phone while running?" into the conversation and wait for the sparks to fly. Everyone has their own ideas for what's best when running with a phone.
Need a quick answer? These are the best phone holder for running options:
In a zipped pocket of your shorts or running tights.
Using an armband.
In your sports bra or chest pouch of a race vest.
In a secure handheld device.
Or in a running belt.
✅ Keep reading to the foot of the post to get my favorite solution to keep your phone secure as you run! 😍 Alternatively, you can steal a quick peek here…
This review is based on my own independent product knowledge and testing. If you like what I do, you can support me through my chosen links. I may earn a commission but it's at no additional cost to you. Learn more about my product recommendations.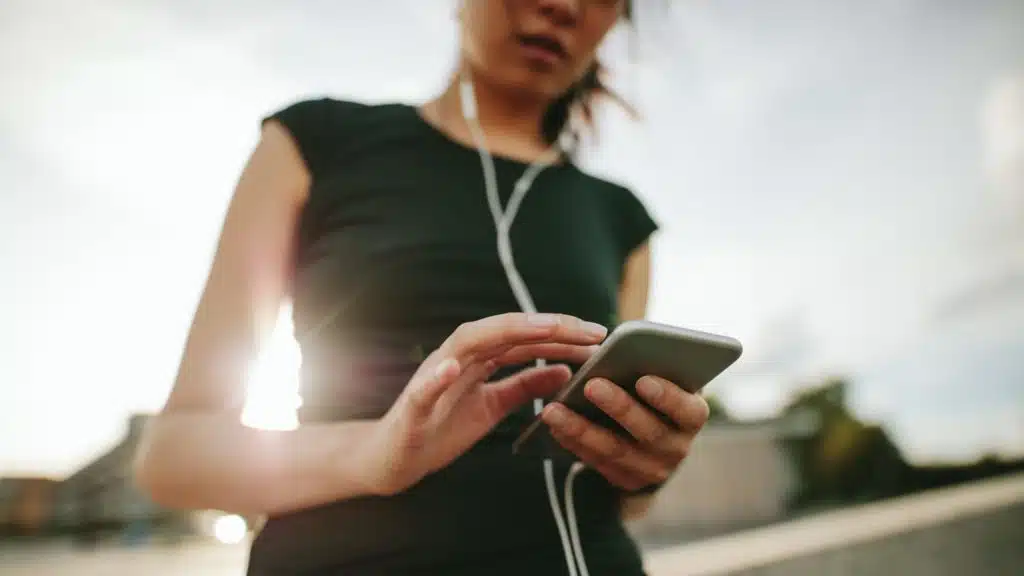 Why Holding Your Phone While Running Is A Bad Idea
Finding the best cell phone holder for running is a big deal. You could just hold your phone in your hand as you run, but your arm muscles will get tired and you won't be able to run efficiently.
Clenching something tightly in one hand for several miles can set off all sorts of muscle imbalances causing injuries in your hips, knees, and shoulders. It's really not a good idea. Plus unless you protect your phone with a plastic bag, it's going to get very sweaty!
Find a way of stashing your phone safely. Just stuffing it in the waistband of your shorts isn't the answer. You need a solution where it won't bounce around and stays secure.
Read on to find the perfect phone holder for running!
Why You Should Be Running With Your Phone
Confession: I do sometimes run with just my watch. It's a smartwatch and tracks everything I need to know about my run such as running pace and distance.
Leaving my phone at home keeps it secure and dry but that's no good if I have an emergency. These are some of the good reasons for running with your phone:
You can use it to get help. Even running on roads you can run into difficulties. You might develop an injury or run out of energy. On the trails, the consequences of running without a phone could be serious.
It helps you feel safer when running on your own.
You might have a bad day and find yourself stuck in a downpour or running on tired legs – I've lost count of the number of times I've called for a lift halfway around a long run.
It may help if you get lost. Don't rely on your phone for navigation but its GPS does help to get you back on the right route.
Without a phone, you can't take any photos!
Carrying your phone at all times is a good habit to get into. You never know when you may need it and the photos you stop and take will create rich memories.
How To Run With Your Phone
A phone is quite a big heavy object. Even with the best running style, that phone is going to bounce around unless it's secured properly. The last thing you want is your expensive phone bouncing out of your pocket and hitting the pavement.
So it's worth investing in a carrying option that will keep your phone secure. These options don't have to be expensive but spending a little money is better than paying to replace a cracked screen.
If you live somewhere where it rains a lot, think about how will you keep your phone dry.
Where To Keep Your Phone When You Run?
I've tried out a lot of solutions over the years and here's my low down on how to run with your phone…
In Your Shorts Pocket
First up is a phone pocket in your running shorts. This can be a great solution for running with your phone if you find a pair of shorts you love with a secure pocket.
Make sure you avoid garments with just an open stash side pocket. It may be easy to access, but there's a lot of up-and-down movement when you run – you don't want your phone falling out and hitting the pavement.
Look for shorts with secure zippered pockets or something similar. Phones keep getting bigger – so make sure your phone will fit!
I'm a fan of these Baleaf Shorts. There's also a men's range with phone pockets and a cute running skort.
I like the way these shorts have a zippered pocket in the waist for your phone – it doesn't bounce around as much. There's also lots of leg cover if you don't want your shorts to be too revealing!
Just make sure the built-in pocket is big enough for your phone. Ever since the iPhone 7 arrived on the scene, phones have needed BIG pockets. The iPhone 13 Pro Max is a whopping 6.33″ (160.8 mm) by 3.07″ (78.1 mm). Not many short side pockets will be big enough for this monster phone! I love these CRZ YOGA shorts but the 4″ pocket won't fit many phones
The problem with keeping your phone in your running shorts is;
It can still get sweaty,
You can't see the screen when you run,
Your most comfy shorts may not have a phone pocket!
Now personally I'd rather have my phone stashed out of sight – otherwise, it's too distracting. Yet Strava fans may disagree and, of course, phones are handy for navigation when you're following a new route.
So my next option is…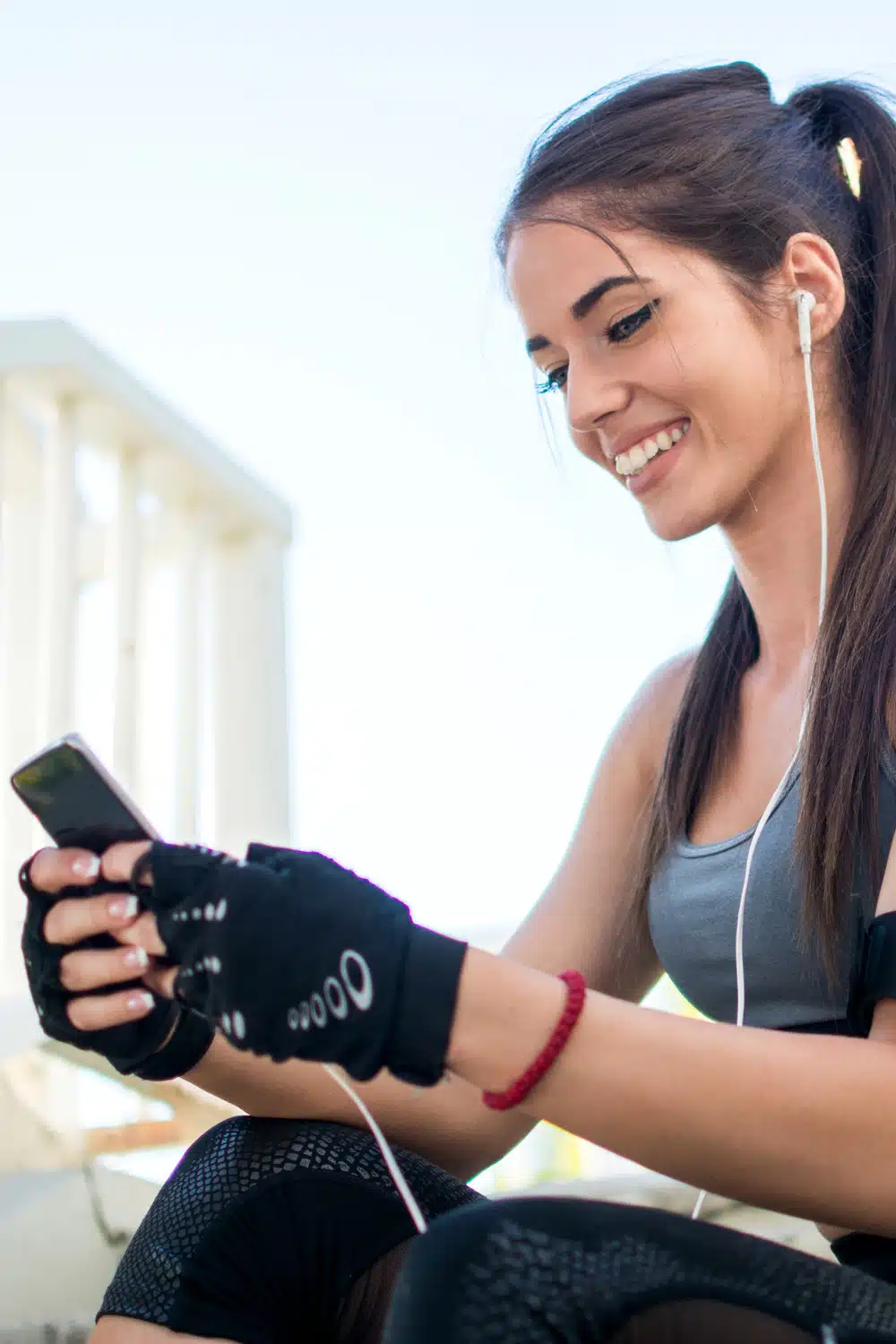 Strapped To Your Arm
This option works for a lot of runners with quick access to your phone as you run. There's a huge range available and the ones that swivel on your arm are really neat! (If not even more distracting!)
I like the way this option is sweat-resistant and sits securely on your arm with adjustable straps.
It's not a great option in bad weather; in heavy rain, it's best to keep your phone stashed somewhere dry – preferably in a plastic bag.
If strapping your phone to your arm works for you – go with it. I find I start to really notice the weight on longer runs. Maybe I just have puny arms – but you do feel a little unbalanced!
The next option is just for women…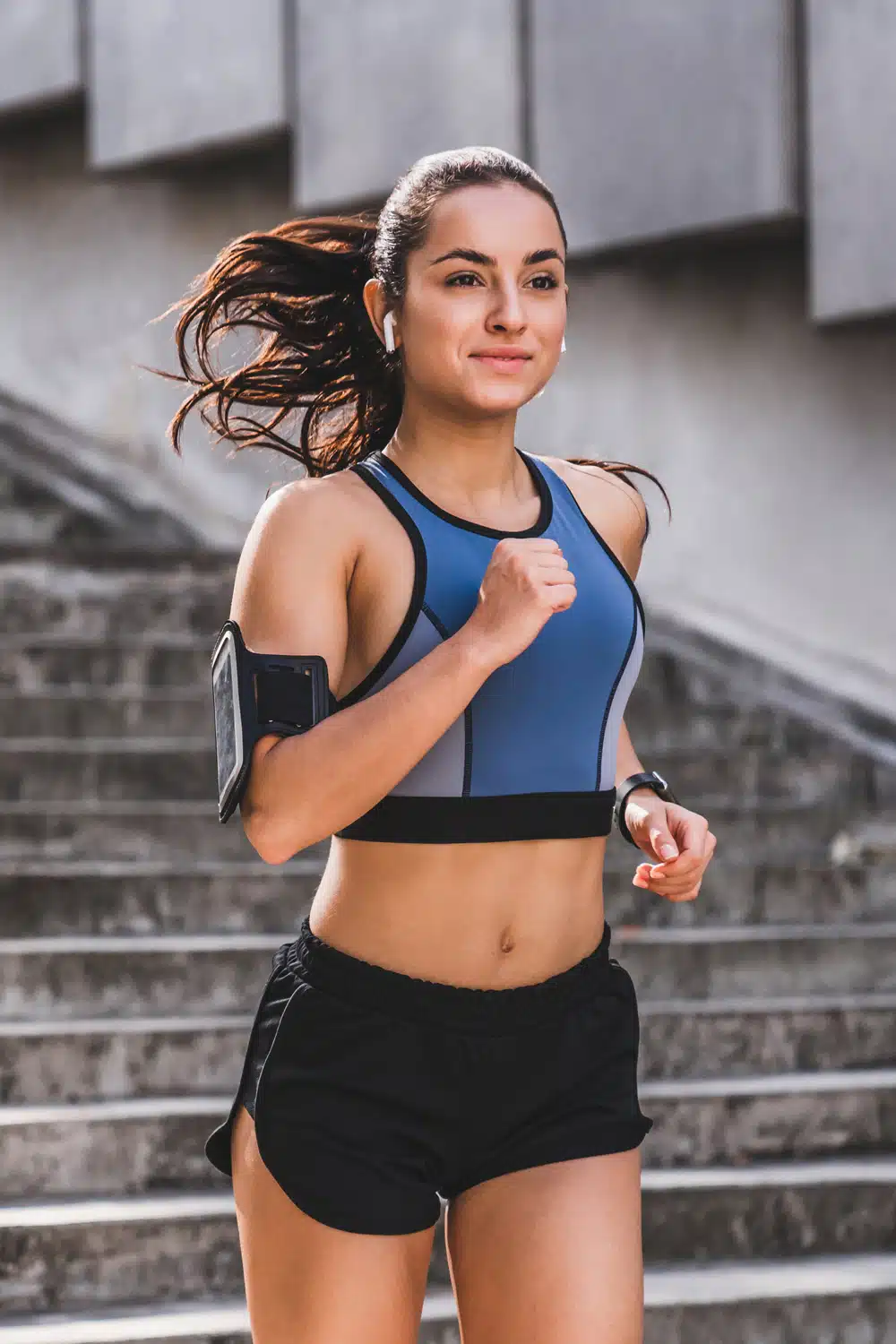 In Your Sports Bra
Yes really! Now I have seen someone suggest you can stash your phone in the front pocket of a North Face Sports Bra! Wow. I have one and I just can't work out how it would fit!
These sports bras are great for carrying your keys as you run, but your phone?
Of course, it makes far more sense to stash your phone down the back of your bra in a phone pouch. I was so excited to find this option! Plus it comes in lots of colors, not just hot pink!
The only problem…as any female runner will tell you, it can take years to find the perfect running bra. There just isn't a "one bra suits all" solution.
I love the idea, and if it works for you that's terrific. But often it's best to find a good high-impact running bra for your shape and find some other way of stashing your phone!
Just For Men – Phone Holder For Running
Now there's nothing to say these phone holder running vests are strictly for men but I doubt many women want a phone banging against their boobs as they run.
I'm going to take a punt here and guess the sales on these running vests are 100% male. I use running vests a lot but most are designed to fit around the chest.
This All Remate Running Vest comes with an adjustable chest band and enough space to stash your keys, gels, and credit card along with your phone.
It works for shorter runs, but for longer training runs a full race vest is a much better option. Get extra space to stash spare gear for emergencies and carry fluids for hydration. Scroll down to see my favorites!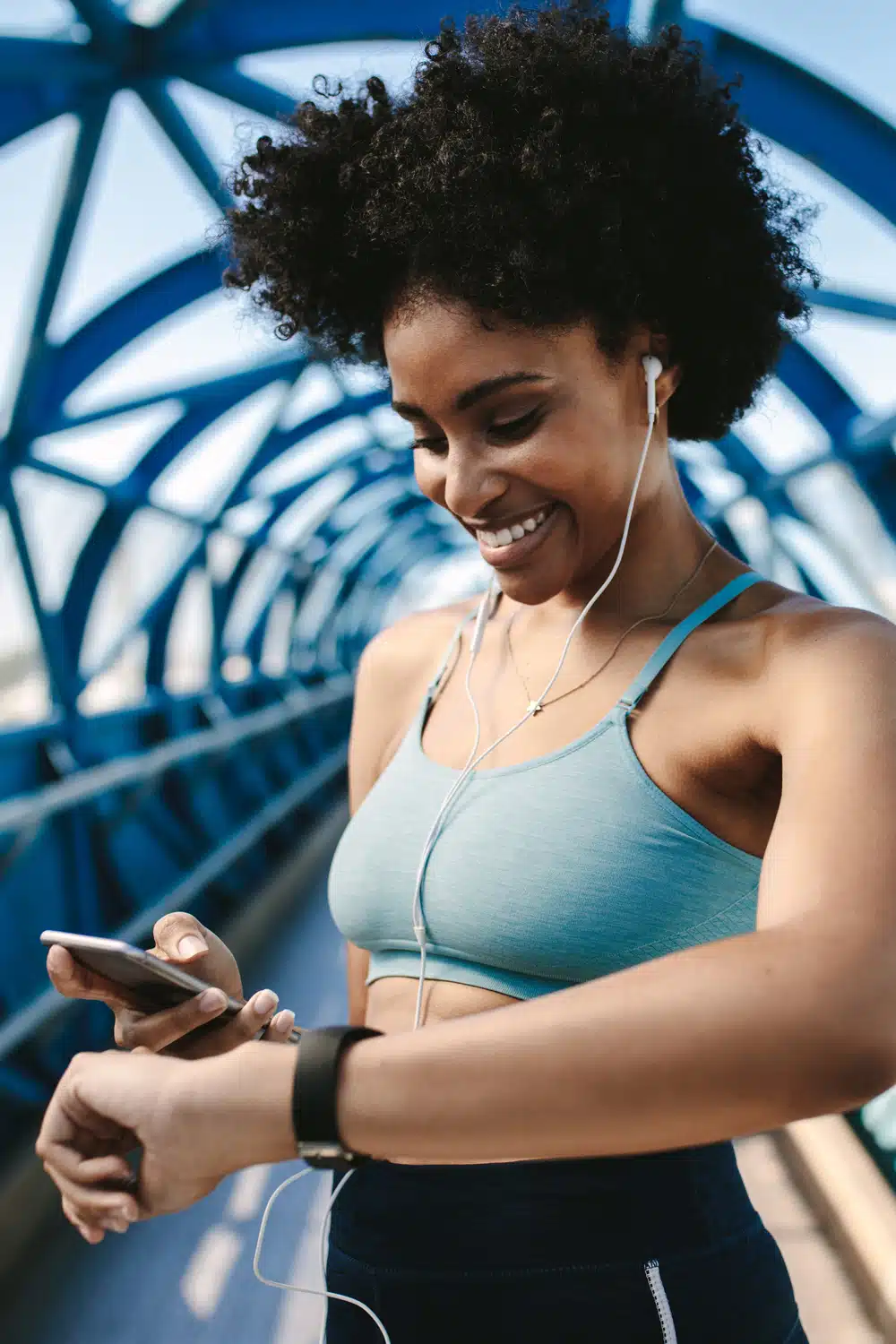 Opt For The Handheld Device
Yeah, but didn't you say this wasn't a good idea?
It isn't unless you have one of these…
The case includes a strap that lets you hold your phone without gripping it. It means your hand doesn't tire so easily or your shoulder clenches up as your run.
It's a great solution but I would only use it for shorter runs or you're still risking shoulder problems. You can also get versions without the handheld water bottle but this Nathan one really wraps securely around your hand.
In Your Race Vest
Now, this option is getting more pricey, but a race vest or hydration pack is just the best way to carry stuff when you're running. Especially on long runs. I love a good race vest…
You can get some really lightweight race vests, ones you barely know you're wearing. They're the best option when you need to take water with you for running on a hot day.
This one's my all-time favorite. Super lightweight – you won't know you're wearing it! If you can get it for less than $159 snap it up!
I know it's not a cheap option but it's a good investment for trail running or summer marathons – and a lush way of carrying your phone!
✅ The Best Way To Carry Your Phone When Running – Around Your Waist With A Flip Belt
Carrying your phone in a running belt, out of sight, is one of the most comfortable ways to carry a phone. I find I can just get on with running with no distractions. Plus it's a great way to carry other small items such as your house keys or a gel.
There are many options for running waist belts but the Flip Belt comes out top. It's one of the best pieces of running gear you can buy for carrying your phone securely as you run! Watch out for inferior imitations.
Slide your phone, keys, and anything you want to keep secure, into the discreet openings and the close-fitting stretchy fabric keeps everything firmly in place. There's a key fob for extra security.
The Flip Belt sits neatly around your waist with no bounce. It's quick and easy to reach your phone but it won't slip out.
Black may be the most popular color but there are lots of options to choose from. I rather like the Neon Punch version – it's bright!
The FlipBelt Classic version has nearly 20,000 ratings and almost all of them are 5-star reviews – so I'm not the only one loving this design.
The Flipbelt is lightweight, bounce-free, and has the perfect minimal design. In wet weather, I tuck the belt under my waterproof jacket to keep everything dry.
If you prefer a belt with a zippered pocket, this one from Nathan is a good option. There's a big zippered pocket that fits just about all phone sizes.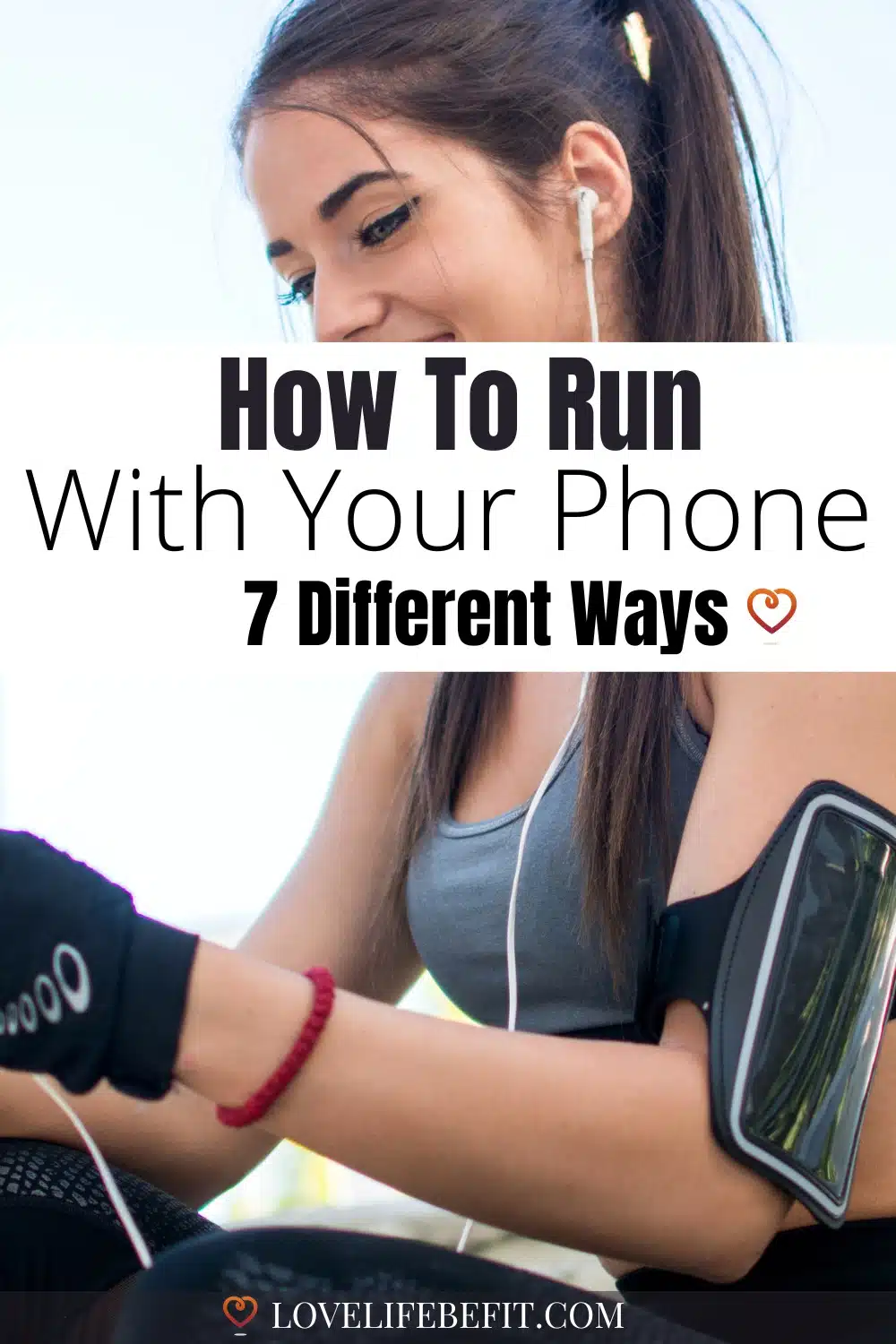 Choosing Where To Put Your Phone When Running
How you carry your phone comes down to personal preference. Try out a few different ways until you find out what works best.
To help you make the right choice (for you) quickly instead of wasting money on lots of different options, here are a few things to think about:
Do you check your phone a lot when running?
Make sure your choice has easy access. A phone armband could work for shorter runs or a phone holder running vest works for men.
Do you run long distances or trail run?
A race vest is the best investment. They're pricey but you can also carry your hydration solution and safety equipment such as a rain jacket. Your phone can be easily accessible in a front pocket – ready in case you need it for navigation.
Need a low-cost solution for running with your phone?
Go for the FlipBelt. This simple solution works in all situations and your phone is safely stashed away – out of sight and out of mind. Running is your downtime – ignore those work calls!
Do you have a favorite way of carrying your phone when you run? I'd love to hear your ideas in the comments below…
If you've found this post helpful, you may enjoy my post about women's running clothing.
Frequently Asked Questions
Where to put phone when running?
Top ways to carry your phone safely when you run: in your shorts pocket, strapped to your arm, in your sports bra, a secure handheld device, in your race vest, or around your waist with a flip belt.
How do you carry your phone when running?
My favorite choice is around the waist with a Flip Belt or a running belt with a secure zip pocket. Alternatively for longer runs, especially for trail runs, opt for a race vest.
Do you carry your phone when you run?
Avoid carrying your phone in your hand as you run. It can lead to muscle imbalance and often causes shoulder problems. A waist belt is a much better option.
Best phone holder for running?
It depends. Do you want to look at your phone while running or stash it securely out of sight? A phone armband lets you view the screen while running which is good for navigation. The downside is it can cause shoulder strain on longer runs. A running belt or race vest are better options for longer runs.