We may all love a bit of sunshine, especially when you live somewhere where it rains a lot, but running in the heat is TOUGH.
It's all too easy to abandon training plans or end up running into trouble by being too ambitious. I know, I've been there!
The best tips for running in the heat are:
Slow down and take it easy, avoid running in the hottest part of the day, wear a cap, use high factor suncream and hydrate.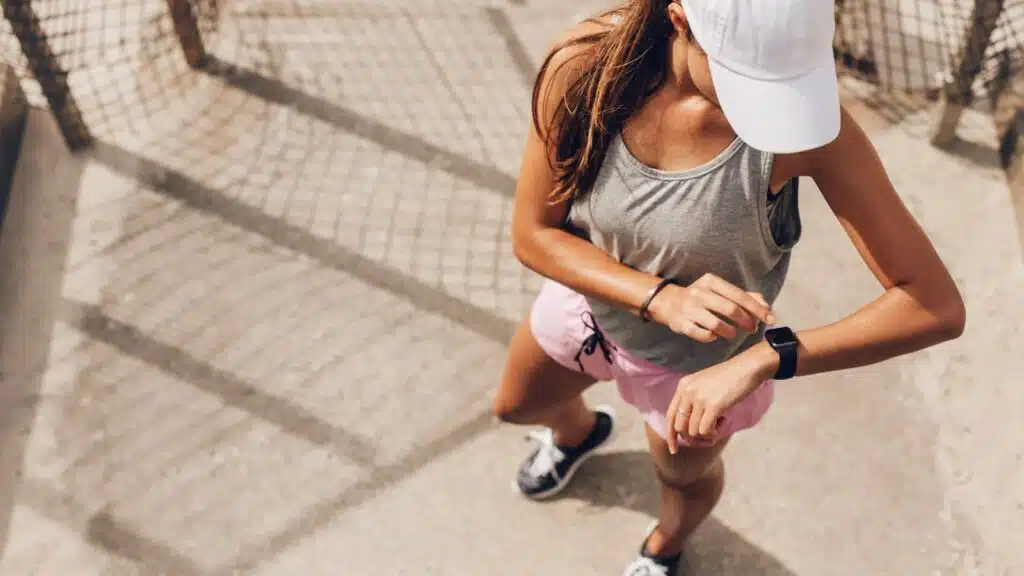 This review is based on my own independent product knowledge and testing. If you like what I do, you can support me through my chosen links. I may earn a commission but it's at no additional cost to you. Learn more about my product recommendations.
✅ Even experienced runners can be caught out running in the heat. Read on to find out how. I learned my lesson – when the sun's out I'm never without my favorite hydration aid!
Top Tips For Running In The Heat
Here are my top 11 tips for running in the heat (based on five years of experience living in a very hot country). Proper hydration and carrying water with me are top of the list!
#1 Hydrate Before You Run
In my view, this is the most important tip. If you wait until you start running, it's too late. You need to be fully hydrated before you set off.
If you have a race in the heat coming up, keep sipping water the day before. Now you don't need to go crazy and drink more than you need, (hyponatremia caused by excess fluid consumption is a real risk all runners should be aware of), but let's face it – most of us don't drink enough. Dehydration is also a cause of stomach problems when you run. Read my tips on why running makes you poop!
So don't neglect your hydration. Give your body a chance by topping up your fluid levels in good time before you start to run.
#2 Take Fluids With You
When it's really hot or for longer runs, make sure you take fluids with you. Sipping from a soft flask or hand-held water bottle can make all the difference when you're running in the heat.
I like the way you can squash a soft flask in your pocket when it's empty!
If you're heading far from home, carry plenty of fluids. It's always best to take too much. The last thing you want is to blow up halfway through a run, with no water left, many miles from home.
Either stash soft flasks in your race vest or carry a bladder pack. It can feel a little strange running with a pack at first but these racing packs are so light and easy to wear. You'll soon get used to it and anything is better than gasping with thirst!
The Salomon race vests are incredibly lightweight – you hardly notice you're wearing one. I have quite a selection depending on how much kit I need to carry for a trail race. My favorite by far is the super lightweight Advance Skin 5 Vest. It's worth the investment!
If you're on a budget CamelBak's HydroPak is a neat option. It works for both biking and running.
---
This Hydrapak soft flask is easy to squash in your pocket when you're finished hydrating!
Some women collect shoes, I collect race vests! This one's my favorite!
I love the way this bottle has the extra option for stashing your phone or house keys!
More affordable, this Camelbak is a good option for longer runs when you need to carry extra fluid.
---
#3 Start Off Slowly
It's best to ease into a run and this is especially true when it's hot. Start off slowly and you can always pick up the pace if you're feeling okay.
Running in the heat places a big toll on your body. If the weather has suddenly got a lot hotter, you'll need to adapt to running in the heat.
Save intense workouts for cooler days or when your body has adjusted to the higher temperatures.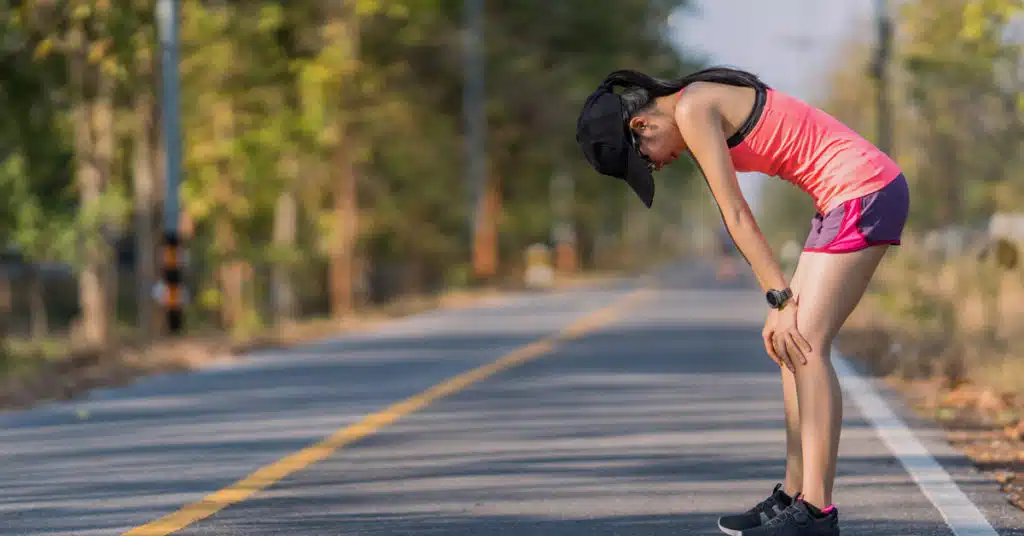 #4 Run In The Early Morning
Mad dogs and Englishmen go out in the midday sun.

Noel Coward
Instead of struggling under the intense midday heat, try and run in the early morning. There's something very special about hitting the trails before the day starts to heat up.
Running in the evening is also an option but it's never quite as cool.
#5 Run In The Shade
In summer it's often best to choose your running routes wisely. Running along trails through the woods on a summer's day can be deliciously cool. Flogging across sun-baked fields, not so much.
Pick routes that stay out of direct sunlight or head to the hills where it's often a lot cooler.
#6 Dress For The Sun
Light colors reflect the heat, looser fitting tops from wicking materials will help you stay cool, and think twice before you opt for a skimpy vest.
When the sun's intense, it's best to cover up. Keeping your shoulders covered is a good idea. Waking up to sunburn the next day is seriously not fun.
#7 Use High Factor Sun Cream
When the sun's out, I always reach for at least SPF 50 (sun protection factor). Sweat just seems to wash off anything else and it's just best to go for maximum protection.
This is one of the best sunscreens I've found for running with a whopping SPF 70 protection. It's also water-resistant which stops it from washing off when the sweat starts to pour!
Maybe Factor 50 is a hangover from running in desert temperatures but in my view sunburn sucks. Just avoid and protect your skin.
#8 Get Your Shades Out + Wear A Cap
Shades don't just protect your eyes from UV, they add style to any outfit. Running in summer is the one chance you get to wear shades without looking pretentious.
Add a cap to your running outfit. It helps to keep you cool, keeps the sun off your face, and stops it from ruining your hair.
---
Hot and sunny weather is a good excuse to pose in your favorite running shades! These Bolle ones stay put when you run.
I never run anywhere without wearing a sun cap in summer! This one also comes in white and it's very lightweight with a mesh fabric to keep you cool!
---
#9 Go For Short Runs
Don't underestimate the effects of heat. On really hot days it can be dangerous to run for longer periods.
Pick a short running route or take a rest day. Sometimes you just need to be realistic.
#10 Take Your Training Indoors
Trying to fit in a speed session? Assuming your gym has air conditioning, running on a treadmill may be your only option.
It's a way of staying out of the heat and a good choice if you're in serious training for a race.
#11 Be Aware Of Warning Signs
Every runner should be aware of the warning signs of heatstroke and heat exhaustion. When you're running you need to stay in tune with your body and watch out for signs you've had enough of the heat.
Here are the signs to watch out for:
Heat Exhaustion
Muscle cramps
Heavy sweating
Pale or cold skin
Weakness and/or confusion
Dizziness
Headache
Nausea or vomiting
Fast heartbeat
Dark-colored urine, which indicates dehydration
Heatstroke
The above symptoms and the following:
Fever of 104°F or higher
Flushed or red skin
Lack of sweating
Trouble breathing
Fainting
Seizures
Running regularly in a hot country for 5 years, I could tell when enough was enough. I could sense when my core temperature was starting to rise. Lack of sweating or a drop in sweating rate was always a big indicator.
If this happens to you, stop running. Find some shade and lie down, elevate your legs, and sip fluids slowly. Try and get medical help. It's a good idea to run with your phone especially on longer runs – just in case of emergencies.
Once, when I was in my early twenties, I had heatstroke trying to run in summer in Tibet. Fortunately, the friend I was with came from Greece. She'd seen it all before and knew the warning signs.
We were in the middle of nowhere, somewhere on the road from Kathmandu to Lhasa. My friend got me in the shade and flagged down a passing tourist bus to take us to safety.
It was a lifesaver. The severity of heat exhaustion and heat stroke must never be underestimated. I don't want to put you off running in the heat but just be aware of the dangers.