There's a popular quote that applies to women's running clothing. I always think it's a bit rubbish:
There's no such thing as bad weather, only unsuitable clothing.

Alfred Wainwright, A Coast To Coast Walk
If you've ever run in freezing cold rain battling against a headwind, you'll find this just isn't true. Even the best women's running clothing has its limitations.
Sometimes there's a choice to be made: embrace the terrible weather or take the easy option. For me, that's a treadmill in a warm gym, (or staying put on the couch).
Still, it has to be said, some women's running clothes are now so good Wainwright's quote is almost correct. This is odd because the quote comes from a guidebook written in the '70s.
This review is based on my own independent product knowledge and testing. If you like what I do, you can support me through my chosen links. I may earn a commission but it's at no additional cost to you. Learn more about my product recommendations.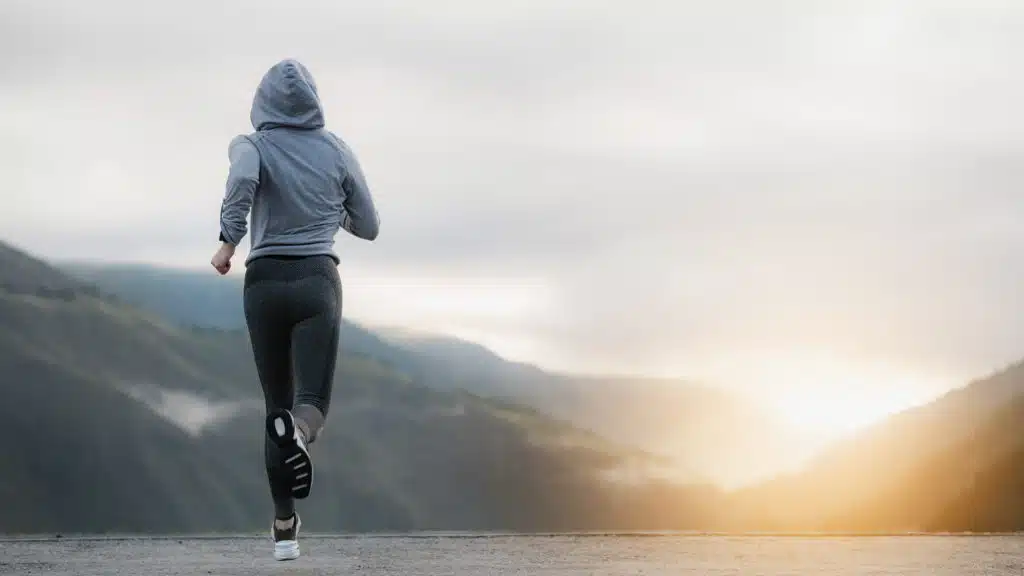 Women's Running Clothes Have Improved Drastically
I started running in the mid-'80s. At that stage, even outdoor clothing sucked big time. My walking outfit was breaches fashioned out of a pair of wool Army surplus trousers, a flannel shirt, a wool jumper, and a Cagjac.
The Cagjac was the pinnacle of waterproof jackets back then. A knee-length abomination of stiff neoprene-coated fabric. It sort of kept you dry but only if you didn't walk very fast. It wasn't much use for running.
Running clothing for women was embarrassingly short shorts and matching nylon running vests. For running in the hills, we beefed up our gear for bad weather with Helly Hansen's thermal baselayers. Thermal tights worn under shorts, (nice), and cotton tee-shirts worn over the thermal tops to keep out the wind, (lovely and soggy).
If it rained, (and this was the UK so it rained a lot), you relied on a flimsy nylon waterproof that leaked like a sieve. Stopping wasn't an option. You needed to keep running to stay warm.
Thankfully these fashion horrors and safety nightmares are now consigned to history. Today there's an abundance of running clothing for women to choose from.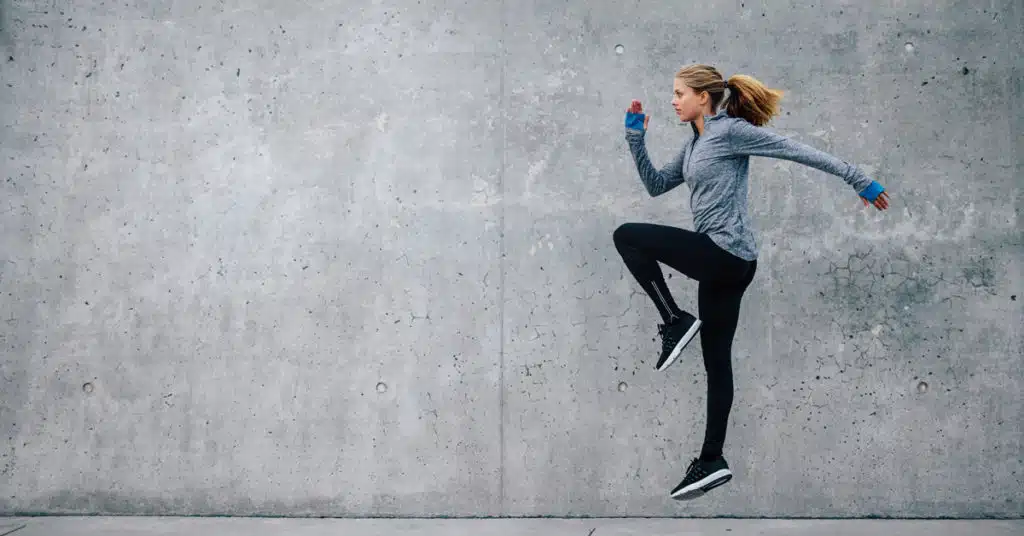 The Best Women's Running Clothing
I'm a typical runner, I'll go out in all weathers. Now and again I'll even run in heavy rain – the most challenging conditions for running clothing.
Gradually I've built up a running wardrobe that takes me from hot summer runs to running in the rain or snow in winter. It's all about layers.
Running Baselayer
A thin, wicking baselayer keeps sweat away from my skin. I have short-sleeved baselayers for running in summer and long-sleeved versions for winter. On really hot days I'll swop my running tee for a running vest but I combine it with SPF 50+ sunscreen on all exposed skin.
The best wicking fabrics are blends of polyester, nylon, and spandex. Merino will appeal to natural fiber lovers but I find it never wicks well enough for a running baselayer. Keep Merino for mid-layers on really cold days or for walking. If it's hot and humid, all fabrics will get wet from sweat, but the best man-made baselayers dry out quickly.
Never Wear Cotton For Running
This isn't the '80s. Keep those cotton tee-shirts and vests well away from your running gear. Cotton gets wet easily and once it's wet stays wet – it will chafe and feel like cardboard next to your skin.
It's the same for running socks. A pack of cotton sports socks may look like a bargain but you'll pay for it with blisters.
Next Comes A Mid-layer.
I have a drawer stuffed full of different mid-layer options from thin to thick and in a range of fabrics. Thin mid-layers in polyester or merino wool, and warmer fleecy versions for really cold days. There are even soft-shell layers with wind resistance that double-up as a windproof jacket.
On top, I'll add a running jacket if it's raining, maybe a thin windproof jacket for warm, blowy days, or even an insulated jacket if I'm running in the snow.
For my legs, it's running shorts on sunny days or even a running skort, thin 3/4 length capris, or full-length tights for cooler weather. When the cold wind blows and there's snow on the ground, I have my ultimate winter tights with a fleecy lining.
Accessorize with caps, hats, gloves, and ear-mitts, don't forget your essential sports bra for support, and invest in several pairs of running socks – yes running socks are worth it!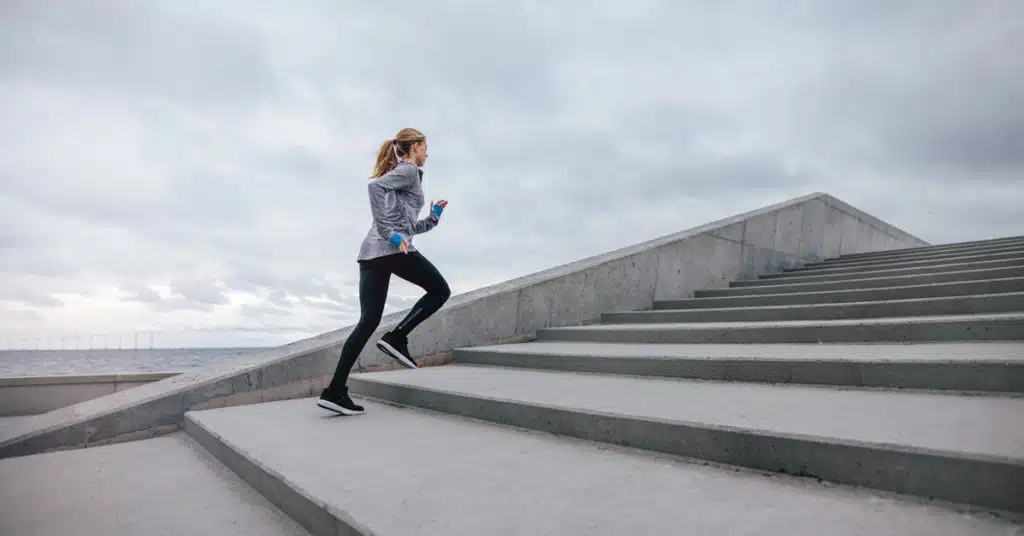 Favorite Picks For Running Outfits Womens
My running wardrobe has grown gradually over the years. It's an investment I keep adding to. Some of these items of womens running clothes I've bought recently and some are similar staples from brands I love.
Essential Sports Bra
After your shoes, a good running bra is the most essential piece of kit for a woman. I find it's extremely painful running without a good bra and you need a high-impact sports bra to protect Cooper's ligaments in your breasts from stretching.
Finding the right bra may take a bit of trial and error. More than any other item on this list, it depends on your size and shape. Women with smaller breasts can get away with crop top-style bras. This is one of my go-to bras. I like the way there are no fastenings to rub if you're wearing a race pack.
For larger breasts, you need a lot more support. A stabilizing bottom band, molded cups, front fastening – these are all features to look out for. Enell has a big reputation for designing running bras for larger cup sizes. This is their most popular front-fastening style.
If you're looking for a bra that suits most runners, try the Champion Spot Comfort Full-Support Sports Bra. It's for cup sizes C to DDD and has a massive fan base. Love the way you're not limited to choosing from black or white.
Baselayers – Ladies Running Tops & Running Vests
Keep cool on the hottest days with this perfect number from Sweaty Betty. The Athlete Seamless Workout Tank. Its polyamide fabric is super breathable and seriously sweat-wicking. Chafing can be a serious issue with some women's running clothing but not with this tank. It's made from a soft and seamless fabric plus the stretchy fabric guarantees an excellent fit.
If you prefer your tops with sleeves, (I certainly do except on the hottest days), you can't go far wrong with tops by Under Armour. These Under Armour Short-Sleeve Tech T-Shirts come in a wide range of colors – something to suit everyone.
In 100% polyester, the tees are ultra-soft with a natural feel. I've been running in one all summer. It wicks well and it's the first top I reach for on warm sunny days.
For a thin long-sleeve baselayer, I'm a huge fan of the Salomon Agile Long-Sleeve Running Tee. It's super soft next to the skin and oozes a luxurious feel.
The polyester fabric, with open mesh construction, makes it one of the fastest drying fabrics I've come across. Just what you want from a baselayer.
I've been using it as an extra layer all summer over a short-sleeved version, but for winter it will be working hard as a baselayer – keeping me dry on my cold-weather training runs.
Running Shorts & Skorts
When it's hot it's time to get those legs out. I love a running skort and Salomon always has some of the best womens running shirts. Really comfortable, I wore this running skirt around an ultra a few weeks ago. Zero chafing and lots of handy pockets for gels. There's also a hidden zipped pocket to securely stash your keys
If you're not a pink lover for your choice of women's running clothing, it also comes in black. I find the undershorts on some skorts are too short and ride up causing your legs to rub on really long runs. Not so with these beauties!
On really hot days I wear my Under Armour Fly By Shorts. Short without being too revealing with a built-in brief just to make sure you're not flashing too much.
The fabric wicks and dries quickly and I like the comfort of the soft knit waistband. These are so popular there's a huge range of colors to choose from – but you can't go wrong with black.
Even with the best women's running clothing, it can be hard work finding somewhere to put your phone when running. That's not a problem with these workout shorts from Sweaty Betty. There's a deep side pocket plus a large secure zip back pocket – room for keys, phone, a gel – everything you need for shorter runs.
With a 6 inch inseam, these are great shorts for the transition to autumnal weather. Those days when it's not quite cold enough for leggings but too cold for short running shorts.
Running Midlayers For Women
Midlayer can mean anything for women's running clothing from something little more than a baselayer in thickness to a substantial pull-on for sub-zero temperatures. The idea is you're trapping air between your baselayer and midlayer. This trapped air warms up as you run helping you to stay warm.
The Craft Core Gain Midlayer is just the sort of item you need when the weather starts to get colder. Designed in Sweden, those guys know a thing or two about keeping warm. It's soft, stretchy, lightweight, and ever so breathable.
A snug layer for hitting those trails.
Even on cold days you can start off running feeling distinctively chilly and a few miles into your run you're doing everything you can to cool down. That's when it's a big plus having a midlayer with a full-length zip.
The Salomon Outrack Full Zip is a good choice for chilly weather. Hitting the trails, this light but warm ribbed fleece makes a top choice for a snug and cozy midlayer. With new colors coming out each season it's hard not to build up quite a collection! They're just so versatile.
This is one of the latest colors:
For really cold weather, it's time to reach for the Sugoi power items. Those pieces of kit you can rely on for running in when less hardy souls stay tucked up warm in bed.
First up is the Sugoi MidZero Zip. There's little to say here except if you live somewhere cold, buy one. You won't regret it.
Running Leggings & Tights For Women
Putting off reaching for leggings or running tights when the weather turns is a mistake. As much as it's tempting to keep your women's running clothing to skimpy tops and shorts for as long as possible, it's hard to train properly when you're cold.
Running capris will help make the transition to winter running. These Under Armour Fly Fast Running Capris are stretchy and super lightweight providing just enough warmth to see you through the Fall.
Sooner or later, as winter sets in full-length running tights become the only sensible option for running in cold weather. The question then becomes "How thick do your running tights need to be?"
Women's running tights range from thin, lightweight fabrics to tights in brushed fleecy fabrics where the best ones are even windproof.
The Salomon Agile Long Tights are one of my favorites for cool weather running. I have 3 pairs to get me through a week of running. Lightweight, a terrific fit, plus a very handy back pocket for stashing my keys or phone when I'm running from the house.
Cold weather running is so much nicer when you have warm legs. I beef up the warmth factor of my ladies running trousers with the Salomon Agile Warm Tight and its brushed stretch fabric or for really cold days it's the turn of the reliable Sugoi MidZero Tight.
Of course, it depends on where you live and the type of running. Mountain trail runners out in the snow will need extra protection, and the Sugoi SubZero Tights should be on your wish list.
Outer Layers For Running In Summer
When you're running in summer, your outer layers need to be easily packable. Lightweight, waterproof and windproof protection you can pull on in an emergency.
If you're a road runner, a windproof, showerproof jacket is often sufficient. Anything else and you're just going to overheat. I also carry a windproof jacket running on the trails. Some of these jackets are so lightweight it's no effort to carry one alongside your emergency waterproof.
My favorite is the Salomon Sense Jacket. It weighs just 80g so I'll often add it to my race vest on a windy day. The fabric is tough and made to last. It does have a durable water-repellent coating (DWR) for light showers but it wears off in the washing machine.
You can reproof it with Nikwax TD Direct Spray-On but I don't tend to bother. For me, the Sense Jacket is purely about blocking the wind. It can make a big difference to warmth and comfort running on a breezy day.
If you run in the mountains, even in summer the weather can change quickly. Never head into the hills without packing a full set of waterproofs. It's always better to play safe even on the hottest days.
My favorite waterproof jacket by far is the Arc'teryx Norvan SL Hoody and you can find out more in my rundown of the Best Rain Jacket For Running. Team with some waterproof pants for full protection in the hills. A good budget option is the Marmot Women's Precip Pants.
Outer Layers For Running In Winter
Sometimes anything goes when it comes to running in winter, especially on the trails. I've had top brands look at me in wonder on the buying circuit when I've pulled jackets out of their alpine climbing ranges and announced "That would be good for winter running".
Sugoi of course understands where I'm coming from. Their Firewall 260 Jacket is a testament to all the hardy souls who venture out in the worst of weather. Wainwright would have loved it.
It's designed for medium to high-intensity workouts in winter conditions. Layer it up with a base and midlayer, top off with your waterproof if it starts to rain and you're ready for anything.
The Arc'teryx Atom LT Hoody is one of those pieces everyone should own. No, it's not designed for running but its lightweight insulation will make all the difference if you're out in bad weather.
If it's cold enough to pull this hoody out of your pack, you're running in some serious conditions. For full-on winter days, I like to have it in my pack just in case.
I'm a big fan of Primaloft Eco Insulation and Marmot uses it in their Variant Hybrid Jacket. It's a stretchy fleece jacket with the added protection of Primaloft panels around your core.
Better still are the thumb loops. Of course, they do help to trap warm air within the jacket, but just having thumb loops automatically makes me feel warmer.
Don't Forget Hats, Gloves and Running Socks
For summer running, I like to use a cap to keep the sun off my race and carry some lightweight gloves, mainly because I always suffer from cold hands!
A big plus with the Salomon XA cap is it's deep if you have a lot of hair and works well with a ponytail.
In winter I have a constant battle to keep my hands warm. I know I'm not the only one. It was the top complaint amongst female runners in my outdoor store.
I've tried a lot of gloves. After a lot of trial and error, I've ended up with an earlier version of the Sugoi RS Zero Gloves.
So far they've never failed to keep my hands warm. The only issue I have is stopping other family members from borrowing them!
Socks are the other essential accessory. I find they're so important I've written a separate post about the Best Socks For Runners.
If you're a runner dedicated to trail running in all conditions, there's another item to add to your list: waterproof socks.
Of course, you can get Gore-Tex versions of trail running shoes. These can help keep your feet dry until the moment the water goes over the top of your shoes. Then you're stuck for the rest of your run with wet feet sloshing around in water trapped inside your shoes.
It's far better to have waterproof socks with a hydrostop seal around the top of your ankle to prevent water ingress. I've been using Sealskinz All Weather Waterproof Socks for years.
Last of all – never forget your hat. Keeping your head warm protects against heat loss and just feels so much nicer if you're running in cold weather. Smartwool have some of my favorites:
Building Your Women's Running Clothing Wardrobe
Your running clothing is unique to you. This post will give you ideas but it's best to work out the type of runner you are, road or trail, someone who's happy to go out in all weathers, or someone who heads for a treadmill when bad weather hits.
I find it's better to buy items from brands I trust, saving up for the pieces I really want instead of making do with inferior products. When I find garments I love they get a lot of use!
Women's running clothes are seasonal so if you buy wisely at the end of the Summer or Winter, you can often pick up the pieces you need at good prices. I've had some great buys this way – running wardrobe staples at knock-down prices. What's not to love!
If you've found this review helpful, you may enjoy my other gear-related articles: