It's always easier to eat healthy food for weight loss in the summer. Fresh local produce arrives in the supermarkets and when it's hot, healthy vegan summer salad recipes are a simple option.
Who wants to slave over a stove in the heat?
The only problem is it's easy to get stuck in a rut, turning out the same salad every time. It's boring for your taste buds and your body's missing out on the benefits of variety.
Instead, make the most of all the different nutritious food available by trying out these delicious vegan salad recipes. You'll eat better and your body will thank you…
The Best Vegan Salad Recipes
Summer is the time to make the most of refreshing salads packed full of in-season local produce. Pick those cherry tomatoes from the garden, slice up a red onion, and meal prep your favorite salads. These are some of mine…
Nectarine Salad with Dill Vinaigrette
Full of summer possibility. It's a simple twist on an avocado salad and full of healthy fats. Colorful nectarine, leafy greens, and avocado are all united by a dill vinaigrette – a balsamic dressing flavored with lemon juice. It's a great way to impress for a summer lunch.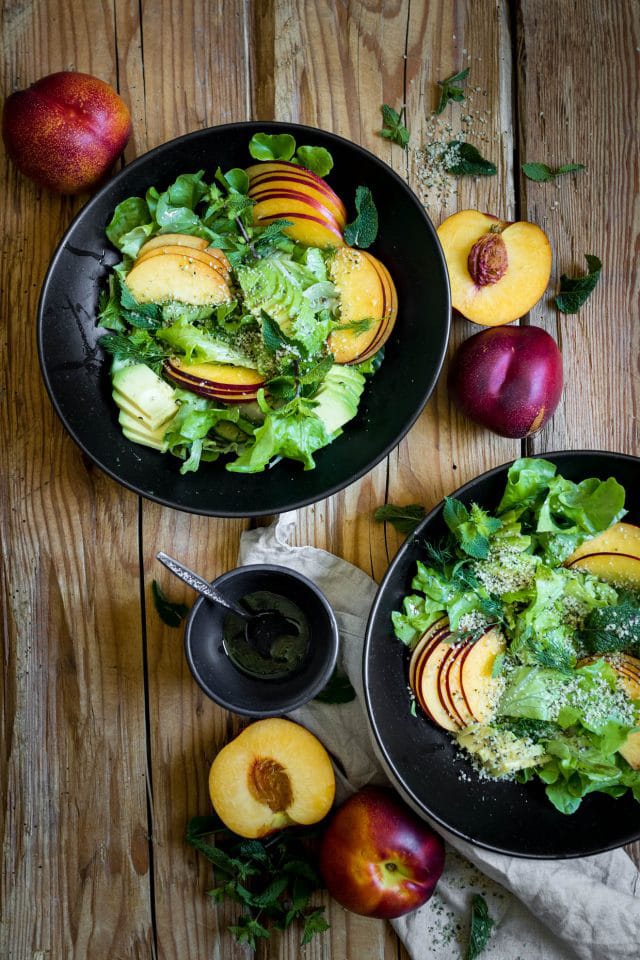 Recipe by Lauren Caris Cooks
Mediterranean Quinoa Salad
If you're a vegan I'm sure you know all about the health benefits of eating quinoa. It's gluten-free, and high in fiber, protein, and nutrients. Quinoa salad always makes a hearty main dish but this recipe goes one step further with added beans for an extra protein boost. The recipe uses white beans but I find black beans work just as well. It's a good take-out meal for summer picnics – just pack and go!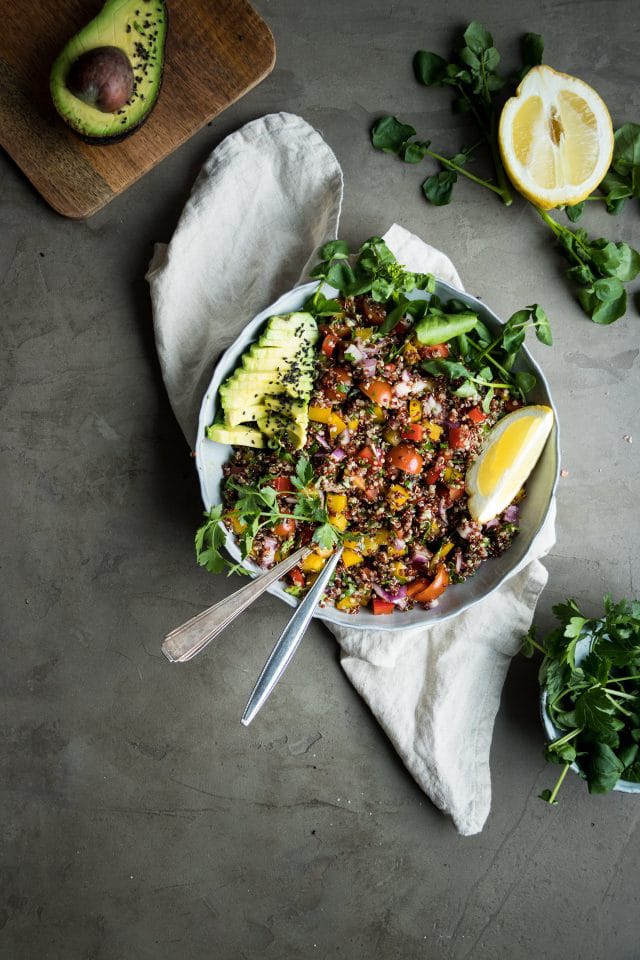 Recipe by Lauren Caris Cooks
Vegan Cobb Salad
Green salads don't get more hearty than this! It's a good salad to make when you have hungry mouths to feed. Full of fresh produce, it's a twist on the classic dish invented by the restauranteur Bob Cobb in 1937. Vegan bacon, chickpeas, and radishes replace the meat-heavy ingredients of the original dish. Cobb lettuce, red onion, cherry tomatoes, and sweetcorn provide lots of fresh flavors. Sprinkle some pumpkin seeds or sunflower seeds on top for extra crunch!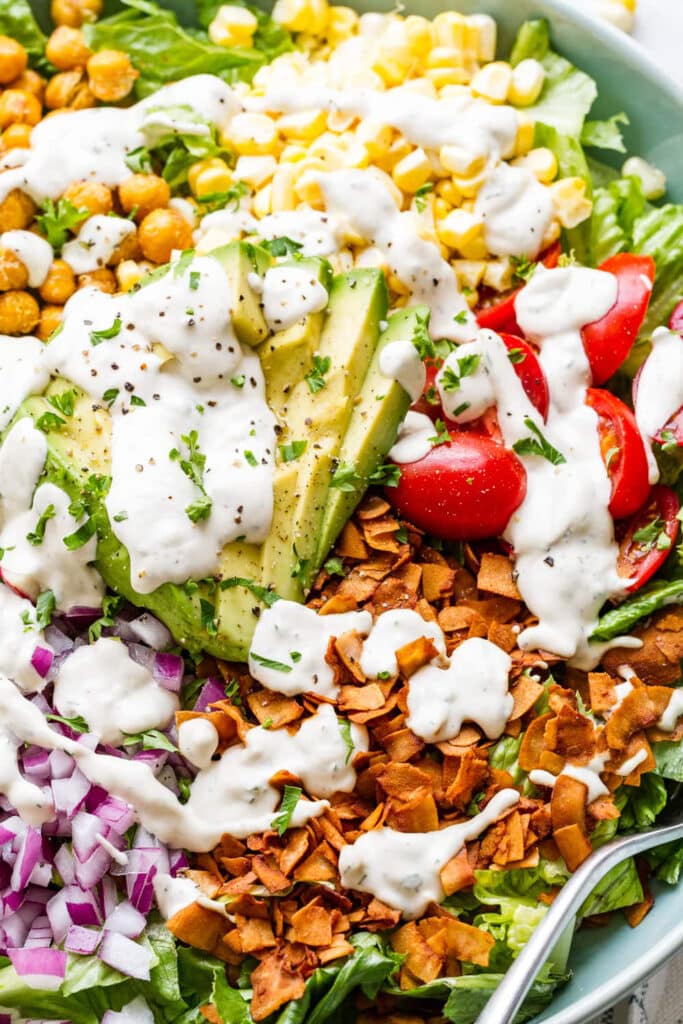 Recipe by The Simple Veganista
Southern Vegan Potato Salad
Another delightful recipe with classic, perfectly seasoned creamy mayo. Simple dressings are often the best! You can make your mayo from scratch or buy vegan mayo in your local grocery store. As an alternative try making sweet potato salad – just make sure you don't overcook the potatoes.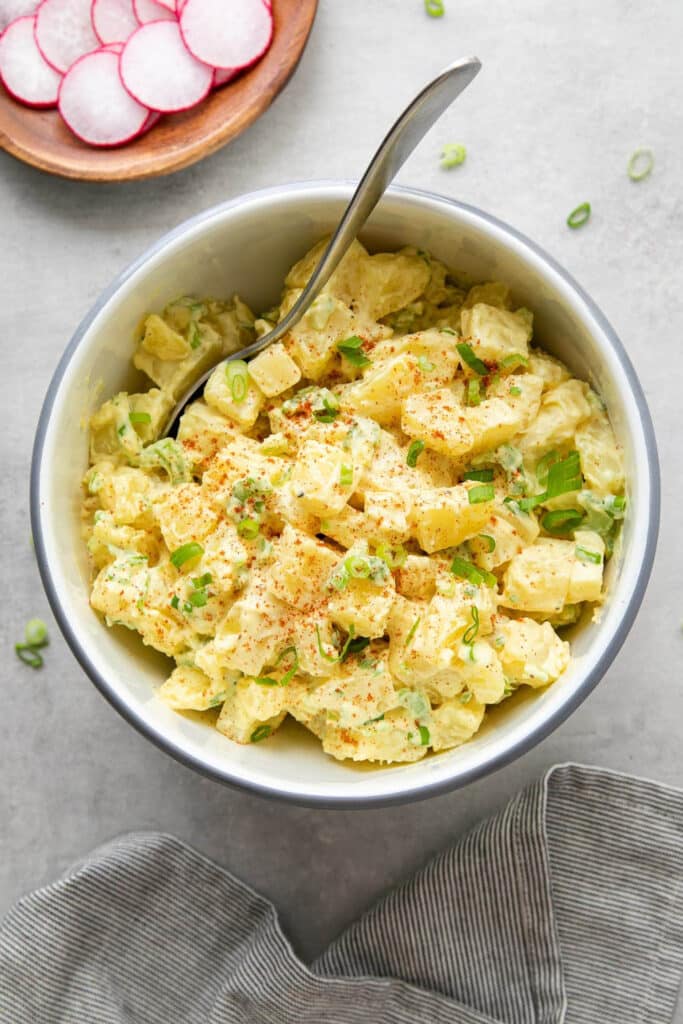 Recipe by The Simple Veganista
Chickpea Chopped Kale Salad with Adobo Dressing
Smoky, spicy, sweet and savory, and full of crunchy veggies. It's topped with a chipotle vegan dressing. Spicy roasted chickpeas are combined with candied walnuts, grape tomatoes, and kale tenderized in lime juice and olive oil.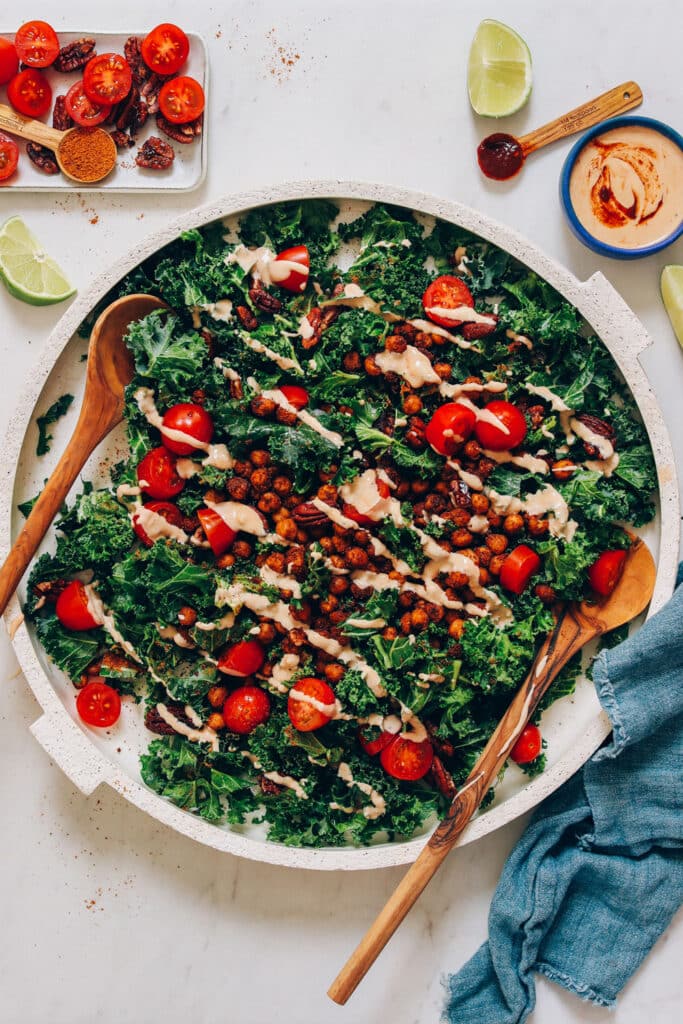 Recipe by Minimalist Baker
Mexican Street Corn Salad
Am I the only person who thinks this dish looks like popcorn? Fresh corn gives this dish a nice crunch. With garlic, scallions, lime juice, and cilantro there's a zingy, fresh, oniony flavor. It's a vegetarian summer salad dish but you can easily swap the cotija cheese for your favorite vegan cheese alternative. I like to add chopped red bell pepper to my dish for extra crunch!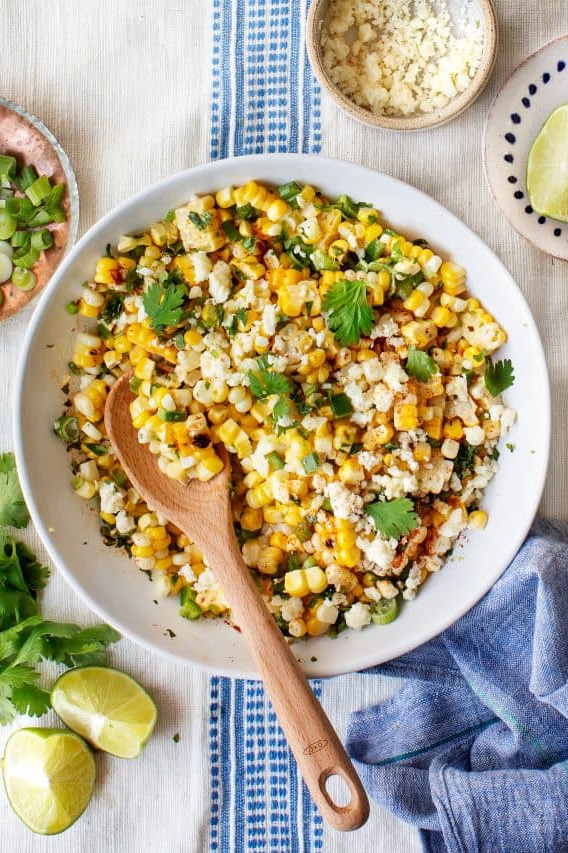 Recipe by Love & Lemons
Watermelon Tomato Salad
Who knew that watermelon and tomatoes worked so well together? I certainly didn't! This vegan recipe provides a perfect refreshing salad for hot summer nights. The sweet fruit works so well with a simple balsamic vinegar and olive oil dressing. Whole basil leaves bring out the flavor of the fresh tomatoes.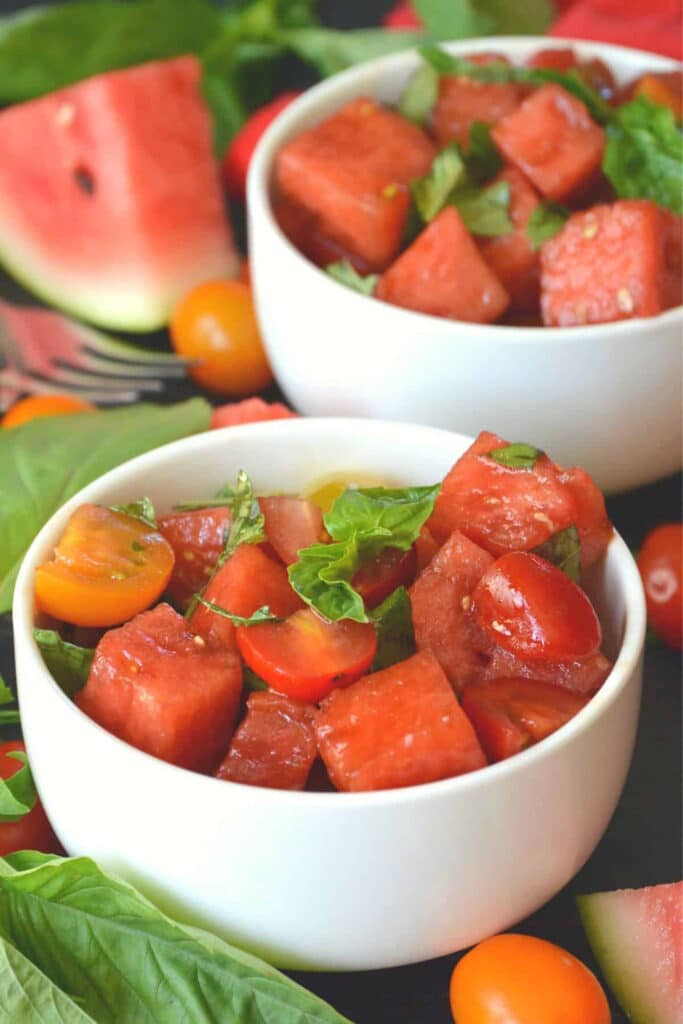 Recipe by Veggies Save The Day
If you've enjoyed this post you may like these recipes for bean salads and vegan pasta salads. The Quick Italian White Bean Salad is my favorite side dish. Or try these other healthy recipe ideas and weight loss tips: