I can happily eat salads all year round – it's just so easy! No cooking involved. And that's a big plus when you're juggling work, family life, and trying to eat healthily… That's what makes these easy vegan bean salad recipes so great. It doesn't have to be summer to source the ingredients. These bean salads are a healthy option all year round!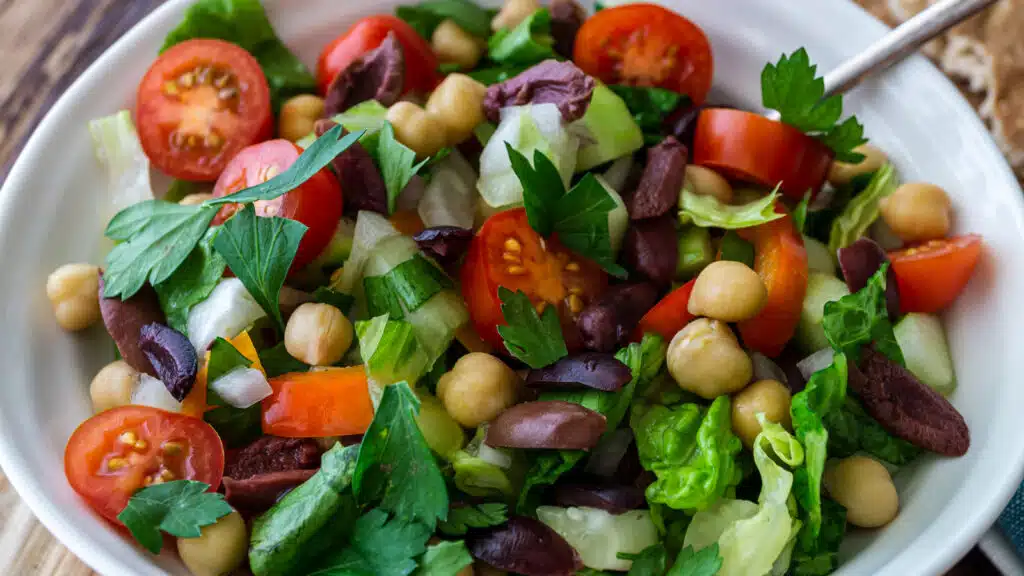 Why is bean salad good for you?
Beans are a great way to add protein, fiber, and minerals to your diet. They're low in fat and calories, yet high in nutrients. Plus they're filling and satisfying, making them a perfect food for weight loss or maintenance.
Studies show that eating your beans can reduce your cholesterol levels, regulate your blood sugar levels, reduce blood pressure, and even help to shift unwanted belly fat.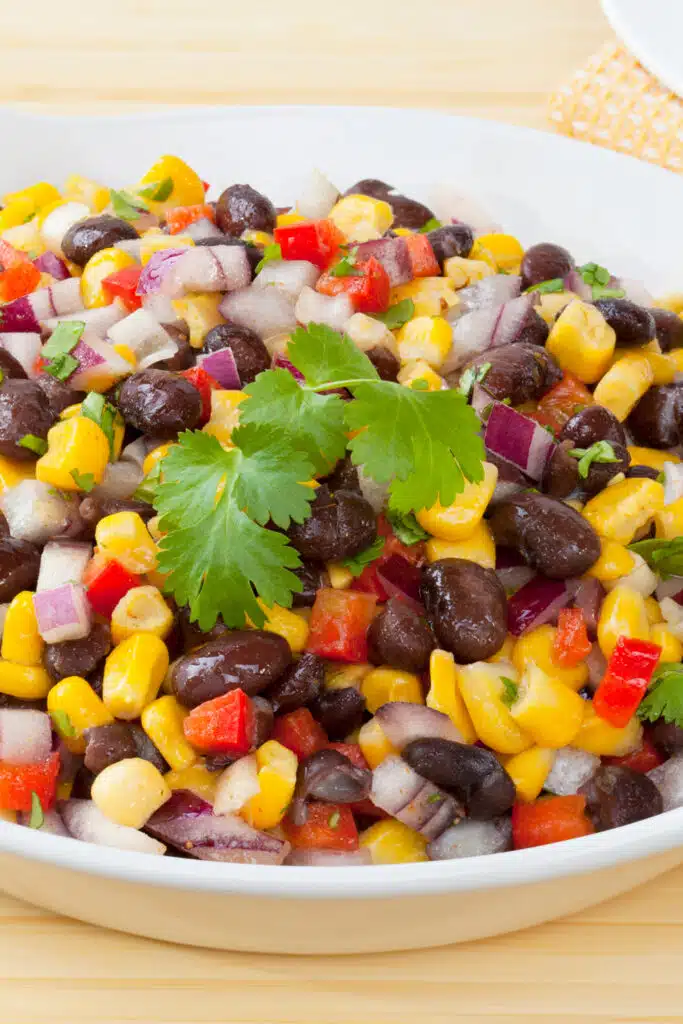 Vegan Protein (Kidney Beans To Cannellini Beans)
Want to know how to get enough protein on a plant-based or vegan diet? Eat your beans. They're one of the top sources of protein for vegans and vegetarians from soups to main courses and of course salads. Plus bean dishes are really cheap – great if you're on a budget!
In one cup of cooked beans, there are around 15 grams of protein – that's more than 30% of the daily recommended value for the average woman and 25% for a man.
You may have heard about complete protein and incomplete protein sources. A complete protein contains all the nine essential amino acids your body needs to perform at its best. Beans of all types and colors such as black beans, green beans, white beans, contain eight of the essential amino acids. You can make beans a complete protein source by combining them with grains, seeds, or nuts.
Eat your bean salad with rice or a hunk of whole-grain bread and you have a complete protein source. Or just sprinkle on a few seeds or nuts to finish the dish. Alternatively, just make sure you're eating a variety of plant-based foods throughout the day, you'll get all the essential amino acids you need.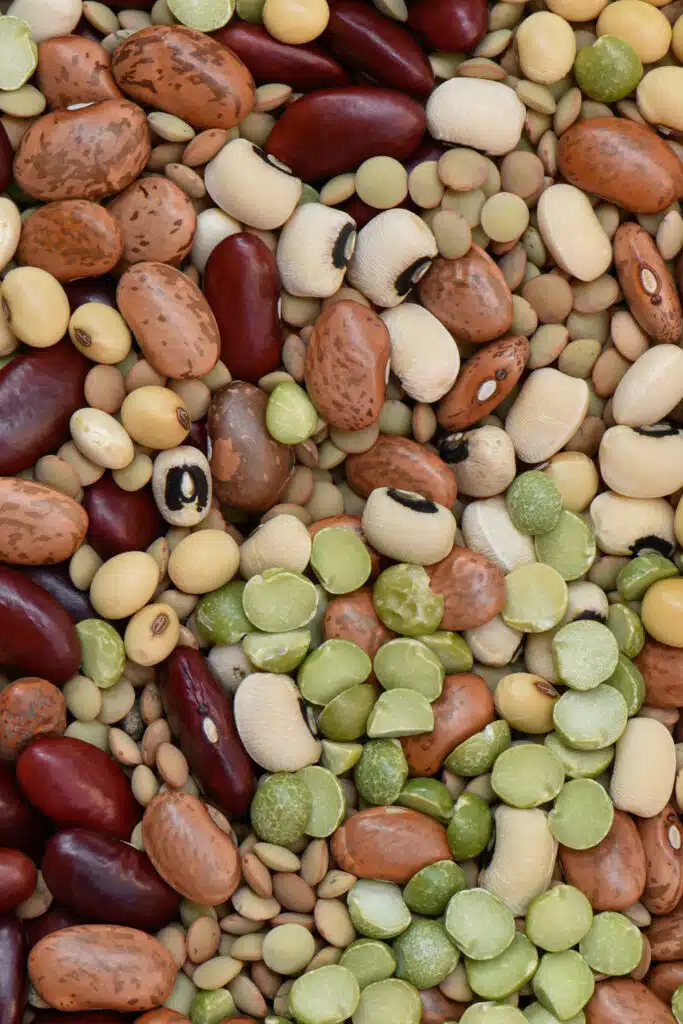 Easy Bean Salad Recipes
These are some of my favorite healthy food recipes. Bean salad can be a side dish or a filling main course. It's a good choice for meal prep and will stay fresh for a few days in the fridge. From summer picnics to a quick lunch, add these amazing recipes to your meal plans!
Quinoa And Bean Chopped Salad
This colorful easy recipe combines red kidney beans with artichoke, red bell pepper, avocado, and cherry tomatoes. All tossed in a tangy dressing of lemon juice and olive oil.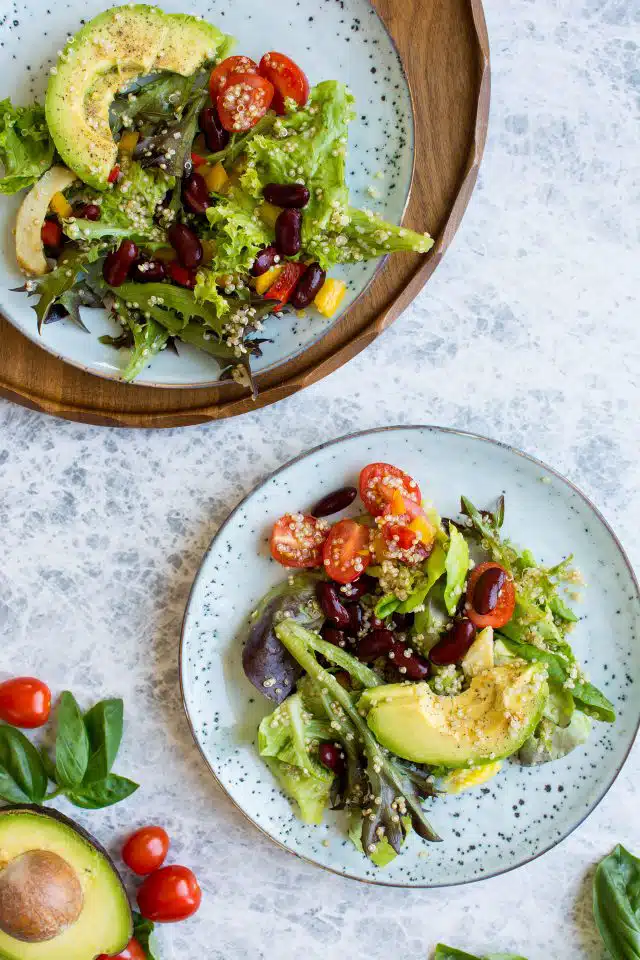 Full recipe on Lauren Caris Cooks
The Best Greek Chickpea Salad
In case you're wondering – chickpeas are beans. They're also known as garbanzo beans. And this delicious Greek salad is one of my favorites!
It's a crunchy vegetable delight full of fresh herbs and the sharp pungent flavor of chopped red onions. All balanced with cool cucumbers, bell pepper, tomatoes, olives, and creamy avocado. It's absolutely delicious and an easy salad to make!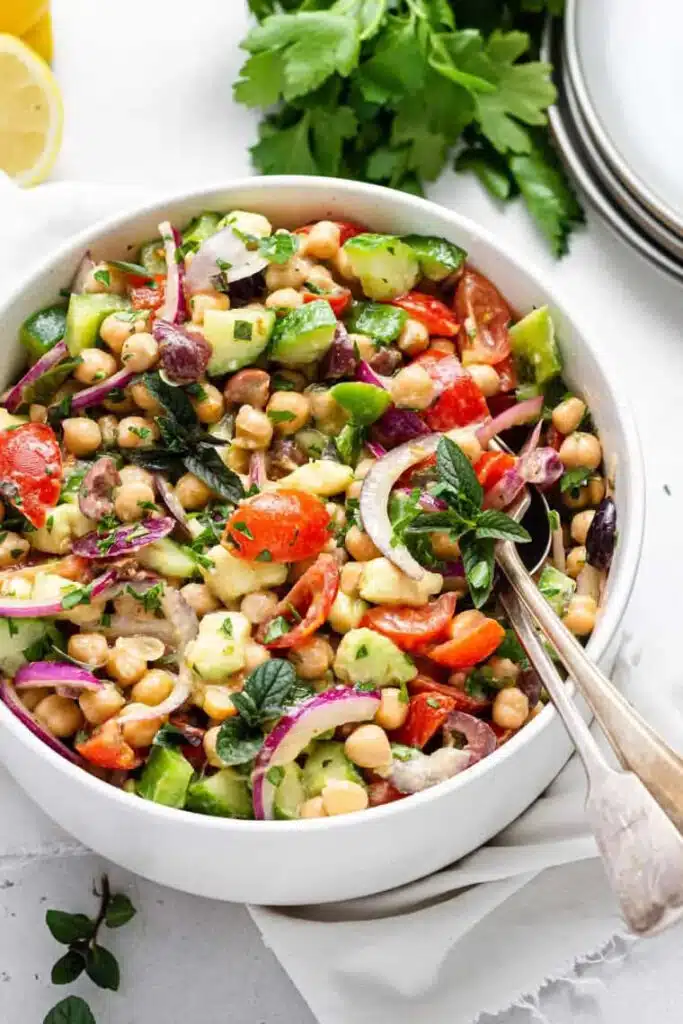 Full recipe on Simply Quinoa
Black Bean, Corn & Avocado Salad
In a large bowl mix sweet corn with high protein black beans, juicy tomatoes, and ripe avocado for a dish that screams summer! Add jalapeno peppers for heat and the zing of a lime juice dressing. Enjoy!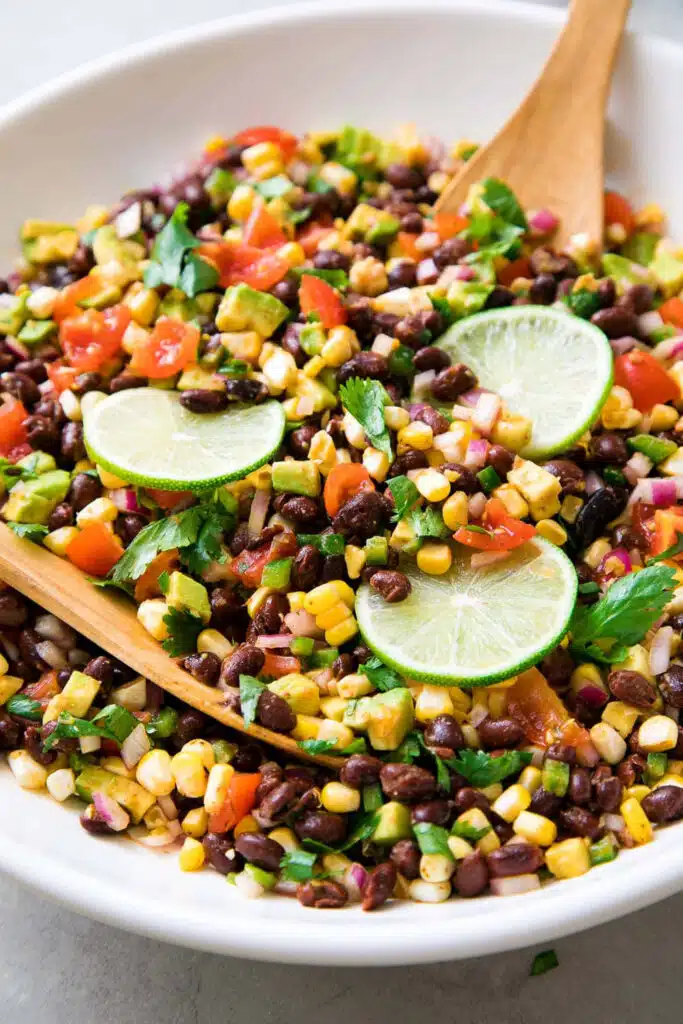 Full recipe on Simple Veganista
Green Bean Salad
This easy salad recipe is perfect for a potluck or summer BBQ. Tender green beans are tossed in a honey mustard dressing with radicchio, red onion, toasted nuts, and tarragon.
Serve as a complete meal with rice or your favorite whole wheat bread or as the perfect bean salad side dish.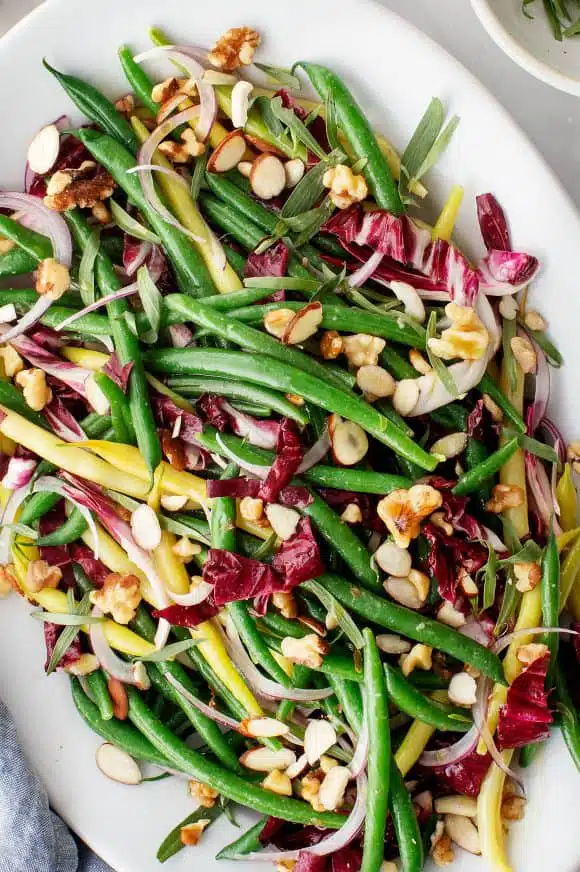 Full recipe on Love & Lemons
Asparagus & Lima Bean Pasta Salad
The lima beans and pasta in this dish make a wonderful complete protein combination. It's an easy bean salad recipe that's a little unusual but absolutely delicious.
I find any white beans such as navy beans work just as well in this dish. Made with canned beans it's super quick to make – just right for a filling meal at the end of a busy day!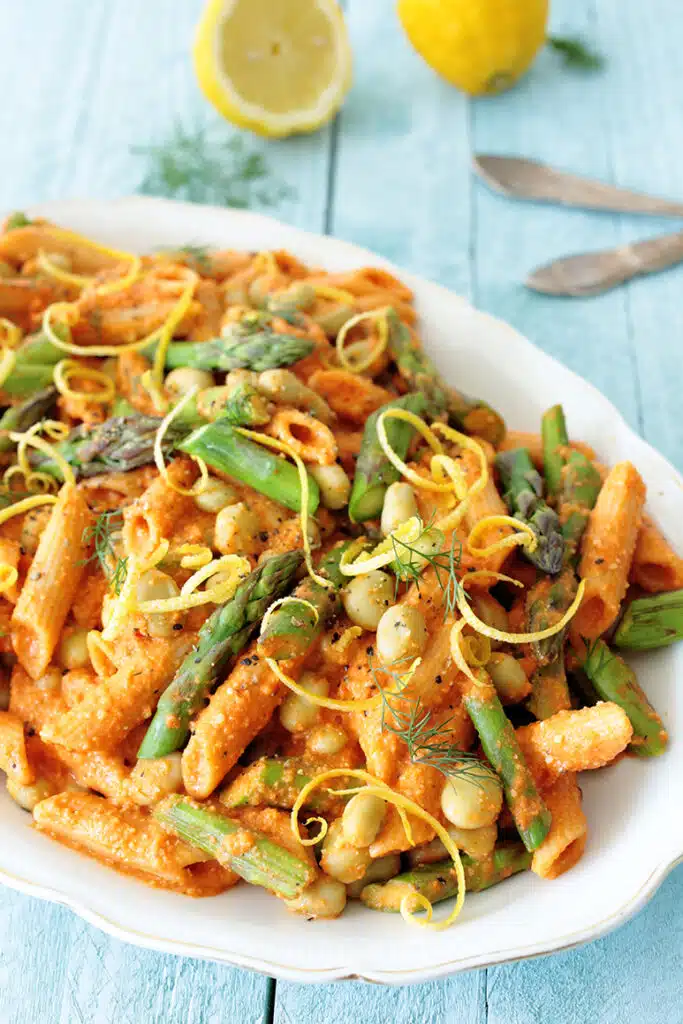 Full recipe on Green Evi
Cannellini Bean Salad
This light and healthy salad is perfect for summer. The cannellini beans are tossed in a simple garlic lemon dressing with fresh tomatoes, kalamata olives, and herbs. It's easy to make and can be served either chilled or at room temperature.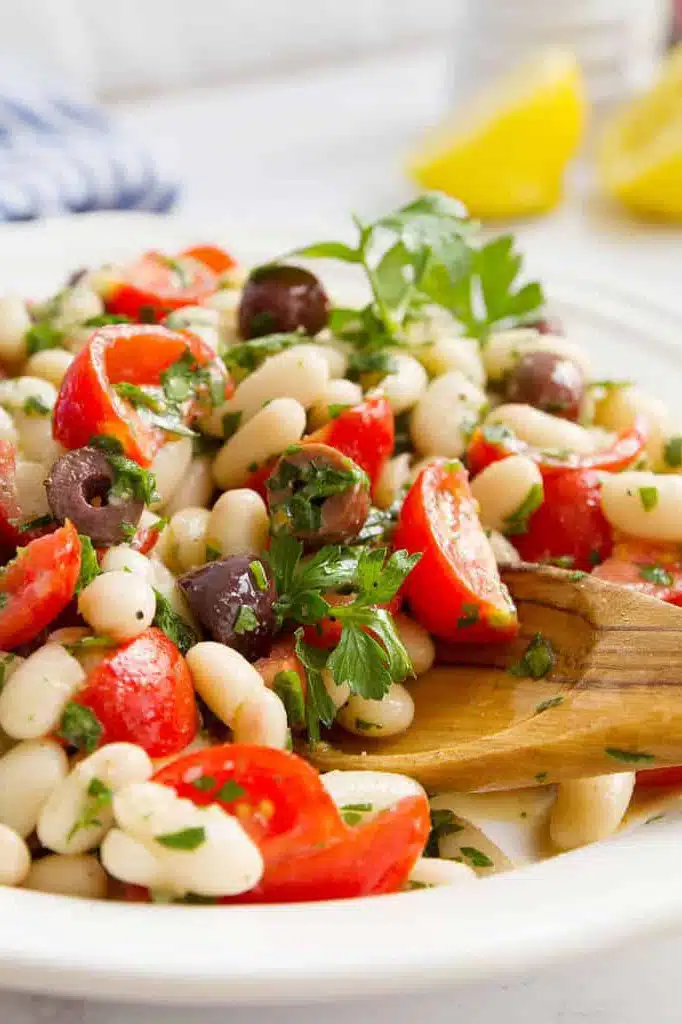 Full recipe on The Clever Meal
Quick Italian White Bean Salad
I love making this easy salad for lunch. Tender white beans combined with juicy cherry tomatoes and fresh basil. Drizzle on olive oil and red wine vinegar, season to taste.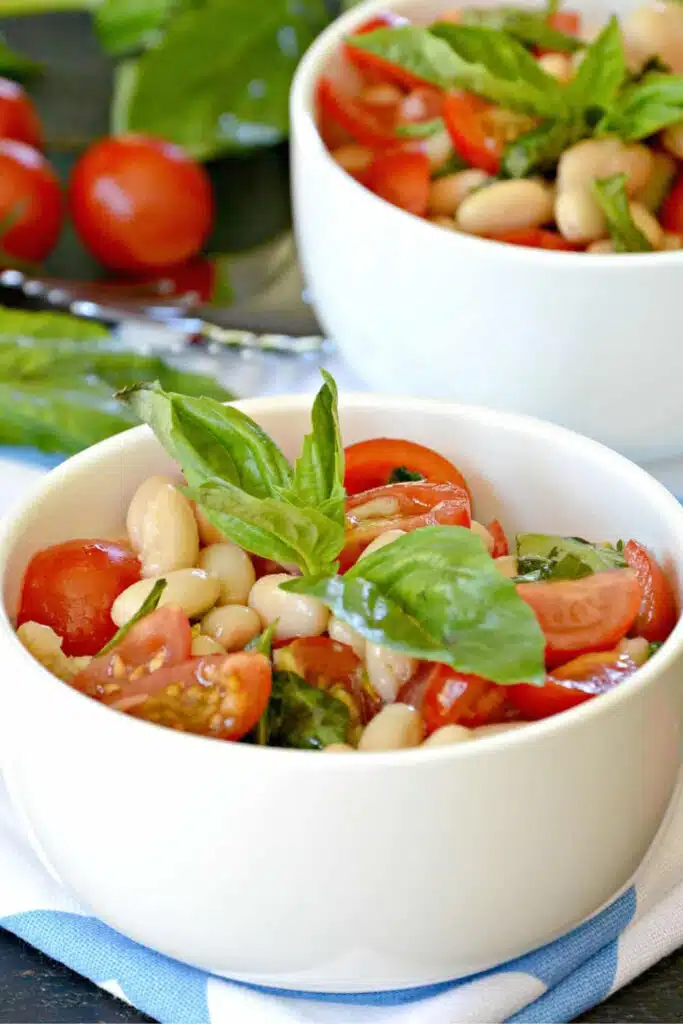 Full recipe on Veggies Save The Day
Classic Three Bean Salad
A list of bean salad recipes wouldn't be complete without a three bean salad. It's a super easy dish to prepare – you just have three types of canned beans to open!
The dish uses kidney beans, white beans, and green beans. You could use dried beans instead of canned beans and fresh green beans in your recipe, but that's a lot more preparation. Canned beans can just be drained and rinsed – and they're ready to go!
This take on a classic recipe is full of freshness and not too sweet!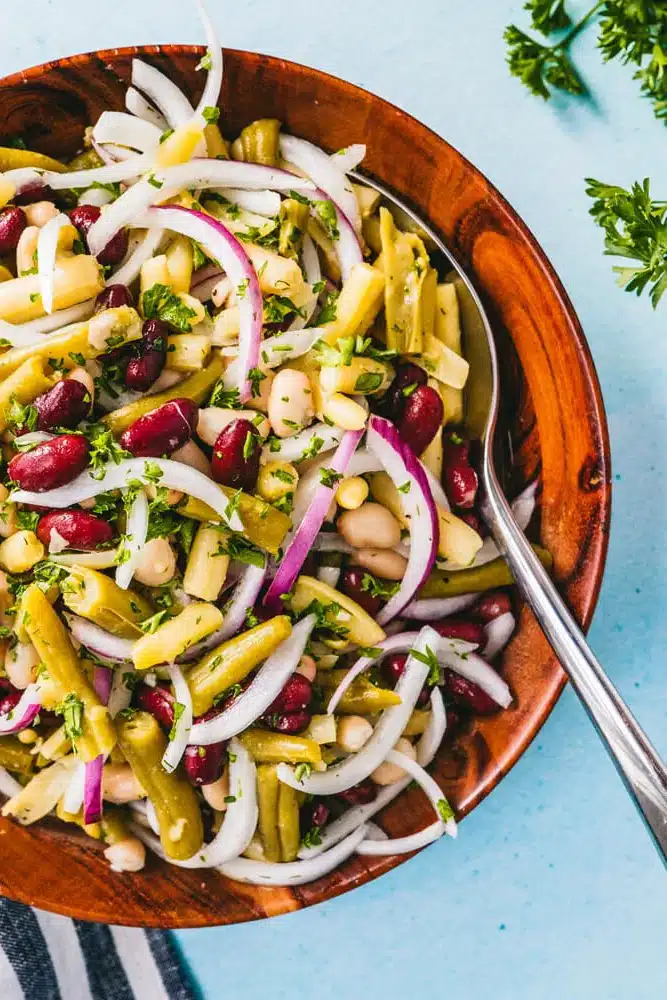 Full recipe on A Couple Cooks
So, there you have it – vegan bean salad recipes that are perfect for potlucks, picnics, and summer parties – or just quick meals at any time of the year. They're all easy to make, delicious, and healthy. Which one will you try first?