We've all done it. Splashed out on some swanky, high-performance training shoes and teamed them with those tatty cotton sports socks that lurk at the bottom of our underwear drawer. It's time to fix this mismatch! Discover the best socks for runners and find out if running socks matter!
Are Running Socks Worth It?
Yes! The best socks for runners are durable, comfortable, and retain their shape. They stop your foot from sliding about inside your shoe so your running shoes feel responsive. Good running socks will help prevent blisters.
Best Running Socks 2022
Tried and tested top picks for runners!
This review is based on my own independent product knowledge and testing. If you like what I do, you can support me through my chosen links. I may earn a commission but it's at no additional cost to you. Learn more about my product recommendations.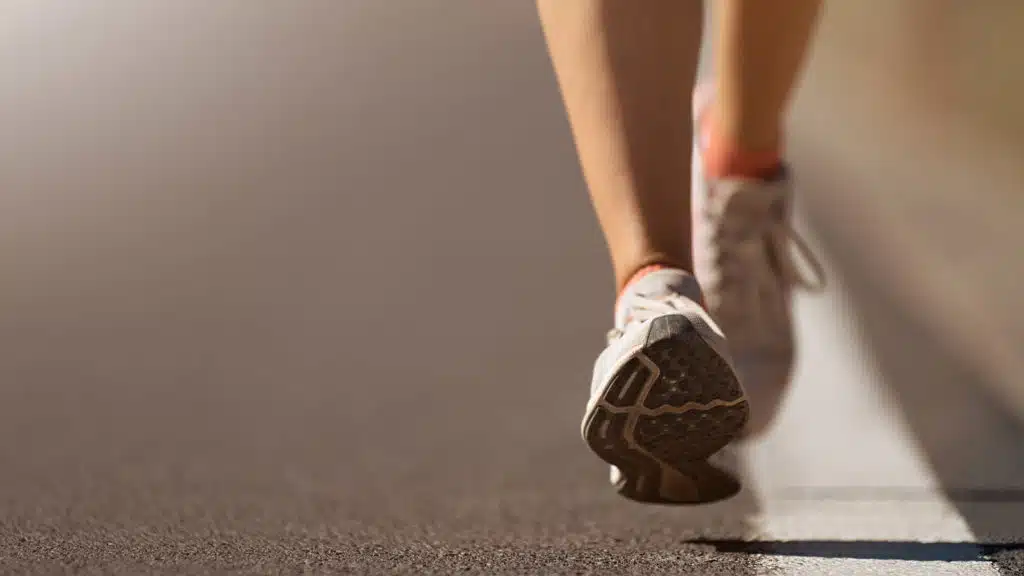 Do Running Socks Make A Difference?
If you think a sock's just a sock, think again!
Typical sports socks are thin cotton, lack cushioning, and have annoying blister-creating seams. The best running socks will make a difference to your running performance.
Expect good running socks to:
Closely fit your feet.
Have cushioning in strategic areas – at the heel, under the ball of your foot and around the toes.
Provide some arch support.
Use breathable, quick drying, wicking materials.
Be seamless in the toe area and other high friction areas.
Use elastane for a great fit and shape retention.
Running socks may seem expensive, but a lot goes into making these socks. They're definitely worth it!
The Best Materials For Running Socks
Cotton may be a popular choice for socks but it's not a good material for running. It soaks up water as your feet sweat and takes a long time to dry. Those favorite cotton socks quickly turn into damp uncomfortable socks that rub and cause blisters.
These cotton socks rarely last, quickly lose their shape in the wash and turn from soft and fluffy to the composition of cardboard. At least that's what happens in my laundry!
Merino wool has developed a huge following with runners. It remains comfortable next to the skin after several washes and it's good at regulating temperatures. Socks made from merino wool feel warm in cold temperatures and cool on hot days.
The softness of merino wool is its big selling point, but it does tend to wear out quickly. Merino wool socks also need some spandex content to be able to wick moisture. Maybe the best thing about merino socks is their odor resistance!
Synthetic is the top choice when it comes to the best running socks. A mix of nylon for durability, polyester for comfort, and spandex for shape retention provides the ultimate running sock!
Are Thick Or Thin Socks Better For Running?
The answer to this one is it depends. The amount of cushioning in a sock is down to each runner's individual preference.
Good running shoes replaced regularly, are your main defense against running impact. The cushioning in socks is mainly to protect against rubbing and friction.
Look for cushioning around the toes, ball of the foot, heel area, and across the top of the foot where laces can cause sore points on long runs.
Some runners like thinner socks for a more responsive feel to their shoes. Others like thicker socks for protection against blisters and the feel-good factor of wearing cushioned socks.
Temperatures may affect your choice of thick or thin socks. Most runners with wear more cushioned socks in winter opting for lightweight socks in hot summer weather. Cushioning helps to keep your feet warm.
The thickness of your socks can help if your shoes are a little too tight or loose. Even with half sizes in running shoes, it can be hard to get the perfect fit. Team with the right thickness of socks for the ideal solution.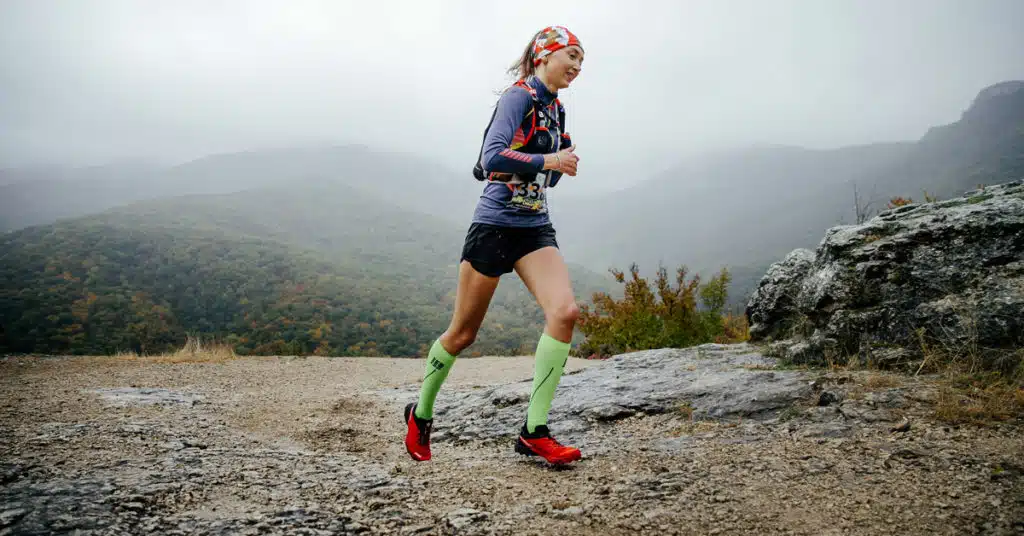 Avoid Socks With Slick Surfaces
I've tested a lot of running socks over the years. When I used to be a buyer for an outdoor store, I'd often be sent the latest brand of running socks to try.
The most common problem with inferior running socks was slick surfaces. The last thing you want when you're running is a sock that slips about in your shoes.
If your running shoes are the right size, the fabric of your socks should help keep your feet firmly in place. So beware of socks with slick surfaces.
Choose Socks With Seamless Technology
Seams will always rub! Look for seamless toes in your running socks and in other areas where your foot is in contact with your shoes.
The Achilles area is another prime friction point. The best running socks will have a padded heel tab to protect where the top of your shoes can rub against your ankle.
Cuff Height Of Running Socks
The length of your socks or cuff height is really down to personal preference. It's best to be careful with no-show socks. Make sure they still provide adequate protection to stop your shoes from rubbing.
A longer cuff can be better in cold weather for warmth, and for trail running a cuff helps protect ankles from vegetation.
Are Compression Socks Worth It For Running?
Some people swear by compression socks and other people will avoid them. Knee-length compression socks work by reducing excess movement in your calf muscles. This is believed to improve muscle efficiency.
Many runners believe compression socks aid performance on long runs, preventing cramps, reducing tiredness, and even helping protect against calf tears.
The evidence is inconclusive so it's really down to personal preference. A downside is compression socks can sometimes squeeze the top of your foot too much and add to your problems.
Do You Need To Wear Running Socks?
Running socks are not essential. There are minimalist running shoes available that come with inbuilt sock liners and are designed to be worn sock-free.
However, before you try running without socks, make sure your running shoes are suitable. Shoes for sock-free running need extremely comfortable inners. Otherwise, you'll be losing a few toenails and getting some nasty blisters!
Best Socks For Runners 2022
These quarter-length running socks hit all the right boxes. Made from a mix of nylon, polyamide, and elastane, they combine the sought-after qualities of toughness, comfort wicking performance. Wet feet will soon dry out wearing these socks!
They have an anti-blister seamless knit and light compression for arch support. The cushioning level is medium and should suit most runners – a good balance between responsiveness and comfort.
These socks come with a lifetime guarantee – no conditions and no questions asked. Plus Rockay uses 100% recycled materials. With an excellent Polygiene anti-odor treatment, these socks are hard to fault. Love them!
The Rockay Flare running socks are available in different colors. The socks have unisex sizes. View the full range here.
These no-show running socks are a clear winner with customers. The synthetic mix of polyester, nylon, neofil, and elastane makes these socks very popular for comfort levels and wear resistance.
The seamless toe box prevents blisters and the high heel tab stops that annoying way some hidden socks end up bunched around the arch of your foot. That's not going to happen with these no-show socks!
With high cushioning, you'll be wanting to wear these comfy socks all day long – not just on your runs.
These Balega Hidden Comfort Socks are unisex and come in a vast selection of different colors. See the full range.
Prefer your socks made from natural materials? Or do you just like the cozy feel of merino wool? These Smartwool socks will suit most merino wool lovers.
They come in a mix of merino, nylon, and elastane for better durability and excellent wicking properties compared with a pure merino sock.
With high cushioning and a virtually seamless toe, these socks are designed to stay put – no slippage!
A favorite for trail runners and lovers of long-lasting socks. These 1000 Mile Fusion running socks are designed to go the distance.
Protection in all the key areas including around the ankle bone – keeps gravel and debris at bay. There's a winter option that comes higher up the leg for those snowy days!
Are Running Socks Expensive?
There's a lot of technology that goes into producing a running sock. Think about the zoning, support, seamless technology, and wicking properties of a good running sock!
More importantly, think about the benefits. Yes, you can run in cheap cotton socks but be prepared for blisters and chafing. Good running socks will provide miles and miles of blister-free comfort. That makes running socks worth it!
If you've found this review helpful, you may enjoy my other gear-related articles: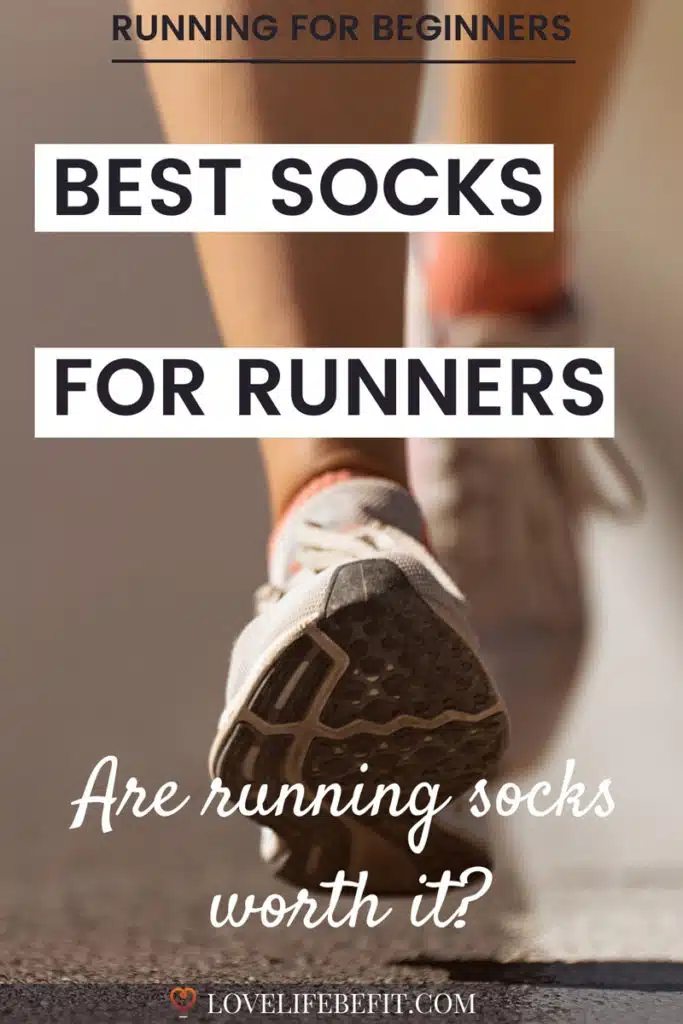 Are running socks worth it?
Yes! The best socks for runners are durable, comfortable, and retain their shape. They stop your foot from sliding about inside your shoe so your running shoes feel responsive. Good running socks will help prevent blisters.
Do running socks make a difference?
Run without socks and unless you're wearing shoes with an inbuilt sock liner, you can expect to get blisters or lose a few toenails. Good running socks make a big difference in comfort levels compared with standard sports socks. They wick moisture away from your foot, dry quickly, and protect your foot from rubbing.
Are expensive socks worth it?
Running socks may seem expensive but there's a lot of technology used to protect your foot when you're running long distances. Seamless technology, performance wicking knits, supportive insteps, shape retention, plus running socks will last a lot longer than your cheap cotton sports sock.