There are a few hard and fast rules when it comes to what to wear to yoga class. When you're choosing your yoga outfit it needs to be:
Non-restrictive, so you can stretch easily.
Supportive, holding all those body parts in place.
Made from breathable fabric so you don't get hot and flustered.
Able to stay put – no matter what position you find yourself in!
Ask before you attend your first class and the answer is often just to wear any non-restrictive clothing.
Now that's all very well if you have zero inhibitions, and maybe it depends on your body type, but some of us have body parts we'd rather keep under wraps. Your favorite sportswear outfit may not be quite so flattering when you're inverted in downward dog.
Read on for my tips and advice on what outfit to wear to yoga class when it's your first time …
This review is based on my own independent product knowledge and testing. If you like what I do, you can support me through my chosen links. I may earn a commission but it's at no additional cost to you. Learn more about my product recommendations.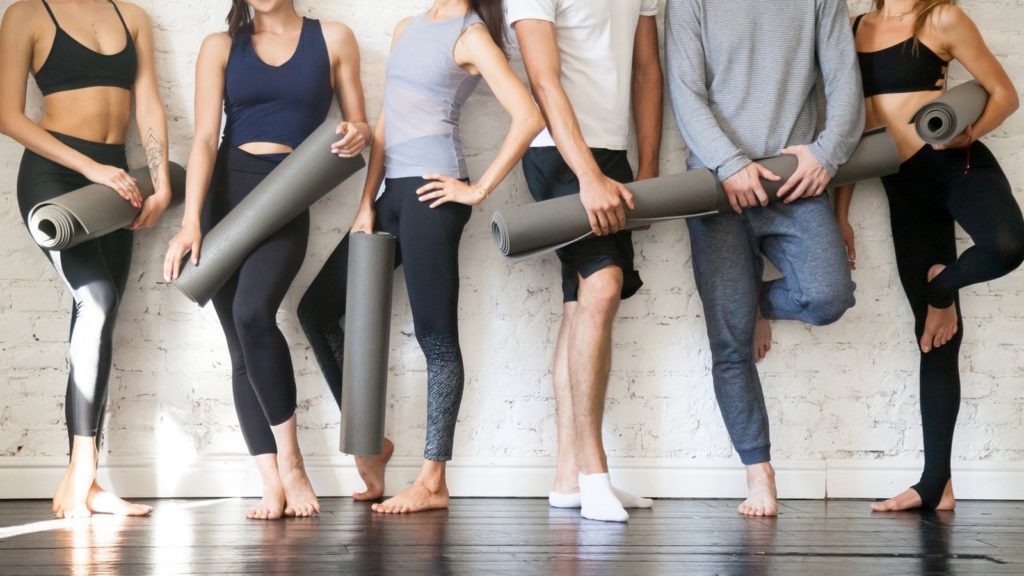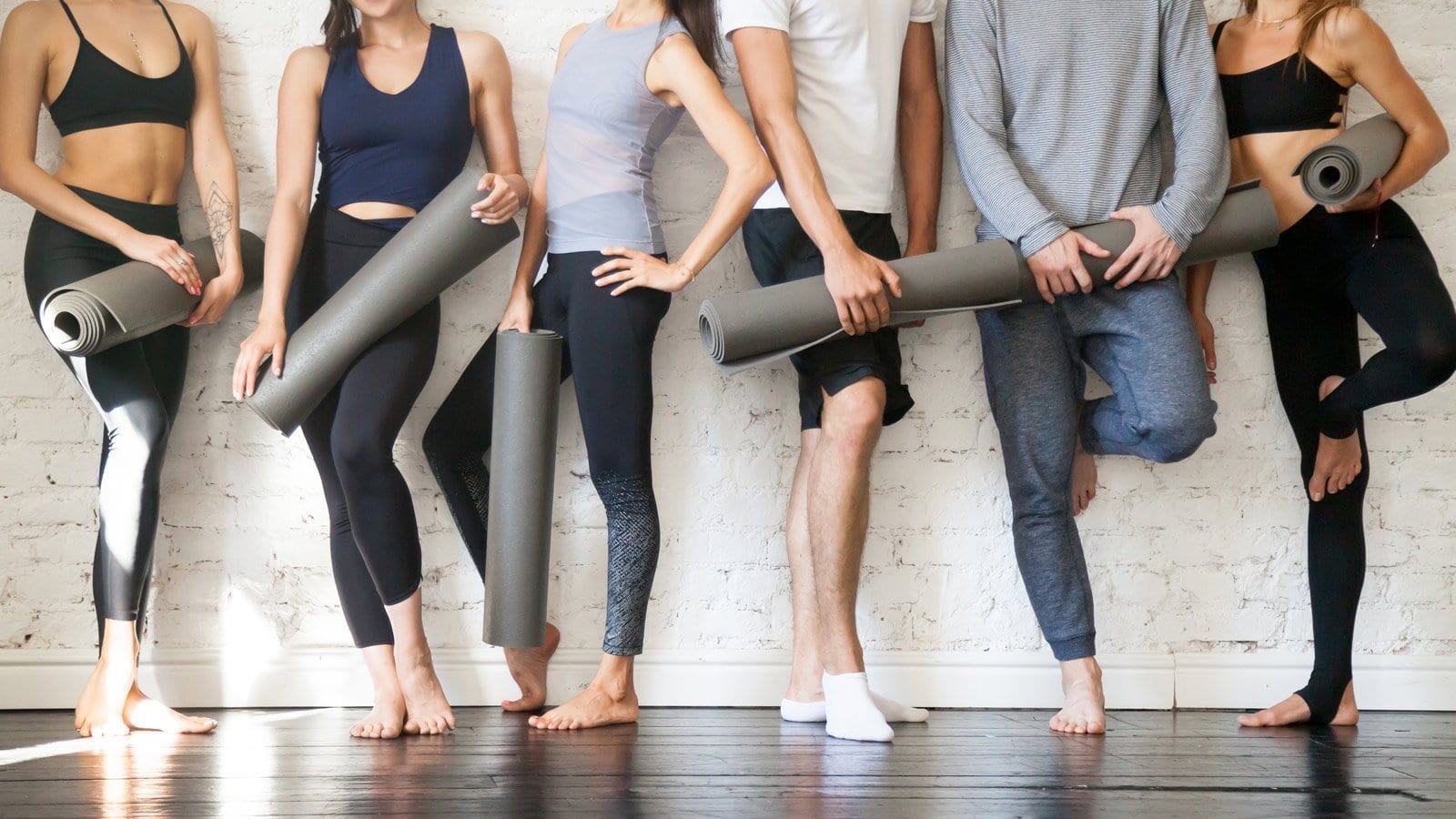 What To Wear To Your First Yoga Class
If you already run, work out in the gym or take fitness classes, it's likely you'll have most of the right clothes you need for yoga.
Now of course if you're looking for an excuse to buy a whole new outfit – please go ahead. Don't let me stop you from buying yoga clothing!! It's just that unless you're heading to some super trendy yoga studio you may not need to splash the cash.
✅ When it comes to buying yoga clothes, fit is important. This is my favorite yoga brand. The pieces I've bought from this range always fit well and last for years.
Yoga Attire – You Need A Good Sports Bra
The first item for any female yogi is a good sports bra. By good, I mean a bra that's supportive and gives decent coverage. You don't want to be popping out in the middle of yoga poses!
It doesn't have to be as supportive as a running bra but it does need to hold you in place. Your sports bra needs to be comfortable. You don't want to be distracted during your yoga workout.
It's also good to avoid any bras with fastenings at the back. You'll be spending time doing floor work and you don't have anything digging into your back!
I like the way this yoga bra from Running Girl has flat seams for comfort on the mat.
Of course, you don't need a yoga bra this decorative. This one from Crz Yoga is simple and supportive.
It's best to try out a few different yoga bras and make sure you find one that fits well with good support.
---
Yoga Pants or Leggings
Wearing leggings or looser-fit yoga pants is down to personal choice. Leggings started taking over the yoga bottom scene about ten years ago. Now they're everywhere! I can't remember the last time I saw anyone wearing yoga pants in class.
The leggings you already have in your closet may be good enough for a yoga class. Just get a good friend to help you check. Strike a downward dog pose and see if your leggings stay opaque. Trust me on this! See-through bottoms just aren't a good look.
If your leggings or yoga pants pass the opaque test, make sure they keep your belly in check! Leggings that slip down when you strike an upside-down pose can be really distracting. You want to be focusing on your yoga, not trying to pull up your leggings mid-pose.
Crz leggings are a good choice if you're budget conscious or looking for a good selection of patterned leggings.
Just make sure you end up with supportive, opaque leggings that don't slip down.
These Transform Leggings from Prana are my favorites. High-waisted and really supportive, I use them for hiking as well as yoga. They're a bit pricey at $75 but I get so much use out of them and they last really well. You can even use them for running!
---
Yoga Tops
You can get away with any top for yoga if you're breaking out a few moves in your bedroom. In class, it's a different story.
You need a top that won't slip down over your head when you're inverted. A loose-fitting top just won't do. Your yoga top needs to be fitted and long enough to fully cover your torso when you stretch. Make sure it doesn't ride up. Tank tops or strappy fitted tops are ideal.
Now it may look cute with your top falling over your head if you have a body to die for. With mine, I'd rather keep most of that flesh neatly hidden away.
These are some of my top picks for yoga tops…
---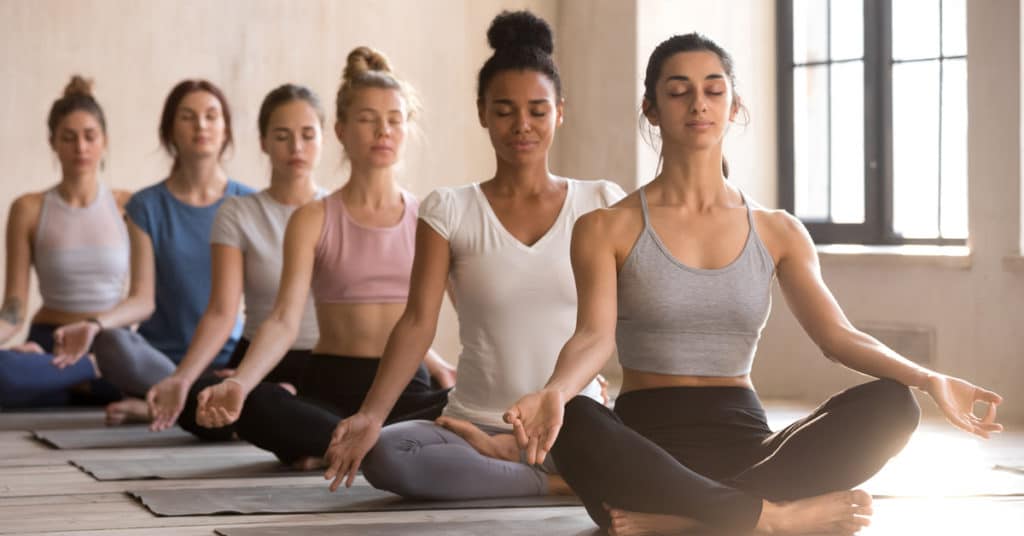 Dress For Yoga Practice Depends On The Type Of Class
As a beginner, you may not be aware that there are several different yoga styles. Some styles focus on holding poses and some like to turn up the heat. The style of class will affect the yoga clothes you wear.
Typically beginner yoga classes will be Hatha yoga or Vinyasa yoga. Hatha tends to be at a slower pace and Vinyasa focuses more on movement. I find in my Vinyasa yoga class I may start off a little cold but I soon warm up!
Bikram or a Hot Yoga class takes place in a heated room with the intention of making you sweat. You'll need to wear fast-wicking breathable fabrics that don't leave sweat marks and close-fitting shorts or capri-style yoga pants. Crop tops are a good idea for hot yoga classes.
If you opt for shorts just make sure they're long enough. Really short shorts is a big no when it comes to yoga. (Any men reading this post should also take note!)
Unless you want to give your classmates an eyeful, (please don't), go for longer-fitted shorts or capri-length leggings. Avoid loose-fitting shorts. Running shorts have no place in a yoga class.
---
Follow these tips and you'll avoid all the pitfalls when it comes to what to wear to a yoga class. You can add a wrap to your yoga outfit for your cool down or yoga socks for extra comfort and cozy feet. For guys, don't feel left out! Find out what men wear to yoga…
Most yoga teachers will provide a yoga mat, although you may want to take your own, and don't forget your water bottle. You can get very thirsty during a yoga session. Enjoy your class!
If you've enjoyed this post you may like my other yoga-related posts: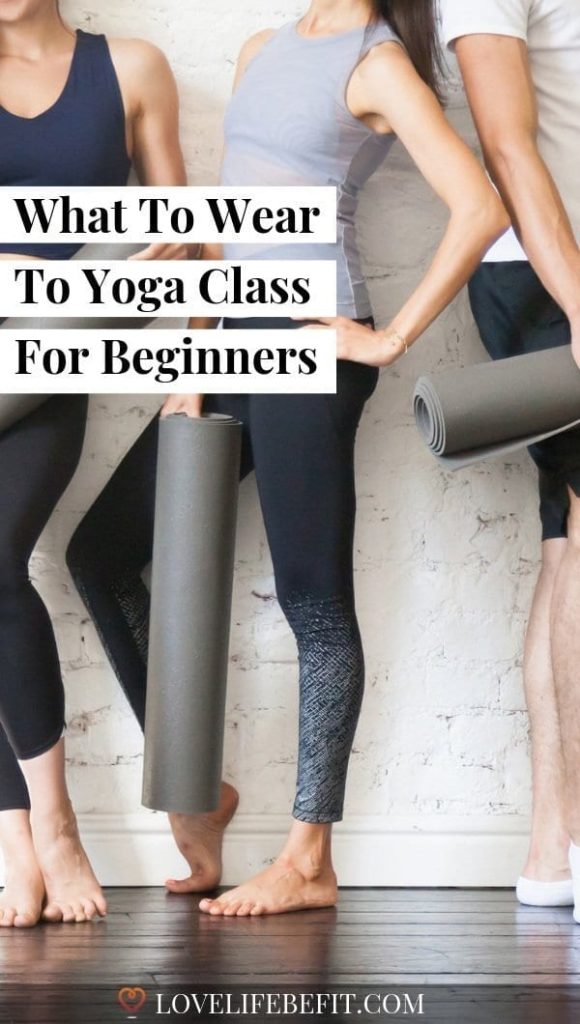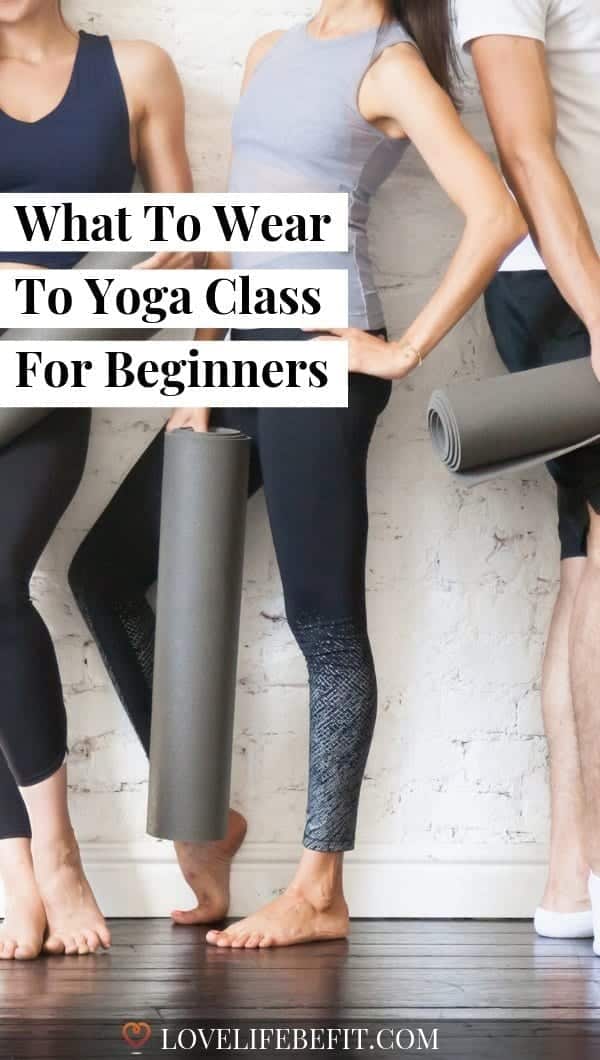 Frequently Asked Questions
What to wear to yoga class?
Wear clothing that won't restrict your movement. Leggings that stay opaque, long fitted tops that won't ride up or flop over your head in downward dog, and sports bras that give good support.
Do you wear shoes or socks for yoga?
Yoga is practiced with bare feet to allow your body to adjust to uneven surfaces or just grip the floor better. You can buy yoga socks if you really dislike the idea of going barefoot. These socks have grips on them and are usually toeless.
What should you not wear to yoga?
Avoid short shorts or loose tops which can flop over your head when you're inverted. Make sure your clothing doesn't restrict your movement.
Can I wear sweatpants to yoga?
Yes, you can wear sweatpants. Thick sweatpants may cause you to overheat so make sure you opt for sweatpants in a lightweight breathable material.