Okay, so you've figured out it's pretty normal for men to go to yoga classes. But when you try and check out what to wear, all you get are images of young women in skimpy yoga clothing. The question is what do guys wear to yoga?
What do guys wear to yoga?
The majority of yoga practitioners are female. There's no shortage of posts on how to keep covered up in downward dog if you're a woman. But guys are often overlooked.
I used to run an outdoor store. One of the brands we carried was Prana who've been making men's yoga clothing for years. But in most places, you'd never know such terrific yoga wear existed.
With some help from male yogi friends, I've put together this guide on yoga clothes for guys so you don't feel left out. Find out more about how to get the most from your yoga practice with the best yoga clothes for men from yoga pants to what to wear to hot yoga.
This review is based on my own independent product knowledge and testing. If you like what I do, you can support me through my chosen links. I may earn a commission but it's at no additional cost to you. Learn more about my product recommendations.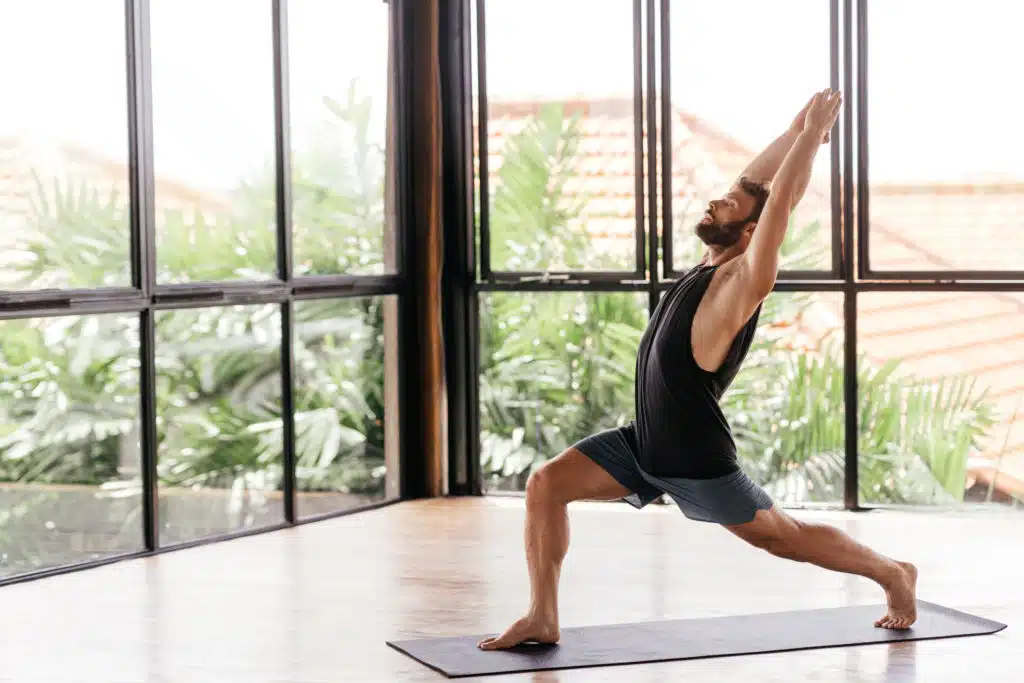 What should men wear to yoga?
It's a common mistake to think you can just show up to the yoga studio in your regular gym clothes. In theory, it makes sense, you just need comfortable clothing. You're going to be moving in ways that aren't familiar so wearing something comfortable is essential.
But not in every case will your old gym shorts or sweats be acceptable in yoga class. Here are a few tips on what you need to avoid:
What not to wear to yoga?
Short shorts
In practice, not all clothing will work in a yoga class. Short shorts are a big no unless you want your yoga poses to be very revealing.
I don't think I need to spell it out but let's just say from experience catching an eyeful when you're trying to relax into your yoga poses is very off-putting.
Going topless
While we're on the subject, let's keep the tops on guys. Even if you're Zac Efron, no one wants a semi-naked man on the yoga mat.
Yoga classes are for concentrating on poses and topless men are just far too distracting. Plus yoga, especially hot yoga, can get very sweaty. It's a bit embarrassing leaving pools of water on the yoga mat.
Of course, not everyone has this view. You may find your hot yoga class is full of topless bodies. Just check what the other guys wear before stripping off.
Avoid hoodies
You only make this mistake once. Wearing a hoodie in yoga practice is a big no-no. In an inverted yoga pose, a hoodie keeps getting in the way – falling over your eyes and stopping you from seeing. Trust me it's really annoying.
Thick sweat pants
Thick cotton sweatpants for your lower body are best avoided. They'll feel far too heavy and cumbersome. Track pants are a better option. These tend to be lightweight in synthetic fabrics – just make sure there's plenty of stretch.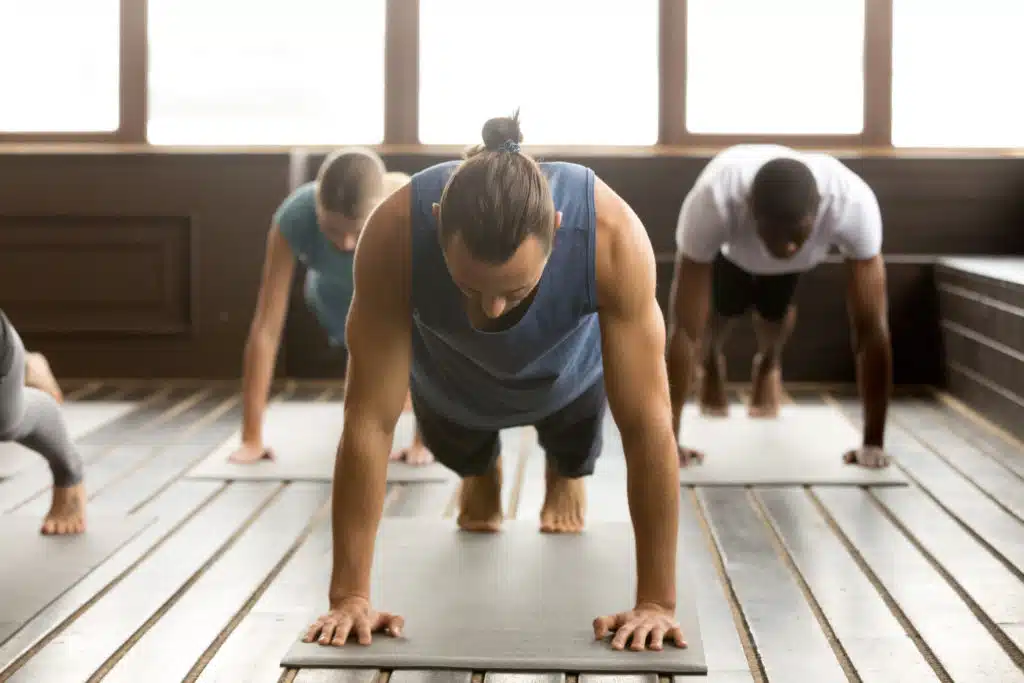 The kind of clothes you'll need for yoga class
Many yoga clothing brands have developed exclusive products for men. They've invested in breathable and gentle fabrics with a feel-good quality. These yoga clothes are quick-drying, have all-important stretch, and are good at absorbing sweat.
Loose clothes
Most men wear loose, (but not too loose), shirts, tank tops, or muscle tees in stretchy fabric. It's a personal preference but muscle tees, (sleeveless tops), are recommended for easy monitoring of your upper body alignment. With t-shirts or long-sleeved shirts, it's harder for you or your yoga teacher to check your position.
Comfortable yoga clothes that stretch
Try and pick garments with stretchable materials when selecting yoga apparel. The best way is to find clothing that moves with you and doesn't limit your yoga practice.
Moisture-wicking fabrics
When you're buying yoga clothes, look for breathable fabrics. Synthetic materials are a good choice. They'll stretch with your yoga poses and let the sweat escape so you stay cool.
Cotton fabrics
Organic cotton is a popular material for yoga clothes for men but it has its drawbacks. It absorbs moisture quickly, which isn't good when you're working up a sweat in Downward Dog or Warrior Pose.
And cotton doesn't dry quickly. By the end of a hot yoga session, your favorite t-shirt can end up in a wet soggy mess.
So yoga clothes made of cotton, such as cotton t-shirts, are less than ideal when you're in a hot yoga class, but they work well for low-intensity classes such as yin yoga practice.
Why you need proper men's yoga clothes
Try and avoid wearing your old gym clothes or you're likely to come unstuck on the yoga mat. Those basketball shorts won't work in lunges or positions where your legs are wide apart.
You'll find that some shorts restrict your movement. Instead, it's better to wear yoga pants or shorts made of breathable fabric that stretches giving you a full range of motion.
Yoga Pants or Yoga Shorts
For your next yoga class – long pants or yoga shorts – which are best?
It depends on the temperature of the yoga studio and personal preference. With a demanding practice, you can soon start to overheat.
There are many different yoga styles and ways of practicing yoga. For Bikram yoga and other types of hot yoga, the temperature of the yoga studio is ramped up to between 90 to 105 degrees Fahrenheit.
Obviously, in these temperatures, you'll need to wear shorts. But if you're buying yoga gear for a class in Seattle in winter, yoga pants are probably a good idea.
Yoga pants can be loose-fitting or have tapered legs. It's a personal choice when it comes to what kind of pants. If you're practicing asanas, with all that flipping and flopping in your yoga workout, loose legs can end up around your knees – so be warned.
For your hot yoga workouts, mid-thigh shorts in a synthetic stretchy fabric work best.
Top picks for yoga long pants:
These Sutra Pants by Prana get the best of both worlds by combining the natural fibers of hemp with the wicking properties of recycled polyester. The pants come in a straight-legged style. As you'd expect from one of the top yoga brands, the pants allow plenty of freedom of movement and won't inhibit your movement even in the most difficult of poses.
Yoga Addict makes Yoga Long Pants that are really popular. I suspect some of these are just worn lounging around the house but if you're okay with cotton yoga pants these ones will do the job. There's a good spandex content for stretch, but they will be a bit heavy for more intense yoga.
Top picks for yoga shorts:
The Prana Vaha Shorts are popular for a reason. They come in hemp and lightweight recycled polyester fabric with elastane for stretch. Whatever restricts your ability to stretch you won't be able to blame your shorts!
Yoga Leggings
Instead of yoga pants, some men choose to wear yoga leggings or even running leggings. The advantages of yoga leggings are their high percentage of spandex. They offer more support than yoga pants and are good for doing a lot of stretching.
You can even opt for compression garments. Compression tights, (compression pants), will support your muscles – helping you hold poses for longer. They're extremely form-fitting and not a good idea for hot yoga or Bikram yoga where you're likely to overheat.
I also know guys who wear compression underwear such as long boxers to keep everything in place. Cycling shorts will do a similar job.
Top Picks For Yoga Leggings
If you want to give compression leggings a try, these Alo Yoga Warrior Compression Pants will help you stay in hold. With 20% spandex content, expect some serious support.
Yoga Tops
Muscle tees get top marks for style and performance when it comes to yoga clothes. Opt for breathable, synthetic fabrics with a soft comfortable touch.
If you want to cover your shoulders, synthetic t shirts are your best choice.
Loose clothing styles tend to be popular but not so loose that the tops will drop down over your face in inverted poses. Go for form-fitting but not tight.
Yoga involves a lot of movement and with muscle tees, you can move your arms without restriction.
Top picks for yoga tops:
This Prana Prospect Heights Tank comes in different colors with stretchy polyester mix fabrics. Soft to the touch and easy to wear with great wicking properties – just right for hot yoga.
If you prefer to wear a t-shirt, this one from Crz Yoga is in a durable, polyester blend fabric.
The best yoga clothes for men
The perfect yoga clothes for men are ones that allow you to move freely. Yoga is about being present in your body and mind, so start with comfortable clothing that doesn't restrict movement.
Look for fabric choices such as synthetic blends which are lightweight but still durable and will allow you to breathe during yoga.
Remember, it's not about looking the best in yoga clothes or impressing others with your choice – yoga is all about you and what works for your body.
Find out more about yoga for beginners from How Often Should You Do Yoga to 57 Yoga Quotes For Inspiration and How To Make Yoga A Daily Habit.