Even the most committed runners need a little inspiration from time to time and these motivational running quotes are here to help!
I find I always have a love-hate relationship with running. Once I'm out the door and warmed up I love it, but when it's lashing with rain outside or I'm still feeling my last training session I need a little help with my running motivation.
I think that's normal! Running can be hard – especially if you're a beginner runner, or returning from injury. Sometimes we just need a little push to be inspired to run!
When you've been running as long as I have it certainly helps to take a look at what motivated me to start running in the first place. Recapture the zeal and inspiration of the new runner!
Here are some of my favorite motivational quotes for running.
Motivational Running Quotes For Morning Runners
Not everyone loves leaving their warm beds to head out for a run. It can be fine on a beautiful summer morning, but it takes a little more motivation in the depth of winter.
Sometimes it's just convincing yourself, yes you can squeeze in a quick run before work – there is time. You don't really need a leisurely breakfast scrolling through social media.
Finding the motivation to run in the morning means you're set up for the rest of the day. Bask in the glow of knowing whatever else happens you're managed one big achievement.
Pin these motivational running quotes next to your bed and be inspired to run in the morning!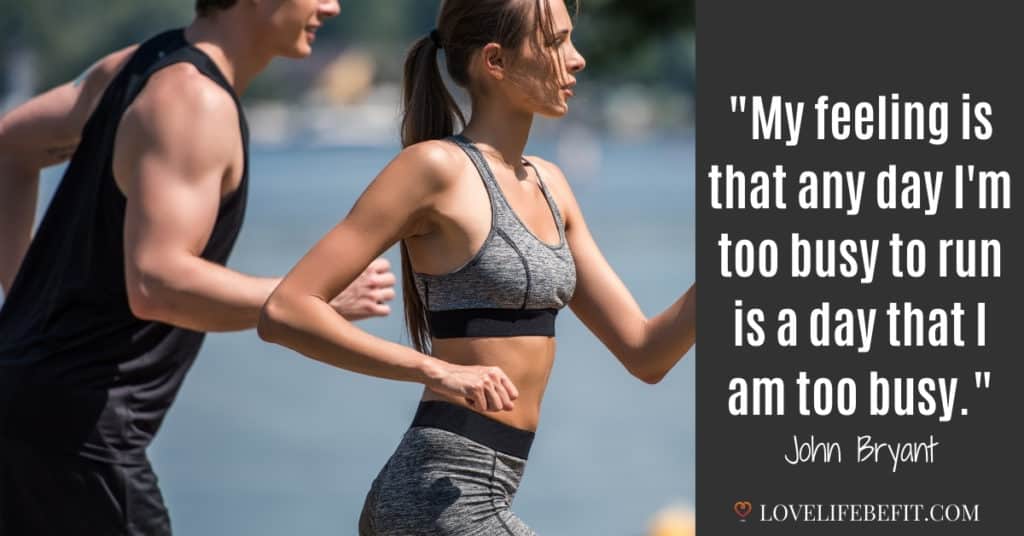 If you're a busy person it's sometimes just easier to run in the mornings. If you're too busy to run at all – something needs fixing!
My feeling is that any day I'm too busy to run is a day that I am too busy.

John Bryant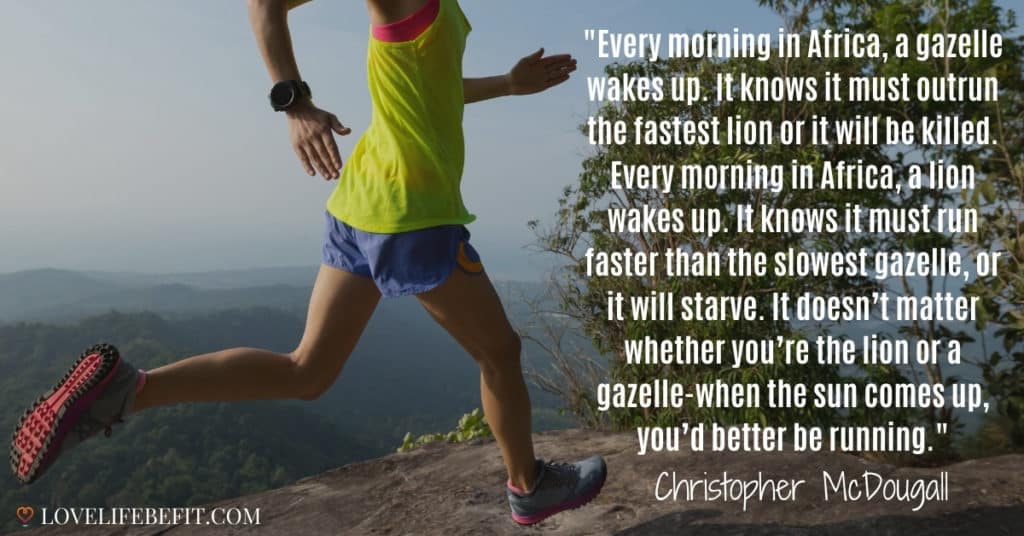 If this quote doesn't get you out of bed in the morning nothing will!
Every morning in Africa, a gazelle wakes up. It knows it must outrun the fastest lion or it will be killed. Every morning in Africa, a lion wakes up. It knows it must run faster than the slowest gazelle, or it will starve. It doesn't matter whether you're the lion or a gazelle – when the sun comes up, you'd better be running.

Christopher McDougall
Quotes From Runners To Persevere
When you're starting out as a runner, running can seem hard! It's difficult to persevere at running and far easier to come up with excuses why you don't need to run today. Fight that voice in your head telling you you're too tired, too old… These quotes will help you lace up your running shoes and go!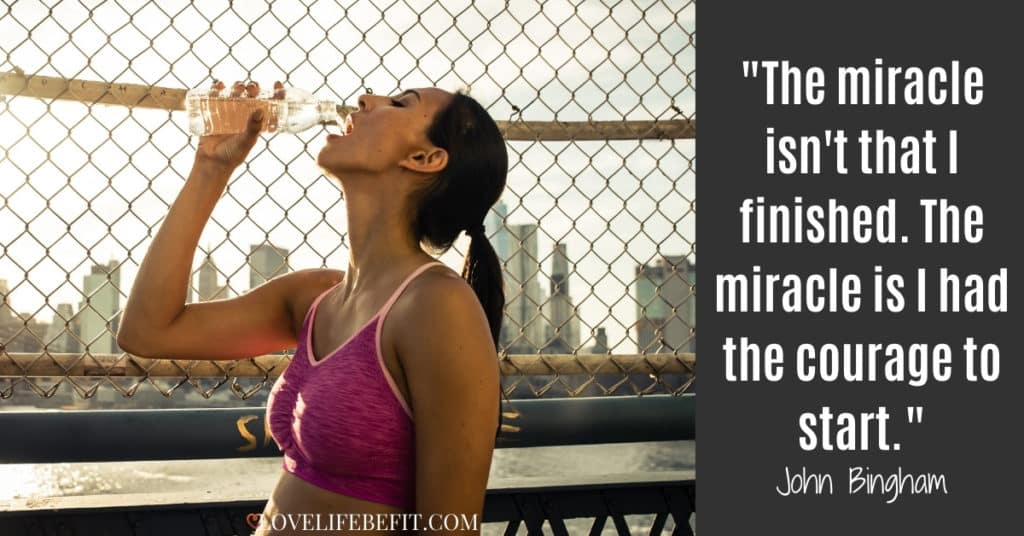 The miracle isn't that I finished. the miracle is I had the courage to start.

John Bingham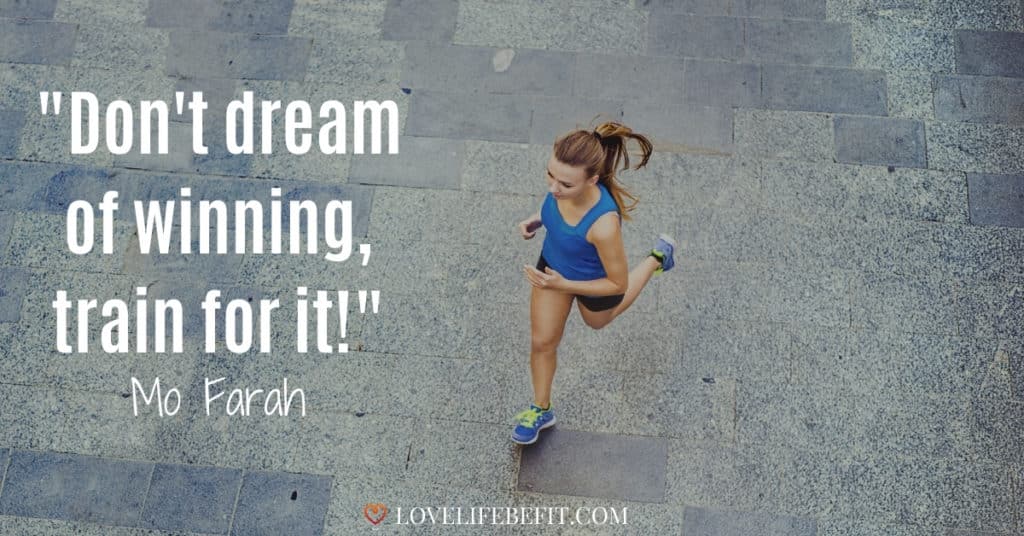 Don't dream of winning, train for it!

Mo Farah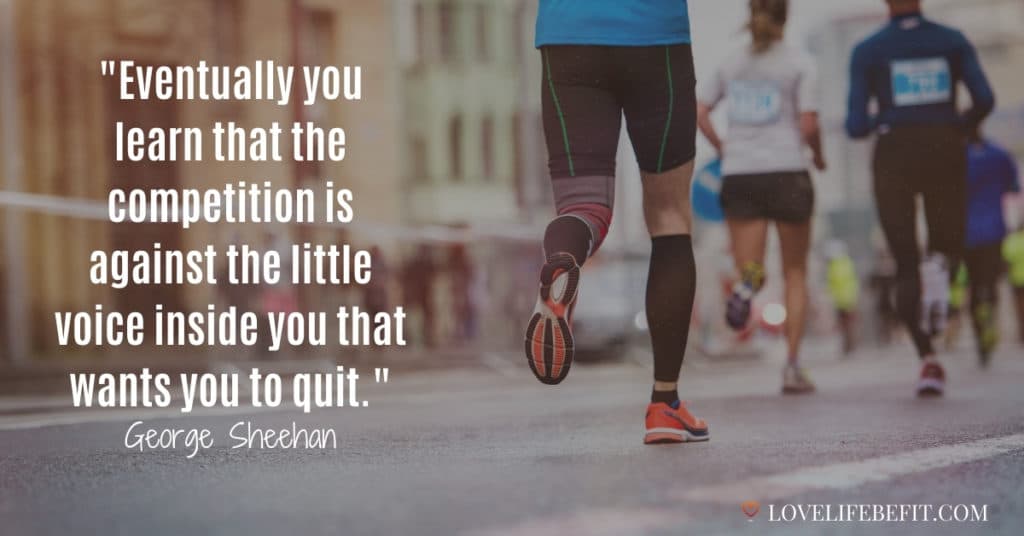 Eventually you learn that the competition is against the little voice inside you that wants you to quit.

George Sheehan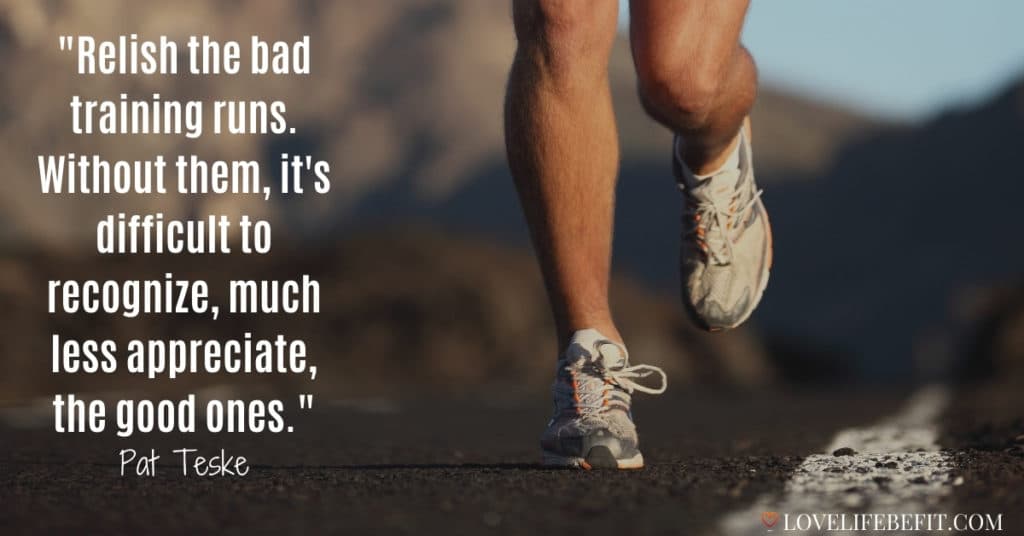 Relish the bad training runs. Without them, it's difficult to recognize, much less appreciate, the good ones.

Pat Teske
These next two quotes come from running heroes who died far too young. Gabe Grunewald, one of America's best middle-distance runners who died from cancer, (age 32), and Steve Prefontaine who's been called the greatest American distance runner in history who died in the '70s, age just 24.
They may have lived short lives but they both live on in memories providing inspiration for future generations of runners.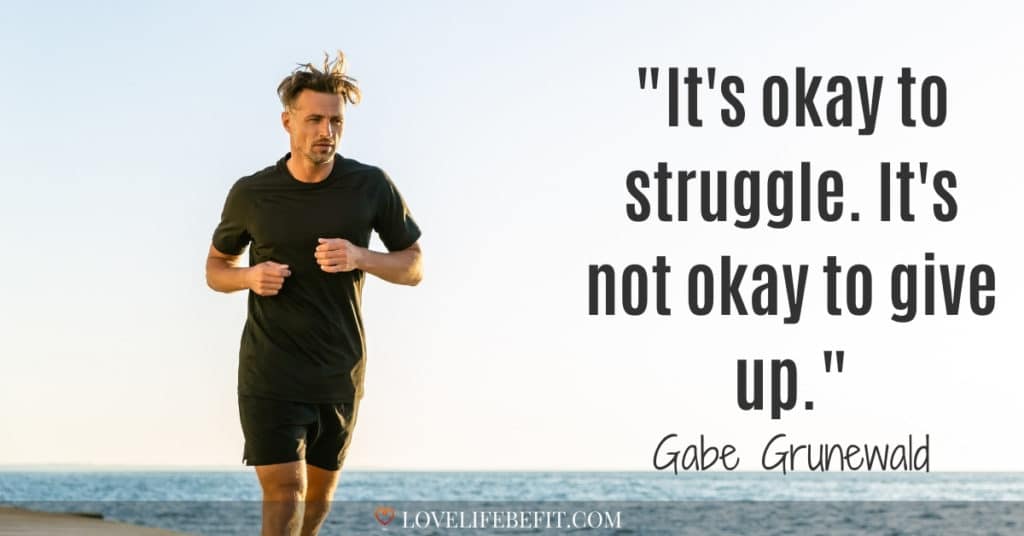 It's okay to struggle. It's not okay to give up.

Gabe Grunewald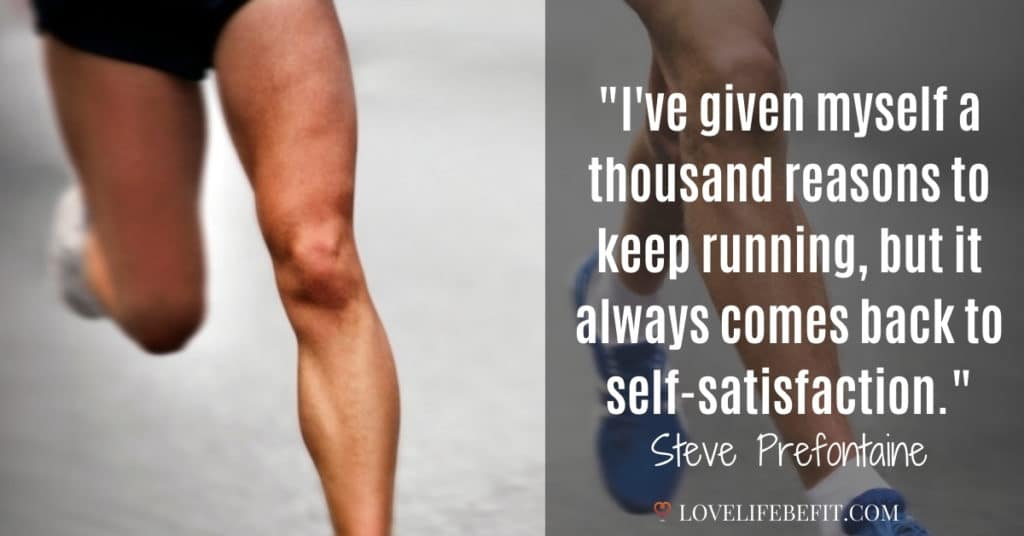 I've given myself a thousand reasons to keep running, but it always comes back to self-satisfaction.

Steve Prefontaine
Everyone knows Oprah has struggled with her weight over the years. Famously she trained for and ran the 1994 Marine Corps Marathon. She finished in an amazing time of 4:29 for a new runner and her weight loss was legendary. Here's her quote: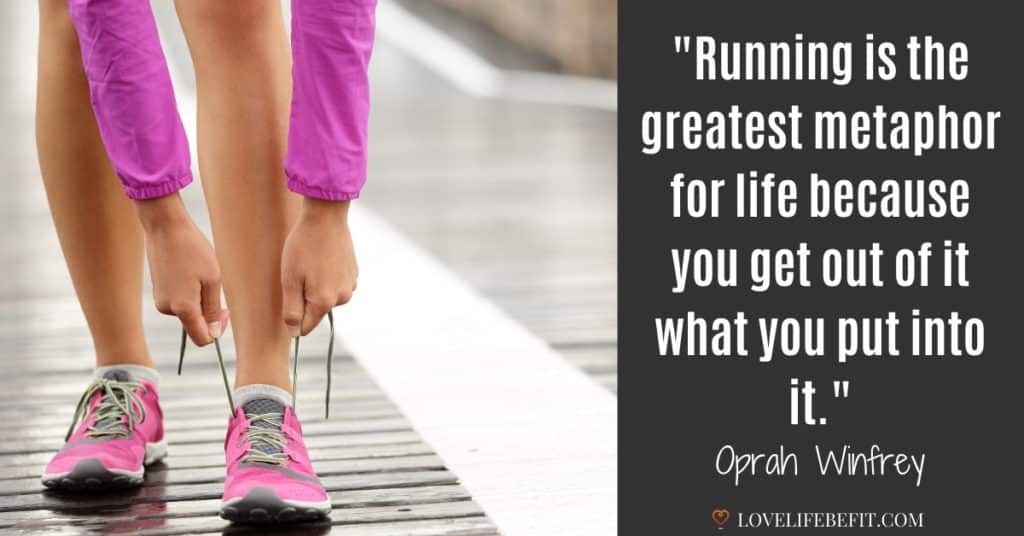 Running is the greatest metaphor for life because you get out of it what you put into it.

Oprah Winfrey
Inspirational Running Quotes For Training
People don't become great runners overnight. Behind every success story is a history of small hard-won improvements. Take inspiration from these motivational quotes to stick to those training plans and dig deep!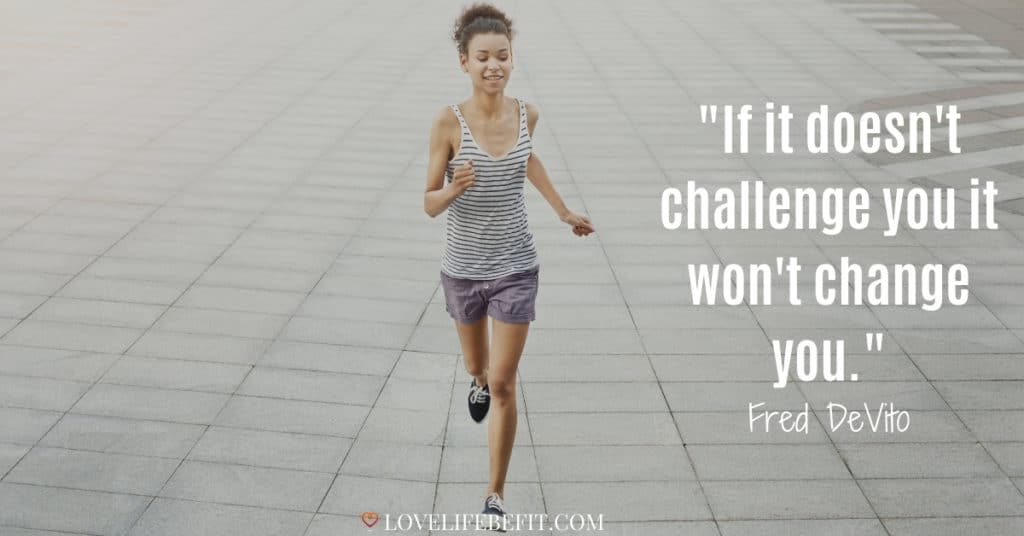 If it doesn't challenge you it won't change you.

Fred DeVito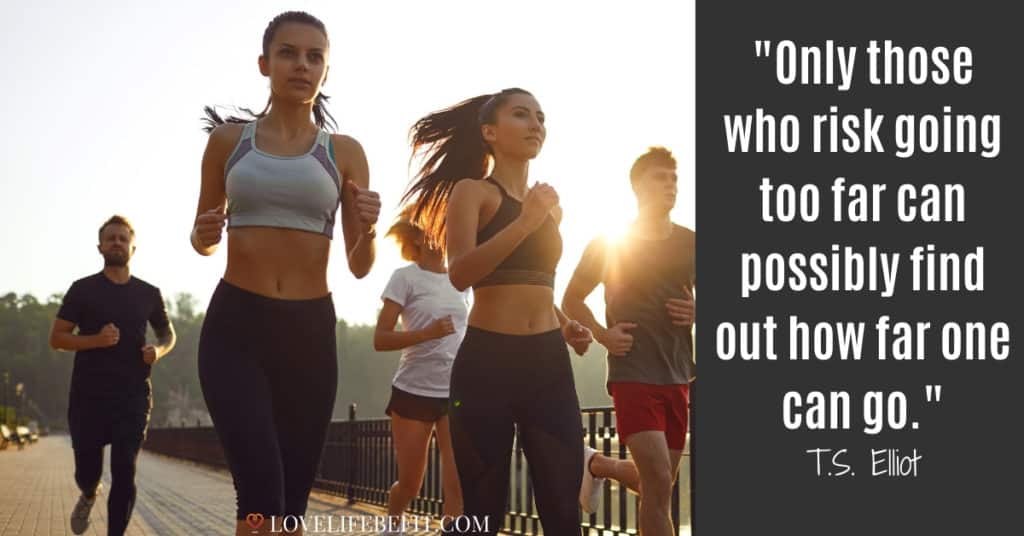 Only those who risk going too far can possibly find out how far one can go.

T.S. Elliot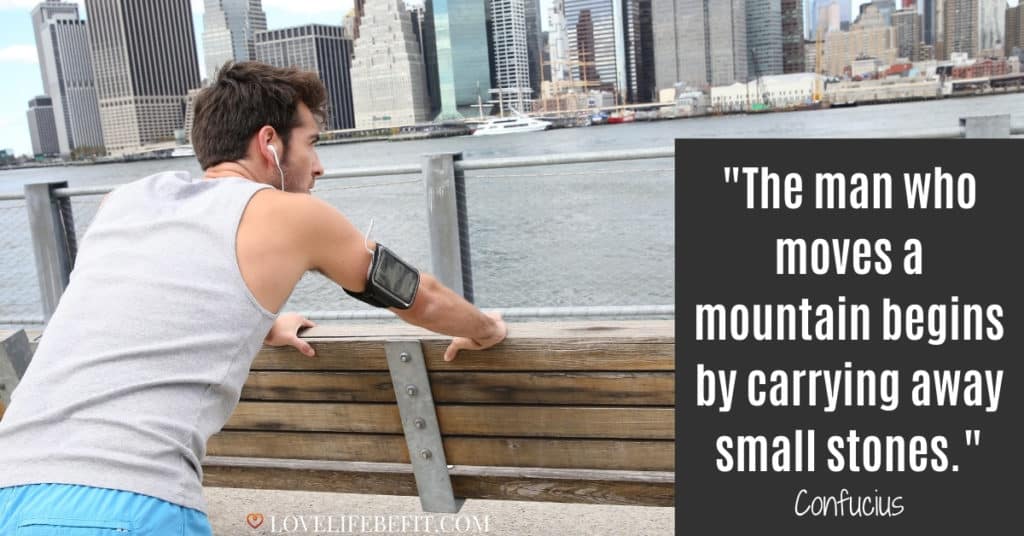 The man who moves a mountain begins by carrying away small stones.

Confucius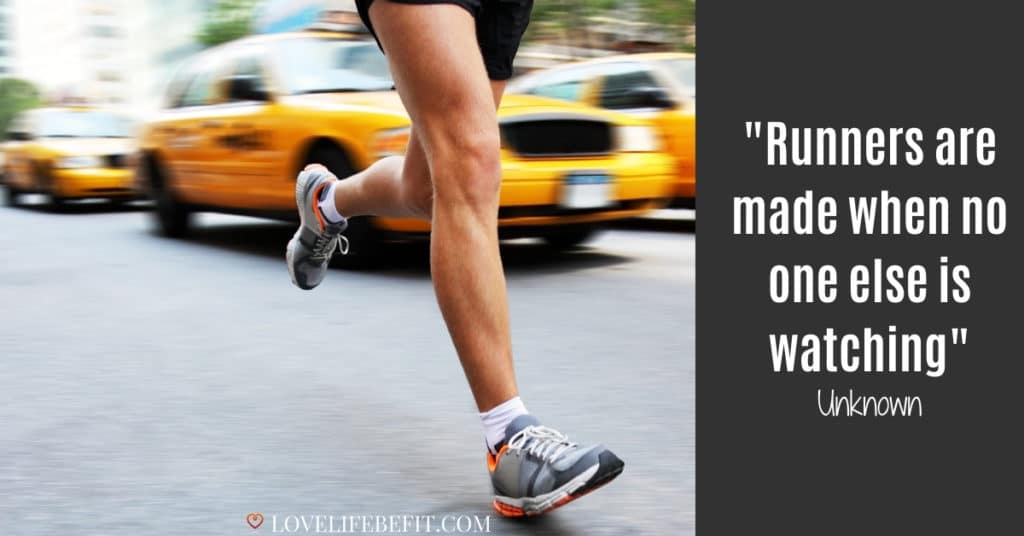 Runners are made when no one else is watching.

Unknown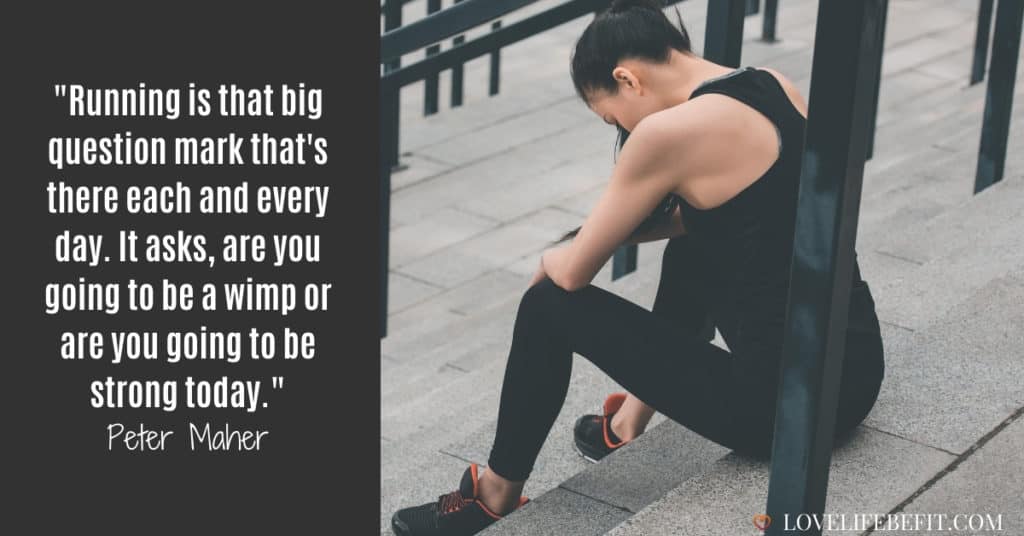 Running is that big question mark that's there each and every day. It asks, are you going to be a wimp or are you going to be strong today.

Peter Maher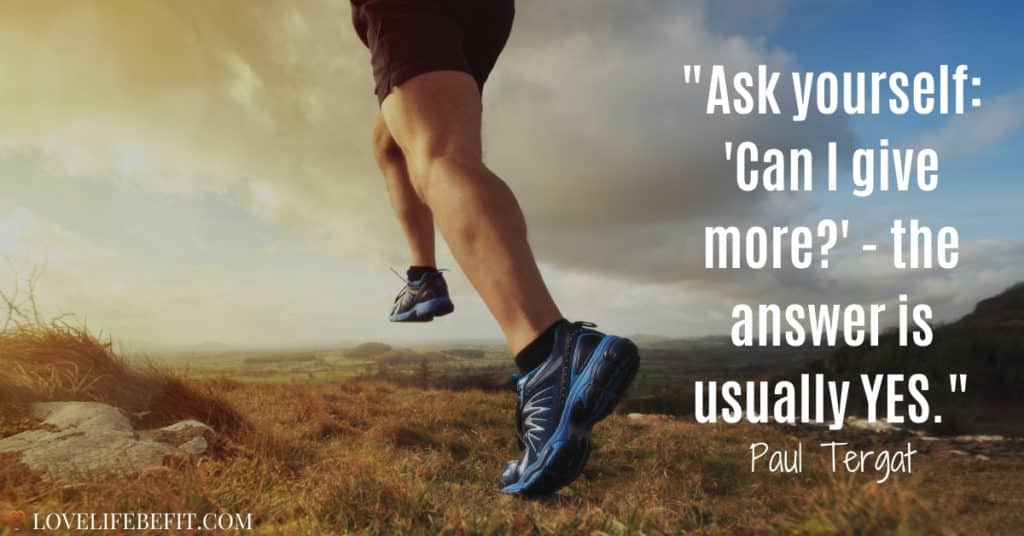 Ask yourself: 'Can I give more?' – the answer is usually YES.

Paul Tergat
Running Quotes About Life
If you're new to running, you're about to make a big discovery. Running isn't just a sport or a way to exercise. It pushes you, challenges you, nurtures you and can make day-to-day problems seem insignificant. As the funny running quote goes: "I run because punching people is frowned upon".
I don't know who said it first, but in modern life, we all need an outlet for our frustrations. Certainly going for a run makes me a better person.
Sceptical about how much running can change lives? Watch the Skid Row Marathon documentary. A criminal court judge in LA's notorious skid row starts training a group of addicts and former criminals to run marathons. For many of these new runners it's life changing.
Here are some of my favorite running quotes about life: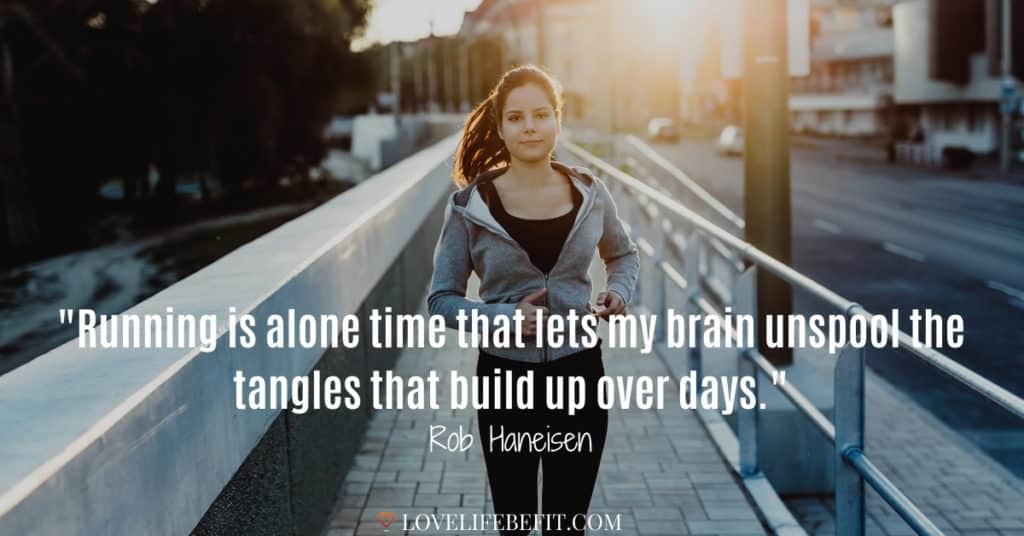 Running is alone time that lets my brain unspool the tangles that build up over days.

Rob Haneisen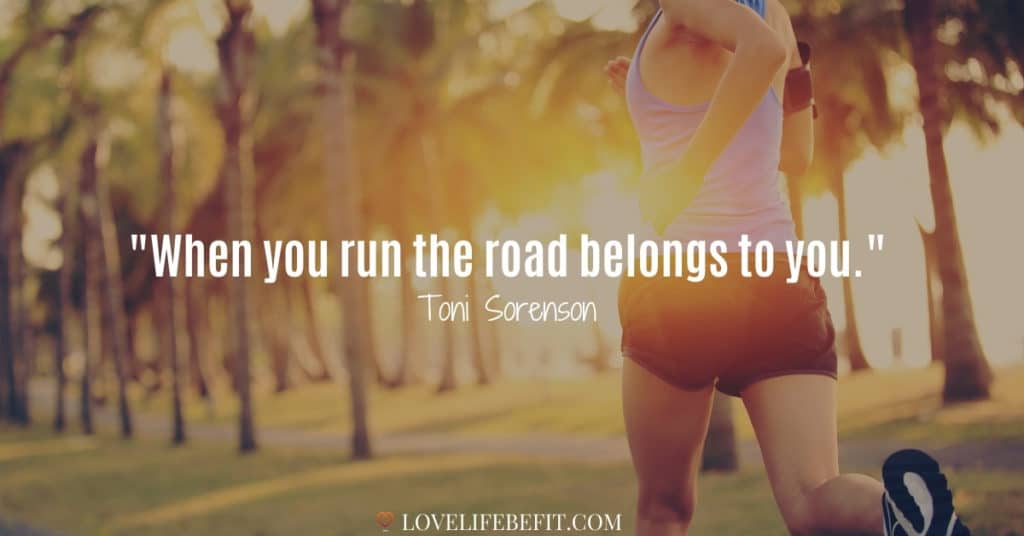 When you run the road belongs to you.

Tony Sorenson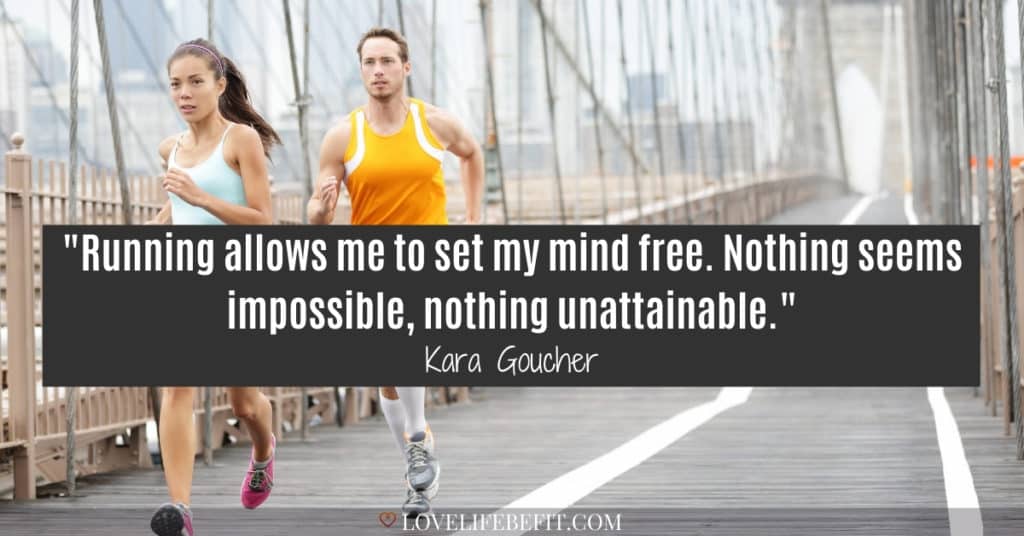 Running allows me to set my mind free. Nothing seems impossible, nothing unattainable.

Kara Goucher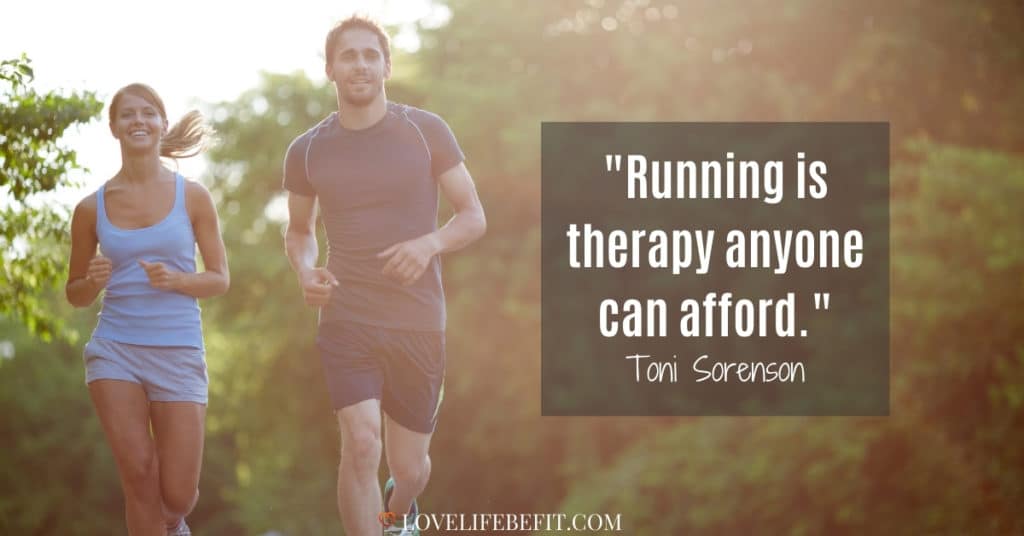 Running is therapy anyone can afford.

Toni Sorensen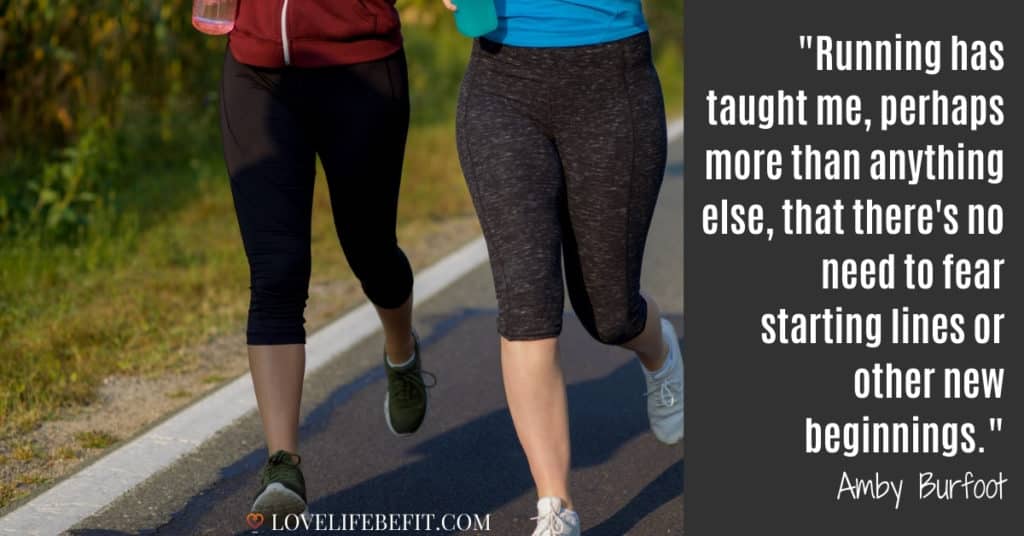 Running has taught me, perhaps more than anything else, that there's no need to fear starting lines or other new beginnings.

Amby Burfoot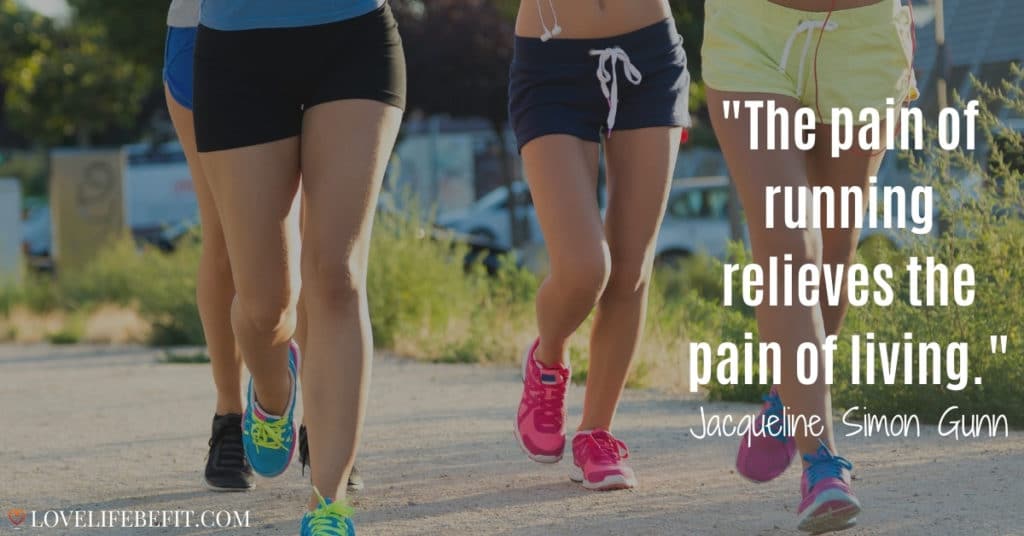 The pain of running relieves the pain of living.

Jacqueline Simon Gunn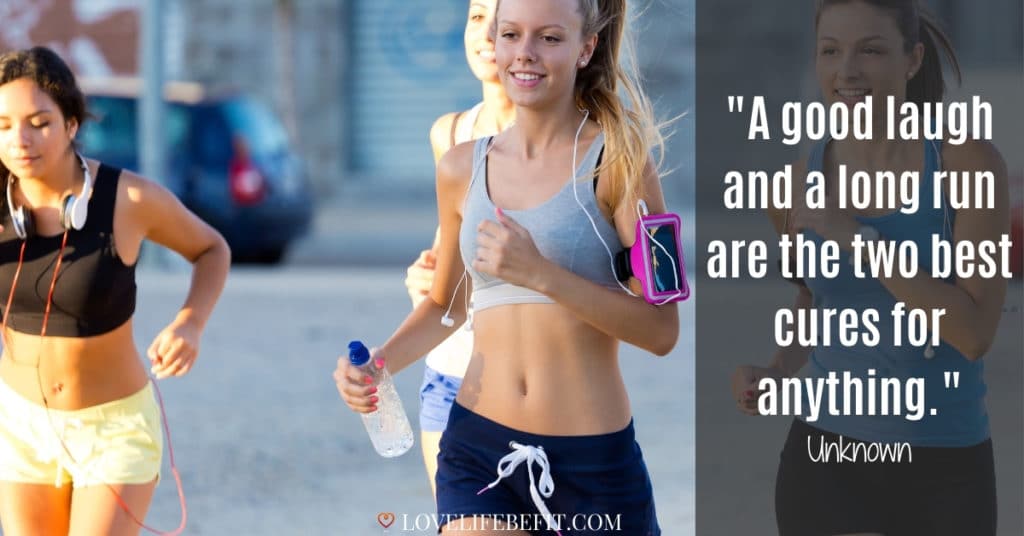 A good laugh and a long run are the two best cures for anything.

Unknown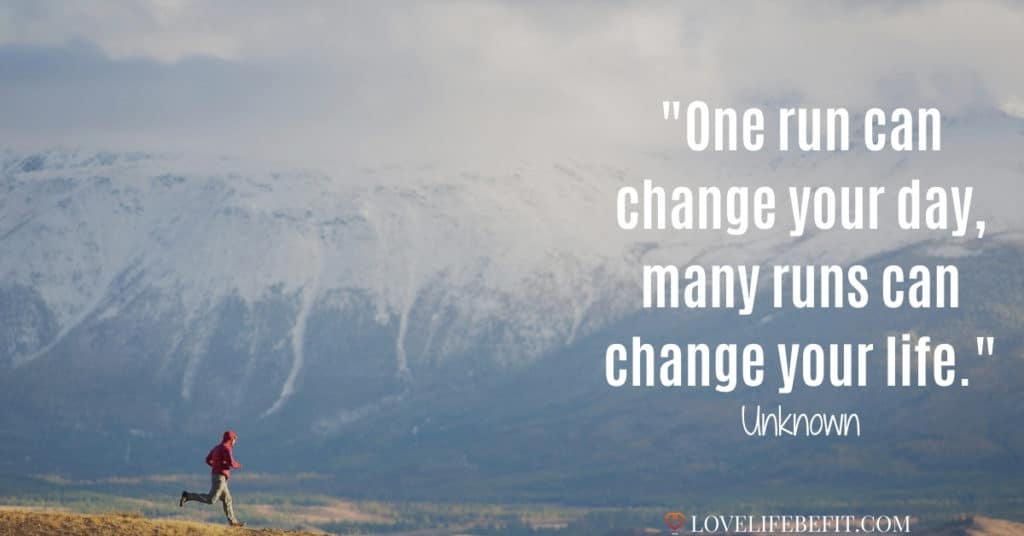 One run can change your day, many runs can change your life.

Unknown
Motivational Quotes For Older Runners
Running isn't just for young people. It's a shame that some people retire from running as they get older. Running helps people stay young in heart, mind, and body. These are some favorite motivational quotes for older runners: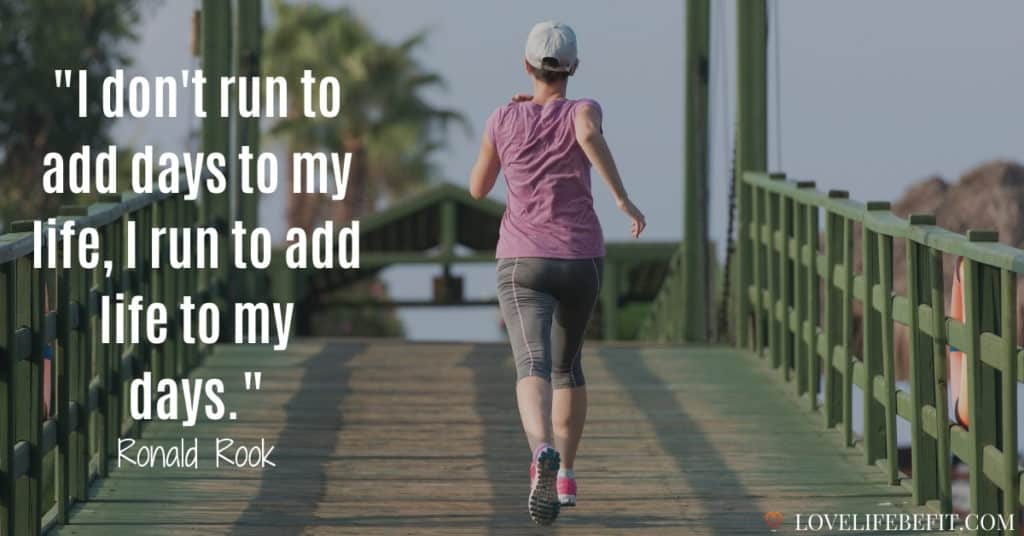 I don't run to add days to my life, I run to add life to my days.

Ronald Rook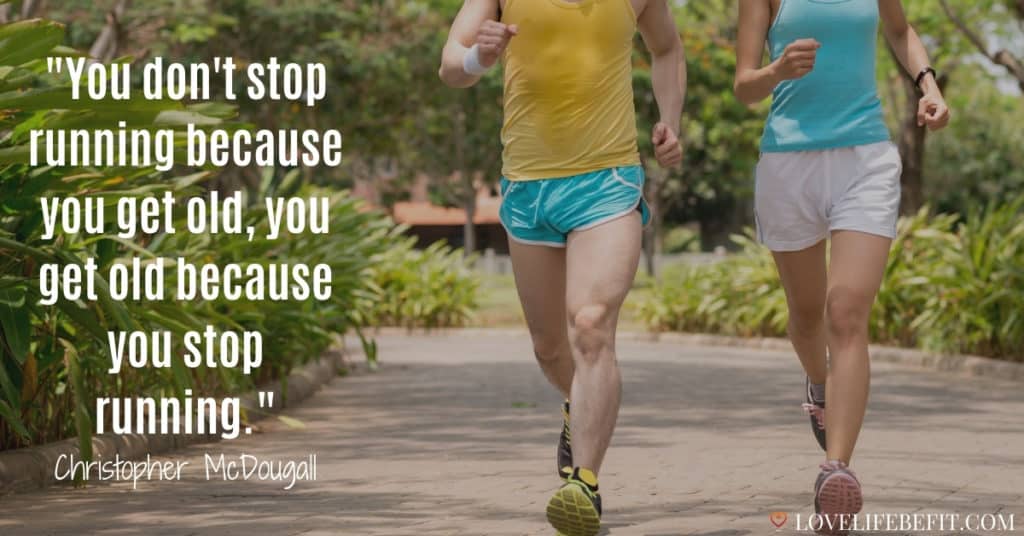 You don't stop running because you get old, you get old because you stop running.

Christopher McDougall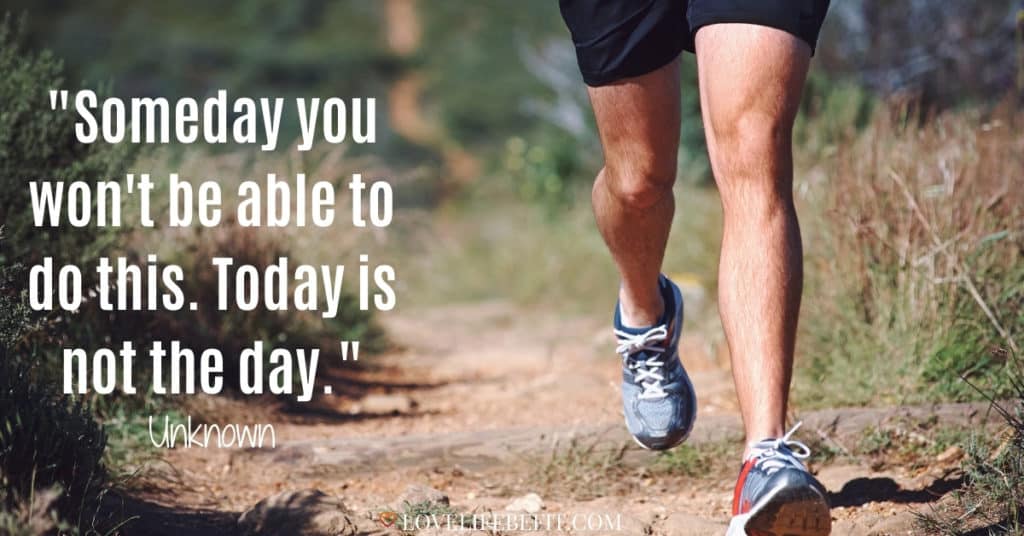 Someday you won't be able to do this. Today is not the day.

Unknown
Motivational Running Quotes For Racing
Sometimes we all need a little pep talk before a big race! I like to pin a few motivational running quotes around the house in the lead-up to the big day. Running well in a race is only partly about fitness and training. So much about how well you run in a race depends on what's going on in your head.
Here are some favorite running quotes to keep the demons away!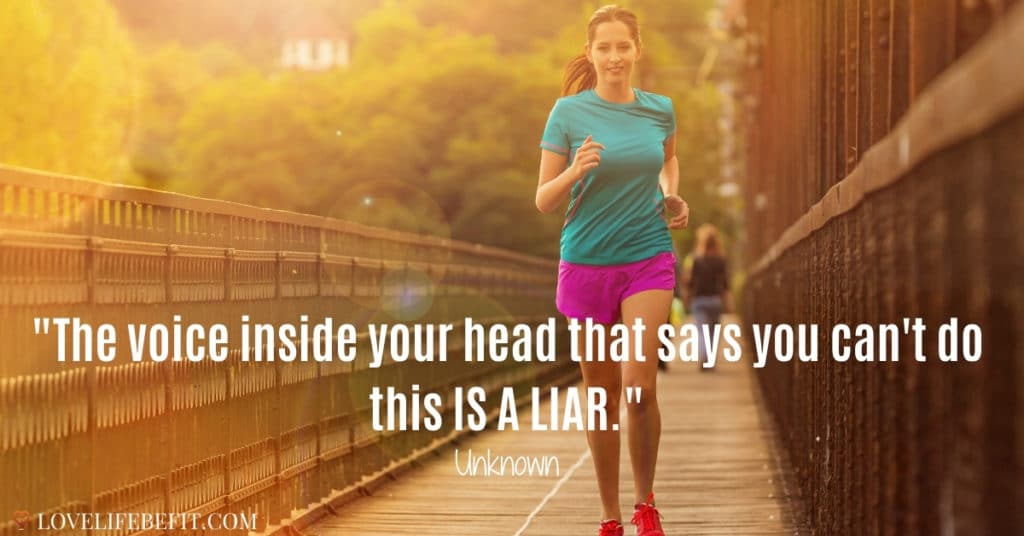 The voice inside your head that says you can't do this is a liar.

Unknown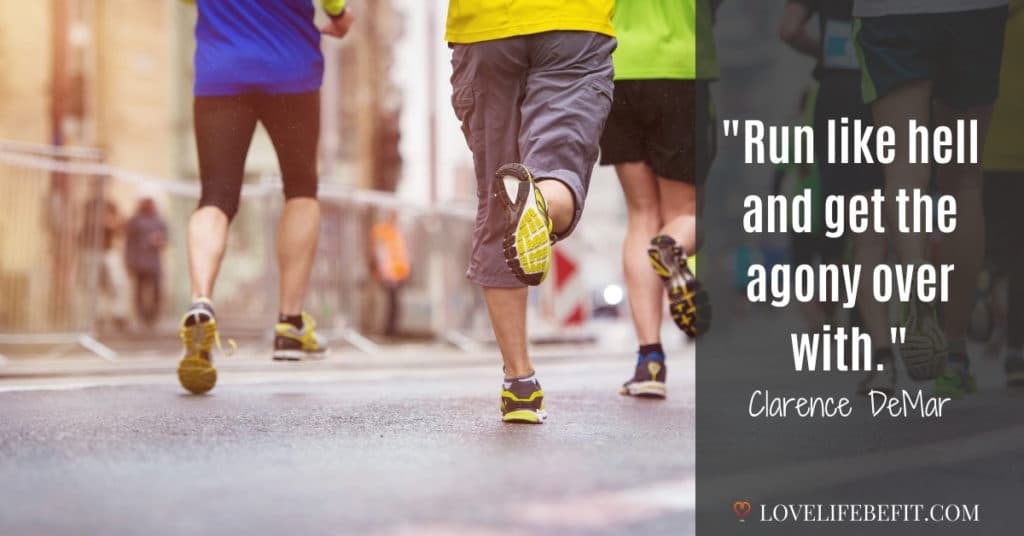 Run like hell and get the agony over with.

Clarence DeMar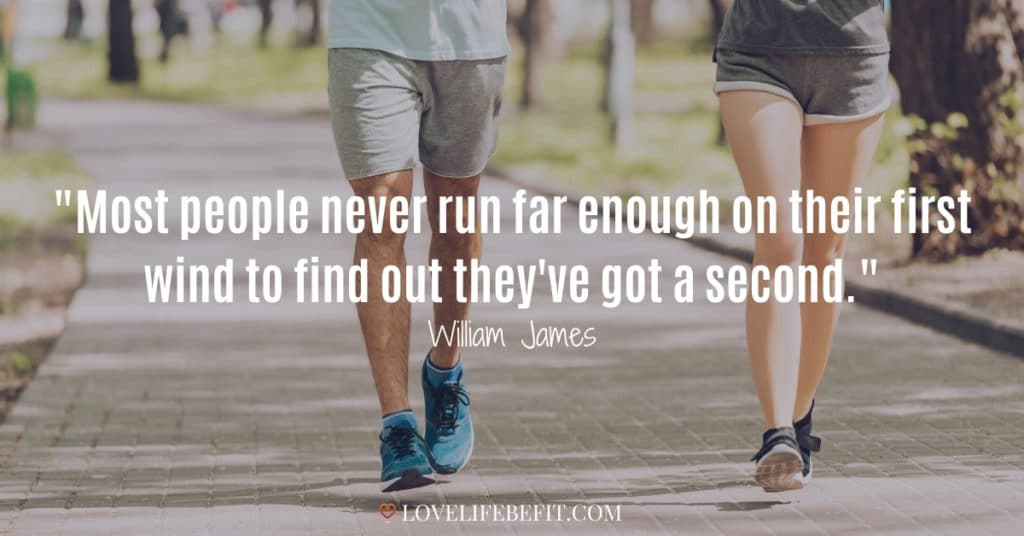 Most people never run far enough on their first wind to find out they've got a second.

William James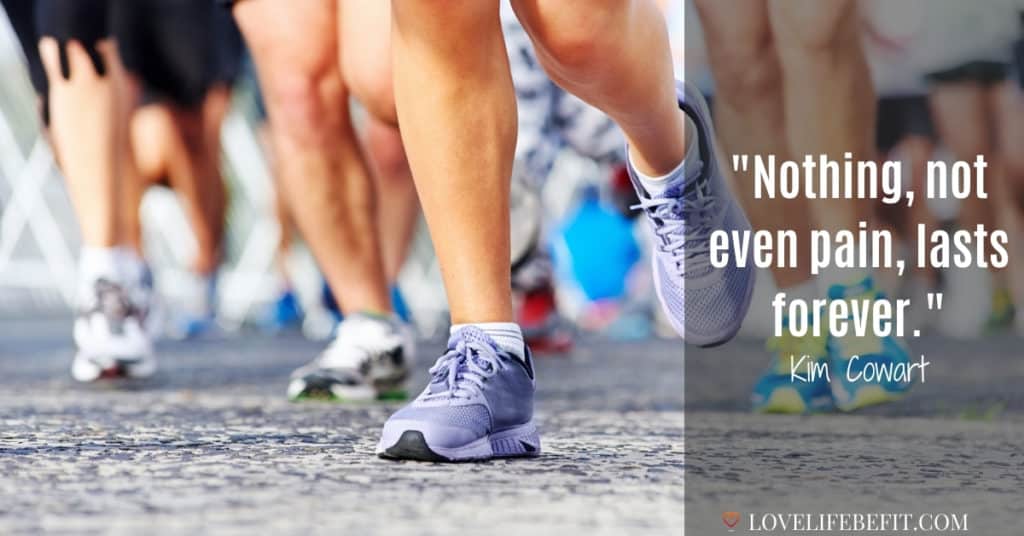 Nothing, not even pain lasts forever.

Kim Cowart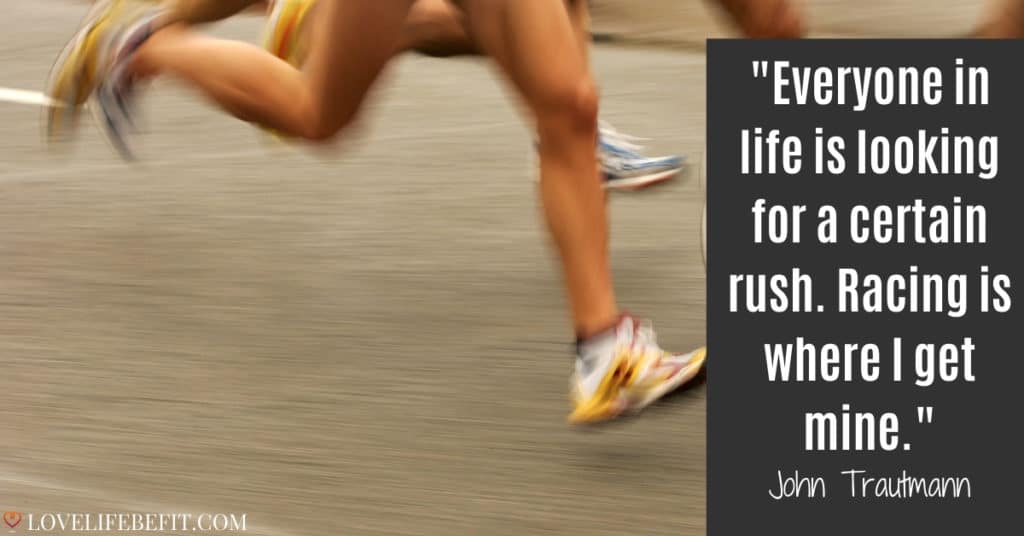 Everyone in life is looking for a certain rush. Racing is where I get mine.

John Trautmann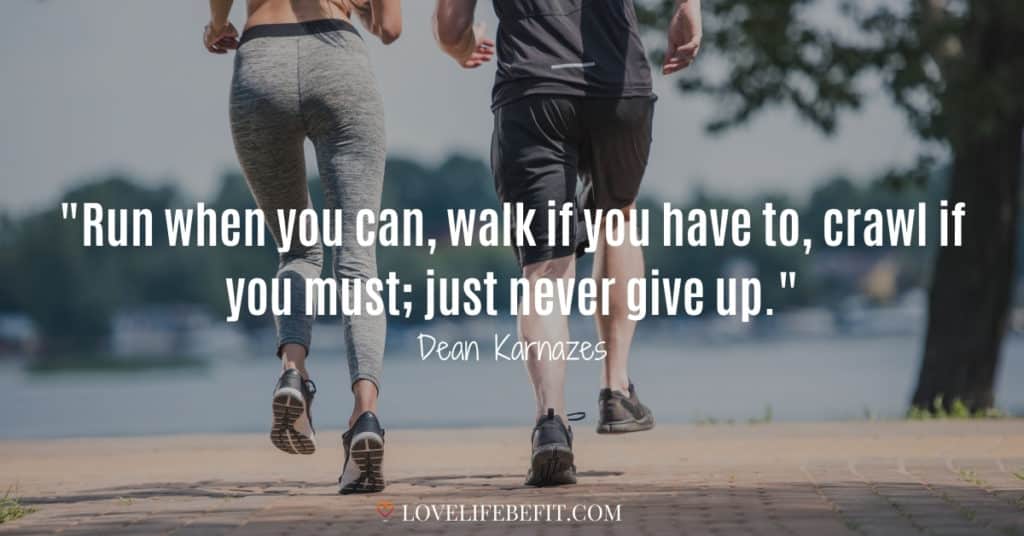 Run when you can, walk if you have to, crawl if you must; just never give up.

Dean Karnazes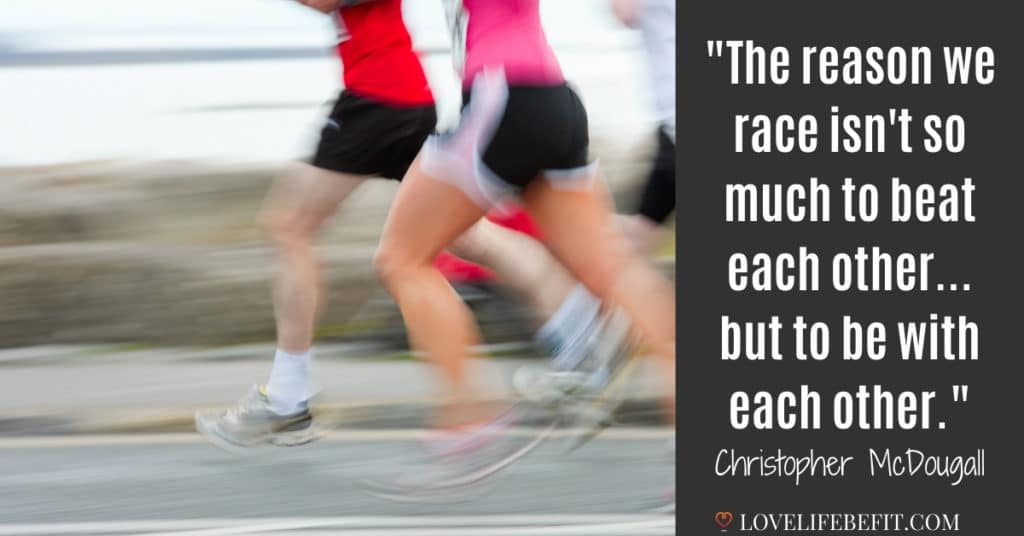 The reason we race isn't so much to beat each other… but to be with each other.

Christopher McDougall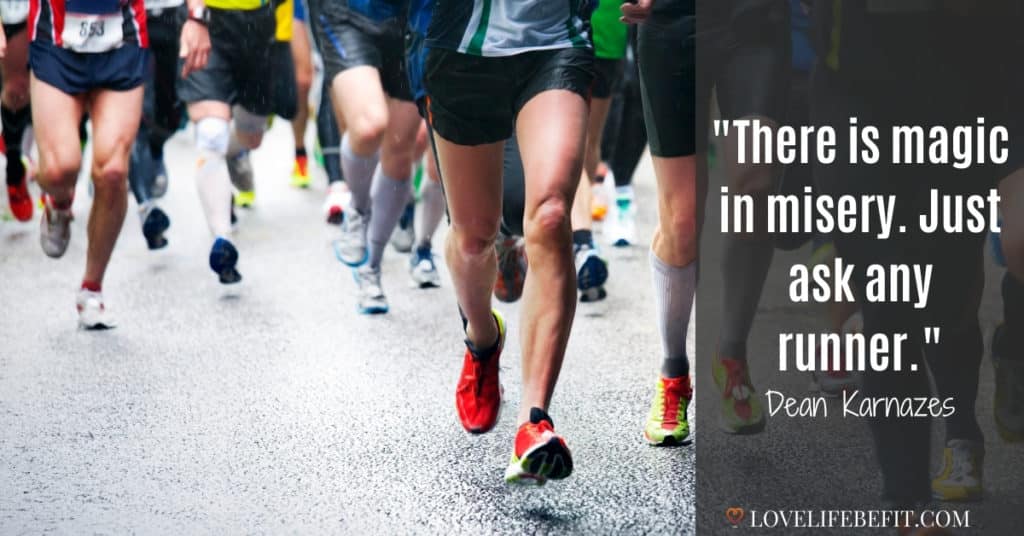 There is magic in misery. Just ask any runner.

Dean Karnazes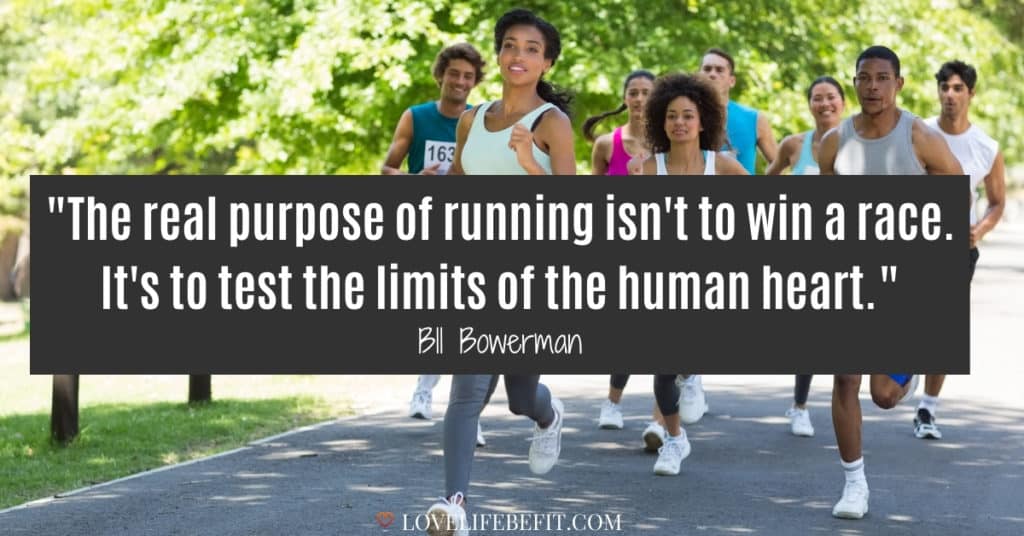 The real purpose of running isn't to win a race. It's to test the limits of the human heart.

Bill Bowerman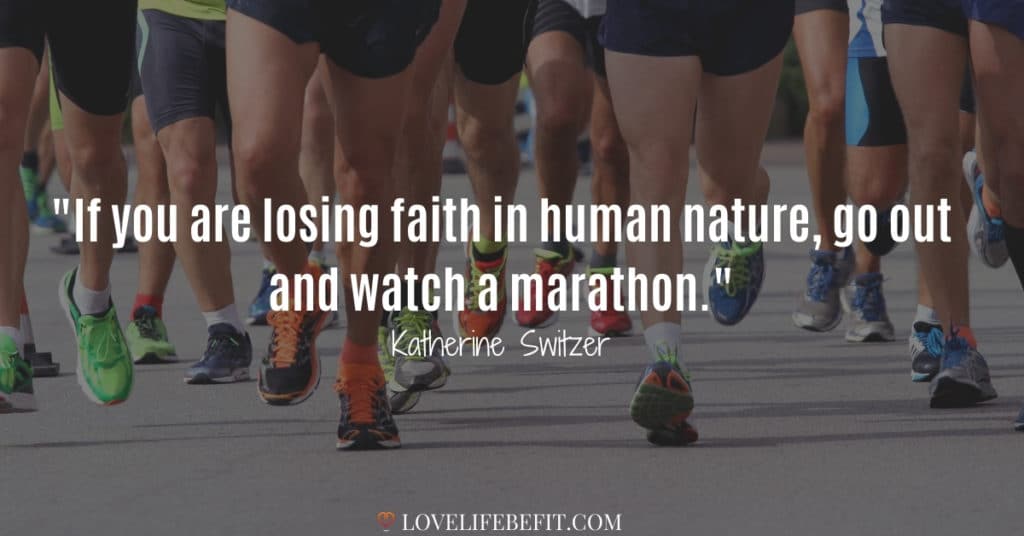 If you are losing faith in human nature, go out and watch a marathon.

Katherine Switzer
Running Quotes For The Joy Of Running
In the words of Dr. Seuss, "It's fun to have fun, but you have to know how". Don't lose sight of the joy of running.
Running is about exploring your capabilities. It should be an adventure, not a chore.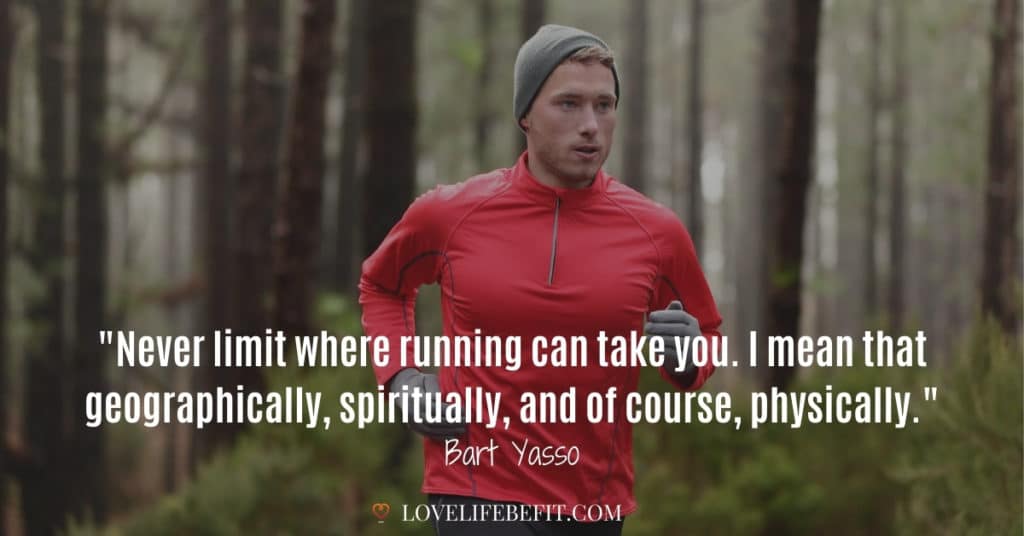 Never limit where running can take you. I mean that geographically, spiritually, and of course, physically.

Bart Yasso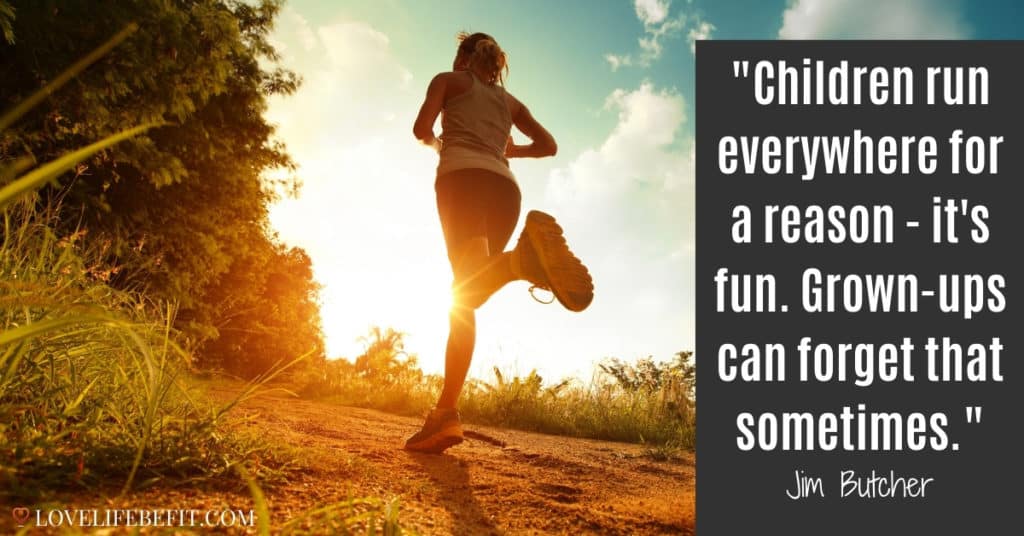 Children run everywhere for a reason – it's fun. Grown-ups can forget that sometimes.

Jim Butcher
And finally, my favorite running mantra.
Run often. Run long. But never outrun your joy of running.

Julie Isphording