Healthy snacks for work don't seem to exist unless you take your own. I've worked with brands in the sports industry and have still been offered a tempting array of sugary treats with my coffee. (Some of these brands definitely don't practice what they preach!)
It's hard to hold out when you're hungry and there's a slice of chocolate cake just an arm's length away or a vending machine at the end of the corridor. If you want to stick to your healthy eating regime for weight loss, I suggest you start taking your own healthy snacks to work.
It's best to have your own tasty treat at your desk – high-protein snacks with healthy fat to keep weight loss plans on track.
Be prepared if you're aiming to eat better… It's the mantra of people who lose weight and keep it off.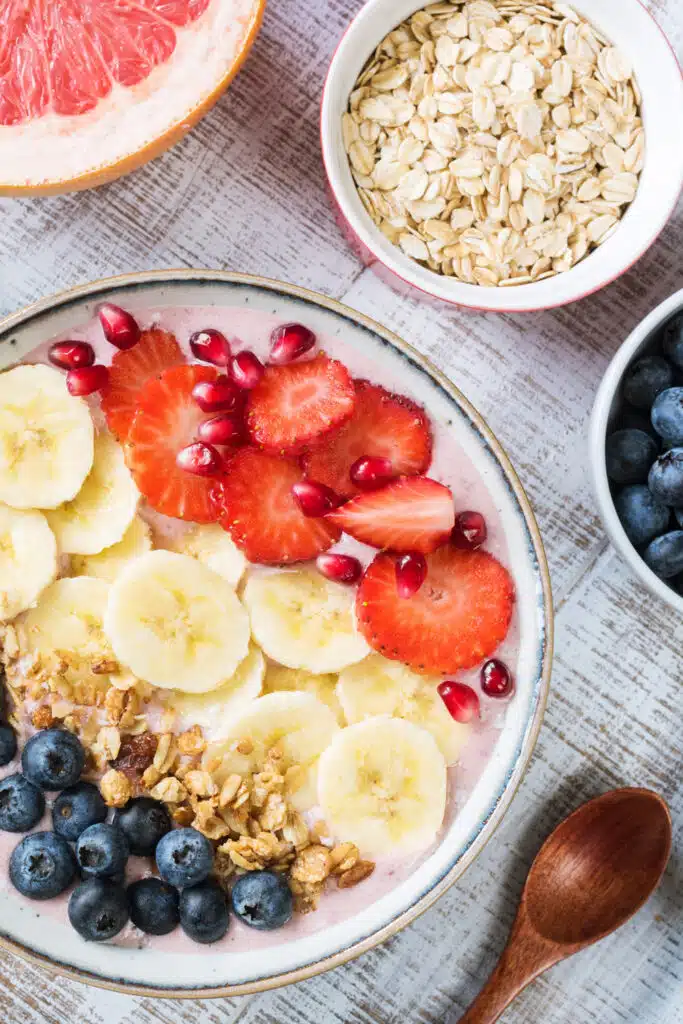 Why You Need Healthy Snacks
Hunger is the downfall of any eating plan. I'm not going to talk about diets as I don't believe they work. Instead, I'm a believer in cutting out junk food and empty calories.
If you're really hungry, it takes an enormous amount of willpower to hold out against temptation. This is why you need healthy snacks for work. Something you can reach for to take the edge off a ravenous appetite.
It's always better to reach for a healthy snack – a handful of nuts, an apple, or some carrot sticks than gulp down the office cake. Avoiding temptation at work comes down to being prepared.
Healthy Snack Ideas
Here are some ideas for your favorite healthy snacks you can take to work. These snacks are perfect for work breaks and eating at your desk:
#1 Dark Chocolate
No Preparation
Calories: 120-160
Small quantities of dark chocolate make a healthy snack for work. Eat each piece slowly and savor every bite. Dark chocolate is rich in antioxidants – a little indulgence is good for your health!
Choose a bar with at least 70% cocoa solids for the health benefits and to avoid sugar overload. One small square or two will satisfy your sweet tooth without blowing your diet.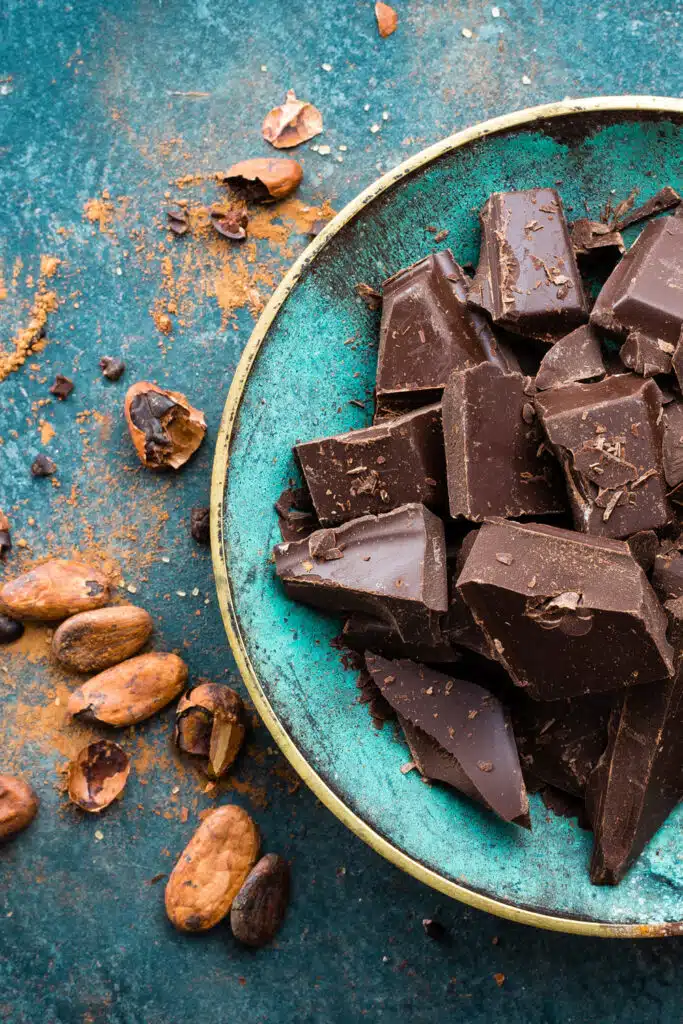 #2 Fresh Fruit
No Preparation
Calories: 100
A piece of fruit is the perfect snack for work. It's easy to carry around and doesn't need any preparation. An apple or banana provides a quick sweet pick-me-up without sending your blood sugar levels sky-high. Eating a medium-sized apple or banana provides about 100 calories so you won't blow any weight loss plans. It's one of the most healthy foods you can eat and a great way to get your 5-a-day fruit and veg!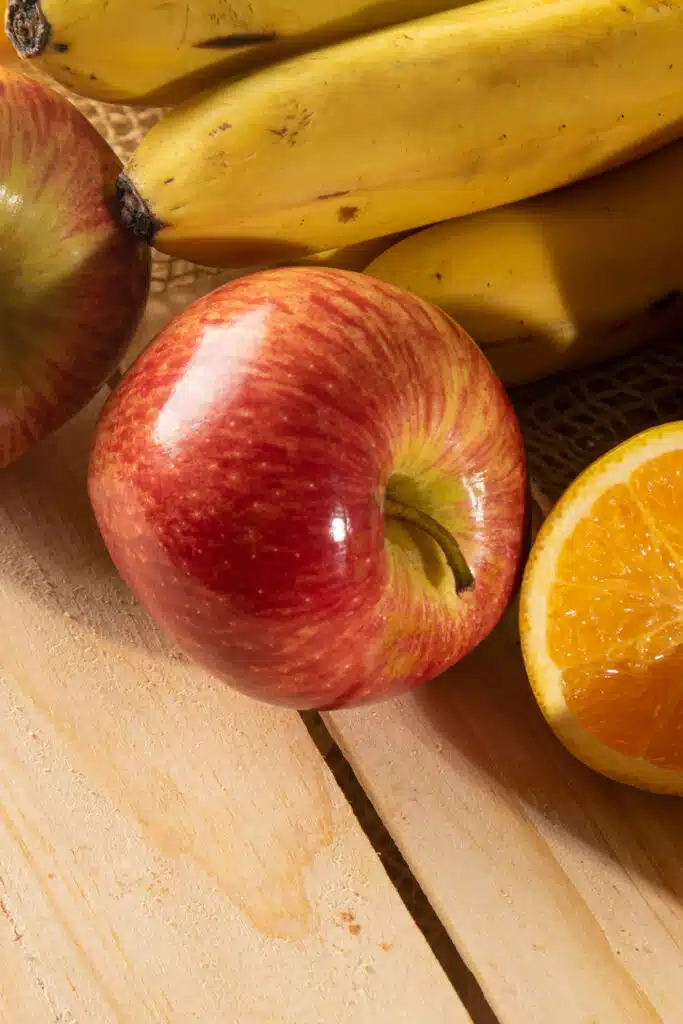 #2 Rice Cakes And Nut Butter
Ready in 2 minutes
Calories: 140
This is one of my favorite snacks for work. It's so simple but really satisfying. Rice cakes and nut butter make a great alternative to sugary snacks like biscuits. Nut butter is high in calories – all from healthy fats but it will keep you full for several hours. Just go easy on the quantities. I'm an almond butter or peanut butter fan but the walnut version has the lowest calories. One small teaspoon should be enough for one cake.
Spread your choice of butter thinly on the rice cake, pop it into a Tupperware box or make a rice cake sandwich and wrap the two rice cakes together – and you're good to go. For an extra healthy option opt for a brown rice cake – the extra fiber will keep you fuller for longer.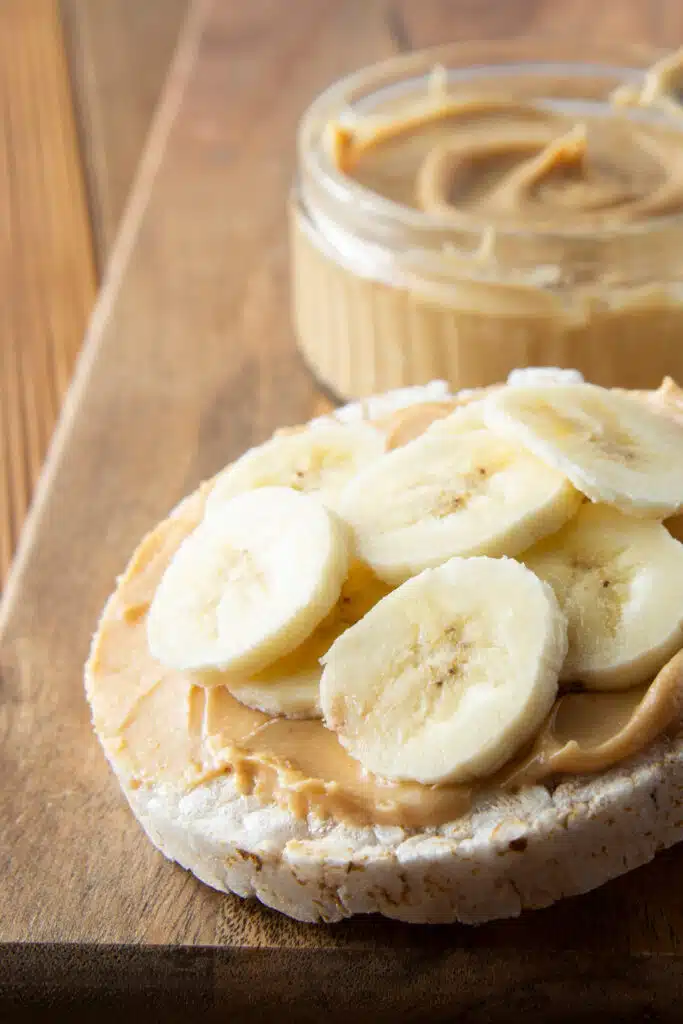 #4 Trail Mix
No preparation
Calories: 200
A small handful of trail mix is a perfect healthy snack for work. Nuts and seeds are packed with protein and healthy fats to help you stay full until lunchtime. Choose a mix without any added sugar or chocolate chips for the healthiest option.
You can buy trail mix from most grocery stores or make your own trail mix at home by mixing together a selection of nuts, seeds, and dried fruit. Add pumpkin seeds packed with powerful antioxidants and sunflower seeds for a vitamin boost!
Go easy on the quantities – trail mix is for nibbling! Just 1.5 ounces packs 200 calories. Used wisely it's a nutritious snack you can keep in your drawer at work for when hunger strikes and should keep you going until mealtime.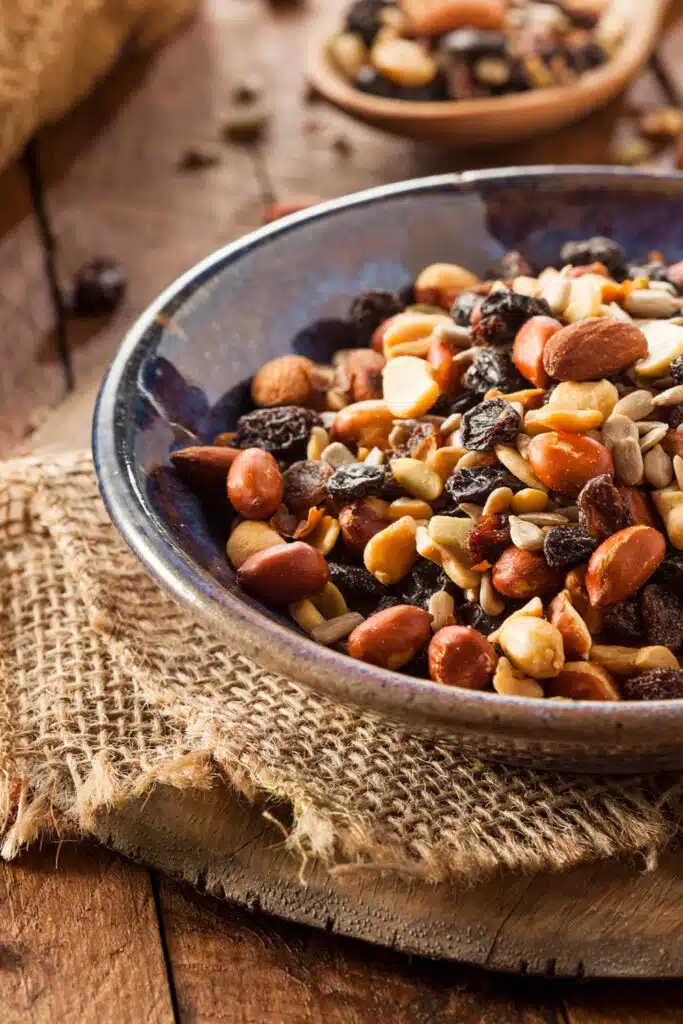 #5 Roasted Chickpeas
Preparation: 25 minutes
Calories: 135
If you enjoy a tasty snack with a bit of a crunch, roasted chickpeas are a great option.
These little nuggets of goodness make a healthy and filling snack for work. Chickpeas are high in fiber and plant-based protein to help you stay full until lunchtime. They're also low in calories – just 135 calories for half a cup (82 grams).
To make roasted chickpeas, drain and rinse a can of chickpeas. Pat them dry with a paper towel then toss with olive oil and your choice of spices. I like to add a pinch of smoked paprika or curry powder.
Spread the chickpeas on a baking sheet and roast in a preheated oven at 400 degrees Fahrenheit for 20 to 30 minutes. Once they're crispy, let them cool then store them in an airtight container. Take them to work and store them at your desk – they keep for up to 3 days.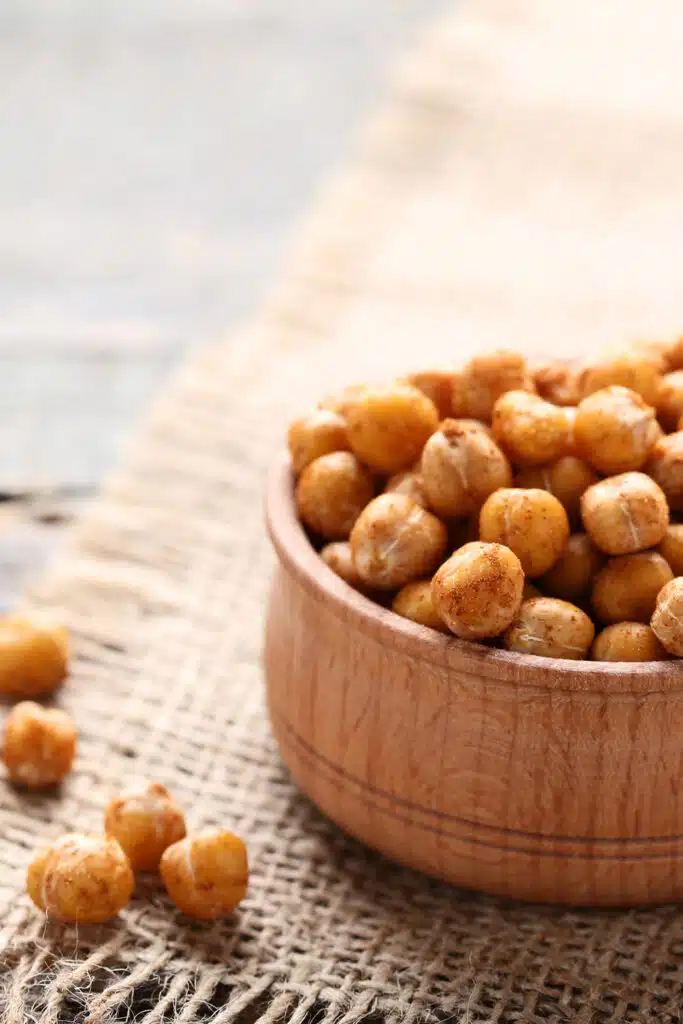 #6 Chocolate Bark
Preparation: 15 minutes
Calories: 240
This is a variation on dark chocolate nuts. It takes very little effort to make but always looks impressive. It's the sort of snack you can take to work when you need to provide some office treats.
These chocolate nuts make a satisfying snack loaded with plant protein, healthy fats, and goodness. Just make sure you only eat a few small pieces if you're counting your calories. A quarter of a cup (39g) is 240 calories.
To make chocolate bark, sprinkle a selection of raw nuts onto a sheet of baking parchment. I like to use a mix of almonds, pistachios, and hazelnuts. Then melt some dark chocolate – I use about 80% cocoa solids for a rich flavor.
Pour the melted chocolate over the nuts then sprinkle with flaked sea salt. Leave the bark to set then break it into small pieces. Store in an airtight container and take a few pieces to work with you for a healthy nutritious snack.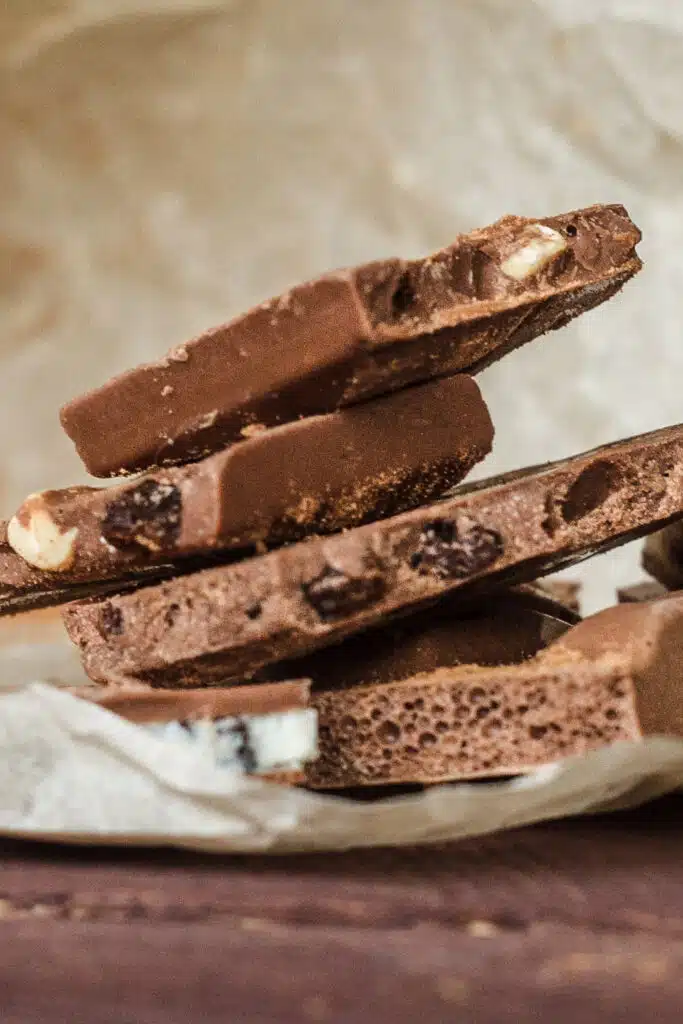 #7 Vegan Greek Yogurt
Preparation: 15 minutes + leave overnight
Calories: 160
Making greek yogurt from soy milk was a life changer when I became a vegan. Yogurt was the only food I missed as a vegan so realizing I could make my own from high protein soy milk was such a revelation.
I've been making my own yogurt for years. There's nothing wrong with store-bought yogurt but homemade yogurt has a much better flavor. The calorie content of greek yogurt will vary but it's about 160 calories for a 6-ounce (170g) serving. If you're feeling indulgent, serve with maple syrup!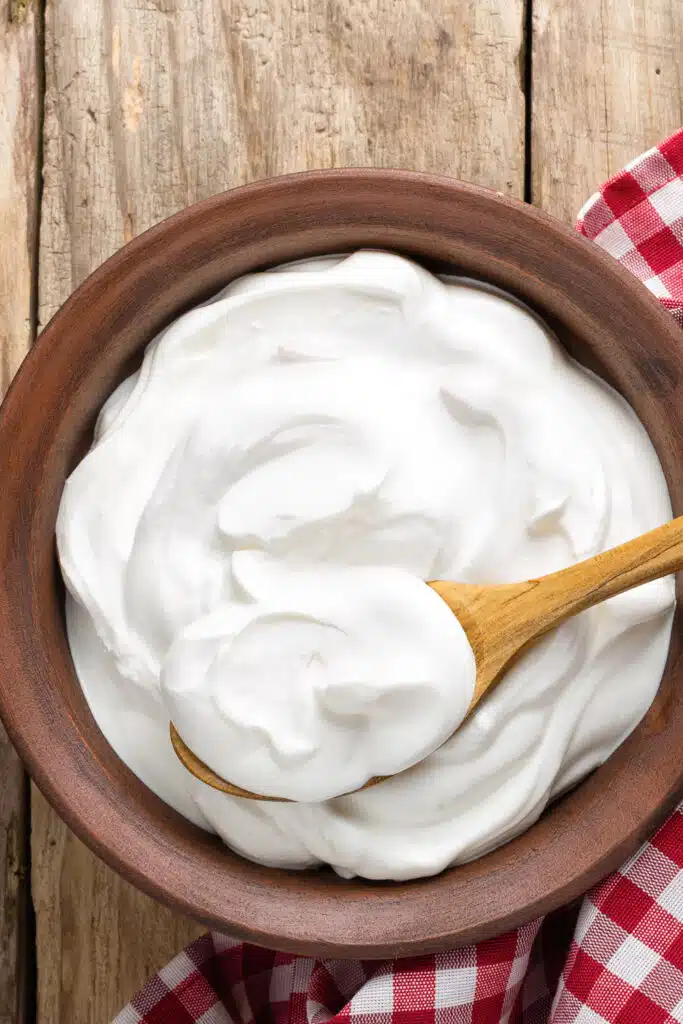 #8 Roasted Laver Chips
Preparation: 15 minutes
Calories: 60 – 100
Laver chips are seaweed snacks. These crispy little bites make a great healthy snack for work. They're full of vitamins and minerals and low in calories.
You can buy laver chips from most health food stores or online. They come in a variety of flavors but I like the original taste best. A one-ounce (28g) bag contains around 60 calories.
Laver chips are a good source of iodine which is essential for thyroid function. They're also high in vitamins A, C, and E as well as calcium and iron.
To make your own laver chips, simply preheat your oven to 300 degrees Fahrenheit then line a baking sheet with parchment paper. Break up the laver sheets on the baking sheet then spray with a little olive oil. Sprinkle sesame seeds on top and bake for 8- 2 minutes until crispy. Make sure they don't burn! Alternatively, you can toast the seaweed snacks in a wok on medium heat – remember to stir continuously.
Add your toppings of choice – chili flakes, smoked paprika, a little coconut sugar, cumin, nutritional yeast – experiment!
Allow to cool and then store in an airtight container. Take a serving of laver chips to work for a healthy snack. Who knew seaweed was such a delicious snack!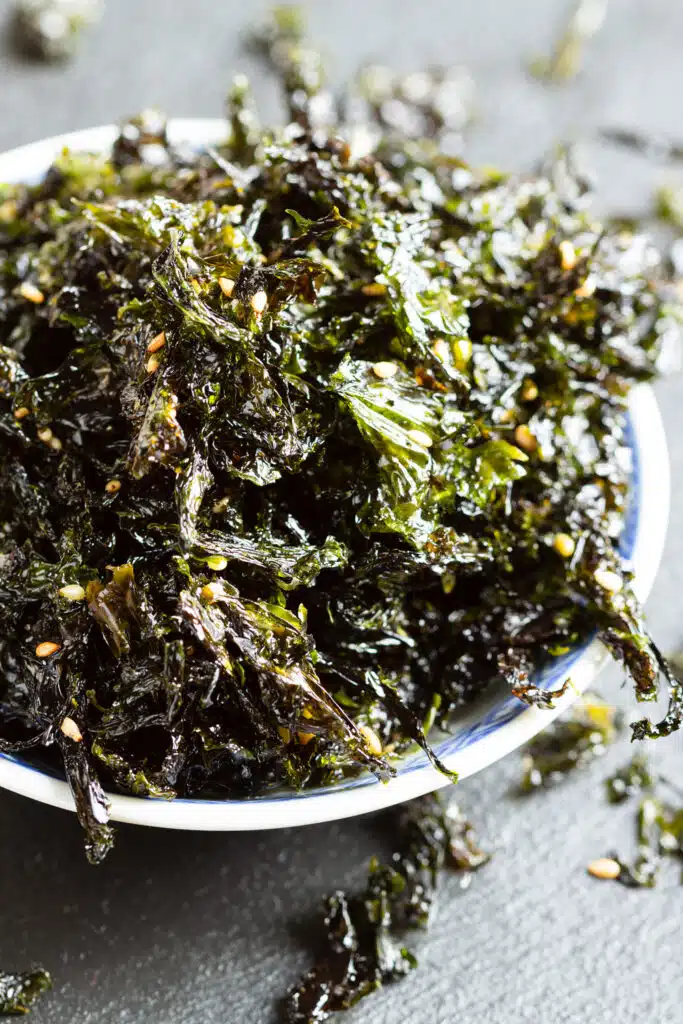 #9 Homemade Energy Balls
Preparation: 20 minutes
Calories: 200
These are the go-to food for runners! A great alternative to shop-bought granola bars and protein bars. Packed with whole grains, protein, and nutrients, they make the perfect snack to eat before or after a run. They make a great afternoon snack if you're planning to exercise straight after work.
These delicious snacks are so easy to make with no baking required. All you need is a high-powered food processor. Customize them to your own taste – I like to add a little ginger for an extra zing but you could also add other spices.
The basic ingredients are rolled oats, dates, and a selection of chopped nuts. The binding ingredients are nut butter and maple syrup. Throw everything in a food processor for 1 or 2 minutes. Scape out the mixture and roll it into balls.
Play around with ingredients and quantities. You can add chocolate chips or dried fruit to the processed mix. If the mix becomes too dry just add some more nut butter.
You can even make a version without a food processor. Use chopped dates and mix everything together by hand for coarse-textured energy balls.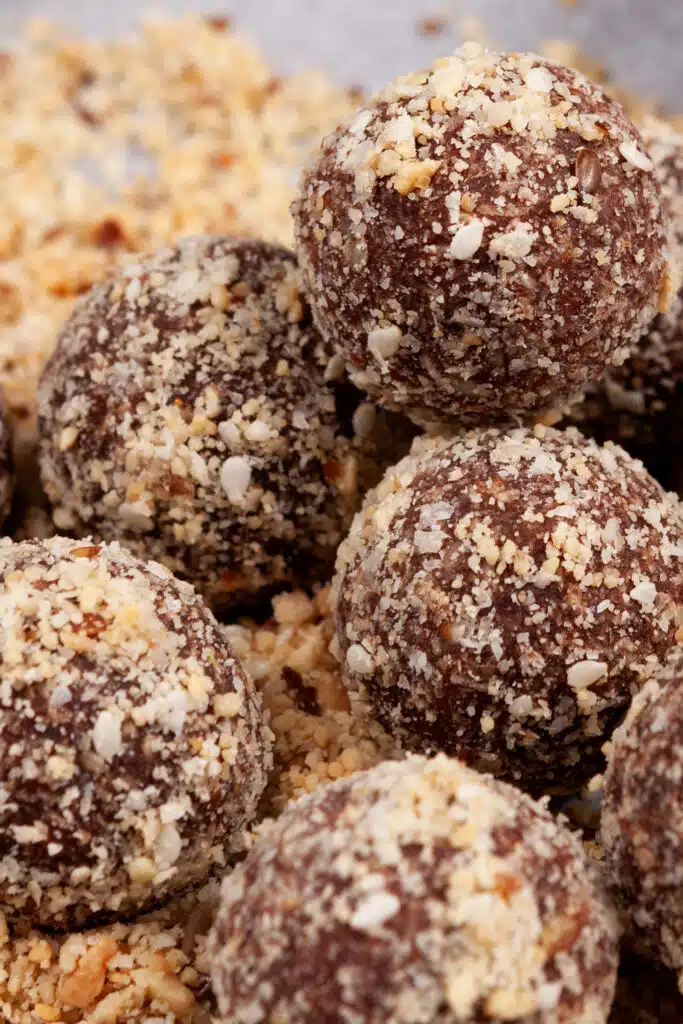 #10 Wasabi Peas
Preparation: 0 minutes
Calories: 140
Wasabi peas make a great healthy snack for work. They're full of flavor and easy to eat on the go. If you like a little spice in your life, these are the perfect snack for you!
A one-ounce (28g) serving contains around 140 calories and is a good source of fiber and plant-based protein. Wasabi peas are also a good source of vitamins A and C.
You can buy wasabi peas from most health food stores or online. They come in a variety of flavors but I like the original taste best.
Wasabi peas are a great snack to take to work because they're easy to eat on the go. If you're looking for a healthy snack to help you avoid temptation, these are a great option!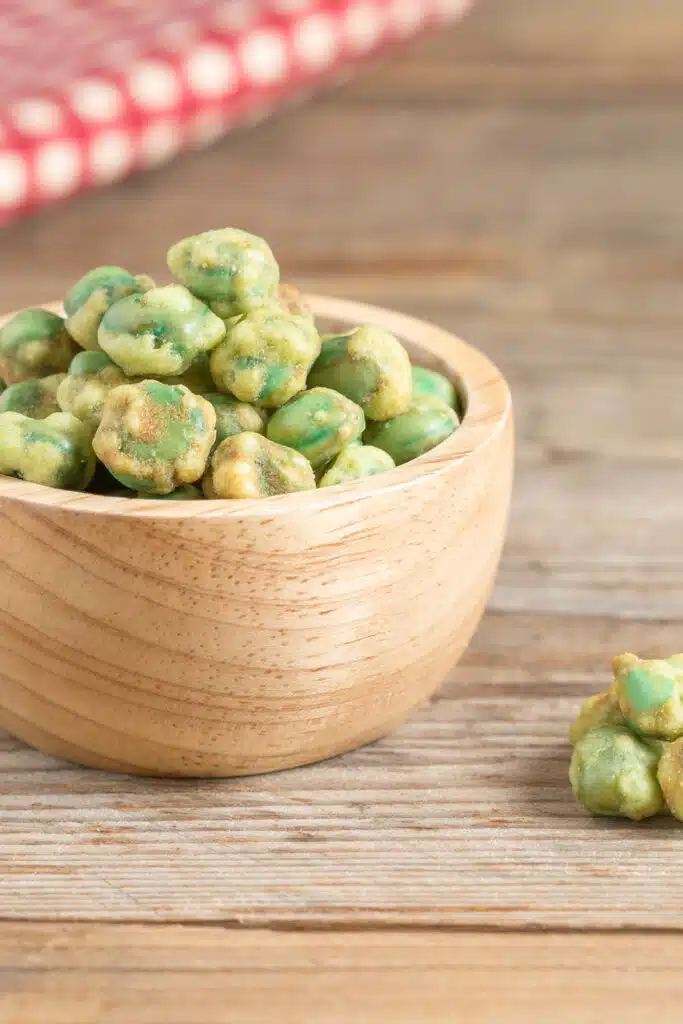 #11 Homemade Granola
Preparation: 25 minutes
Calories: 220 – 250
Who thinks granola is just for breakfast? It makes a filling afternoon snack to keep you going until your next meal. Homemade granola is full of the good things in life – rolled oats, nuts, seeds, and dried fruit. It's also so easy to make!
Mix your favorite selection of nuts, seeds, and dried fruit with old-fashioned coarse rolled oats in a large bowl. I go for about 4 cups of oats to 2 cups of the nuts/fruit/seed mix.
Pour over about half a cup of melted coconut oil and some maple syrup to taste. (I sometimes leave this out). Mix well and scoop onto a baking tray lined with parchment paper. Bake in an oven at 350 degrees Fahrenheit for 20-25 minutes stirring a couple of times during baking.
Leave to cool and store in an airtight container. If you want some extra flavor add vanilla extract or cinnamon to the mix before baking. Calories are approximately 225 for half a cup but it will really depend on your chosen ingredients.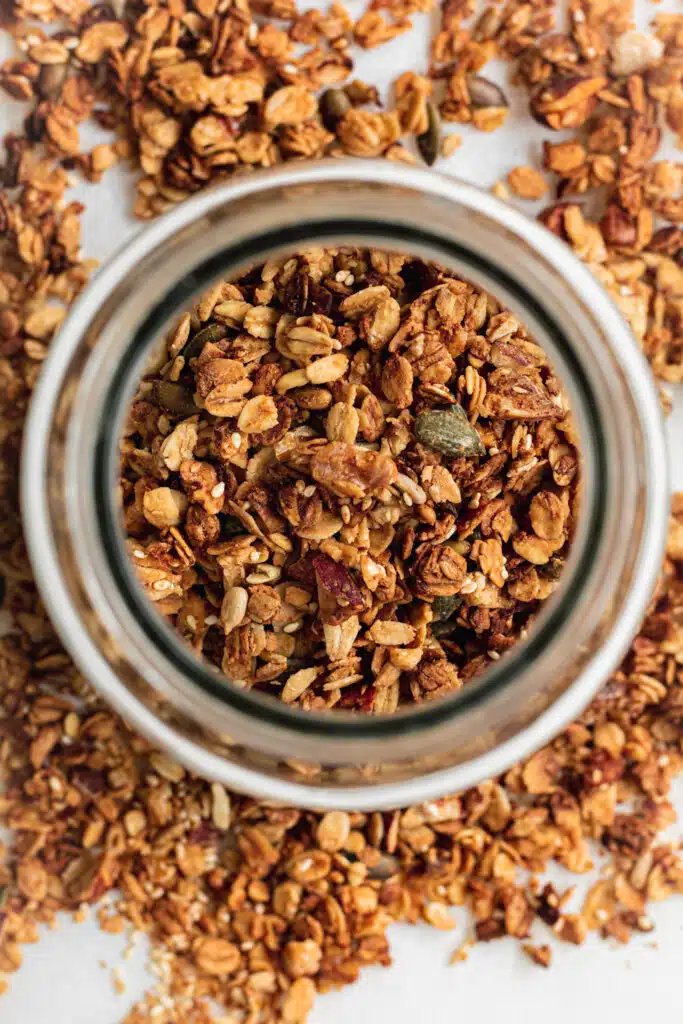 #12 Celery Sticks, Carrot Sticks, And Hummus
Preparation: 5 minutes
Calories: 50 – 100
Chop the celery into sticks, peel and chop the carrots and place them in a zip lock bag. Take into work with your favorite hummus. If you have the time try making your own. It's full of healthy ingredients: chickpeas, tahini, lemon juice, garlic (optional), seasoning, and a little olive oil.
Eat as many celery sticks or carrot sticks as you want but be aware of the high calories in hummus – 2 tablespoons is about 50 – 100 calories.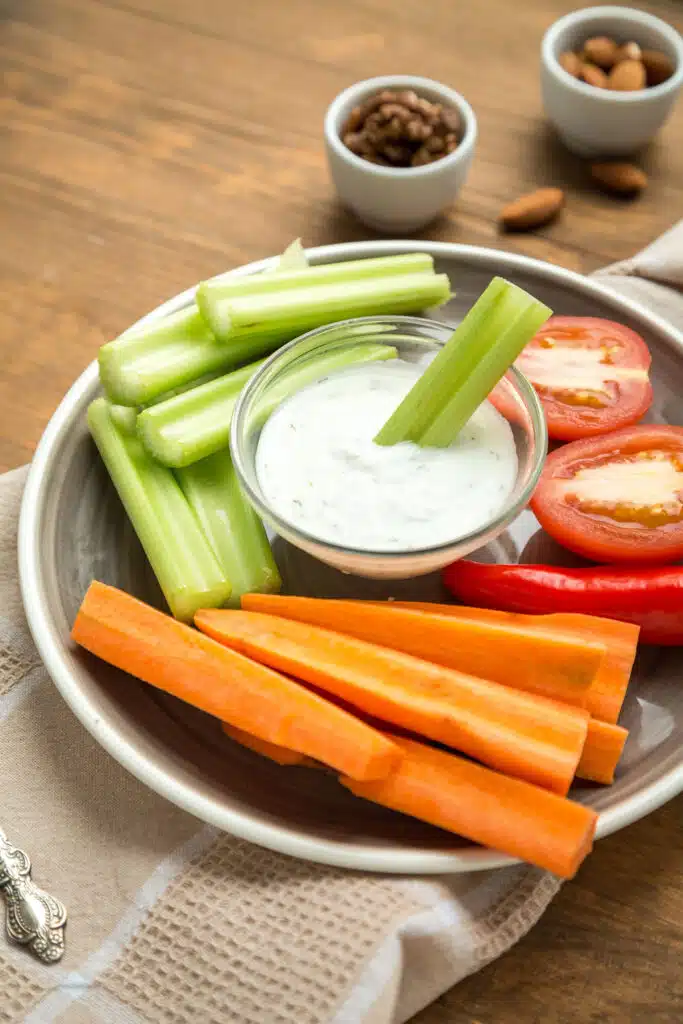 #13 English Muffins
Preparation: 5 minutes
Calories: 135 + topping
Yes, English muffins are a healthy option. They make a very satisfying snack lightly toasted and spread with avocado or your favorite creamy spread. Low fat cottage cheese is a good option and there are lots of vegan options.
Most English muffins are vegan but always check the labels. Wholewheat or multigrain muffins packed with fiber are an extra healthy option.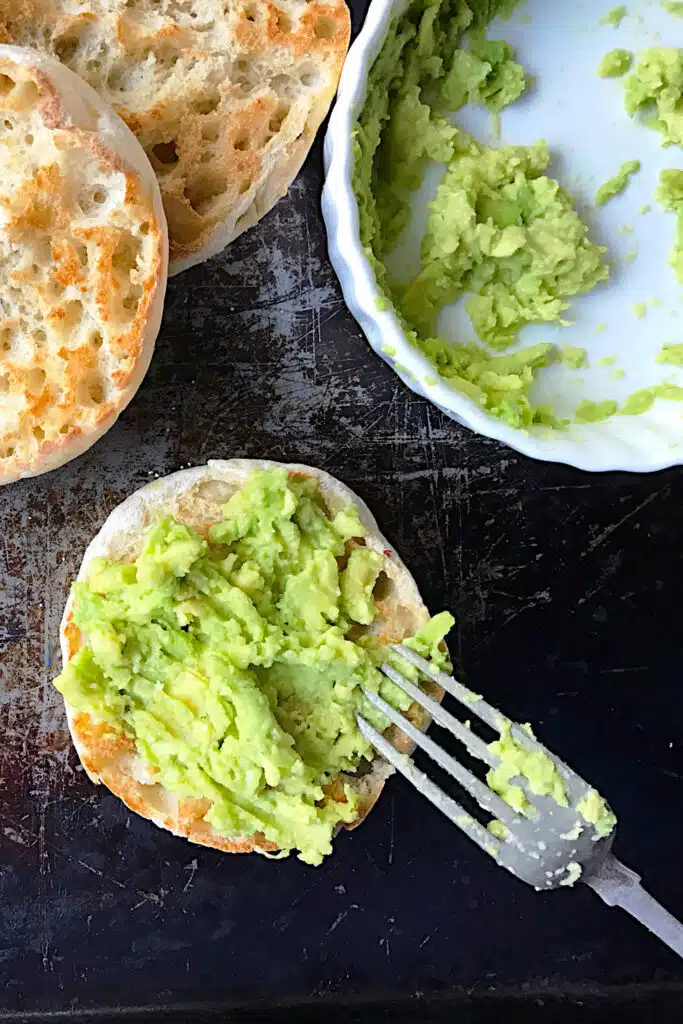 #14 Healthy Muffins
Preparation: 30 minutes
Calories: 200
If you prefer your muffins sweet but full of heart-healthy unsaturated fats, try these healthy muffins!
There are lots of different choices for flavors from classic blueberry to lemon or coconut muffins. All made with healthy fat but try not to eat the whole tray! One muffin is approximately 200 calories.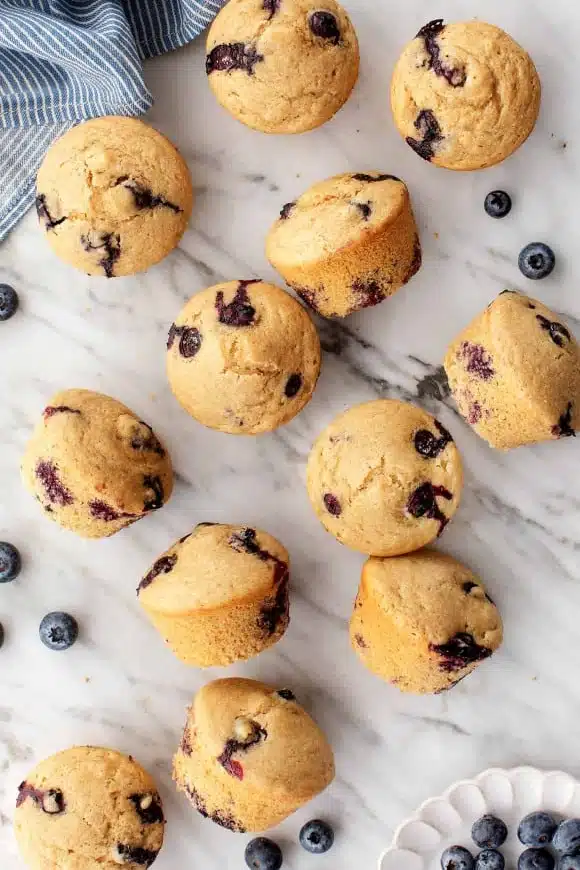 Full recipe on Love & Lemons
#15 Baked Veggie Chips
Preparation: 25 minutes
Calories: 100 to 200
Instead of reaching for a bag of tortilla chips or potato chips, try making your own veggie chips! These are so easy to make and you can use a huge variety of vegetables.
Try sweet potatoes, beets, zucchini, parsnips, carrots even radishes. Thinly slice up the raw veggies, spread them on a parchment paper on a baking tray, and spray with a little olive oil. Bake at 400 degrees Fahrenheit for 10 – 20 minutes. Flip over when one side starts to brown. Keep checking to make sure they don't burn.
Make with no oil for a really low-calorie option.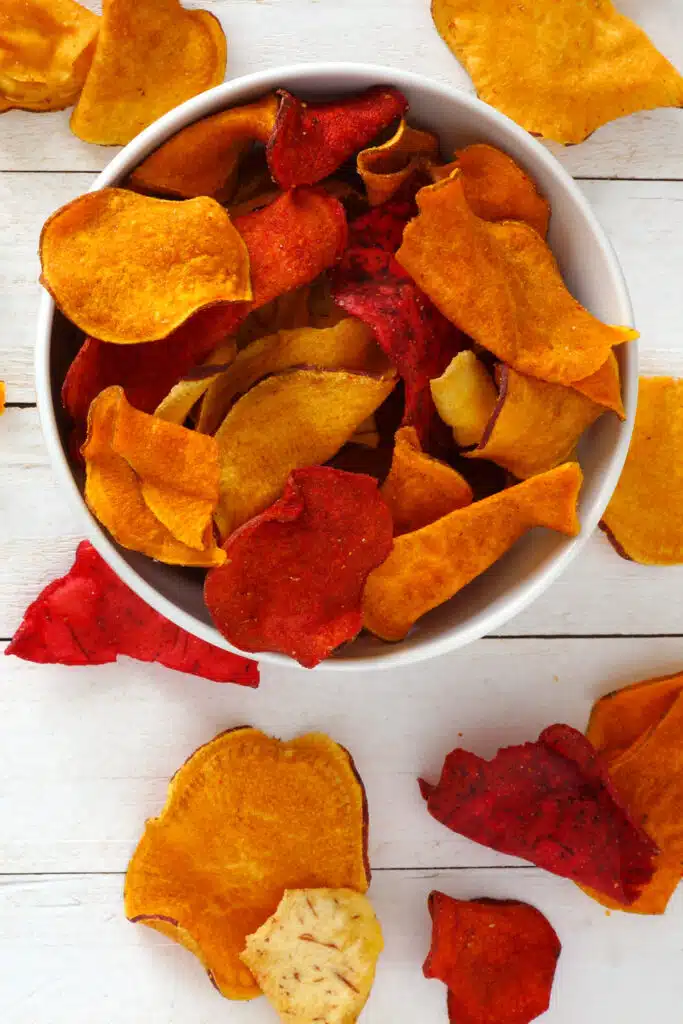 #16 Overnight Oats
Preparation time: 5 minutes (leave overnight)
Calories: 200 plus toppings
Who thinks overnight oats are just for breakfast? Oats are filling and terrific for weight loss. Just a small bowl of oats can keep you full for hours.
Make your overnight oats in mason jars and pop them in the fridge at work for a delicious cold snack.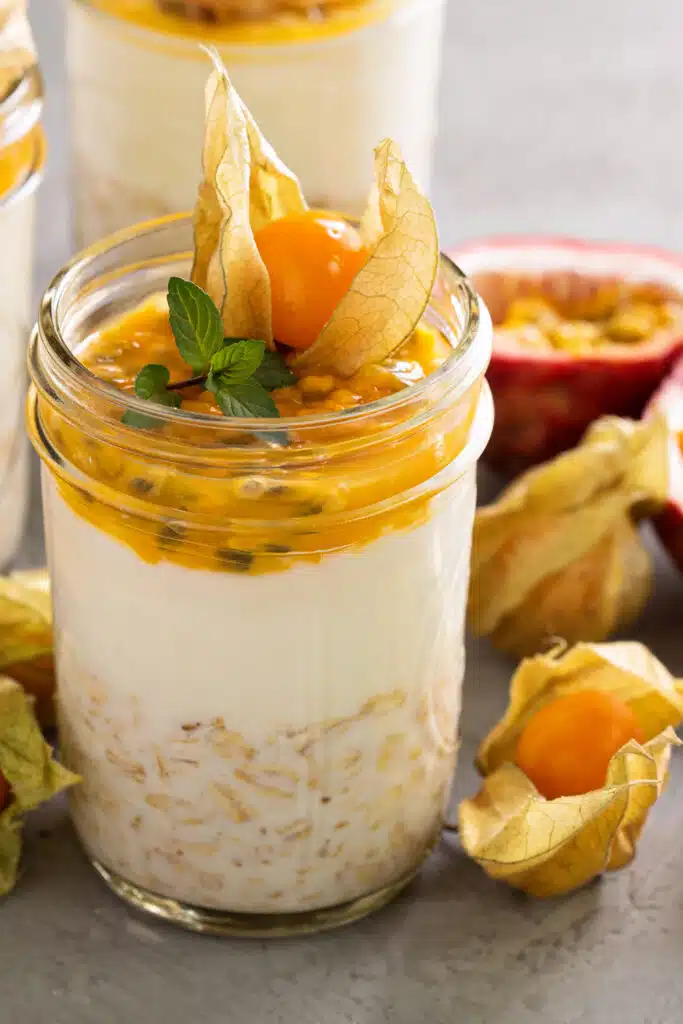 Love Life Be Fit Overnight Oats Recipe
Thoughts From Love Life Be Fit
We hope you enjoy these tasty snacks! It's better to plan ahead and have a healthy office snack than blow all your good intentions when temptation strikes. For treats and rewards, try these weight loss reward ideas.
If you're attending meetings, try and make sure healthy snacks are available so you're not tempted by sticky treats.
Just remember, if you do succumb to temptation with one careless piece of chocolate cake, it's not a reason to abandon all your healthy eating plans. You can always make amends. With a little thought and preparation, healthy snacking at work is easy!