If you love the sound of healthy eating, recipes that save time and can be put together on any budget, you're going to love these cheap vegan meal prep ideas.
Preparing food in advance is a great way to save money – combine it with eating vegan food and you'll be amazed by how much money you can save on your weekly food bills.
You don't need to be vegan to follow these plant-based ideas. These affordable menus are ideal for anyone interested in eating delicious healthy food without spending a fortune.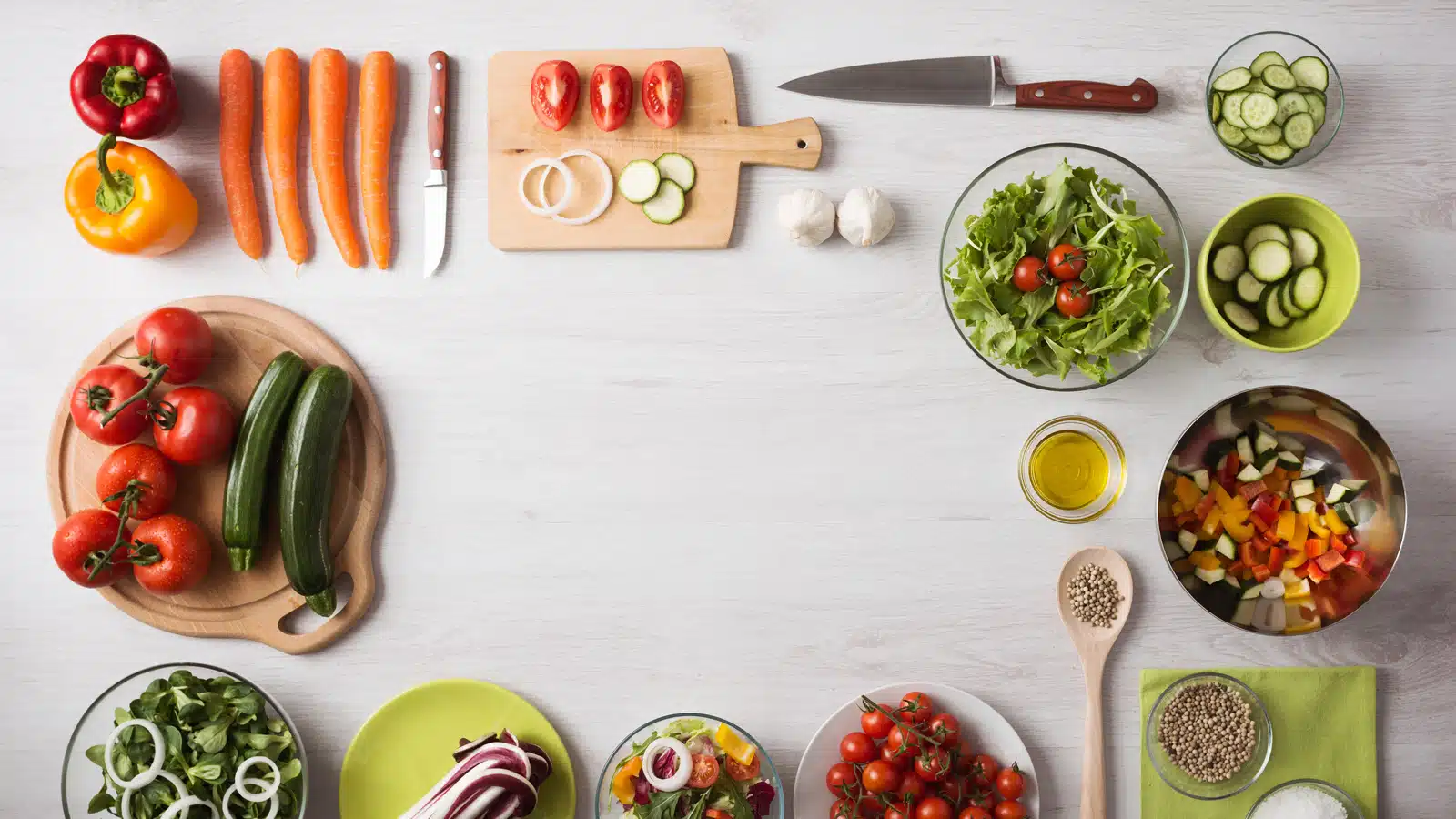 Cheap Vegan Meal Prep Basics
The vegan diet excludes all animal products, including meat, dairy, and eggs. This means it's a plant-based diet mainly eating whole foods – grains, beans, vegetables, and fruits.
If you've recently become a vegan or have begun eating more plant-based meals, you're in good company. As people make greater environmental and animal welfare choices, the vegan lifestyle is growing in popularity.
The good news is that following a vegan diet is easier than ever before and there are plenty of substitutes for animal-based ingredients that can be used in vegan recipes.
Pantry staples such as tofu, beans and lentils, plant-based milk, vegan cheese, and egg replacers make it easy to get started.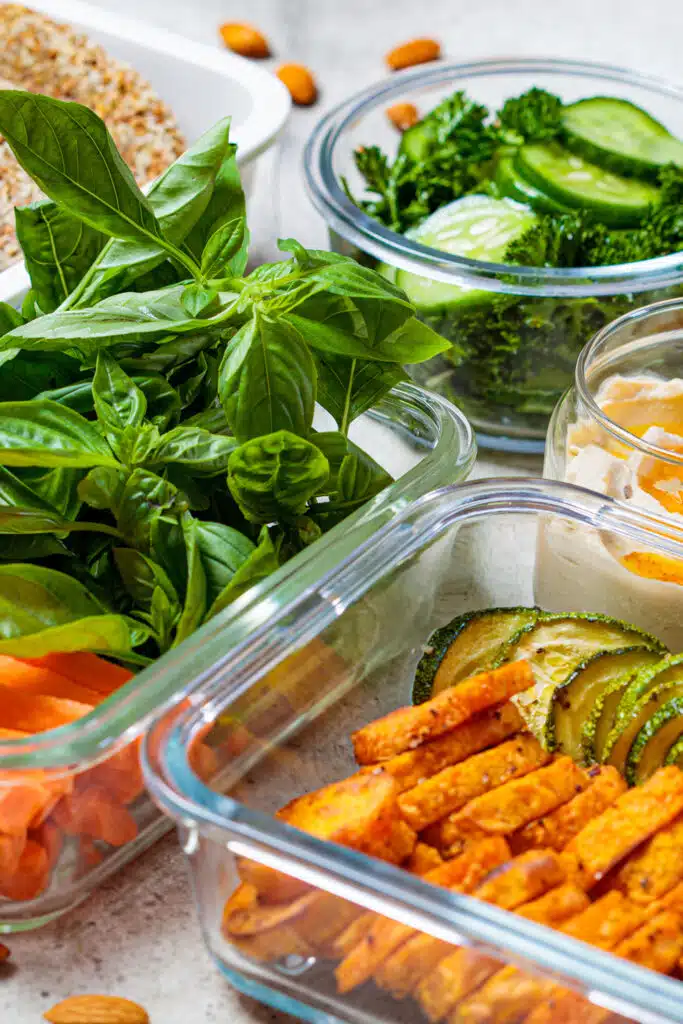 What is meal prepping?
Just in case you're completely new to meal prep, I'd better explain what it is. Meal prepping is simply preparing your meals in advance. This could mean cooking all your dishes for the entire week on a Sunday night or just prepping a few recipes for a couple of days and cooking again later in the week.
You can prep in bulk, by eating the same menu two or three times, or opt for a different meal every night. It's up to you. I find the best way is to make enough for at least three meals in one go – eat one meal straightaway, save a portion for the next day, and freeze the rest. This way I always have a healthy meal to hand, whatever the day throws at me.
Meal prepping has many benefits, including:
Saving time – you can have home-prepared healthy meals ready in minutes.
Keeping your diet on track – it's all too easy to give in to take-away temptation when you're tired and hungry. Meal prep is an easy way to stick to healthy eating and keep to your weight loss goals.
Saving money – home-cooked meals are always cheaper than eating out or buying ready-made food. Making food in bulk and sticking to a shopping list of ingredients really helps when you're on a tight budget.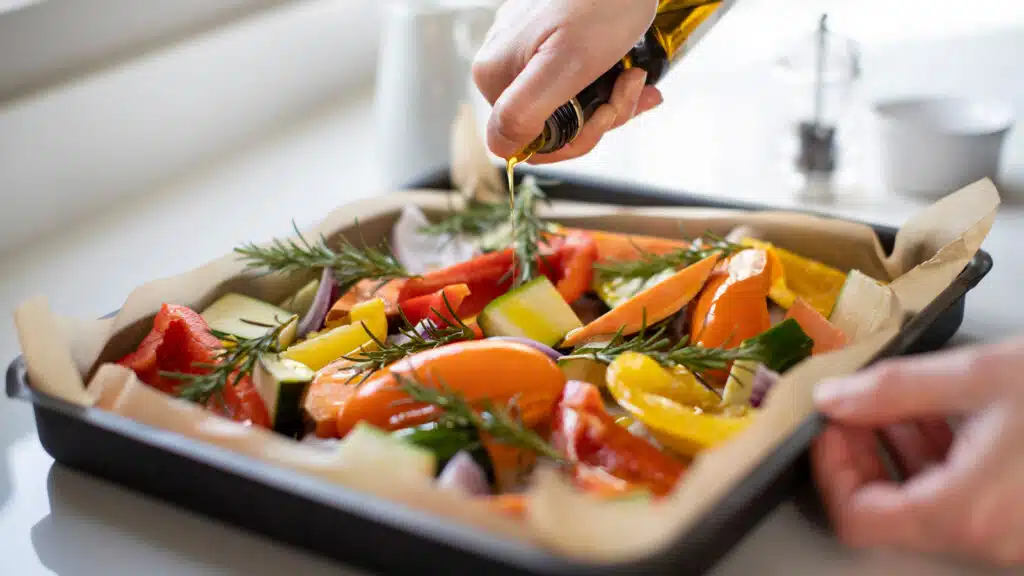 Meal Prep Containers
When you're on a budget the last thing you want to do is spend money on expensive containers. There's nothing wrong with using some old Tupperware – empty ice cream containers are ideal.
But if you're looking for something a bit more stylish and sustainable, my favorites are glass containers – you can get ones that are oven-safe, microwavable, and dishwasher-safe. It's best to have a variety of sizes to suit your needs and make sure they have silicone lids that seal in freshness.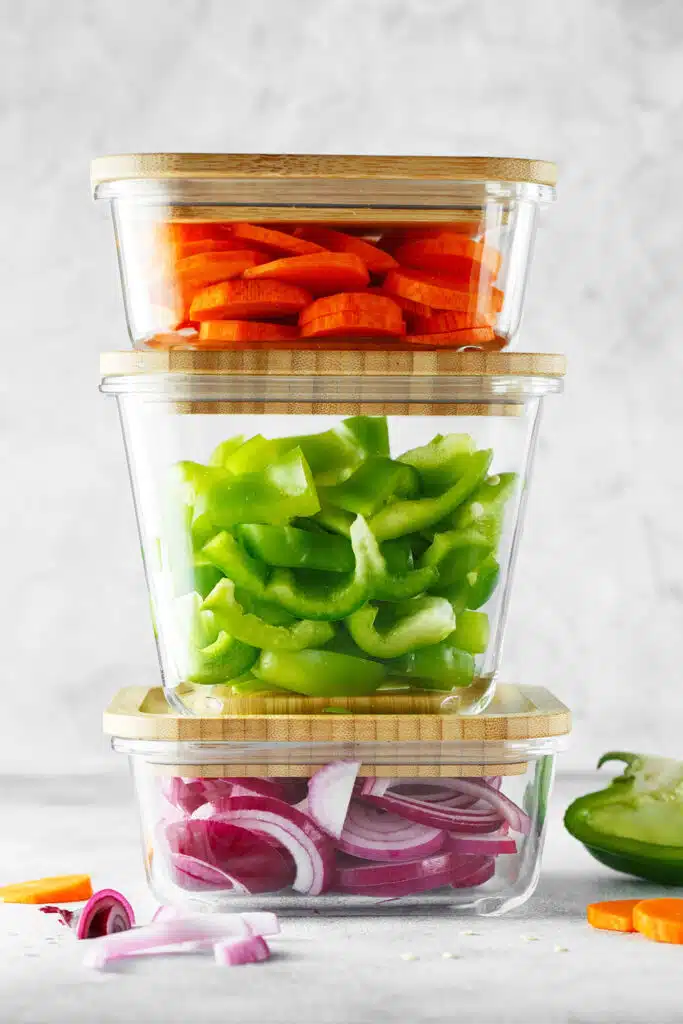 Weekly Meal Plan
Before you head to the grocery store, it's a good idea to plan out your recipes. This doesn't need to be complicated – simply decide on a few days worth of food you want to make and create a grocery list of the ingredients you'll need.
Meal planning will help you stick to a budget as you'll only buy the food you need for your recipes. It also helps to avoid food waste as all the ingredients on your list will be used for recipes during the week.
Meal Prep Plans
When you prep on a budget expect to spend a few hours on a Sunday night making a big batch of food for the week ahead. This could be two to three recipes – enough for five portions for your main meals, preparation for breakfasts such as overnight oats, and lunch options. You can even prep some healthy snacks.
For some dishes, you'll just prep the ingredients rather than prepare the whole dish. For example, if you're making vegan tacos for dinner on Monday night you might just chop and prepare the vegetables and store them in airtight containers in the fridge. This way they'll be ready to cook quickly when needed.
If you want more variety and fresher food, go for these meal prep tips:
Meal prep just enough for two or three meals and shop for fresh ingredients mid-week. Have a mini prep on a Wednesday night to get you through to the weekend.
Double up on recipes – make a big batch of one dish and then use it in different ways later in the week. For example, Prepare a big pot of vegan chili and use it as a filling for tacos, burritos, or enchiladas later in the week.
Plan your cooking sessions so you know what you need to prepare. Try and multi-task by prepping different recipes at the same time.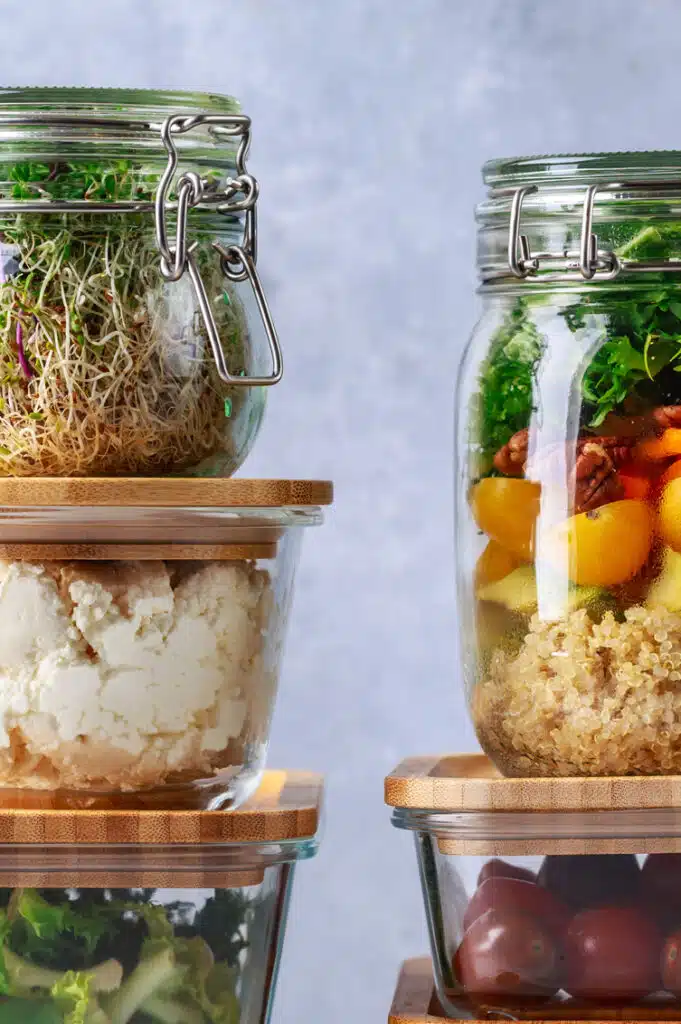 Make A Shopping List
Keep your meal planning on track with a shopping list. It's one of the best tips to save money. Instead of being tempted by in-store promotions, a shopping list helps you stay on budget buying exactly what you need, and no more, for prepping.
Save Money With A Cheap Vegan Meal Plan
You can stretch a tight budget by eating nutritious plant-based whole foods. When cooked from scratch these budget-friendly vegan foods will always be more affordable.
Some of the cheapest foods you can buy are high in protein, full of carbohydrates to keep you full until your next meal, naturally low in fat, and vegan:
Beans and lentils – use canned beans or opt for the dried version to save money.
Whole wheat pasta
Whole grains – brown rice, quinoa, whole wheat bread
Rolled oats
Use Seasonal Produce
It's a sad truth that fresh fruit and vegetables can be expensive. One way around this is to plan your recipes using seasonal produce.
I always love making recipes with zucchini and eggplants in the summer months but in the winter I use carrots and parsnips in my vegan stews and soups. These easy vegan bean salad recipes have great ideas for using seasonal produce!
Check For Bargains
Do you always shop the reduced-priced shelves? It can be a good way to buy affordable fruit and vegetables. There's no harm in buying produce close to its expiry date when you're going to cook it straight away. These bargains can be a good way to save money.
Bulk Buy Vegan Food
Meal prep meals are all about cooking in bulk and if you have a freezer, food prep isn't limited to making dishes for just one week. Find your local bulk food store and make the most of it. Many key vegan ingredients will last for months in the larder. For example, buying sacks of rice works out at a fraction of the cost of using those tiny 1-pound bags.
Buy Frozen Fruit And Vegetables
Berries, green beans, peas, and sweetcorn are just some items on my shopping list I regularly buy frozen. It's a good way to save money. Frozen fruits and vegetables can be better than fresh – nutrients are locked in at the time of picking compared with fresh produce which can take days to reach our supermarket shelves.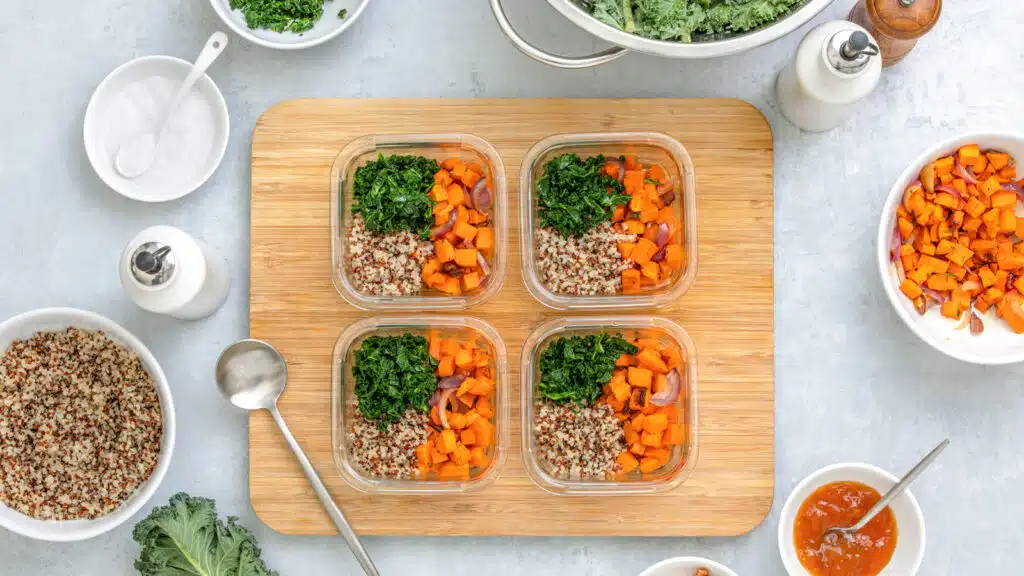 Favorite Vegan Meal Prep Recipes
These delicious recipes use some of the cheapest foods available – ideal when you're saving money! Vegan prep ideas for breakfast, lunch, or dinner. All easy to cook and tasty to eat…
Vegan Meal Prep Breakfast Ideas
So many vegan breakfasts are suitable for meal prep and most of them are super affordable. Overnight oats are one of my favorites. I like to make a batch at the beginning of the week. Top with banana for a cheap vegan meal prep dish.
Oats are naturally gluten-free but if you suffer from intolerances choose gluten-free oats which have been stored and transported separately from gluten-containing grains.
Breakfast prepping helps build healthy eating habits on busy mornings. Take a look at these ideas for vegan breakfast meal prep and these quick and easy vegan breakfast recipes.
If you're preparing breakfast for early office meetings, these breakfast ideas will go down a treat. Your co-workers will appreciate a healthy start to the day!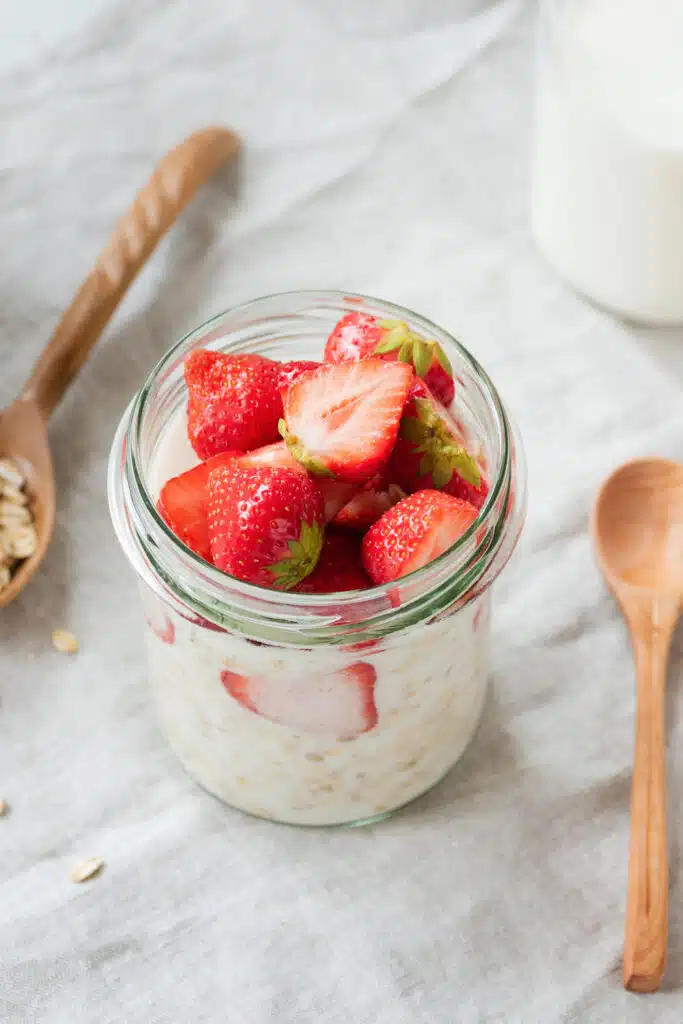 Delicious Vegan Recipes For Lunch or Dinner
These vegan meal prep ideas are all healthy, nutritious, and affordable.
Easy Vegan Meal Prep Bowl
The whole point of prepping is to keep things simple. That's why I love these easy vegan meal prep bowls.
The bowls use the idea of a healthy eating plate: 1/2 of your plate should be filled with vegetables and some fruit, 1/4 of the plate is whole grains and starches, and the last 1/4 is protein. Healthy fats will be present in some of your food choices (for example avocado or olives) and in a small quantity of dressing dribbled on top.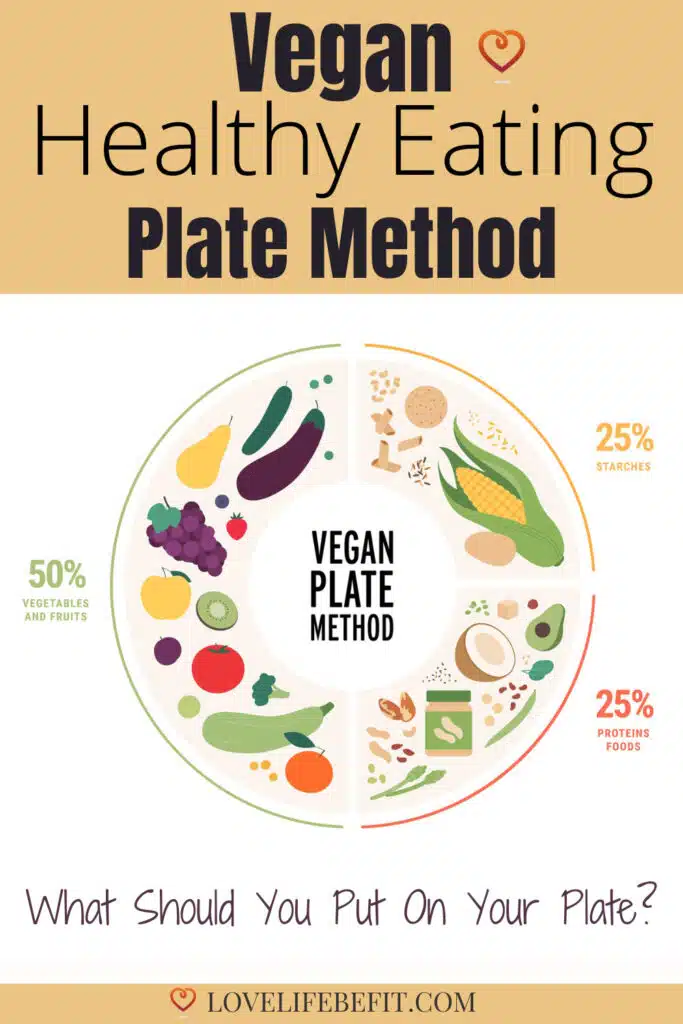 Grains And Starches (1/4 of the bowl)
Most grains and starches can be prepped in advance and will store for several days in your fridge.
Try these ideas:
Rice
Pasta
Sweet potatoes
Quinoa
Regular potatoes
Squash
Bread
Vegetables And Some Fruit (1/2 of the bowl)
The best thing about these vegan meal prep bowls is you can use just about anything to come up with a healthy plate. To keep the cost of your grocery list down opt for vegetables and fruit in season.
Grocery stores often run offers on over-stocked fresh fruit and vegetables and you can always buy frozen. There's less food waste with frozen food. Just keep bags of produce in your freezer and use as needed.
Some vegetables will need to be cooked and prepped in advance. Fresh fruit and salad vegetables are best prepared just before use.
Opt for variety, different colors, and textures. Make your plate zing with peppers, zucchini, spinach leaves, carrots, green beans, and tomatoes… the list of options is endless.
If you're taking prepared fresh fruit or avocado to work in your lunch box, a little lime or lemon juice will help to keep them fresh. Vinaigrette can also be used for avocado and is ideal for prepared salad. Keep your lunch box in the fridge.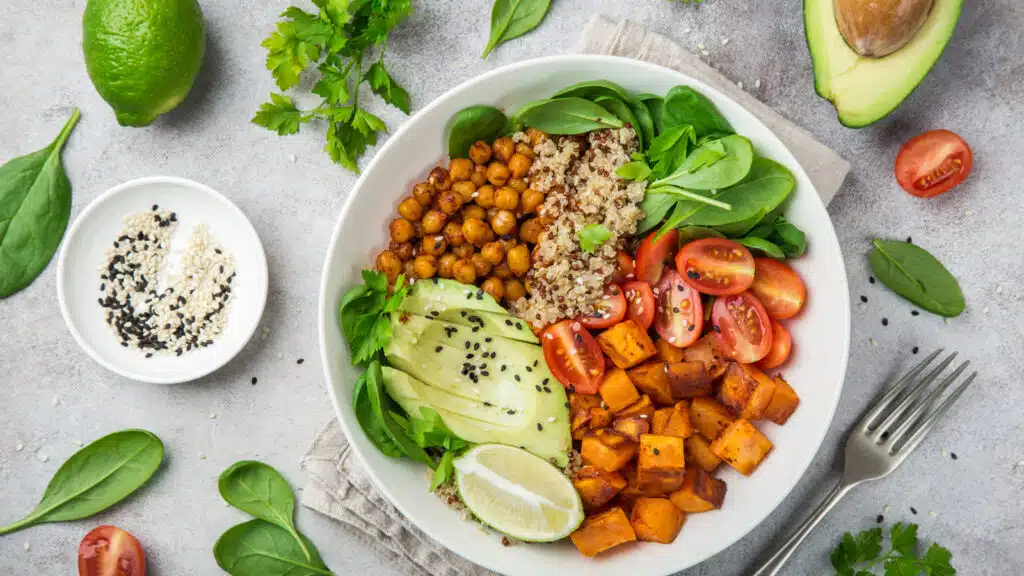 Protein (1/4 of the bowl)
There are so many cheap and affordable protein options when you're following a vegan diet. You can soak and prepare beans and lentils for your bowls in advance or opt for quick and easy tins.
Try these protein ideas:
Beans (chickpeas, black beans, cannellini beans, kidney beans…)
Lentils
Tofu
Nuts (peanuts, almonds, hazel nuts…)
Soy milk
Soy yogurt
Healthy Fats
Essential for health, use healthy fats to supplement your bowls:
Olives including olive oil for dressings
Nuts
Coconut
Seeds
Peanut butter
Almond butter
Tahini (make your own to save money)
Apart from coconut, these healthy fats are unsaturated fats, but they are high in calories – so use them with caution.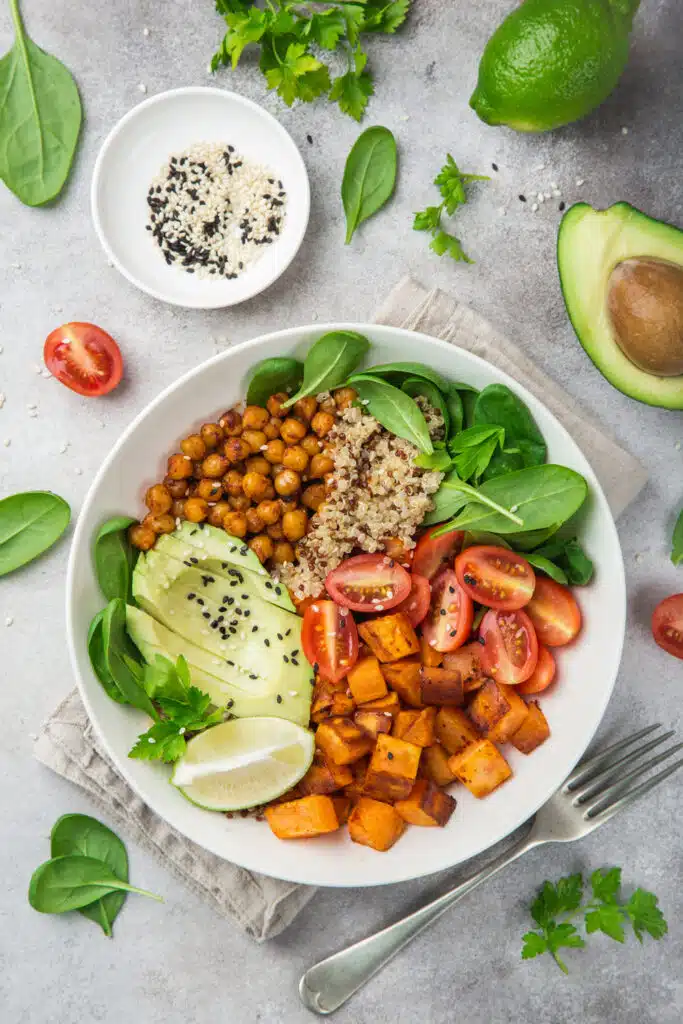 Dressings
It's the dressing on your vegan bowl that pulls the dish together. It can just be a simple vinaigrette of olive oil and vinegar. A typical recipe is three parts oil to one part vinegar with salt and pepper to taste.
You can use lime or lemon juice instead of vinegar and add extra flavor with chili flakes, mustard, or garlic – experiment with different flavors.
Alternatively, simply drizzle on some coconut milk.
Toppings
Add extra flavor to your bowls with crispy tofu, vegan cheese, or nutritional yeast.
Vegan Sweet Potato Buddha Bowl
The sweet potatoes in this dish will fill you up a treat. You can make a budget version of this dish by serving the roasted vegetables with plain brown rice.
Use mangos if in season – otherwise, sliced bananas make a healthy substitute. Instead of the almond butter dressing, I just dribble on some plant-based yogurt.
Get creative with the recipe. I added some lambs lettuce to my dish with a few slices of ripe avocado.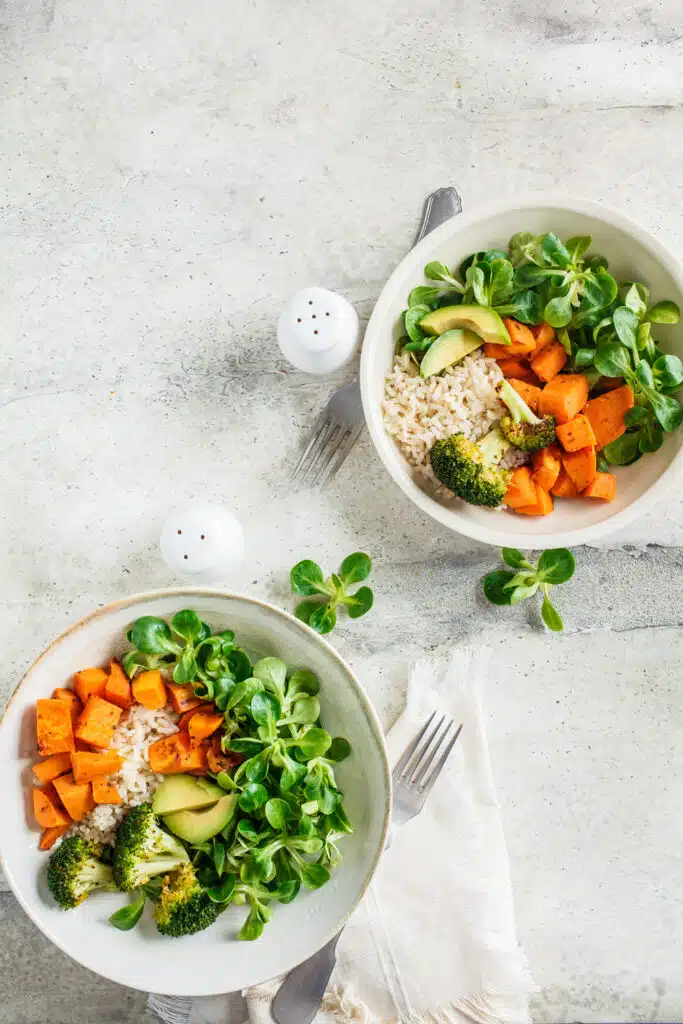 Full recipe on Ambitious Kitchen
Sweet Potato Black Bean Chilli
This easy dish uses a lot of spices but they're ones most people will find in their pantry. Otherwise, the list of ingredients is short and affordable – sweet potatoes, black beans, and diced tomatoes. If you're new to making vegan meals, invest in your spice rack now. You'll use the basics – chili powder, cumin, and dried oregano again and again.
Tasty and delicious, this chili is super versatile. Eat it as is with some vegan sour cream, or serve with cooked brown rice, quinoa, or even pasta.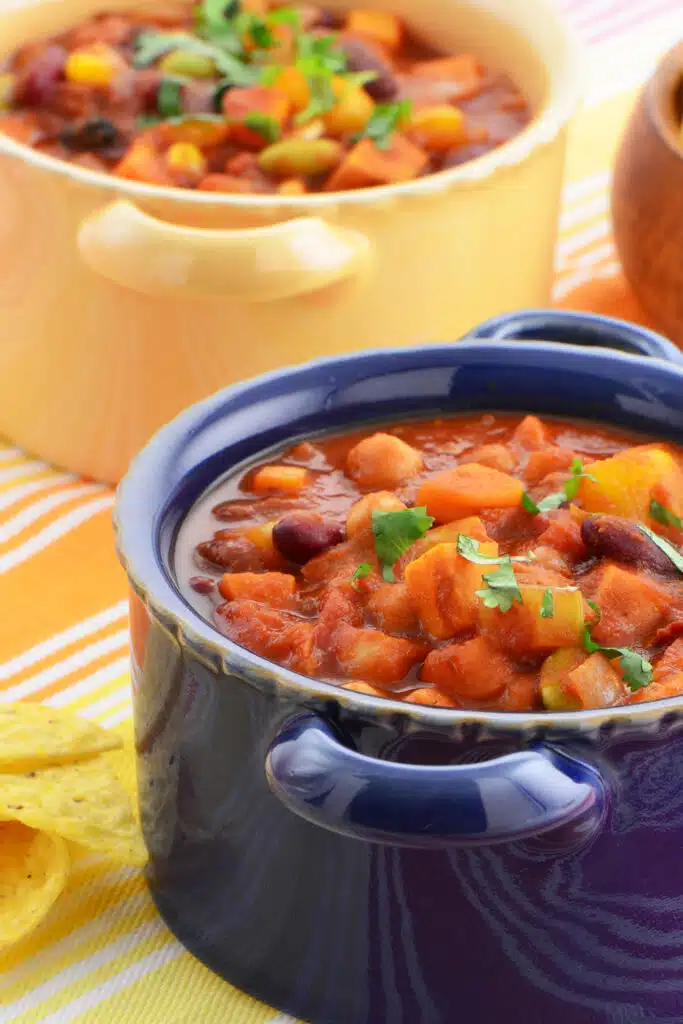 Full recipe on Simple Veganista
Easy Three Bean Chili
I don't think you can ever have too many chili dishes. This meal prep recipe is packed full of healthy protein and fiber. The great thing about chili is that you can make a big pot, eat it throughout the week, and freeze any leftovers.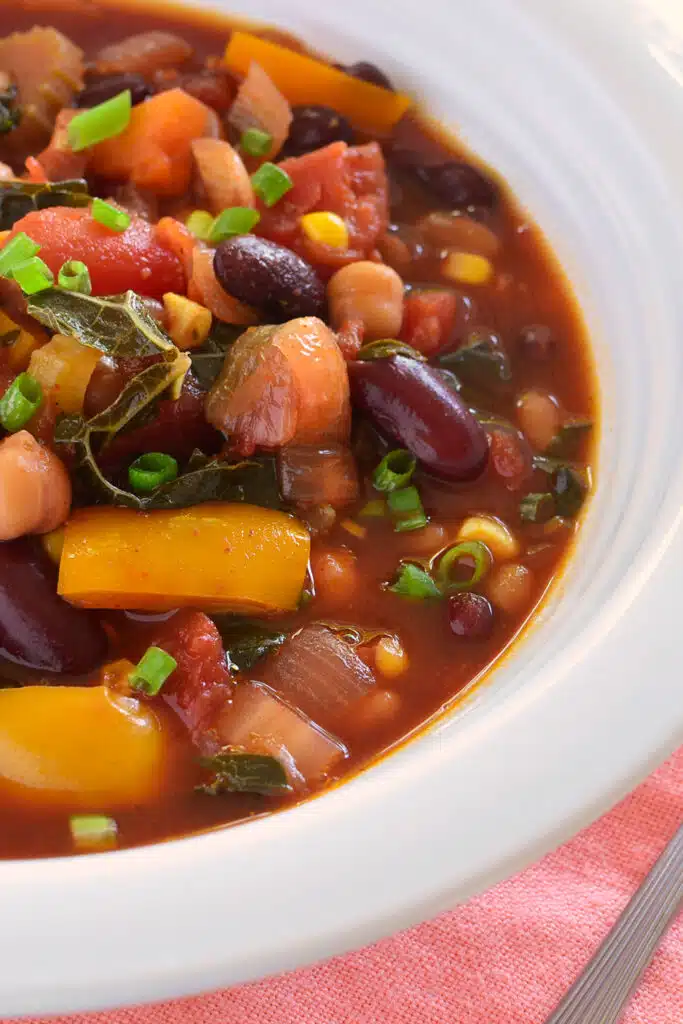 Full recipe on Simple Veganista
Easy Vegetarian Quinoa Burrito Bowls
These burrito bowls are really a vegan option. They'll give you plenty of energy to power through the day. And they're so easy to make! You can rustle up 5 days' worth of protein-packed, healthy tasty meals in less than 20 minutes!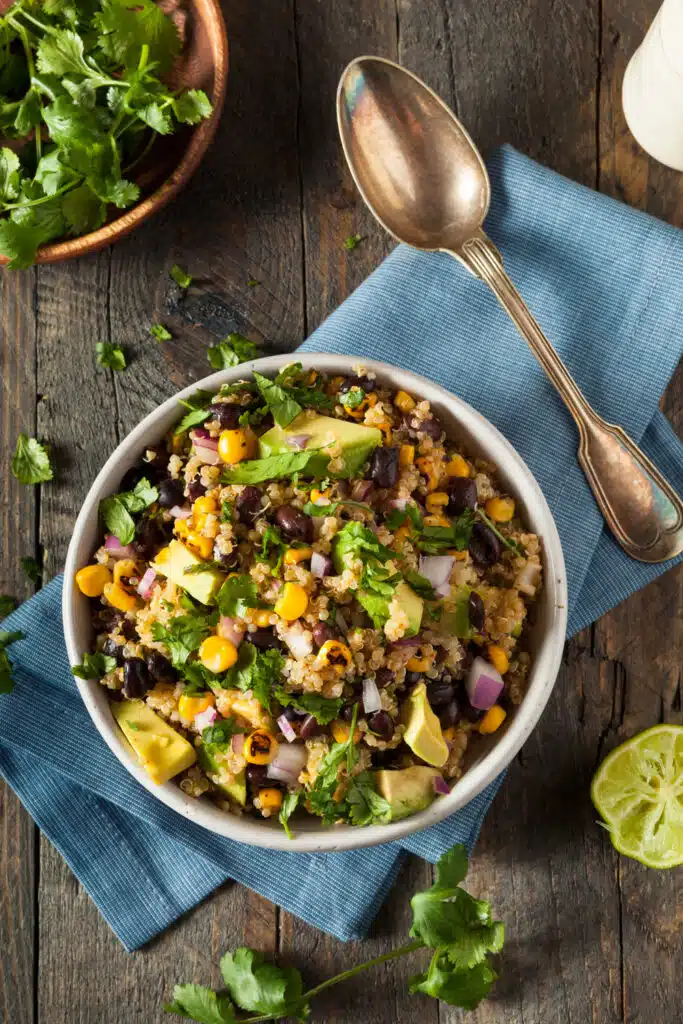 Full recipe on Simply Quinoa
Sweet Potato Chickpea Buddha Bowls
Chickpea bowls are one of my favorite go-to recipes. These vegan meal prep bowls are filling, nutritious and you can customize them however you want. This one-pot meal is simple but delicious – sweet potatoes, chickpeas, tender stem broccoli and kale, and a quick tahini sauce.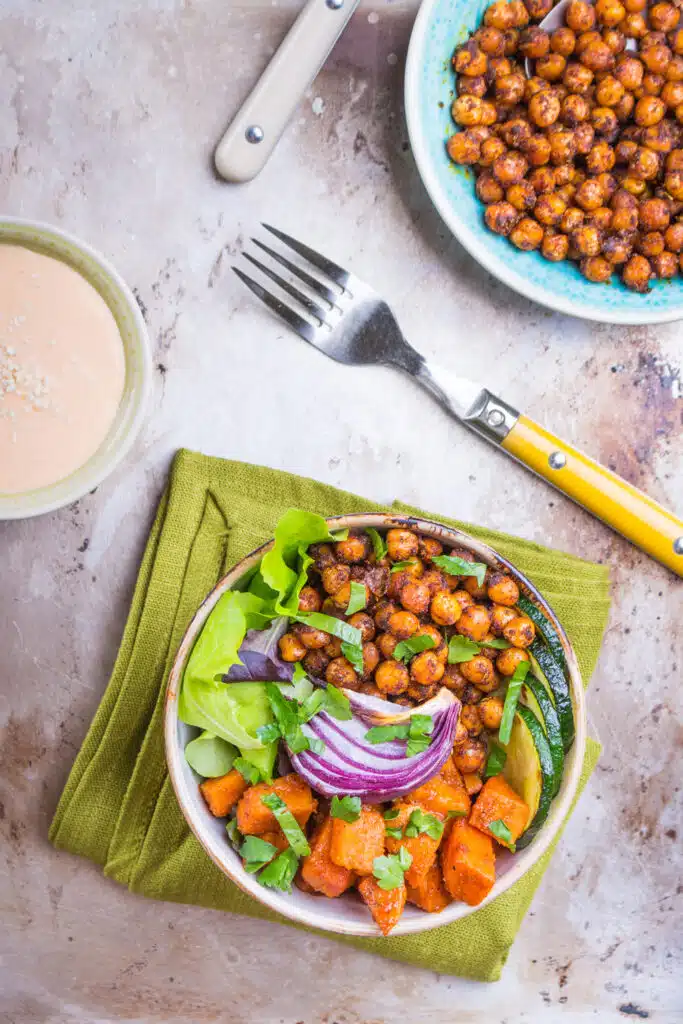 Full recipe on Minimalist Baker
Easy Vegan Meatballs
Everyone loves meatballs! These vegan meatballs are made with tempeh. It's a plant-based protein made from fermented soybeans. You can buy it in most good supermarkets. It's cheap to buy, packed with protein, and makes a delicious vegan meatball!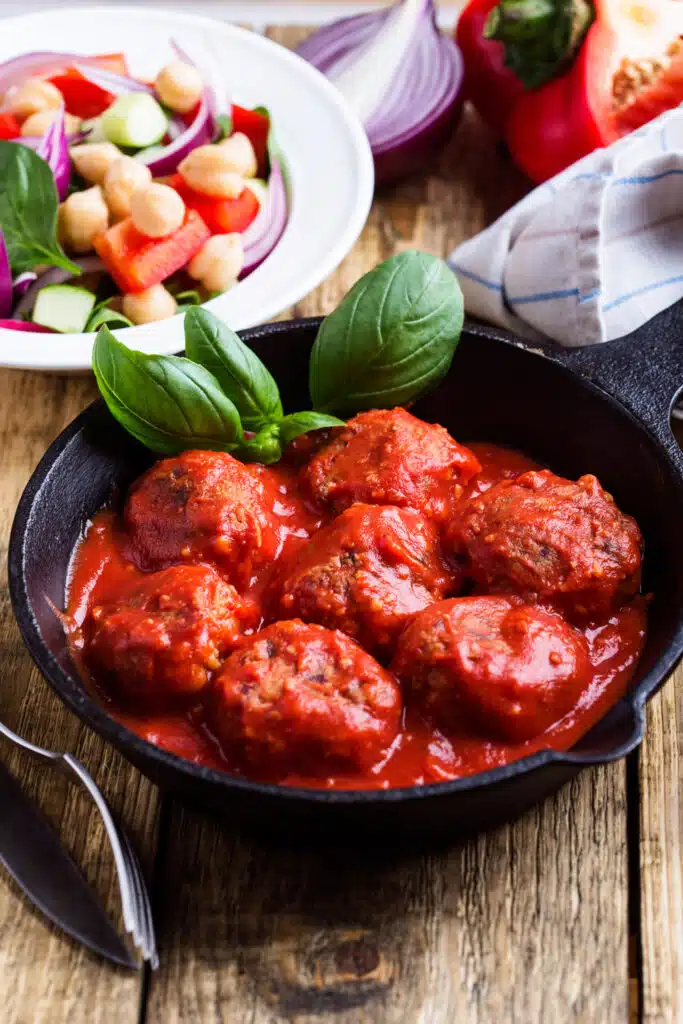 Full recipe on A Couple Cooks
Vegan Chickpea Burgers
When it comes to chickpea burgers it's best to meal prep the patties in advance but assemble the burger when you're ready to eat. The patties keep well in the fridge.
Just add your favorite toppings – slices of red onions and tomato, bbq sauce, avocado, or anything else you fancy!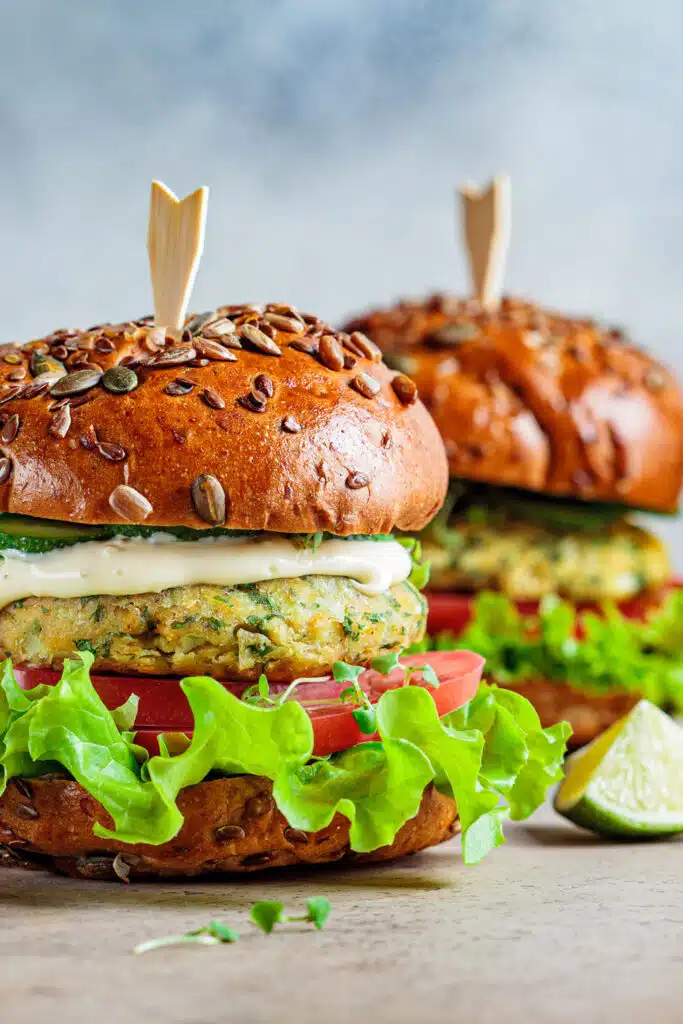 Vegan Bean Soup
I can live off bean soup. Seriously. There are so many different ways to make it and so many different types of beans you can use. Bean soup is ideal for prepping. Make your soup in bulk – you can keep it for several days in the fridge or freeze it.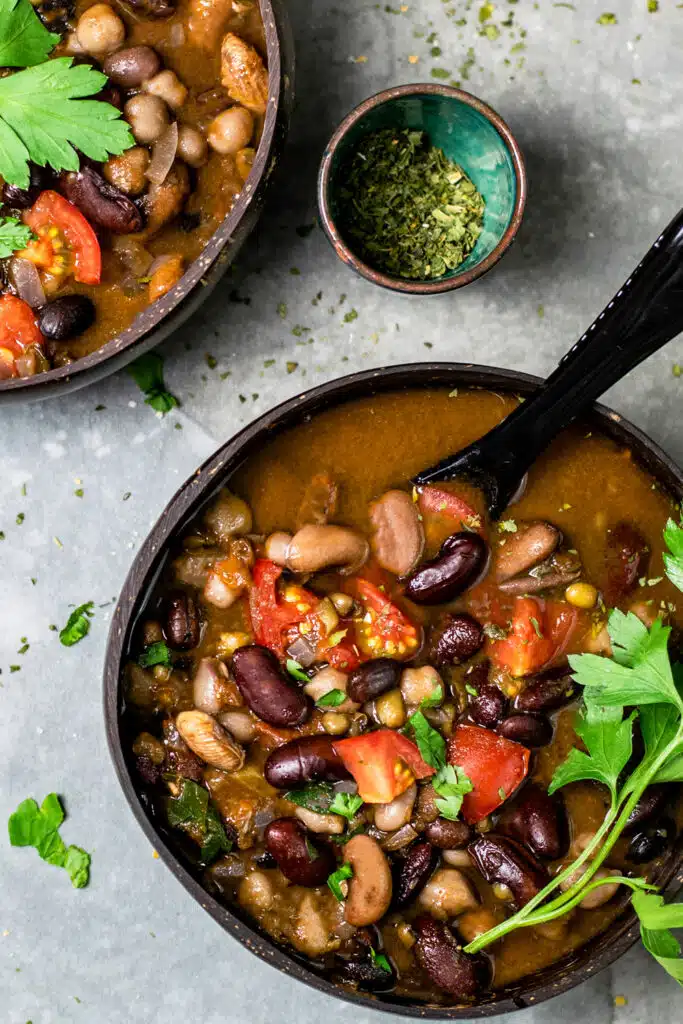 Simple Roasted Summer Veggies
Delicious vegan meal prep ideas don't have to be difficult to make. Slice up eggplant, zucchini, and bell peppers, drizzle with olive oil, and bake in the oven. Make in bulk and you'll have a few days' worth of easy meal prep. Wonderful with chunky fresh bread for a healthy lunch.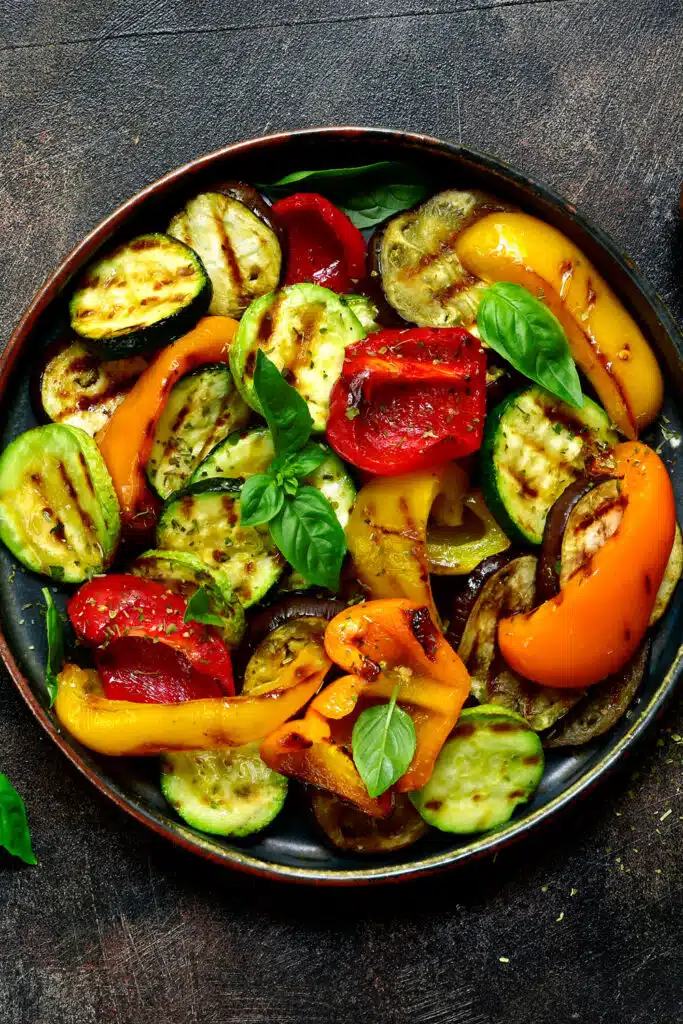 Red Lentil Dahl
Every vegan should know how to make red lentil dahl. It's another perfect recipe for meal prep. You can make a big pot and eat it throughout the week.
Dahl is healthy, delicious, and cheap to make. Most lentil recipes are ideal for meal prep!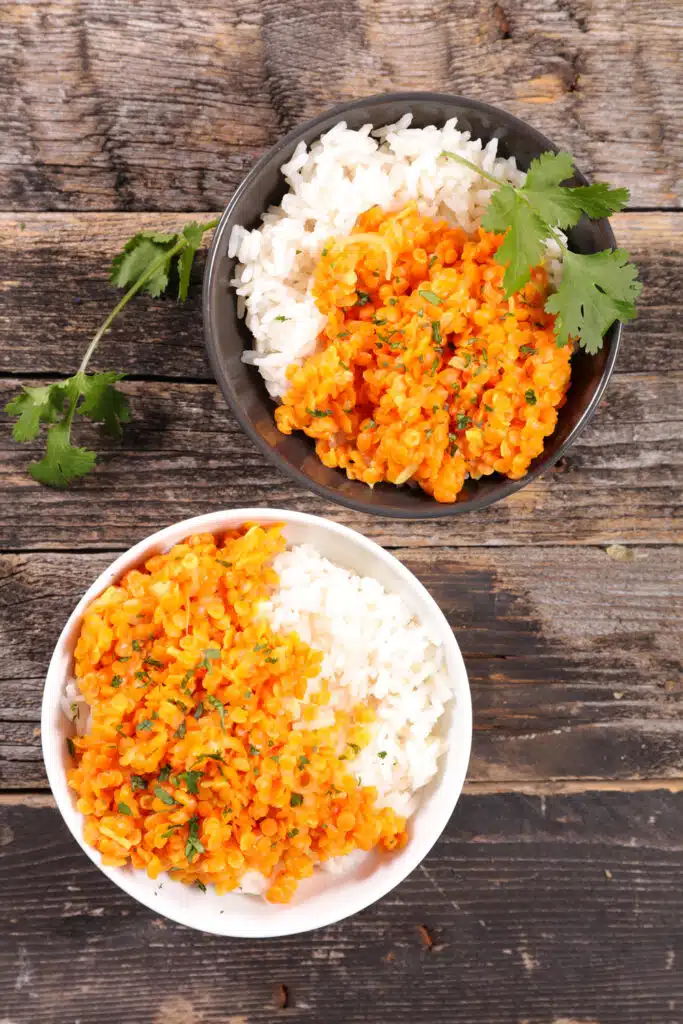 Vegan Desserts and Healthy Treats
Just because you're vegan doesn't mean you can't enjoy a sweet treat every now and then. Check out these delicious, healthy vegan desserts that are perfect for prepping – from peanut butter cookies to carrot cake.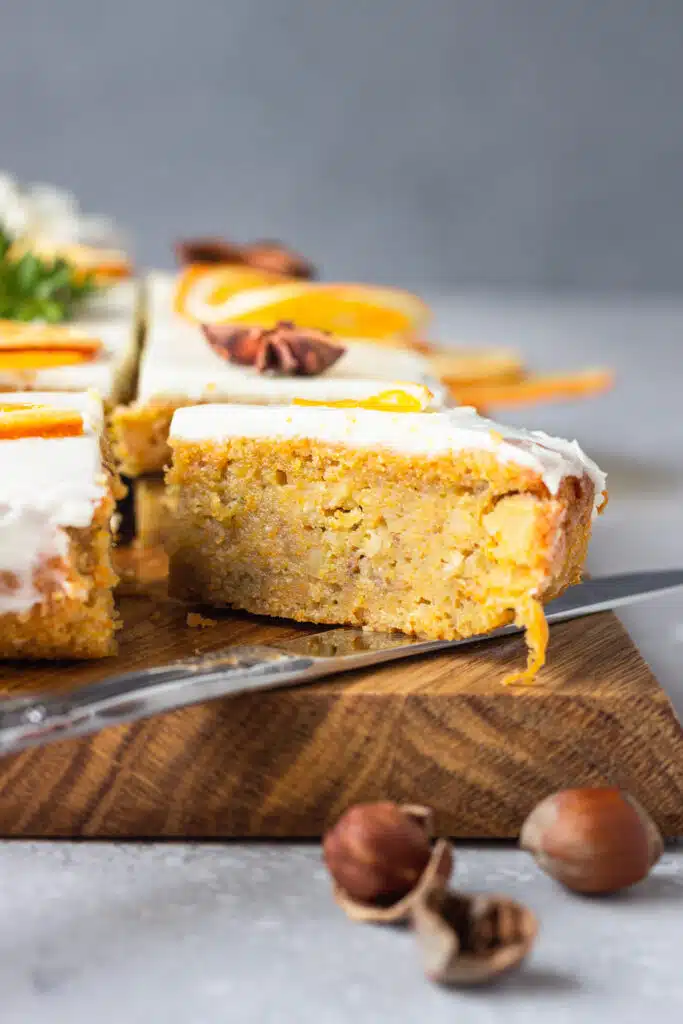 I hope you've enjoyed this roundup of cheap vegan meal prep ideas. There are so many different options to choose from, and all of them are affordable and healthy. If you try any of these recipes, please let me know how you get on! Plus I'd love to hear your own ideas for meal planning and prepping on a budget…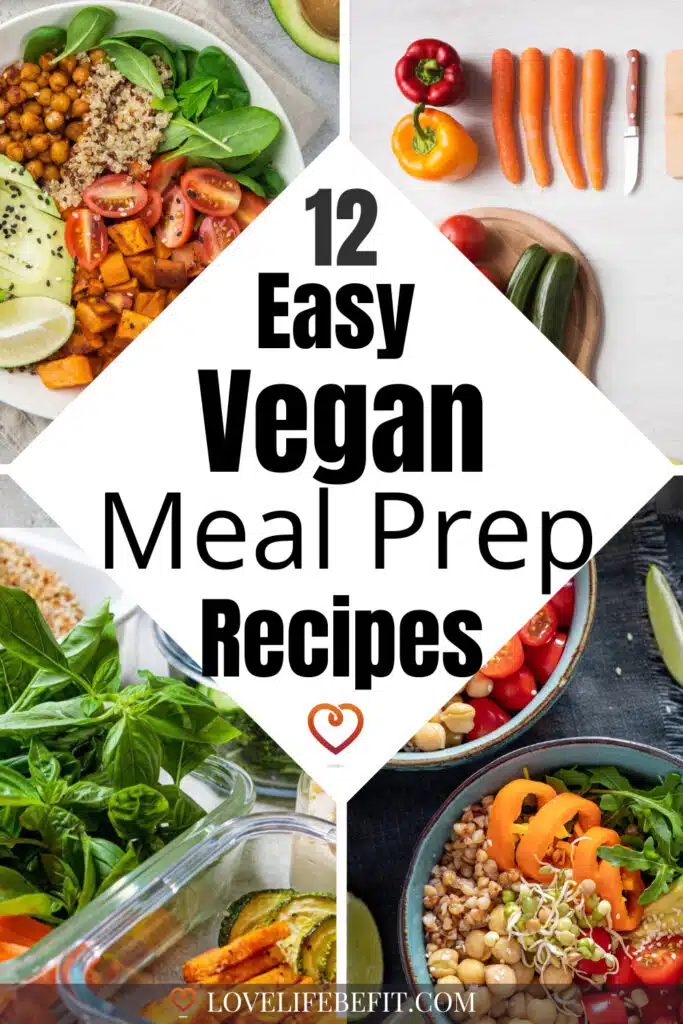 Find more ideas and vegan meal prep recipes with Vegan Meal Prep For Weight Loss (7-Day Plan With Super Easy Recipes)