Looking for a hearty and healthy soup recipe? Look no further than these vegan bean soup recipes! These soups are packed with fiber and protein, making them the perfect meal for a cold winter day.
Whether you're looking for soup with black beans, a white bean soup recipe, or a kidney bean soup recipe, we've got you covered! Plus, all of these healthy recipes are easy to follow and require minimal ingredients. So get your slow cooker out and start cooking up some delicious vegan bean soups today!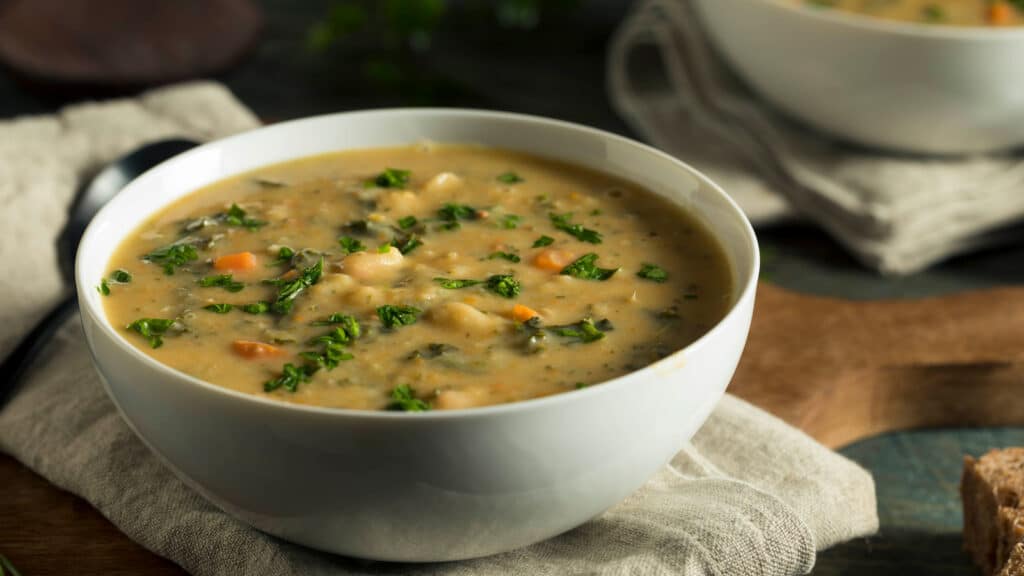 Is Bean Soup Healthy For You?
Yes of course. Not only are beans full of protein and fiber but when you add other vegetables to your dish you end up with a very nutritious meal. These soup recipes use only healthy unsaturated fats, (in very small quantities) and rely on herbs and spices for flavor rather than overloading on salt. Bean soup is an excellent way to eat better and start following a healthy eating diet.
---
I confess I rarely follow a recipe when I make bean soup but I've had a lot of fun testing out these recipes. Most bean soup recipes follow a similar format.
Heat a small amount of olive oil in a large soup pot, and sweat some chopped up vegetables on medium heat – I like to use bell pepper, green onions, mushrooms, and the superfood kale but carrots and celery are also a good choice. Add some stock to cover the vegetables and of course your beans! Bring to the boil, then simmer on low until the beans are soft and the vegetables are cooked.
Some bean soup recipes call for blending the soup until thick and creamy. The easiest way to do this is directly in the soup pot using an immersion blender. These hand blenders are brilliant for quickly mashing up your veggies.
Which Beans Do You Use In Soups?
Compared with lentil soup, vegan bean soup provides so much more variety. You can use all sorts of different beans. My favorite combo is a mixture of cannellini, navy beans, and red kidney beans. Cannellini and navy beans are different types of white beans. Navy beans are called haricot in the UK and are small, white, and slightly curved. They're best known as baked beans covered in tomato sauce. Cannellini beans are the larger of the two types of beans and have a creamy texture.
I normally use canned beans in my soups for convenience. Dry beans work well but need to be washed, soaked overnight, drained, and cooked for longer – they're a good option for using a slow cooker or even an instant pot.
✅Serious chefs will always use homemade vegetable broth but if you're in a hurry there are lots of shop-bought alternatives that will save the day.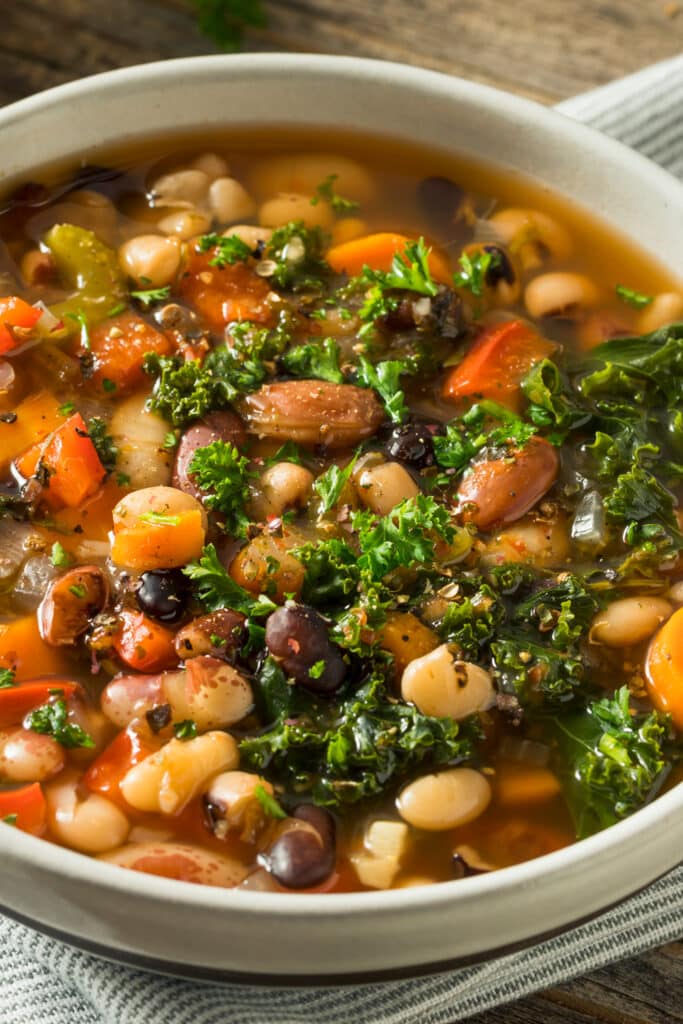 How Do You Add Flavor To Beans Without Meat?
I'm asked this question all the time and not just about adding flavor to beans. Meat eaters always assume vegan food is lacking in flavor. That's just not true!
There are so many ways to make vegan bean soup really delicious. It's all about the seasoning. I like to add garlic, red pepper flakes, tomato paste, and miso to my bean soup. Miso is a fermented bean paste that adds umami or savoriness to any dish. It's one of the five basic tastes. It's salty so you don't need to add any extra salt to your bean soup if you're using miso. (Go easy on the miso if you're following a low-sodium diet or find a low-sodium version).
Herbs and bay leaves are another great way of adding flavor without increasing sodium levels in foods. Topping your soup with chopped fresh parsley or coriander is an eye-catching way to finish your dish and don't forget to season with black pepper. Serve with a hearty slice of crusty bread and you have a complete and satisfying meal.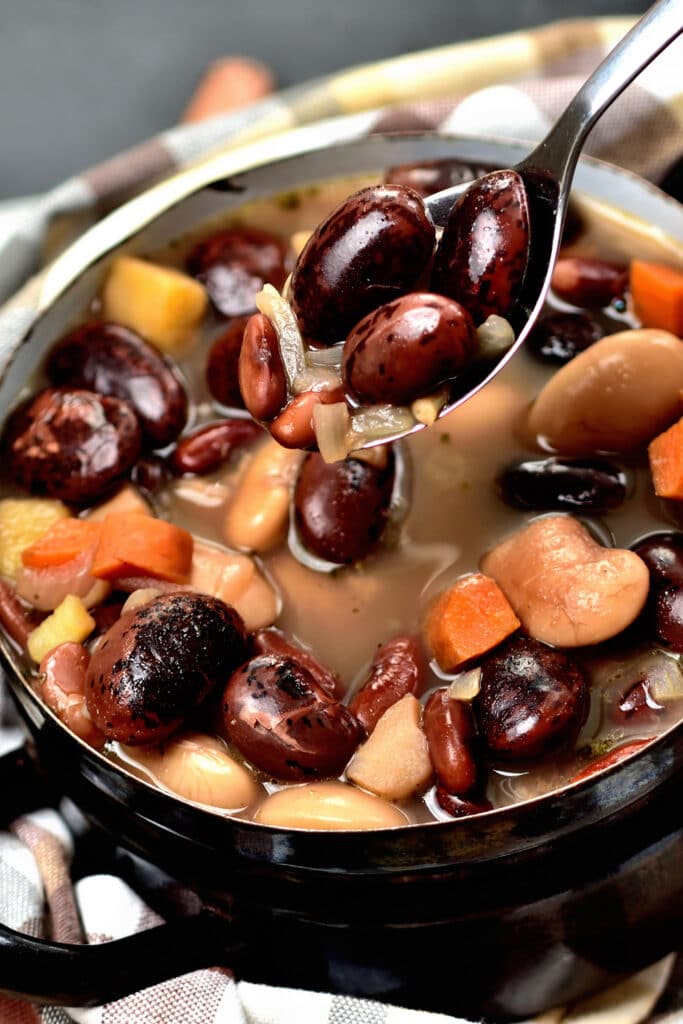 Bean soup is excellent for meal prep. I always like to make a big batch in a large pot. Leftovers go in an airtight container ready for the next day. If you use soup pots, it's easy to make individual cups of soup. Reheat quickly when you need them in the microwave – it's always good having a healthy meal to hand!
You don't need to be a plant-based eater to enjoy bean soup – this dish appeals to the whole family. Even a meat eater will love these delicious healthy recipes. A bowl of hearty soup goes down a treat on a chilly evening. So next time you want to rustle up an easy recipe, reach for your cans of beans!
10 Best Vegan Bean Soups Recipes
I've been going bean soup crazy over the last few weeks testing out some seriously good vegan soup recipes. These recipes made my top picks.
Black Bean Soup
This black bean soup recipe uses dried black beans soaked overnight and simmered slowly to deepen the flavor of the beans. Combined with pepper, onion, garlic, and spices, this blended soup is intense and earthy. It's topped off with a squeeze of lime juice for some extra zing!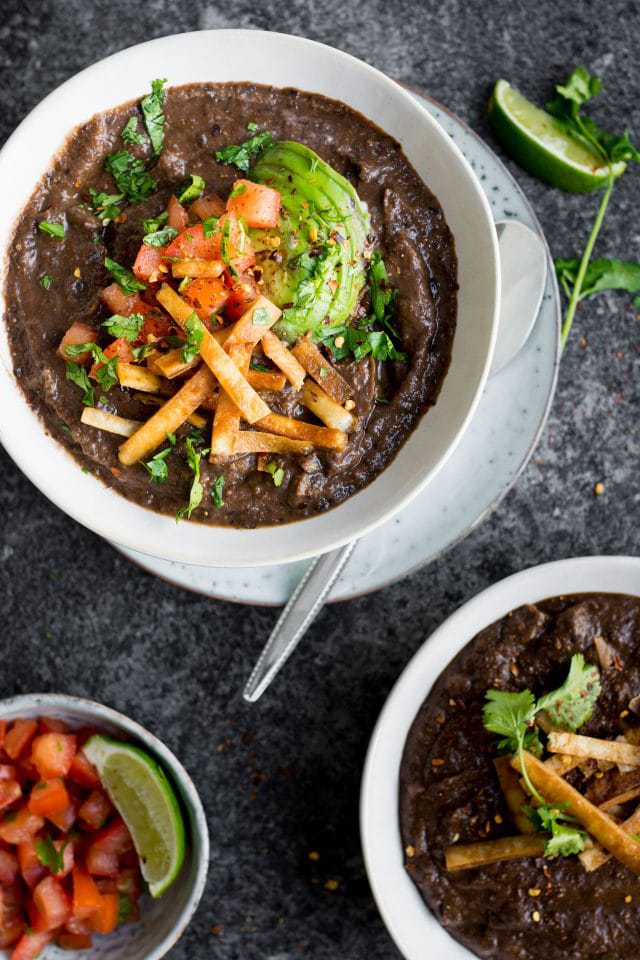 Full recipe on Lauren Caris Cooks
White Bean & Mushroom Soup
Made in one pot, this dish takes just 30 minutes and uses one of my favorite ingredients – mushrooms! It's free from any allergens so it's a good choice if you're following a detox plan.
I'm not a fan of detox, (just being vegan and choosing to eat healthy food is enough for me), but I can see the appeal after holiday excesses. Just don't go too crazy and make sure you maintain a sensible calorie intake. Detoxing or not, this white bean soup is a nourishing meal and super easy soup to make on chilly days!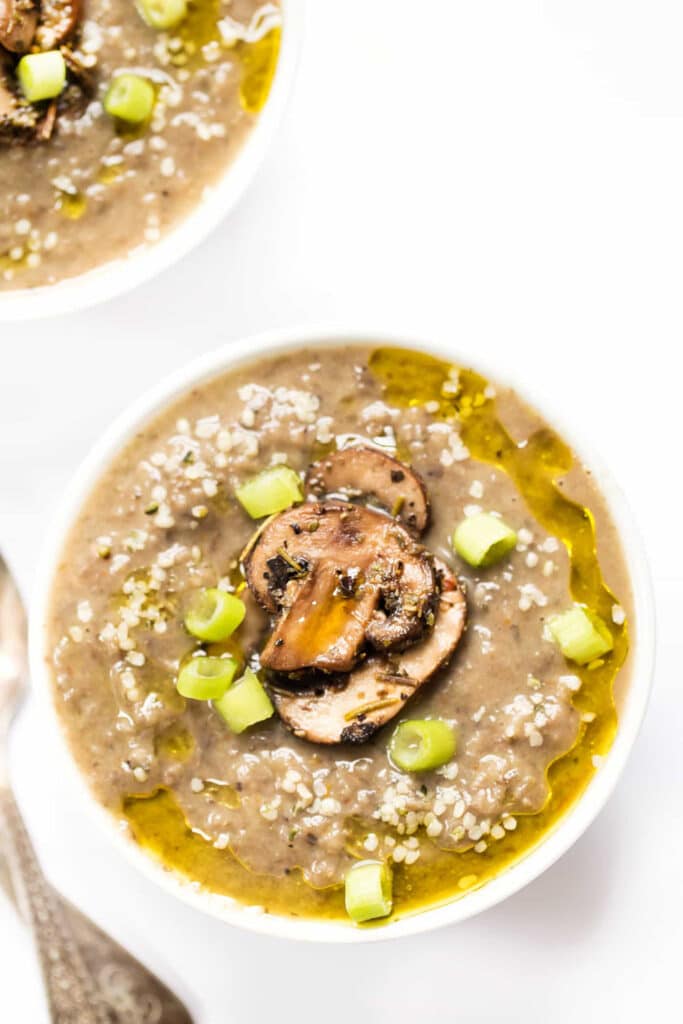 Full recipe on Simply Quinoa
Hungarian Bean Soup
Like most Hungarian recipes, this bean soup is budget-friendly and just right when you need a filling meal. Hungarian soup is normally made with smoked meat but this is a vegan-friendly version and packs just as much flavor.
It's quick to prepare but uses dried beans so leave it bubbling away on the stove for a few hours, (a slow cooker is ideal) until the beans are completely soft. The secret ingredient is smoked tofu crumbled into the pot for the last 10-15 minutes.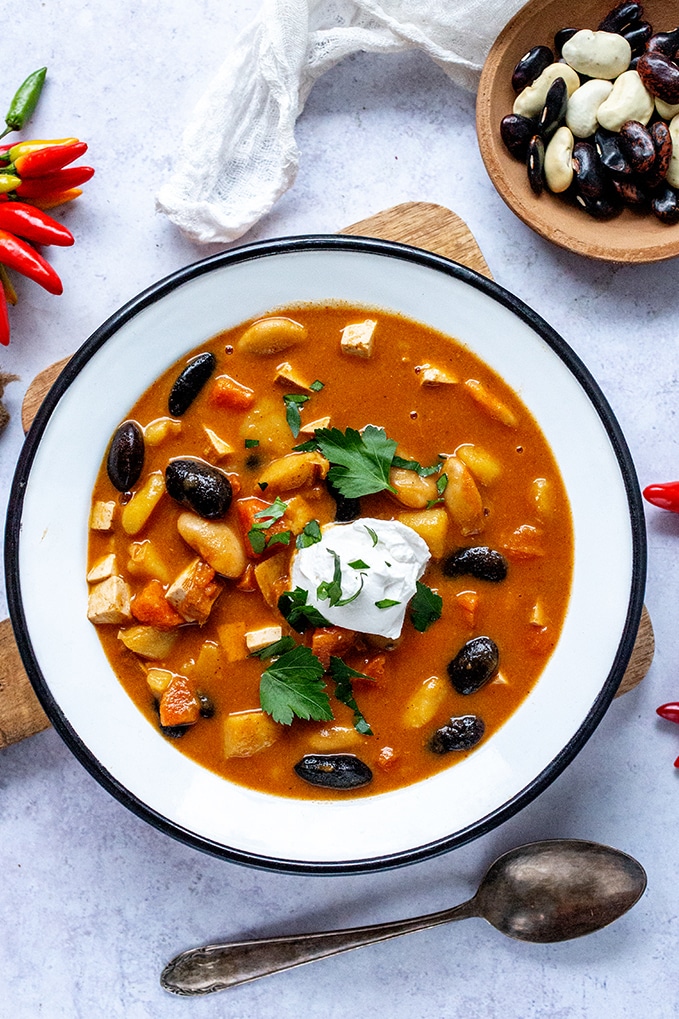 Full recipe on Green Evi
Kale, Quinoa & White Bean Soup
Bean soup is already super healthy but adding quinoa and kale turns your simple bowl of soup into a power meal crammed full of nutrients. This dish is an easy one-pot recipe and very quick to cook.
Meal prep this dish and you can even freeze it for 2 -3 months. Just make sure you use freezer-safe meal prep containers.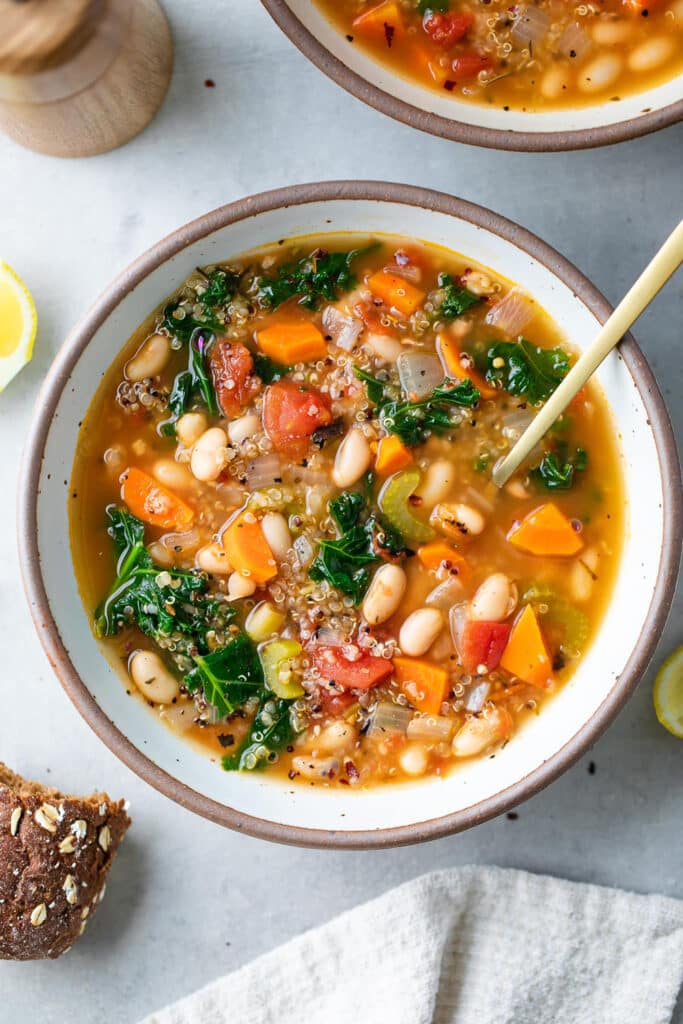 Full recipe on The Simple Veganista
Classic Bean Soup
This classic bean soup is not only one of the fastest recipes to make on this list but it has a wonderful smokey, spicy tomato flavor. The secret ingredient is fire-roasted tomatoes that have a wonderful sweet flavor right out of the can.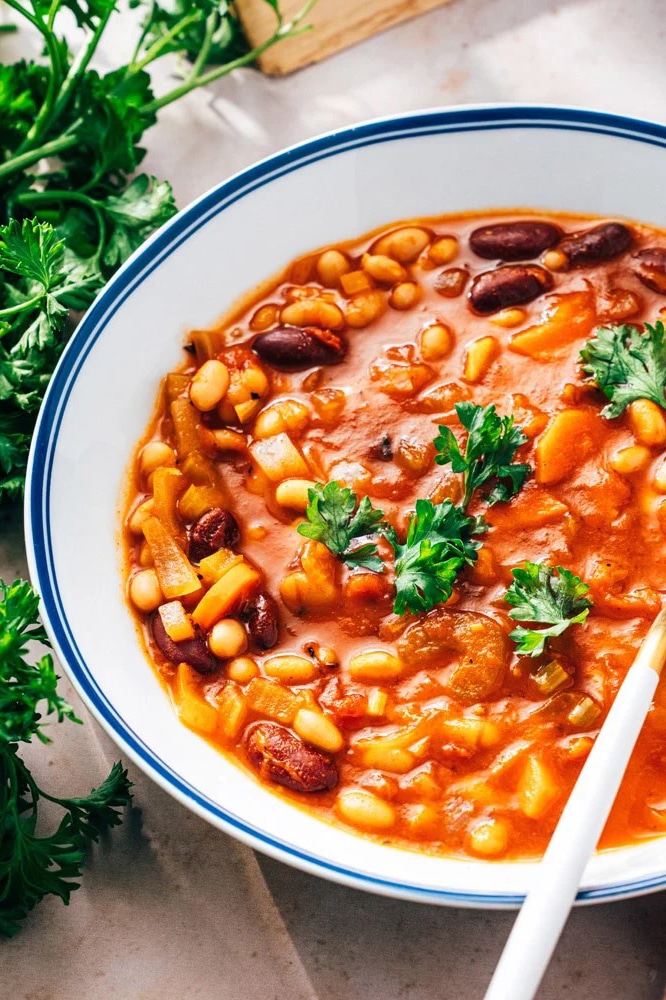 Full recipe on A Couple Cooks
Tuscan White Bean Soup
This soup is called Ribollita in Tuscany and it's a wonderful way of using up stale bread. You stir in chunks of stale bread just before serving and it soaks up all the wonderful flavor.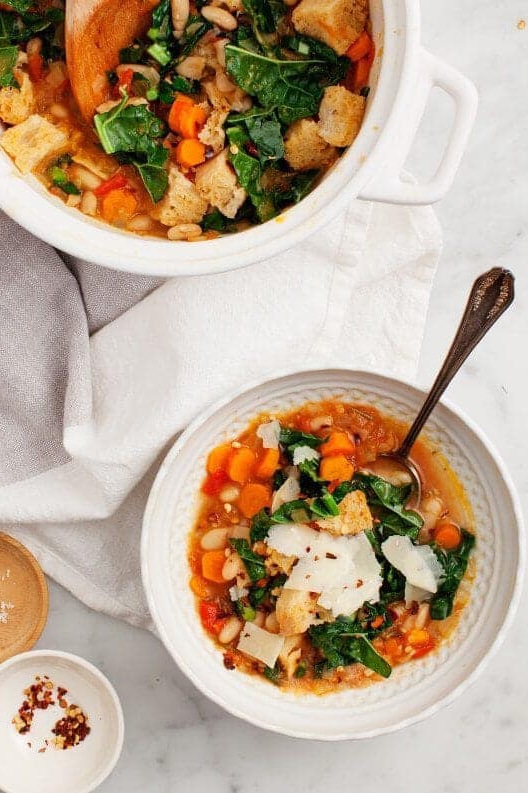 Full recipe on Love & Lemons
Lemon, Kale & White Bean Soup
Bean soup isn't just for mid-winter days. This Lemon, Kale & White Bean Soup is perfect for summertime. It's full of fresh lemony, garlicky flavor. Quick and easy to make with just a short list of ingredients, it's a good meal to whiz up at the end of a busy day.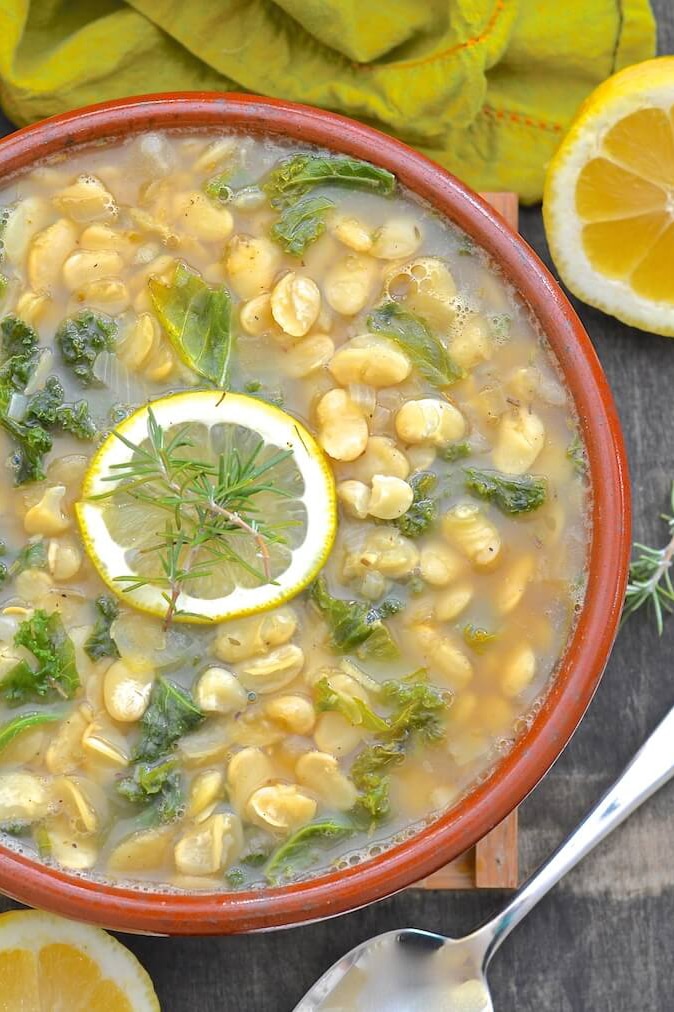 Full recipe on A Virtual Vegan
Spicy Pinto Bean Soup
This spicy pinto bean soup is full of bold flavors. It comes with a warning – go easy on the chili powder if you don't like hot food. I find this spicy dish is just right if you need something to warm you up and it's a great way of using up any leftover steamed rice.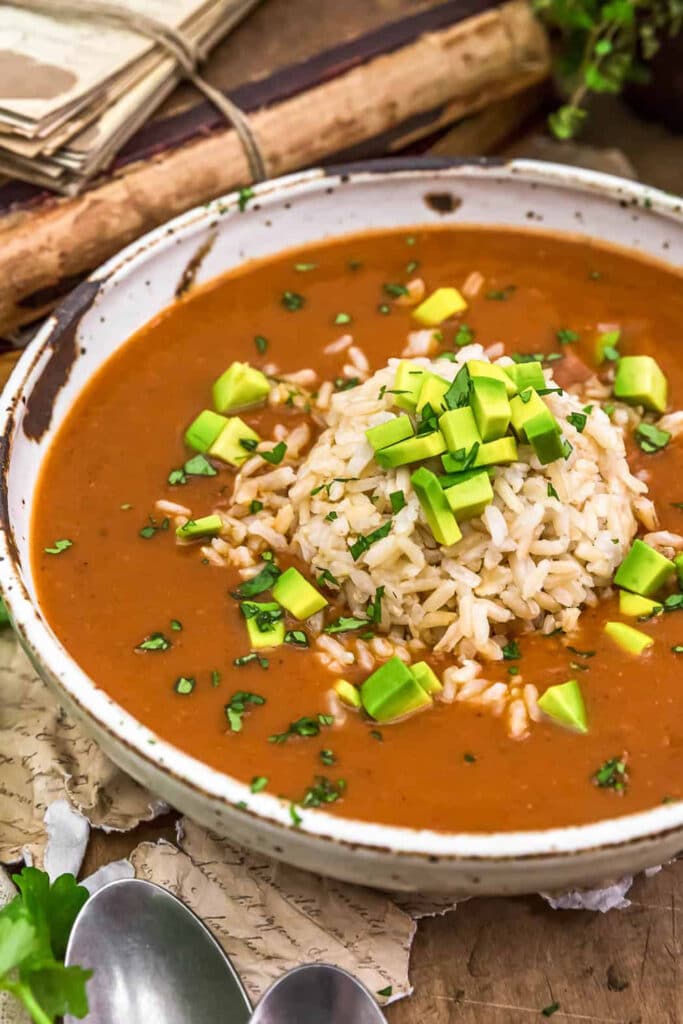 Full recipe on Monkey & Me
Vegetable White Bean Soup
This is another simple recipe for summer using zucchini, green beans, tomatoes, and corn. It's super fresh tasting and even if I make this dish in winter it reminds me of sitting in a sun-filled garden.
Do you know green beans are an excellent vegetable to eat when you're trying to lose weight? They really fill you up and may even stop sugar cravings!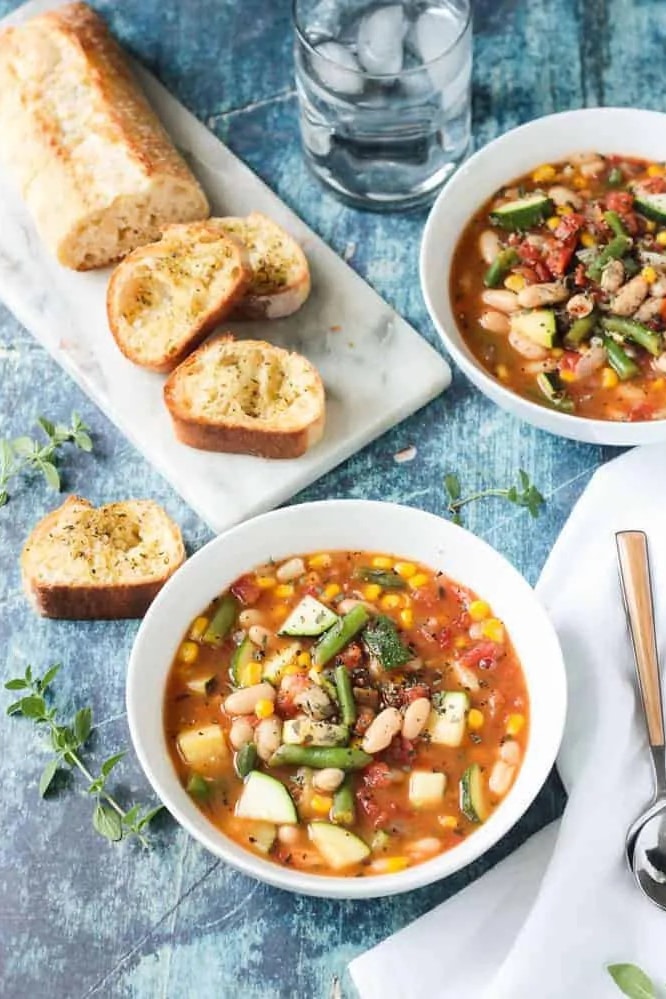 Full recipe on Veggie Inspired
Easy White Bean Cabbage Soup
I used to think cabbage didn't work in soups but it turns out I was just following the wrong recipes. This bean soup combines cabbage, carrots, navy beans, and fire-roasted tomatoes in a way that doesn't let the cabbage overpower the dish.
The result is super tasty and a great way to fill up active families!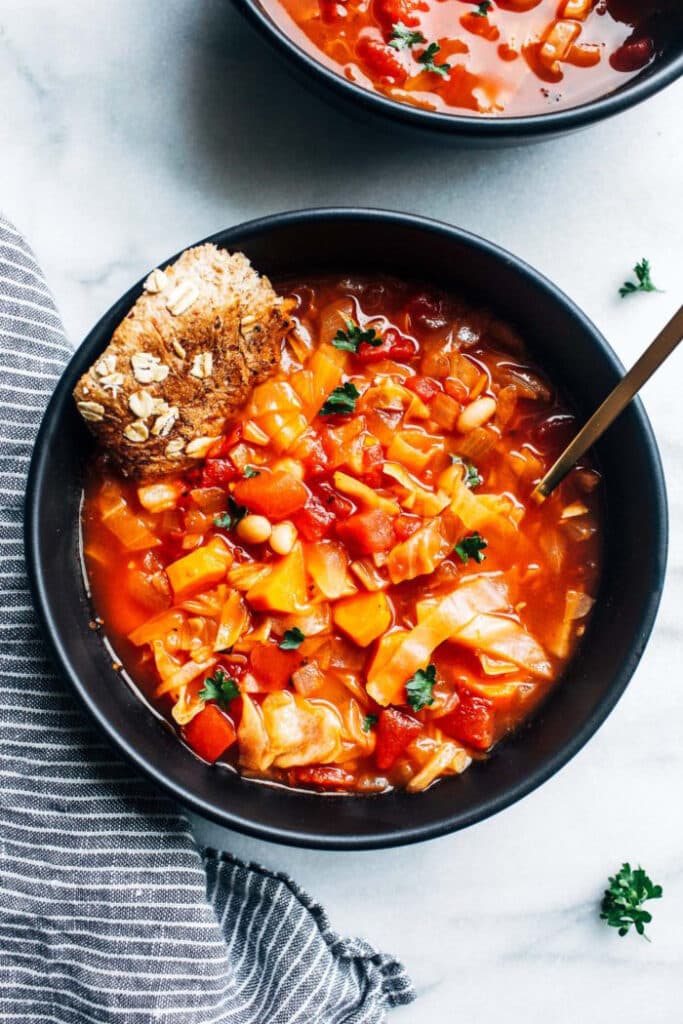 Full recipe on Making Thyme For Health
That's the last bean soup recipe on this list. I hope you enjoy trying them all out! You may enjoy my other round up recipe posts:
If you do make any please let me know which is your favorite bean soup in the comments below. Or if I've missed one of your favorites, I'd love to hear about that too!