Breakfast.
It's the most important meal of the day, but also one of the hardest to plan for. When you wake up in the morning, you need something that's quick and easy to make, food that's packed full of nutrients, and keeps you full until lunch.
Naturally, finding easy vegan breakfast ideas that tick all of these boxes can be hard – but it's even harder if you want to make them plant-based. That is, until today! You've come to the right place. Below, you'll find a comprehensive list of the best vegan breakfast recipes the internet has to offer.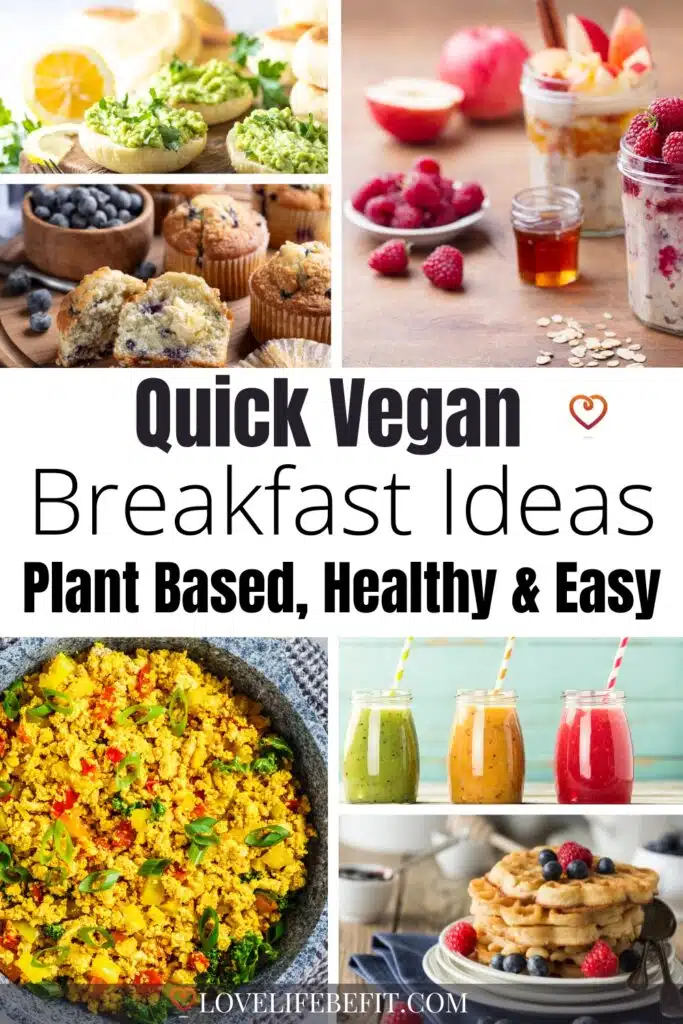 Each recipe uses simple ingredients and will prove to you that there are plenty of things you can eat for breakfast as a vegan – and it won't take you much time to make them at all.
Don't worry, I've not picked a bunch of boring breakfasts that'll send you back to sleep! You'll be surprised at how flavorsome these recipes are, and you might be inspired to try something new.
Without wasting any more time letting your stomach grumble, here are some quick and healthy vegan breakfast ideas you'll love…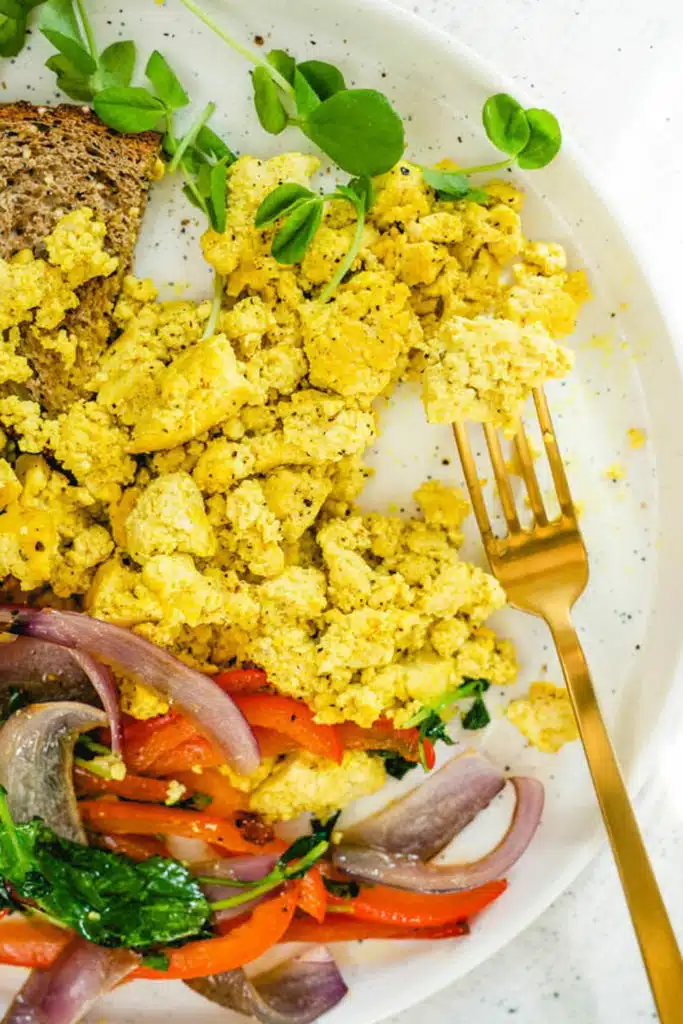 Tofu is a popular healthy plant-based meat replacement in vegan food, but firm tofu also acts as a scrambled egg doppelganger when you mash it up and fry it with some different spices. You literally need a handful of spices, maybe add some veggies, then you fry it in a pan for around 5 minutes.
Pop some toast on while you do this, and your breakfast is ready to go in no time at all. It's a great option for busy mornings and tops my list when I want a savory breakfast.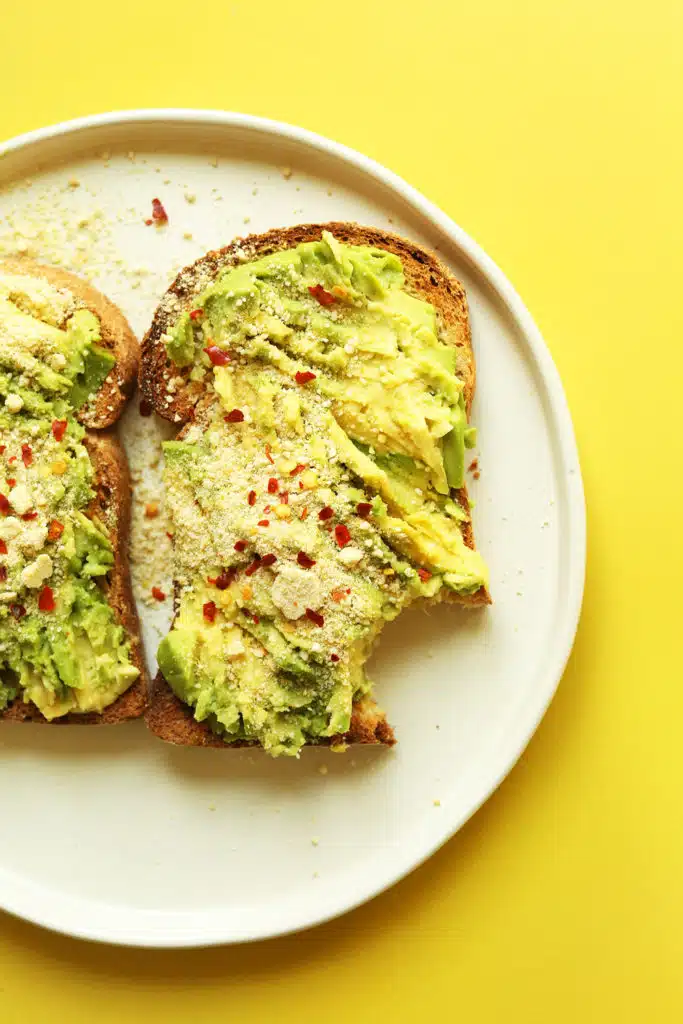 This classic vegan breakfast fills you up, thanks to the good healthy fats from the avocado. My advice is to use a seeded bread with this one, just to up your fiber intake and keep you even fuller. Get your avocado, smash it up, add some spices if you need the extra flavor, spread it on your toast, and you're done.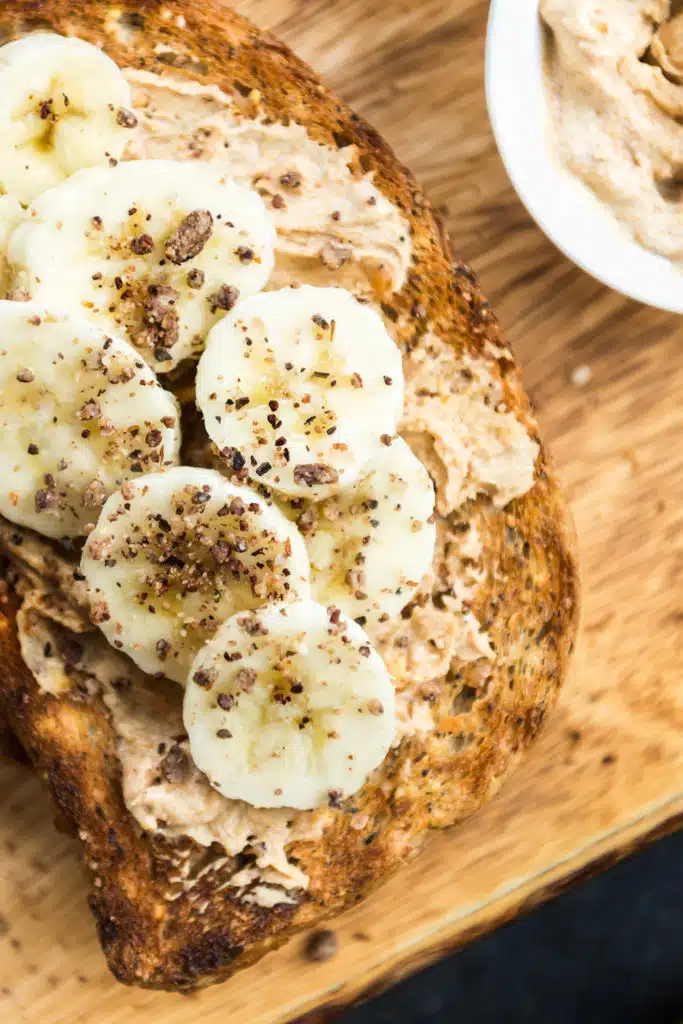 Peanut Butter & Banana Toast by Love Life Be Fit
The definition of effortless. The quickest recipe on this list!
Slice up some bananas, and combine them with creamy peanut butter toast, and that's it. Very simple, yet packed full of protein, fiber, and carbs to give prolonged energy and fullness throughout the morning.
I like to sprinkle some chia seeds on top for an extra nutty flavor!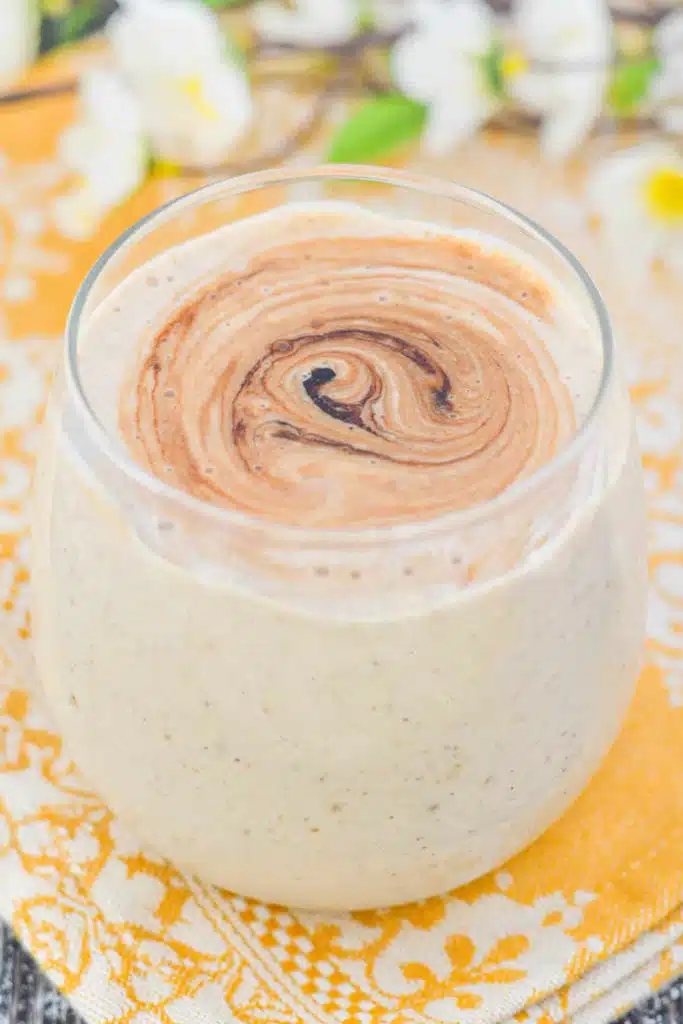 Staying with the nuts and banana theme, this five-minute smoothie will be perfect for breakfast on the move. Get everything in your blender, blitz it up, then take it to work in a smoothie bottle. It's a quick grab-and-go you can sip as you commute, or take along to an early office meeting, and there's very little washing up to worry about when you get home.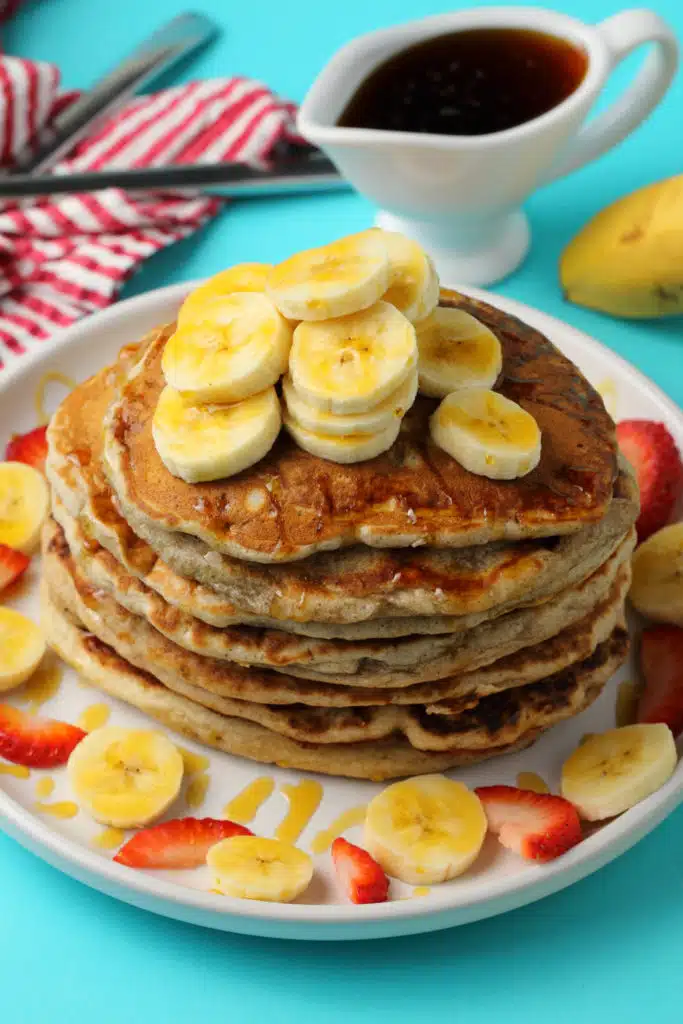 If you have 30 minutes to spare, these vegan pancakes pack a tasty punch. Is there anything better than taking something like fluffy pancakes and making it healthy?!
I've picked this recipe specifically because it's easy to meal prep. You can freeze the pancakes for up to 2 months, so you can make a batch on the weekend and there's vegan breakfast on demand for weeks!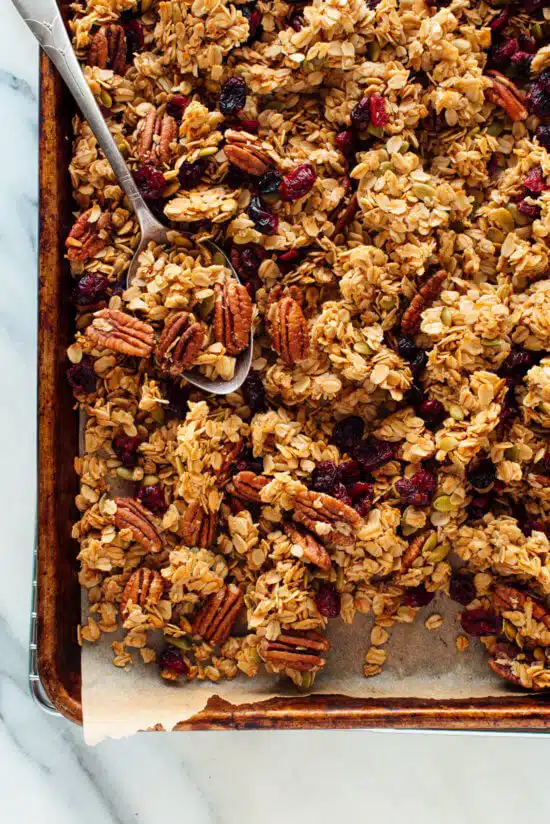 A list of vegan recipes would be remiss without granola. Homemade granola gives you some of your five a day with dried fruits, plus all the nutritional benefits of nuts and grains. If you're allergic to nuts, leave them out, but this breakfast idea is so easy and versatile.
Make the night before, then add to dairy-free yogurt and top with fresh berries – I like mine on its own with just almond milk. You can use frozen berries – just remember to defrost them!
You can't go wrong with oatmeal, and yes, vegans can eat it. All you have to do is sub out milk for a plant-based vegan version. I'm a big oat milk fan, but others prefer almond milk or soy.
I don't recommend coconut milk in this one as it takes away from the warming cinnamon flavor. If you want, you can top this breakfast idea with your tasty granola!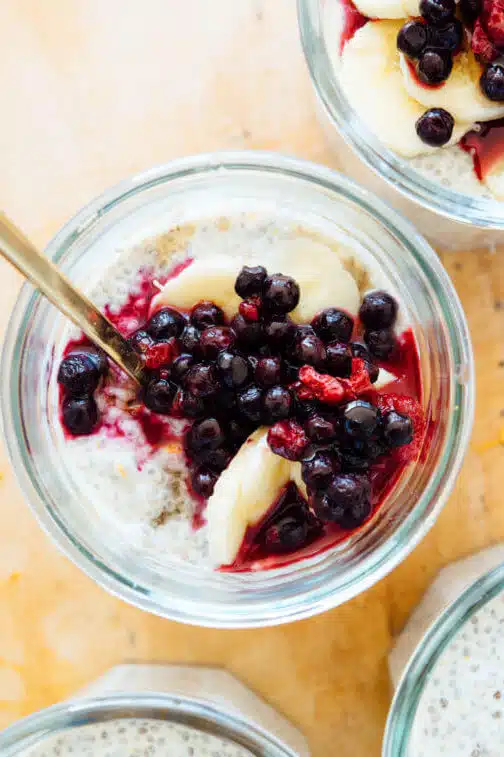 My Favorite Chia Seed Pudding by Cookie + Kate
Chia seeds are really good for you as they contain omega-3 fatty acids and a lot of fiber. So, they are going to help you feel full, which is why incorporating them into your breakfast is a genius idea.
To add to the genius, you're making this chia pudding breakfast the night before, so it's perfect if you're in a rush. Just two main ingredients are needed plus some flavoring, there's zero effort, and all the magic happens while you sleep. Top with some fresh fruit for added goodness, and it's a delicious breakfast that's good for you but feels like a sweet treat!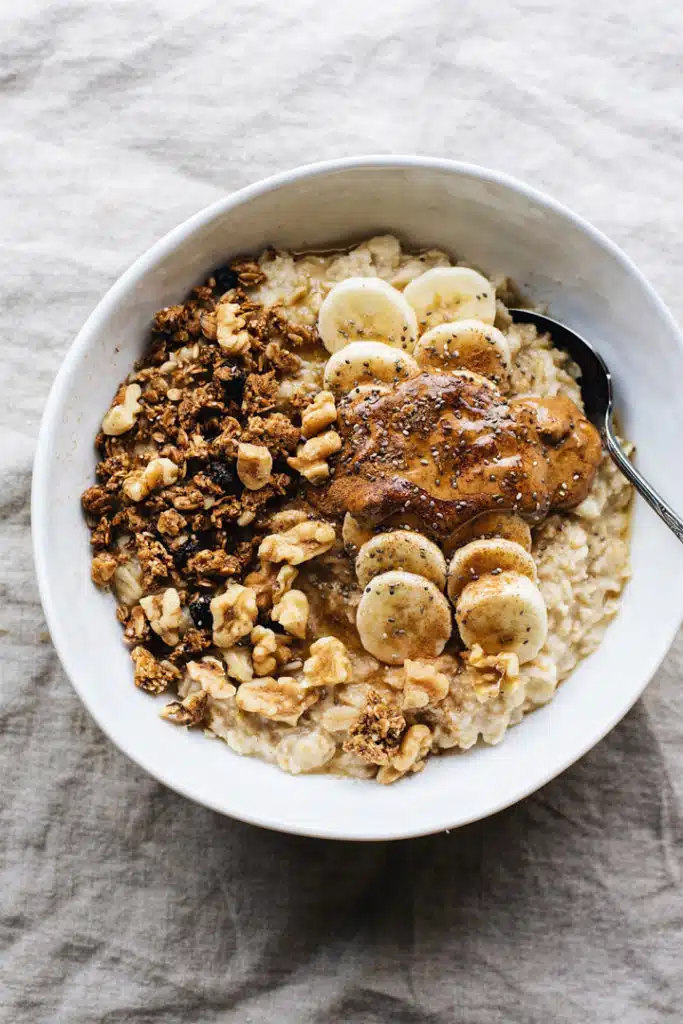 Almond Butter Banana Oatmeal by A Simple Palate
You know how much I love peanut butter and banana, but almond butter works just as well. In fact, it's better in this recipe because it has a naturally runnier consistency that just mixes in with oatmeal super well. I find that peanut butter can be a bit too thick when you have it with oats.
Here's a little tip, if you don't like bananas, you can sub them out for apple slices and it's still a delicious recipe.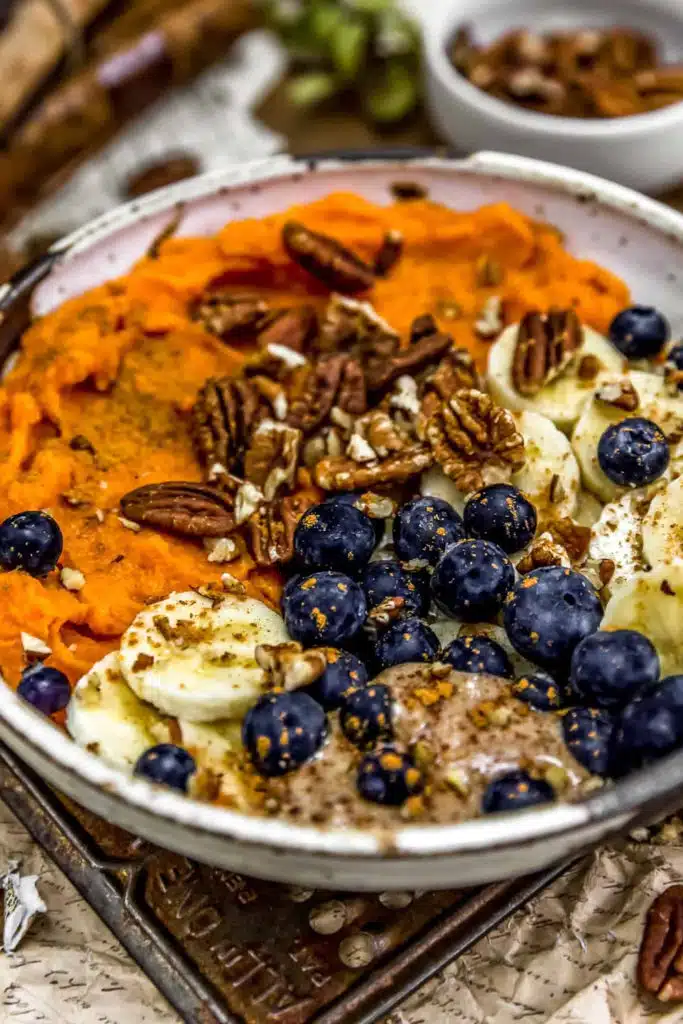 Sweet Potato Breakfast Bowls by Monkey & Me
I have to admit, when I came across this recipe I was absolutely stunned. It takes a lot for me to find something I've never seen before, but this is exactly that. It's a breakfast bowl that blends up sweet potatoes and lots of other healthy ingredients, creating something that's creamy and delicious.
You can cook the potatoes a day or two before, and choose any toppings you like. The recipe has lots of different suggestions! I like coconut yogurt on mine and I definitely think some type of vegan yogurt helps to counteract all the sweetness.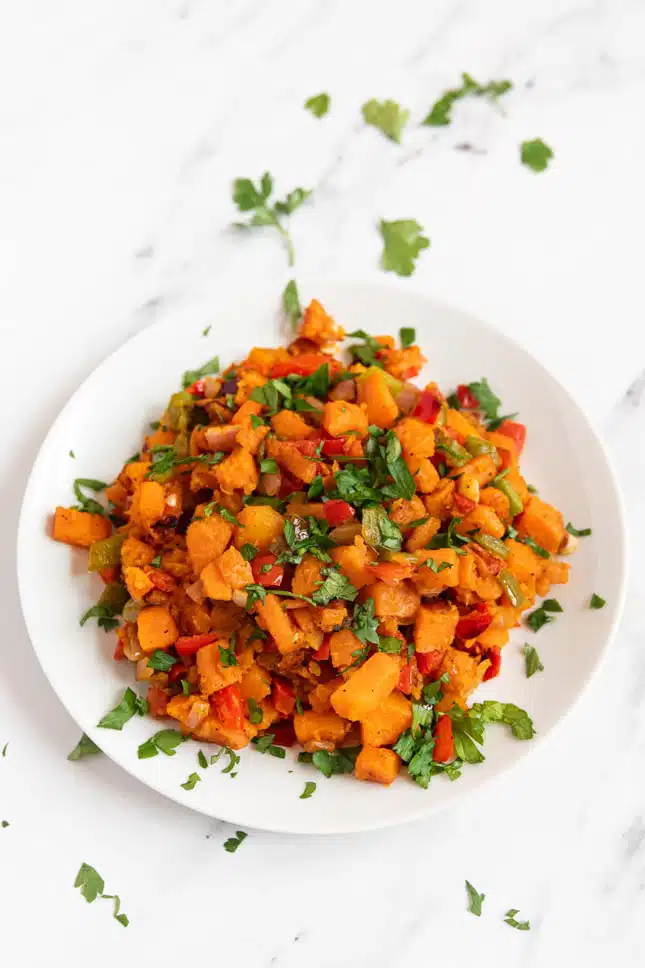 A healthier and plant-based twist on a breakfast classic, this sweet potato hash is packed full of vitamins to help you kickstart your day. It only takes 25 minutes as well, and the trick is to chop the sweet potatoes into tiny cubes so they cook as quickly as possible. You can peel them if you like, but the recipe recommends they stay unpeeled – after all, the skin is where most of the nutrients are found in sweet potatoes.
It's a one-pot dish that you can tweak to your liking by mixing up the veg now and then, and it'll keep you going well into lunchtime.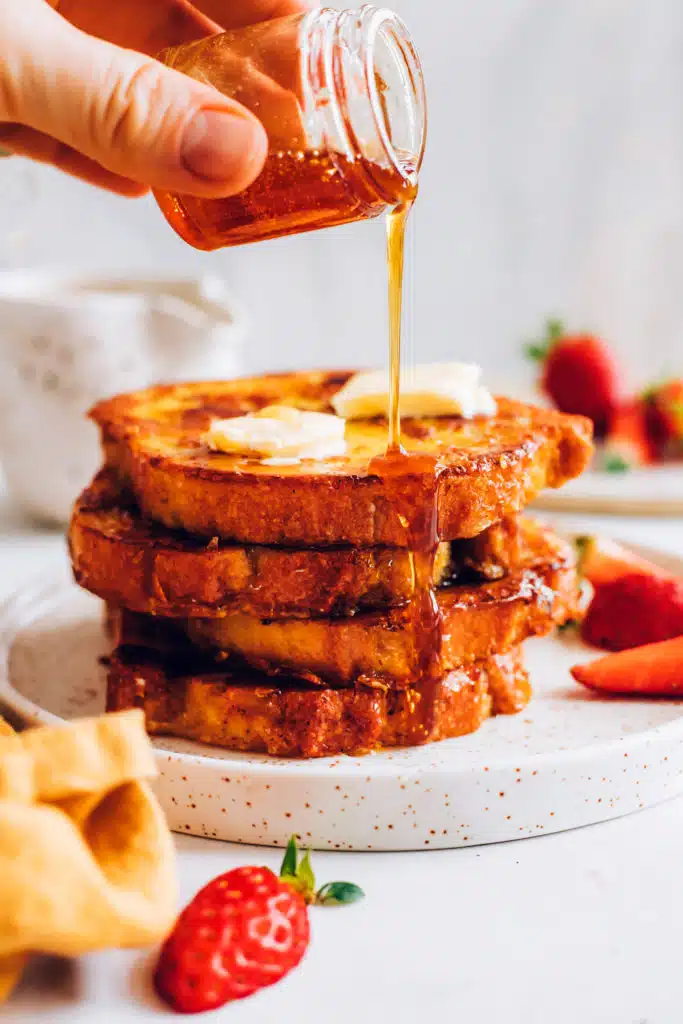 5 minutes prep time, 5 minutes cooking time, and you'll end up with some rich and gooey French toast without any eggs, butter, or milk! The secret ingredient here is cornstarch, which really helps crisp up the batter so you have that lovely crispy outer layer to your toast. Adding in mashed ripe bananas is also a brilliant addition to bring some custard-esque consistency – but it's totally optional if you don't like bananas.
The best thing about French toast is the toppings, and you can get as creative as you like. Vegan yogurt is always a top choice for me to offset the sweetness – or you could even use vegan creme fraiche if you're feeling decadent.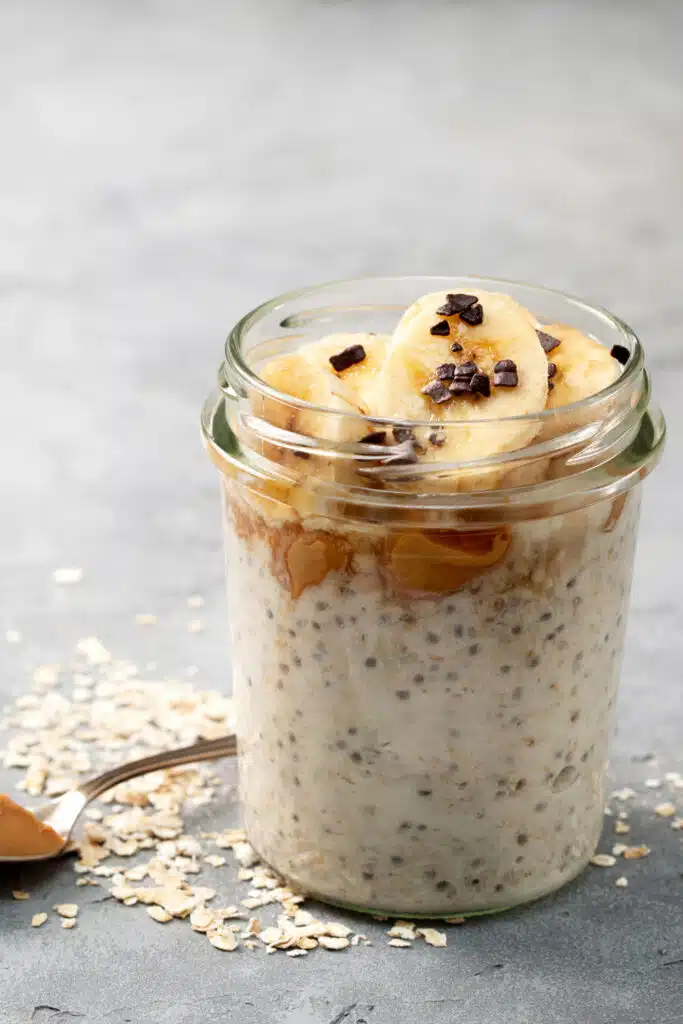 A strong feature throughout these vegan breakfast ideas is peanut butter, purely because it's easy to find, full of protein, full of fiber, and can be used in so many different ways. If you've got a nut allergy, you can omit it from this recipe – and there are still plenty of nut-free ones to try. Oats are naturally gluten-free but if you have a gluten intolerance it's best to buy gluten-free oats which are stored and transported away from gluten-containing cereals.
The beauty of vegan overnight oats is that you do all the work the night before, let it sit in the fridge, and eat it when you're ready for breakfast the next day. The key is getting the ratios right, and this recipe gives you lots of tips. You don't technically need a mason jar for overnight oats, but it does look a little bit cuter!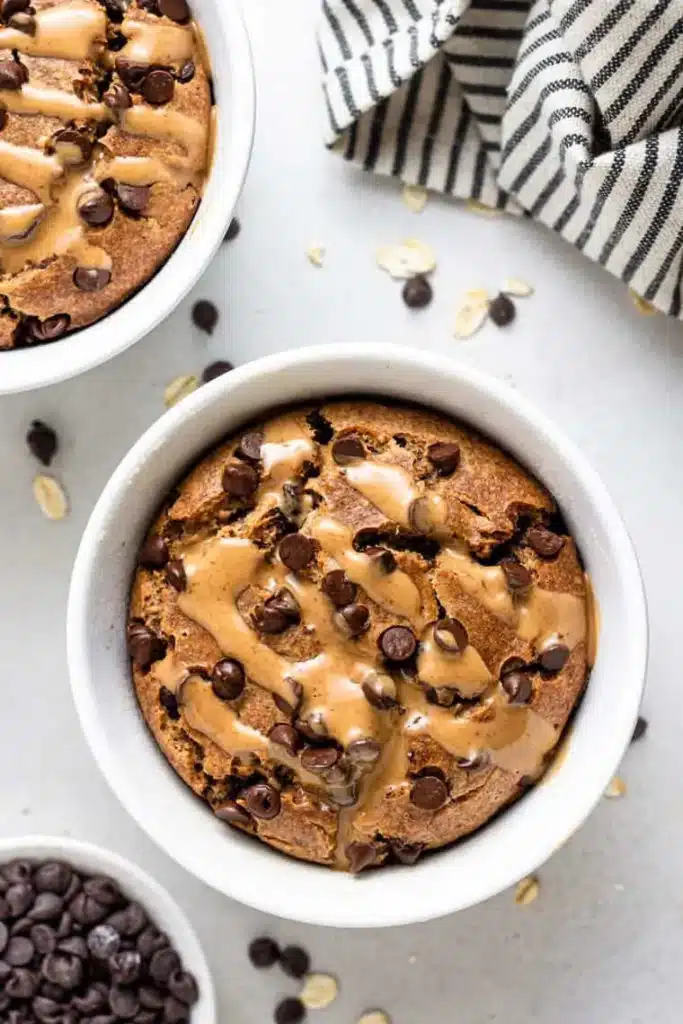 Blended Vegan Baked Oatmeal by Simply Quinoa
You either hate Tik Tok or you love it, but it does come up with some cool viral food trends. Baked oats are one of these trends, and this recipe by Simply Quinoa gives you a plant-based version that's perfect for breakfast.
You can play around with different flavors and additions, but once you're happy with what you've got, it can be blended up and baked. One key tip is to avoid steel-cut oats for this one as they make the baked oat cake a bit too thick. Yes, you read that right, you are having cake for breakfast, and it is very healthy and filling!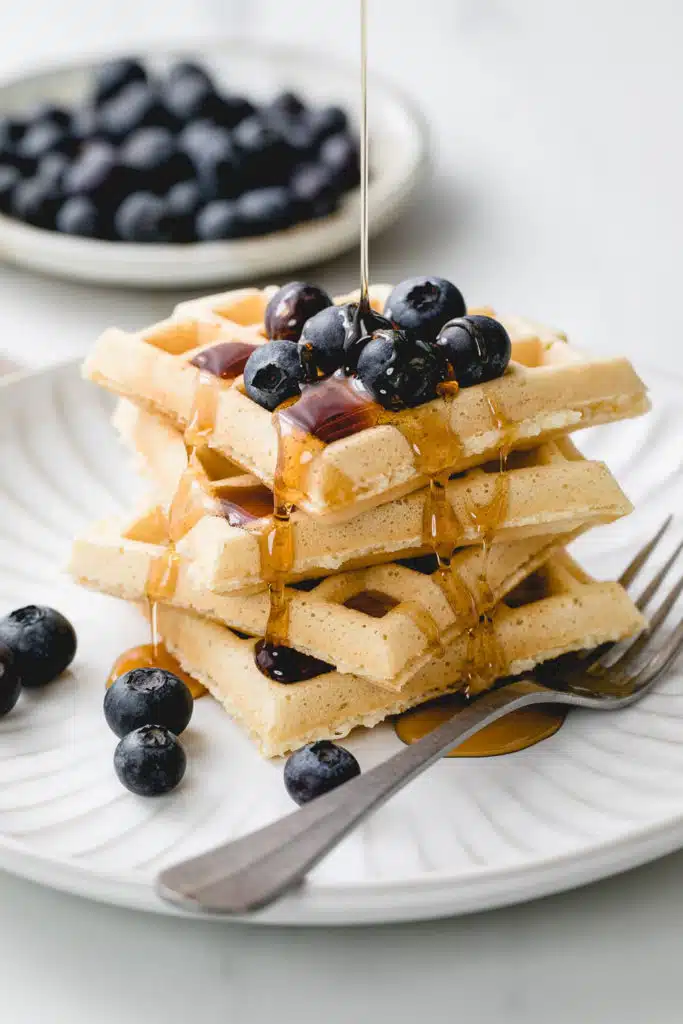 As you can probably tell, I love having some sweet things for breakfast. Or, more accurately, I love taking sweet and traditionally unhealthy things and adding a healthier spin to them. Thankfully, the vegan diet often lets you do this with ease, as these easy waffles show.
As vegan breakfast ideas go, these waffles couldn't be simpler. Only five ingredients are needed, and you can add some dairy-free yogurt with fruit on top to further boost the health benefits of this breakfast recipe. You will need a waffle iron for this, but it's a good investment if you like tasty breakfasts.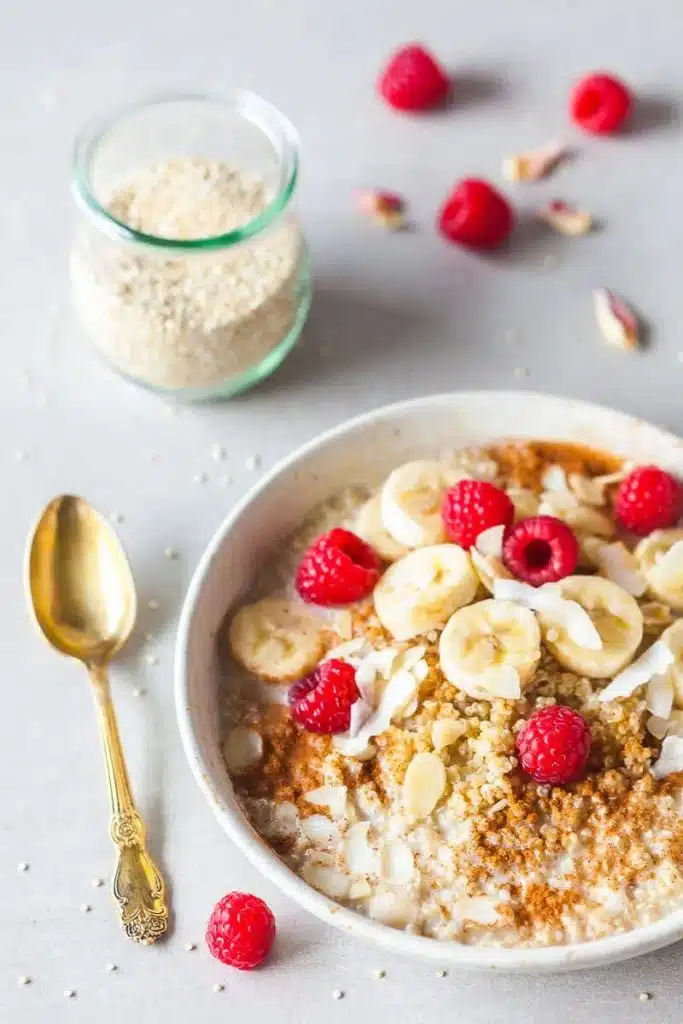 Vegan Quinoa Breakfast Bowl by Vibrant Plate
Usually, when you think about whole grains for breakfast, you tend to have oats. But, quinoa is a lovely little grain that's versatile enough to have for your brekky. All you have to do is cook it in some dairy-free milk, (almond is the best here), then mix it with some toppings and spices.
This recipe uses cinnamon and bananas, but you can have a big play around to find something that's more to your liking. Either way, a great alternative for those days when you want a change from oatmeal.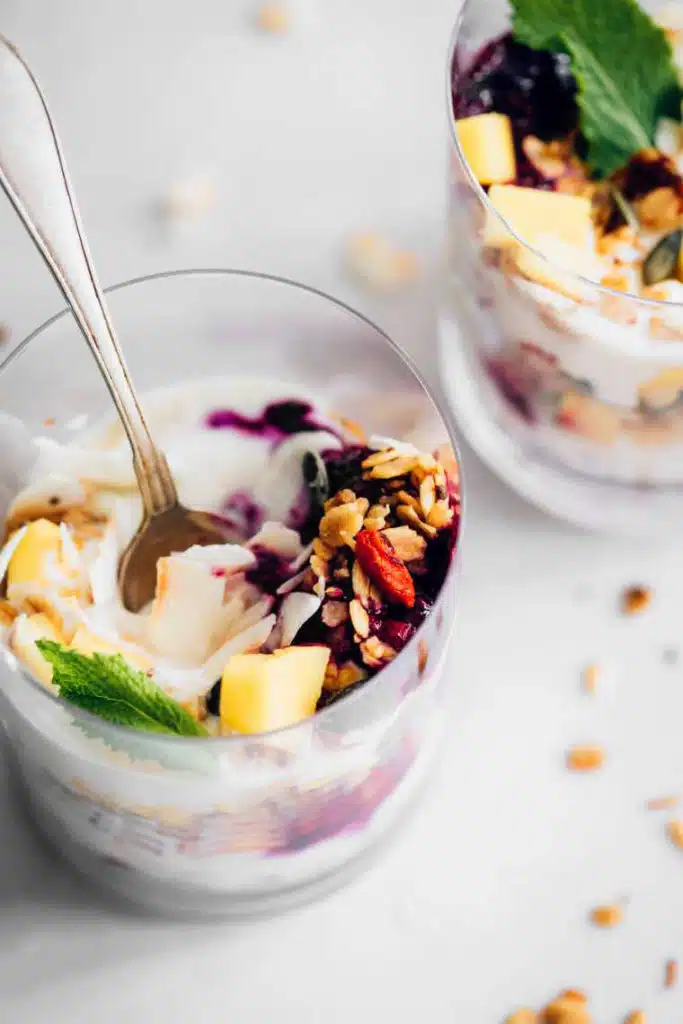 If you're really short of time, some dairy-free yogurt makes for a very easy breakfast!
Or, if you want to jazz your plain yogurt up, you can make this parfait. Get a wide glass or a bowl, spoon some yogurt in the bottom, then begin layering everything up. Go yogurt, fruit, granola, and repeat until you fill the container. Drizzle over some maple syrup, and you have a healthy breakfast that took less time to make than it's taken you to read how to make it!
Breakfast or brunch, these muffins are a delightful way to start your day. Again, it falls into that category of things that seem a little bit naughty, but they're actually very healthy and nutritious. These vegan muffins contain no eggs, some ripe bananas, rolled oats, and flaxseed. They remind me of banana bread but they're really easy for you to bake, and it's another option for something you can make in advance and grab on the go. If you're feeling indulgent – try them with a little vegan cream cheese!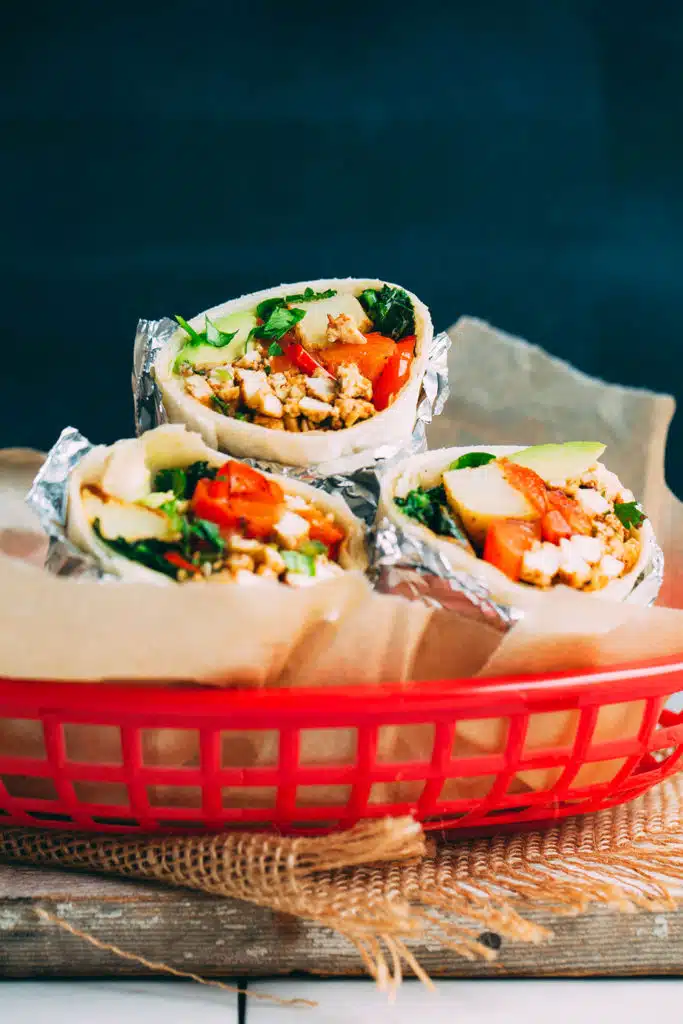 Scrambled Tofu Breakfast Burrito by Minimalist Baker
I introduced you to tofu scramble right at the start, so here's another recipe to round things off. This one takes your tofu and wraps it up in a Mexican-style burrito. Breakfast burritos have become super popular, with the non-vegan versions usually including sausages, eggs, and who knows what else.
Here, you pack yours full of goodness with avocado, roasted vegetables, and anything else you might fancy first thing in the morning. Of course, vegan bacon is always an option.
This might be something you save for the weekends, but these vegan breakfast burritos take just 30 minutes to prepare – so you can have them during the week as well. Or, be sneaky and prepare your tofu and everything else before, meaning you only need to heat it up and add it to the tortilla wrap in the morning.
On that note, you've come to the end of this latest list of delicious vegan breakfast ideas. If you're trying to follow a plant-based diet, I have so many other vegan recipes on this blog, including other ideas for vegan breakfasts and cheap vegan meal prep so feel free to check them out for more inspiration.