I always think it's best to get a new day off to a good start. When you're a vegan, breakfast is a chance to fill up on healthy whole grains, fresh fruit, and protein. Planning ahead really helps – a little meal prep the night before can make all difference on busy mornings, especially if you're heading into the office. Eating a healthy filling breakfast can keep you going until lunchtime instead of reaching for unhealthy snacks. Try these vegan breakfast meal prep recipes and ideas to help you eat better – they're delicious and easy to prepare!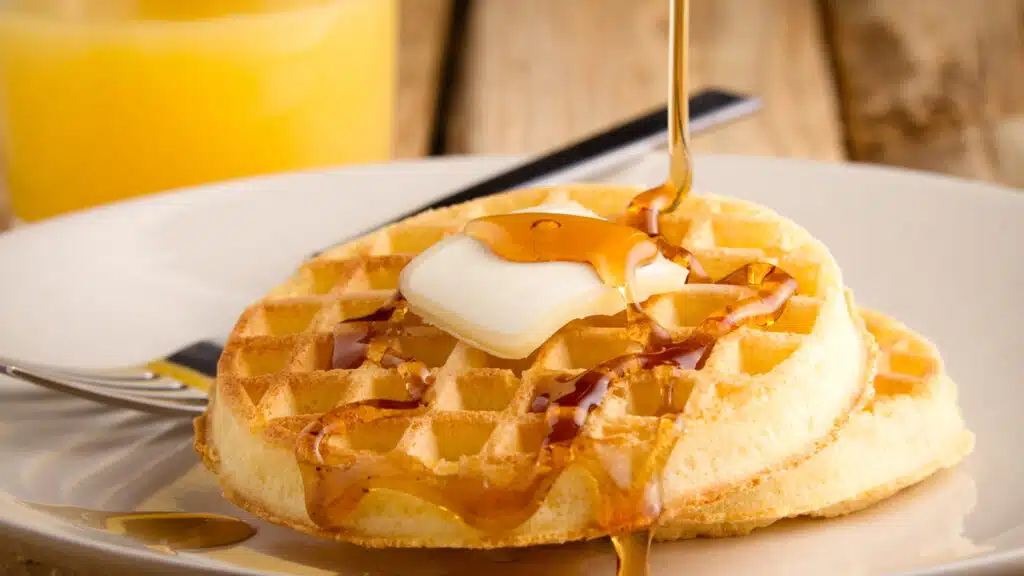 What should I eat for breakfast as a vegan?
If you're wondering what to eat for breakfast as a vegan, the options are endless! You can choose from a variety of fruits, vegetables, grains, healthy fats, and plant-based proteins.
A healthy vegan breakfast might include a bowl of oatmeal with fresh berries and almond milk or a plate of scrambled tofu with veggies and whole-grain toast. If you're looking for something more indulgent, there are plenty of vegan breakfast recipes that will satisfy your cravings, such as pancakes, waffles, or a hearty breakfast burrito.
Of course, cereal with plant-based milk is a quick and easy vegan option, but not everyone's a fan and so many breakfast cereals are full of added sugar. If you're short of time and looking for a better option, these vegan meal prep recipes are the answer!
Vegan Breakfast Meal Prep
Meal prep is simply preparing meals in advance. This can be done by cooking entire meals or preparing individual components of a meal. Meal prep is an extremely useful tool for busy people who want to eat healthy, home-cooked meals but don't have the time to prepare and cook every day.
Vegan breakfast meal prep is a great way to make sure you're getting all the nutrients you need first thing in the morning. It's the most important meal of the day! I find if I eat a good breakfast I'm less likely to indulge in sugary treats later in the day.
By prepping ahead of time, you can make sure your breakfast is both delicious and nutritious. There are endless possibilities when it comes to vegan breakfast meal prep – you can always find an exciting new recipe!
How do vegans meal prep?
Meal prepping as a vegan is no different from meal prepping as a meat-eater or vegetarian. The basics are the same – cook or prepare food in advance so you have something tasty and healthy to eat during the week. You can meal prep for just a few days or prep for the entire week.
There are a few things to keep in mind when vegan meal prepping:
Make sure you're getting enough protein. This is especially important if you exercise a lot.
Incorporate a variety of fruits, vegetables, and whole grains plus some healthy fats into your meals to ensure you're getting all the nutrients you need.
Don't be afraid to get creative! There are so many delicious vegan recipes out there – experiment until you find your favorites.
Vegan Breakfast Meal Prep Recipes
Now that we've gone over the basics of vegan meal prep, let's get to the good stuff – the recipes!
Here are a few of my favorite meal prep ideas for a vegan breakfast:
Banana Overnight Oats with Peanut Butter
Making porridge every day just takes too long on busy mornings. That's why overnight oats are such a hit. A healthy breakfast – a high protein meal that's refined sugar-free – you can make with just 5 minutes of meal prep the night before. It can even be gluten-free.
Scroll to the bottom of this post for the basic overnight oats recipe or find some of my favorite overnight oats recipes in this related post. It's a great vegan meal prep option for weight loss!
Meal prep the basic overnight oats recipe and add different toppings every day for variety – the options for this healthy meal are only limited by your creativity!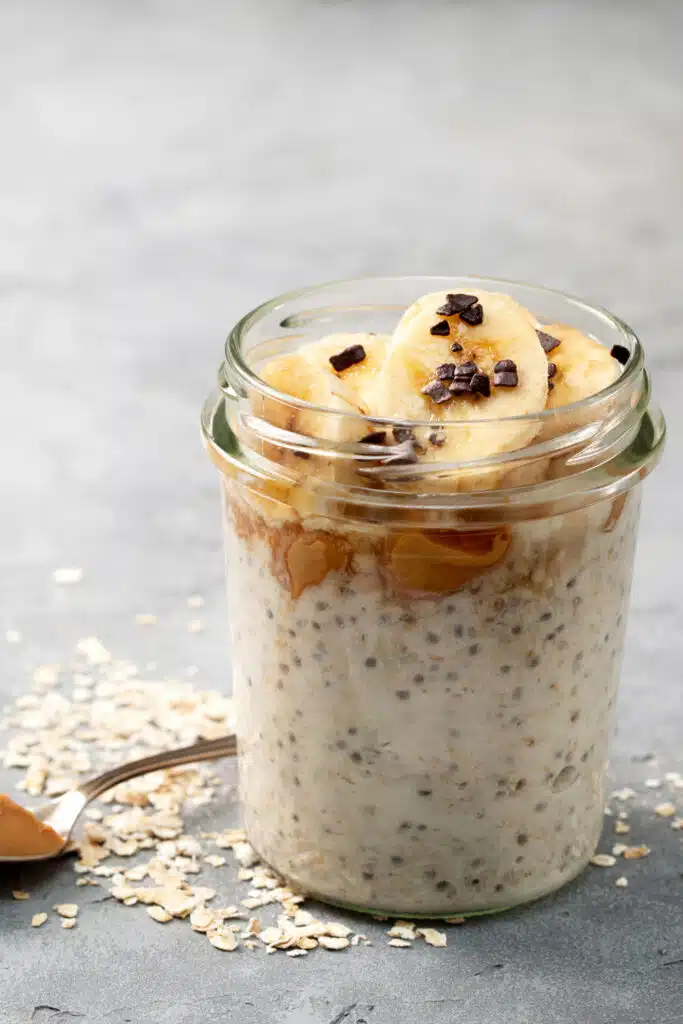 Full recipe on Love Life Be Fit
Instant Pot Quinoa Breakfast Bowls
Staying with the whole grains theme, quinoa is a healthy breakfast option that's packed with protein. The quinoa does need to be soaked ahead of time to remove any bitter flavor so it's an ideal meal prep recipe.
Made in an instant pot, preparation is a breeze with just simple ingredients. It's cooked in coconut milk for a wonderful creamy flavor. Make a big batch of these vegan breakfast bowls at the weekend to last throughout the week! For a lower-fat option swap coconut for soy milk or another vegan milk.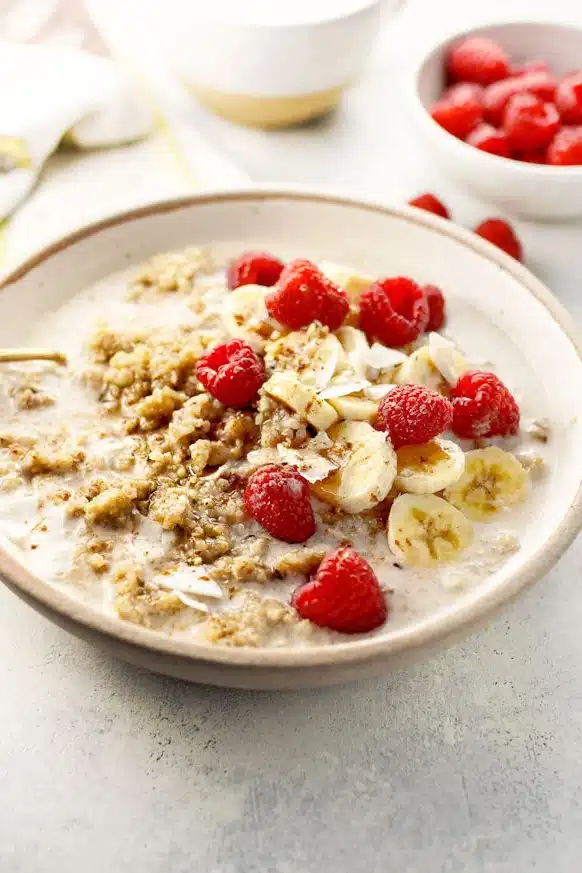 Full recipe on Detoxinista
Vegan Breakfast Burritos
Breakfast burritos are a fantastic vegan meal prep option! They're easy to make and can be frozen and reheated. Just wrap them up in some aluminum foil or parchment paper and pop them in the fridge or freezer.
I like to fill my vegan burritos with scrambled tofu, black beans, vegetables, and avocado. You can add any fillings you like – vegan cheese, salsa, and hot sauce are all tasty additions. It's a recipe loved by the whole family!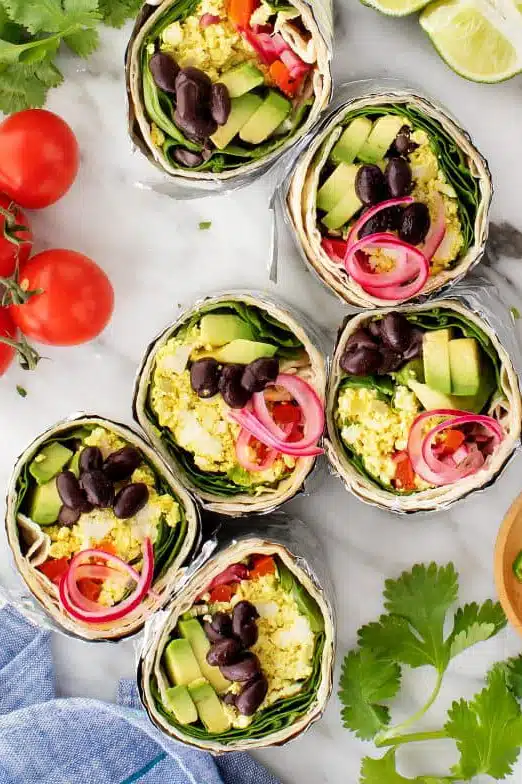 Full recipe on Love & Lemons
Healthy Chia Puddings
Chia pudding is a fantastic healthy option for breakfast and couldn't be easier to make. Simply combine chia seeds with your favorite plant milk and let it sit for a few hours (or overnight) to thicken.
You can then add any toppings you like – fresh fruit, nuts, and seeds, maple syrup are all great options. This banana bread recipe on Simply Quinoa is my favorite!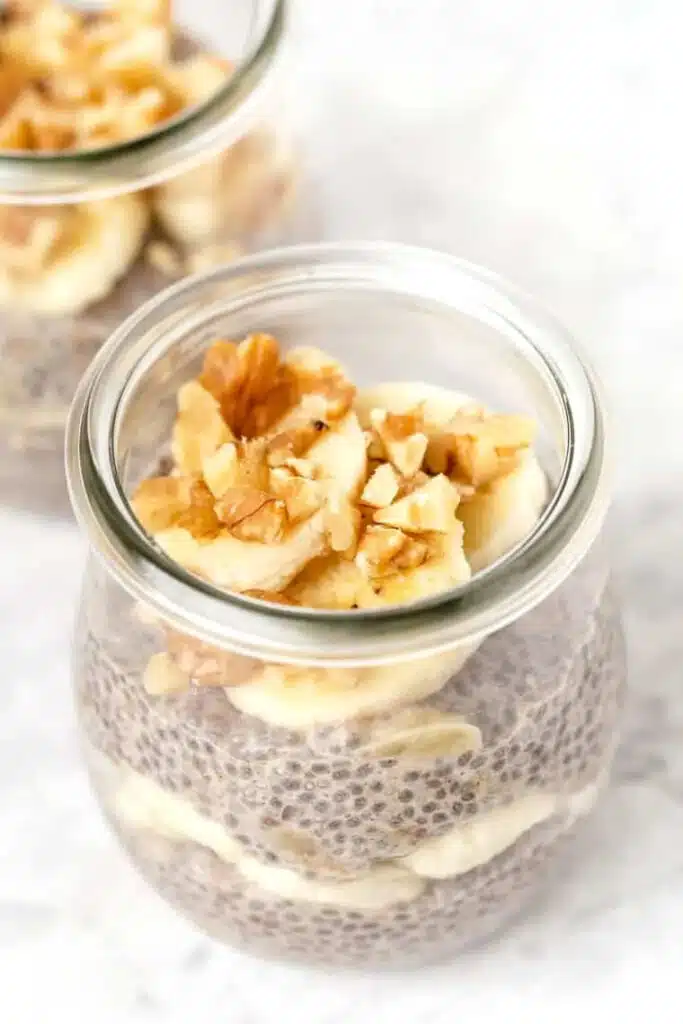 Full recipe on Simply Quinoa
Breakfast Sweet Potatoes
Sweet potato for breakfast? Why not! They're naturally sweetened and combined with tasty toppings such as peanut butter, banana, and granola, they make a delicious and filling breakfast.
You can make a big batch of roasted sweet potatoes and bake them on a sheet pan ahead of time – just pop them in the microwave to reheat. Then add your toppings of choice and enjoy!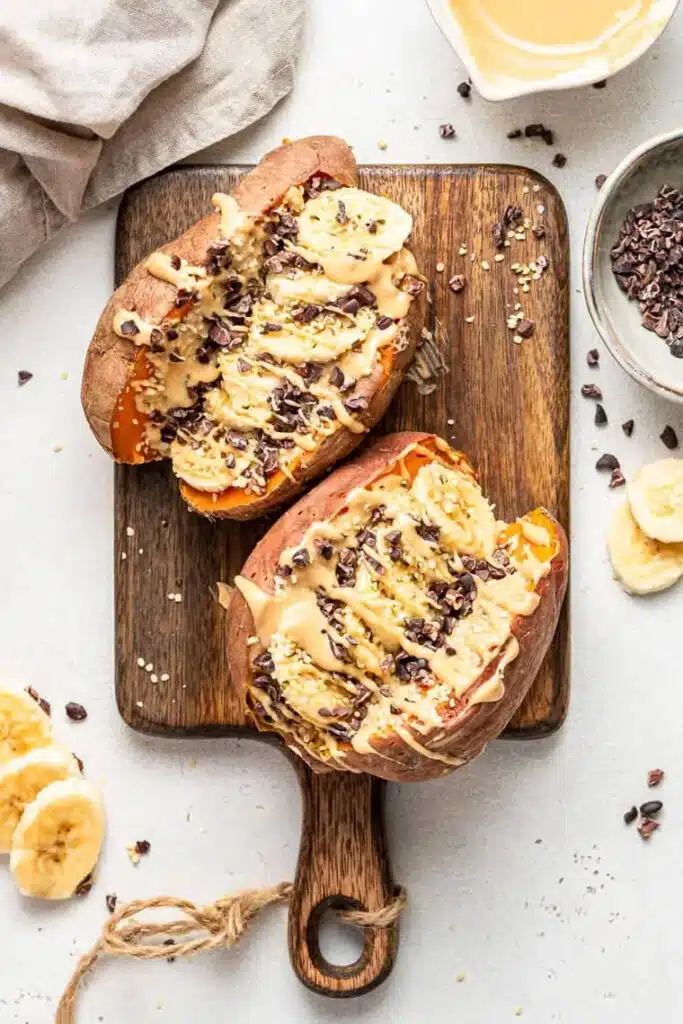 Full recipe on Simply Quinoa
Tofu Scramble
Before becoming a vegan, my go-to dish when I wanted a quick protein boost was scrambled eggs. So I was delighted to find that tofu scramble tastes just as good – if not better! It's become one of my favorite vegan meal prep recipes.
I like to make mine with green onions or shallots and a big handful of chopped bell peppers but try experimenting with different veggies. Tofu scramble works really well for meal prep. Make in advance and reheat on a busy morning. Tofu scramble tastes just as good for a healthy lunch!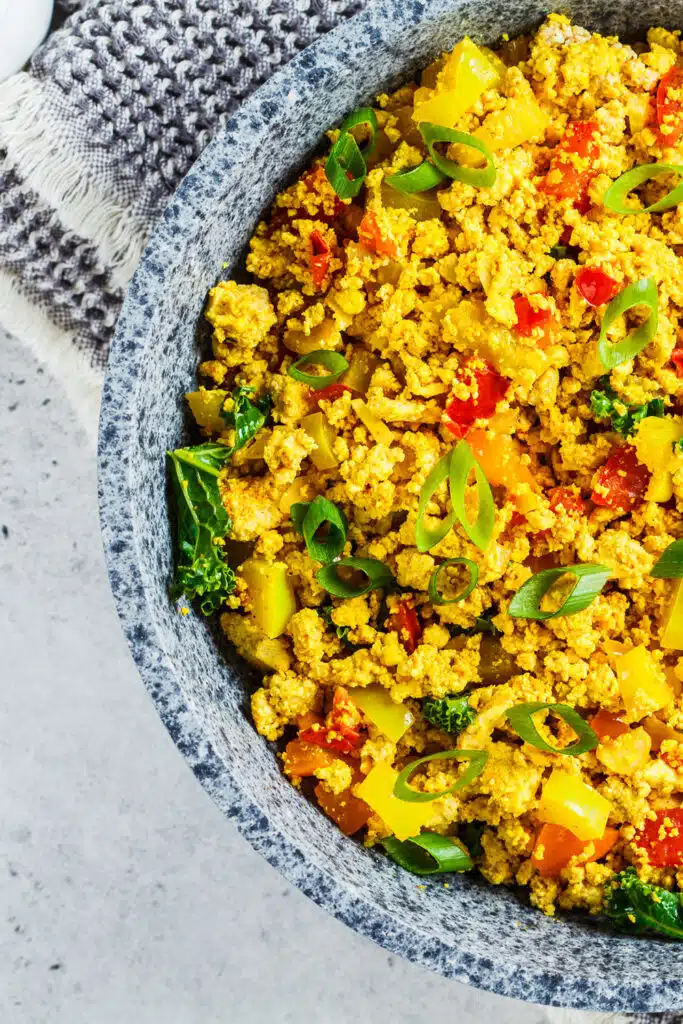 Full recipe on Sweet Peas And Saffron
Vegan Hash Browns
Are you a sweet breakfast eater or do you always go for savory breakfasts? This hash brown recipe will win anyone over to the savory side!
Of course, hash browns are often vegan as long as they're made with vegan butter but this recipe is a step above the rest. The key is to use a starchy potato such as russet potatoes so they cook up nice and crispy.
They taste delightful straight out of the pan but they're still suitable for meal prep. Store them in the fridge in an airtight container and reheat them quickly in a frying pan in the morning. I like to serve mine with a dollop of vegan cream cheese and a side of pinto beans!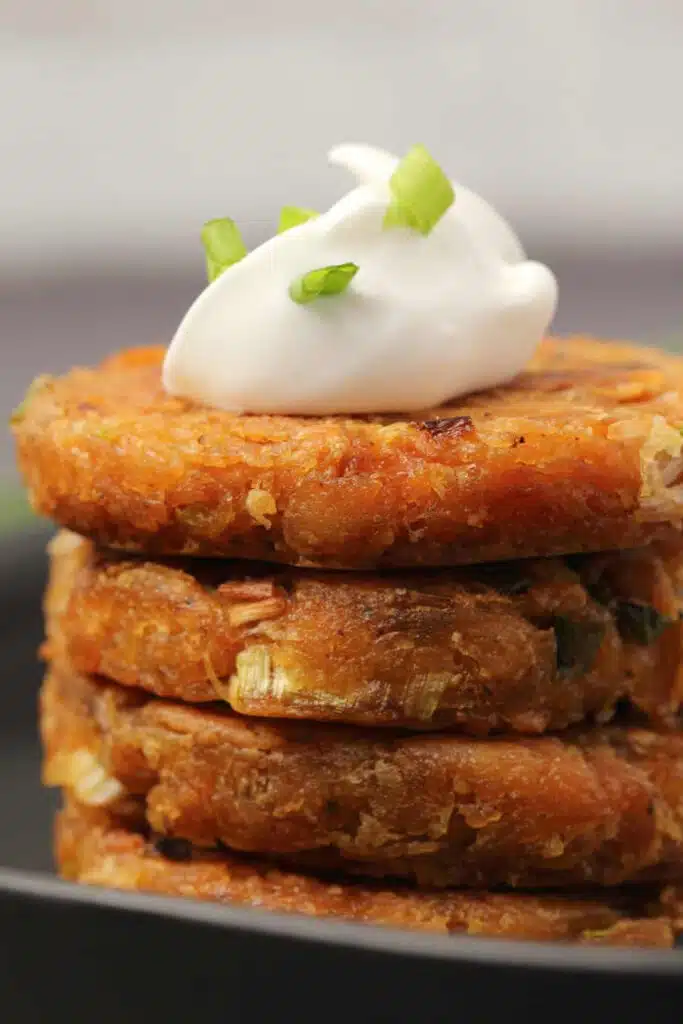 Full recipe on Loving It Vegan
Pinto Beans
The ideal side dish for your hash browns or eat them on their own with some wholemeal bread.
Pinto beans are an excellent source of protein and fiber. Making them from dried beans is a little more effort but this amazing recipe will win you over.
Making a big batch at the weekend is a great way to have them ready for an easy vegan breakfast during the week.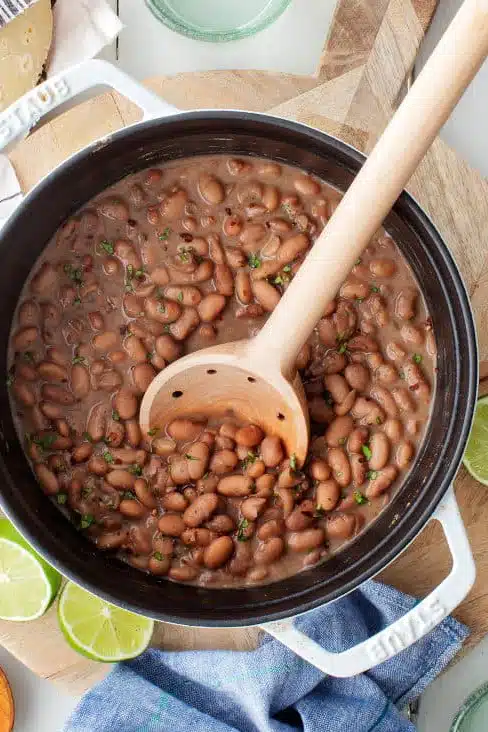 Full recipe on Love & Lemons
Vegan Sausages
If you like a vegan sausage with your hash browns and pinto beans, you'll love this recipe! With delicious flavors, it's a super healthy sausage and another winner for meal prep.
You can cook them ahead of time and keep them in the fridge for up to a week or freeze them. Then simply reheat in a frying pan when you're ready to eat.
These sausages are naturally low in saturated fats and contain a whole 32 grams of protein. They make a hearty vegan breakfast with pinto beans, tofu scramble, and hashbrowns!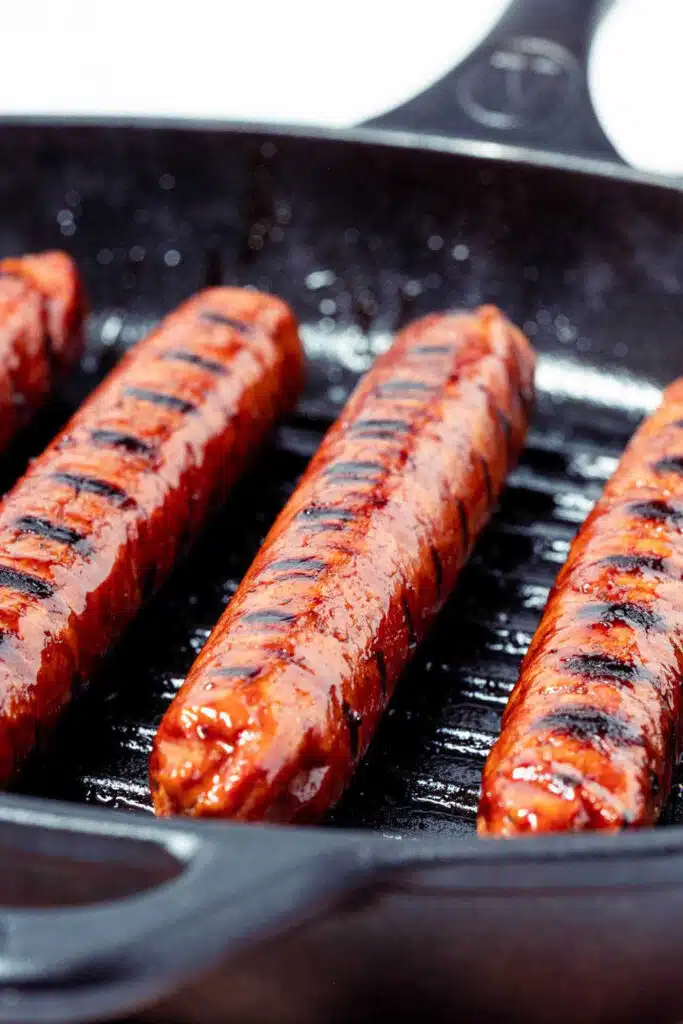 Full recipe on Loving It Vegan
Vegan Waffles (Fluffy & Crispy)
Waffles are the perfect vegan make-ahead breakfast! They freeze really well and can be reheated in the toaster or a toaster oven for an easy breakfast.
This recipe is delightful. The waffles are fluffy, crispy, and just perfect! Serve with your choice of toppings – fresh berries, maple syrup, a little almond butter, and a decadent dusting of cocoa powder!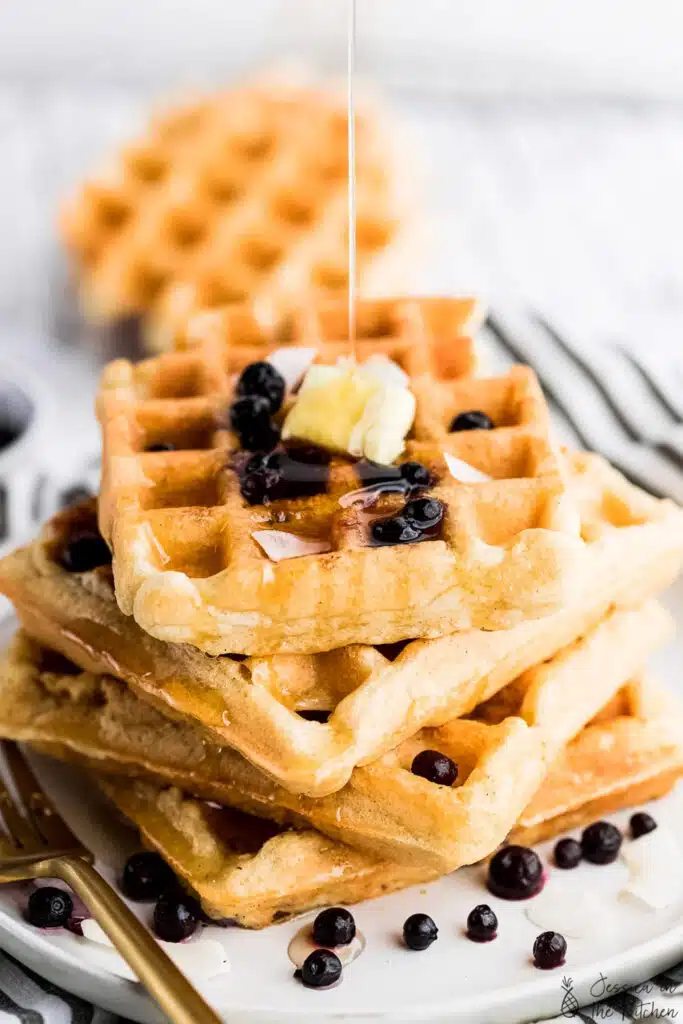 Full recipe on Jessica In The Kitchen
Mango, Ginger, Kale Green Smoothie
A green smoothie is a perfect way to start your day! It's packed with nutrients and will give you sustained energy until lunchtime.
I like to experiment with my smoothie recipes and it doesn't always go to plan. For a safer option try this recipe from Minimalist Baker – it's kale, mango, peaches, ginger, and a little bit of lime juice. Blend everything up until it's smooth and enjoy!
The smoothies will stay fresh for up to 24 hours in the fridge so you can make them the night before. Or meal prep the ingredients and blend them in the morning.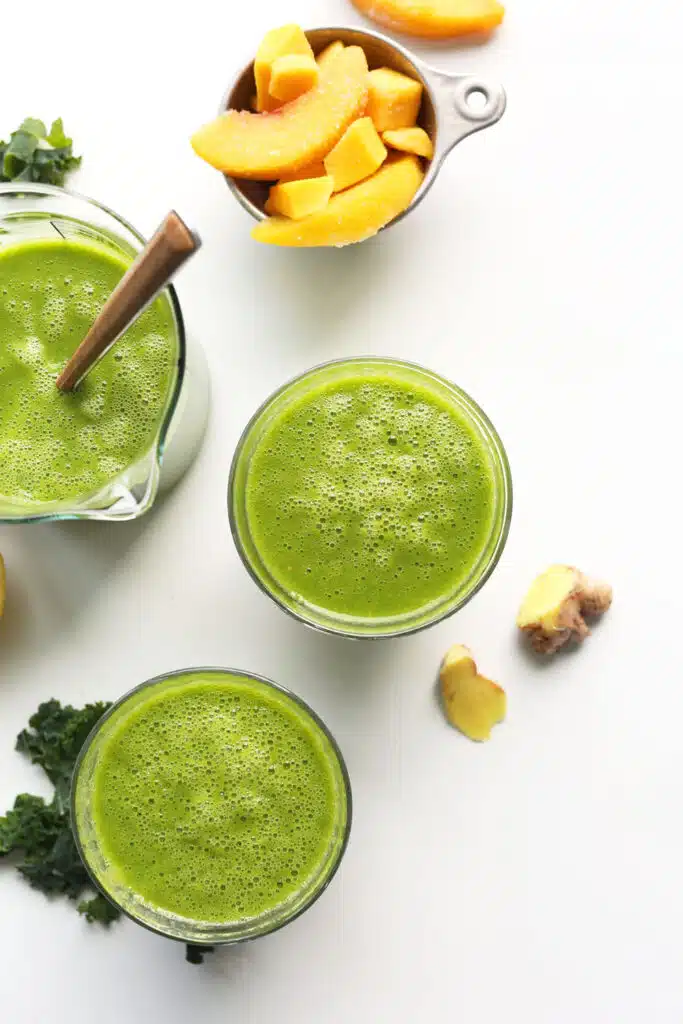 Full recipe on Minimalist Baker
Fresh English Muffins with Avocado
Toast is always a good idea but sometimes you want something a little more substantial. These fresh English muffins are just the ticket! They make a healthy start to the day served with avocado.
Mashed avocado can be made in advance and stored in the fridge. It will last for 2 – 3 days if made with a little lemon juice.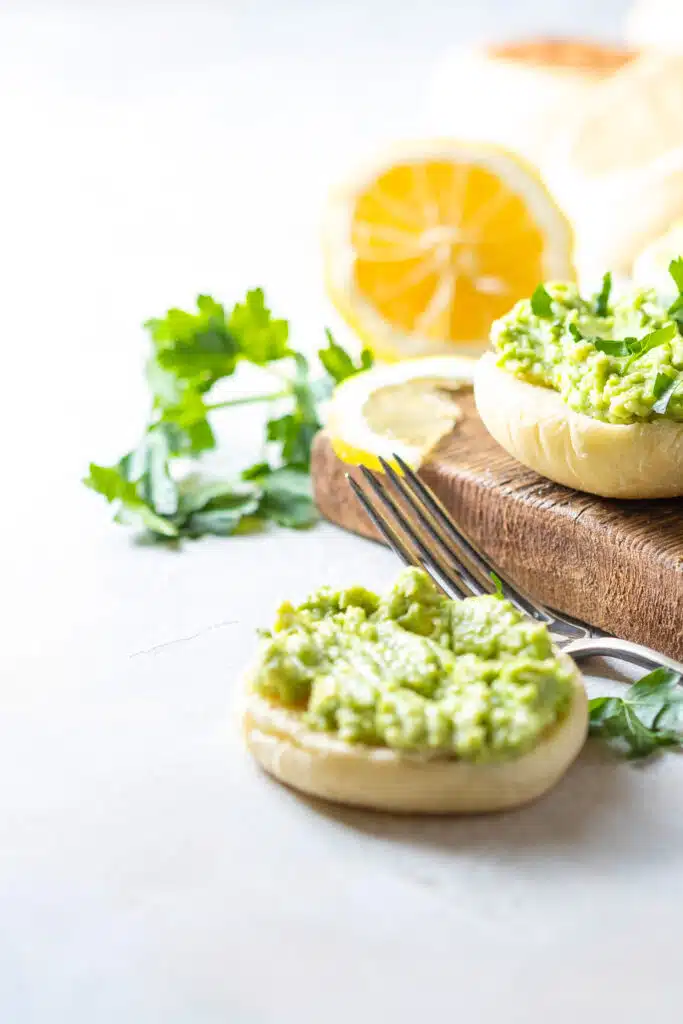 Blender Banana Pancakes (Gluten-Free)
Naturally sweet, these vegan pancakes are incredibly easy to make. Simply blend all the ingredients in a high-speed blender and cook on a hot griddle or frying pan.
I love to add chocolate chips to my pancakes but you could also add blueberries, chopped nuts, or a little grated lemon zest. Pancakes are a great option for meal prep – made ahead of time they keep for 2-3 days or freeze for one month.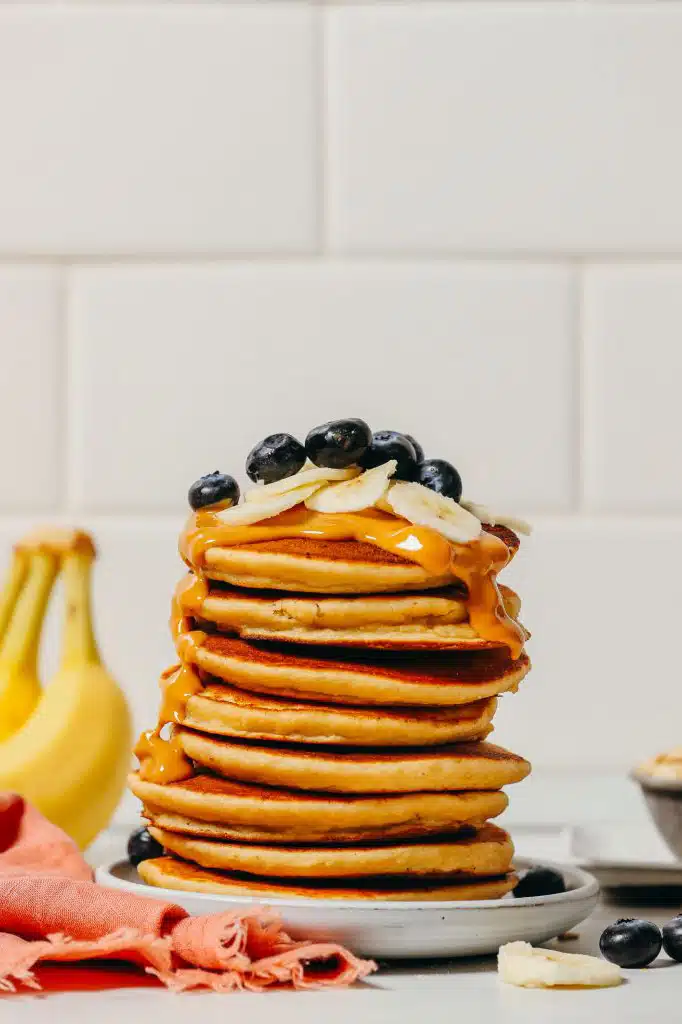 Full recipe on Minimalist Baker
Vegan French Toast
This is the best vegan French toast recipe! It's easy to make and can be prepped ahead of time. Simply soak your bread in the mixture of plant-based milk, flax meal, maple syrup, cinnamon, and vanilla extract.
Then cook on a hot griddle or frying pan until golden. If you meal prep the batter in advance it keeps for 2-3 days in the fridge.
Full recipe on Jessica In The Kitchen
I hope you've enjoyed this list of healthy breakfast meal prep ideas. These delicious breakfast recipes will make your mornings so much easier! Meal prep is not just a terrific way of eating better – it's also good for your budget! Let me know in the comments which one is your favorite.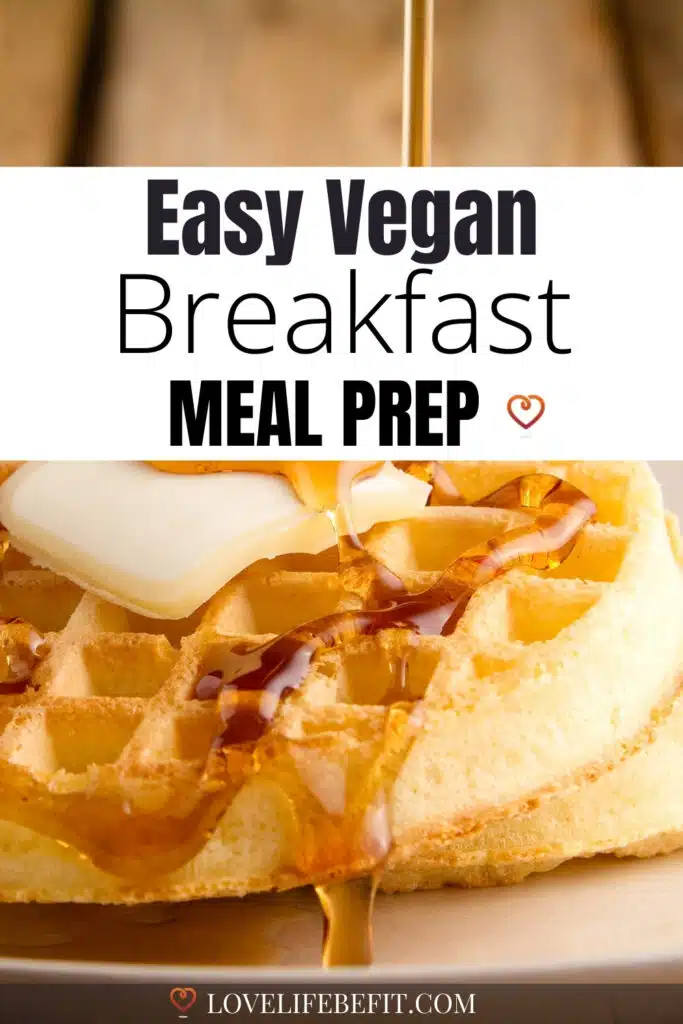 You may like these related posts:
Yield: 1
Basic Overnight Oats Recipe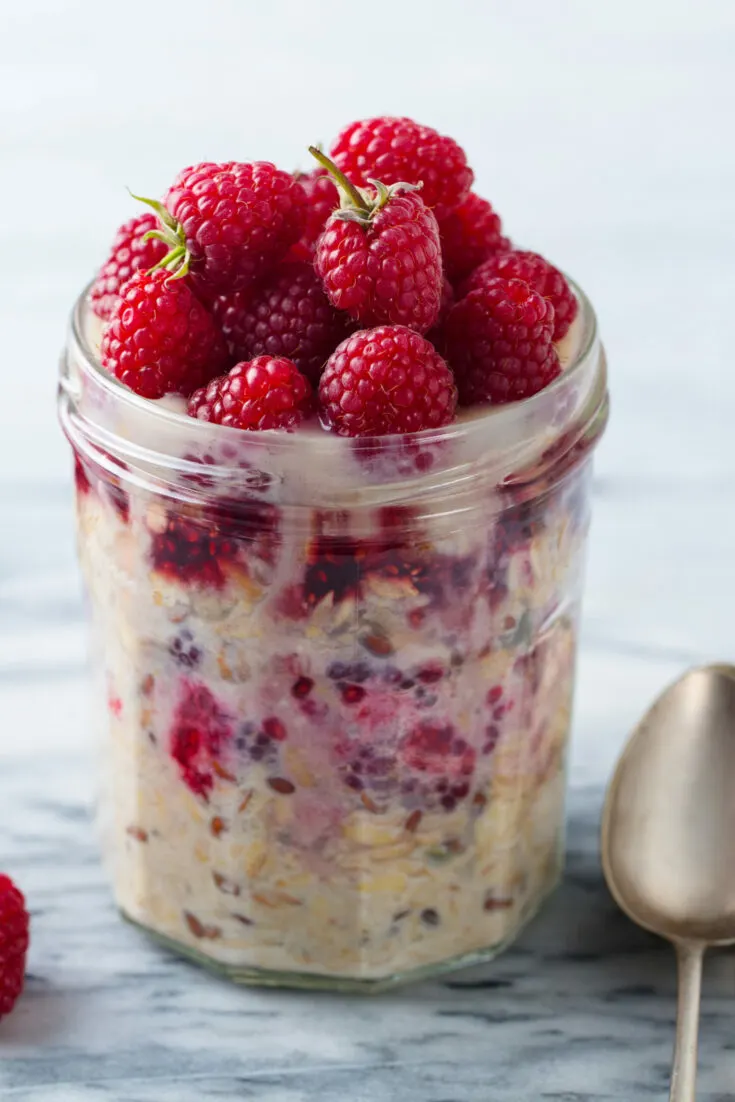 Basic overnight oats recipe for a quick and easy breakfast. Ideal for meal prep - get creative with your toppings!
Total Time
2 hours
5 minutes
Ingredients
BASIC RECIPE
1/2 cup (40 grams) rolled oats
1/2 cup liquid - water or milk of your choice - (soy milk, oat milk, almond milk, skimmed milk, semi-skinned milk)
OPTIONAL EXTRAS
1/2 tablespoon flax or chia seeds
Maple syrup (or sweetener of your choice) - to taste
Vanilla extract - to taste
1 - 2 tablespoons yogurt
Instructions
BASIC RECIPE
Add your rolled oats to a large 8oz glass jar or container. If you're using flax or chia seeds stir them into the oats.
Add the optional maple syrup (or sweetener of your choice), pour in the water or milk, and mix well.
Cover with a lid or wrap and place in the fridge for at least 2 hours (overnight is better).
When ready, eat with your favorite toppings (see recipes and suggestions below).
Notes
Vegan overnight oats - use plant-based milk, yogurt, and protein powder in the recipes. Soy milk and yogurt provide the most protein.
Gluten-free overnight oats- use gluten-free rolled oats.
Healthy overnight oats for weight loss - for lower calories use water instead of milk in the basic recipe. Coconut, nut butter and seeds are calorie-dense so be mindful of quantities.
Meal prep - store the overnight oats without toppings in an airtight container in the fridge. Will keep for up to 5 days but 2-3 is more realistic. Otherwise, the oats get really soft.
Nutrition Information:
Yield:
1
Amount Per Serving:
Calories:

200
Total Fat:

4g
Saturated Fat:

0.5g
Carbohydrates:

36g
Fiber:

5g
Protein:

10g
Nutritional information is an estimate only. It's based on the basic recipe using just rolled oats and soy milk. You can find protein content and estimated calories for the different recipes in the blog post above.