When you think about lentils, what's the first thing that comes to mind? Yep, boring old lentil soup! Now, don't get me wrong, a lentil soup recipe can be jazzed up and made really tasty. But, it just feels very boring, yet it's one of the best ways to add lentils to your diet.
Are you looking for new and inventive ways of getting more lentils in your meals, but don't want to keep slurping down soup? Well, you're definitely in the right place! If you keep on reading, you'll see a roundup of the best vegan lentil recipes, with absolutely no soup in sight. From red lentils to green, they'll help you get all the nutritional benefits in tasty recipes that are very easy for you to cook.
Most of these lentil recipes are gluten free but it's best to always check and adjust the recipe if you need too. For example, you can always swap any bread for your favorite gluten free version.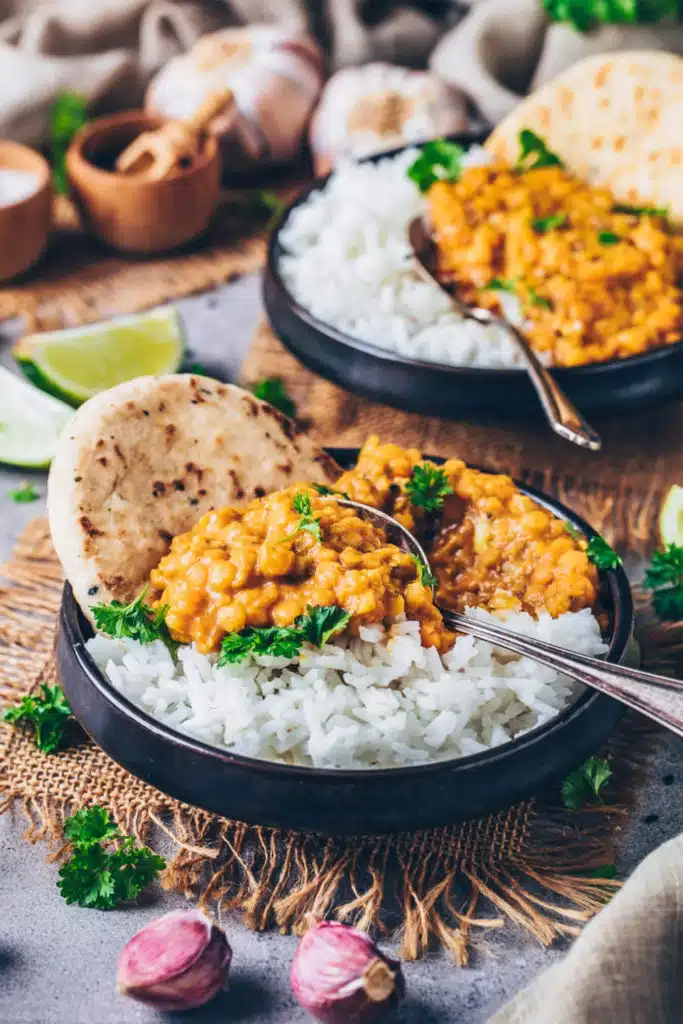 Favorite Vegan Lentil Recipes Not Soup
Check out these delicious vegan lentil recipes:
When it comes to delicious lentil recipes, you can't go wrong with lentil dahl, which is basically a lentil curry of sorts.
This vegan gluten free lentil recipe is so easy for anyone to make, and it uses minimal ingredients. Well, the ingredients list is quite long, but the majority of them are spices you'll find in your kitchen cabinets. Hardly any prep needs to be done to make this – all you need to do is chop some onions and mince garlic and ginger.
Everything else involves adding your spice mix and curry powder, boiling some water, and weighing out the red lentils. All in all, it takes around 5 minutes to prep, and a further 20 to cook – though you can cook the lentils for longer to get a more tender texture and consistency.
Finish off with some black pepper and fresh herbs. Serve this with rice or some naan bread, depending on your preference, and a spoonful of vegan yogurt to take away the heat.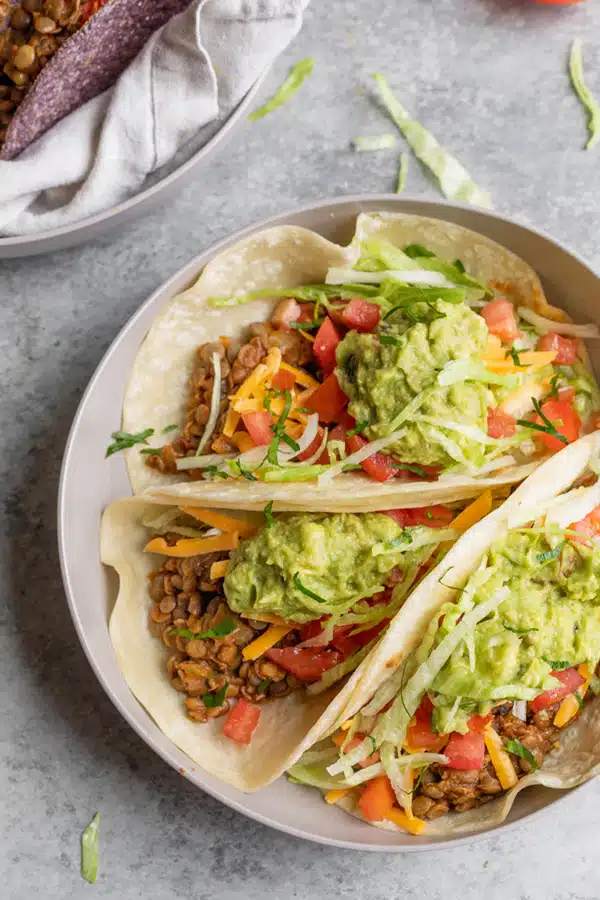 Who doesn't like tacos? They're a great addition to any list of amazing lentil recipes.
They're so easy to make, so fun to eat, and packed full of a whole host of flavors. If you're vegan, green lentils are one of the best replacements you can have for the filling inside your little flour tortillas.
This lentil recipe can be made even easier by buying a pre-made taco blend of spices, or you can add them all individually if you have them in your kitchen to hand. Now, you can use green or brown lentils here, but I think green works best because there's more bite to them. Canned lentils are absolutely fine by the way, and will reduce your overall cooking & prep time.
Add whatever toppings you like – avocado, baby spinach, and vegan cheese with vegan sour cream are a favorite of mine. It makes a delicious meal – perfect for supper!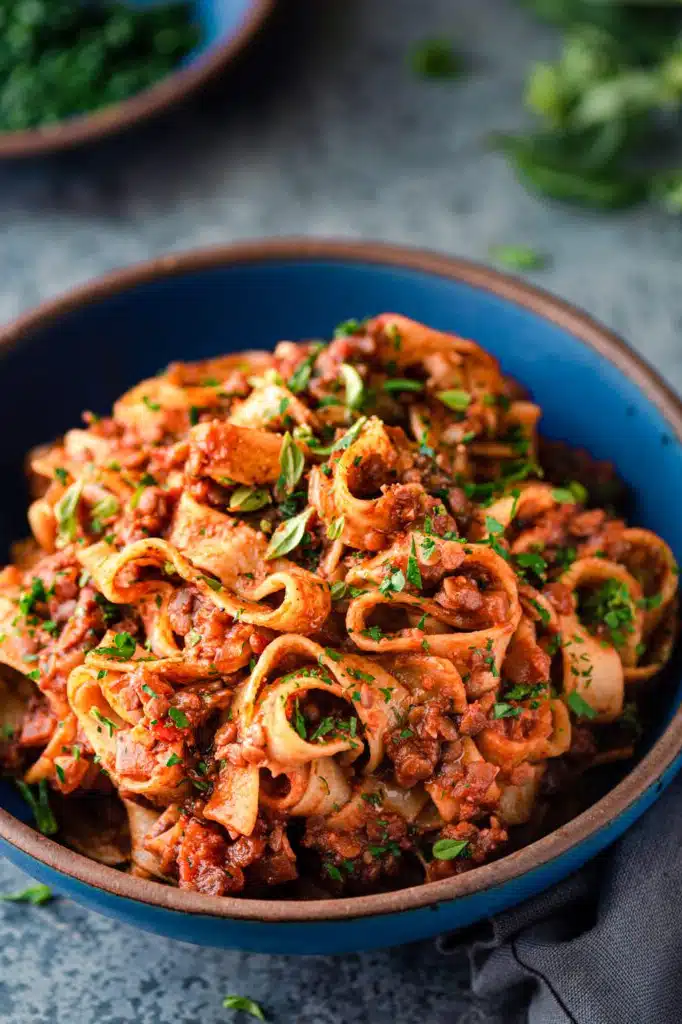 Is there anything better than a meal that's got hardly any ingredients, minimal prep, and tastes amazing?
With this hearty lentil bolognese, you get exactly that! It's one of the best lentil recipes you can make if you're looking for a filling meal! Again, most ingredients you should already have in your kitchen, like the tomato paste and olive oil – along with the dried herbs and spices. It's largely a case of prepping the onion and garlic, frying it off, then add your cooked lentils to the pan with everything else.
The full recipe is on the Rainbow Plant Life website, and there are some great optional extras as well. Personally, I think you need to add the dry red wine for a deeper flavor, but it's up to you!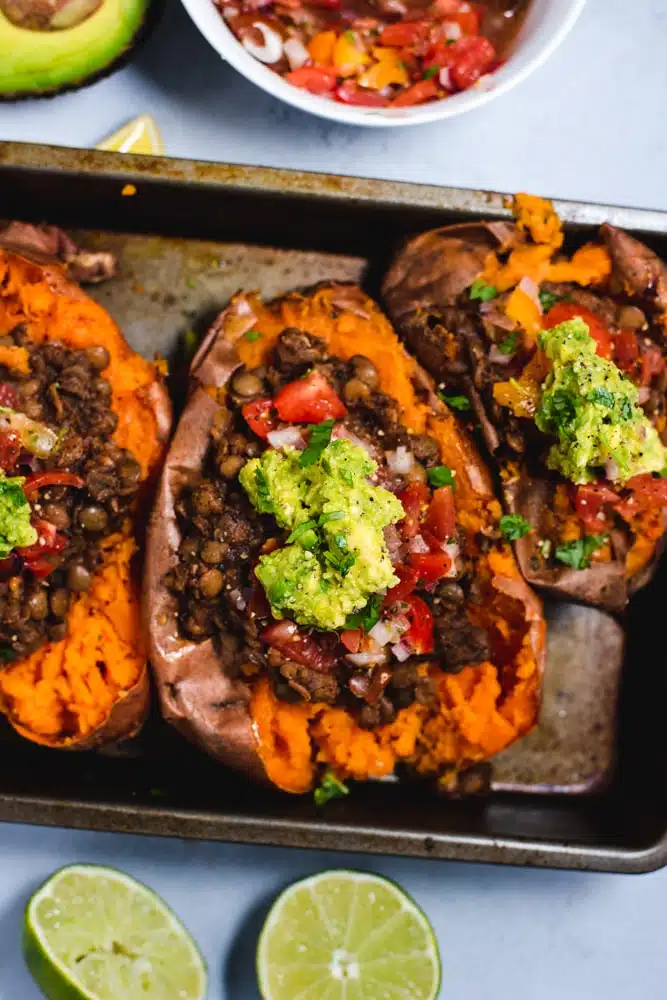 Now, none of these best lentil recipes are in any particular order, but this is probably my favorite way of using lentils in a dish. You get the health benefits of sweet potatoes and lentils mixed together, along with other vegetables too. It's a really good meal for anyone trying to stick to a healthy diet.
It does take some time, but the majority of that is roasting the potatoes in the oven. You can prepare the lentils during that time and just sit back and relax until the potatoes are done!
I think tinned brown lentils work best here, but you're welcome to use whichever lentils you have. Also, one little tip, you can cook the sweet potatoes in the microwave if you're in a rush. The skin doesn't get as crispy and nice, but it's handy if you need a 10-minute meal.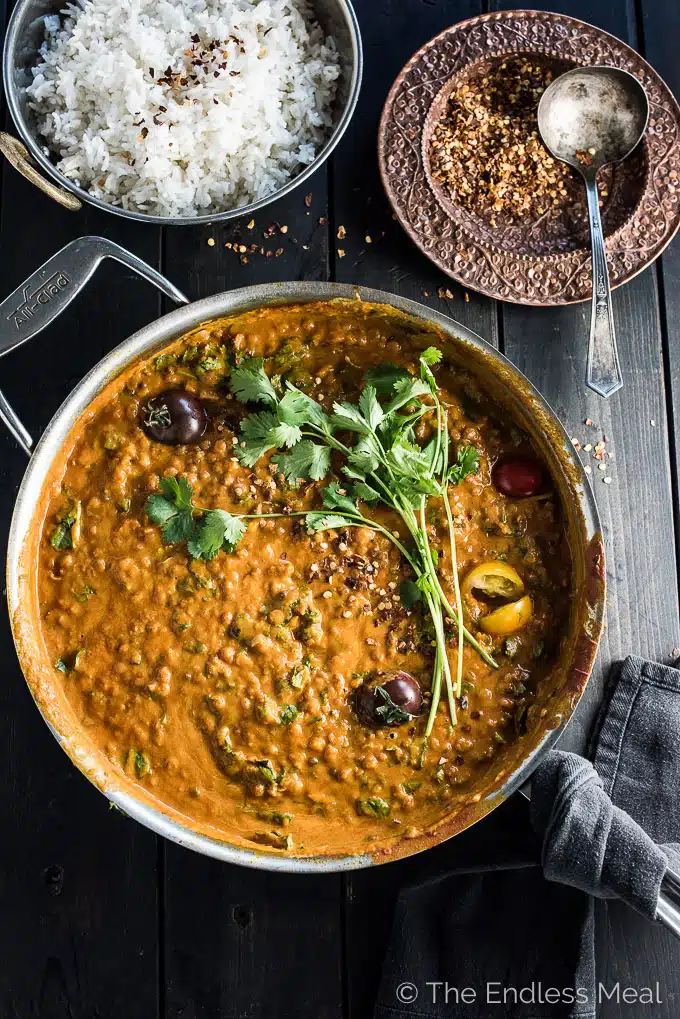 This delicious curry is extremely healthy and has some of the tastiest flavors you can imagine. The key ingredient here is coconut milk, which adds so much creaminess to the lentil curry.
Make sure you use dried lentils for this lentil recipe as they cook in the curry sauce to go all tender and absorb so much of the delicious spicy flavor.
If you want to make it extra hot, you can add cayenne powder or chopped chillis, but it's really up to you! I like to finish my dish with a spoonful of creamy coconut milk and a few chopped herbs.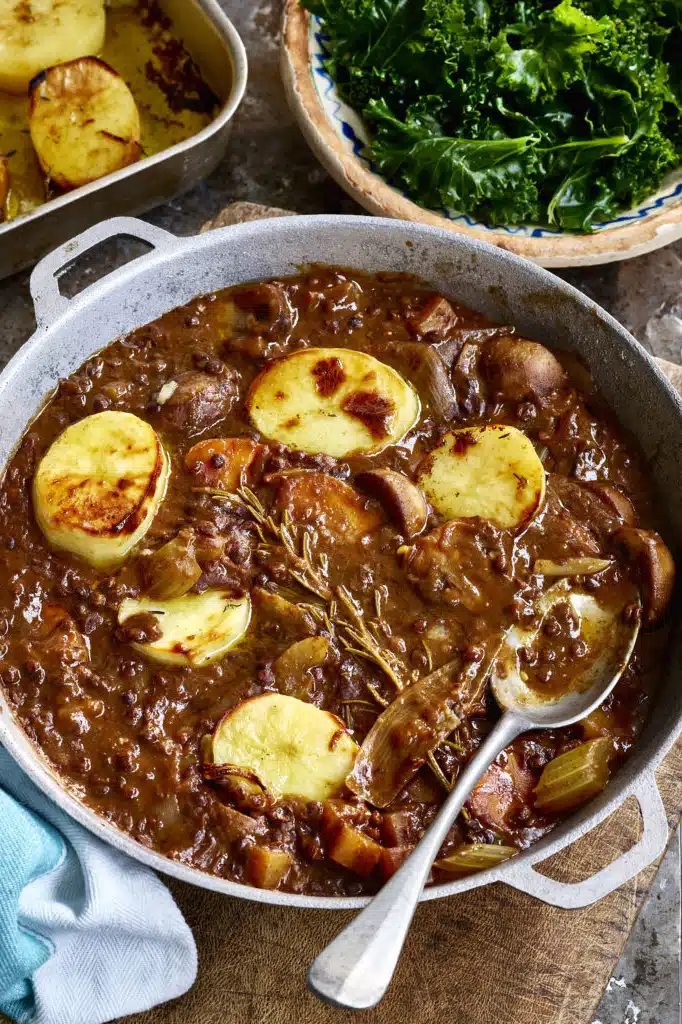 If you fancy going all out and doing something big for dinner, this lentil stew is a really great idea. It uses puy lentils in a wonderful vegetable broth, along with lots of other flavors and spices to create a very rich and thick stew.
I think this delicious lentil recipe is such a hearty dish to have when it's cold out, and you can get pretty much all ingredients from your local grocery store with ease. The little potato fondants are quite chefy, but feel free to sub them out for roast potatoes or something you find easier.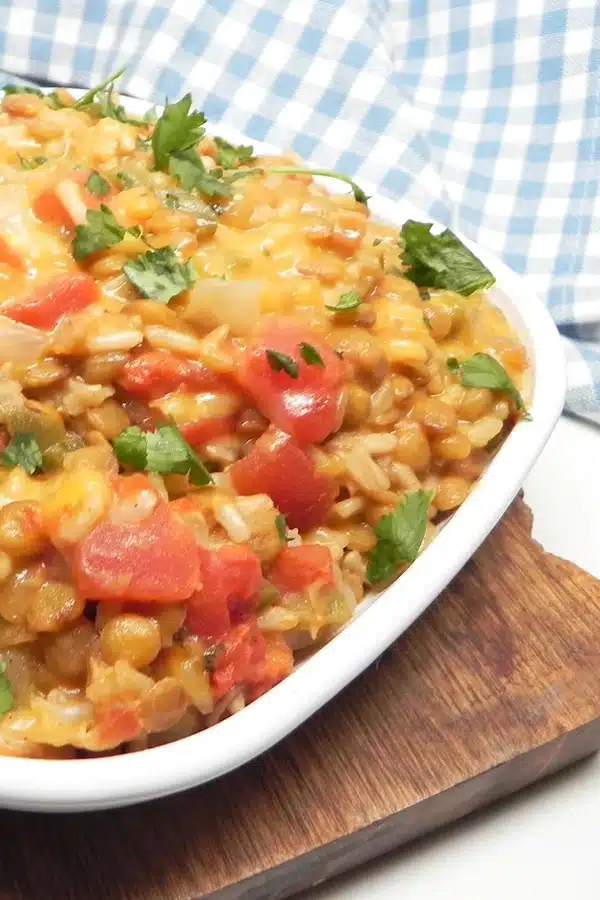 Don't be fooled by the name, there's no soup here in this lentil recipe to worry about!
These cheesy Mexican lentils can be made in an instant pot, taking all the effort out of cooking. Of course, to make it a vegan version of this lentil recipe, you simply use vegan cheese instead of what's suggested. Everything else is vegan-friendly!
The recipe says to cook lentils using the high-pressure setting on your instant pot, so make sure you follow the manufacturer's instructions when cooking. If you're thinking about investing in an instant pot, they're really useful for making the best lentil recipes and all kinds of other vegan food.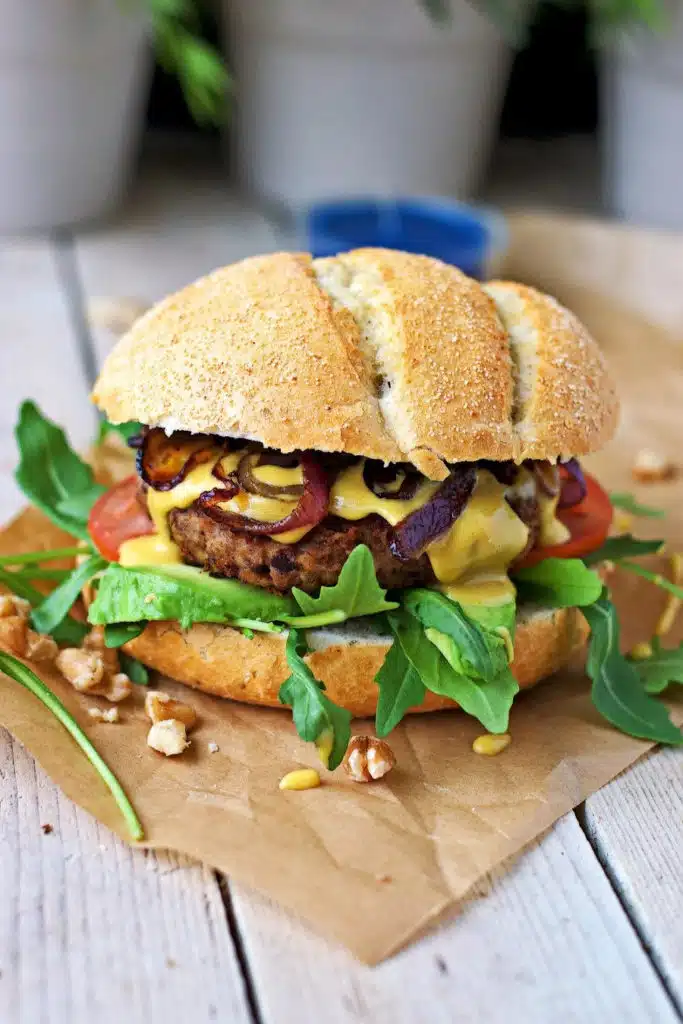 One of the best things about lentil recipes is how diversely they can be used in the kitchen. Here, by combining them with a few other ingredients, you can mash them up to make delicious vegan lentil burgers.
Fry off some red onion to lay on top with other toppings of your choice, and you have something that tastes really meaty despite being 100% vegan.
Canned lentils should be used here, and be sure you have some sort of blender to blitz the burger ingredients up in. An immersion blender can work, but a food processor gets the job done a lot quicker.
I've used the same recipe to make lentil meatballs – just roll the mixture into meatballs using the palm of your hand and bake or fry in the same way. Top with a yummy tomato sauce!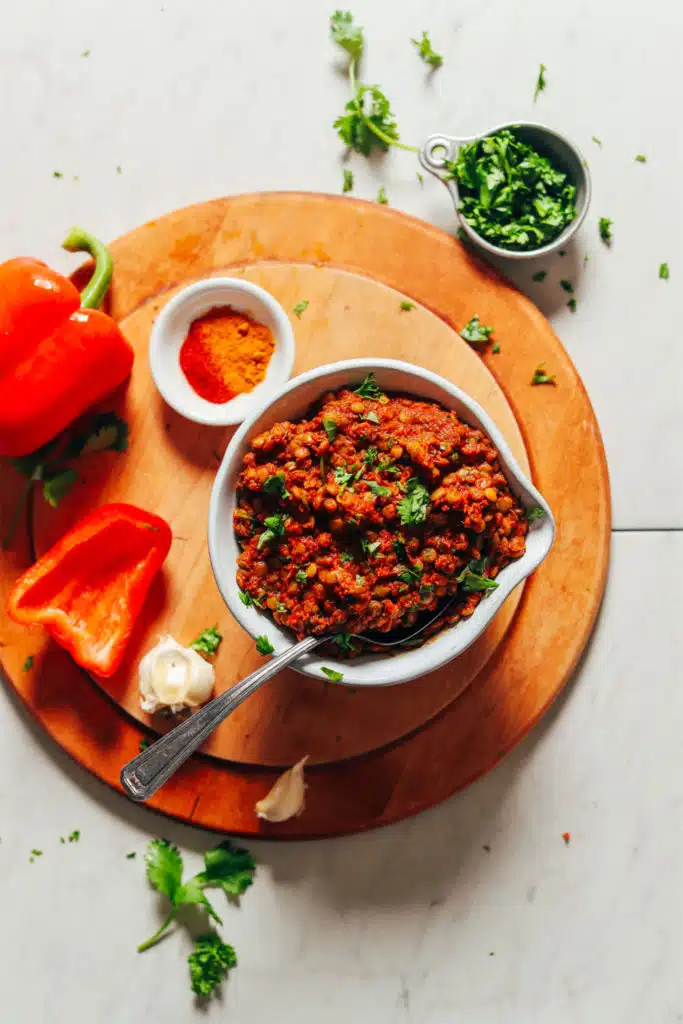 Lentils and Moroccan spices go together perfectly as this pulse is a core part of the cuisine in North Africa.
For a different kind of lentil, I prefer to use green lentils here – canned or dry, the choice is up to you. The rest of the ingredients are easy to get your hands on, and you might have the majority of ground spices in your kitchen already.
It may seem like something you add at the end to look fancy, but the fresh cilantro is an absolute must to give it some extra flavor. I also like adding a splash of lemon juice just to elevate the lentil dish to the next level.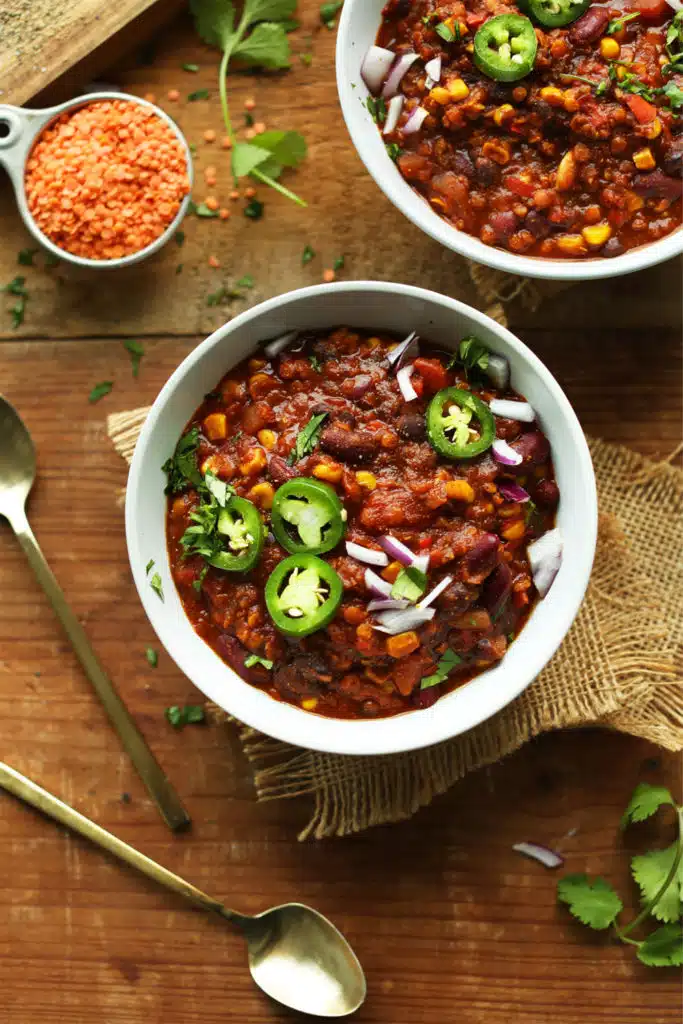 Yes, another Minimalist Baker recipe, but it's too good to pass up!
What I like about this particular lentil recipe is you cook lentils and the other ingredients all in one pot. You sautee the onions, pepper, and garlic in the pot before adding your spices, chili powder blend, and other ingredients. Speaking of which, everything is super healthy here – you get loads of veg and pulses, so it's a proper nutritious meal.
Also, this chili keeps well and can be frozen, so it's the perfect meal prep idea if you make multiple portions in one go.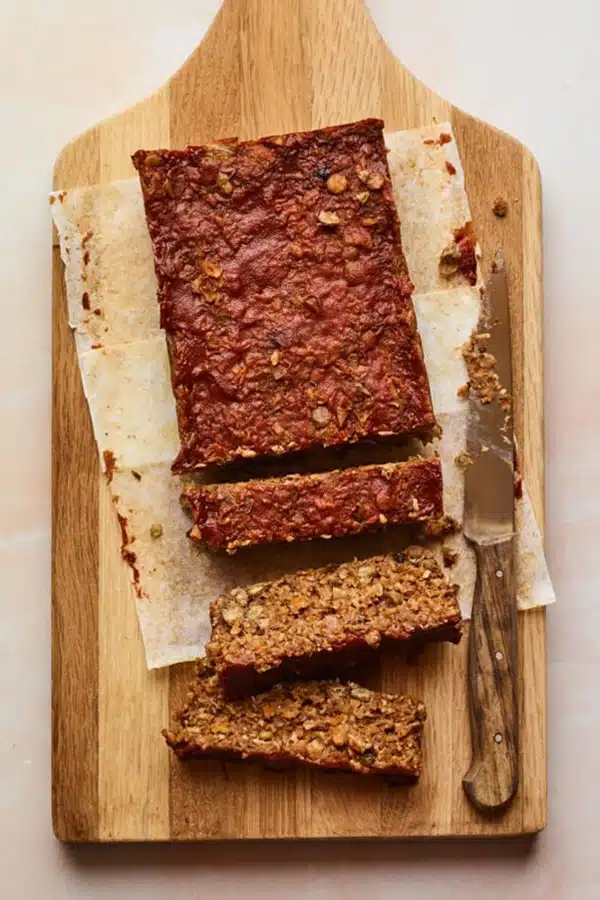 It's funny how foods that often divide opinion can be made much tastier when veganized! This vegan lentil loaf is a meat-free alternative to meatloaf that's way better than the real thing.
The ingredients list isn't super long, and the end result has such a fantastic taste and texture. One highlight for me is the glaze that goes around the outside as it is free from refined sugars, making it an ideal low-sugar recipe to try out.
Serve this loaf with whatever you like, and any leftovers can be stored in the fridge or freezer.
I hope you've enjoyed this roundup of the best vegan lentil recipes, not including any lentil soup! Most are gluten free. If you want to cut down on your meat consumption, these ideas are perfect to help you get more veg into your diet.
Leave me your comments below – I'm excited to hear which of these vegan lentil recipes you try and like the most. Of course, links to all recipes are found throughout the post, but please let me know if you have any issues clicking them.