Think vegan eggplant recipes are boring? Think again. You can do so much more with an eggplant than just roast it in the oven. Eggplant is such a versatile vegetable it's often used as a meat replacement but did you know it can be used in both sweet and savory dishes?
This roundup of easy eggplant recipes hopes to show you this plant can be anything but boring and will delight all those eggplant lovers…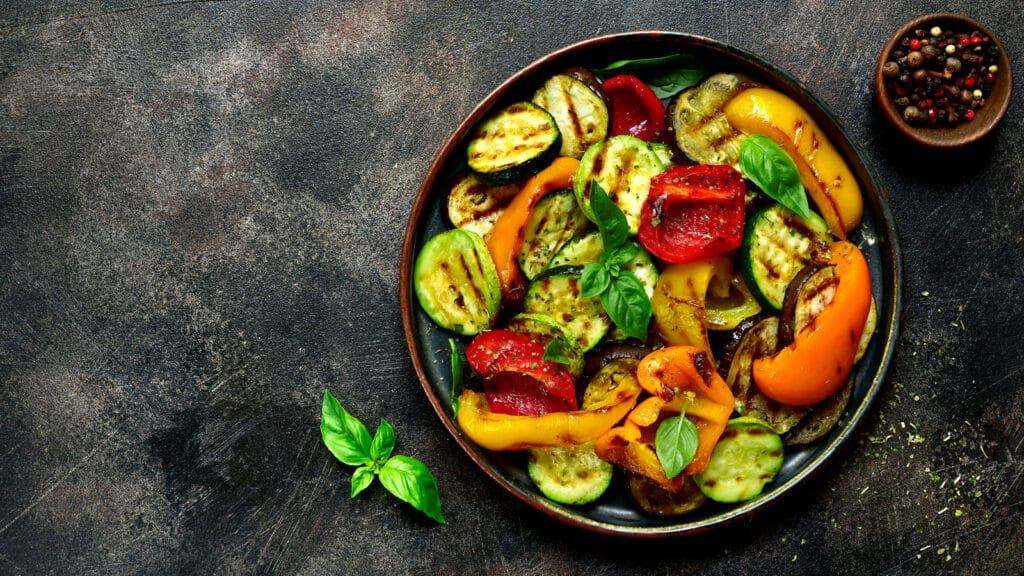 Eggplant or Aubergine
In the UK we call eggplants aubergines. It's a name borrowed from our French neighbors and you'll find this name used throughout Europe. In North America, the name eggplant is widely used. It comes from the small white variety of the vegetable which looks just like an egg!
Why Do You Soak Eggplant Before Cooking?
Eggplants can have a bitter taste if not prepared properly. It's less likely with modern varieties but you can still get a bitter eggplant that's been sitting around in the grocery store for too long.
To prevent this bitter taste, slice the eggplant into rounds about half an inch thick. Sprinkle each side of the eggplant slices liberally with sea salt and arrange around a colander in a single layer. Let the sliced eggplant rest for about 15 minutes, then rinse the salt off and pat dry with clean paper towels.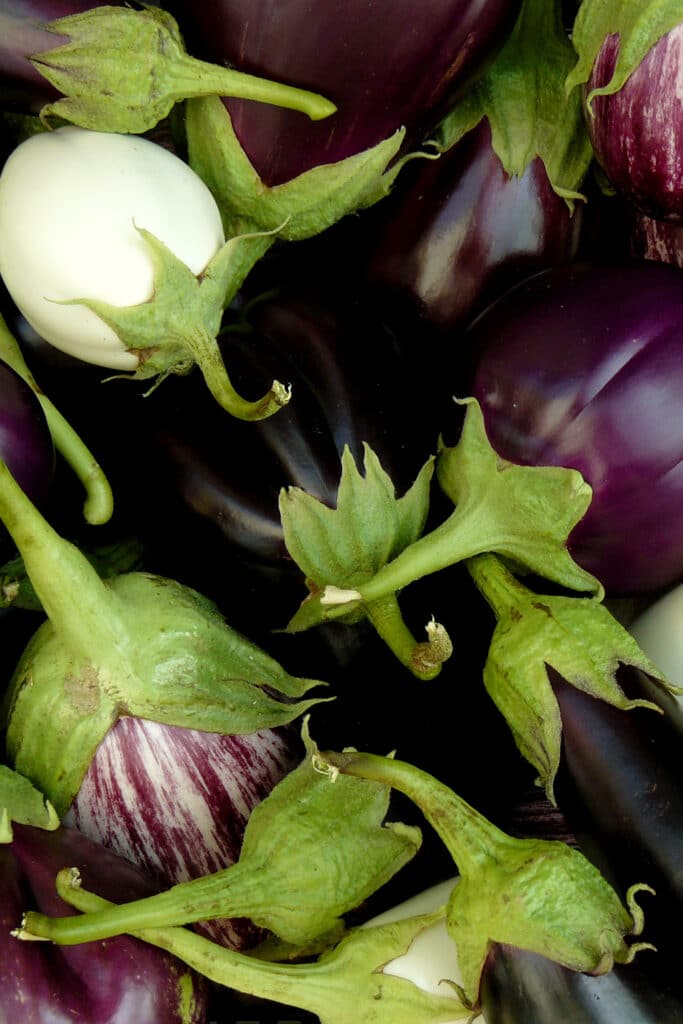 Are Eggplants Poisonous?
Eggplants come from the nightshade family which also includes tomatoes, potatoes, and peppers. These vegetables all contain a compound called solanine. It's solanine that gives these vegetables their slightly bitter taste.
Solanine is actually toxic in high doses but you would have to eat a lot of eggplants for it to do any real harm.
There's no definite evidence that nightshade vegetables are bad for your health but people with certain inflammatory and auto-immune conditions tend to avoid them. Nightshade vegetables don't cause inflammation but could aggravate an existing condition. For most people, there's no reason not to enjoy eggplants as part of a vegan diet.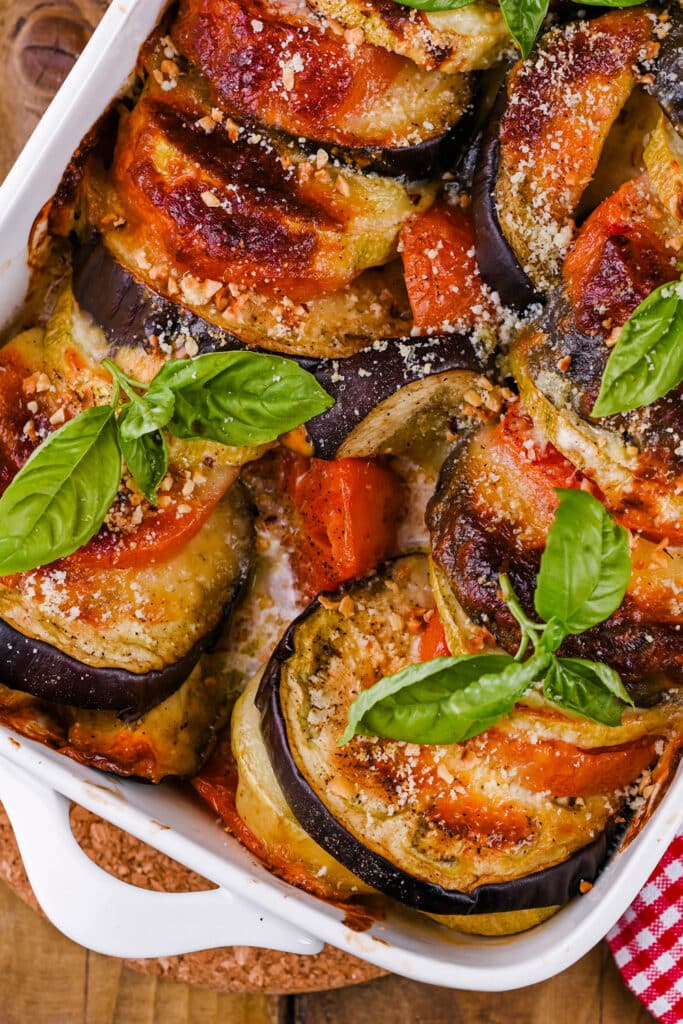 Delicious Vegan Eggplant Recipes
Eggplants are a great addition to any vegan diet or healthy eating plan. They're low in calories and high in fiber, making them a perfect weight-loss food. They're also a good source of potassium, manganese, vitamin B-complex vitamins, and antioxidants. So what are you waiting for? Get cooking!
Simple Roasted Summer Veggies
The simplest way to cook eggplant is to slice them up into half-inch slices with a selection of summer vegetables – zucchini and bell peppers work best.
Arrange on a baking sheet, season, and drizzle with olive oil. Roast in the oven until soft and golden brown and serve with a few torn basil leaves. Sometimes simplicity is best.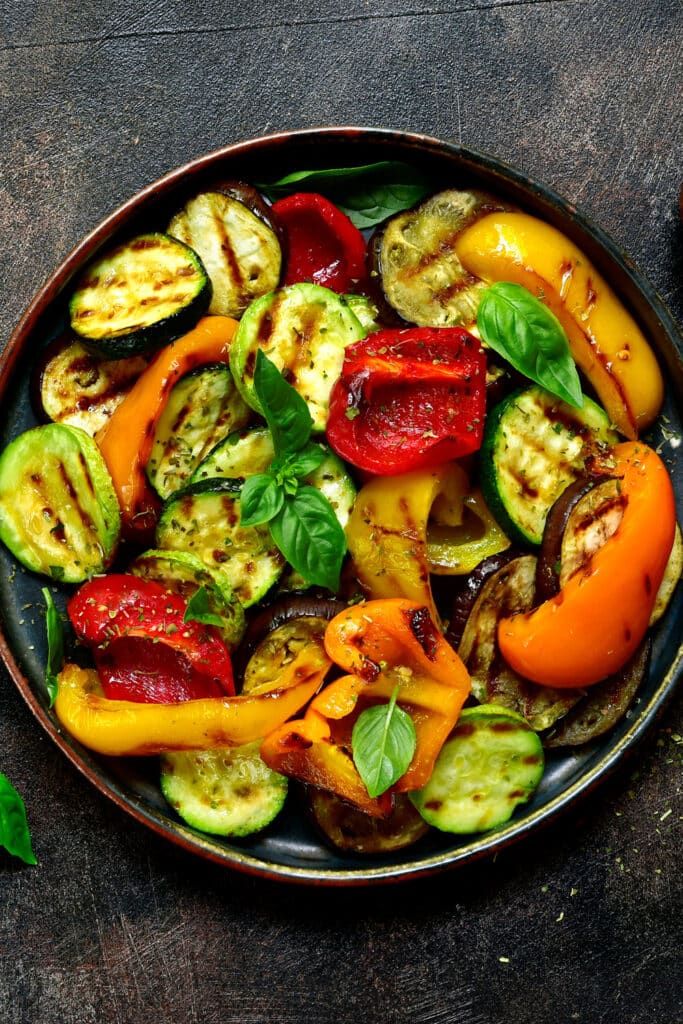 Vegan Eggplant Parmesan
If there's one recipe that will explode all your misconceptions about eggplants it's this one. Vegan Eggplant Parmesan is a dish that will make you look at the humble eggplant in a completely different way.
It's a dairy and egg-free twist of a traditional Italian recipe. Roasted eggplant in bread crumbs topped with a fresh tomato sauce. This recipe uses vegan parmesan cheese which tastes and smells exactly like the real deal but without all those unhealthy saturated fats.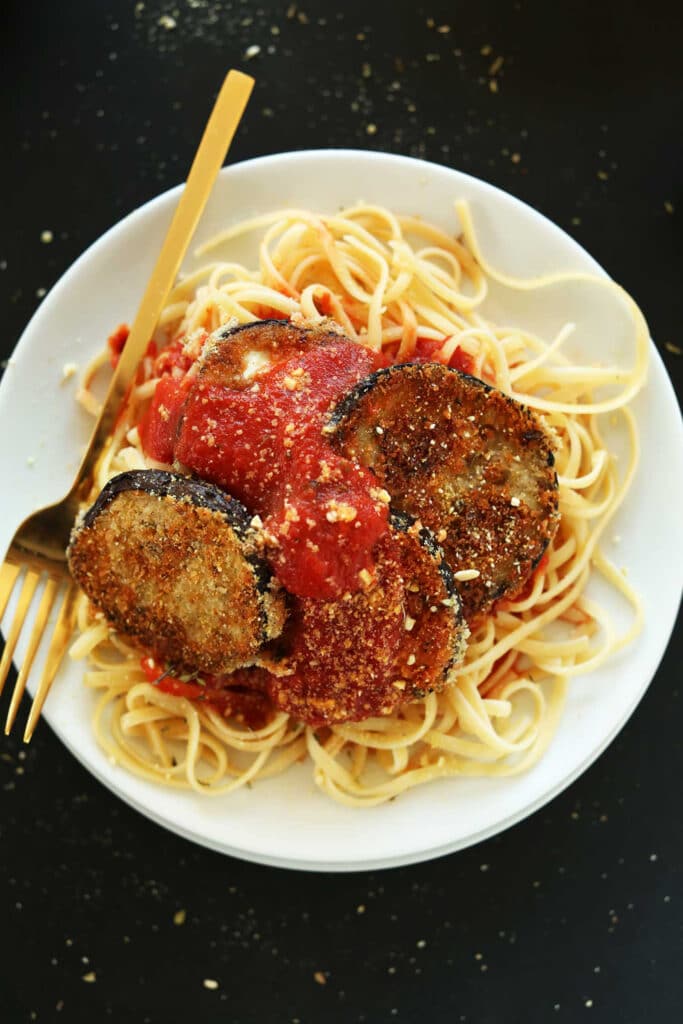 Full recipe on Minimalist Baker
Chargrilled Aubergine (Eggplant) With Carrot Top Pesto
Next time someone fires up the barbeque, don't be dismayed. This delicious recipe won't leave you feeling left out in a crowd of meat-eaters.
Carrot tops and fresh pesto make this vegan dish sing!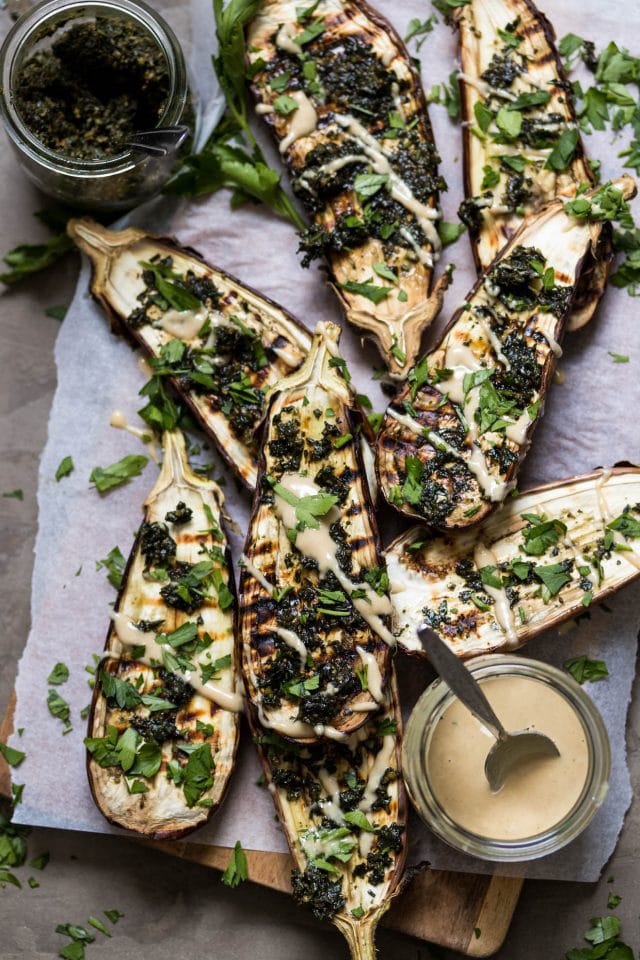 Full recipe on Lauren Caris Cooks
Quinoa Stuffed Eggplant with Tahini Sauce
This baked eggplant recipe uses simple ingredients, mushrooms, whole tomatoes, and cooked quinoa drizzled with tahini.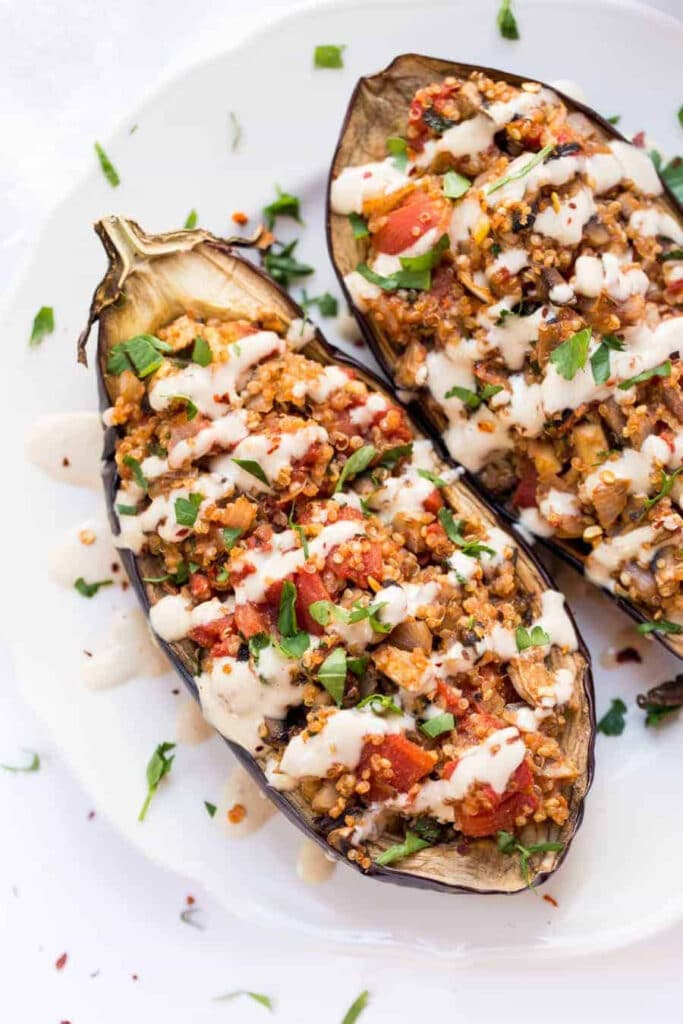 Full recipe on Simply Quinoa
Baked Eggplant Parmesan Crisps
Did I tell you eggplant was versatile? It makes amazing crisps! This recipe uses far less oil than traditional crisps – just a spritz of cooking spray before placing the baking sheet loaded with the eggplant chips in the oven.
Flavored with Italian seasoning, I like to eat mine sprinkled with vegan cheese and dipped in fresh tomato sauce.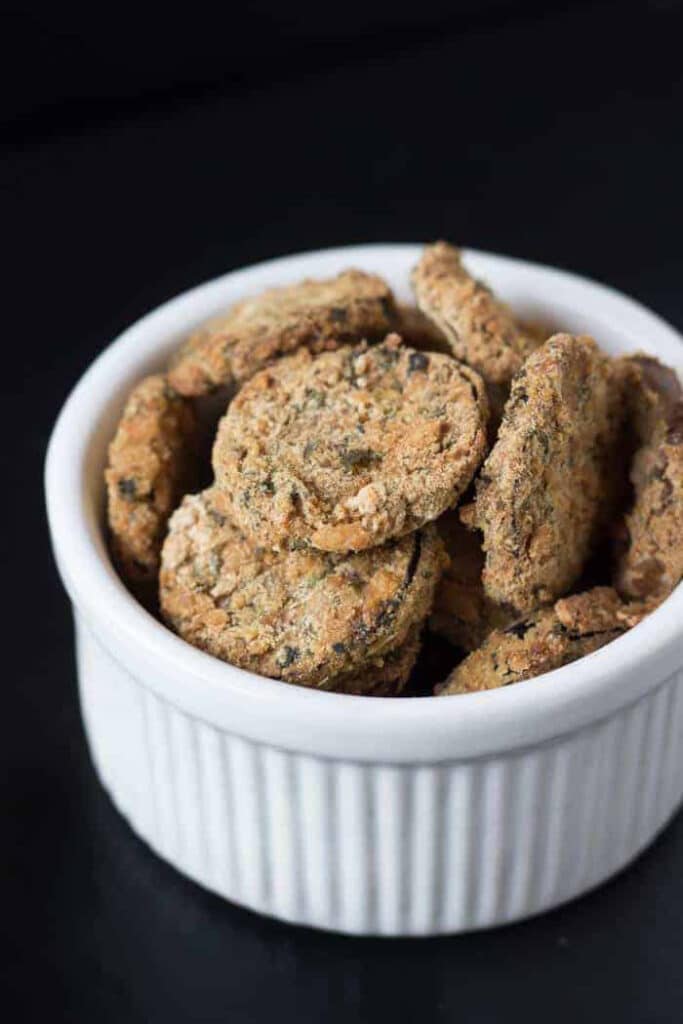 Full recipe on Simply Quinoa
Eggplant Puttanesca
This eggplant pasta supper is a rustic combination of onion and eggplant sauteed in a little olive oil with olives, capers, and red pepper flakes for a flavorful dish.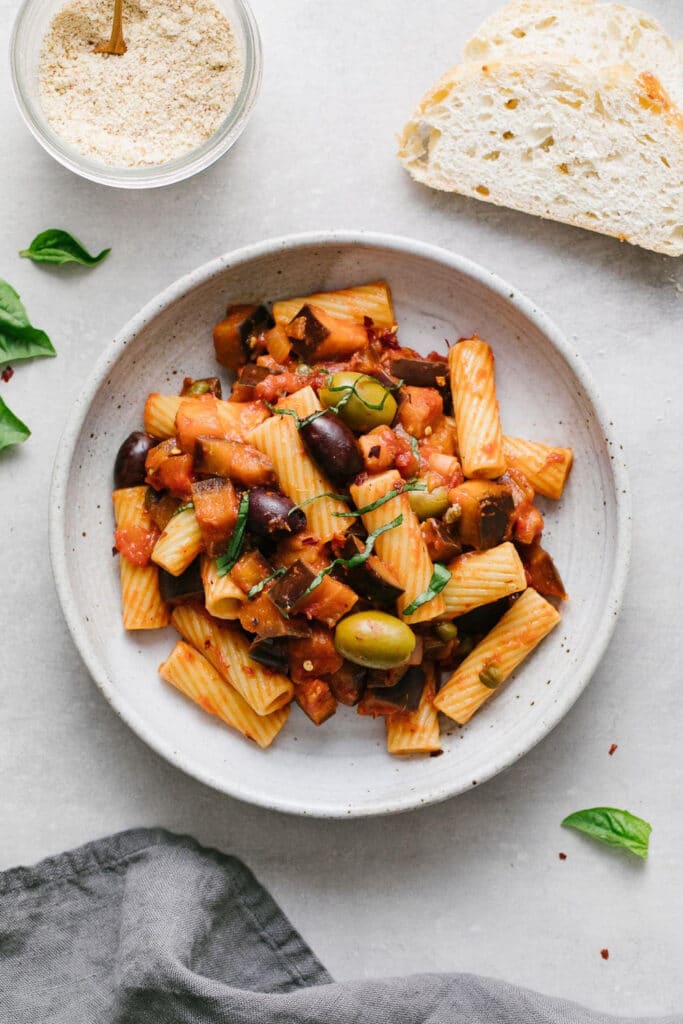 Full recipe on The Simple Veganista
Chickpea Ratatouille
Ratatouille is traditionally a side dish combining eggplants, big juicy tomatoes, bell peppers, and zucchini. Adding chickpeas provides protein and elevates this vegan meal to the main dish.
Garlic cloves and fresh herbs add depth to this delicious food. I like to serve mine with a chunk of wholemeal bread.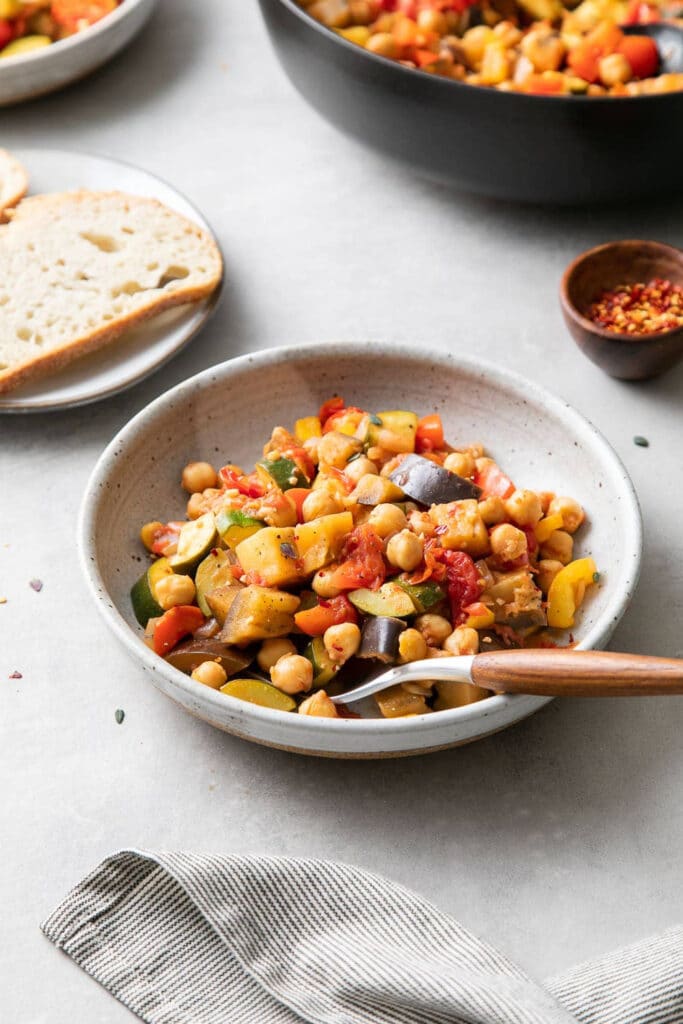 Full recipe on The Simple Veganista
Authentic Baba Ganoush Recipe
Baba Ganoush is a wonderful eggplant dip made from just 5 ingredients – eggplant, tahini paste, garlic, lemon juice, and salt. Authentically this dish is cooked over a wood-burning fire but there are two easy alternatives to add the traditional smoky flavor to the dish.
Serve with olives and lightly toasted pita bread.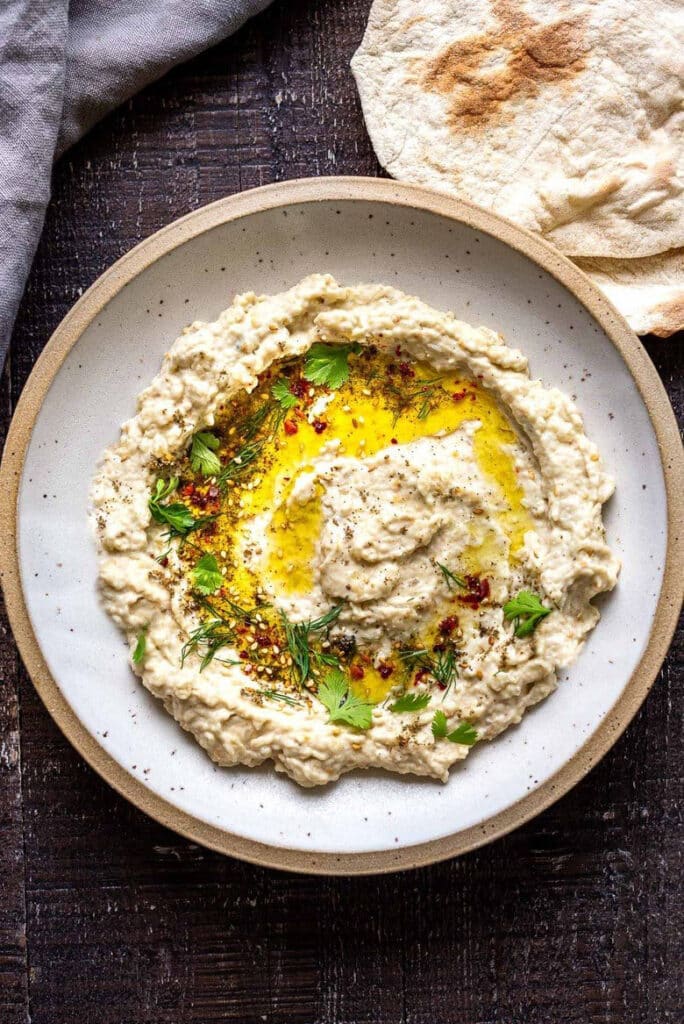 Full recipe on Feasting At Home
Grilled Eggplant
A simple supper dish, grilled eggplant can be a meal on its own dribbled with a tasty sauce. Take it to the next level, (or not), with a herbed couscous topping.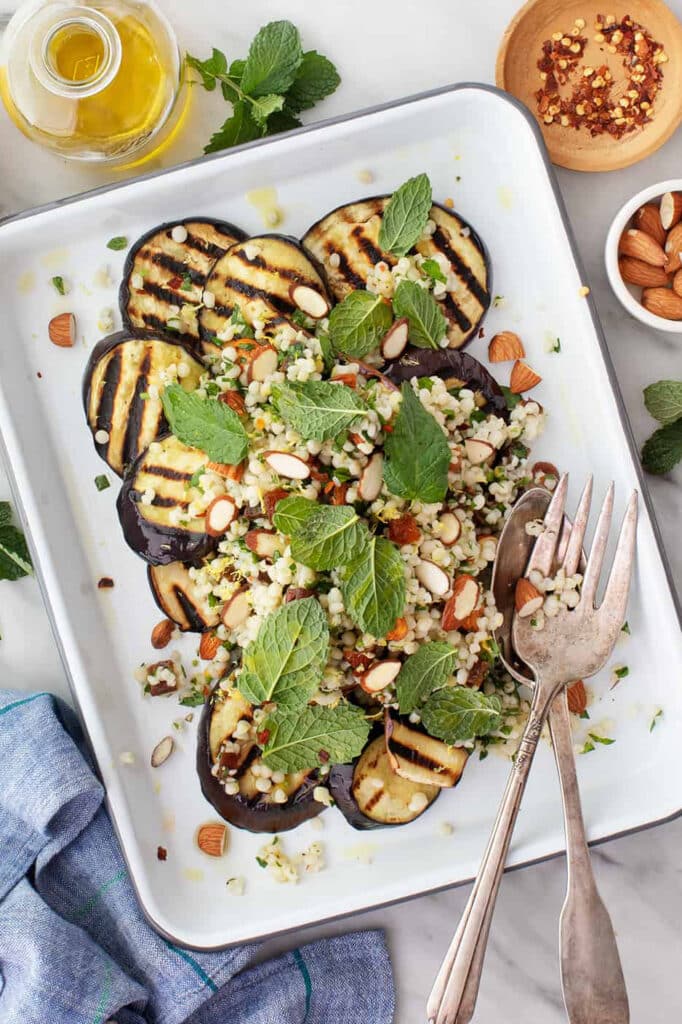 Full recipe on Love & Lemons
Almond-Crusted Baked Eggplant
These baked slices of eggplant are shaped like crisps and covered in an almond crust. Top with marinara sauce and it's a bit like eating mini cheeseless pizzas!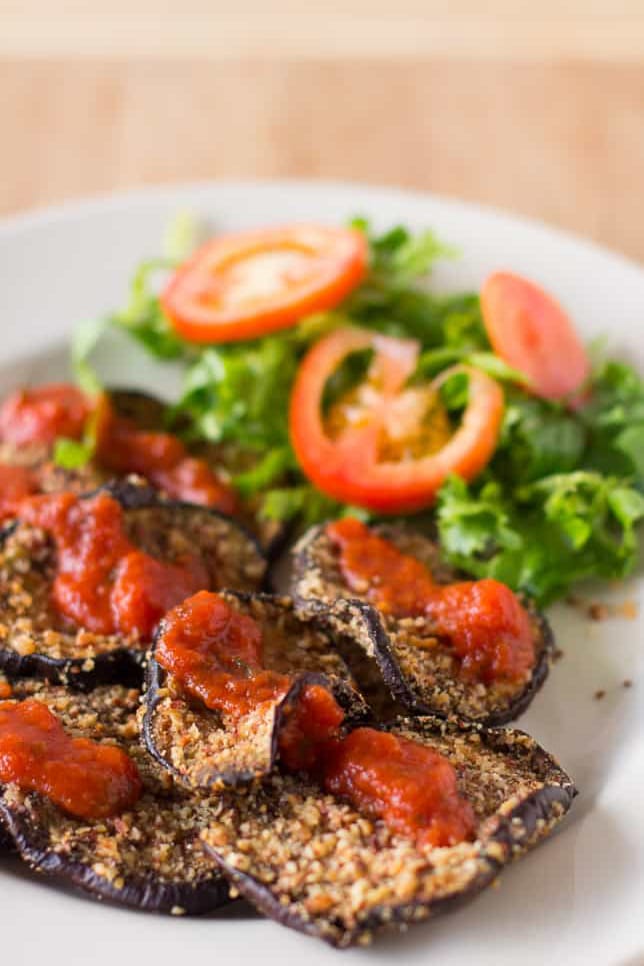 Full recipe on Jessica in the Kitchen
Spicy Couscous Stuffed Baby Eggplants
This cute baby eggplant dish makes a wonderful appetizer. Filled with spicy tomato-based couscous and drizzled with a simple cashew sauce, it should win over even die-hard eggplant skeptics.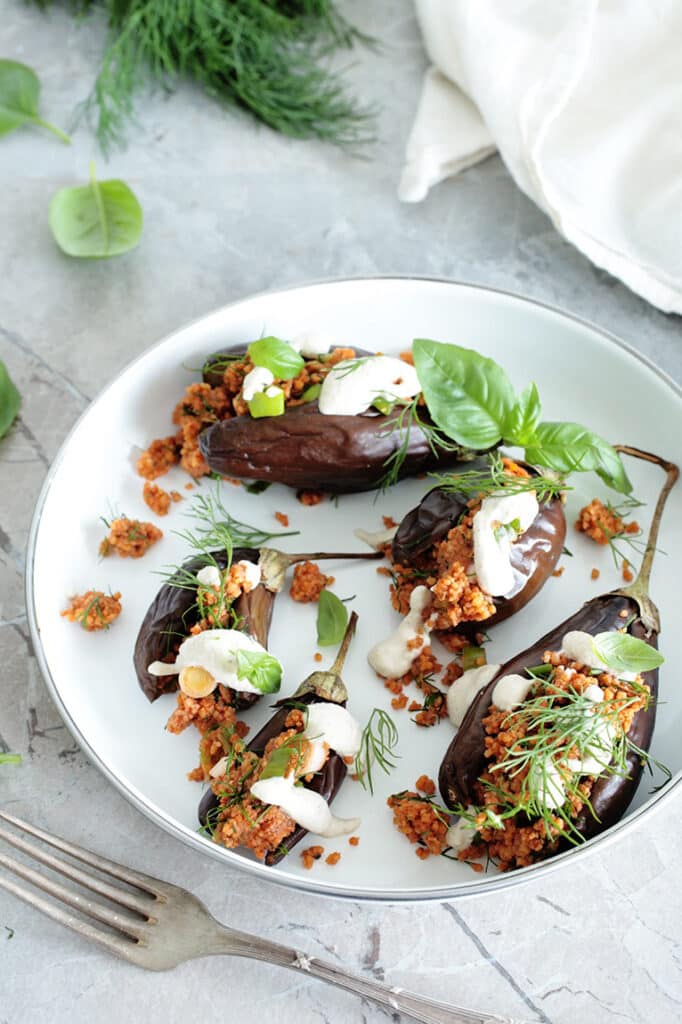 Full recipe on Green Evi
Harissa Eggplant and Carrot Salad
The sweetness of the roasted eggplants and carrots is enhanced by the spicy harissa in this easy dinner recipe. When you roast the vegetables in your sheet pan double up the quantities – it's time-saving meal prep for later in the week!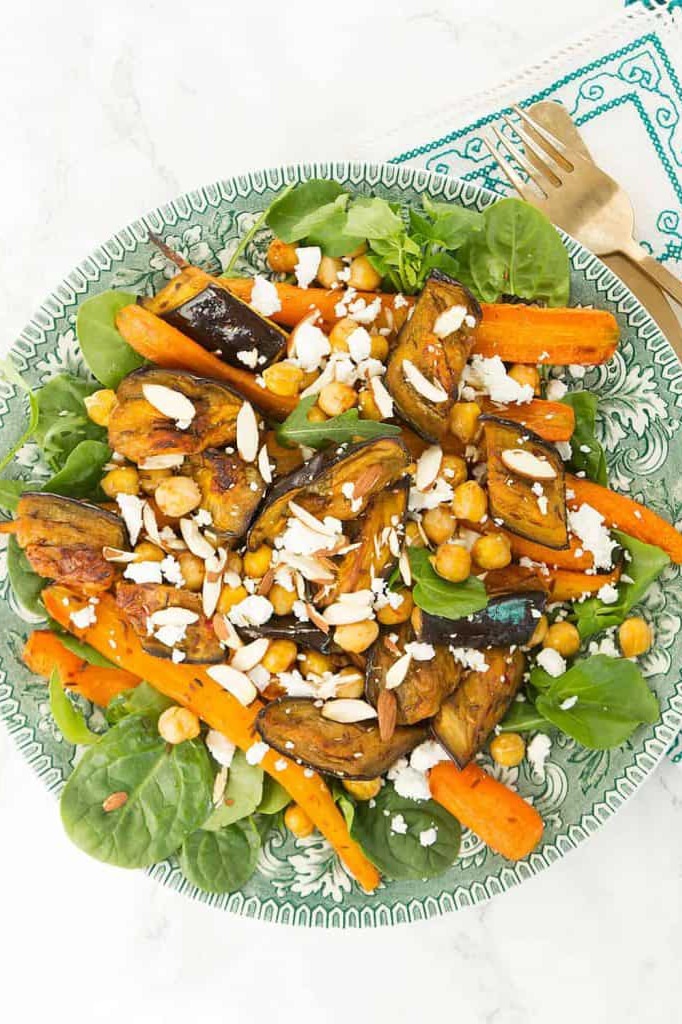 Full recipe on The Clever Meal
Grilled Eggplant Salad with Chickpeas & Tomatoes
Sliced lengthways eggplants cook quickly on the grill. Brush each side with a little oil, and dust with salt and pepper to get a lovely chargrilled texture.
Chop up and mix with chickpeas, cherry tomatoes, and pine nuts for a colorful summer salad.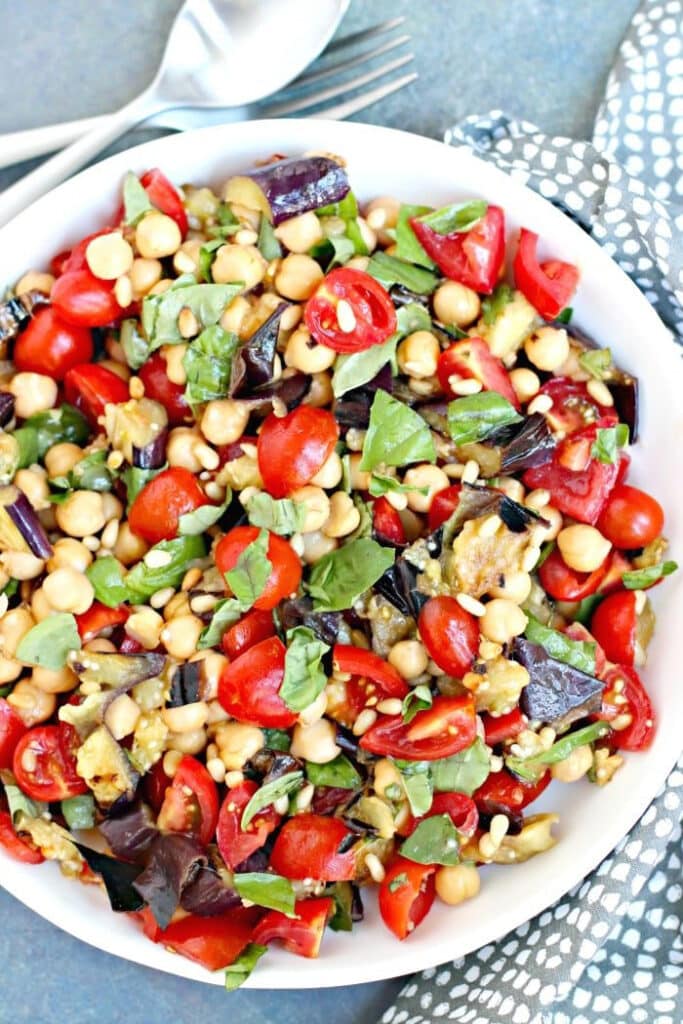 Full recipe on Veggies Save The Day
Garden Veggie Pasta
Take inspiration from the garden or take a trip to your local farmers market. This is one of my favorite kinds of pasta – a true taste of summer!
Balsalmic vinegar brings out the full flavor of the veggies. Top with fresh basil leaves and a sprinkle of vegan parmesan.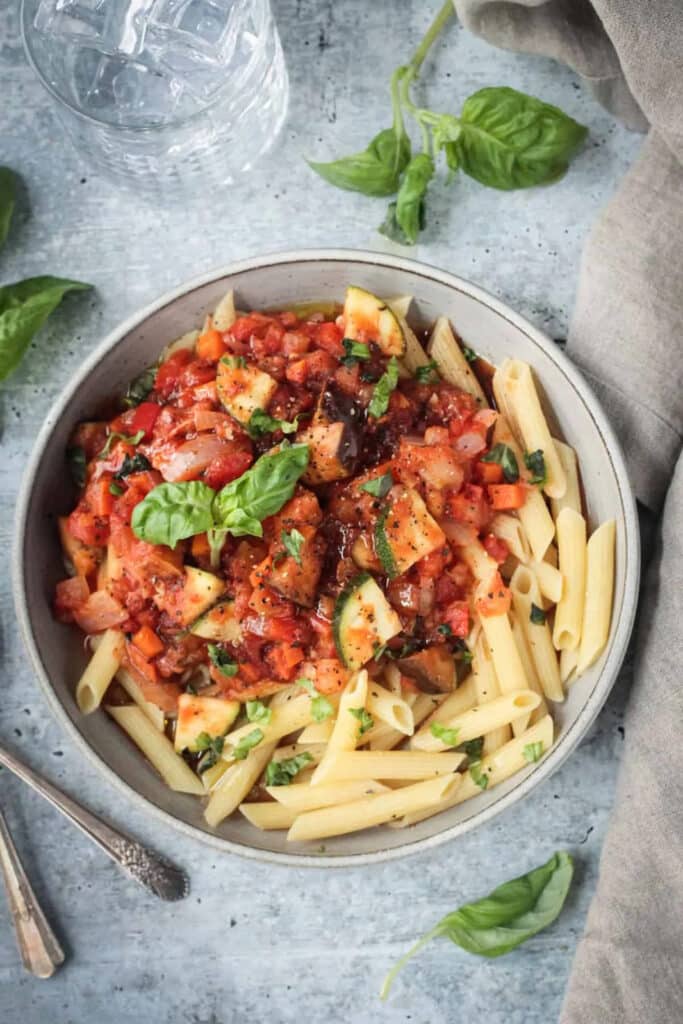 Full recipe on Veggie Inspired
Eggplant Curry With Cucumber Mint Raita
Any decent list of vegan recipes needs at least one curry dish. This one will satisfy anyone looking for a hit of spices!
Curry powder, mustard seeds, cumin, and coriander provide a great base for roasted eggplant. A well-stocked spice cupboard should have all the ingredients to hand.
Making the cucumber mint raita with vegan yogurt is optional but its cool fresh taste offsets the heat of the eggplant dish. A perfect combination!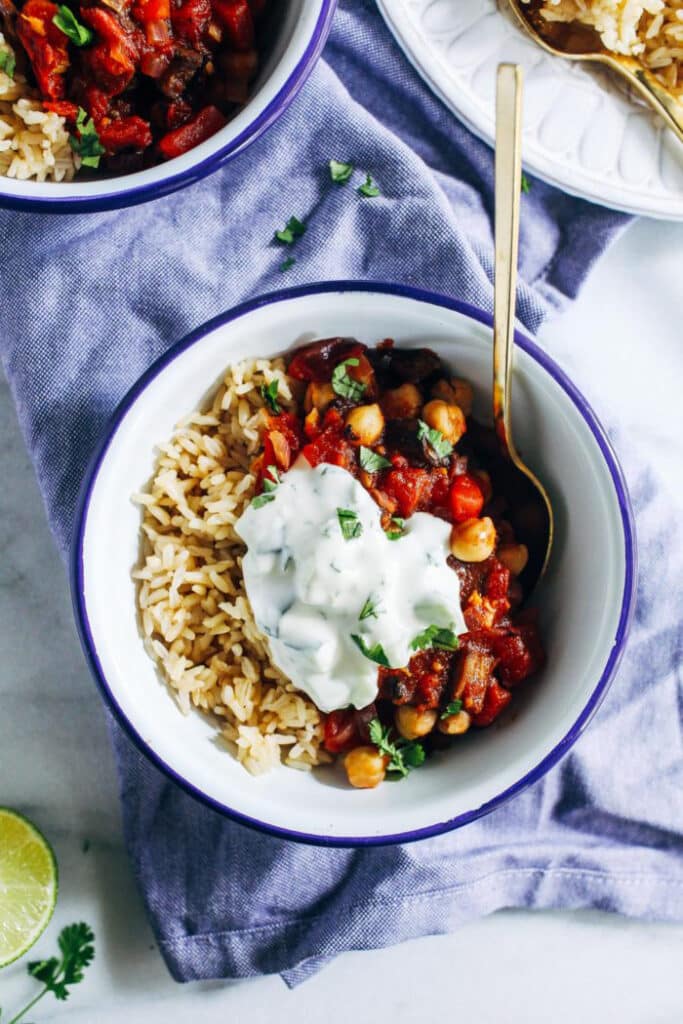 Full recipe on Making Thyme For Health
So there you have it – a few recipes to get you started with vegan eggplant dishes. This vegetable is so versatile, there are endless possibilities when it comes to cooking up a healthy and delicious meal. Whether you roast it, bake it, cook it on the grill pan, spice it up, or serve it as a simple supper pasta dish – I hope you'll give one of these recipes a try!
If you've enjoyed these healthy recipes you may want to try my other vegan recipe ideas: