Looking for vegan chickpea burger recipes? You're going to love these! I round up some of the best recipes and fillings plus take a deep dive into what makes terrific vegan burgers.
Chickpeas are a great source of protein, and they make a delicious and satisfying burger patty. But you have to get the patty just right. Not too moist – you don't want a patty that sticks to the back of your throat and disintegrates into something resembling baby food.
Too dry and your veggie burger becomes one big mouthful of stodge. But when you get it right, these chickpea patties are a thing of beauty!
In this post, I'll share some of my favorite recipes for vegan chickpea burgers, as well as tips for the best fillings and favorite toppings. Eat better with these healthy eating chickpea burgers!
The Secret Behind The Best Chickpea Veggie Burgers
I find I get the best results when I pan-fry the patties first for a few minutes on each side, then bake them in the oven.
Pan-frying the patties first will give them a lovely golden color and crispy texture on the outside. Baking them for about another 15 minutes finishes off cooking the patties throughout without drying out too much or the patties falling apart.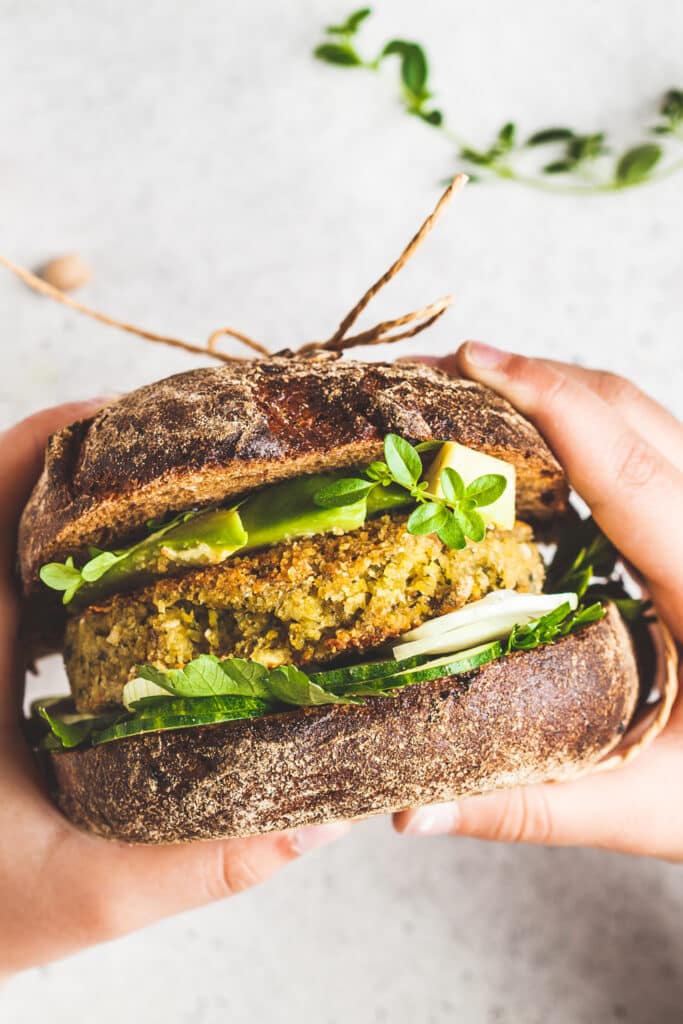 How Do You Keep Chickpea Burgers From Falling Apart?
The main complaint about the homemade veggie burger – they fall apart. Eating them becomes a huge challenge with most of the burger ending up in your lap!
The trick is to use a recipe with some sticky ingredients. A vegan egg replacer such as flax egg will help bind the ingredients together and sticky ingredients such as nut butter, tahini, tomato paste, or even mashed sweet potatoes work well.
Another way to help keep your vegan chickpea burgers from falling apart is to form them into smaller patties. This will help them cook evenly and hold their shape a bit better.
Are Garbanzo Beans and Chickpeas The Same Thing?
Yes, garbanzo beans and chickpeas are the same. Garbanzo is the Spanish-derived name for chickpeas.
What's The Difference Between Chickpea Burgers and Falafel?
Very little. Falafel is a traditional chickpea patty street food originating from the Middle East. The patty is usually deep-fried.
Chickpea burgers are a bit more Americanized and usually pan-fried instead of deep-fried. They also typically contain some type of binding ingredients such as an egg replacer or nut butter, whereas falafel uses tahini, a paste made from sesame seeds.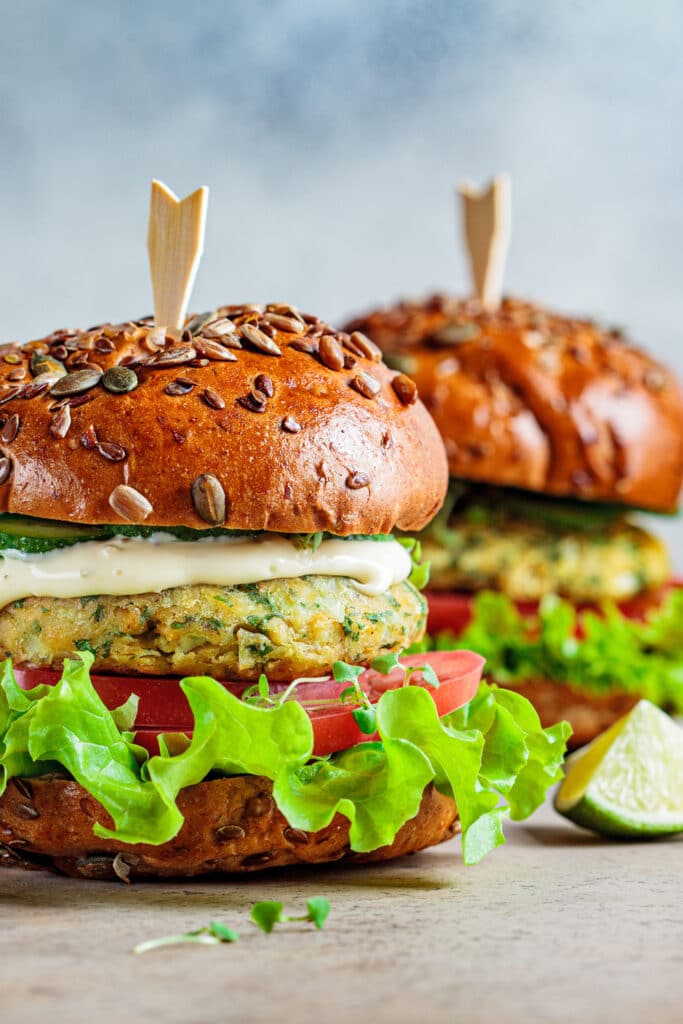 Vegan Chickpea Burgers Recipes
These are some of the best veggie burger recipes I've found, elevating the humble vegan chickpea patties to something special.
Sun-Dried Tomato Chickpea Burgers
This recipe uses dried chickpeas instead of tinned chickpeas for a more authentic flavor but cleverly prepares them in just one hour using a method borrowed from the Kitchn. (Usually dried chickpeas need to be soaked overnight before use).
After mixing all the ingredients together in a food processor, the patties are cooked in a large skillet over medium heat or medium-high heat until golden brown on both sides. If you haven't got a food processor you can always mix the ingredients together in a large bowl using a potato masher. Add your favorite toppings. A slice of red onion, fresh herbs, and bbq sauce work well. The sun-dried tomato in the burgers gives a lovely sweetness and savory depth of flavor.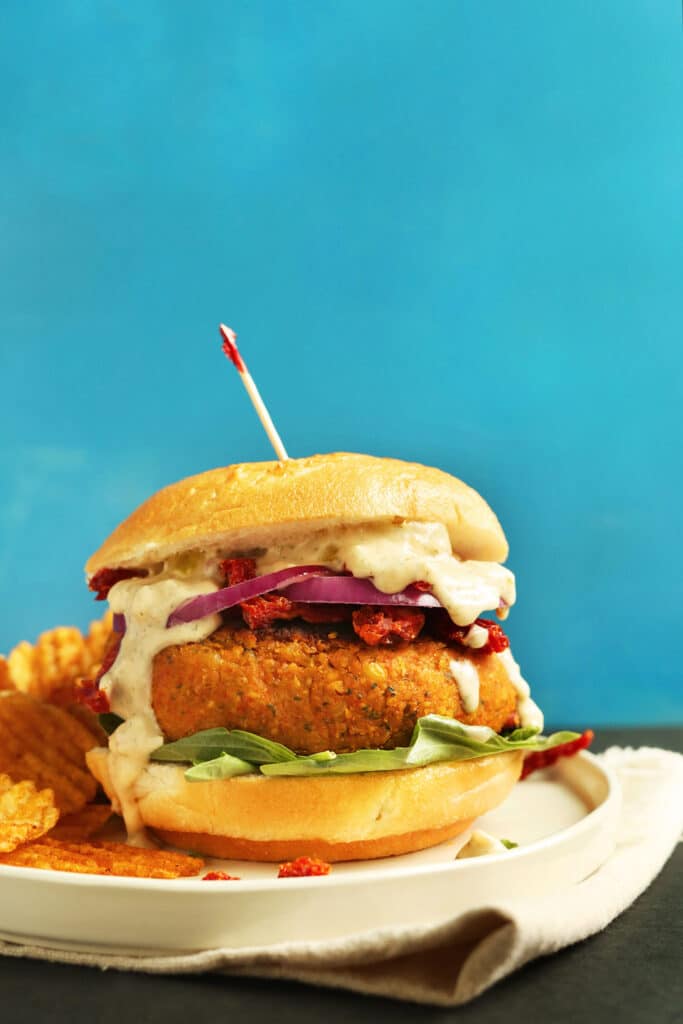 Full recipe on Minimalist Baker
Curried Chickpea & Carrot Burgers
Some veggie patties can be a little bland but not this recipe! The main ingredient is still chickpeas but this healthy recipe combines whole grains of quick oats with shredded carrots and lots of spices to deliver some big flavors.
Top with vegan mayo, green onion, and fresh parsley for a winning combination.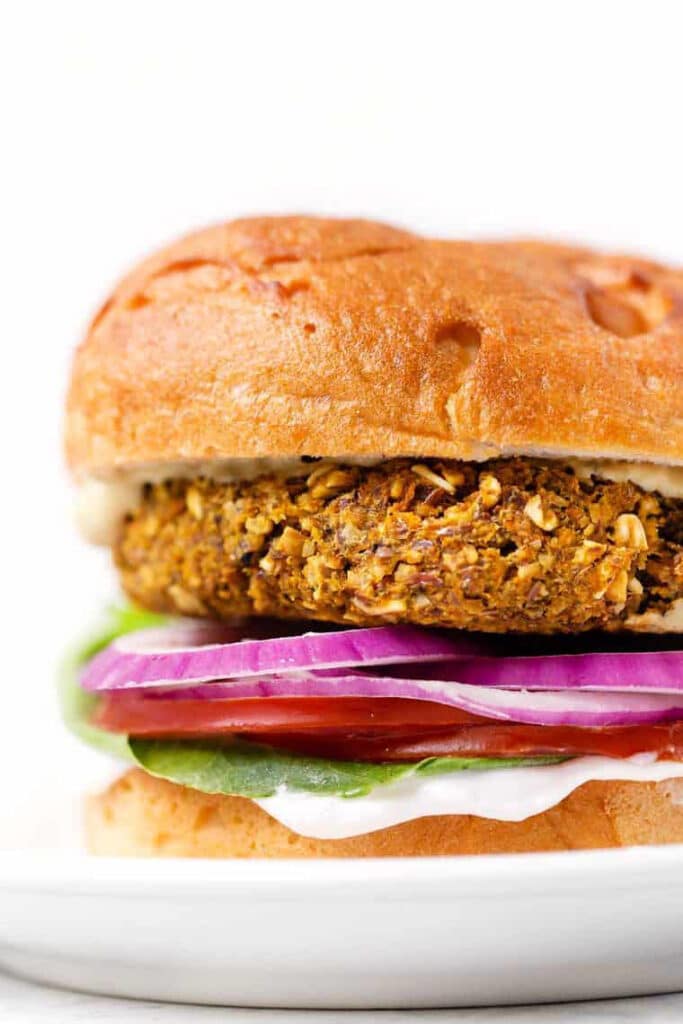 Full recipe on Simply Quinoa
Falafel Burgers
This is a great chickpea patty recipe, I just don't think you can call them falafels. They're just too big and the patty mixture is a little Americanized with the added carrot. That doesn't stop them from being a delicious plant-based recipe!
The recipe makes 8 burgers – that's too much to cook in one go. Pan-fry the first four burgers in a bit of oil and place patties on parchment paper to rest while you cook the remainder. These vegan recipes are great for meal prep. You store the leftover patties in an airtight container and use them later in the week.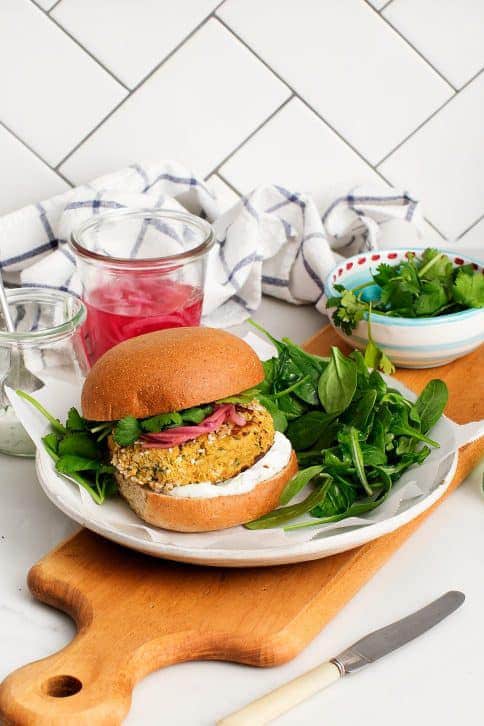 Full recipe on Love & Lemons
Vegan Chickpea & Quinoa Burger
Delicious in whole grain burger buns, this amazing vegan burger will appeal to the whole family. Adding quinoa to the rest of the ingredients gives a really satisfying texture – and packs a high protein punch. Baked in the oven, it's a flavorful veggie burger with a real crunch.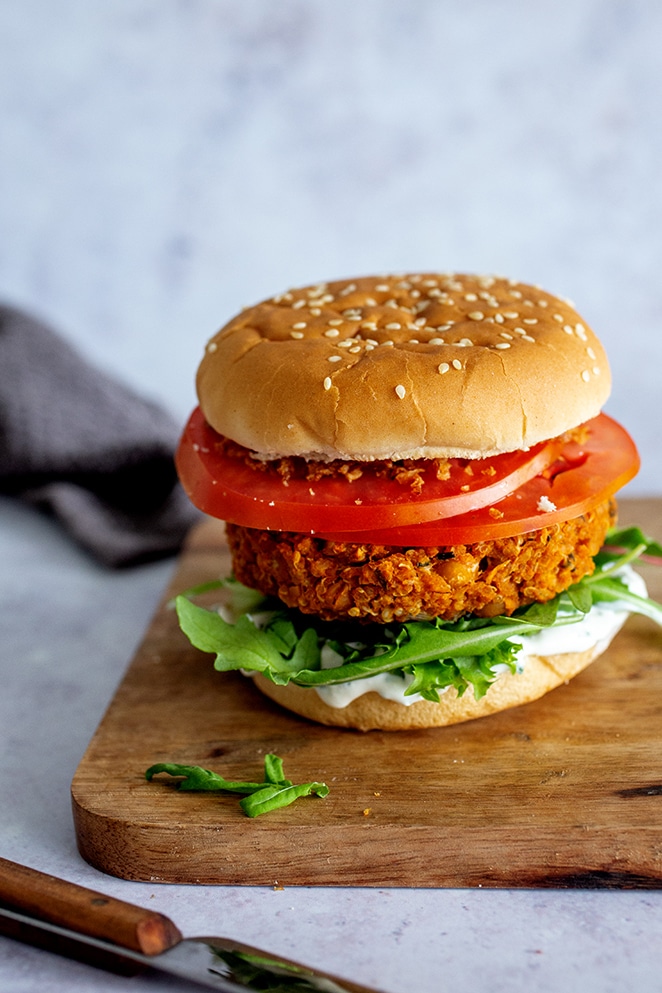 Full recipe on Green Evi
The Best Fillings For Vegan Chickpea Burgers
No vegan chickpea burger is complete without a good selection of fillings. Even the best vegan patties can be a little on the dry side, so it's important to add toppings with a range of flavors and textures.
Here are some of my favorites:
Roasted red pepper hummus
Guacamole
Sliced avocado
Vegan mayo
Barbecue sauce
Crisp lettuce
Slice of beefsteak tomato
Pickled onions or beetroot
Grated carrot or zucchini
Vegan tzatziki sauce
Sliced red onion
Fresh parsley or cilantro leaves
Hot sauce (such as sriracha)
Which is your favorite vegan chickpea burger recipe? Let me know in the comments below!
If you've enjoyed these healthy recipes you may want to try my other vegan recipe ideas: