Vegan or not, flax seeds are a great addition to any diet. They're high in protein, fiber, and omega 3 fatty acids, all important for maintaining a healthy lifestyle. These vegan flax seed recipes are a tasty way to add this superfood to your diet.
Flax seeds are extremely versatile. Ground flaxseed is used to make flax eggs, an egg substitute you can use for baking. I always love how well they work in my favorite vegan muffins.
Known to reduce cholesterol and blood pressure levels, it's a good idea to add one to two tablespoons a day to your daily diet. I normally add mine to my breakfast oatmeal or smoothies. Both are great ways to add a lot of nutrients quickly, without changing your regular routine too much.
The following vegan recipes will inspire you to eat more of this powerhouse ingredient and create delicious dishes that please everyone at the table!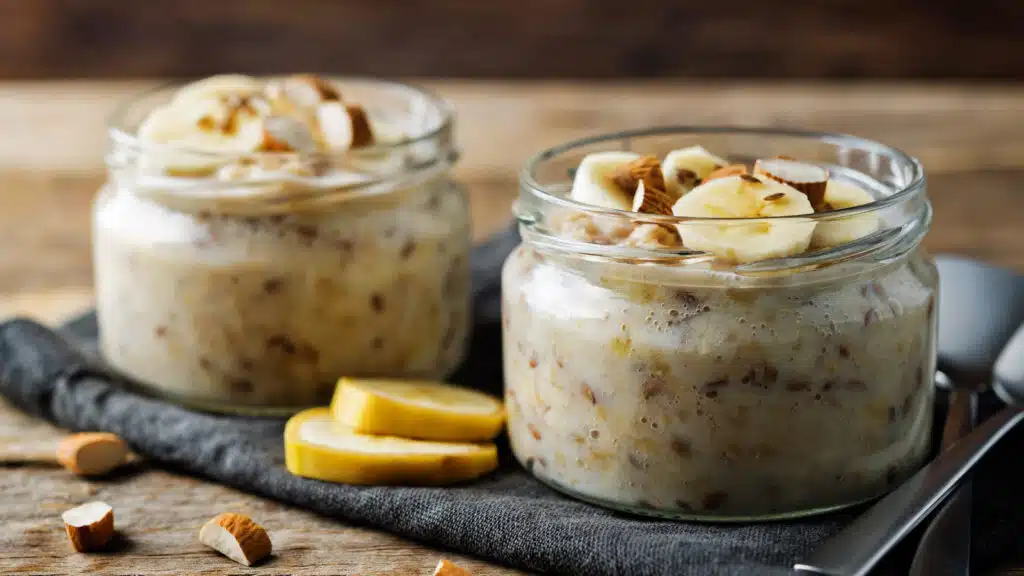 Flax Seeds Or Ground Flaxseed – What's The Difference?
The main difference between using whole flax seeds or ground flaxseed is that whole flax seeds may pass through your digestive system undigested. Ground flaxseed is milled to make coarse flour and the nutrients are more easily absorbed by your body. Where possible I will always use ground flaxseed in recipes.
Other words for ground flaxseed are flax meal, flaxseed meal, or even ground flax!
You can find both whole and ground flaxseeds in most good grocery stores. There are two different types: brown and golden flaxseeds – both are good for you but golden flaxseed is slightly better for its higher levels of omega-3 fats.
How To Make Flaxseed Meal
Making your own flaxseed meal from whole flaxseeds is really easy. Once you have your whole seeds, you just need to grind them in a food processor or even in a coffee grinder if you're making small quantities.
I usually give the flax seeds a 30-second blast then check for any escaped seeds and give the meal a mix before repeating. You're aiming for a coarse consistency.
Once you've ground your flaxseeds, store them in an airtight container. Some people store them in the fridge but I prefer to keep mine in a cool dark cupboard.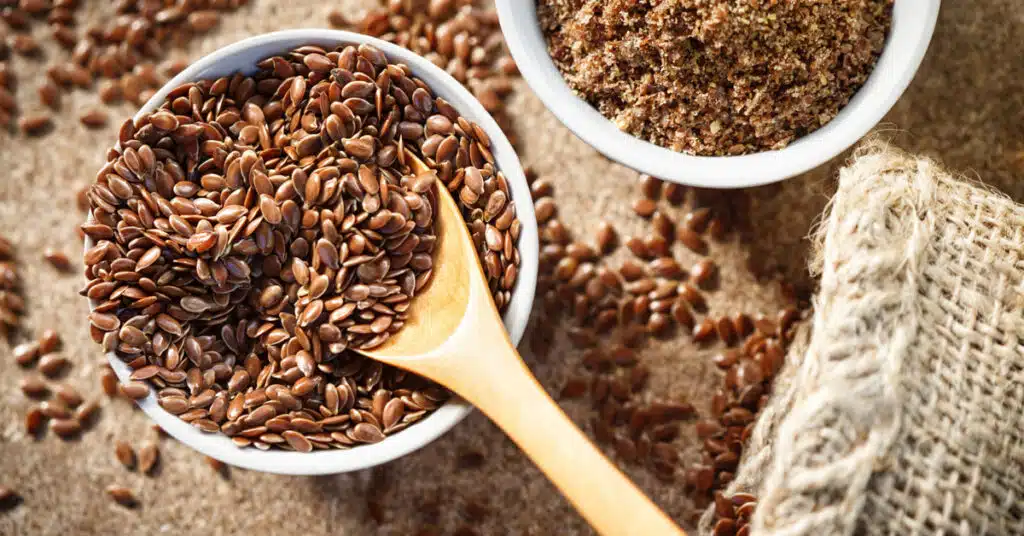 Flax Seeds Are Vegan Gluten Free
In case you're wondering, flax seeds are not just vegan, they're also naturally gluten-free. You just need to watch out for any cross-contamination if you're gluten intolerant. If you're buying ground flax seeds it should say gluten-free on the package.
Flax Seed Recipes Vegan
These tasty vegan recipes all include ground flaxseed, so they're perfect if you're looking for some inspiration on how to use this superfood ingredient.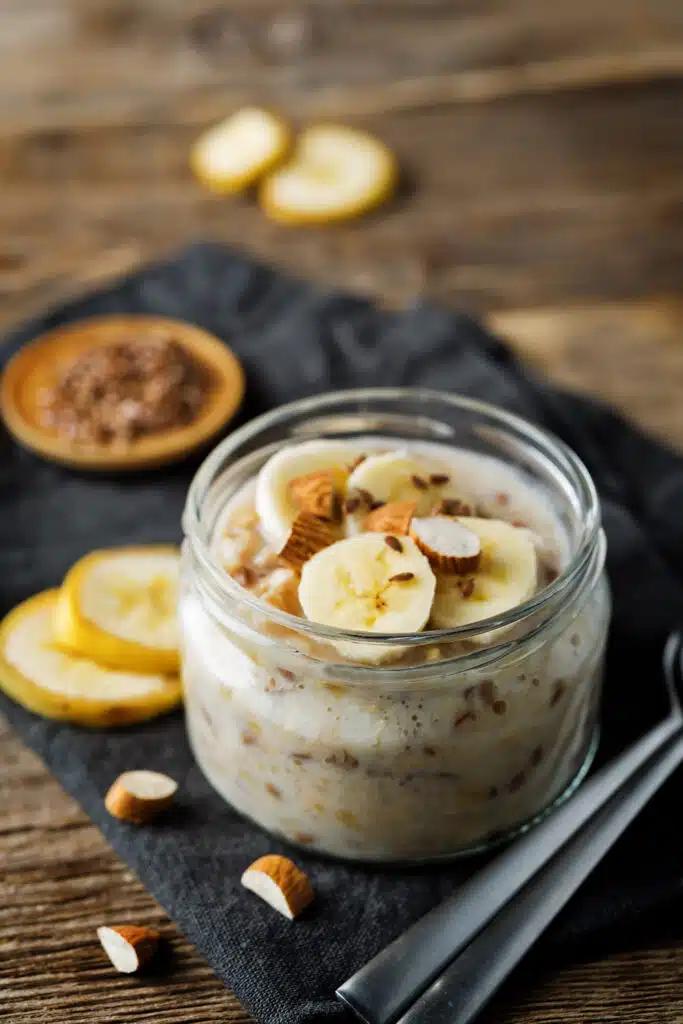 Banana Flaxseed Pudding by Love Life Be Fit
This is one of my go-to recipes for breakfast. It's an easy way to add the healthy fats of flax seeds to your diet. I find flaxseed makes a better dish than the more popular chia pudding and it has a lovely nutty flavor.
The basic ingredients are just ground flaxseeds and your favorite plant-based milk. Sometimes I add a handful of rolled oats for some extra texture.
You can play around with quantities – this is one dish where it's very hard to go wrong. I normally opt for one cup of ground flax seeds to two cups of plant milk. Mix the ingredients in a bowl, cover, and leave in the fridge overnight.
In the morning add some sliced banana, maybe a few chopped almonds, and even chocolate chips if you're feeling decadent! If you want some extra sweetness, add mashed banana or chopped-up dates to your overnight mix.
These oh so fluffy muffins come with the secret ingredient of flaxseed meal. The meal is used as a flax egg. The meal is used as a flax egg. It's a perfect alternative to regular eggs for vegan baking or egg allergy sufferers and helps bind the ingredients together.
You could use chia egg instead but I always think flaxseeds have the edge when it comes to health properties. Normally for a flax egg recipe, I whisk one tablespoon of ground flax seeds with three tablespoons of water until it's thick and foamy, but this recipe by Ambitious Kitchen just adds the flax seed meal directly to the muffin mix. It still seems to work – the result is yummy!
These muffins make a terrific grab-and-go breakfast and go down a treat for an early morning breakfast meeting!
When I found this great recipe I questioned all the times I've wasted money on energy bars for hiking and ultra races. These energy bites are so easy to make and combine all my favorite ingredients: dates, peanut butter, dark chocolate, rolled oats and of course flax seeds.
You just need to blend everything together in a food processor, roll the mixture into balls, and pop them in the fridge or freezer for 15 minutes.
If you're looking for an on-the-go snack that's vegan, gluten-free, and full of healthy fats, these are the ones to try.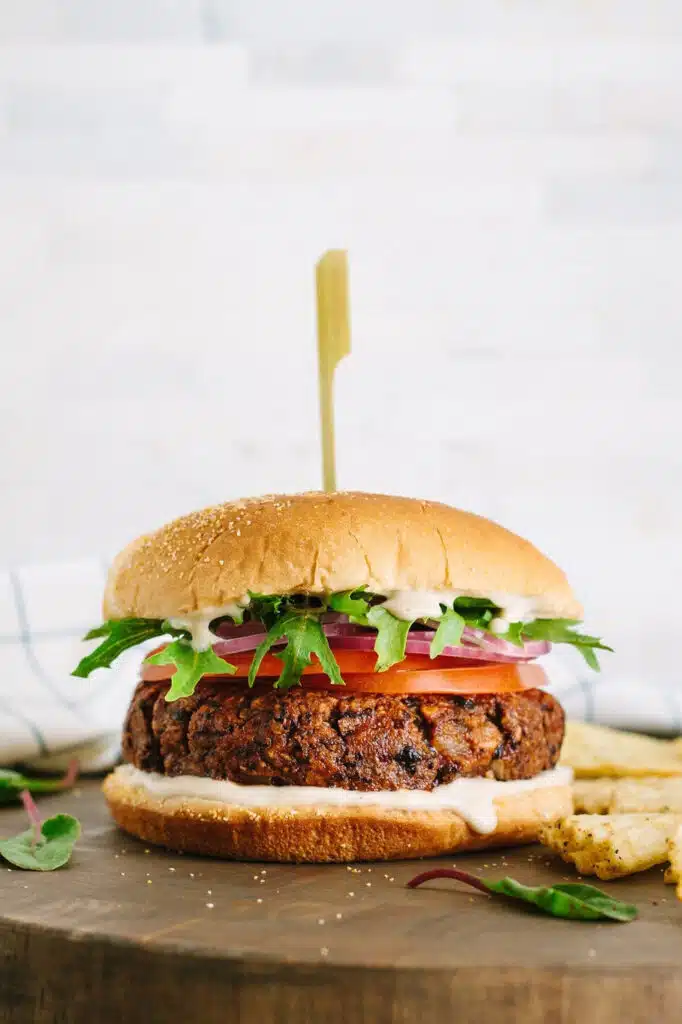 This is another great way of adding ground flax seed to your diet. Even junk food addicts will love these smoky burgers.
The mix of black beans, cooked quinoa, and flaxseed meal is spiced up with garlic powder and smoked paprika with a hint of oregano and cumin. For best results cook on the grill. Delicious!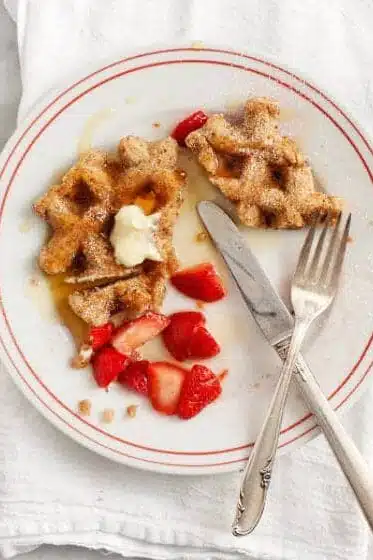 If you've recently turned vegan I expect there are a few dishes you're missing such as waffles – typically made with real eggs and butter.
This clever plant-based version conjures up free from waffles using coconut oil, spelt flour, millet flour, and flax seeds. Light and crispy on the outside – finish with your favorite toppings. Mine's blueberries and maple syrup!
This recipe is a bit like taking all the healthy ingredients you can think of and baking them together.
The dry ingredients include walnuts, dried cranberries, pepitas, oats, flaxseeds, chia seeds, and psyllium husks. I'd never heard of pepitas or psyllium husks. It turns out pepitas are raw pumpkin seeds. Psyllium husks come from a very fibrous shrub-like herb. Unless you're a stickler for following a recipe down to the last detail, follow my tip and swap out the psyllium for extra flaxseeds.
The result is a hearty dense loaf bursting with goodness but it's very filling and a little bit goes a long way!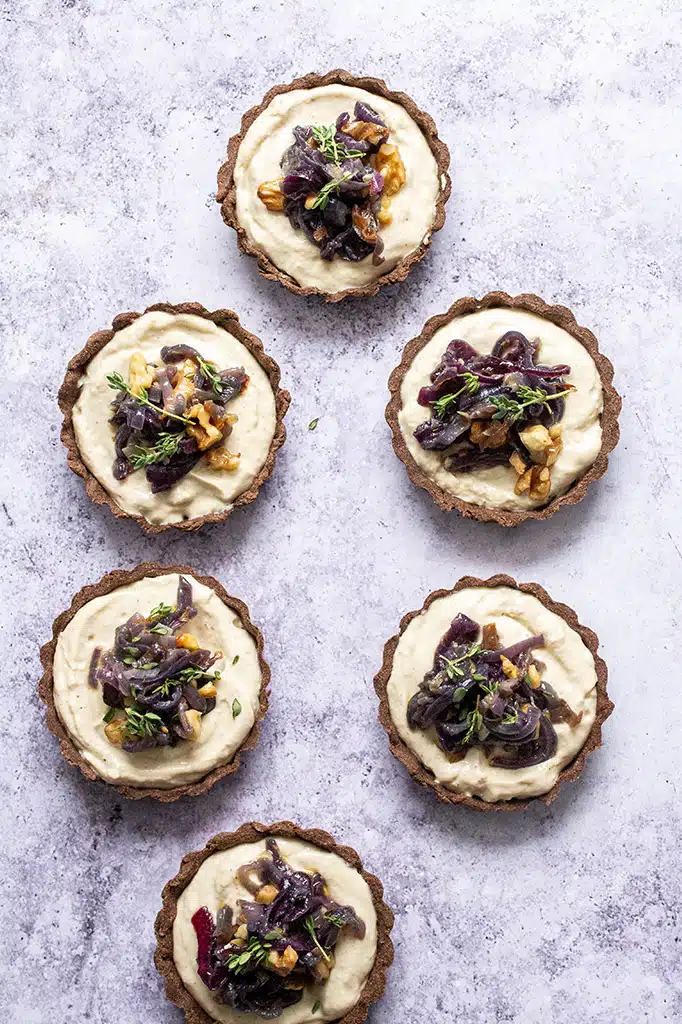 Looking for different ways to use flaxseeds I came across this delightful recipe by Green Evi. The tarts are so pretty and have this unique flaxseed crust. It's just made from two ingredients – ground flaxseeds and water. That's it!
I thought they'd be difficult to make but if you add the water gradually and just keep mixing, the dough comes together quite easily.
These tarts are topped with vegan tofu cheese and caramelized onions but you can experiment and add your own fillings.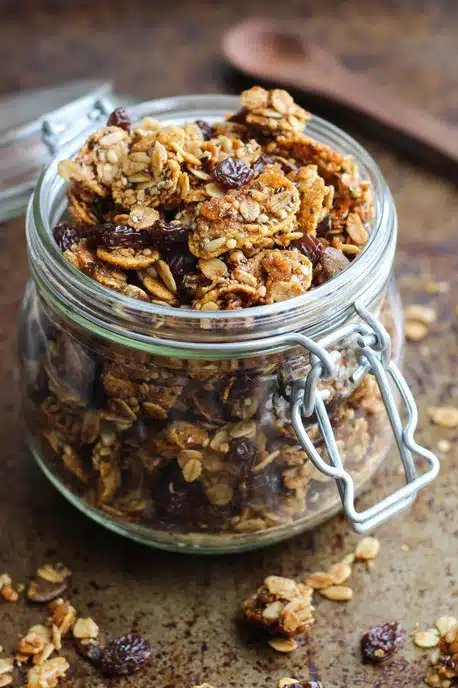 This is a tasty recipe if you need to grab and go in the mornings or need a pick-me-up after an exercise session.
It's another dish that's loaded with healthy ingredients, including flax meal of course, and the prep time is just 5 minutes. It could become my new favorite breakfast recipe!
Well, I hope you've enjoyed this roundup of some of my favorite vegan flax seed recipes. Be sure to add ground flaxseeds to your diet – it's a powerful plant-based source of omega 3 fatty acids, fiber, and protein.
If you're looking for more vegan and plant-based recipes, you may enjoy these other posts:
And if you have a favorite flaxseed recipe, please share it in the comments below. I'd love to try it!