The pursuit of adventure. The challenge of hiking long distances into wild areas. The exploration of the unknown. These are all descriptions of trekking.
What is trekking?
Trekking is a multi-day hiking trip typically accessing remote areas only accessible on foot.
Trekking involves exploring relatively unspoiled wilderness areas, engaging with different cultures, and enjoying the beauty of mountainous regions.
Treks can be arduous – multi-day hikes through rugged terrain where you're carrying everything you need on your back, or relatively easy trekking trips on established trails where you're supported by a local team of guides and porters.
This post looks at:
Hiking vs trekking
Different types of trekking
Popular hiking trails
Essential trekking gear
Trekking training
Let's get started!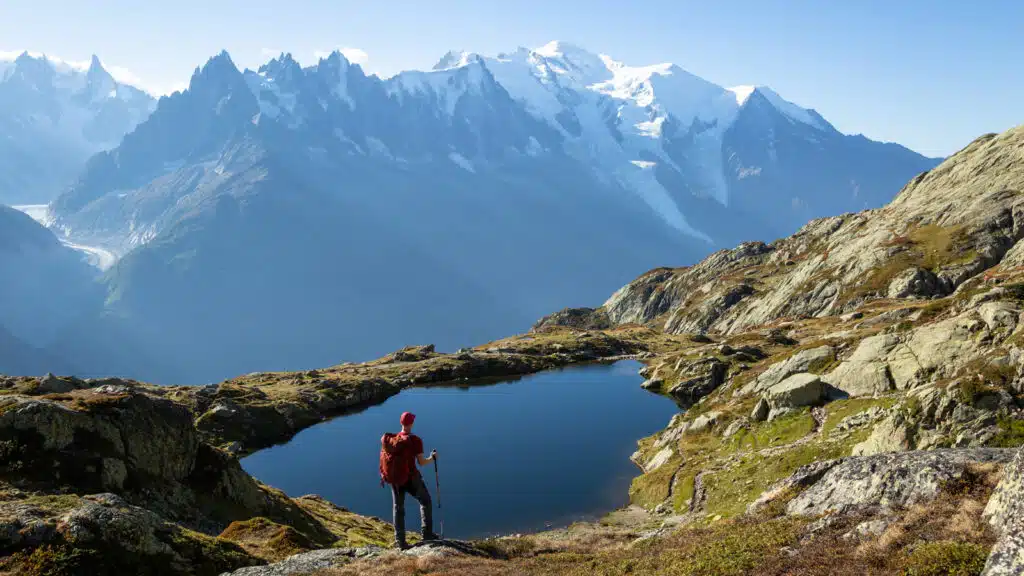 Hiking vs Trekking
Trekking is a type of hiking. Hiking is the umbrella term covering everything from short day hikes to multi-day trips.
Trekking is a specific type of hiking where you complete a continuous journey over several days. It can be a thru-hike where you start and finish at a different location, a hike up to a high base camp and back down, or a circular trekking route where you start and finish in the same location. It's similar to backpacking.
Sometimes, trekking can be more challenging than your typical hike, but not all trekking holidays are extreme. Popular teahouse trekking in Nepal can be just a few hours of walking a day with a light pack where trekkers stop to eat and sleep at a teahouse overnight.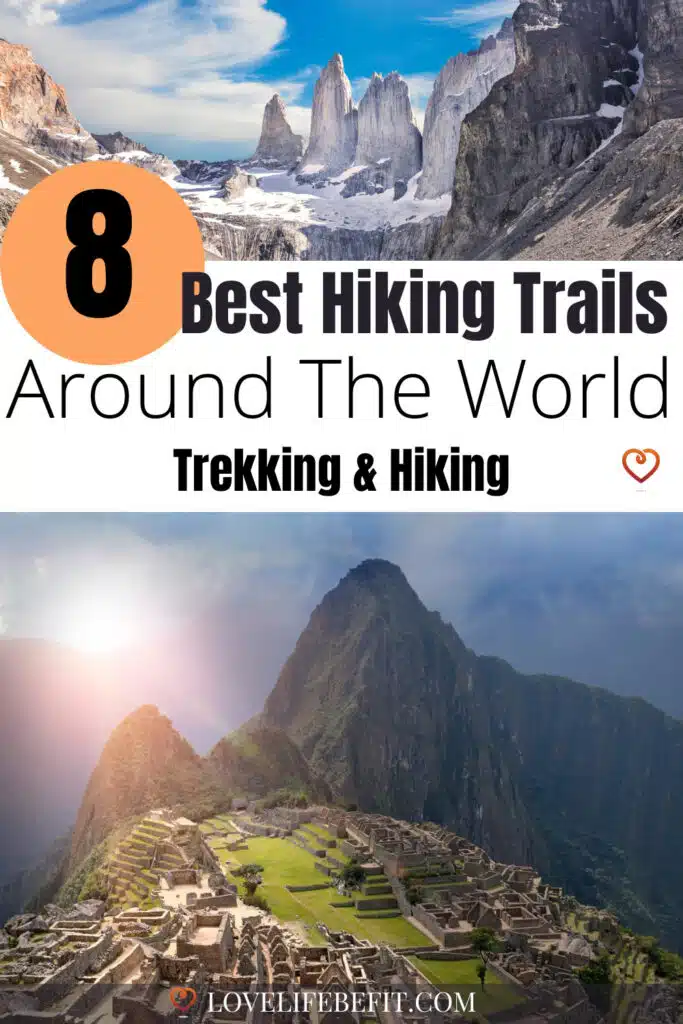 Different Types Of Trekking
The main differences between the types of trekking depend on the amount of support.
Unsupported Treks
Thru hikes in remote regions through challenging terrains come out on top if you're looking for a challenge. Being completely self-supported and carrying everything you need for multi-day journeys on your back is a massive undertaking.
It's not just camping gear you need to carry. Food for a multi-day hike is extremely heavy. Trekking burns calories. A lot of calories! Typically you'll carry 2 lb of food per person per day for a backpacking trip.
You need to be resilient and able to cope with all conditions on the trail from extreme weather to navigational difficulties and medical emergencies. Setting off on an unsupported trek isn't for the inexperienced.
When you're planning your trek do your homework. Check out the political stability of the trekking region – make sure it's safe to travel without a guide – and plan for all eventualities. It may save your life.
Supported Treks
Guided treks and teahouse trekking are great options for people who don't have a lot of experience, want to explore fairly remote areas safely, or need assistance carrying their gear.
Teahouse trekking is common in Nepal where accommodation is available along well-worn trails. All you need to carry is your daypack and you'll be able to buy meals along the way.
Some teahouses may even provide bedding but taking sleeping bags is the best option.
Guided treks provide great support and can be tailored to different abilities. It's a good way to meet other trekkers and make long-lasting friendships.
All the hard work is taken care of from navigating to setting up camp. It can be a way to explore more rugged territory away from the teahouse routes without carrying a heavy backpack.
Supported treks can provide more interaction with local cultures and people. The downsides are being limited to teahouse locations or to walking in groups on a guided trek.
Some people prefer the freedom of unsupported trekking – even if it means carrying a heavy pack. But supported trekking can be a good introduction to walking in more challenging terrains.
Popular Hiking Trails
Nepal may be the country best known for trekking but you'll find adventurous treks all around the world.
Here are 8 of the most popular trekking routes: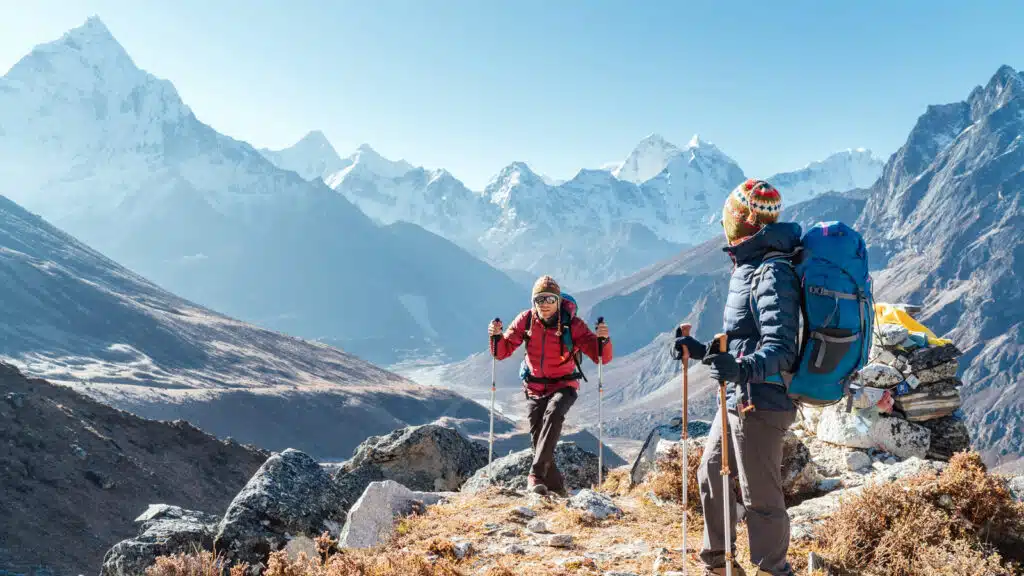 #1 Everest Base Camp Trek (Nepal)
The classic trek to the base of the world's highest mountain is one of the most iconic treks in Nepal. It takes 10-12 days and reaches an altitude of 17,598ft. Trekkers normally fly into Lukla and take in the viewpoint of Kala Patthar en route to Everest base camp.
If you have the time, trekking from the roadhead at Jiri or Shivalaya is a wonderful way to acclimatize and you'll get a better appreciation of the Sherpa culture away from the crowded trails of the upper valley.
Alternatively, extend your exploration of the Everest base camp region with the Gokyo Trek over the Cho La pass.
Note: From 1st April 2023, Nepal no longer allows unsupported trekking. All trekkers must be accompanied by a guide. The Khumbu region and Sagamartha National Park (Everest) appear to be the exception but check details when planning your trip.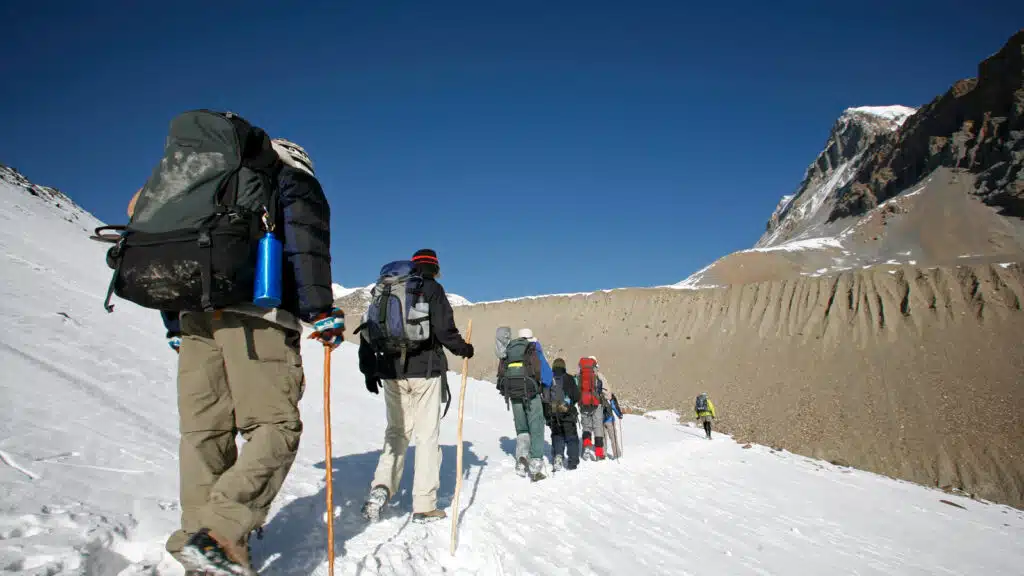 #2 Annapurna Base Camp Trek and Annapurna Circuit (Nepal)
The Annapurna Circuit is another classic that circumnavigates the entire Annapurna Range. The highlight of the trip is crossing Thorung La Pass at 17,769 feet (5416 m. This snow-covered pass is a major undertaking and can be dangerous in bad weather.
A trek into the Annapurna Sanctuary taking in the base camp can be included as a detour off the main circuit from Ghorepani. Alternatively, the base camp can be a standalone trek.
The Ghorepani Poonhill trek is popular in the Annapurna region with less experienced trekkers. There's good accommodation available and less risk of altitude sickness. From the Poon Hill viewpoint, Dhaulagiri and Annapurna I dominate the skyline.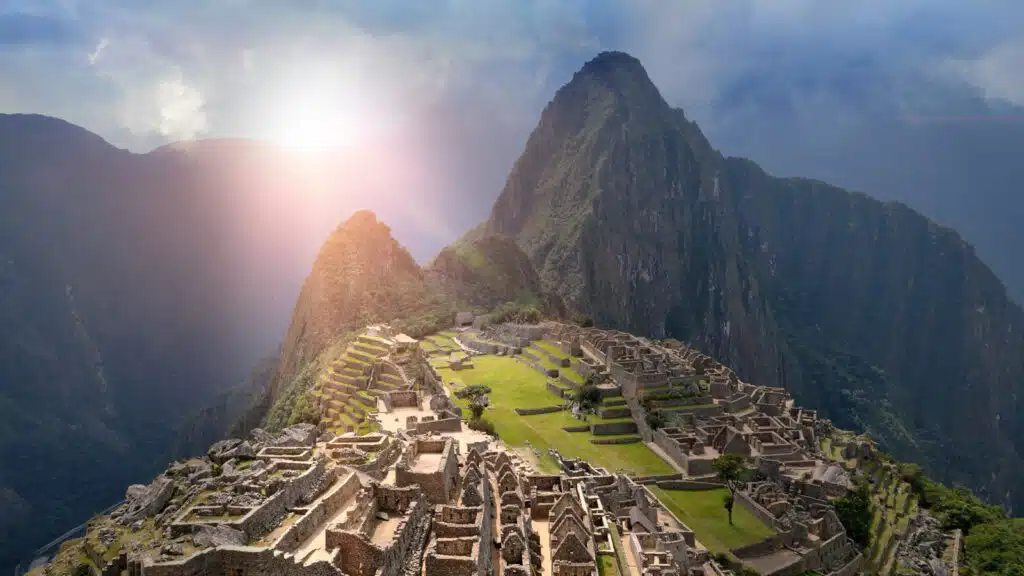 #3 Inca Trail (Peru)
This 4-day hike to the ancient city of Machu Picchu is one of South America's most famous treks. The trail follows the original Inca footpaths, taking in Incan ruins and stunning mountain views along the way.
You can only do the trek as a guided tour – porters carry your gear while you enjoy the experience of following in the footsteps of ancient travelers.
If you prefer to trek independently, the 5-day Salkantay Trek to Machu Picchu is an ideal alternative with emptier trails.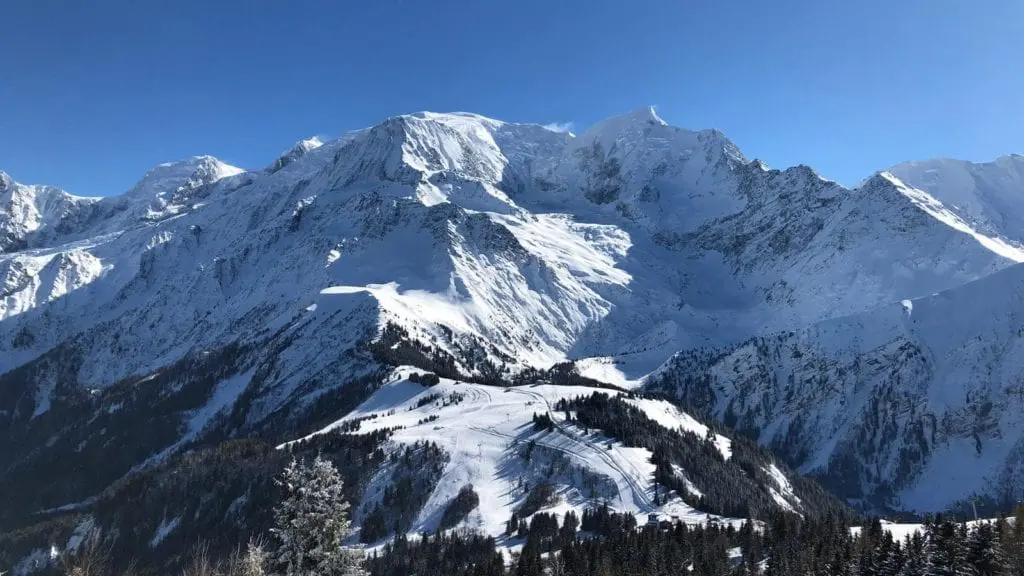 #4 Tour du Mont Blanc (Italy, France, Switzerland)
The Tour du Mont Blanc is one of Europe's classic treks. It crosses into three different countries over several mountain passes and takes in stunning mountain views of the Alps.
The trail is around 170 km (104 miles) and takes 10-12 days to complete. The highest point is Grand Col Ferret above the Aosta Valley at 2537m (8323 feet).
The trails are well-marked and you can choose not to camp with mountain huts available for accommodation and food along the way.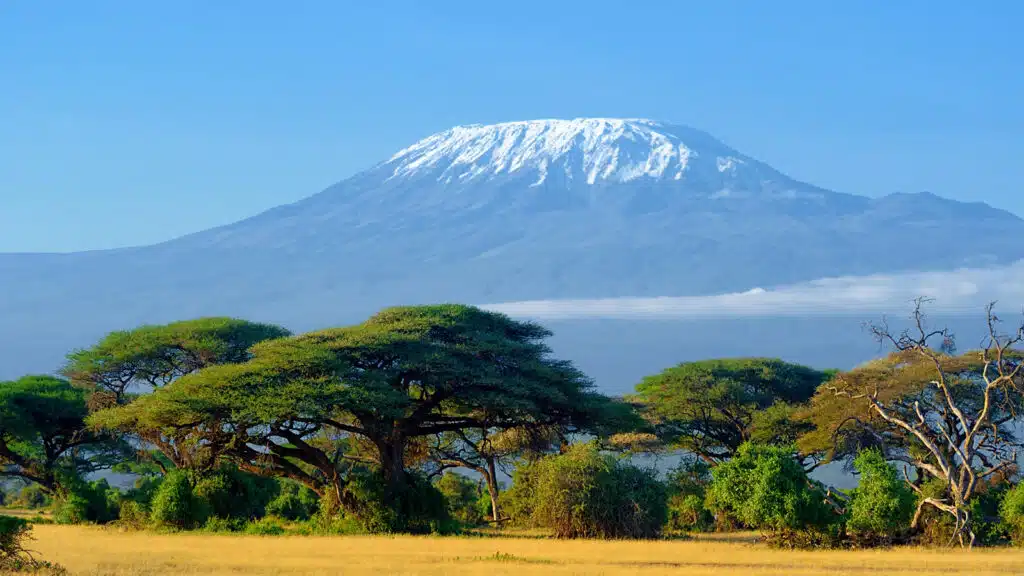 #5 Kilimanjaro (Tanzania)
Climbing Kilimanjaro is one of the most popular hikes in Africa. The trek to Uhuru Peak, the highest point in Africa at 5895m (19341 feet) takes 6-8 days. Uhuru Peak is the highest point of the 3 peaks that make up the Kilimanjaro Massive.
It's a challenging hike but with good preparation and regular acclimatization stops, even novice trekkers can make it to the summit. It isn't possible to climb Kilimanjaro independently – all parties must climb with a guide.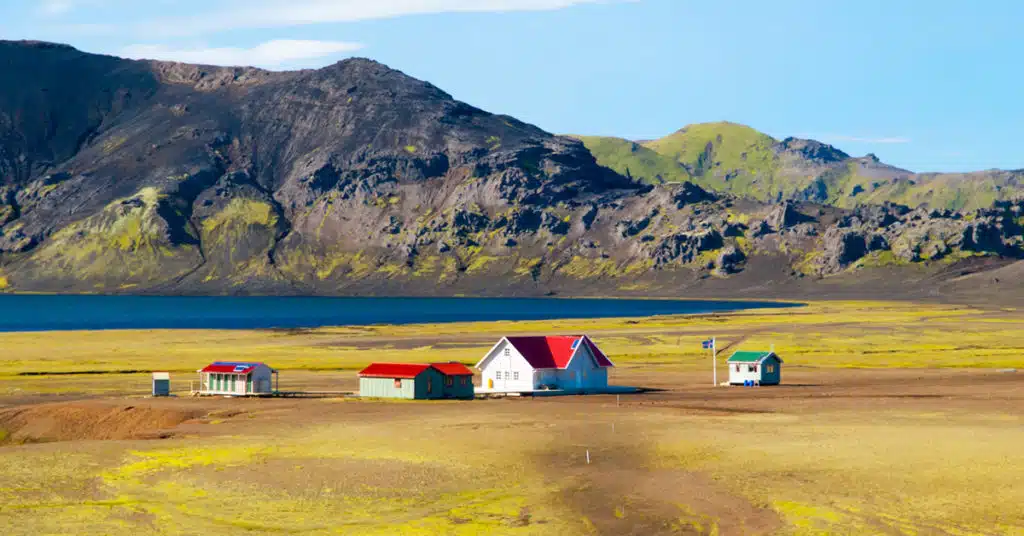 #6 Laugavegur Trek (Iceland)
The Laugavegur trek is Iceland's most popular hiking trail. The 4-5 day route takes walkers from the lush green valleys of Landmannalaugar to the icy glaciers of Þórsmörk Valley.
The trek takes you through some of the country's wildest landscapes and you'll enjoy close-up views of Eyjafjallajökull, the infamous volcano that last erupted in 2010.
It's a muddy trek in summer with the option of staying in huts along the route. In winter the trail is a serious undertaking with extreme weather conditions and not advisable.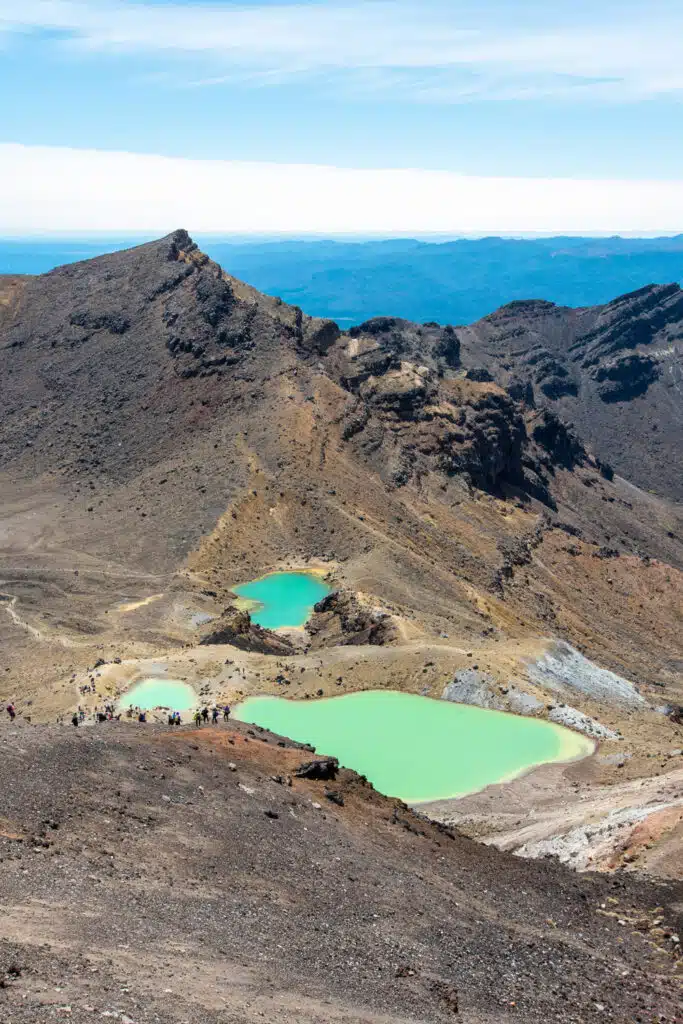 #7 Tongariro Northern Circuit (New Zealand)
The Tongariro Northern Circuit is a multi-day alpine trek around the spectacular active volcano of Mount Ngauruhoe on New Zealand's North Island. Part of the route follows the famous Tongariro Crossing – one of New Zealand's most popular day hikes.
The circuit takes 4-5 days and you can walk the full circuit in either direction. Highlights include Red Crater and the Blue and Emerald Lakes. Their stunning colors are caused by volcanic minerals.
You can camp along the route or stay in alpine huts.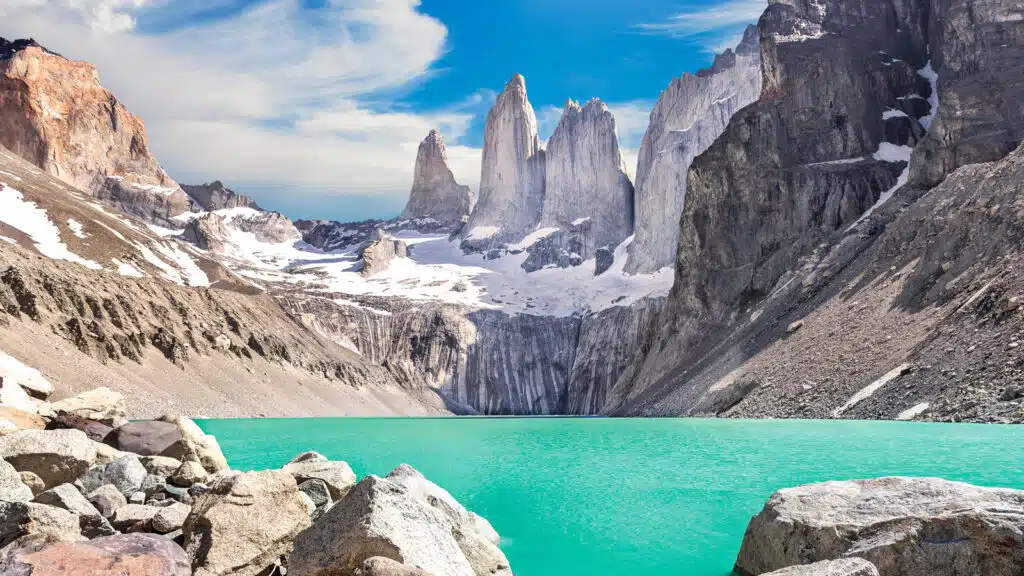 #8 Torres del Paine Circuit (Chile)
The Torres del Paine "O" Circuit is a 7-10 day hike around the stunning Patagonian mountain range. It's one of South America's most scenic treks and takes in the world-famous views of the granite towers of the Torres del Paine.
The circuit is around 76 miles (123 km) and goes as high as 2700m (8,800ft). The trail is well-marked with mountain refuges along the way. Weather conditions can change quickly so it's important to be prepared for all eventualities.
Enjoying these suggestions? Read about the Best Hikes In Alaska and tips for Walking The West Highland Way.
Essential Trekking Gear
The trekking equipment you need depends on the type of trek you're undertaking:
Is it unsupported or supported?
What's the duration?
Will you be camping or staying in accommodation?
Are there supplies on route or will you be carrying food for the entire trek?
What are the trekking conditions?

Is it a high-altitude trek?
Does it involve walking on designated trails or rocky terrain?
Is it in challenging environments?
Do you need a head for heights and rock climbing skills?
Is it a long distance?
What are the expected weather conditions?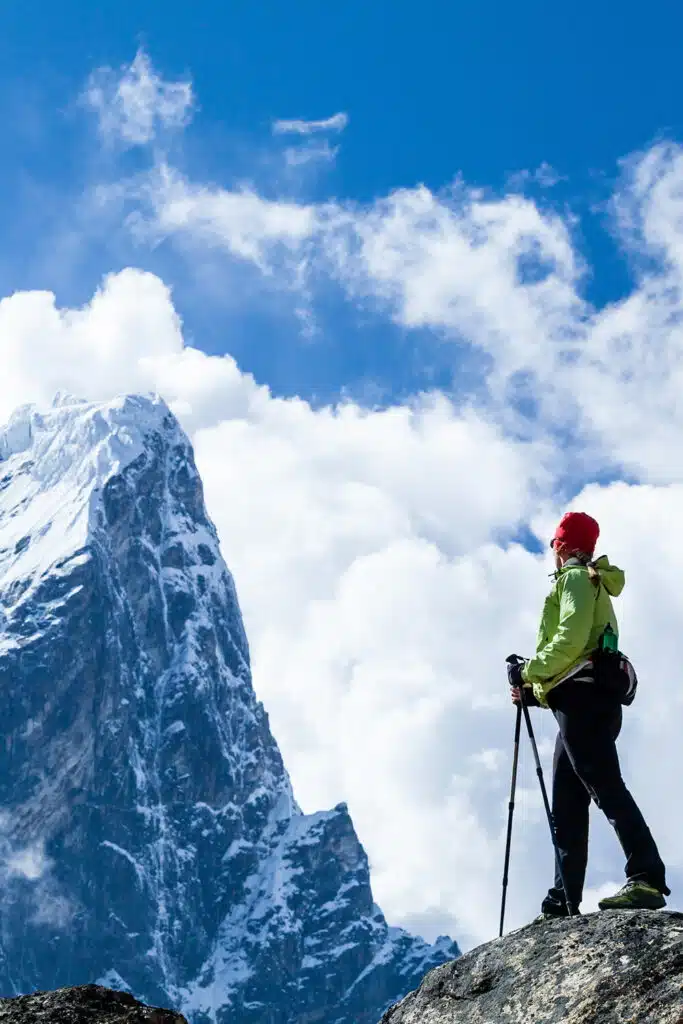 Shorter hikes staying in tea houses will need much less equipment than camping and trekking for extended periods at high altitudes. Sometimes you can manage with your wash kit, warm clothes, waterproofs, and a sleeping bag. At other times your pack includes a tent, several days' supply of food, and cooking gear.
For trekking over rocky terrain most people will need good hiking boots. For easier trails, supportive trainers may be adequate.
As an experienced mountain runner, I've trekked over the Thorung La Pass in good trail running shoes but my feet were cold in the snow. It's not advisable for the inexperienced or in bad weather.
Always plan for emergencies – a good first aid kit is essential along with water purification tablets or a filter. Take a map and compass even if you're guided and never rely fully on a GPS device.
Be prepared for the weather – warm layers, waterproofs, and sunglasses are all necessary wherever you're trekking, and pack your walking poles. Your knees will thank you! Trekking poles are essential for steep descents.
But remember – the lighter your pack, the more enjoyable your trek will be! Fastpacking where your pack is as small as possible is a good option if you want to be fast and light on the trail.
Trekking Training
Hiking and trekking are far more enjoyable if you're fit and prepared for your trek. If you're new to exercise, don't underestimate the demands on your body. It's best to get your physical health checked out before a trip.
These trekking training tips will help you prepare for your trek. You'll need cardiovascular fitness, overall muscle strength, and lots of stamina for more demanding treks.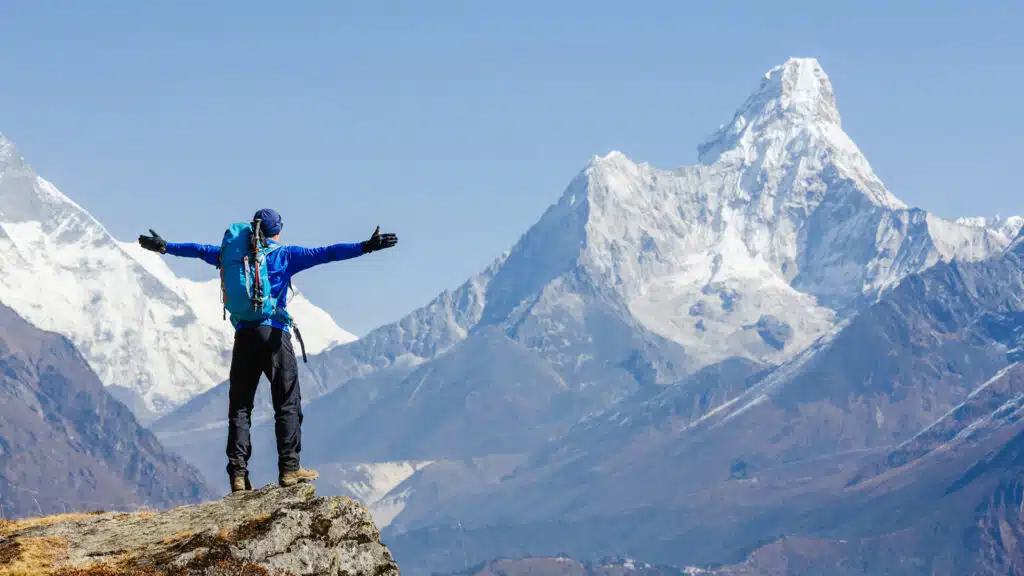 Thoughts From Love Life Be Fit
Just writing this post brings back so many happy memories. Trekking is a great basis for a holiday if you love exploring and being in a natural environment.
Everyone should escape for longer trips off the beaten path at least once in their lifetime. It's something you'll never regret!