Years ago I took part in a Sky Race running up and down the Breithorn. It's a 4000+m snow-covered mountain on the Italian border. Not your typical trail race. Walking sticks were compulsory.
I hated using them. It was in the days before walking poles or sticks or trekking poles or whatever you want to call them had lightweight versions designed specifically for running. But that wasn't the issue. The Italian runners bounced up and down the mountain with their sticks. The poles added momentum for racing up the steep climb and stopped runners from falling and skidding on the descent. But for me, it was my first time using poles – and in the race, they just slowed me down.
On my descent, I jettisoned my poles to a stranger and reckoned that was the last time I would ever use walking poles. But that was years ago. Bodies change, joints creak, and age takes its toll.
Now, I understand the advantages of using walking poles or sticks. The added stability makes them an invaluable tool when walking on rough terrain or slippery surfaces. They also help to reduce stress on your knees and if you're carrying a heavy pack, walking sticks or poles can help to spread the weight and relieve your back muscles.
So yes, I'm now a convert – although for running on trails I still prefer my own two feet! But for trekking in mountains or carrying a heavy backpack, I'd recommend you invest in a decent set of walking sticks.
Related post: What is the difference between hiking and walking?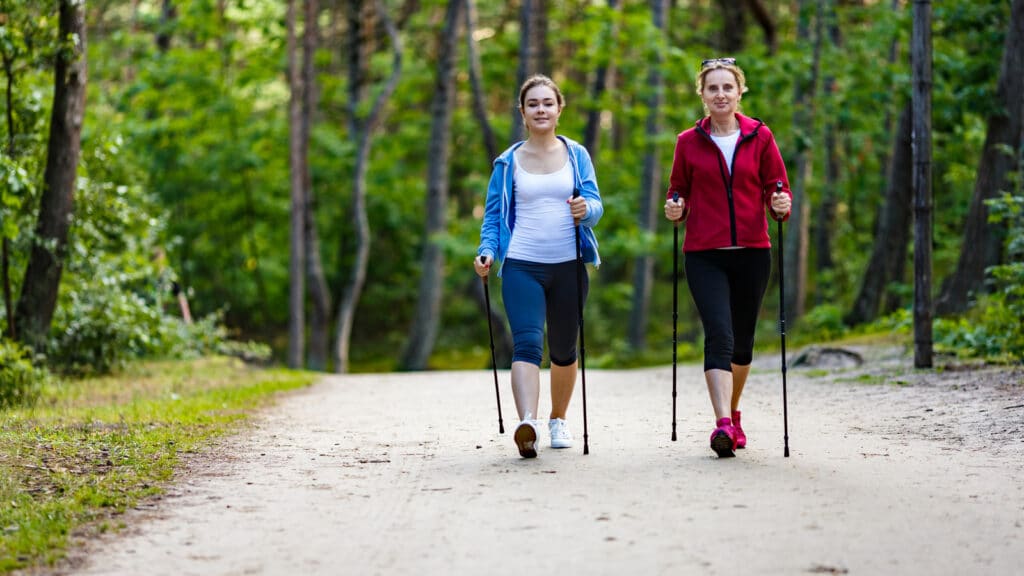 Why Use Walking Poles?
Ever joked about walkers pounding along on pavements using walking sticks? These urban ramblers are using walking poles for a reason – the sticks make walking for fitness a full-body workout.
Adding poles to your daily miles activates your core and provides great upper-body work. Instead of just a legs workout, you're using whole-body movement.
Termed Nordic Walking, walking with poles started as a fitness trend in Finland in the 1970s. It was a way for cross-country skiers to stay fit in the summer months.
Using your upper arms to propel the nordic walking poles makes you walk with greater intensity. Studies show you can significantly increase oxygen use and calorie burn for the same perceived exertion – use poles to get fitter faster.
Related post: How to lose weight walking 2 miles a day.
Walking Poles Research
Research into the benefits of using trekking poles is limited but a study by Northumbria University found that walkers using poles to climb Snowdon, the highest mountain in Wales, suffered from less muscle soreness in the days after the hike.
Benefits Of Walking Poles
Trekking poles or hiking sticks aren't just for nordic walking. They're a great aid for trekking and backpacking. Here are just some of the benefits of walking poles:
Improved Balance And Stability
Loose rocks, mud, or scree on the trail? Having trekking poles will help navigate the hazards of uneven terrain. They also help if you're crossing small streams or rivers – a pole in each hand will give you greater balance for rock-hopping.
I've always struggled on rough ground and river crossings – especially with a heavy pack! Using walking poles I have a much better chance of staying upright!
Reduced Stress On Your Joints
Use trekking poles to take the strain. Walking downhill puts a lot of pressure on your knees. By using poles you're spreading the load and reducing the impact. This can help to prevent knee pain or even potential injuries.
Improved Posture
Bending over as you climb hills isn't great for your back. With walking poles, you'll stay more upright with better posture. That's less back strain and less chance of putting your back out.
Increased Speed
Used correctly, walking with poles is energy efficient – so you can cover more ground in less time. See your walking speed skyrocket – especially walking uphills.
Helps When You're Tired
Trekking poles can help you get into a rhythm as you walk (or even run). It's a huge help when you're tired and a reason even top ultra runners will resort to using poles in the later stages of a long race.
Upper Body Workout
Walking uphill using poles will give your upper body a great workout. You'll love your new muscles!
Leave The Tent Poles Behind
If you're fastpacking or ultralight backpacking you'll love ditching your tent poles and using adjustable poles instead. Some ultralight tents are designed specifically for use with trekking poles.
Set up the tent, then adjust your poles to the right height – a great way to save weight.
Climbing Steep Slopes
Steep uphills can be much easier when you're practiced at using hiking poles. You're using your shoulders and arms to help propel your weight walking uphill. It makes steep hills much easier to climb.
Walking Long Distances
When you're walking day after day, trekking poles can be a huge benefit. They take some of the strain off your legs and reduce the overall pounding on your body.
Related post: The best way to train for a trekking trip.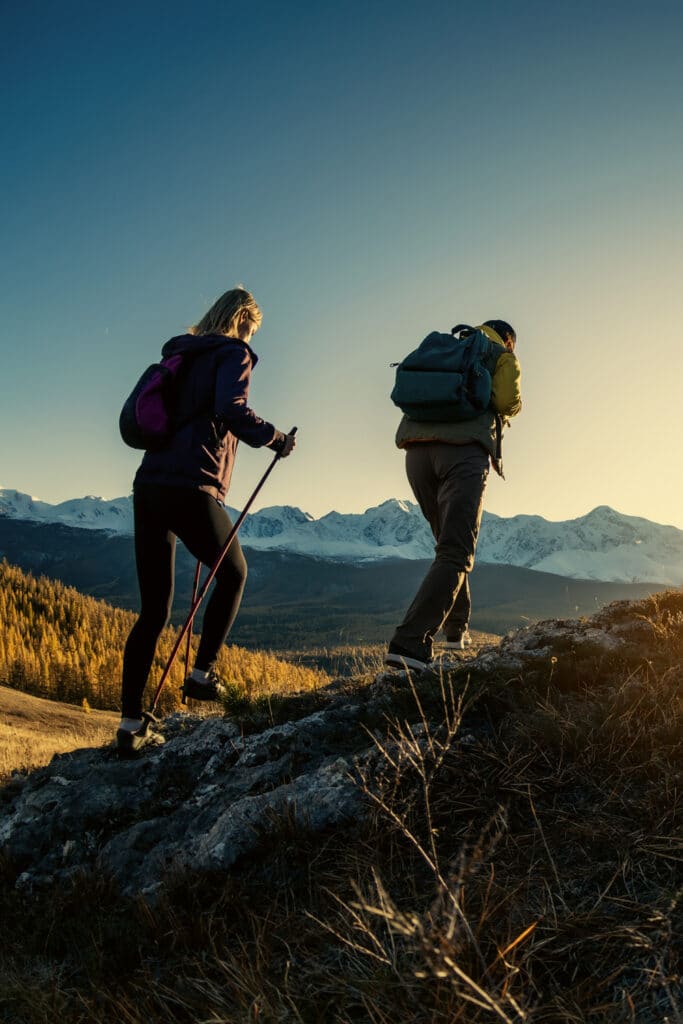 Reasons To Dislike Trekking Poles
It's not all good when it comes to trekking and walking poles. Here are some of the reasons not to use poles:
Carrying Walking Poles
When you're not using your poles, they're in your pack adding to the weight on your back. Ideally, you'd use them all the time but if you're new to using trekking poles you could find your arms tire quickly.
It Takes Practice To Use Poles
The first time you use trekking poles it will feel strange. Until you practice and get used to using poles regularly, it can be awkward and you'll find your arms tire quickly. Try and get into a rhythm where your pole movements are in synch with moving your feet.
Many People Dislike Using Them On Flat Ground
Even good trekking pole users tend to struggle using poles on flat ground. I often end up carrying the poles in my hands – defeats the whole point of using poles!
Your Hands Get Cold
This was unexpected! In winter months your hands can get really cold using hiking sticks. Be prepared! Make sure you have some warm windproof gloves with you. If it's wet take waterproof gloves.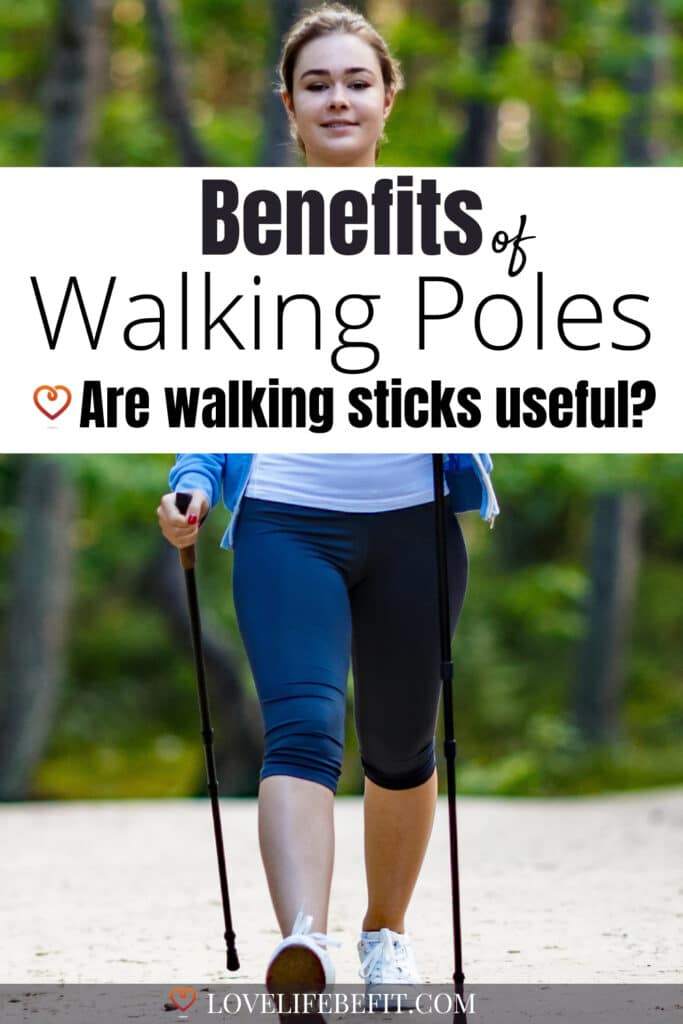 Should You Use Walking Sticks?
Using trekking poles is an individual choice. There's no set answer. It will depend on your age, leg strength, the steepness of the terrain, and how far you're walking.
Some people benefit from using walking poles to improve their overall fitness and upper body strength. Others just find walking poles annoying!
Try out some trekking poles and see how you get on. Just remember it will take a few sessions to get to grips with using poles.