Getting shoes that fit always seems to be a problem if you have wide feet, especially for trail running shoes. Tales of squashed feet, black toenails, bunions, and blisters are all over social media. If you're a wide foot runner like me you'll know it's a constant problem – finding trail shoes that fit, with a wide toe box, plus grip and support for long runs.
Being an older runner doesn't help. As we age, our feet spread out. Toes become wider and arches drop as ligaments and tendons lose their elasticity. Add stiffer joints, less cushioning to your soles' fatty pads, thicker nails, and poorer shock absorption by your tendons – and you're suddenly asking a lot more from your trail running shoes.
So what's a wide-footed runner to do? Here's the lowdown on the best trail running shoes with a wide toe box in 2023.
This review is based on my own independent product knowledge and testing. If you like what I do, you can support me through my chosen links. I may earn a commission but it's at no additional cost to you. Learn more about my product recommendations.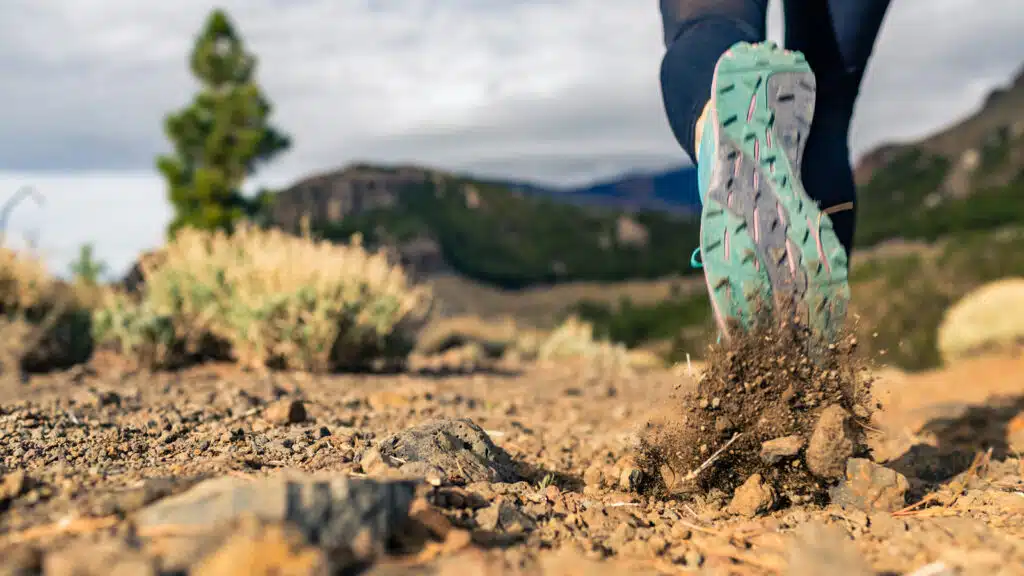 My Top Picks For Wide Trail Runners
Best For Wide Toe Box: Altra Lone Peak 6 at Amazon
Best For Max Cushioning: Hoka One One Speedgoat 4 at Amazon
Best For Grip: Inov-8 XTalon Ultra 260 V2 at Amazon
Best All-Rounder: Salomon Speedcross 5 at Amazon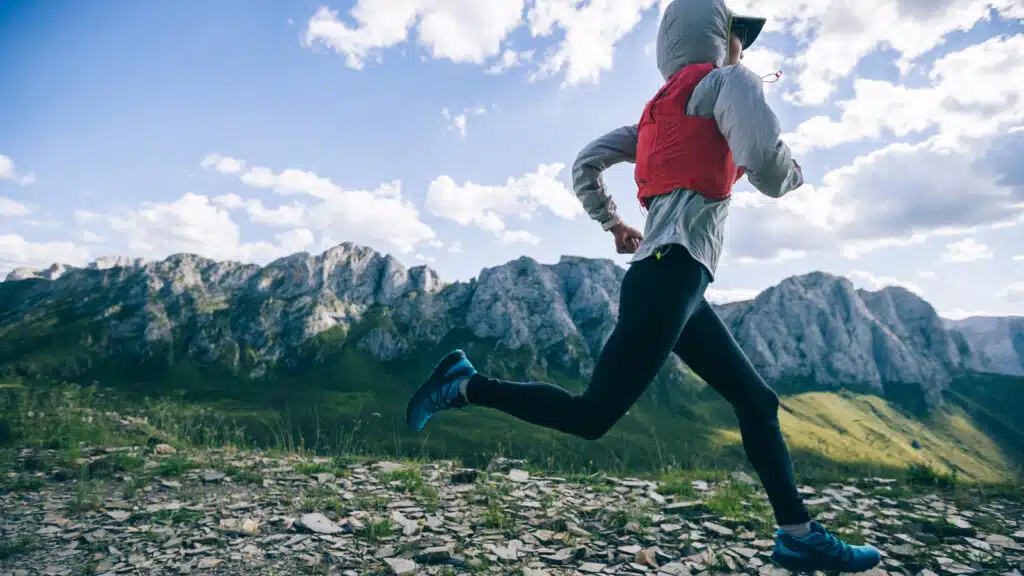 Best Trail Runners For Wide Feet
Every runner will have a different idea of what they expect from a trail running shoe. Some trail runners stick to easy paths and can get by with a max cushioned shoe, while others like me often find themselves running on pathless uneven terrain where there's a real need for a secure fit and a stable ride.
My ideal trail shoes for running long distances on technical trails have yet to be invented – so shoe brands please keep trying – but in the meantime, this list covers the best running shoes currently available for runners with wide feet.
Altra Lone Peak 6
I know everyone has different foot shapes but these ones really suit me: it's a wide shoe – nice and wide in the toe box but with a good fit around the heel – it's the closest I'll ever get to running barefoot.
These comfortable shoes, with a 25mm stack height, are zero-drop allowing the foot to splay out with no restrictions. Altra trail shoes have the widest toe box of any shoe manufacturer I've come across. That's terrific if you have any issues with your feet – bunions, pressure points, or just achy feet – you'll love these wonderful wide trail running shoes.
The uppers are soft, squishy, and amazingly comfortable. Say goodbye to any blisters. The Lone Peak 6 will make you want to run all day.
But there is a catch. Despite all its trail-worthy credentials – a rock plate to protect against sharp rocks, trail gaiter attachment points, and helpful drain ports – great if your race includes river crossings, its MaxTrac outsole is a big letdown. It's just not grippy enough!
The Altra Lone Peak 6 is brilliant and responsive if you're running on dry rocky trails and it's okay in a bit of mud. I've seen reviews of testers running happily on snowy and muddy easy trails. Alas, it's a bit different for the type of terrain I end up running on.
Hit wet rocks or take them off-trail on steep wet grassy slopes and you'll be skating all over the place. The beefier Altra Olympus 4 has a Vibram sole and performs a lot better on the rough terrain we get here in the UK. It's such as shame there isn't a better sole on the more responsive Lone Peak.
Until Altra takes note of feedback, I'm keeping my Lone Peaks for less technical trails and races in dry conditions on hard surfaces. They were excellent on the Skiddaw fell race here in the English Lake District last year – just enough cushioning to keep my legs bouncing along on the steep rocky descent. So it really depends on the type of trail running you do.
The other downside to the Lone Peak is running in zero drop shoes can take some getting used to. Go too far too soon and expect to wake up the next day with sore calf muscles – you've been warned!
Altra Olympus 4
While we're talking about Altra, we need to cover the Olympus 4 – it's their max cushioned trail shoe coming in at a whopping 33mm stack height.
If you haven't run in this type of shoe prepare yourself for a completely new experience. Just like all Altra shoes, they're zero-drop, but now you have the challenge of running in a shoe where your foot seems such a long way off the ground. Those extra 8mm make a huge difference compared with the Lone Peak.
I still can't decide about mine. I bought them for the second part of the 190-mile Northern Traverse race but dropped out with injury before I got the chance to use them. Maybe I should have been wearing them earlier!
The Altra Olympus 4 is everything you would expect in terms of comfort with a very roomy toe box. The main issues are that comfort comes at the expense of any trail feel and running in them feels slow. These shoes are a good choice for easy runs and long days! They have a really good Vibram Megagrip outsole that works well on most technical terrain, and feel a lot more stable than the Hoka Speedgoat – but that's not enough to offset the clunky feel on trail runs.
I think they work best for really long ultras or hiking. They're never going to be my go-to shoe for a training run in the hills. But if your main priority is superb comfort and a wide-fitting shoe, give them a try.
Hoka One One Speedgoat 4
Ten-plus years ago I was given one of the first Hoka One One shoes to test. I was wowed. These shoes were huge fun for bouncing down steep descents. I wore them on dry trails on the Lakeland 50 and loved that my feet didn't hurt at the end of 50 miles.
So I took them to the Alps for the UTMB CCC race and the storm clouds broke. All those lovely dusty trails turned to mud and I discovered my Hoka shoes had zero traction. A poleless descent of steep alpine trails wearing shoes that are aquaplaning on a layer of mud is the stuff of nightmares. That was the end of my relationship with Hoka.
Or so I thought.
I now have a pair of Hoka One One Speedgoat 4 in my ever-expanding shoe cupboard. Do I love them? No, but I do wear them. It's a trail shoe that has a huge following for longer distances and comes in a wide fit – so it deserves a place on this list.
The fit has changed. Possibly I have a dodgy memory, but I could swear the fit has changed since the original models – which is a big shame. The toe box isn't as wide as you'll find on the Altra models. I have the women's Speedgoat 4 in a wide version and it's not quite wide enough to stop me from getting blisters on my pinky toes.
All shoes will impact the way you run. There's a good argument that it's best to swap your shoes around to build stronger legs. I'm aware of a significant difference using Hokas.
Their shoes use a meta-rocker to guide your foot closer to midfoot and transition you smoothly through the toe-off. Although the Speedgoat 4 is a neutral shoe, (like most trail shoes), because of this foot guidance, Hoka has a strong following with over-pronators. These max cushioned shoes are also great for heavy runners.
For me, it feels like you're running with a rocking motion. You can really grow to love it on easy trails. However, I find the Speedgoat 4 is the only trail shoe I've ever worn that gives me blisters on the inside edge of my heels – the same place on both feet. Just little blisters but it is a bit odd.
The Speedgoat 4 has an incredible stack height – for the about to be released Hoka One One Speedgoat 5 it's 39.5mm to 35.5mm – that's a 4 mm heel to toe drop. Wonderful cushioning for extremely long runs – even roads don't feel too bad with these on your feet.
The Speedgoat 4 has a good Vibram sole, just like the Altra Olympus 4, and it's supposed to get even better for the new Speedgoat 5. That means good traction on just about any surface. It's a completely different experience from my race all those years ago in the Alps. I now love the traction of my Hokas – so why don't I love these shoes?
It's not just a few blisters, if I wear these shoes on full-blown technical trails I'm clinging on to my running poles for survival. A rocking motion going down steep rock steps is a horrible experience. Stability is a problem with all max cushioned shoes – you lose any feel for the trail, but at least in the Altra Olympus 4 I feel that my foot is landing flat and solidly on steep steps. With the Speedgoat, I feel I'm being pitched forward out of control.
So for me, these are not the ideal wide running shoes but they do have a massive following. Turn up for an ultra race and you can bet that Speedgoats will be in the top 3 most popular shoes. So a lot of trail running shoe selection is down to preference – and a large part to the type of trails you're running along. I'll still dig my Speedgoats out for undulating trails on boggy ground where the oversized sole seems to float over the mud!
Inov-8 XTalon Ultra 260 V2
I've already pointed out that everyone has different requirements when it comes to trail running shoes. Here in the English Lake District, we call our hills fells and mountain races drop straight down the steep hillsides. Any trail shoes need a good fell grip and you often sacrifice cushioning for ground feel, ankle support, and aggressive lugs to cope with rugged terrain.
Inov-8 dominates the market for shoes with fell grip here in the UK. The downside is their trail shoes are not kind if you have any issues with your feet.
By Inov-8 standards, the X-Talon Ultra 260 is a highly cushioned shoe with their Powerflow Max cushioning of 16 mm to 8 mm – a heel to toe 8mm drop.
My legs beg to differ when it comes to comfort but it's a wider fitting shoe in the Inov-8 range and keeps me upright on steep descents. They're especially suited to soft and muddy conditions with 8mm deep lugs.
For rocky terrain where you still need a supportive shoe for fast descents, try the Trailfly G 270 or the Roclite G 275. Both excel if you need a responsive trail runner for longer runs and come in Inov-8's max-width category.
A fellow running club member resoles his Altra Lone Peaks with an Inov-8 sole! The result is impressive and just shows the lengths trail runners will go to for comfortable running shoes. The rest of us are waiting for Inov-8 to come up with shoes for wide feet in natural foot shapes.
Salomon Speedcross 5
These popular trail running shoes come in a standard width shoe, a wide fitting, and even a waterproof shoe version. As wide shoes go, don't expect the wonderful wide toe box of the Altra shoes but these shoes have good cushioning underfoot, secure fit, and a grippy sole that a lot of people love.
We have several pairs of the Salomon Speedcross 5 in our household. These are my go-to shoes if I want a comfortable shoe with a good grip on soft terrain.
These shoes have a 35mm to 25mm stack – a 10mm heel-to-toe drop. That's a lot for me and makes me wary of my ankle stability, but for light trails in muddy conditions, these shoes perform well.
Finding The Best Trail Running Shoes For Wide Feet
No matter what I write in this post, finding the best trail runners for your feet will be down to trial and error. It's frustrating and at times expensive, but trying shoes out is the only real way to find out how they perform for you on the trails.
When you buy a new pair of trail shoes and make sure they're comfortable. All trail running shoes need breaking in but they should still feel good wearing them straight out of the box. If they don't feel good around the house – they definitely won't feel great after 50K on the trail!
If you're new to trail running, having more than one pair of trail runners may sound excessive. As you become more experienced, you'll find you have different shoes for different jobs – max cushioned shoes for very long events, runners for light trail, shoes with great ground feel for rocky conditions and super grippy shoes for mud and wet grass.
Having wider feet can be frustrating when shoe manufacturers don't make all models in wide versions – great shoes like the Salomon Sense Ride 4 don't come in a wider fitting although women can always try the men's version – that often works for me. Good running socks can only do so much to make a poorly fitting shoe comfortable.
I hoping more brands move away from the shape of traditional shoes to a natural wide toe box – instead of continuing to cram feet into pointy shaped trail runners that cause bunions and toe misalignment. In the meantime, I'll run in my Altras whenever possible!