Mountain running: those two words sum up my life. From a young age, I've been running in the sky along ridges and mountain tops. These days my joints creak a little, but I'm still enjoying long runs on mountain trails every week. This could be you!
So how do you start mountain running? Maybe you're just curious or you've watched in awe as mountain runners pass you on a hiking trail. Or maybe you're already a runner and you're drawn to big landscapes and the wildness of remote mountains.
This post looks at:
What is mountain running?
What is fell running or hill running?
Trail running vs mountain running – how do they compare?
Entering a mountain race – what are the different types of races?
What is sky running?
How to start mountain running.
Safety tips for running in the mountains.
Let's get started!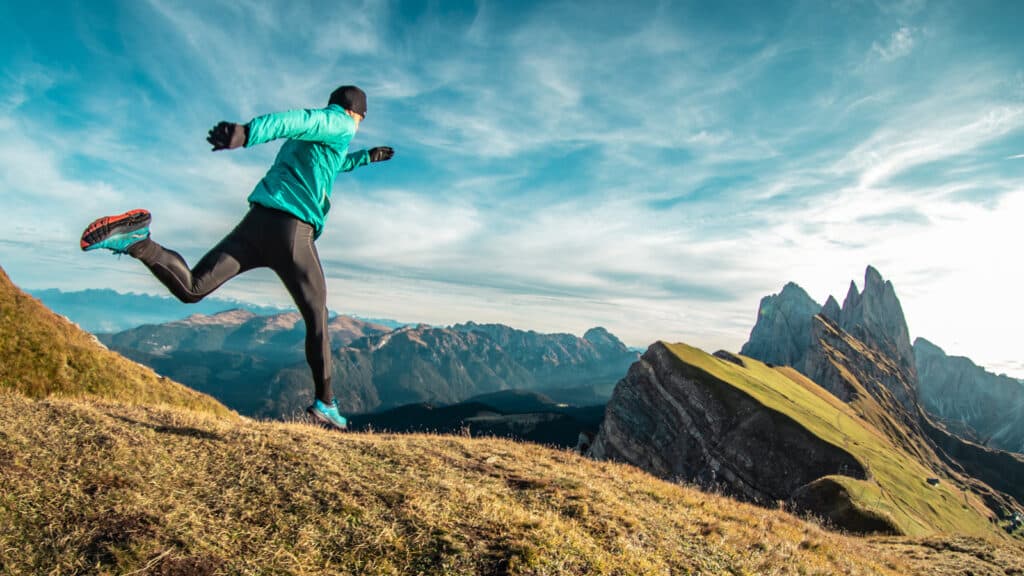 What Is Mountain Running?
It's running up and sometimes down steep hills. Terrain, distance, ascent, and descent can all vary in mountain running. The one thing all mountain runs and races have in common is the significant elevation gain.
Mountain runs take place off-road. You can get mountainous road races such as the Mount Washington Road Race which climbs 4650 vertical feet but I wouldn't call it a mountain race. It's all on the roads.
Typical mountain races have steep terrain and require mountain survival skills.
You don't need to race to call yourself a mountain runner – some people run in the mountains and hills to enjoy the challenge and freedom of moving through a wild landscape.
The first time I ran in the hills I felt I was flying! That's how it feels to run quickly down a steep mountainside.
What Is Fell Running Or Hill Running?
Here in the UK, our mountains are a bit on the small side compared with other places around the world. We call running in the mountains fell running or hill running.
Just because the mountains are smaller, don't underestimate the mountainous terrain. Fell races in England Wales or hill races in Scotland are steep and brutal.
It's normal to race down pathless mountainsides and through soul-sapping bogs.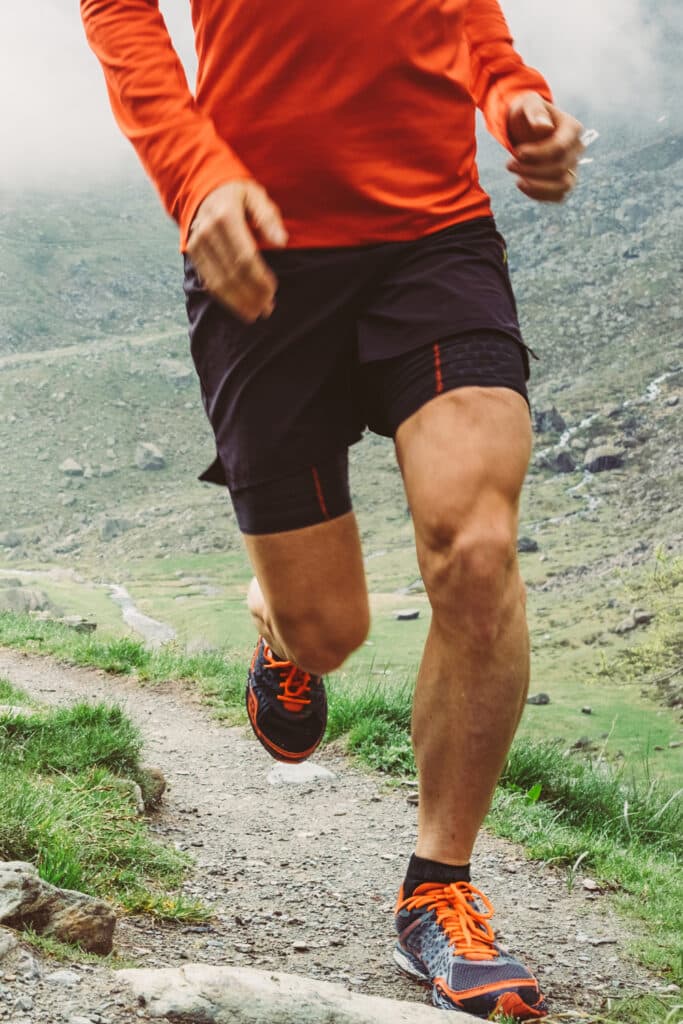 Mountain Races
Races in the mountains vary widely in terms of elevation, descent, and distance. These are some of the types of mountain running races you may encounter:
Uphill Only Race
On this side of the pond, originally uphill races were unique to European countries. In countries like Switzerland, you can finish a race at a mountaintop chalet or cable car station.
In the UK, most mountain tops are wild and empty – getting back to safety means running back down the mountain. It didn't make sense to finish a race on the mountaintop.
Uphill races have gradually become more popular and can now be found in the UK, partly to help athletes train and compete in the World Mountain Running Championships.
These world championships governed by the World Mountain Running Association (WMRA) now include both up-and-down and uphill-only races. They're normally held on fast and relatively short routes.
Uphill races have a long history in the US with races such as the Pikes Peak Ascent Race dating back to 1936.
Up And Down Race
It's normal for mountain running in the US and UK to be up-and-down races. The length and nature of an up-and-down race can vary widely.
In the UK, race classification is based on the amount of elevation per mile where A grade classification has the longest and steepest climbs.
In the US races tend to be faster on more runnable trails whereas in the UK and Europe watch out for more technical terrain.
Sky Running
Skyrunning was the brainchild of Marino Giacometti. At the time mountain runners were setting extraordinary records for fast ascents and descents in the Alps such as the Mont Blanc Speed Record. Giacometti saw racing up and down extreme peaks as the next logical step.
With sponsorship from the multinational Fila, skyrunning races grabbed the attention of fell runners in the early 90s. I was lucky enough to take part in one of the first races – a race to the (13,661 ft) summit of Breithorn and back.
Since those early days, sky running has developed into a worldwide sport governed by the Federation for Sport at Altitude with some 300 races worldwide and around 100,000 participants from 65 countries.
Vertical Kilometer
This is skyrunning's brutal take on an uphill race. These races climb 1000m at a minimum average incline of 20% in less than 5km.
It's a lung-bursting fast and furious ascent to the top.
Mountain Challenges
Not every mountain runner will focus on racing. A big part of the sport is completing mountain challenges.
In the UK, perhaps the best-known mountain challenge is the Bob Graham Round. It's an ultra-distance circuit of 42 of the highest peaks in the English Lake District within 24 hours. Only one in three contenders manage to complete the 66-mile, 27,000 ft course within the time limit.
It's attracted the attention of top off-road runners – Kilian Jornet broke the record in 2018. Last year, Californian Jack Kuenzle took almost 30 minutes off the record completing the round in an amazing time of 12:23.
If these types of challenges interest you, you can find routes near you in the Fastest Known Time register.
Trail Running vs Mountain Running
There is a big overlap between trail and mountain running. Here are the main differences:
Trail runners stick to paths. Mountain and fell running races tend to take the shortest routes and these are often off-trail.
Mountain runs go to higher elevations – the tops of mountains while trail runs aim for mountain passes.
Trail runs are often flagged and/or allow the use of GPS. To run in a mountain race you need to be able to navigate.
Mountain races have much steeper climbs – expect to be walking at some point in a mountain or sky race and find yourself in challenging terrains. Trail races tend to be much more runnable.
There are always aid stations on a trail run. On a mountain run, consider yourself lucky to get a glass of water!
Both trail and mountain running can range in distance from a few miles to ultra-distance or multi-day events. Events such as the Original Mountain Marathon (OMM) are two-day mountain events where you expect long days in the hills and carry everything you need to camp overnight.
It's possible to take part in a trail race with very little mountain experience. Would-be mountain racers must be competent in the mountains and have the appropriate equipment to safely complete a race.
How To Start Mountain Running
If you come from a hiking or mountaineering background you have a head start. All the skills of navigating, wearing appropriate clothing, coping with exposed and difficult terrain, and avoiding heatstroke or hypothermia transfer to running in the mountains.
If your experience is purely road running, you have a lot of new skills to learn and running techniques to master.
There are three ways to get the skills you need:
On a course where you learn safety skills such as Mountain Run courses in the English Lake District.
By running with an experienced friend. If possible join a local running club with like-minded mountain running fanatics!
Or self-taught by learning the basics online and practicing your skills on an easy out-and-back route.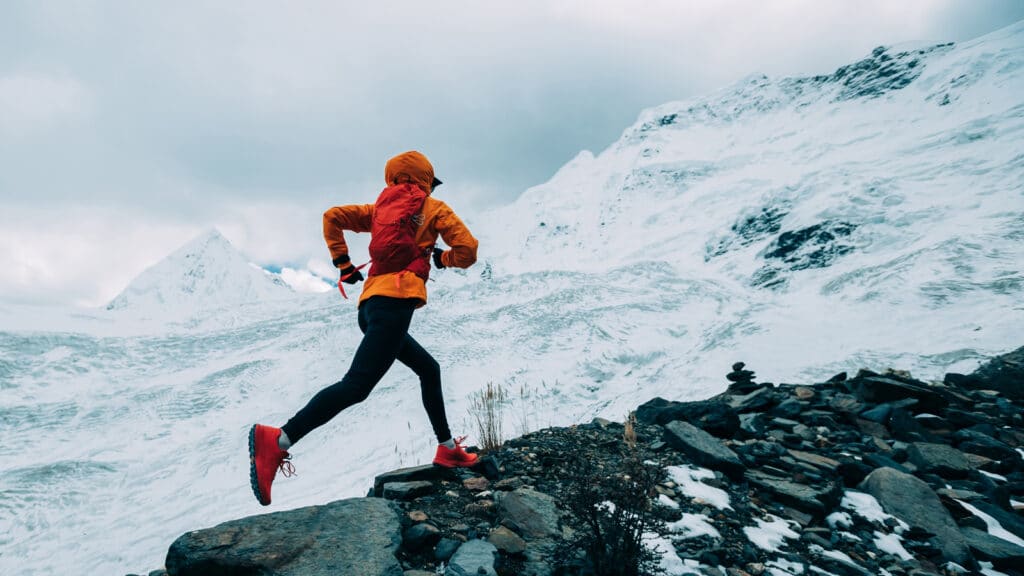 Picking A Running Route
Word of mouth is the best place to get beta on local mountain running routes. Try Facebook groups or ask in local running stores.
There will be a lot of information online. I like to find race routes and use them for training runs.
AllTrails can be a good source although I've been using it in Spain a lot recently and it was hard to tell if a route was runnable or more suited to hiking.
Or just get a map out and look for a good route. Sometimes it will take a lot of trial and error to find your favorite ones – but it's all training!
Things to consider:
Elevation. Routes with a lot of elevation will be much slower and tire you out quickly. Don't be too ambitious for your first few runs. TIP: most runners walk on steep terrain.
Distance. Running in the mountains is a lot slower than road running. Allow lots of time to complete your route and don't be disheartened if your times are so slow!
Technical difficulty. Try running on paths first before you venture off-trail. Some mountain paths are runnable and on other technical trails, you'll be reduced to walking. Master the trails first before trying scree runs and bounding over bogs!
Out and back routes are easier for a new navigator. Loop runs or point-to-point can be fun with a greater feeling of exploration.
When you're planning a route allow time to get to and from the trailhead.
The views! Don't forget why you're running n the mountains.
Mountain Running Gear
Plan your kit based on the time it will take you to complete a run and on the mountain conditions.
Weather is a big factor when planning a run. Always be aware that the weather can change quickly in the mountains.
I have a standard mountain running kit I take with me every time I head into the mountains:
A full set of waterproofs (jacket and pants) with taped seams.
A long-sleeved wicking baselayer – I'm normally wearing it.
Warm hat and gloves.
Map, compass, and an emergency whistle.
Sufficient food and water.
My phone.
In summer I'll add a sun hat. In winter I'll add my SOL survival bag and for longer runs, I'll throw in a basic first aid kit.
I always wear synthetic fabrics or merino wool for running because these fabrics dry quickly and stay warm when wet.
For hot climates, many runners will take a windproof top instead of a waterproof jacket. I have a very lightweight waterproof jacket for running that packs up to almost nothing – so I always take it with me.
Carry your gear in a fanny pack or a mountain running vest. A race vest is great for keeping all your gear accessible and storing your hydration flasks.
Running Uphill
On steep ascents such as an uphill race, most runners will walk! Yes, it's true. Mountain runners may seem superhuman but power hiking as fast as possible uphill is still quicker than trying to run.
Save your energy by perfecting your uphill walking technique. Only run when the gradient eases.
When you're running uphill – take it slow or you'll soon run out of energy. It's better to start with a gentle jog and speed up.
You can train for running uphill with hill reps and strength training for runners. Work on your core strength. But the best way to get better at running uphills is to spend more time in the mountains.
Running Downhill
For many runners, descending is the hardest part of mountain running. You need strong legs and ankles, a lot of nerve, and a great deal of practice.
Follow these tips:
Don't look at your feet – try and focus on the trail 10 to 20ft ahead.
Stay upright leaning slightly forward from the hips, engage your core, and try to relax.
On very steep ground take short strides.
Use your arms for balance.
Land with your foot flat on your midfoot.
Your choice of shoes becomes very important for downhill running. Inov8 dominate the mountain running scene in the UK with good reason – their trail shoes are an excellent choice for steep grassy and muddy descents.
Mountain Safety
It's the athlete's responsibility to stay safe in the mountains. The race directors and mountain rescue team may be there to help when things go wrong, but the aim is to avoid getting into danger in the first place.
Here are some basic safety considerations to avoid potential risks:
#1 Check The Weather Conditions
Weather forecasts may not always be accurate but they will tell you if there's a bad storm heading your way.
Check the forecast before you head into the mountains. If the weather looks bad there's always another day. Don't put yourself at risk.
#2 Don't Rely On The Weather Forecast
A good forecast isn't a reason to discard your safety equipment – mountain weather can change very quickly.
#3 Navigate
Following a GPS isn't navigating. They are great tools but you always need to be able to use a map and compass.
The battery on your phone or GPS device can fail especially in bad weather or you can fail to pick up a signal.
I once had about 20 runners following me in the dark on a long ultra race. When I stopped for a rest, they stopped because none of them had any idea where they were going.
As much as I enjoyed the ego boost, it would be much better if everyone on trails and mountain paths could read a map.
#4 First Aid Kit
It's a good idea to carry a basic first aid kit especially for quickly dealing with blisters. A few plasters, some Compeed, and a bandage for a sprained ankle are always good to have on hand.
#5 Sufficient Food And Water
Carry a little extra food and water for emergencies. Anticipate having a bad day and taking longer to reach your destination.
When it's hot, you can get through a lot of water on a steep climb. Plan where you can top up your water supplies on the route and always carry extra.
Fastpacking along the Via degli Dei in Italy last summer I carried 2 liters of water with me and topped up whenever possible. It's better to carry the extra weight than run the risk of heat stroke.
#6 Take A Buddy
As much as I love running on my own in the mountains it's always safer running with a buddy.
Warning!
Mountain running is addictive! Most runners fall in love with the sport and with good reason. It's an adventure – a chance to cover a lot of ground and explore beautiful vistas.
Just be aware of the risks and make sure you're prepared before taking on any big mountains!