Hiking is the best way to explore the great outdoors. The fresh air is good for the soul, helps you switch off from work, and can be your passport to a life of adventure. This guide to hiking for beginners and information for the experienced hiker hopes to convince you hiking can be accessible and fun for everyone.
Hiking has taken me into remote areas in the Hindu Kush, along jaw-dropping ridges in Spain, and into the wilderness of Alaska. Life becomes so much more exciting when you leave the car behind.
Confused by terms? Find out the differences between hiking, backpacking, and trekking in my recent post.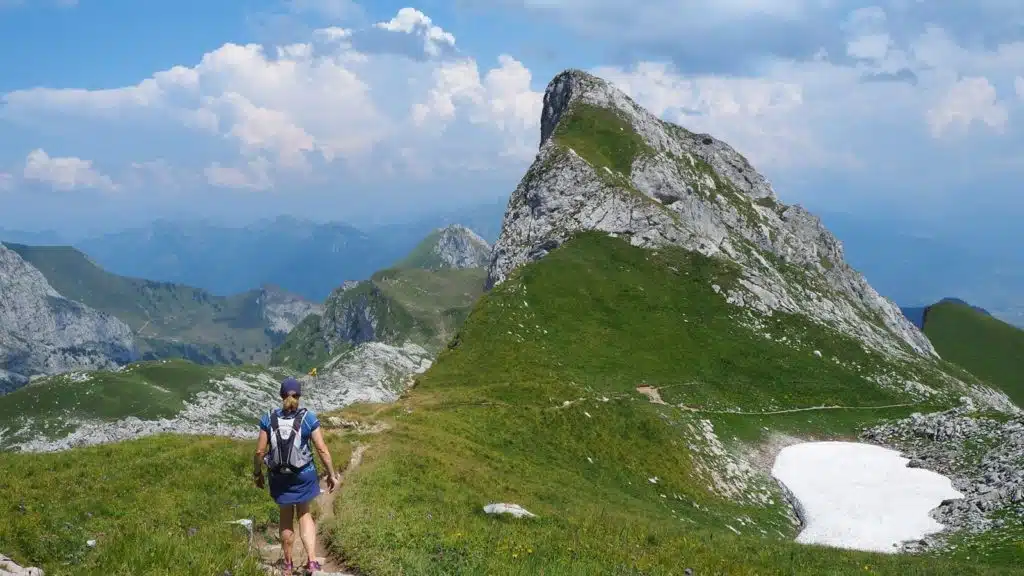 How Do You Start Hiking For Beginners?
It's a big leap of faith setting off on your first hike when you have absolutely no hiking experience. This is why my first piece of advice is to find someone to hike with.
Now I love solo hiking but it's just not a good idea until you know what you're doing. There are basic navigation skills to learn and you need to build up the knowledge to explore the hills and mountain trails safely.
If you don't have a friend to take you hiking, it's best to join a group. Search on Facebook and you should find groups in your local area. Meetup is another great way to find hiking groups of like-minded people.
Before you set off alone, water bottle in hand, just like Reese Wetherspoon in Wild along the Pacific Crest Trail, it's better to learn a few survival skills.
Guide To Choosing A Trail
There's no shortage of ideas for hiking trails on social media. All Trails is a great resource or find a hiking guide for the area you want to visit.
There are a few things you need to think about when you pick your hiking route:
How much time do you have?
Will it be a full-day hike or just a few hours? The important thing is taking into account daylight hours – you don't want to end up benighted. (Keeping a light headlamp in your pack is always a good idea).
Factor in the time it will take to get to the start of your hike.
Difficulty Levels
New hikers need to start with an easy trail. Short one-day hikes can be the best hikes and are a great place to start.
It's always best to build up to longer and more strenuous efforts as your fitness level improves. Tackling the Appalachian Trail on your first hike is going to end in tears.
Distance and Elevation
As a general rule, most people can walk at 3 miles per hour on a flat, easy hike. As soon as you add elevation to a hike, a steep incline, the amount of time it takes increases drastically. The question is by how much?
William W. Naismith, a Scottish mountaineer, pondered this question back in 1892 and came up with a rule that's still widely used today.
Naismith's Rule tells us to allow one hour for every 3 miles and an additional hour for every 2000ft (600m) of ascent.
This is based on an average level of fitness. Allow extra time if you're new to hiking, the terrain is difficult, or you're carrying a big pack.
Time of year and weather
You should never, ever go hiking without checking weather forecasts. If a big storm is about to hit and you have a creek to cross, you need to be forewarned!
This doesn't mean you can't hike in bad weather, (provided you have good clothing and equipment), but you need to match plans to weather conditions. Strong winds will make high-level routes dangerous but they won't stop you from enjoying a sheltered hike at a low level.
The time of year can be a factor in some places and conditions will vary from year to year. Alpine routes can be closed by snow into the summer months. I've waded through snow accessing the Bugaboos in Canada as late as July!
Check the hiking route information
I know this is an obvious one but you'd be surprised how often people pick a route and don't check the details.
Familiarize yourself with the route and work out the logistics:
Are the start and finish in the same place? Or will you need to shuttle cars or get someone to drop you off?
What about water sources? Is there much water on the route? Are you taking enough water with you?
How many hours will it take? Do you need to get to the start first thing to maximize daylight hours?
Is there cell phone coverage or do you need a backup map and compass? (It's best to carry these anyway. You never know when your phone will lose charge).
How much food do you need to take? A handful of trail mix might be enough for a short, easy hike but longer, more strenuous efforts will need energy-boosting supplies.
Are there any hazards on the route? Do you need insect repellent? Bear repellent! Will you be crossing rivers?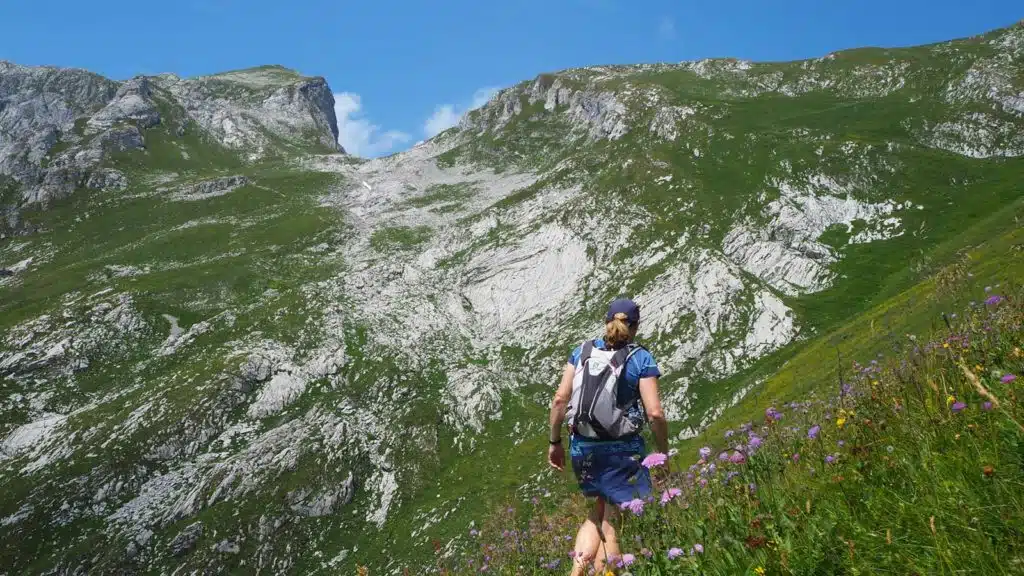 Stay Safe
I don't want to freak you out. Hiking can be very safe. There are some easy trails where it would be almost impossible to lose your way or come to any harm.
But some hiking routes are more challenging. They need good navigation skills and the ability to hike on steep rocky ground. If in doubt, start with easy trails first.
Hiking For Beginners, Tips To Stay Safe:
Don't get lost!
It's a really good idea to learn how to use a map and compass. I would say it's essential once you start hiking on more challenging routes.
Your GPS may include an electronic compass but it's always good to carry a compass that doesn't rely on batteries. A compass is extremely lightweight so I keep one permanently at the top of my pack.
Using a GPS is extremely convenient when you're hiking and has benefits for even the best navigators. You can use a GPS app on your smartphone but note your phone doesn't like bad weather and often won't work when it's really cold.
It's better to take a reliable GPS device. The Garmin GPSMAP 64s is a top favorite in the hiking community.
Tell someone where you're going.
Leave your route plan with someone, especially if you're hiking solo. Technology is good for connecting with rescue services or sending a message to loved ones if you're going to be late.
The only problem is phone services and hiking terrain don't always mix. Sometimes it can be hard to get a signal.
A solution is carrying a personal locator beacon (PLB) or a satellite messenger such as the Garmin InReach.
A PLB is just for contacting emergency services. The Garmin inReach will also send text messages when you can't get a signal.
Instead of carrying two gadgets, the Garmin inReach Explorer is a handy combination of GPS and messenger functions.
Wild Animals
Here are a few tips if you're hiking in the United States or Canada.
The main risk is bears or possible cougars. I guess wolves can be dangerous but I once had a lone wolf walk across my campsite, eyeball me, then continue on his way. I was more thrilled than scared but it's worth reading up on these wolf safety tips.
Cougar attacks are also rare. Double bag your food, never approach, stand tall, and don't run away. Read the full tips to stay safe from cougar attacks.
In bear country the top tips are:
Do not hike alone
Make noise on the trail
Carry bear spray and have it accessible
Never run from a bear.
Attacks from bears are rare but they do happen. There's different advice for grisly bears or black bears. You can find instructions for using bear spray in this video:
Make sure you're properly equipped!
Bear spray is a must if you're traveling in bear country. A great tip is to keep your bear spray accessible on your belt at all times.
Ticks
These little critters are my biggest fear on the trail. Tick-borne illnesses are on the rise.
Always do a tick check at the end of a day's hiking. (If possible get someone else to check all the parts that are hard to see).
If you find a tick, use tweezers to extract the tick by getting as close to the point of contact as possible and pulling upwards. Don't squeeze the body.
Hiking For Beginners – Take an essential survival kit.
What you carry will vary depending on your hike, but my hiking for beginners guide includes a list of ten essentials everyone should consider taking.
Originally the list was put together in the 1930s by The Mountaineers, based in Seattle. It's been updated a little to a system approach but remains a go-to list for survival packing.
The ten essential systems:
Navigation aids
Headlamp (with spare batteries)
Sun protection
First Aid
Knife (plus gear repair kit)
Fire (matches, lighter, stove)
Shelter (such as emergency bivi bag)
Extra food
Extra water
Spare clothes.
Do I take all these items every time I hike?
My honest answer is no. Am I always aware of the list packing my bag? Oh yes!
On some easy hikes where there's no risk of getting lost and it's a short distance back to the trailhead, I might leave out quite a few of these items.
If it's a multi-day hike in a remote area, where you need to be self-sufficient, every one of those items will be in my pack.
What you take is down to you, the nature of the trail, weather conditions and time of year, your fitness, and your competence.
Getting caught out on a hot day in summer – water and sun protection are priorities. You can survive a night out without shelter.
In winter it's a whole different story. Spend a night out in sub-zero conditions – extra clothing and shelter are the difference between life and death.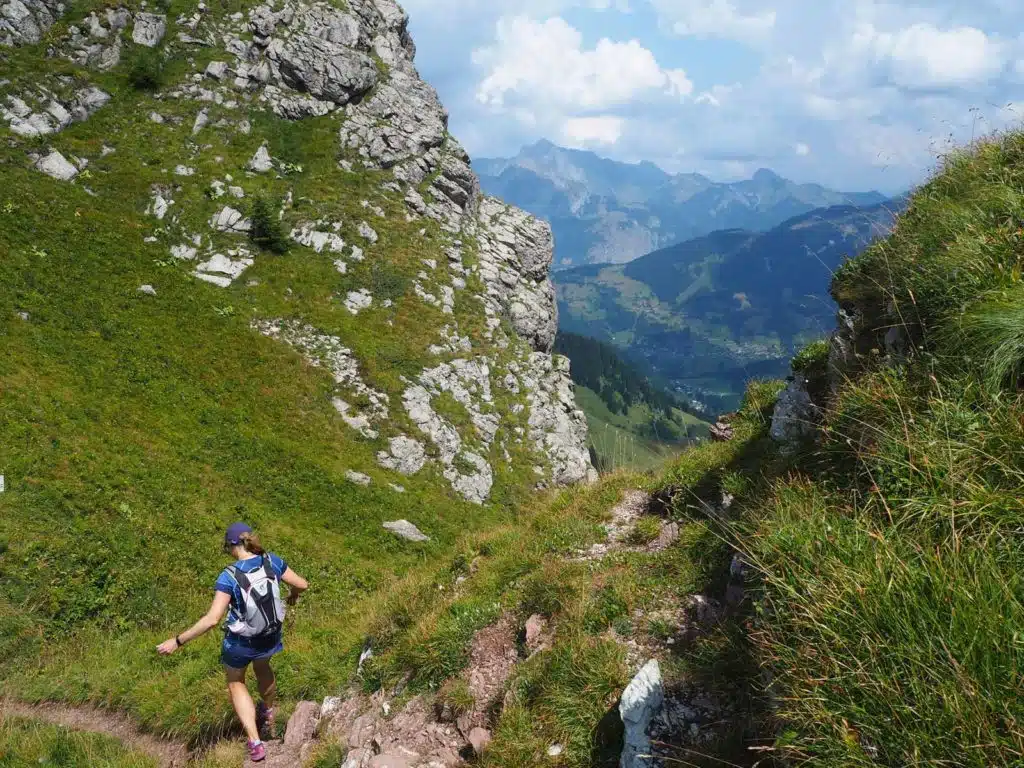 Hiking For Beginners: What To Wear On The Trail
It's taken me a lot of trial and error to find my favorite pieces of kit for hiking. I also trail run so I tend to choose items that work equally well for both activities.
I look for comfort, function, and unashamedly for looks. Usually in that order. There's nothing worse than hiking clothing that's uncomfortable to wear. Irritating chaffing at the start of a hike will be downright sore by the end!
Items that fit well and have some built-in stretch work for me. Hiking clothing needs to be functional.
I'd rather have a few quality pieces from top-performance hiking brands in my wardrobe, than a whole pile of clothing I never want to wear. Sending loved ones your gift list for the holidays normally helps source those must-have items!
Hiking Shoes & Boots
When it comes to hiking for beginners, your hiking boots or shoes should be your top priority. This is a very personal choice and something you need to get right.
Comfortable footwear can make or break a hike. Some people prefer sturdy boots on the trail with good ankle protection, others are happy to wear lightweight hiking shoes or even trail running shoes.
In many ways, it depends on the hike. If you're hiking over snowy passes in winter, you'll need boots suitable for crampons if the path becomes treacherous.
Most people carrying heavy packs on a multi-day hike will prefer the ankle support of at least lightweight boots. I used the Salomon Quest 4 Gore-Tex backpacking boots when I hiked the West Highland Way and loved them.
When it comes to day hikes it's really down to preference. I usually wear my trail running shoes but will wear waterproof shoes for wet terrain if it's cold. In summer I'll just get my feet wet!
Hiking Socks
Skimping on hiking socks is a big mistake. When it comes to socks comfort is key. Hiking isn't the time to choose no-show ankle socks even if you're worried about tan lines!
It's best to make sure the top of your socks sits a couple of inches above the top of your boots. Choose between wool or synthetic socks and whether you want light, medium, or heavy-weight cushioning. Medium cushioning can be best for all except the coldest weather.
Wool socks are often best for regulating temperature but pick a blend of wool and synthetic for extra durability.
Hiking Pants
For women's hiking pants, I'm a fan of the trend for hiking in leggings. Hiking in full-length pants or leggings can be best for avoiding ticks or scratches from the undergrowth. (Though sometimes it's just too hot and I have to resort to shorts).
Stretchy, breathable, and durable are my top requirements. For Summer I look for lightweight fabrics and pant legs I can roll up.
In winter, protection is key. I look for pants or leggings with water-resistant and windproof fabric. It can make the difference between being just right or having really cold legs on a hike.
Of course, you can always pull on waterproof pants, but these can be very sweaty to hike in. I'd rather go with good hiking pants and just keep some lightweight waterproof pants for really wet conditions.
Hiking Tops or Shirts
Advice aimed at beginner hikers suggests wearing collared hiking shirts. I've never bought into this trend. Collars are a good way to keep the sun off your neck but I just find hiking in a shirt a bit odd.
A long-sleeved top is a good idea if the sun is really intense, especially in really hot climates. When it comes to cooler weather, layers are best. Trapping warm air between your clothing layers helps to keep you insulated.
I don't buy into the whole merino wool idea. I've tried it but I find wool just doesn't wick well enough and can be cold, clammy, and slow to dry when it gets wet.
On the hiking trail, I stick to wicking, quick-drying synthetic fabrics from performance brands.
Insulated Hiking Layers
Any hiking for beginners' guide would be remiss without explaining the different types of insulation on offer. There are so many choices for hiking it can be overwhelming. Plus so many hikers get this so wrong.
I've lost count of the number of times I've seen hikers wearing microlight down jackets in winter. Such a newbie mistake!
Ethically sourced down is a wonderful source of insulation at your overnight campsite or sitting on a cold belay stance. It's just that it's STATIC insulation and will make you overheat once you start hiking up a mountain.
It's also rubbish when it gets wet. The feathers stick together in useless clumps. (The only time I've hiked in a down jacket was at 7000 m on Lhotse. It was really cold!)
When you're hiking you want breathable insulated layers. This is where synthetic insulation comes into its own.
Dynamic insulation is made from high-loft, low-density fibers such as Primaloft or Polartec Alpha. A good synthetic jacket will also provide wind protection (essential in cooler weather).
Hiking For Beginners – Waterproof Jackets
My choice of waterproof jacket always depends on the season. In summer, when the temperatures are reasonable, you can get away with a lightweight waterproof jacket that's easy to pack.
When it comes to hiking in prolonged rain on cold winter days, I'm a lot more choosy about the jacket I carry. Your waterproof jacket needs to keep you dry!
When I'm in the UK in winter that's a big deal. Scottish winter weather is notorious and choosing the right jacket can be a lifesaver.
I always go for reliable brands. This is one area where it's a mistake to skimp on price. You're looking for a breathable and fully waterproof hiking jacket.
Head Protection
I rarely go anywhere without a hat of some kind. A cap in summer to protect my face from the sun and a warm hat or bandana in winter.
When I'm choosing a sun cap I look for a good-sized brim and I need a deep cap with a ponytail opening to make sure it stays on my head!
In winter I'll pick a warm beanie that's not too thick – warm but not sweaty when you walk. Buffs are also good for headgear or neckwarmers.
Gloves For Hiking
Like many women, I suffer from cold hands and I'm rarely without a pair of gloves even in summer. (Hothands are my no.1 essential item on any outdoor trip).
It used to amaze me when I ran an outdoor store: the number of women who came in complaining about cold hands hiking, but still wouldn't invest in a good pair of gloves.
Gloves last for years and every outdoor user should have at least one pair of waterproof, insulated gloves. Think of it as an investment piece.
Sunglasses
My mother was an optician so I've had it drummed into me from a young age the need to protect your eyes from sunlight. Plus wearing sunglasses on a hike makes hiking so much more enjoyable instead of squinting on sunny days.
When you're hiking you do need glasses that will stay on easily.
Hiking For Beginners: Packing For The Trail
Although I might do a very short hike on trails I know without a pack, it's usually a good idea to take a backpack even on short trips.
Remember the ten essential systems listed above and make sure you're properly equipped for the hike you're about to undertake.
That said, hiking isn't about throwing in everything you might need just in case. You have to carry your pack.
Take too much and you sabotage your chances of a successful hike. That pack will start to feel much heavier a few miles down the trail. Learn to pack light!
Backpack
I like to carry my pack-light philosophy over to the actual pack I carry. There's a trend to equip packs with every latest gizmo until the actual pack weight will leave you struggling to carry anything else.
Make sure you always try a pack on and that the back length fits.
Navigation aids
I'm a bit old school when it comes to navigation and I prefer to use a paper map and compass. Yet using a GPS and a satellite messenger service really is the future. Any hiking for beginners guide needs to point out the obvious benefits. It's a sensible precaution for backpacking in remote areas.
I always opt for Garmin when it comes to navigational devices and I'm not alone. Garmin GPS or combined GPS/messenger services are consistently voted the best in the hiker community.
Headlamp
If there's any risk of being caught out and stuck on the trail after the sun goes down, it's best to take a headlamp. Stuff happens on the trail and stumbling along in the dark to get back to your car isn't a good idea.
Especially in the winter months when the days are short. Spare batteries are essential for longer hikes.
Sun Protection
Hiking in summer you'll be fried without decent sun protection, especially if you're hiking over high passes. I don't mess about when it comes to sun protection.
On the trail, I go for Factor 50. It lasts longer and gives you the best possible protection.
I hate bugs and whenever I head off hiking in summer, bug protection is on my list. Unless I'm in a malaria area abroad, I prefer to avoid products with DEET. I find Avon Skin So Soft or Smidge see off most midges or mosquitoes.
First Aid
I always think the content of your first aid kit is a personal choice. At a minimum, I always carry some plasters and Compeed blister pads. A crepe bandage is a good idea in case you turn your ankle on the trail.
For multi-day hikes in remote areas, take a comprehensive lightweight first aid kit. It's best to make up your own but any off-the-shelf kit could save the day!
Knife and Fire
I cannot imagine needing a knife on a day hike or ever carrying fire-making equipment such as a stove. Backpacking overnight is a different story and most of the time a knife, gear repair kit, and stove are must-haves for camping.
I once dated an outdoor enthusiast who always carried a little survival tin with snares, tinder, and fire lighting material with him everywhere he went. Plus a mean-looking hunting knife. (I also had a friend, led by a guide the wrong way off Mount Elbrus in a storm, who spent 6 days surviving on just one mars bar).
Way up the risks on your trail, but for most day hikes, water, food, clothing, and an emergency bivy bag are essential. A knife and fire-making equipment? Not so much.
NOTE: In most hiking areas lighting fires is strictly forbidden because of the risk of forest fires. Barbeques are for the backyard, not the trail.
Shelter
Unlike my views on fires and knives, an emergency shelter is essential for most hikes if you're venturing into a remote or mountainous area.
Being able to whip out an emergency survival bag from your pack could be a lifesaver. The Grizzly Gear Emergency Sleeping Bag weighs just 5.6 ounces! There's really no excuse not to have one in your pack.
Avoid survival blankets. You need something you can crawl into if you're stuck with a broken leg in a storm.
Food
Food on the trail is a personal choice but nutritious high-energy snacks are essential. Never underestimate how hungry you can become on a day hike.
Sometimes having adequate food supplies can make a big difference. No one wants to get stuck on a trail because they lack the energy to complete the hike.
It's always important to pack an extra ration for emergencies. Keep it separate in your pack just in case your day fails to go to plan and you need some extra energy to make it to the trailhead.
Hydration
Even more important than adequate food, hydration is key on a hike. Most people can force themselves to keep going when hungry, but a lack of water can land you in serious trouble.
Always take more water than you need and in many situations, it's worth taking a survival filter and potable aqua tablets.
I carried a Life Straw around with me in Tibet once and I'm not a fan. It's better than nothing but really limited as you can't decant the water into a bottle and treat it with potable aqua to be on the safe side.
Extra Clothing
Always carry some extra clothing with you for emergencies. That lovely summer's day can often change in an instant when you're in the mountains.
Never go anywhere on the trail without a waterproof jacket and on longer hikes, in winter or poorer weather take some lightweight waterproof over-trousers in your pack.
Camera
Of course, a camera isn't essential but it's usually top of most people's list when packing for a hike. You can of course use your phone. Your camera weight is a big deal camping so going lightweight is important.
I once had an Olympus Tough and loved it. The camera is seriously indestructible but there are plenty of good affordable compacts to use on the trail.
My partner is semi-pro and uses the mirrorless Olympus OM-D E-M10. It's superlight for this type of camera and ideal for inaccessible mountain shoots.
Hiking For Beginners – What Do I Need To Know Before Hiking?
We've covered the details of picking a route, what to wear and what to take. We've also covered safety including how to stay safe hiking in bear country.
All that's left is a little trail etiquette:
Leave no trace. Keep the wilderness pristine for other users.
Check regulations for where you're hiking. In many National Parks it's important to keep to established trails.
Pack it in, pack it out. Take all your trash out with you. If you're camping overnight it's best practice to use a camp trowel and pack out toilet paper in a thick sealable plastic bag. (Maybe take an opaque bag to hide it in).
Look but don't pick plants or wild flowers.
Only light camp fires where they are permitted. Use for cooking only and keep fires small.
Greet people you meet on the trail but respect their space.
Allow other users to pass you.
Don't interfere with wildlife, observe from a distance.
I really hope you enjoy your first hiking trip. This hiking for beginners guide is a long list of do's and don'ts, and tips for staying safe. Please don't be put off.
Hiking is a wonderful way to explore the incredibly beautiful world we live in. With a few sensible precautions, it's possible to explore even remote areas safely. I'd love to hear how you get on…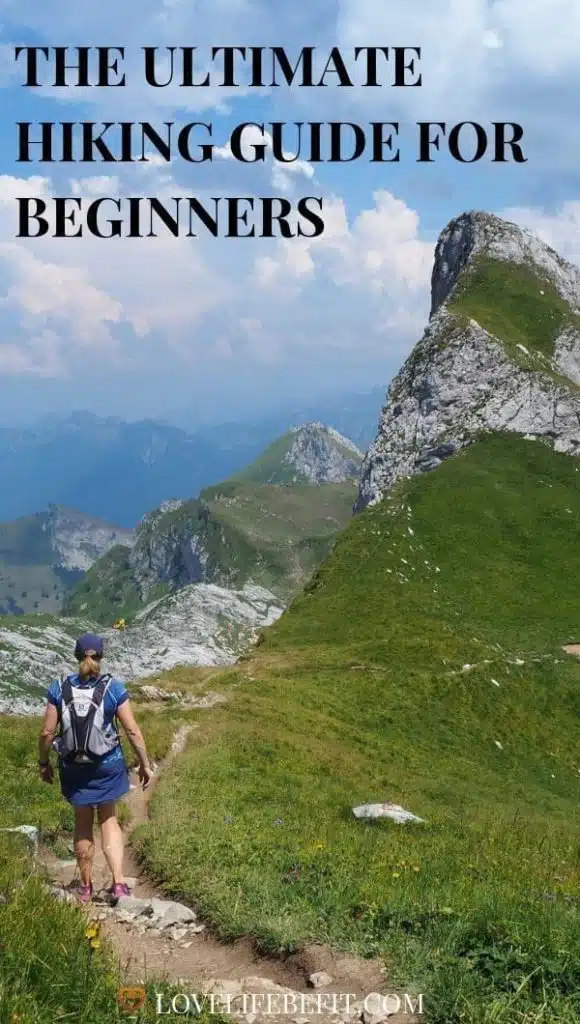 How do you start hiking for beginners?
If you're completely new to hiking it's best to find someone more experienced to hike with. If you don't have a suitable friend, Meetup is a good place to find a nearby hiking group. As a beginner hiker, it's best to start with easy-to-navigate routes on marked trails and work up to more challenging routes as you gain experience.
What should I wear for the first time hiking?
Supportive comfortable footwear and good waterproof are the most important items for hikers. You can wear trainers with a good tread on easier trails but most people find lightweight boots with ankle support are best. Avoid wearing jeans or cotton pants that can get wet and heavy if it rains. Try to wear comfortable quick-drying clothing and make sure you take some extra warm layers.
What do I need to know before hiking?
Most important is knowing the route and how long it will take. Always allow safety margin and include getting to the trailhead in your calculations. You don't want to get lost, so make sure you can navigate, and you definitely don't want to be stuck on a trail in the dark! Make sure you tell someone where you're going and pack your essential survival gear – torch, spare food, water and clothing, first aid kit, sun protection, and navigational aids. If hiking in winter or in the mountains it's best to take a bivy bag and even a stove. If you're venturing into bear territory take your bear spray and keep it accessible on your belt at all times.