Stuck for an idea? Looking for the best gifts for hikers in 2022? Then read on. This list contains something for everyone.
From stocking fillers to this season's "must-have" gifts for hiking lovers to gadgets designed to keep hikers safe in the hills.
Hiking gifts don't need to be expensive so I've started the list off with affordable stocking fillers. These gifts are mainly under $20. Fun and practical ideas for surprising your hiking friends.
I always find it's best to stick to gear when buying gifts for hikers. Fortunately, when it comes to hiking there are so many gadgets to choose from. I find hikers are always looking for the perfect piece of kit to make their life easier in the mountains.
If you're looking for hiking clothing or footwear for someone you know well, I've included a list of hiking gifts for her and hiking gifts for him. Just make sure you have a good idea of sizing to avoid post-holiday returns.
Enjoy the list and if you have any suggestions please add them in the comments!
This review is based on my own independent product knowledge and testing. If you like what I do, you can support me through my chosen links. I may earn a commission but it's at no additional cost to you. Learn more about my product recommendations.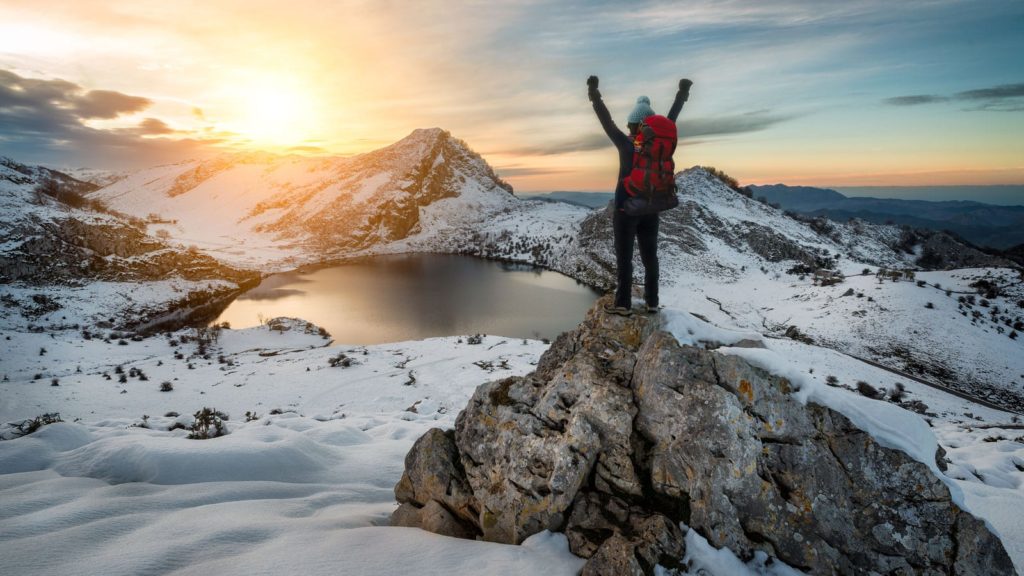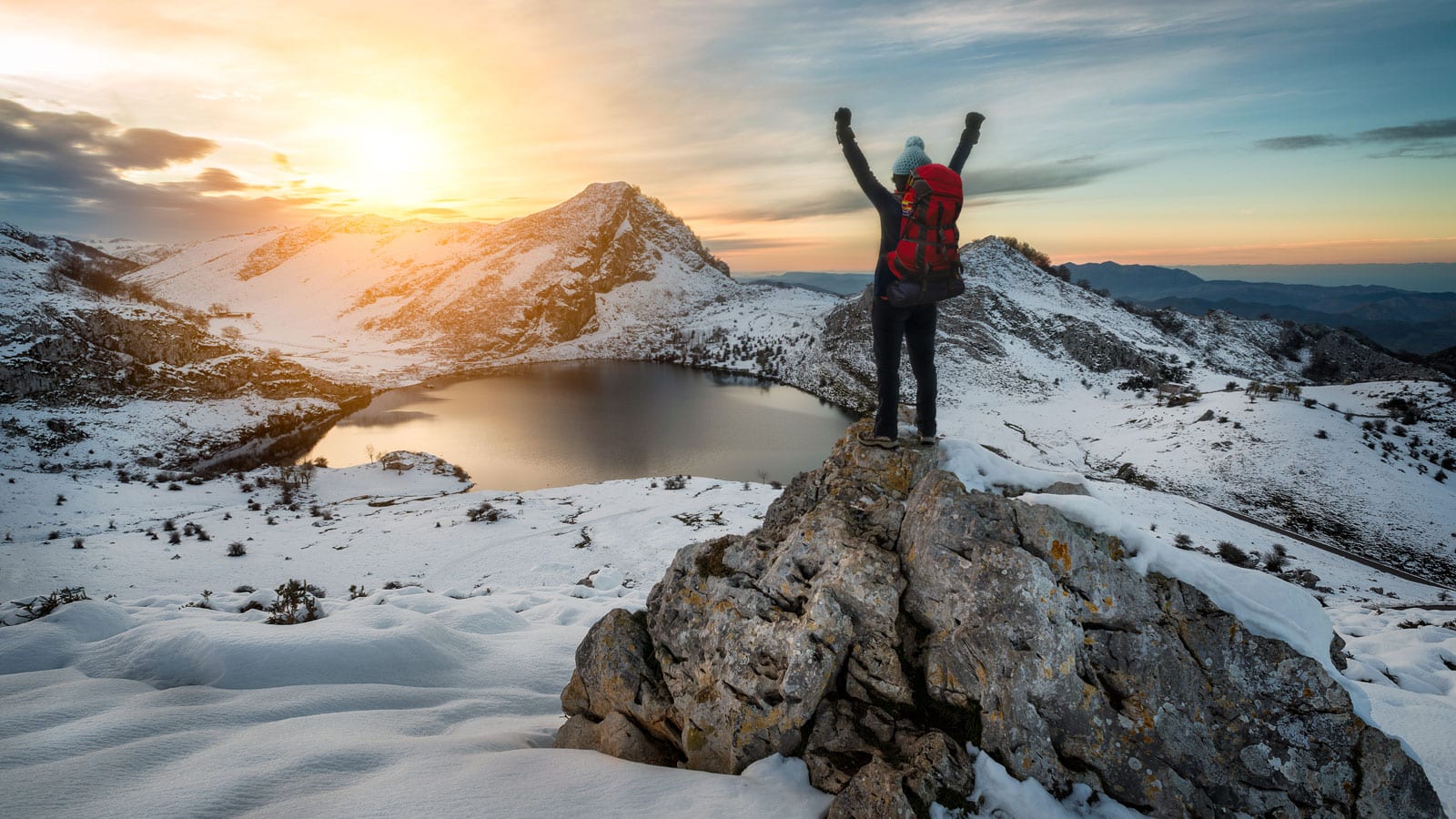 😍 Want to know what's on my gift wish list? I'm seriously hoping someone gets me this for Christmas – hint, hint…
Stocking Fillers For Hikers
It's always good to get gifts for friends you share so much time with on the trail. Yet if you have quite a few friends to buy for the cost can quickly add up. Never fear, the items on this list are $20 dollars or less – practical items and super affordable!
Darn Tough Socks
In my book, you can never have too many socks. The range from Darn Tough is fun and super comfortable for hiking. They even have a lifetime guarantee which is pretty amazing when you think about how much wear socks get on a hike!
Choose from plain colors to wacky styles, there's a huge choice for both men and women. I'm sure these Bear Town socks will raise a few smiles. I find their boot socks are great for resisting blisters on longer treks.
Tenacious Tape
Got a friend who's always damaging their kit? Rather than leave them to fix their gear with gaffer tape, a gift of tenacious tape could make a difference.
Tenacious tape fixes just about anything and even comes recommended by gear manufacturers.
Scorched Earth Travel Towels
I think these towels tick all the boxes for a great gift for hikers. It's an attractive gift to open yet super practical. If your hiking friends love multi-day trips and camping on the trail, these towels are a must.
Packed away, the towels measure a tiny 5.5″ by 3″ and weigh just 6 ounces! For serious lightweight hikers, you can just take the small-sized towel with you.
They're also good for keeping in the car to dry off at the end of a hike and I find the small towel is handy to keep in your backpack for drying off after river crossings.
Astronaut Hiking Snacks
These make fun gifts. Freeze-dried ice cream developed for NASA! Love the astronaut packaging. There are also some freeze-dried fruit options suitable for vegans.
Bound to get some laughs pulling these out on a trail! They are a bit pricey but you can split up the packs to create two or three gifts for friends.
Beanies For Hiking
A new hat or beanie is an affordable way to revive any hiking outfit and they're always well-received gifts. When I ran an outdoor store we sold a lot of hats in winter.
The most popular ones were warm beanies in mono-colors with a fleece lining next to the skin. Beanies just like this one:
Appalachian Trail Wall Map
If your friend has aspirations to complete the Appalachian Trail this wall map should inspire them. Of course, if they've already completed the beast it's a terrific memento.
Hiking Log Book
Have a friend who loves recording their adventures in the mountains? This could be the perfect present. A hiking logbook with plenty of space for adding notes about trails.
Hiking Gifts For Gadget Lovers
The wonderful thing about buying hiking gifts is the gadgets. Yes, I confess, I'm a secret gadget lover.
Planning what to take on a hike down to the last detail is my idea of a blissful way to spend an evening – especially if it involves buying new gear!
When it comes to hiking there are so many gadgets to choose from. I had so much fun coming up with this list. These gadgets are perfect gifts for keeping hikers safe and warm in the hills.
Petzl HeadLamp
I would personally never go on a long trek without a headlamp. If there's any risk of being benighted a head torch is essential. I've been using Petzl headlamps for years. Never known one to fail.
There's a huge range to choose from depending on your budget and the brightness of the beam. The Petzl Actik Headlamp is a good mid-range choice that will get you back to the road head in fading light.
LifeStraw Personal Water Filter
Traveling light? There's always room for a LifeStraw and they make perfect hiking gifts!
Weighing just 2 ounces, these LifeStraws are an alternative to iodine tablets and bulky water purifiers. Drink directly from mountain streams safe in the knowledge these straws block at least 99.9% of waterborne bacteria and parasites.
TrailBuddy Trekking Poles
Now not everyone finds trekking poles essential but they're de rigueur for long steep descents if you want to protect your knees.
TrailBuddy is a small family-owned business based in Hayward CA and they're passionate about their poles. These tough lightweight aluminum trekking poles come in 8 different colorways. Adjust to the right height with ease and stash in your pack when not in use.
Osprey Backpack
Skimp on your pack and you'll regret it several miles down the trail. It's especially crucial to have a good pack for multi-day trails.
Osprey makes wonderful packs. In my view, they're in a class of their own. Designed to be light and functional, they make perfect hiking gifts.
There's a huge range to choose from but the Osprey Daylight Plus is a favorite with day hikers.
Adventure Medical Kit – Hiker First Aid
It's easy to get complacent about first aid supplies. Often experienced hikers will have kits with half the supplies missing. I know I've "borrowed" from my emergency kit from time to time and forgotten to replace the items.
That's why a good first aid kit makes a thoughtful present for hikers, experienced and beginners alike. The Hiker First Aid Kit covers all the essentials for a two-day trip and comes in an easy to carry lightweight pouch.
JetBoil Flash Camping Stove
Buying a gift for someone who loves to brew up on the trail? Then the Jetboil Flash is the perfect hiking gift!
This little stove brings water to the boil in just 100 seconds – now that's fast. It blows the competition out of the water and is bound to make any cold alpine starts far more pleasurable.
Garmin InReach Mini GPS Satellite Communicator
The problem with mobile phones is you can never get a signal when you really need one. Now that's a real concern – imagine breaking your leg several days into an isolated trek.
The Garmin InReach Mini Satellite Communicator comes to the rescue. In an emergency, you can trigger an SOS alert to contact emergency response teams. This device has full global coverage and you can also use it to send and receive text messages – no more feeling lonely if you're trekking alone.
Its piece of mind for Moms and Dads and plus the device is so small it's no effort to carry it on a trek. You even get to track your loved one's progress on their latest adventure!
Hiking Gifts For Her
This is a bit like writing my personal wish list! The list could be endless but I'm sticking to some of the best hiking pieces that have caught my eye in 2020…
The North Face Thermoball Eco Jacket
Made with recycled materials and completely vegan, this Thermoball Jacket wins out for hiking. Easy to pack and go it's a super lightweight layer to pull on for warmth mid-hike.
Prana Halle Pants
Just about every woman loves the Prana Halle Pants. Why? Because they're super stretchy! I used to sell loads of these in my outdoor store and women always came back for a second pair.
They're also durable, water-repellent, dry quickly, and just made for hiking, especially in Spring and Fall.
Icebreaker Merino Baselayers
These Icebreaker Merino Baselayers make wonderful hiking gifts for women. Let's face it, as women we always seem to feel the cold!
These layers are soft next to the skin and super cozy. Just what you need on a cold winter hike!
Arc'teryx Beta Jacket
When you're a keen hiker, the most essential item on your kit list is a waterproof jacket. These jackets are investment pieces and make tremendous gifts.
Arc'teryx waterproofs are known for their exceptional quality and attention to detail. The Beta Jacket is no exception. If you're looking for a gift with a WOW factor – this is certainly it.
Buff Original Headwear
The original buff is still the best and makes a very practical present. Neckwarmer, headgear, emergency facemask… The hard part with this gift is choosing a color!
Hiking Gifts For Him
From experience, most guys always want the best gear, especially when it comes to hiking. I've lost track of the times I've clocked men wearing the latest winter climbing boots for a modest walk up a snow slope.
To get hiking gifts for him right I've aimed for some of the most extreme hiking gear I could think of…
Black Diamond Bipod Bivy
Guys love bivvying. It's a macho thing. The smaller and more expensive the bivy tent the better. On both counts, the Black Diamond Bipod is one of the best.
Of course, I'm being a little tongue-in-cheek here. I've been known to cope with quite a few nights under the stars myself. But I do prefer a tent you can actually sit up in. Yet if you're buying a hiking gift for a man whose hero is Bear Grylls, the Bipod is bound to be a success.
If you're on a strict present-buying budget or just want a really hard-core gift, try the Life Tent for size, or just gift wrap a piece of tarpaulin!
Light My Fire Starter Kit
Sticking with the survivalist theme for a moment, a Light My Fire Starter Kit makes an affordable hiking gift for him. Good for emergencies for all hikers, I'm sure most of these tools get used on the back yard barbeque.
Arc'teryx Atom AR Hoody
The Arc'teryx Atom AR Hoody is a legendary piece of kit. Super warm and super breathable, it's the top choice for frigid mountain days.
As a hiking gift for him, make sure you get the hoody version. It separates the wannabe about-town hoodless posers from the true hiking enthusiasts.
Black Diamond Raven Ice-Axe
Nothing shouts serious hiker quite as loudly as a walking axe strapped to the back of your pack. Yes, we know most of these axes are there for show and mainly used for posing for pictures. Yet they can be essential for keen winter walkers.
The Black Diamond Raven Ice-Axe is everything you'd expect from a walking axe. Extremely lightweight and effective for self-arrests. It makes a welcome gift. Remember to add a leash before use.
Garmin Fenix 6X Pro Solar
This must be the ultimate hiking watch and the eye-watering price is equivalent to the cost of several backpacking holidays. At this price, I'd expect the watch to do the hiking for me.
In simple layman's terms, it's a navigation device but that's a bit like saying a Bugatti is just a car. I can't really do it justice here.
Before committing ask yourself – if I buy this gift for my hiking guy am I prepared to hear about all its amazing features constantly for the next 6 months? You have been warned!
---
I hope this list has provided a few ideas and at least a little amusement in your quest for buying gifts for hikers. Feel free to add some comments or recommend your favorite items.
Frequently Asked Questions