When it comes to keeping warm in winter and enjoying outdoor activities, down insulation is best. There I've said it. Sorry vegans.
It doesn't mean you can't get a terrific synthetic alternative, I just mean if you're out in the cold anytime soon, down will keep you the warmest. This list of down jackets is aimed at finding a jacket to keep you toasty.
As someone who follows a largely plant-based diet, I've added in some of my favorite vegan jackets. For me, choosing between synthetic fill and down is a dilemma.
For high-altitude mountaineering using down as an outer layer is practically obligatory. For everything else, a puffer down jacket may still be best but there are plenty of cozy vegan jacket options.
This review is based on my own independent product knowledge and testing. If you like what I do, you can support me through my chosen links. I may earn a commission but it's at no additional cost to you. Learn more about my product recommendations.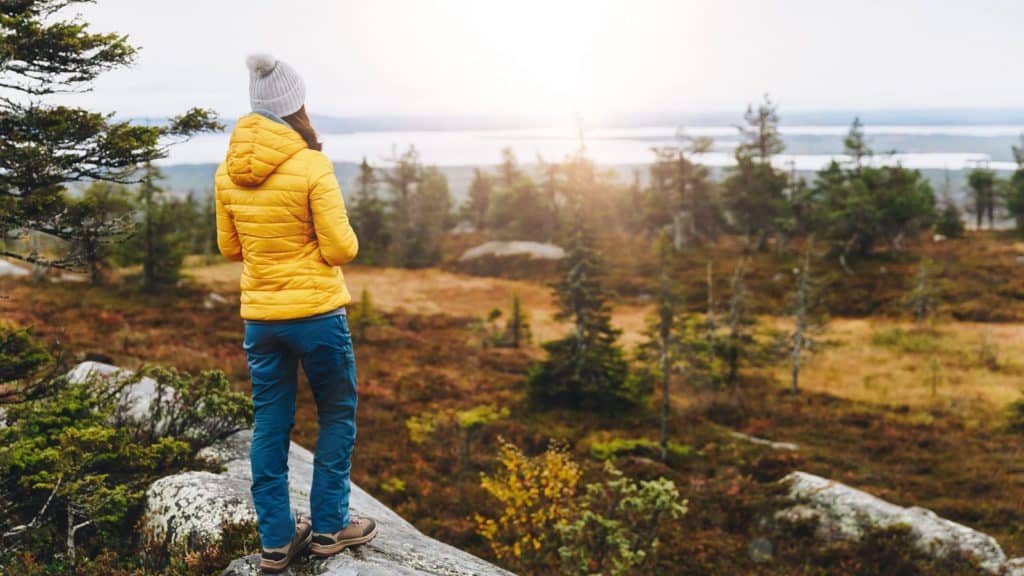 ✅ Want a sneak peek at my favorite down jacket? This is the jacket that gets me through the cold winter months! It's the best women's lightweight down jacket. I prefer the hooded version.
There are a few things you need to know first about buying the best women's down jackets or even choosing a warm winter coat. Not all are the same.
Now I adore my Mountain Hardwear Ghost Whisperer Jacket. In my view, it's the best women's down jacket and an essential piece of winter gear. There's rarely a day in winter when I don't have it on, but it's a microlight jacket.
Just because it uses 800-fill goose down, pretty much the best you can buy, doesn't make it a super warm jacket. Why? Because the jacket's warmth factor also depends on the amount of fill.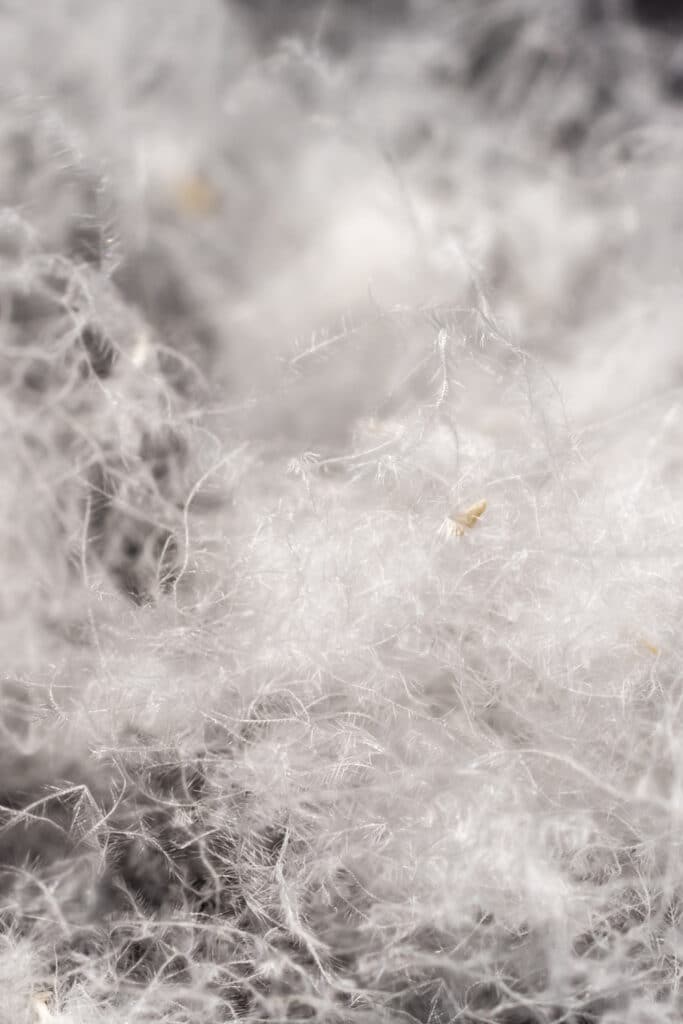 Down Fill Power Rating
The down-fill power rating is the universal rating system for duck and goose down. Generally, for jackets, this ranges from 550 to 900 but you can even get a 1000-fill down jacket! Goose down has a higher fill rating with bigger and stronger feathers.
The number represents the volume in cubic centimeters of a single gram of down, when fully lofted, (fluffed up). The higher the number the better. High loft down traps more air within the down jacket keeping you warmer.
Yet high fill power doesn't take into account the total amount of down. A jacket using a lot of lower quality fill can still be warmer than lightweight down jackets like my Mountain Hardwear Ghost Whisperer. You have to compare the fill weight of the down and the quality of the fill.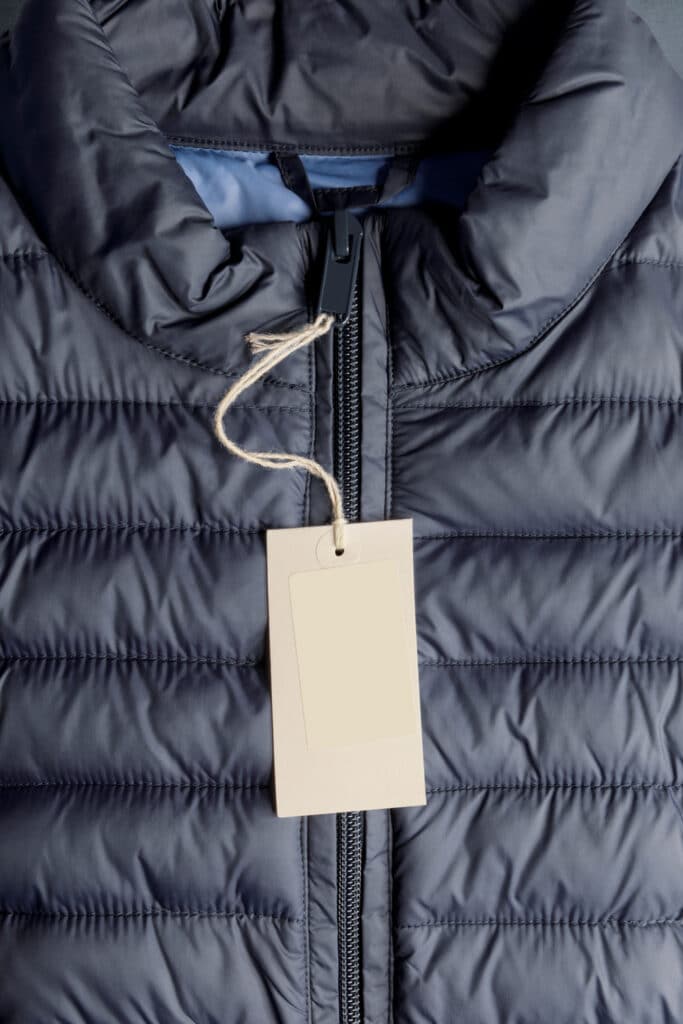 Down Jacket Baffle Construction
It's not just the fill that makes a difference to warmth, the construction of the down jacket is key. Most jackets use stitch-through construction where the outer fabric is stitched directly onto the inner lining, separating the down into baffles. This distributes the down evenly around the jacket but the down is pinched at the seams.
Performance jackets for really cold conditions normally use box wall construction. Fabric compartments are created to distribute the down around the jacket. This type of construction is very bulky but eliminates any cold spots for really cold conditions. I have a Rab expedition standard jacket constructed this way. It's an earlier version of the Rab Infinity Jacket. I only ever use it in high mountains.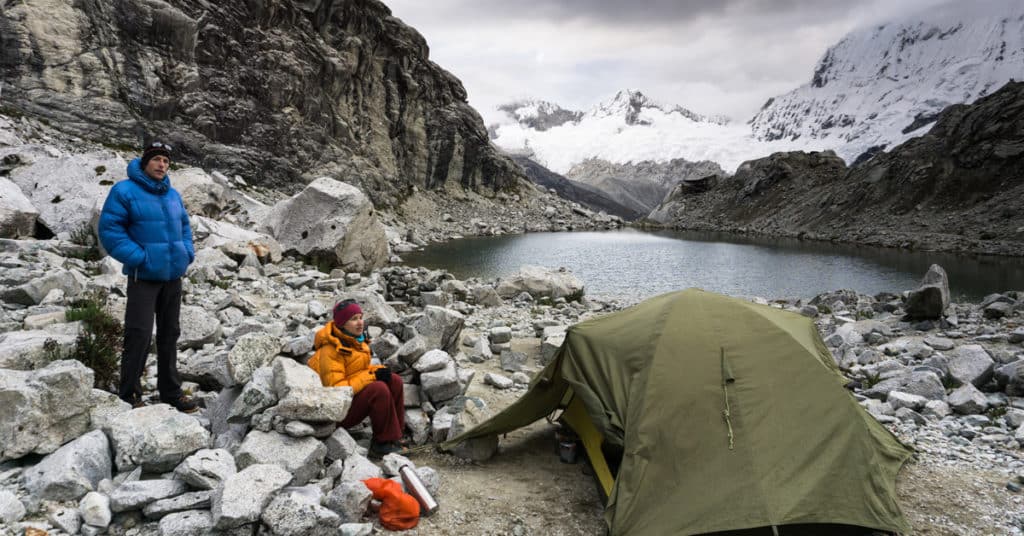 Down Jacket Features
It's not just fill power and construction you need to think about when choosing a down jacket. There are other features that contribute to keeping you cozy.
Hoods
When you're up a mountain, a hooded jacket is more than just a fashion feature. It can make a huge difference to warmth if you're walking into a gale.
Hoods may get in the way if you're climbing with a helmet or not look as smart if you're wearing your jacket about town. Yet when you're looking for warmth, I always opt for the hoody version.
Some jackets, such as the Rab mountain jackets, have an oversized helmet-compatible hood. The hood fits over your helmet. A hooded jacket with a wired or polymer peak keeps its shape better in strong winds.
Chin Protector
Often overlooked, your down jacket needs a chin protector, also known as a chin guard…fabric that forms a barrier between your skin and the zip. Without this, you'll discover just how cold your zip gets in freezing temperatures.
Top brands will always design in this feature and often add a cozy backing of microfleece in the chin area for extra comfort.
Deep Hand Warmer Pockets
The best jackets always have good pockets. You're pulling on your jacket for instant warmth. It makes complete sense to be able to thrust icy hands into deep pockets to get some life back into them.
If you're using your jacket for hiking or climbing make sure you can still access your pockets when wearing a backpack with a waist belt or a harness. Jackets for mountaineering normally have pockets positioned above the waist.
Hem Drawcord And Cuffs
For ultimate warmth, you want to trap air around your body. Wrist cuffs and a hem drawcord will stop warm air from escaping.
Jacket Length
Choosing the length of your jacket very much depends on its use. For a jacket used about town, it just depends on preference. Some people like jackets long to keep your bum warm, others like a cropped sporty look.
In the mountains, a long jacket will get in the way of climbing technical routes but on cold snowy plods, I always like the extra warmth of a longer-length jacket.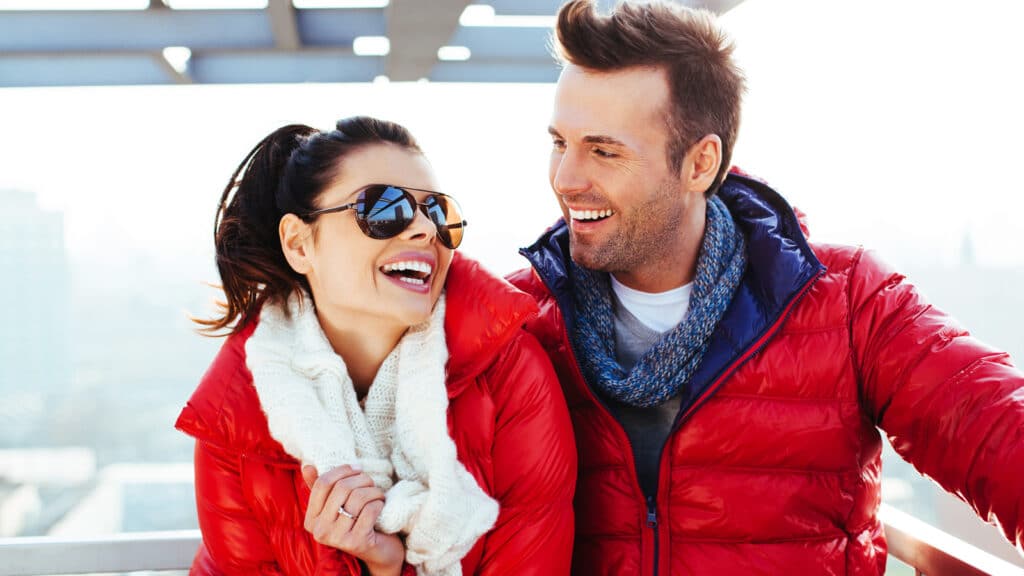 Best Down Jackets For Women In 2023
This is my pick of down jackets available in 2022 Some are microlights, excellent if you want a lightweight jacket that punches above its weight for warmth, and some are built for seriously cold weather.
Mountain Hardwear Ghost Whisperer/2 Hoody For Women
I make no apologies for starting with this one. The Mountain Hardwear Ghost Whisperer/2 Hoody is my all-time favorite.
I've used mine everywhere. It's a huge winner if you need an instant warm layer. The deep zipped pockets are excellent for hand warming. Elastic binding on the hood and elastic cuffs helps seal in your body heat and retain warmth.
The outer in 100% recycled fabric is amazingly windproof and it packs down to almost nothing. It's the ultimate packable down jacket and weighs just 7 ounces. You can stuff the entire jacket into its own pocket. No need for a separate stuff sack! I will even add it to my pack in Summer if I'm going to be standing on a cold belay.
The outer fabric is a lightweight ripstop fabric with durable water repellent (DWR) finish – it will bead off a few drops of rain. The jacket uses responsibly sourced, Responsible Down Standard (RDS) certified, 800-fill power down. It also comes in a hoodless version if you're not a hoody fan.
Best women's 800-fill down jacket for super lightweight warmth.
Rab Microlight Alpine Jacket For Women
Hot on the heels as a top favorite is the Rab Microlight Alpine Jacket for women.
This great jacket uses 700 fill power hydrophobic (water-repellent) goose down. One of the problems with down is it loses its loft when wet. All those fluffy feathers end up as a clumpy and soggy mess and in wet weather your down jacket rapidly becomes useless. That's the advantage synthetic insulation has over down.
The solution to wet down is hydrophobic down. Down with water resistance! Get this jacket wet and the down keeps its loft – staying warm as it dries. Critics will tell you hydrophobic down isn't quite as warm as the untreated version. But it's a good option and definitely worth considering if you're using your jacket in damp conditions and may get caught out in light rain.
You get more high-quality fill weight for your money with the Rab Microlight Alpine Jacket. It is a little heavier than the Ghost but still comes in at less than 15 oz for a medium-sized jacket. This jacket comes in lots of different colors.
Fully featured with an excellent hood, this jacket is extremely popular in the UK and becoming more widely available in the US. Love the way this latest version uses completely recycled high quality down.
As well as two zippered hand pockets, this jacket has a very handy large zippered chest pocket. A lot of thought has gone into the design of the adjustable hood – it not only fits well but has a stiffened peak to help keep the elements off your face in bad weather.
Favorite down jacket for lightweight water-resistant (hydrophobic) down.
The North Face Aconcagua Jacket For Women
The North Face Aconcagua Jacket is hugely popular if you're seeking a more affordable lightweight puffy jacket.
The 550-fill jacket is warm and water-resistant.
It's an excellent choice for fall camping or snowshoeing on winter days! Easy to pack at just 11 oz for a medium-sized jacket and comes with zipped handwarmer pockets. This jacket always gets lots of terrific reviews!
Best budget down jacket.
Arc'teryx Cerium LT Hoody For Women
No list would be complete without an Arc'teryx women's down jacket. The Arc'teryx Cerium LT Hoody is one of the best.
With premium 850-fill, this quality jacket at under 10 ounces is almost as light as the Ghost and makes its mark for lightweight warmth.
I always love the Arc'teryx eye for detail and this jacket is no exception. The jacket fits snugly, zipping up over the chin to provide protection when the wind starts to blow!
The jacket cleverly uses Coreloft™ synthetic insulation in moisture-prone areas.
Best women's jacket for attention to detail.
Mountain Hardwear StretchDown Hoody For Women
The Mountain Hardwear StretchDown Hooded Jacket deserves a place on this list for its comfort factor.
Its unique stretch fabric construction makes this jacket a delight for active use. The 2-way front zipper is really handy for backpacking or climbing.
The stretch helps the 700-fill down retain maximum loft whatever the activity… a big plus for warmth! Comes with lots of handy pockets. A secure zipped chest pocket with a media port, two cozy handwarmer pockets plus a large internal dump pocket that's great for hats and gloves!
Best jacket for comfort.
Arc'teryx Thorium AR Hoody For Women
Sometimes you need the extra warmth and that's where the Arc'teryx Thorium AR Hoody comes in.
It's a go-to jacket for alpine warmth.
With 750-fill power goose down and an abrasion-resistant outer shell with a dwr finish, this jacket is mountain-ready. There's a clever use of Coreloft™ synthetic insulation in the hood, cuffs, and under the arms – areas prone to, shall we say, a little moisture!
Top down jacket for alpine climbing.
Rab Positron Pro Down Jacket For Women
If you're looking for the ultimate down winter jacket for warmth, make sure you put the Rab Positron Pro Down Jacket at the top of your list.
There's no messing about with this jacket, it's possibly the warmest jacket I've tried – 800 fill power of hydrophobic recycled down and designed for mountain use up to 6000m. A good choice for the Everest Base Camp trek.
With box-wall construction, this jacket will keep you snug in all conditions. It has a massive 275g fill weight – that's a lot of down! It feels like wearing a sleeping bag! Definitely, a top choice if you're expecting some freezing cold temperatures.
Exceptionally warm down jacket for base camp treks
Marmot Women's Highlander Hoody
Marmot is a company steeped in the history of mountaineering and their clothing reflects this attention to performance. Their followers are genuine outdoor lovers of hiking and climbing.
The Marmot Highlander Hoody, and the hoodless version, the Highlander Jacket are some of the warmer, cold-blocking jackets in their range. They're designed for snowy hikes and cold-temperature ski trips.
Packed with 700 fill down, this jacket sits in the middle between microlight jackets and more substantial jackets designed for frigid mountain summits.
The down is water-resistant – a big plus if you're using it for skiing in damp conditions. The diagonal stitching makes the jacket stand out from the competition, evenly distributing down throughout the garment.
The outer shell uses Pertex Quantum® fabric – a great fabric for protection from wind. The hood and sleeves have elastic binding for extra cold protection. Good pockets complete the garment – zippered hand pockets and a useful chest pocket for your valuables on the ski slope.
Best outdoor jacket for skiing
Outdoor Research Helium Down Jacket For Women
I sometimes think Outdoor Research sacrifices look for technical performance but this Helium Down Jacket is an exception. It's a jacket with the retro look nailed down – a jacket you'll want to be seen out and about in.
Unlike some other retro garments, this award-winning jacket uses the latest technology. A Pertex® Quantum with Diamond Fuse Technology protects the RDS 800+ fill down. Expect amazing durability and weather resistance. The fabric on the hood and shoulders is waterproof.
It's a technical cut and maybe a little short for some – it's definitely designed for active use not just sitting around.
This mid-weight down jacket comes with a long list of features – brushed tricot zippered pockets for extra hand warming, a zipped chest pocket, two interior pockets for stashing your hat and gloves, and a carabiner loop with a key feature. When the sun comes out you can pack the jacket away into one of the hand pockets that doubles as a stuff sack.
Best for looks and features
Rab Women's Cubit Stretch Down Hoody
This is Rab's answer to the Patagonia Down Sweater and the Mountain Hardwear Stretchdown and I think they've done an excellent job.
The Rab Cubit Down Jacket comes with 700-fill hydrophobic down and weighs in at 17 oz. The face fabric is a little better than the Patagonia Down Sweater and the Mountain Hardwear version. The lightweight Pertex®Quantum® 3DWeave is soft enough for a cozy feel but still provides good weather protection.
It's an everyday jacket aimed at the high street but it's a great option for camping and casual use.
Great for backpacking and camping
---
I've tried to provide a range of best down jacket women for different uses, microlight down for fall and spring or active use outdoors, and more substantial jackets for colder temperatures. If you're a vegan or just don't like the idea of wearing down, here are some top picks of vegan-friendly synthetic jackets:
Synthetic fabrics are continually improving and have the added advantage that they work well in wet conditions. Get a down jacket wet and the feathers clump together losing their warmth. Synthetic insulated jackets will continue to keep you warm even when it's wet.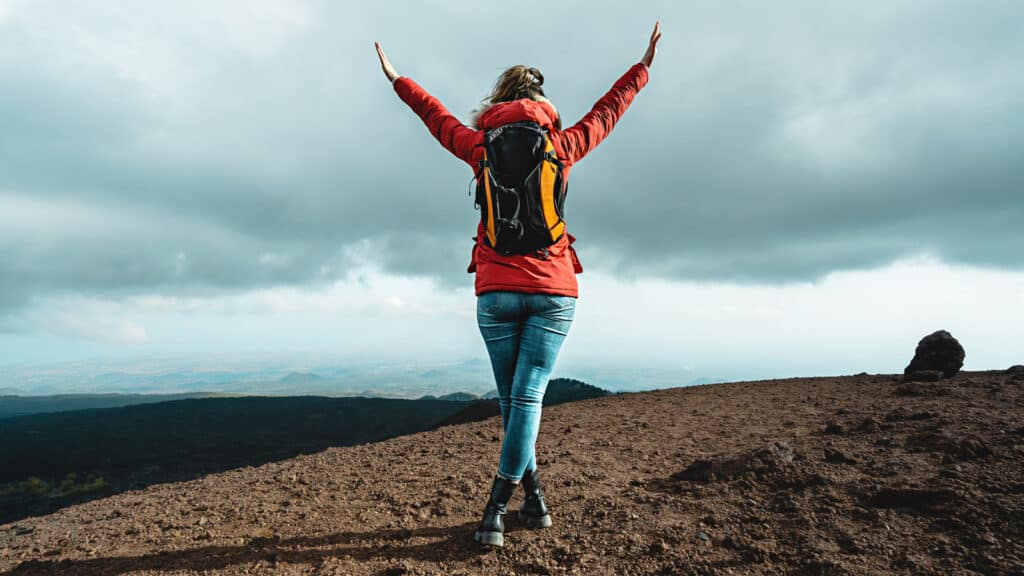 More Information
Use Of Your Jacket
It's always worth having a good think about what are you going to use your jacket for before you rush out and buy a new one. Is it for a specific outdoor activity or do you need a jacket that's going to work in lots of different situations?
I love to climb, run, backpack, ski, and sometimes go mountaineering. It's almost impossible to have one down jacket that covers all these different activities.
An ultralight down jacket is excellent for backpacking in reasonable weather but for winter camping there's not enough warmth. For fastpacking, I always go for a really lightweight high performance jacket with at least an 800+ fill rating.
For winter excursions I normally need something warmer. I might take an ultralight down jacket along as a just-in-case garment on a trail run. But if I'm going to be standing around at all I take a medium-weight jacket. I hate being cold!
For heading into high mountains, even in summer, my top choice is one of Rab's heavy-weight performance jackets – something to keep me warm in all conditions.
Compressibility
The advantage of a performance down jacket is its compressibility. A high loft jacket takes up far less room than a synthetic jacket or a jacket with 600-fill or less.
If you're backpacking, a jacket that compresses into a small stuff sack is ideal. Saving on space as well as weight.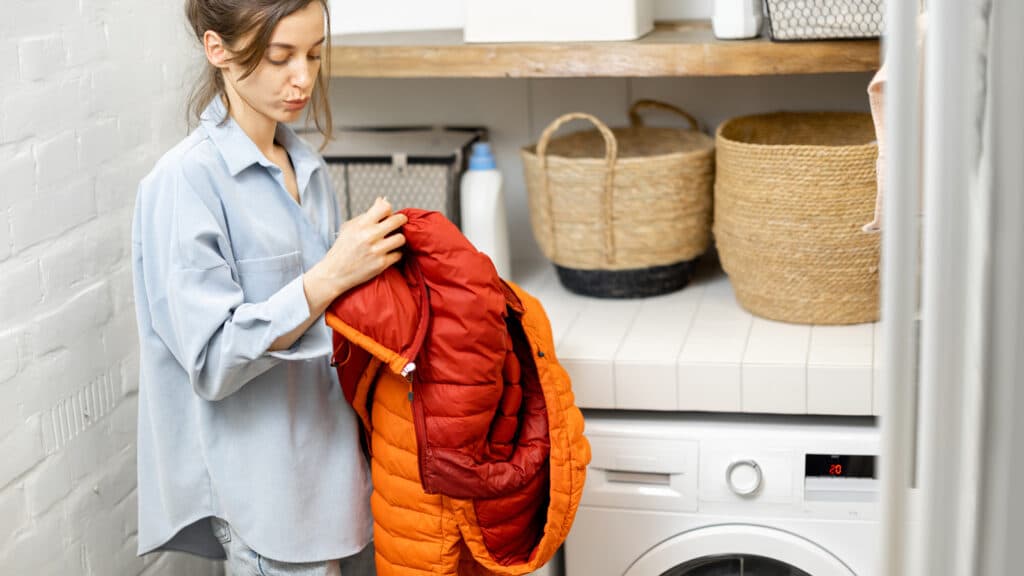 Cleaning Your Jacket
If you already have a down jacket that just needs a good clean, there are specialist cleaners who can take care of it for you. For jackets in good condition, I prefer to send them to a specialist who knows what they're doing.
For my older jackets, I'll wash them at home. I stick them in the bathtub with Nikwax Down Wash Direct. They need a lot of rinsing so a big tub helps! Rinse thoroughly until the water is completely clear.
You then need to find someone with a tumbler dryer and dry on a very low heat setting for a couple of hours. Keep checking and remove it every 20-30 minutes to give it a good shake and break down any clumps. It needs to be completely dry.
Choosing A New Jacket
Good jackets from reliable brands practically last forever. They can get a bit tired-looking so some of mine are assigned to hill use only!
A growing number of companies are using recycled down in their products, but I still think it's best to buy quality down jackets. A good jacket may cost more but it has a long life cycle.
If you've found this review helpful, you may enjoy my other gear-related articles: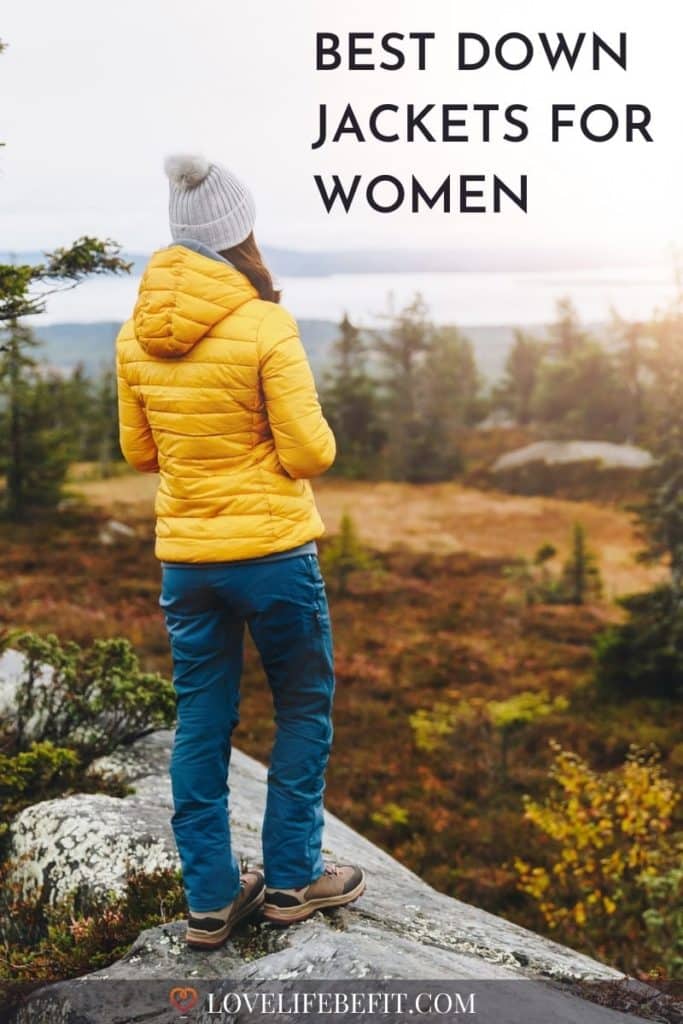 What is the best down jacket for women?
It really depends on the purpose of the jacket. For fall or spring when it's not too cold the Mountain Hardwear Ghost Whisperer Women's Down Jacket is a top choice. For really cold weather pick the Arc'teryx Thorium AR Hoody.
What brand of jacket is the warmest?
Choose a performance brand such as Mountain Hardwear, Arc'teryx, or Rab. They all produce down jackets for really cold weather.
What is the highest down fill jacket?
The Rab Zero G jacket is an incredible 1000-fill power. It only comes in a male version. The Arc'teryx Cerium LT Hoody is 850-fill. The Rab Positron Down Jacket has 800-fill and comes with box wall construction to avoid cold spots. It's designed for mountaineering on 6000m peaks.
What is the best down jacket for mountaineering?
It depends on how high you're climbing, what time of year, and what temperatures you can expect. The Mountain Hardwear Ghost Whisperer Down Jacket is an excellent choice for summer alpine routes. Go for something warmer in cold weather such as the Arc'teryx Thorium AR Hoody
What is the difference between 650 and 800 fill down?
The down fill power rating is the universal rating system for goose and duck down. The number represents the volume in cubic centimeters of a single gram of down, when fully lofted, (fluffed up). The higher the number the better. 800-fill has a higher warmth-to-weight ratio than 650-fill. It doesn't mean an 800-fill jacket is warmer than a 650-fill jacket – you have to take account of the amount of down in each jacket. A bulky 650-fill jacket is often warmer than a thin 800-fill jacket.