Pasta is my go-to meal of choice when I'm hungry and in a hurry. These easy vegan pasta recipes are quick to make and simply delicious. They're ideal when you're running late or need to put together a simple nutritious meal after a training session.
Of course, you can just grab a pre-made pasta sauce in your local grocery store but these dishes are so much better. Fresh, tasty, and full of healthy ingredients.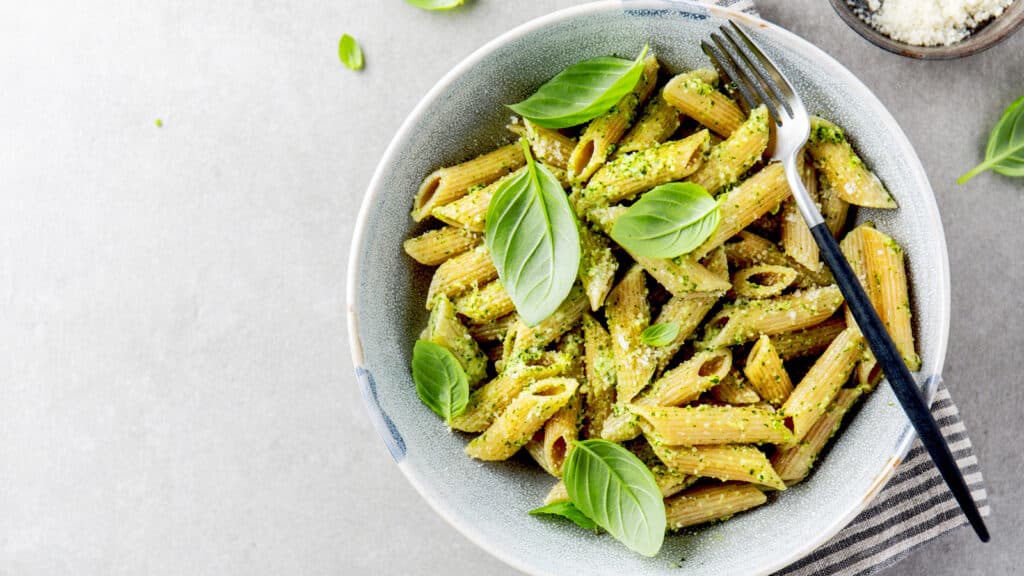 Is Pasta Vegan?
Yes! Most dried pasta is vegan. It's made from water and semolina flour, a coarse flour made from durum wheat. However, it's best to check labels before you buy, as some types of pasta contain eggs. You can also buy gluten-free pasta in most grocery stores.
Eggs are often used to make fresh pasta so it's best to stick to dried varieties. Dried pasta is easy to cook, cheaper to buy, and can be stored in your cupboard for months.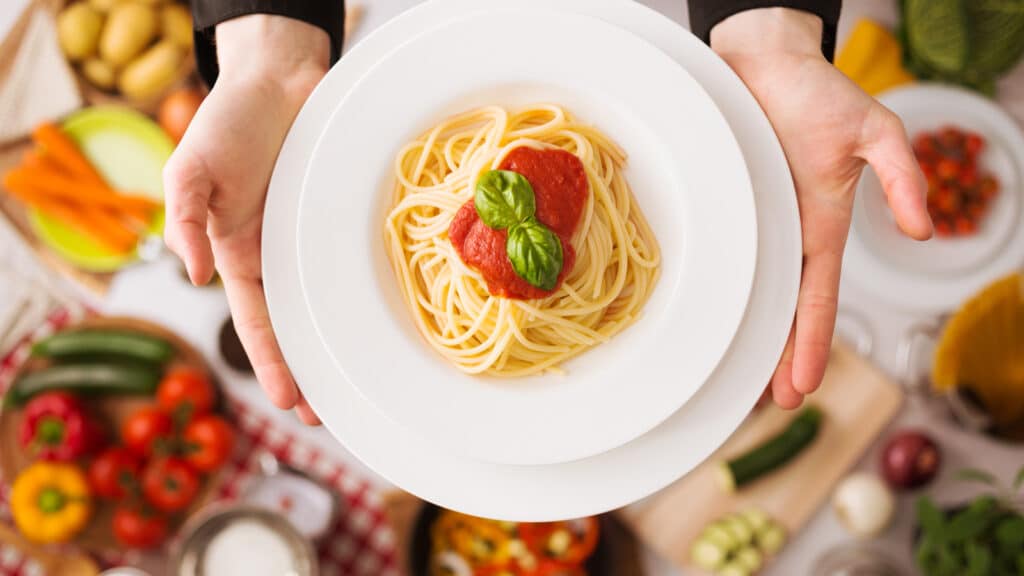 Is Pasta Healthy?
Durum wheat has a high protein content. This means your vegan pasta contains about 8g of protein in a cup of cooked pasta (140g). Add an extra protein source such as nuts, beans, or peas and you're easily making a big contribution to your daily protein needs. (Sedentary adults need 0.8g of protein per kilogram of bodyweight increasing to 1.2 to 1.4g for endurance athletes (runners) and as much as 1.2 to 1.7g for power athletes (weight lifters)).
Pasta is high in carbohydrates at a huge 37g but low in fat. Calories are about 175 per cup so you do need to watch your serving size if you're trying to lose weight. It's almost a perfect fuel for runners and people who need to top up their carbohydrate levels for endurance sports.
How To Cook Dried Pasta
Bring a large pan of water to the boil. Once it's boiling add a pinch of salt and then the pasta. Stir occasionally to stop the pasta from sticking together.
Cooking time will depend on the thickness and shape of your pasta but generally, it's ready in about 8 to 12 minutes. Check the packet instructions. The pasta should be al dente – that's slightly resistant to your bite. Properly cooked pasta is cooked through even in the center but not soft and mushy. Drain away any excess water and serve with your chosen sauce.
Best Vegan Pasta Recipes
These are some of my favorite vegan pasta recipes. I'm only interested in making easy vegan pasta. There's no point slaving over the stove when these simple vegan recipes are so delicious!
Creamy Vegan Garlic Pasta with Roasted Tomatoes
This easy vegan pasta dish is a vegan version of pasta alfredo. Simple ingredients of almond milk with shallot, garlic, and roasted cherry tomatoes create a creamy texture and a heavenly taste. To finish sprinkle with vegan parmesan.
If you're a big fan of the flavor of coconut milk, try substituting it for almond milk in this recipe.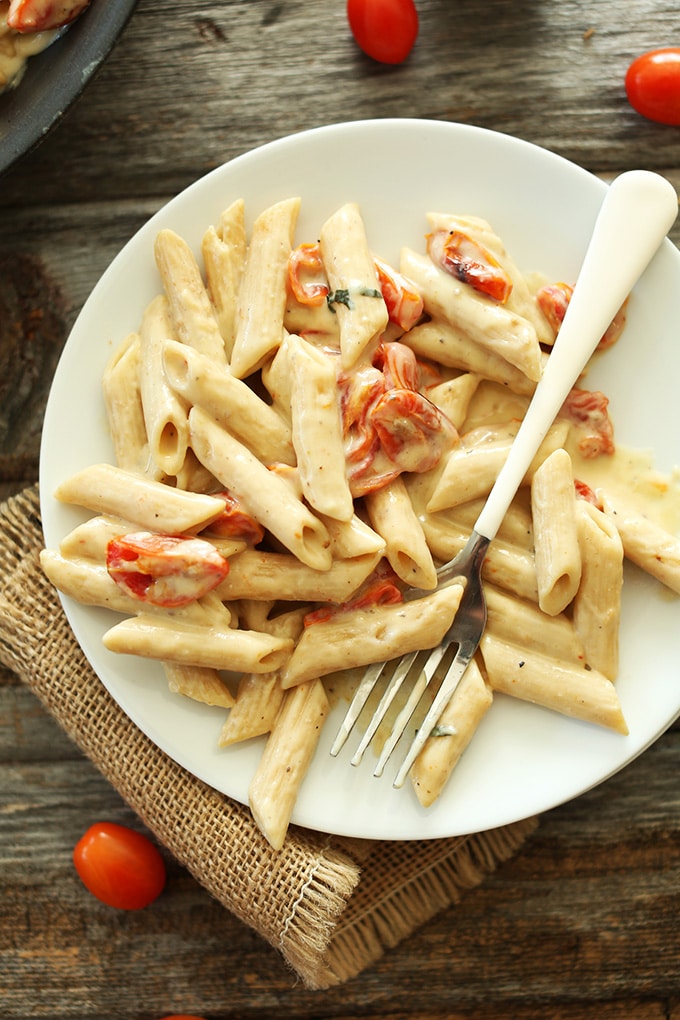 Full recipe on Minimalist Baker
1-Pot Vegan Pasta
I always love a one-pot dish. It just makes everything so easy – one pot, less mess, and barely any washing up. Plenty of veggies – mushrooms, eggplant, and fresh basil are cooked in one big pot and set aside. The pasta is then cooked in the same pot with water, seasoning, and tomato paste. So easy to make! Top with vegan parmesan cheese cleverly made with the secret ingredient of nutritional yeast!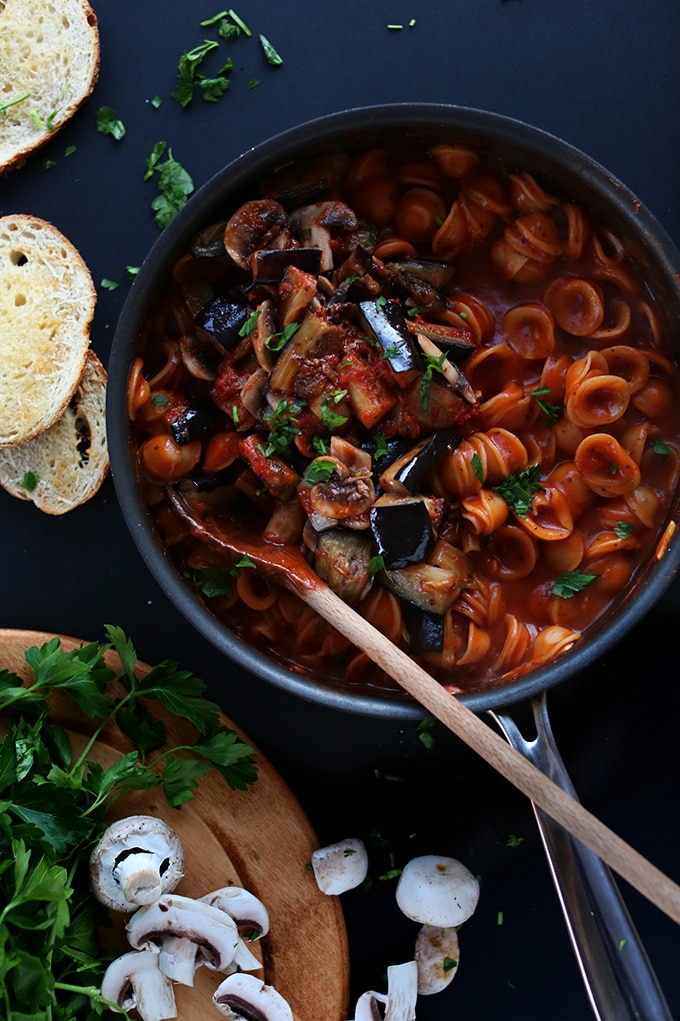 Full recipe on Minimalist Baker
Baked Vegan Pumpkin Pasta with Spinach
If you're missing mac n cheese, think of this recipe as a vegan mac substitute. It's eating while curling up by the fire kind of a dish. Tasty, comforting, and loved by the whole family. It's a great way to end a busy day!
This vegan recipe is finished off by baking in the oven but it's still an easy recipe to make. Just cook the pasta, whisk up the pumpkin sauce with flour, plant-based milk, and nutritional yeast, mix everything together and bake for 30 minutes. The extra effort is worth it!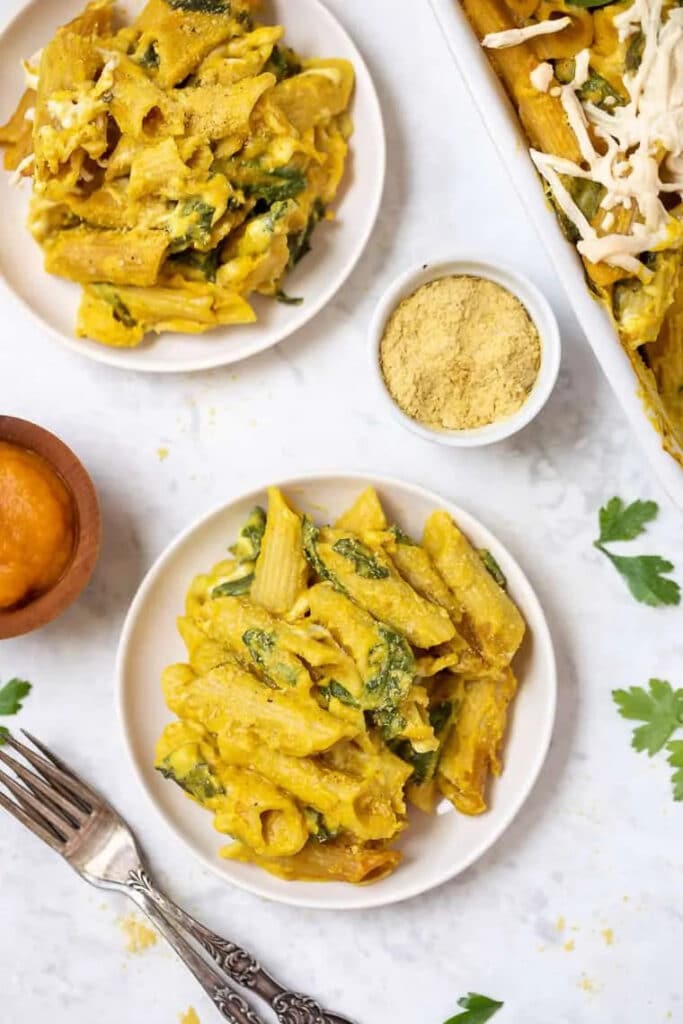 Full recipe on Simply Quinoa
Rustic Tuscan Pasta with White Beans
This easy vegan pasta recipe delivers enough protein to satisfy any bodybuilders in your family. A creamy vegan pasta sauce is combined with white beans and tomatoes. It's a cashew sauce made in a high-powered blender. Use some pasta water to make the sauce for extra flavor.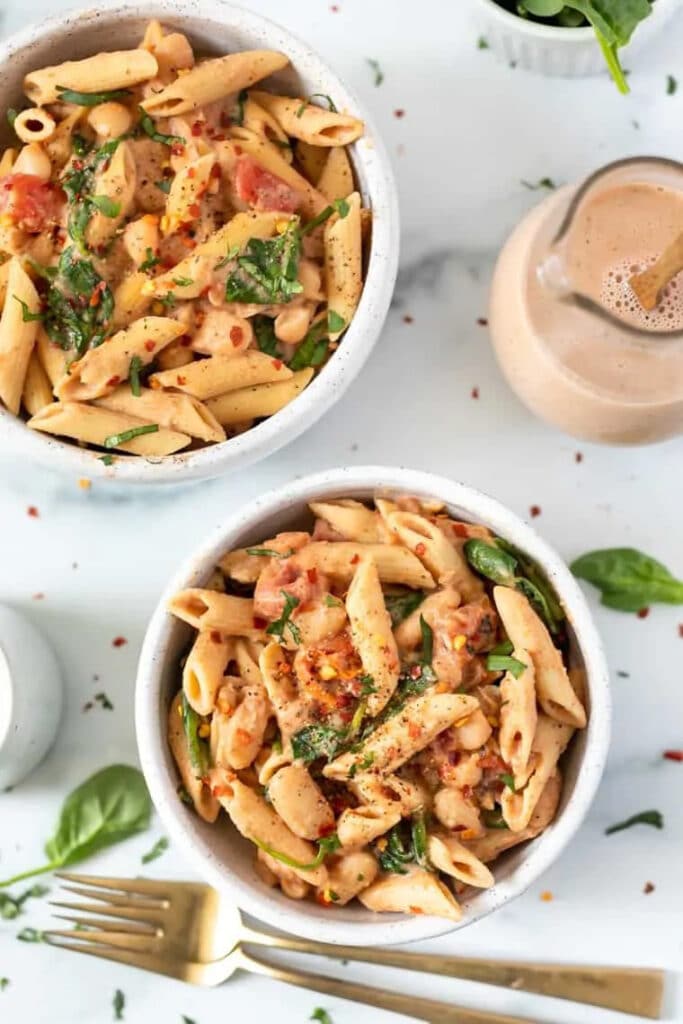 Full recipe on Simply Quinoa
Creamy Vegan Pasta
The clever use of cauliflower creates a creamy sauce that's rich and full of flavor. It's a fresh-tasting creamy pasta recipe that's surprisingly low in calories. Combine with a pasta of your choice – I like to use penne pasta.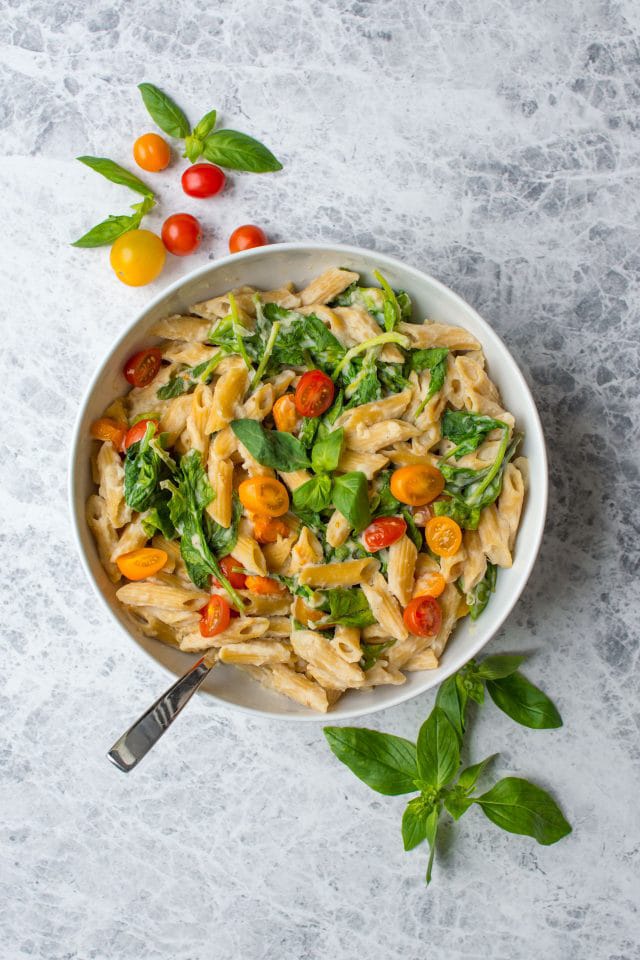 Full recipe on Lauren Caris Cooks
Lemon Rocket Pasta Salad
A simple dish for summer and a good choice if you're looking for a pasta recipe without a heavy sauce. The cooked pasta is tossed in lemon juice and olive oil, seasoned, and served with rocket leaves and cherry tomatoes. Simply divine!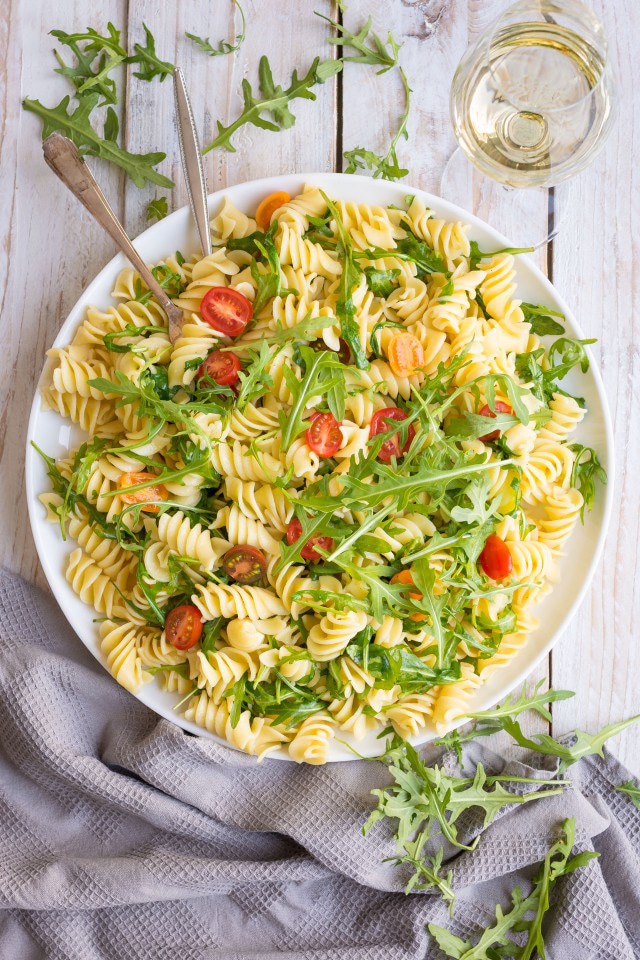 Full recipe on Lauren Caris Cooks
Caesar Pasta Salad
A taste of summer! Caesar salad has always been a favorite of mine so I was really excited to find this recipe for a vegan version. It makes my list of favorite vegan pasta dishes!
This dairy-free recipe has all the taste of a classic caesar salad dish with capers and almond parmesan. A taste sensation. I like to sprinkle some chopped fresh herbs on top to complete the dish. You can also finish with some red pepper flakes for extra zing! For an easy option, you can use store-bought dressing and vegan parmesan.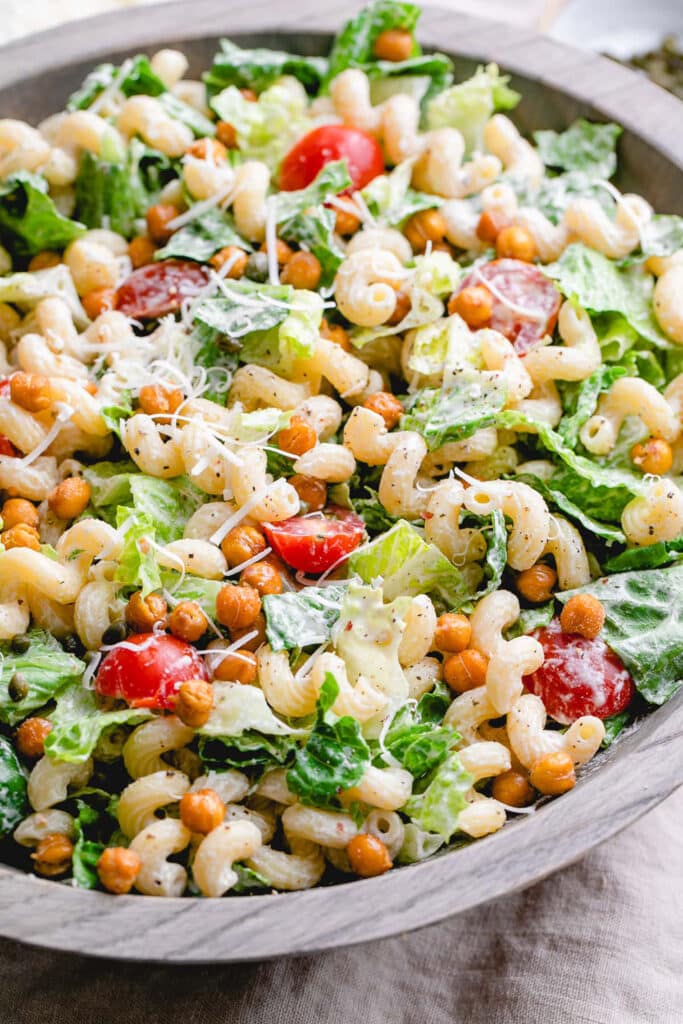 Full recipe on Simple Veganista
One-Pot Penne Pasta With Mushrooms And Vegan Sausage
This is a meaty dish! Well okay, it's still vegan. But if you're a recent convert to a plant-based regime or trying to satisfy the meat-eaters in your family, this is the dish. Sautéed mushrooms and chunky vegan sausages are simmered in a tomato sauce with garlic, onion, and spices. The pasta is then cooked in the same pot until al dente.
It's a super easy one-pot recipe. Plus the recipe serves 6-8 people – that's enough for a small crowd or several days of food prep. (Take a look at my cheap vegan meal prep recipes if you're on a budget).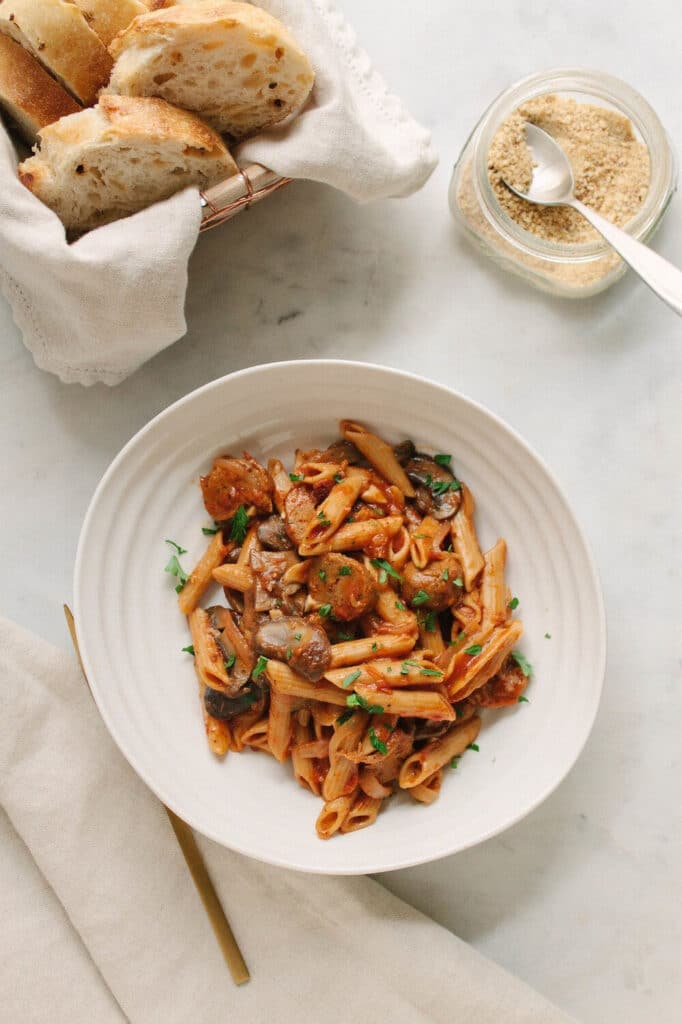 Full recipe on Simple Veganista
20 Minute Vegan Pesto Pasta
I did say this was a list of easy vegan pasta recipes, so how does a 20-minute recipe sound? That's including prep and cooking time!
It's so quick to make fresh pesto and the taste is amazing! If you want to make a larger batch, simply double or triple the ingredients. The pesto sauce can be frozen in an airtight container for up to one month.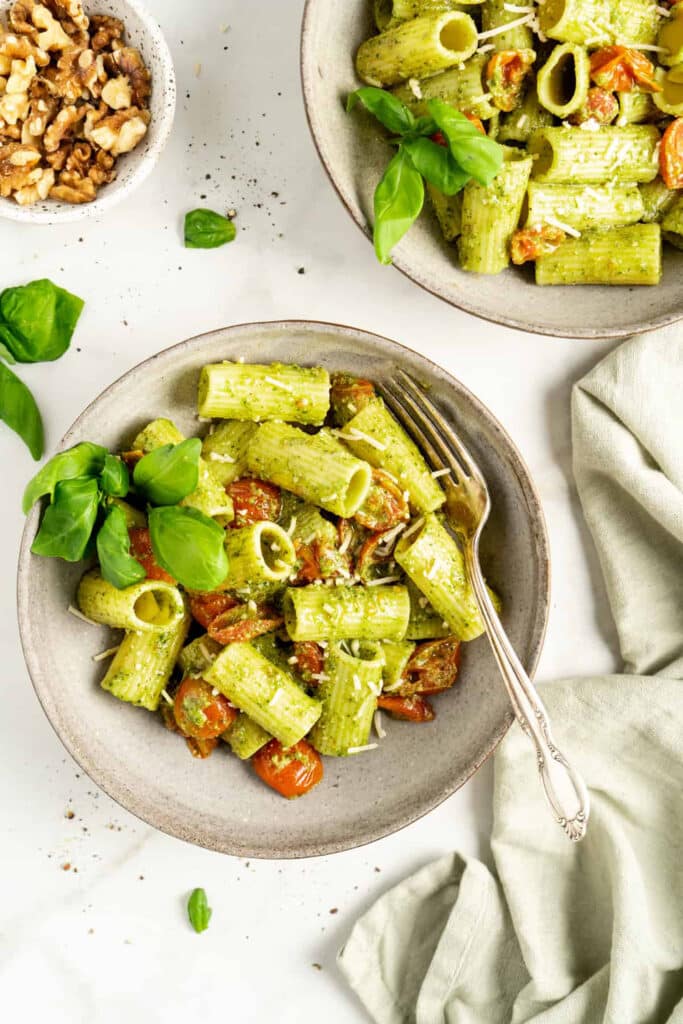 Full recipe on Jessica In The Kitchen
15 Minute Vegan Pasta Salad
Next time you're in a hurry try this vegan pasta salad. Bell pepper, fresh tomatoes, parsley, black olives, and red onion are all combined with cooked pasta in an Italian vinaigrette dressing.
It's healthy, flavorful, and filling. 15 minutes is all it takes and that includes time for cooking the pasta! Any leftovers can be stored in the fridge for up to two days.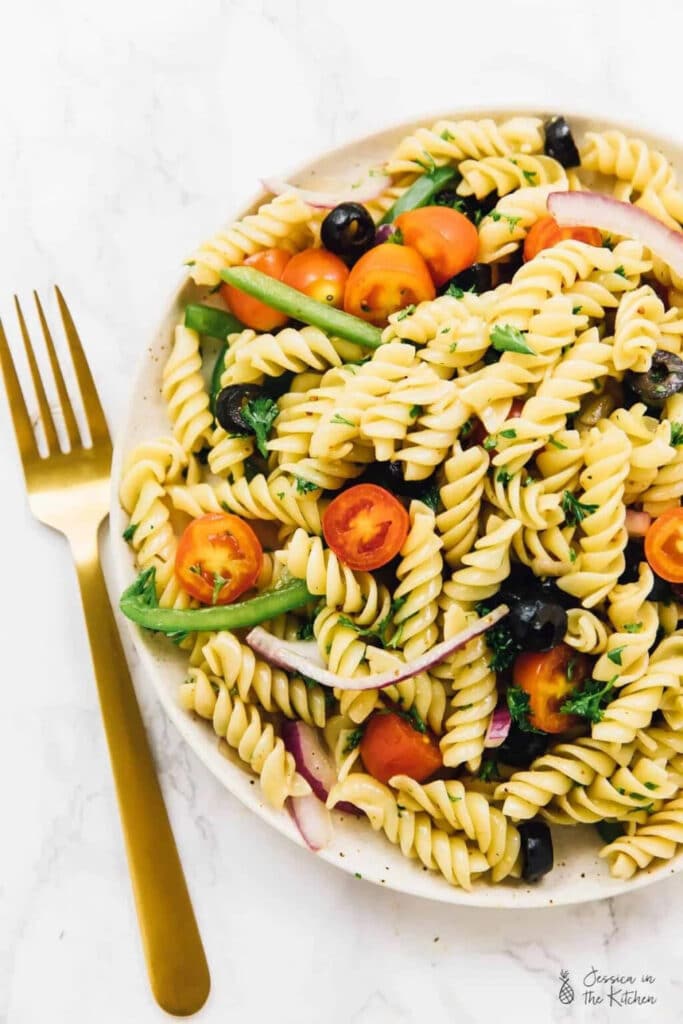 Full recipe on Jessica In The Kitchen
30-Minute Vegan Alfredo
Another recipe from Minimalist Baker but I couldn't resist adding a vegan alfredo sauce pasta dish to this list. The fresh flavor comes from just 9 ingredients. Serve up with green peas and red pepper flakes for a bit of color and extra flavor.
This is one of those recipes that's so good you'll want to make it again and again.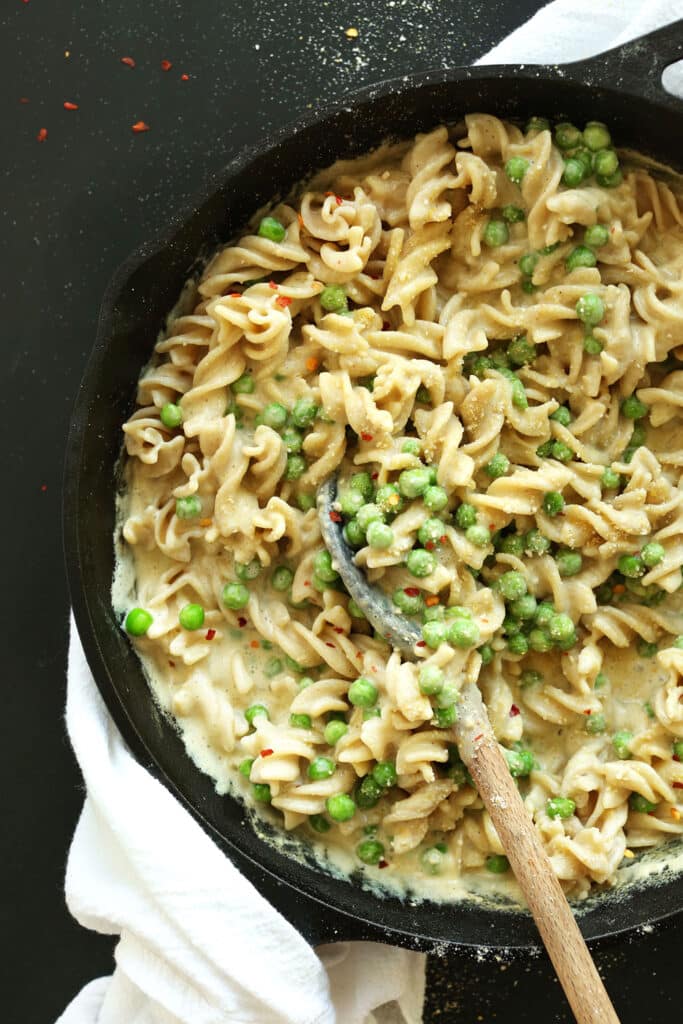 Full recipe on Minimalist Baker
Vegan Baked Feta Pasta
This is a vegan version of a dish that was doing the rounds on Tik Tok. I have to say, I was skeptical about how good it could be. But it's really delicious!
It takes a little more time than some easy pasta recipes but the steps are still simple to follow.
Vegan feta cheese is difficult to get hold of so the dish uses a whole block of tofu instead. I've tried the recipe with vegan feta and with tofu – both versions are delicious!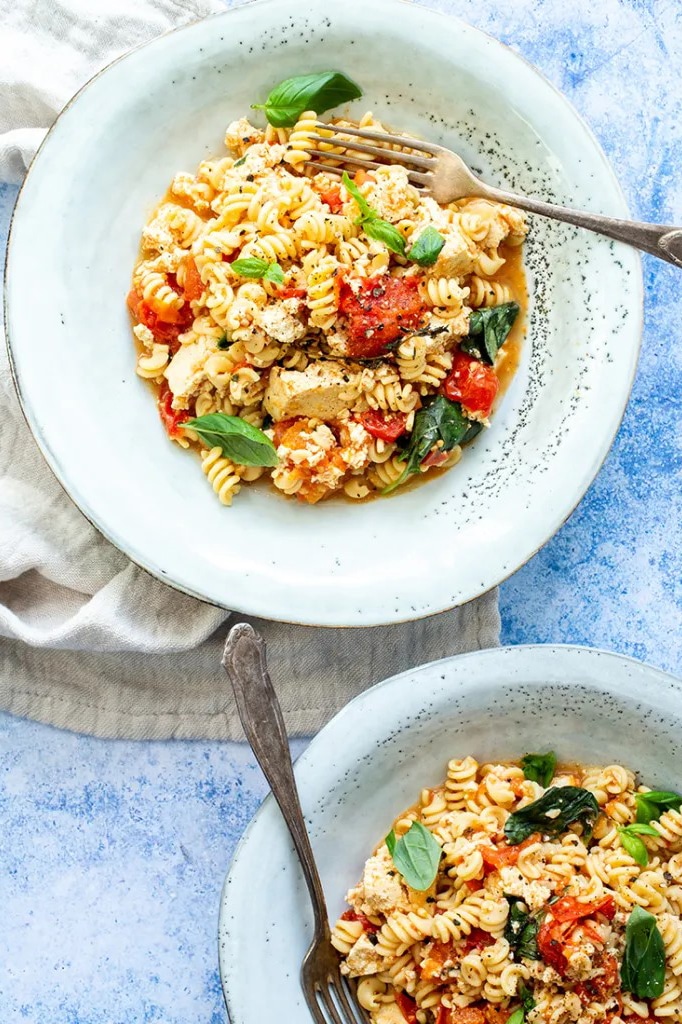 Full recipe on Green Evi
15 Minute Tomato Paste Pasta
Everyone should know how to make fresh tomato pasta sauce. With this super easy recipe, you'll never use jars of pasta sauce again!
The taste is so much better and it will be ready in the time it takes to cook your spaghetti! All you need is tomato paste plus a few ingredients you probably have in your store cupboard. Serve with an optional sprinkle of vegan cheese.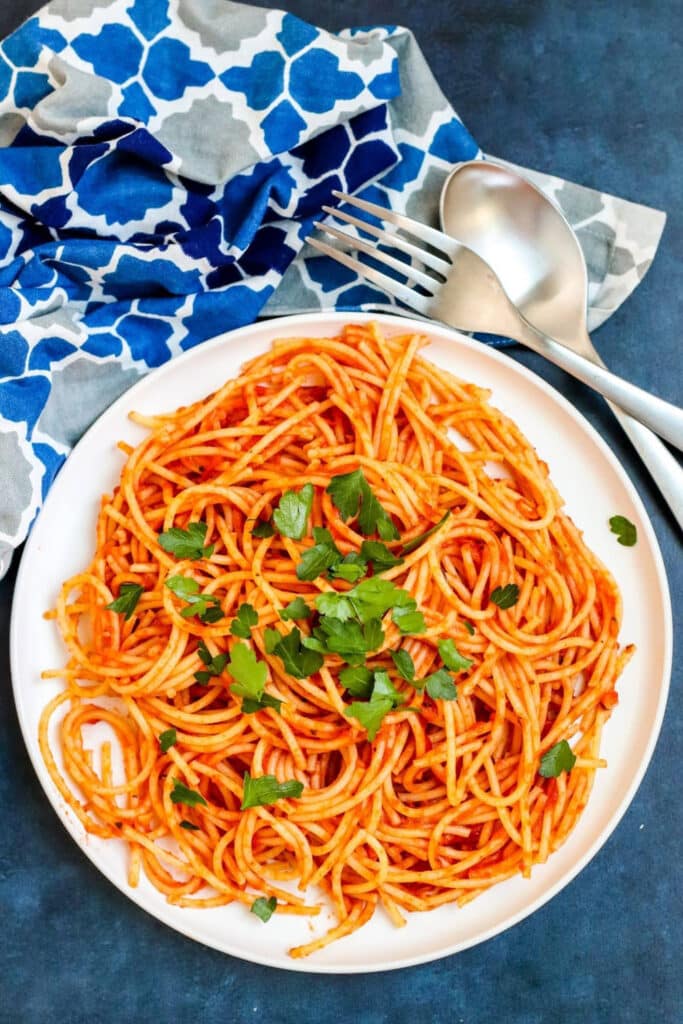 Full recipe on Veggies Save The Day
Spring Vegetable Pasta
I like to call this dish spring on a plate! Of all the vegan recipes I've tried this must be the freshest!
It's really just a pan of beautifully cooked vegetables. I've never had the full list of ingredients to hand, I just substitute with whatever I have in the fridge. A splash of water works just as well as white wine in the recipe.
The key is to use good quality olive oil and good vegan parmesan cheese.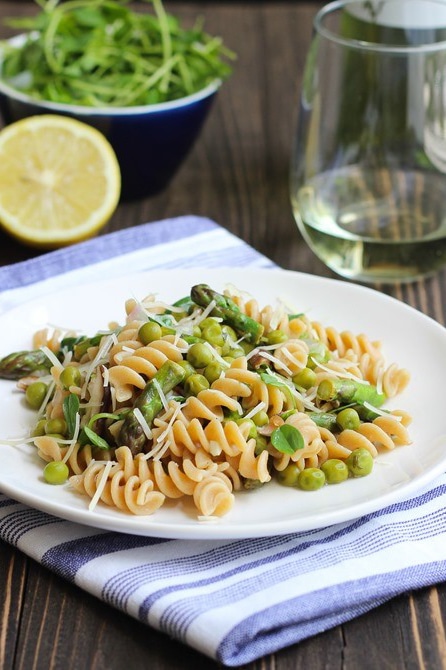 Full recipe on Making Thyme For Health
So there you have it. These flavorful vegan pasta recipes are easy to make and should keep your taste buds happy. Whether you're looking for something to take to a potluck or just want an easy weeknight dinner, these recipes will definitely hit the spot. Give these best recipes for vegan pasta a try and let me know what you think!
You might like some of my other favorite recipes: