It's a fact. Working out at home can be boring. There's no social banter, no classmates to inspire you and it's all too easy to cut short those reps when it starts to get hard. When it comes to how to get at fit at home, is it really possible without getting bored?
It can be but it's all about staying motivated, mixing it up, and hitting your fitness goals. Working out at home doesn't have to be boring and it really is possible to be fit and get in shape without leaving the house.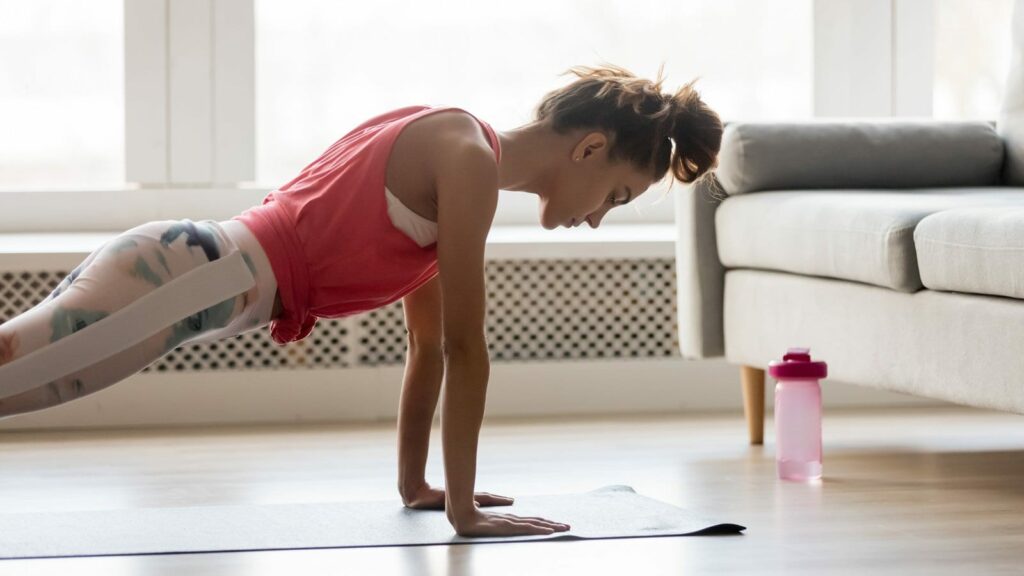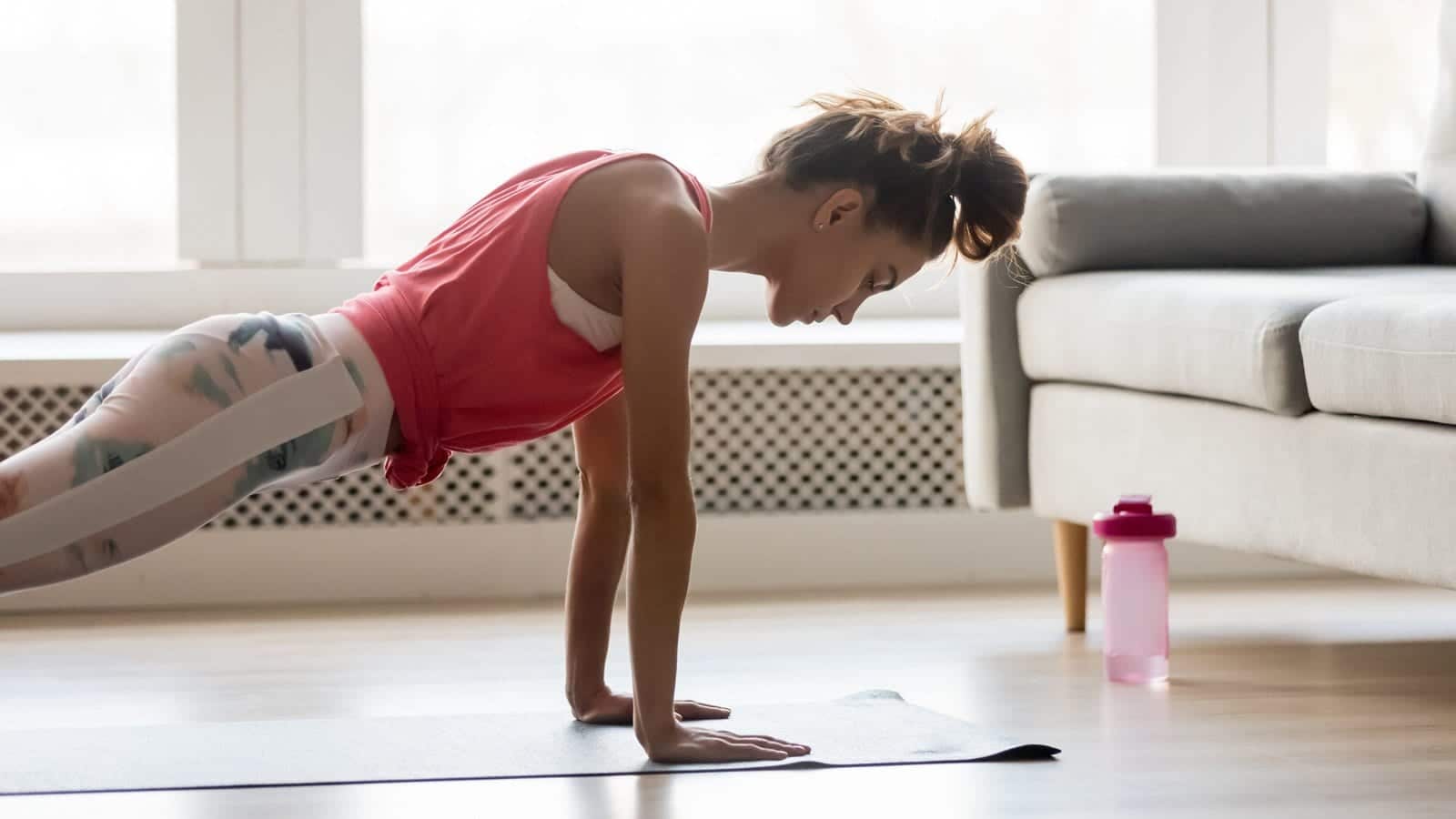 Set Your Fitness Goals
It's far easier to get inspired and stay motivated if you have an overall fitness goal. This can be anything from losing a few pounds to being able to do a pull-up.
Decide on your aim and write it down. Make sure it's specific and has a target date. It could be "I will be able to do 20 push-ups continuously in 10 weeks' time". Just make sure there's a specific goal and a time frame.
Create A Workout Schedule
Plan your workout sessions and break down your overall goal into achievable weekly targets. Having fitness goals and a schedule will give you focus and go a long way to eliminate boredom.
It's best to be realistic. You want your workouts to be achievable. It's no good trying to go from a low fitness base to completing a tough workout every day.
You don't want to complete the first session and wake up the next day with a body so sore you're forced to take the rest of the week off. Instead, start off gently and build up the intensity as you get fitter and stronger. Try these easy exercises at home.
Develop A Fitness Routine
Working out at home is full of distractions. Phones, family members, Netflix, contents of the fridge… these all compete for your attention.
It's best to fix a specific time to work out. Often first thing in the morning can be a good idea before the day gets going leading you in other directions.
If you're not a morning person – that's okay. Just make sure you set aside a specific time to exercise. Your fitness routine should become a key part of your day, as important as eating and sleeping.
Include All Elements For Optimal Fitness
A well-rounded routine will include aerobic workouts, strength training for both muscular strength and endurance, and flexibility exercises. These are all important for optimal fitness and will also make your workouts more varied and interesting.
Often it's tempting to focus on your favorite elements. I know runners who work on their aerobic conditioning and leg strength but completely ignore their upper body strength and flexibility.
As these runners get older, a lack of muscle strength and flexibility leads to injuries and rapidly degrading performance. It's not just runners who suffer long-term when they neglect a well-rounded routine. It's important for everyone.
How Can You Exercise At Home?
Back in the olden days, pre-YouTube, I'd give you a list of exercises to follow. These days it's a complete waste of time when there are thousands of fitness videos just waiting to be watched, (for free), on everyone's favorite video channel. How to get fit at home is just a YouTube click away.
I suggest finding a program to follow that matches both your current ability and fitness aims. It can be a good idea to mix it up with different styles to make sure you're hitting all your goals – cardio, strength, and flexibility.
It's also important to find a YouTube trainer you enjoy watching! It's not great to get 3 videos into a program and decide your instructor's really grating.
Some of the biggest fitness acts on YouTube are BeFit, Les Mills, and HasFit.
Normally yoga is more my thing, (aside from running of course), so I've put together a list of my 11 Best Online Yoga Programs. Yoga is terrific for hitting all fitness goals: cardio, strength, and flexibility.
Warm Up And Cool Down
A good program will take you through a warm-up before you start and help you to cool down afterward. You never want to launch straight into intense exercise when your muscles are cold.
A cool down is a chance to bring your heart rate back down to a resting state. I normally combine mine with gentle stretching.
Variety Is Key – How To Get Fit At Home
Plan out a varied program to keep yourself motivated. If possible combine running, walking or cycling with your online fitness sessions.
Mix in some yoga or pilates – for most people using your body weight is enough to build strength.
Get Your Family Or Friends Involved
It's easier to stick to a workout plan if someone's holding you accountable. Try to exercise with friends or family members.
It's more fun and a good way to make sure you don't cheat and start taking it easy. Be warned – working out with family members can get very competitive!
---
I hope you find these how to get fit at home tips helpful. Sometimes it's just easier to work out at home and with a little goal setting and planning it's possible to stay motivated. If you have tips for favorite YouTube fitness channels – please add them in the comments below!
If you've found this post helpful, you may enjoy my other fitness-related articles: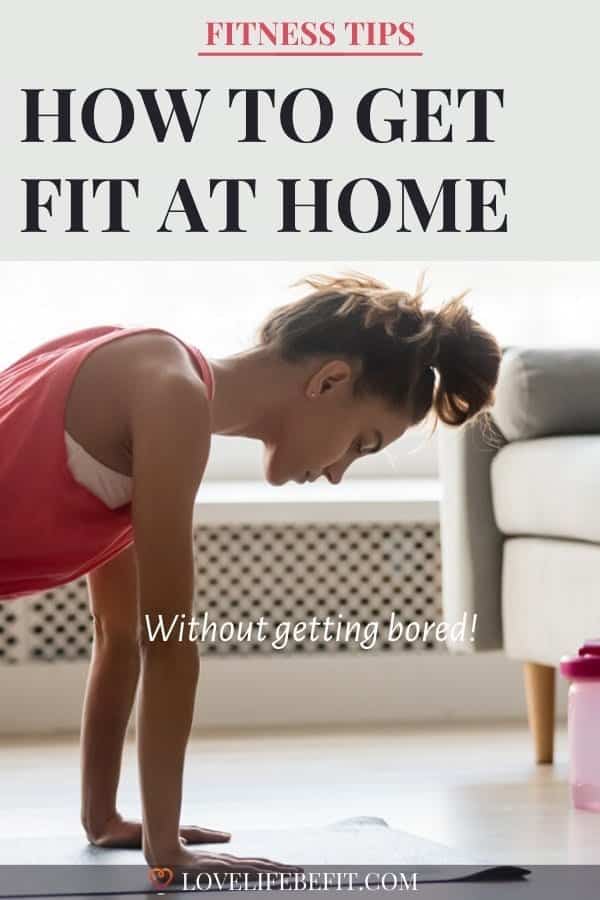 How Do I Get Fit Without Going To The Gym?
Set your fitness goals and create a workout schedule. Set aside a specific time to train. Aim for a well-rounded routine including cardio, strength training, and flexibility in your schedule. Make the most of the excellent free fitness videos on YouTube. Equipment isn't essential. For most people, bodyweight exercises are adequate for building strength.