I'm a big fan of Ronhill Leggings. Always have been. I met my lifelong partner wearing a pair of red ones. It was at Everest Base Camp and the younger version of me looked terrific – at least that's my guy's view!
I used to sell Ronhill tights and leggings when I had my outdoor store and they would fly off the shelves. Why? Because Ronhill gets women. They know that just because we run we still come in all different shapes and sizes. Ronhill makes leggings for real women who run.
Shopping their latest range, I thought I'd share my in-depth knowledge and lowdown. Everything from their amazing women's printed leggings to their best winter running tights plus which tights to buy if you want to run with your phone.
This review is based on my own independent product knowledge and testing. If you like what I do, you can support me through my chosen links. I may earn a commission but it's at no additional cost to you. Learn more about my product recommendations.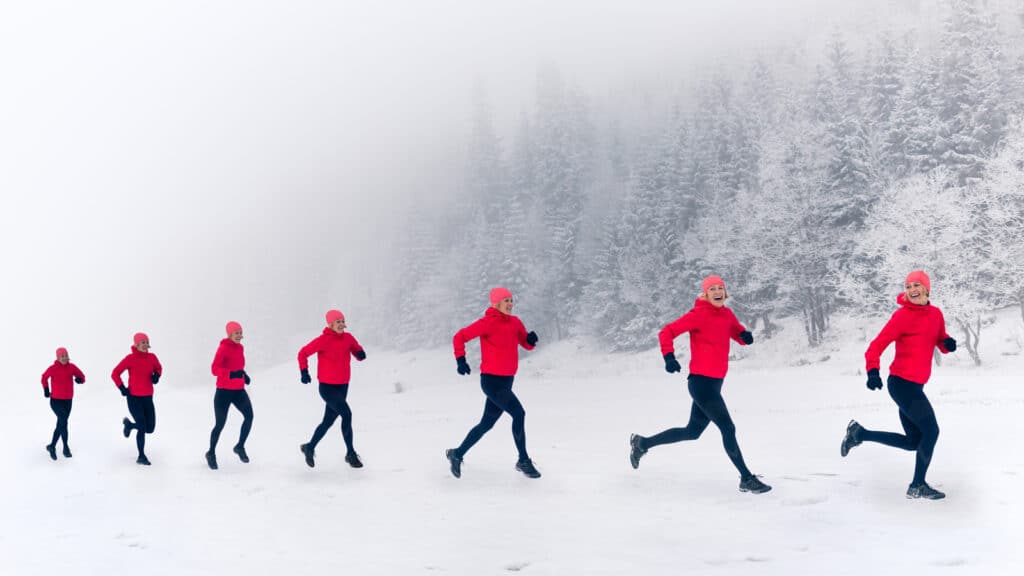 Ronhill is a very British company – huge in the UK but little known elsewhere. Surprisingly, a company that excels at women's running clothing, was founded by a man – Dr Ron Hill.
Ron Hill was a UK running legend. He was the second man to run a sub 2:10 marathon and set a course record in 1970 for the Boston Marathon. In later years, his running streak made headlines – 52 years and 39 days without missing a day of running. For Ron, a run was at least one mile at any pace.
'I never wanted to reach a stage in my life where I would look back and say "If only I'd…" I was going to do it, and what I didn't achieve wouldn't be through lack of trying.'

Ron Hill
Ronhill Leggings For Women
It's the female-led design team that should take the credit for Ronhill's excellent leggings for women. It takes a woman to really understand that running leggings should never be see-through, or sag about the bum or at the knees, and definitely have enough stretch for proper runner's calves.
Attention to detail and a women's perspective are reflected in all their women's running clothing ranging from waterproof jackets to merino wool gloves.
Ronhill Sizing
The sizing on Ronhill's running tights is realistic – if you're a UK 12 (US 8) in standard clothing, you should be the same for your running bottoms. Officially the Ronhill range runs from UK 6 to UK 18 but in practice, I only found their Core Crop Tight in a size UK 18 and nothing in a size UK 6.
That's a real shame. Some beginner runners at the start of a weight loss journey may need bigger sizes and when I had my store, I always used to help a few runners every year looking for a size UK 6 or even a UK 4. And no these runners weren't underweight – they were just petite.
You can find the size chart here. Realistically, I find Ronhill underestimate their waist measurements. The leggings fabric is stretchy, so if you're a size 10 hips but a size 12 waist, I'd give the size 10 a go first.
Best Women's Ronhill Tights & Leggings
A run-through of my favorite pieces in the leggings range has to start with this item:
Ronhill Women's Life Sculpt Crop Tight
Wow! Where do I start with this excellent product? Let's go for looks first. The black version is stunning. I suggest you snap up a pair quickly because it's going to outsell the blue version tenfold.
All good running leggings have great stretch and the Ronhill Life Sculpt Crop Tight is no exception. The Powerlite stretchy fabric is robust with good recovery.
Ronhill always thinks about the details. These leggings have a good-sized back zip security pocket and a deep stash pocket on the thigh that will take most phones.
(Personally, I'd rather put my phone when running in my favorite flip belt – but it's always good to have lots of options for phone pockets).
Ronhill Women's Tech Winter Tights
These are a great choice for winter running. Made for days when standard tights are freezing to wear and no matter how fast you run, you just can't get warm!
What I love about these Tech Winter Tights is their top performance for a very reasonable price. It's hard to find a pair of winter running tights you can safely wear in the hills on cold days. There may be running tights with better wind resistance but not at this price point. Ronhill's Tech Winter Tights are excellent value.
Ronhill Women's Life Tight
The high-rise waistband is made for comfort with the small zipped pocket at the back offset in case you use these leggings for floor work – yes they're great for yoga too!
Simply put, the Ronhill Life Tight is a great all-rounder.
Ronhill Women's Life Sculpt Tight
As we move into winter a 7/8 crop just isn't quite long enough! This full-length version – the Ronhill Life Sculpt Tight is my go-to for training through the winter months. It's a sleek, comfortable skin fit tight that will make you feel great about your running – wearing the best kit will always put a spring in your step – guaranteed!
If you're looking for a great pair of running leggings, Ronhill is the brand for you. Their high waistbands mean that these leggings stay up when you're running, and their designs are perfect for all different shapes and sizes of women – real women!
With designs you'll want to be seen in about town as well as out running, Ronhill is a brand that understands women's needs. If you're looking for versatile, technical leggings at a great price, look no further than Ronhill. Their Life Tights are perfect for everyday wear and their Tech Winter Tights will keep you warm on even the coldest of days. They make perfect gifts for runners!