One of the biggest problems I always hear from people trying to eat better with a plant-based diet is that they miss meat. They miss the taste and texture of it, and they're sick of constantly eating chickpeas and lentils.
There are loads of meat alternatives out there, but a lot of them are processed and not exactly 'healthy'. However, jackfruit is one of the rare meat alternatives that can be considered a healthy and natural food compromise. It's grown in popularity over the years, and today's blog will be dedicated to some tasty vegan jackfruit recipes for people who miss eating meat.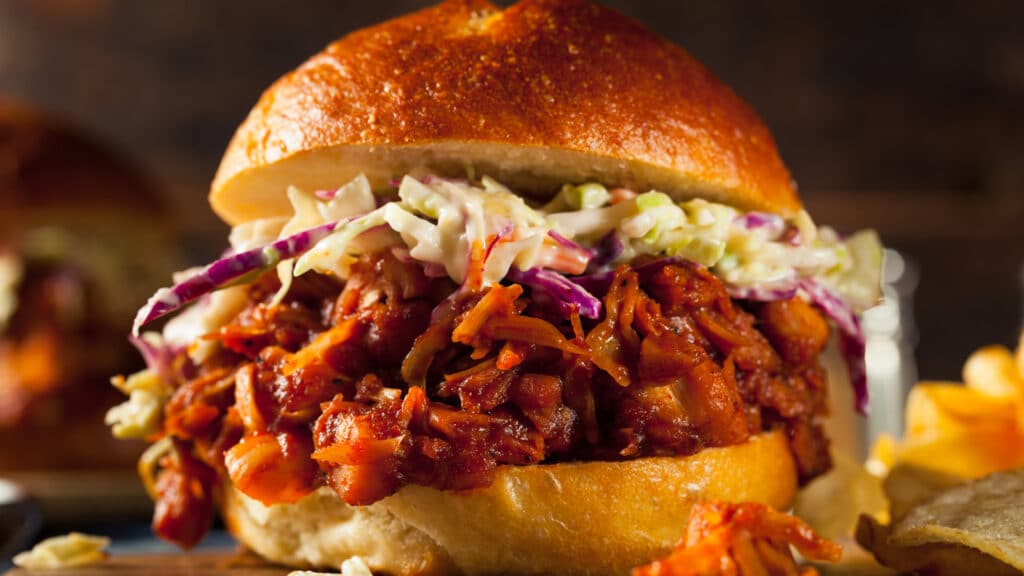 What is jackfruit?
As the name suggests, jackfruit is a type of fruit. It's native to Southeast Asia and cultivated in other tropical regions such as Brazil in South America, some parts of Africa, and even in the US. It's a tropical fruit that can look a bit strange and be pretty flavorless when eaten on its own.
Nowadays, most people use it as a meat substitute because its neutral taste means it takes on so many flavors and has a meaty consistency when cooked in the right way. You often see it used instead of pulled pork or chicken because it's so fibrous.
In terms of its health benefits, like most fruits, it is really high in fiber and very low in calories. Jackfruit is also an excellent source of b-vitamins, which a lot of vegans are lacking. So, you get the sensation of eating meat, without the adverse health effects!
The only downside I can see to jackfruit for a vegan diet is its protein content. It's high for fruit at 2.84 g per 100g, (3g per cup), but a long way off the protein content of meat where just one and a half cups of chicken breast will cover your daily dietary requirements. So it's not a perfect meat substitute.
Now a typical western diet includes far more protein than we actually need, (and the excess is stored as fat), but if you're a vegan or plant-based eater, it's best to include a good source of protein in every meal from pulses, nuts, or seeds.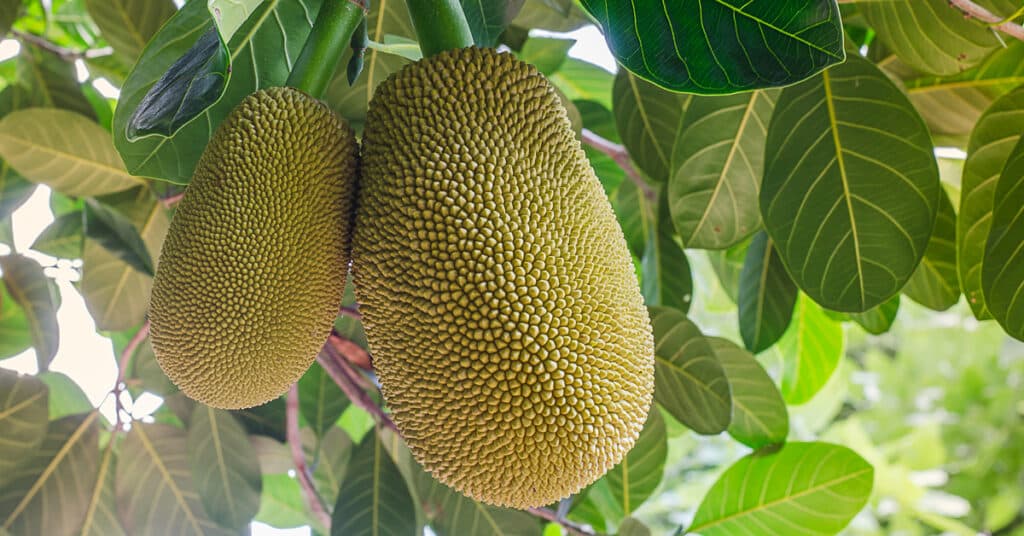 How do you cook jackfruit & what does it taste like?
You can literally cook it like any type of meat:
Pan-fried
Sauteed
Boiled
Roasted
Slow-cooked
BBQ jackfruit
The key is getting the right jackfruit to add to your recipes, and for this, I recommend canned unripe jackfruit. It's often labeled young green jackfruit and if it's your first time eating this incredible fruit this is the best way to start.
It's super hard to get fresh ripe jackfruit from local grocery stores such as Trader Joe's, but most will sell the canned stuff these days. It's usually pre-prepared as well, meaning you're left with all the edible chunks and nothing else.
Plus, the canned stuff of young jackfruit isn't as sweet as ripe jackfruit, and it soaks up the flavor a lot better. So, it can be used as a meat replacement very easily, and you don't have to worry about learning how to prepare a ripe jackfruit for eating!
If you're feeling adventurous and do want to try the real deal, Asian markets or an Asian grocery store are the best places to find fresh jackfruit in season. Just be warned – jackfruits are big. It's the largest fruit found on trees in the world. You could be eating it for weeks!
What does jackfruit go well with?
As you will see throughout this post, jackfruit goes well with so many different things. I think it works best in sauces where it can soak up loads of flavor, but crispy jackfruit is great for a meaty texture. Basically, if you can think of a meaty dish, you'll almost always be able to sub jackfruit into recipes without losing anything in terms of the overall taste.
With that in mind, let's look at some delicious vegan jackfruit recipes even meat-eaters will love. Even better, most of these recipes can be made in advance if you're aiming to meal prep.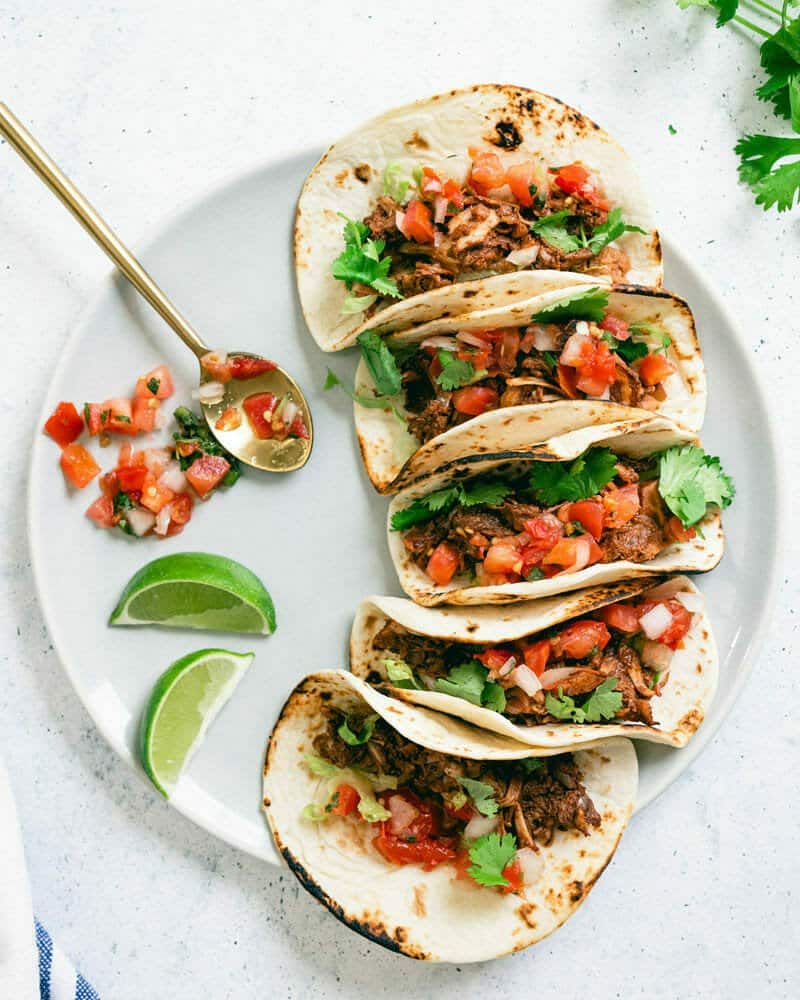 Jackfruit feels like it was made for tacos. Using a can of jackfruit, the unripened stuff, you can shred it into little pieces and then fry it with some onions, adobo sauce, and spices, (I use chili powder if I don't have any adobe sauce to hand). Add in a bit of tomato paste and water, then watch the jackfruit soak everything up and become all brown and chicken-like.
Tear it up while it's in the pan, squeeze on a little lime juice and you'll genuinely feel like you're eating pulled chicken, but with hardly any calories and way more vitamins!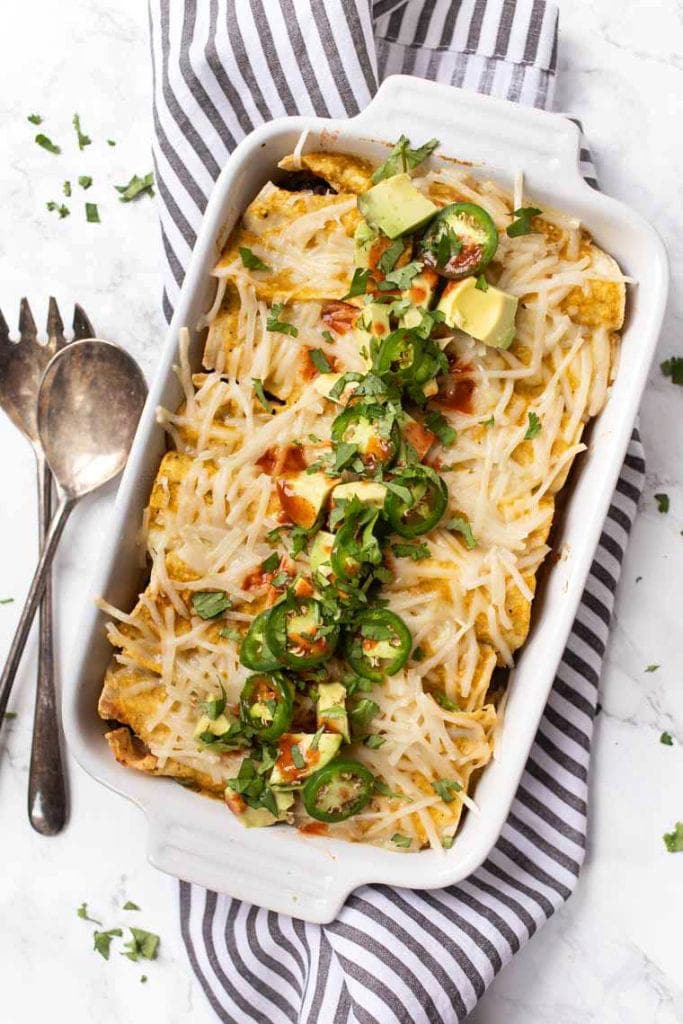 Often vegan jackfruit recipes work best with shredded jackfruit and this recipe is no exception. It really soaks up the flavor of the green enchilada sauce. Aside from the delicious source, one of the big pluses of this recipe is the clever use of black beans for extra protein.
This dish is big on taste and the perfect meal for converting any vegan skeptics. It takes a little more effort than some vegan recipes but the end result is definitely worth it!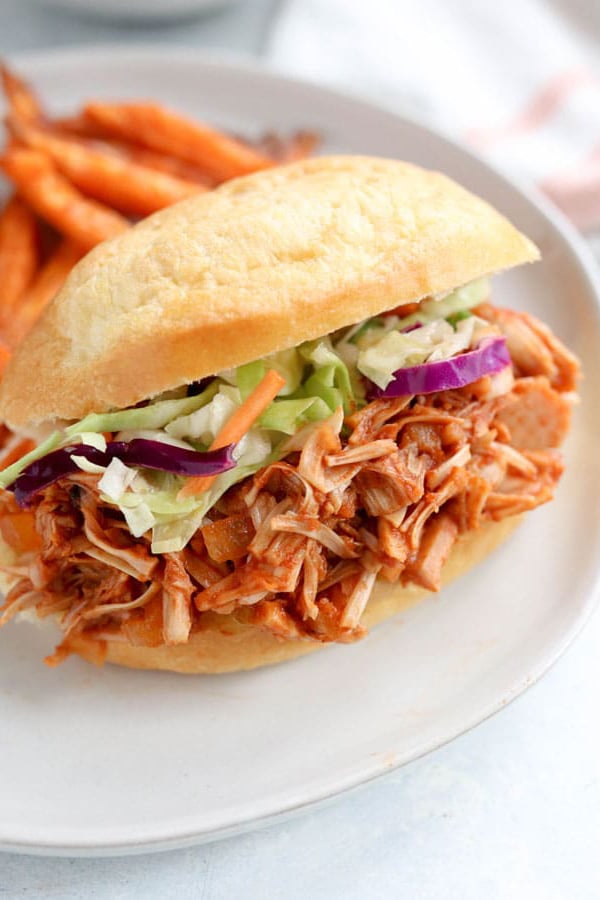 Because of the way it falls apart and soaks up sauces, jackfruit is amazing for making vegan "pulled pork". These delicious BBQ jackfruit sandwiches are a huge favorite in our house!
You could use an actual slow cooker, but jackfruit absorbs flavors so well that this cheat version of slow-cooked jackfruit recipes tastes amazing. Detoxinista uses canned jackfruit. I prefer using a tin of jackfruit in water, rather than syrup or brine, but the choice is up to you – just watch out for the sugar content of the syrup version.
This vegan recipe gives the jackfruit a very tangy and rich BBQ sauce flavor that genuinely looks, feels, and tastes like pulled pork. It may not convince the most discerning of meat eaters but it's a dish anyone trying out a plant-eater diet will like. If you're short on time, swap the homemade barbecue sauce for a store-bought alternative.
This BBQ jackfruit recipe has so many uses. Instead of making sandwiches try it served with sweet potatoes or use it as a topping for nachos.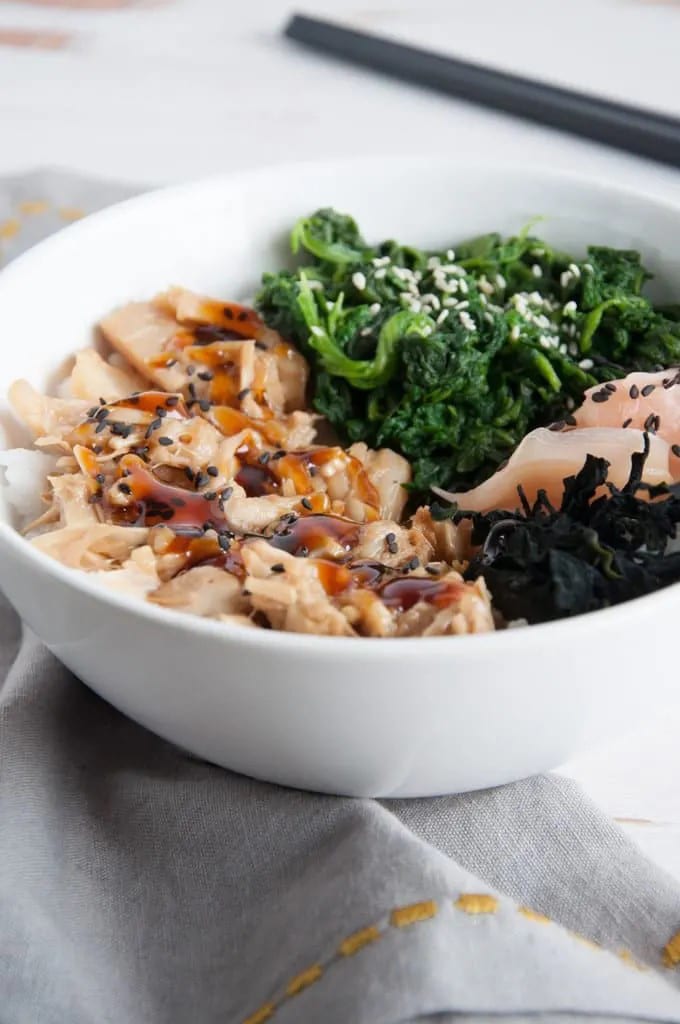 Sushi without the fish – can it be done?
Yep, and it's all thanks to this wonderful teriyaki-style jackfruit. Letting it cook in the sauce means it brings all the delicious Asian flavors to the party, and you can pull it when it's done for the shredded look. It almost looks a bit like a shredded duck, and it works so well with sushi rice, seaweed, and many other Asian-inspired toppings.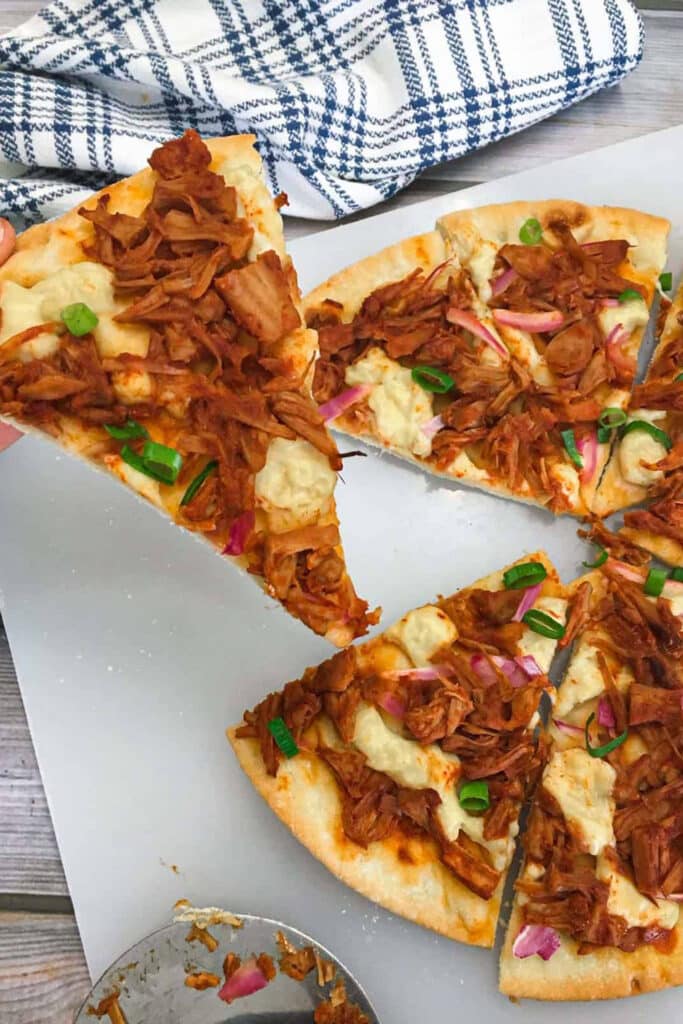 One of the hardest things about being vegan is having to give up all the meaty toppings on a pizza. Well, you no longer have to worry about this! Shredding some cooked BBQ jackfruit makes the perfect pizza topping, and you can be as lazy as you like with this recipe.
Personally, if I can't be bothered to make a pizza from scratch, I see nothing wrong with buying base from the store and adding everything to it. Or, to be super sneaky, buy a vegan Margherita pizza and add the jackfruit before cooking!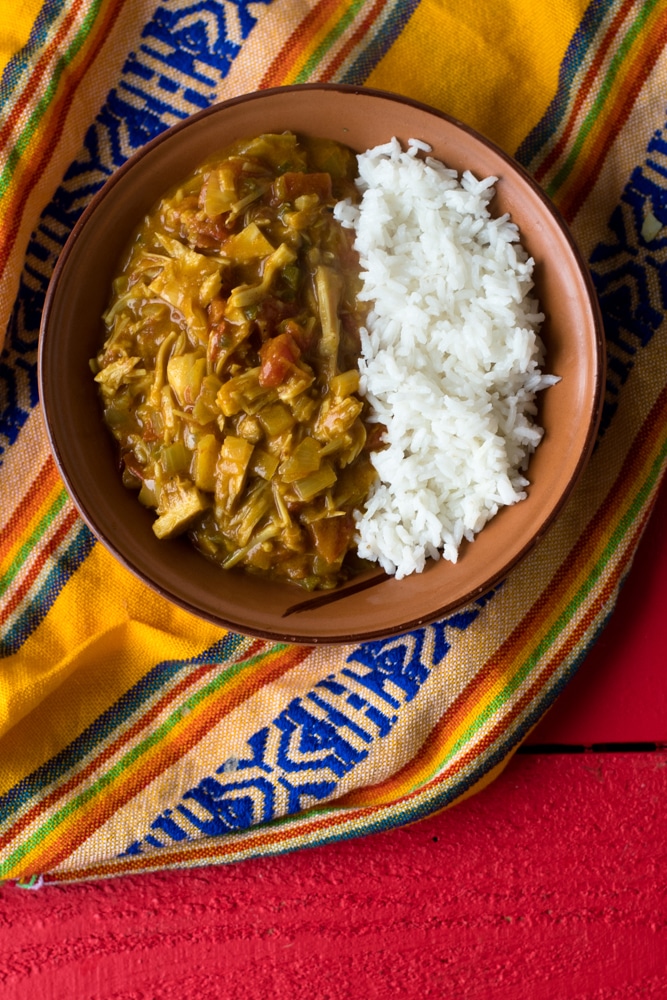 This curry option is one of my favorite vegan jackfruit recipes. Here, you're getting something that's creamier because of all the coconut milk and has more of a fiery kick to it.
Think of it as a winter warmer curry, and the jackfruit falls apart beautifully while you're cooking it. It's a one-pot meal too, which is always handy so you don't have to deal with loads of washing up after.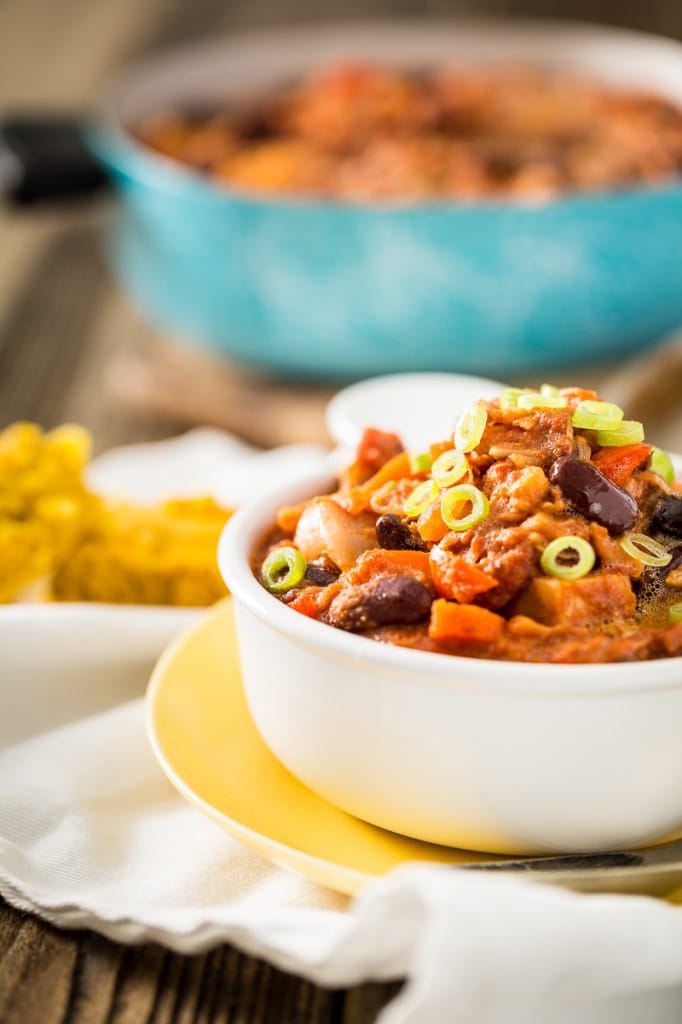 Instead of using beans or vegan mince for your chili, swap in jackfruit. The canned stuff gets so tender and juicy in the chili sauce, and you can add in kidney beans and loads of other veg to fill it out and make it that bit more filling.
Again, it's a perfect winter dish when you're cold and want something comforting to warm you up. I serve mine with rice, but you can eat it as is with some nacho chips if you like – I'm not gonna judge! Spoon on a little plant-based yogurt to balance the heat.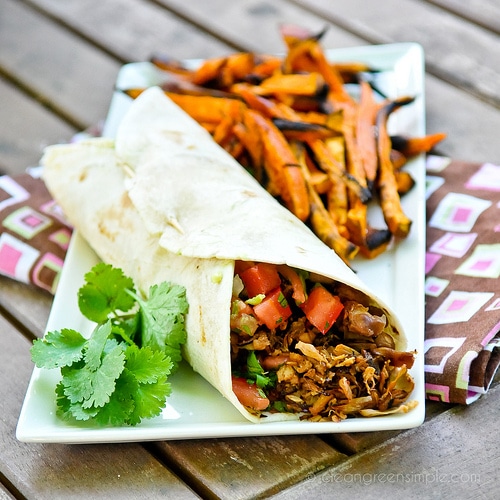 A gorgeous jackfruit recipe to round the list off, these carnitas demonstrate the sheer versatility of the humble jackfruit. Drain as much moisture from the fruit as you can before cooking, so it browns and caramelizes in the pan with the spices.
This makes it super crispy and adds more texture to the dish. Oh, and the inclusion of coke is such a smart choice, it adds to the BBQ-style flavor while the bubbles further help crisp up the fruit – brilliant! These wraps make a good savory breakfast, especially after some early morning exercise.
See, jackfruit is a lot better than you may have thought. Sure, it looks weird and tastes really bland on its own – but you're not supposed to eat it on its own! With some unripe canned jackfruit, you can create all of the recipes on this list.
Give them a go and let me know which ones were your favorites. If you have any recipe suggestions of your own, I'm always excited to hear them in the comments below.
If you've enjoyed these recipes, you may like my other vegan recipe suggestions;