Climbing has been part of my life since I was a teenager. It's something I've dipped in and out of as I've moved through life's different stages. From dirtbag single climber exploring the greater ranges to bouldering mother with a toddler to 50+ climbing woman rediscovering her freedom.
It's a passion that's shaped my life. At the young age of 22, I broke the record running from Everest Base Camp to Kathmandu with my friend Helene Diamantides (nee Whitaker). In the build-up to the record run, we hung out with Scott Fischer's team on the Everest North Face Expedition 1987. Mixing with the likes of Mimi Stone and Stacy Allison, left a big impression. These were inspirational women, real hard climbers, the first I'd come across. This expedition was unsuccessful but Stacy Allison became the first American Woman to climb Everest the following year.
I load-carried for a week, (helping to supply camps higher up the mountain), and borrowed clothing to stay at their Camp 1 overnight. What an experience! Camping right below the start of the technical climbing on the North Face route. My first brush with the light-headed feeling of high altitude camping at 25,000ft.
My climbing heroes
Stacy and Mimi were incredibly focused and ambitious climbers. For me, I just love the lifestyle. Nothing beats being in the mountains, breathing in the fresh pure air, the emptiness and solitude. I can be happy walking, climbing or running. I just need to get my daily dose of 'outside'. If climbers are judged on bravery, I'm down in the "scaredy cat" category, giving myself pep talks in exposed situations.
I once spent an unbelievable couple of hours talking to Catherine Destiville at the Women's Climbing Symposium. Talking to my hero. The woman quoted as saying "Without a rope, there is no fear because to fall is unthinkable".
That was the young Catherine. The woman who did that solo climb in Mali. We swopped notes about teenage sons. Just like me, Catherine was hugely relieved that her son wasn't into mountaineering. When you're young and in the scene, it's easy to overlook the danger. But my whole attitude to mountaineering and climbing changed with motherhood.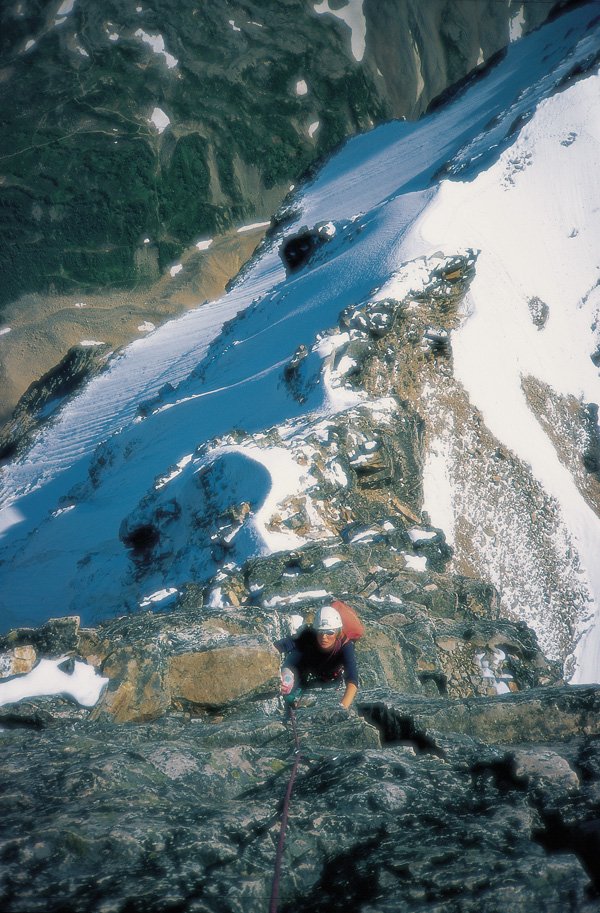 Dirtbag Climbing
I met my dirtbag climber, Andy Clarke, the father of my child at Everest Base Camp. We were climbing Lhotse the year after the terrible 1996 storm that claimed the lives of 8 people, including Scott Fischer. It's upsetting to think about Scott dying alone on the mountain. You'd think a tragedy like that would put people off climbing Everest. It's strange but I think when you're there, in the rarified atmosphere, reason leaves you. Even climbing through the icefall, I never really thought about the danger.
It's cliched but Andy swept me off my feet and we're still together 20 years later. Andy was one of Margaret Thatcher's dole climbers, surviving on his wits through the eighties before scraping a living as a climbing guide. When we met, he owned the clothes he stood up in, one rucksack, his climbing gear, and the belongings in two cardboard boxes. A complete contrast to my 9-5 lifestyle working in the Corporate World.
With Andy, I explored the World with new eyes. From rock climbing in the Bugaboos to snowy peaks in Bolivia, I almost became a good climber! And my fear of falling was frequently challenged as the technical grades of our climbs edged upwards. It was an extended honeymoon period with the whole World to explore and no responsibilities…
Until my son was born.
Becoming a Climbing Mother
As soon as I gave birth, my bravery just evaporated. I didn't have a huge amount to begin with, but I had my good days! Mixed up with the overwhelming love for your newborn child is the realisation that this baby needs you. That if anything happens to you, this child will grow up without a mother.
Any desire to continue mountaineering whithered and died. Even now that my "baby" is almost 18, I still don't think I'm ready to put myself in dangerous situations again. I did have one last moment of madness. I dropped my toddler at nursery (we were living at Gare Loch), drove to Glencoe and popped up Curved Ridge in my training shoes on a wet Autumn's day. At the time it felt like a last blast of freedom. It also felt so irresponsible.
To begin with, a baby can go anywhere. They're light to carry around and stay in one place when you put them down. I managed a sport climbing trip in the Costa Blanca when our son was just 6 weeks old. It was a little difficult climbing with the sleep deprivation (and constantly listen out for a waking baby). Plus it wouldn't have worked without some friends on hand to help.
Climbing with a toddler is more of a challenge. We tried sport climbing at a quarry not far from home. Oh boy! The panic! I'm belaying Andy on quite a challenging route. I look round to check on our two-year-old who was playing with his cars nearby and hear "Look Mummy, I'm climbing just like Daddy". Belaying and toddlers don't mix. My son's other trick was to "Help Mummy belay" by pulling on the rope.
It just takes a few times like this to discover bouldering, the young child-friendly sport. No belaying. You get to take it in turns to climb. Plus we'd moved to Northumberland by then and everyone boulders at our local crags…
A 50+ Climbing Woman
If you look through all the family snaps, our son gets bigger but the scenery stays the same. A growing boy happily playing at the foot of a crag or amongst a field of boulders. His hide and seek skills were honed to perfection. Now, nearly grown up, he's exceptionally fit and, just like his parents, always happy to be in the outdoors.
My job as a mother is done (well in theory)…
So what next?
I'm beginning to taste the freedom again. Getting a little bit braver…A multi-pitch climb on the Puig Campana. A scramble along the Bernia Ridge… It's a World of possibility…Could be a good excuse to update my climbing clothing…
If you're a climbing mum (or mom), add a comment. Do you still climb?
Like the post? Want to see more? Sign up for my newsletter to never miss a post…