Denim jeans – reliable, durable, comfortable, and great to look at. We all own a pair or two or three… So why not wear jeans for hiking? I'm sure most of us have tried. And sometimes we've got away with it – sort of. So the question is…
Can I wear jeans while hiking?
Yes but it's rarely a good idea. In hot weather, a pair of jeans is heavy and sweaty. They can be abrasive to walk in and cause skin chafing, and they're terrible in the wet. Jeans take forever to dry – so once wet they stay wet, leaving you cold and uncomfortable. There's a genuine risk of hypothermia wearing jeans hiking on cold weather days. Wear jeans on a wet day with cold wind chill and it will be an unpleasant and potentially dangerous experience.
This review is based on my own independent product knowledge and testing. If you like what I do, you can support me through my chosen links. I may earn a commission but it's at no additional cost to you. Learn more about my product recommendations.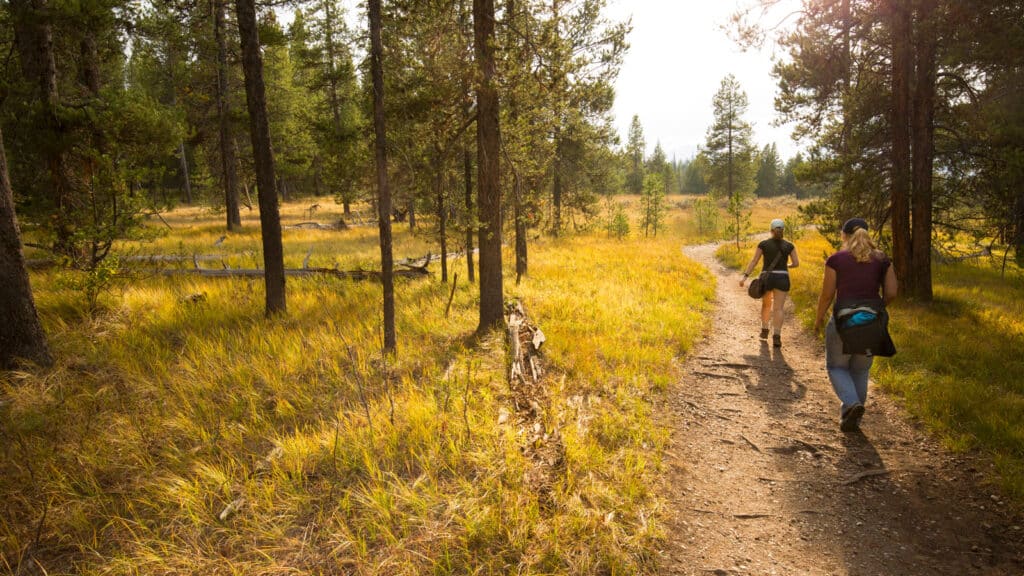 When is it okay to hike in jeans?
Hiking in the great outdoors in a pair of blue jeans can look fantastic in your Instagram pics. In reality, there are few things more uncomfortable than taking a hike in stiff, denim jeans.
Avoid wet jeans
If you think you're up to it, there are a few ground rules. First, the weather has to be on your side. Not too hot or you'll be wishing you were wearing shorts or light pants in synthetic materials to avoid sweat-soaked chafing. And definitely not wet or cold. Jeans will just soak up any rain and get really heavy – they can even freeze in sub-zero weather.
Stick to short day hikes
Secondly, keep the hike short. Jeans are fine for a leisurely short hike or walk on a cool day. Just make sure you won't end up too far from the trailhead wishing you were wearing something a bit more comfortable.
Wear durable denim fabrics
Thirdly, they need to be tough heavyweight denim jeans, (or you need to be walking on an easy trail with no thorny undergrowth). Those skinny jeans in lightweight denim can rip easily – hiking in them is a good way to destroy your favorite pair.
Go for stretchy jeans
Lastly, it's best to choose denim jeans with a little stretch. I'm not talking skinny jeans. These will quickly become uncomfortable on a hike. Instead, you want to hike in jeans with a relaxed fit and a little stretch. Jeans that will give a bit if you're taking any high steps on a trail.
I'll hike in whatever I happen to be wearing if it's a short hike in good weather. Any other time it's a bad idea and I'll change into hiking pants or leggings before I head for the trail.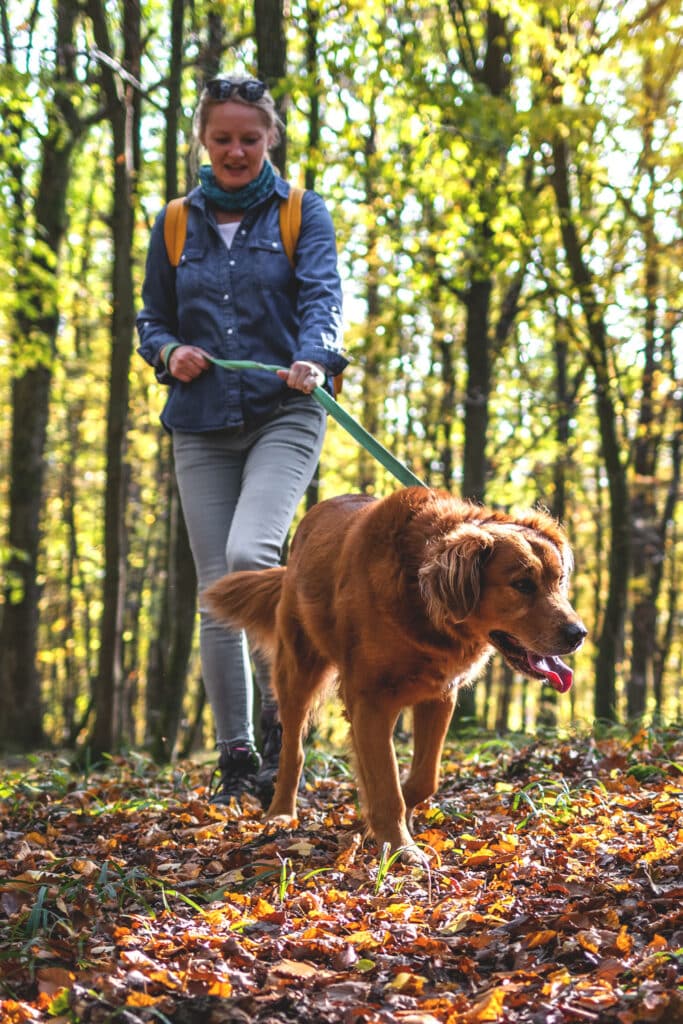 When is hiking in jeans a great idea?
I know I just said it's a bad idea to hike in jeans, but lots of people do it. So let's have a look at why.
When Jacob W. Davis and Levi Strauss invented jeans way back in 1871, they didn't have hiking in mind. But they were creating simple, sturdy outdoor wear. Trousers that could stand up to the wear and tear of miners, farmers, and cattlemen. Reliable garments.
And that's why some people love hiking in jeans. That tough fabric can be great for serious bushwacking. Heavyweight denim is practically indestructible. It seems immune to thorns and revels in the dirt.
Here are some main reasons why people hike in jeans:
Jeans are reasonably warm making them ideal for chilly morning hikes or evening walks in the woods.
When you're hiking in tall grass, jeans offer protection from ticks and other insects that might be lurking in the undergrowth.
Compared with thin synthetic hiking pants, jeans offer some extra padding against sharp rocks and branches.
So people aren't just hiking in jeans to look good. But let's be honest, there's nothing more stylish than a pair of well-worn jeans. So if you want to turn heads on the trail, go ahead and rock your denim.
When is hiking in jeans a terrible idea?
I live in the English Lake District. We have fantastic scenery but also the highest rainfall in England. It rains a lot, and weather forecasts are rarely 100% reliable. In winter, (and even summer), I'm often hiking in wet weather and cold temperatures.
That's why I'm not a fan of wearing jeans on my hikes. I'd be hiking most of the time in wet clothing. If you hike wearing jeans you need reliable perfectly fine weather. Warm weather is best – not too hot, not too cold, and definitely not wet.
Denim is made from cotton and cotton fabrics are a terrible choice for hiking clothes in wet climates. Wet clothes made from cotton take a long time to dry out unless you're somewhere hot.
That's why there's a big difference of opinion about suitable hiking clothes when you compare the views of different countries. In dry regions of the United States, hiking in jeans is seen as okay. Even specific hiking pants are often made with cotton blends.
But in countries like the UK, where it rains often, jeans are a big no-no for hiking.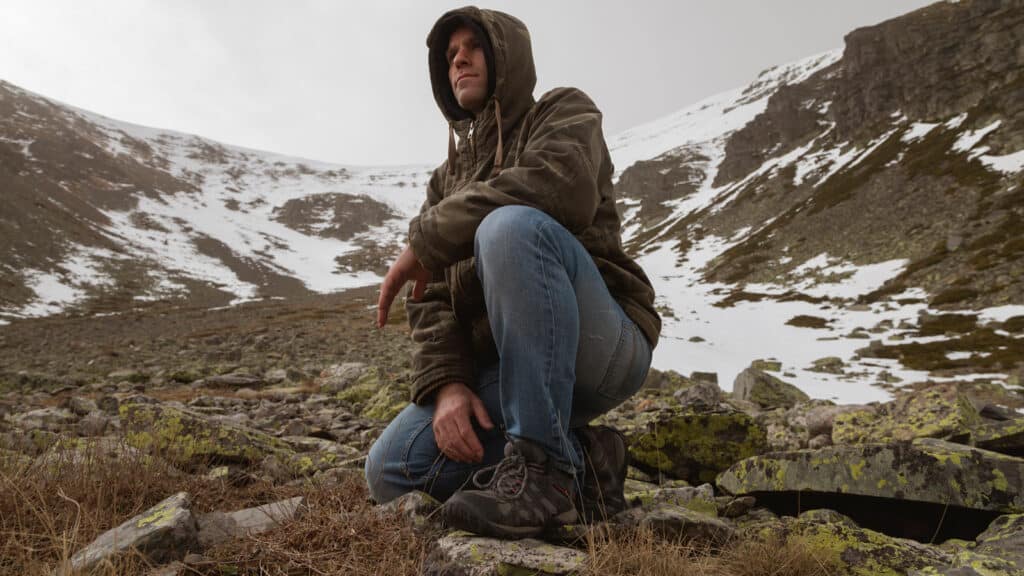 What Pants Should You Wear While Hiking?
Your choice of hiking clothing depends on the climate and time of year. Hiking clothes in synthetic fabrics work best and can be so much more comfortable on longer hikes. The best hiking pants are normally nylon pants or a polyester mix in durable ripstop fabrics. You'll find it makes a huge difference on serious hikes if you switch to wearing specific hiking pants instead of jeans.
(The exception to synthetic fabrics is clothing made from merino wool which can be good as a base layer. It's an insulating fabric that works well in really cold temperatures. Wear merino wool leggings under your jeans or hiking pants if you need an extra warm layer).
In warm weather opt for lightweight pants in moisture-wicking fabric. If you're exerting yourself on the hiking trail, moisture-wicking fabrics will help to keep you cool and dry instead of drenched in your own sweat. There's less skin irritation if you're hiking in dry clothing. Cotton blends retain moisture and are more likely to cause skin chafing.
In cold weather and colder climates, you'll need protection from wind chill and thicker fabrics with good insulation. Hiking pants with water-resistant protection can be a good idea although you'll still need fully waterproof rain pants to pull on over your hiking trousers in bad weather.
Hiking Pants Or Leggings?
Most of the time this is just personal preference. Leggings can be a good choice. They're comfortable to wear, normally made from moisture-wicking fabrics, and can be great in fair weather. A lot of trail runners go hiking in their running leggings.
Leggings are not so good in cold windy weather. You need fabrics with a tighter weave to keep out the wind. Go for a hike in leggings on a beautiful sunny day, and you'll probably be fine. But if the weather takes a turn for the worse, you might regret not wearing hiking pants.
Ideas For Hiking Pants
If you think jeans are the only way to go if you want to look great on the trail, think again. And yes I know how you look shouldn't be high on your priority list when you're hiking – it's way down on the list after safety, enjoying nature, fitness…etc.
It's just that we all have our foibles and if you're buying hiking pants you might as well buy ones you love. These ones from Prana don't just look good, they're really high performance. Water-repellent in a durable stretch nylon fabric, these hiking pants are breathable and quick-drying. They come with UPF50+ protection and lots of pockets. My guy is capable of destroying just about any outdoor gear but so far these ones are indestructible. There are lots of different colors but I really rate the camo version!
For women, the Prana Halle Pant is the hands-down winner. And yes I do have more than one pair of these – just in case one is in the wash. They even have jean styling – so you might find yourself wearing them around town as much as on the trail.
Are You A Fan Of Hiking In Jeans?
Personally, I'd never use jeans for a long hike. I find they're a good option for general outdoor use such as camping, but for hiking – there's too much risk of ending up with wet heavy jeans. Even in hot climates, you can end up negotiating creek crossings with the risk of getting wet, so they're a poor choice for a hiking trip.
If you'd like to know more about what to wear hiking, take a look at my Hiking For Beginners Guide.
If you feel differently I'd love to hear your views about hiking in jeans. Please share your experiences in the comments below.