Running in the rain can be enjoyable, (yes really), but only when you have the right clothing. There are no prizes for getting wet and cold. But with the best rain jacket for running, you can even look forward to splashing around in those puddles.
Best Running Rain Jackets 2022
Tried and tested top picks for runners!
This review is based on my own independent product knowledge and testing. If you like what I do, you can support me through my chosen links. I may earn a commission but it's at no additional cost to you. Learn more about my product recommendations.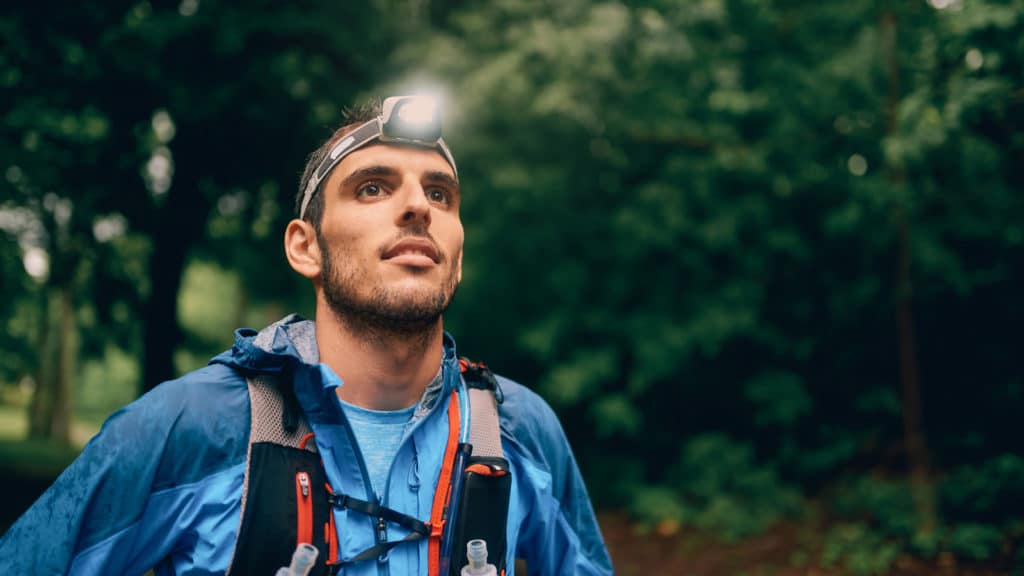 Choosing The Best Jacket For Running In The Rain
Let's dive in and look at the full feature set for the best jacket for running in the rain.
Runners note: there are good reasons why running jackets can have such huge price differences. When it comes to Tips For Running In The Rain, a running jacket that's fully waterproof is essential to keep you safe and dry.
Features Of The Best Rain Jacket For Runners
I'm writing this post from just about every angle. As a former manufacturer getting to grips with sealed seams and waterproof technology, as a former buyer for my own outdoor store, and most importantly, as someone who's spent a lot of wet days running.
Over the years I've discovered runners will spend huge sums of money on their shoes but are reluctant to part with their cash to get a good rain jacket. That's all very well until you're stuck in a downpour several miles from home.
Suddenly the cheap jacket you got at your local superstore just isn't quite up to scratch.
Waterproof Terminology
What makes a jacket waterproof?
The bar is pretty low for what counts as a waterproof jacket. Fabrics are tested using a hydrostatic head test. It's a simple test where a long, one-inch diameter tube is placed over the fabric.
Fill the tube up with water until this water starts leaking through the fabric. This gives you a waterproof rating in mm. In the UK you can call a fabric waterproof if the hydrostatic head is 1,500mm or greater. Think about it in terms of your jacket staying waterproof until it's been rained on by 1.5 m of water, (almost 5 feet).
Does that sound like a lot to you? It does until you realize there's no accounting for wind-driven rain or the pressure of soggy backpack straps against your waterproof jacket.
You can have a waterproof fabric with seams that haven't been sealed or a poor design that lets in water via zips, cuffs, or a badly shaped hood.
Check for fully seam-sealed in the garment description, look for good cuff closures, and a hood you can cinch close to your head to stop water running down your neck. A brim or peak on the hood will help keep water off your face.
Most good manufacturers consider 10,000mm to be the minimum specification for a fabric classed as waterproof. If you're an ultra-runner, running with a backpack or race vest, and really need to stay dry, go for a 20,000mm+ hydrostatic head.
Do you need a waterproof running jacket?
Just because you're running in the rain doesn't mean your jacket needs to be waterproof. Just think about waiting for a marathon to start when it's pouring down with rain.
Marathon runners often line up on wet days wearing a bin liner. From an environmental point of view, it's not the best practice but for just a few cents, you have a practical waterproof jacket.
Do these runners keep their bin liners on when the whistle blows? No, of course not.
A bin liner is completely waterproof. It's also totally lacking in breathability. If a fabric isn't breathable, you just end up being soaked in your own sweat. Try it sometime!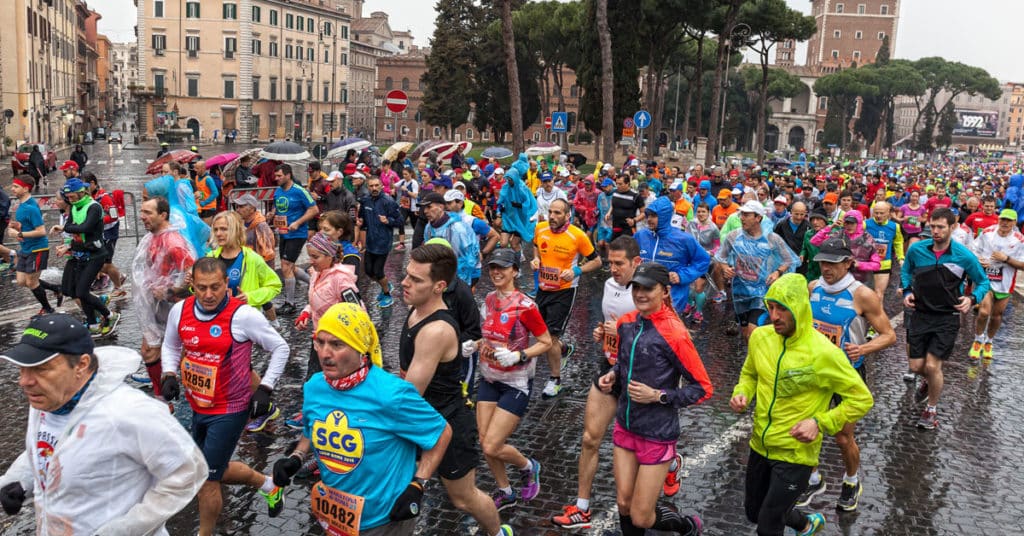 Types of water-resistant running jackets.
There's a linear scale for most fabrics. On one end are completely waterproof fabrics with zero breathability and on the other, completely breathable fabrics with zero waterproofness.
Manufacturers try to break away from this scale with waterproof membranes, (the best known is Gore-Tex) and Durable Water Repellent (DWR) coatings which cause water droplets to bead and roll off the outer fabric layer instead of wetting through the fabric.
Just think about the demands of a runner. You want a jacket that's lightweight, completely waterproof, and so breathable all that sweat will still escape through the fabric, even if you're running uphill! That's a very tall order!
Breathability is measured in terms of the number of grams of water vapor that passes through a square meter of fabric over a 24 hour period.
The bigger the number, the more breathable the jacket. If you're running, you need this number to be 15,000 to 20,000g/m2 or more. That's going to be expensive if you also need your jacket to be waterproof.
I have a few softshell jackets that are excellent to run in. The fabric is soft to touch, more substantial than a thin waterproof shell, windproof, and treated with DWR.
I'll often run in a softshell jacket in winter for warmth, protected from wind and light showers. My fully waterproof shell will be stashed in my running pack just in case the weather turns nasty.
When it's better to get wet than run in a waterproof jacket.
Most road runners only need a water-repellent jacket treated with a DWR coating. These types of jackets will give you maximum breathability and the coating will keep off some of the rain.
The jacket will trap a warm layer of air around your body and keep out the wind. Provided you're not stopping for any reason, you should stay warm, if rather wet if you're running in heavy rain.
That's going to be better than heading out in a waterproof jacket, rapidly overheating because it isn't breathable enough, and having to unzip the jacket to cool down. Result: you get wet anyway.
Fully waterproof jackets are essential items when you're running on trails and in mountains where the weather can change and catch you out. Here protection from the elements saves lives. When you're running on the roads, good breathability is more important.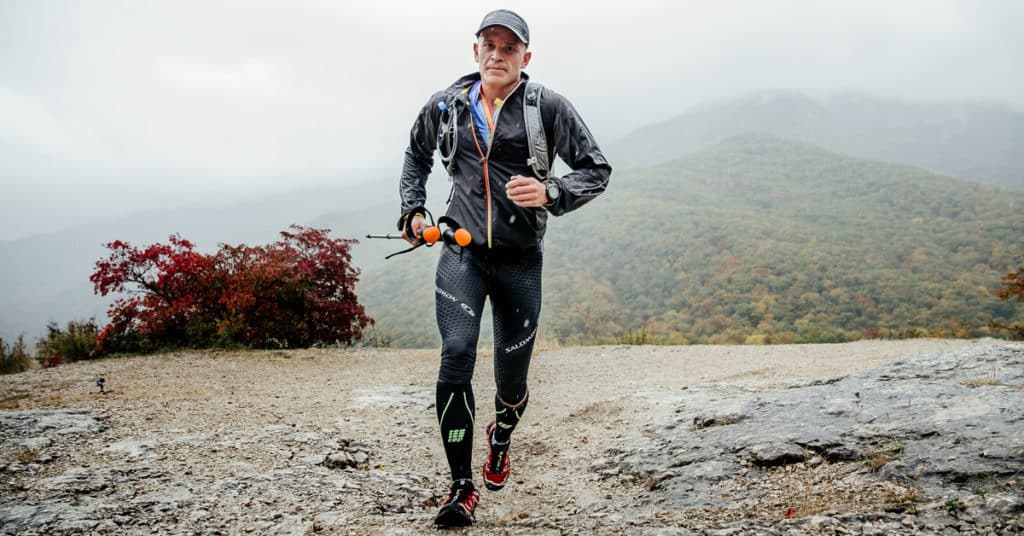 How long will you be running in the rain?
This can be difficult to get your head around. There's a time element to waterproofness. If you stay out in heavy rain for long enough, even the best jackets will struggle to stay waterproof. Think back to that hydrostatic head test. All fabrics fail eventually.
For short road runs, you'll be back before you even notice you're getting wet. For longer runs in the hills, a jacket might need to keep you dry and safe for several hours.
Lightweight Running Jackets
When it comes to running clothing, lightweight is top of my wish list. I have no desire to carry extra weight unnecessarily, and lightweight shoes and clothing can help with performance.
It's the same with running jackets. The lighter they are, the easier it is to always have one with you when you run on the trails – even on days when the sun is shining. You can never be certain when the weather will change, a mistake these ultra runners paid for with their lives.
In winter, running in the hills, I will opt for a more substantial jacket. If the weather is really bad I'll even wear an alpine jacket. There's a balance between lightweight and protection, and it all depends on your running conditions.
Trail Running Jackets Vs Road Running Jackets
Although most trail running jackets will work equally well for your next road run, there's one major issue to think about – visibility. Can you be seen by motorists?
Trail running jackets normally lack reflective details and often come in darker or muted colors. It means motorists will struggle to see you, especially in poor light.
A jacket designed for road running often has extra features such as pockets for your phone and snaps to stop your jacket from flapping when venting.
You can often get away with a heavier jacket for road running – just because you're only going to put it on if it's already raining when you leave the house.
Pockets For Your Running Jacket
I do like a pocket or two in a waterproof running jacket. Fortunately, the best rain jacket for running now has one.
Unfortunately, I have an early version of the Arc'teryx Norvan SL Hoody from my days as a buyer and it's missing any pockets. That's inconvenient when you're out for a quick run in the rain and need to stash your car keys.
Of course, adding pockets adds to the weight, so before you buy think about if you really need them. I always think one pocket is almost essential and it's best to have it on your chest so whatever's in the pocket won't get in the way as you run. Large hand pockets are just for walkers.
Hood Design For Good Running Jackets
Hood design can make or break a running jacket. Even the best brands struggle to get this right.
For a good running jacket, the main center zip will zip up to above your chin and have a soft fabric chin guard to protect your skin from the zip in cold weather.
The hood should be fitted and adjustable – not everyone has the same sized head! You need to be able to cinch in the hood to fit closely around your face.
A peak makes a big difference. It may just be created with stiffened fabric but it can make running far more pleasant in truly wet weather.
Reflective Details For Running Jackets
If you run on the roads, you need to be seen by motorists. When choosing your running jacket for road runs look for reflective features or even go for a full-on high viz jacket. A fluorescent jacket will really stand out on a dark winter run.
There are some clever designs available such as this jacket which lights up in a car's headlights. Other jackets sport reflective details on trims and zips.
Reflective details aren't essential for a running jacket. Even for urban running, you can avoid having a reflective jacket. Instead, wear a reflective vest, use safety lights or reflective bands.
Top Picks For The Best Rain Jacket For Running
These are my top picks from jackets for road running to fully waterproof jackets for running in the mountains.
Best Overall: Arc'teryx Norvan SL Hoody
Fully waterproof and super lightweight. The Arc'teryx Norvan SL Hoody comes in both male and female versions.
PROS: Exceptionally breathable, reliably waterproof, single pocket, packable, excellent hood design
CONS: It's a big investment $$$ but on the plus side if you look after it well this jacket will last for years.
I was extremely lucky to test an early version of this jacket in my role as a buyer. It rapidly became my all-time favorite jacket and I've used it everywhere. It's the only fully waterproof jacket I've tested where I can run in the rain on a cool day without overheating.
I doubt any waterproof jacket will ever cope fully with warm, wet, and humid conditions but this jacket comes close. It's a GORE-TEX 3 layer construction shell and in their usual secretive style figures for waterproofness and breathability aren't available. So you'll just have to take my word for it.
Arc'teryx have the best attention to detail I've seen out of all brands in the industry, and this jacket is no exception. It's good to see they've now added a pocket, lacking in earlier versions. The only downside is the price. You need to save your pennies for this one but it's worth it.
Best For Road Running: Under Armour Qualifier Storm Jacket
Water repellent and lightweight. There are both male and female versions of the Under Armour Qualifier Storm Jacket.
PROS: Nice reflective details, back vent for extra breathability, single pocket, packable, affordable
CONS: Limited rain protection, very fitted – size up!
If you just need a rain jacket for road running, this one will tick most boxes. It's water repellent and will keep out the wind. Just remember to reproof the jacket from time to time – especially if you keep putting it through the wash.
It's a jacket that looks good and comes with some stylish reflective features. There's a handy single pocket for your house key.
The big vent across the back helps with breathability and it packs up into its own bag. Slip it in your FlipBelt when not in use.
Best For Trail Running: Salomon Bonatti Waterproof Jacket
This jacket has stood the test of time as a favorite go-to for trail runners. Lightweight and waterproof with 10K/10K Fabric. There are both male and female versions of the Salomon Bonatti Waterproof Jacket.
PROS: Waterproof & breathable 2.5 layer fabric, hand pockets, stretch fabric for an excellent fit, back vent, and waist cinch
CONS: Expect water ingress in prolonged rain. Breathability could be better. It's best to treat the jacket before a big race if you're going to be out in heavy rain for several hours.
This may not be my top choice for trail running and ultra running, that's the Arc'teryx Norvan SL Hoody but let's be practical. Some of us have to watch the $$$.
When you factor in a budget, this trail running rain jacket from Salomon is a good buy. But the fabric does have its limitations for waterproofness and breathability.
It's a jacket to pull on only when it's raining or you'll find yourself overheating. I suggest you top up the DWR waterproofing with Nikwax TD Direct Spray-On before running in bad weather. This Nikwax spray will make just about any fabric waterproof but does it wear off, especially after washing, and needs reapplying.
This jacket has some excellent details such as the stretch fabric – great for comfort and fit!
Best For Visibility: Craft Lumen Hydro Jacket
Waterproof 10K/10K fabric and lightweight, the Craft Lumen Hydro Jacket comes in both male and female versions. It's a solid choice for road running.
PROS: Waterproof & breathable, reflective fabric on yoke and hood, hand pockets, ventilated, taped seams
CONS: Sizing runs small. Can be hard to find in the US.
Craft is a brand that always surprises me. Overlooked by some of the more high-profile brands, Craft is a brand to look out for if you want practical clothing at reasonable prices.
It's a Nordic brand crafted in the darkness. These people know all about running on dark nights. The shoulder yoke lights up in the headlamps.
Watch out for the sizing. Most people need to size up. It's a jacket that most people love wearing.
Best On A Budget: Marmot Precip Jacket
The Marmot Precip Jacket punches above its weight for the price. Waterproof with 10K/17K fabric and reasonably lightweight. It comes in both male and female versions.
PROS: Waterproof with good breathable, 100% seam-sealed, adjustable hood and cuffs, two pockets, pit zips for ventilation, hood packs away into collar
CONS: Heavier than running specific jackets
Not everyone has the budget for top-of-the-range waterproofs. The Marmot Precip Jacket is a compromise. It's a multi-activity jacket and at around 290g (over 10oz) it's going to seem heavier than the trail running jackets on this list.
But if you're still saving up for the best rain jacket for running, the Precip is a good stop-gap budget jacket for trail running. It will keep out most rain and a quick spray with Nikwax will take care of the rest.
Breathability is surprisingly good for a multi-activity jacket and it has pit-zips for extra ventilation. It's a lot of jacket for a reasonable price and a good starting point if you're trying out trail running.
More Information – Best Rain Jacket For Runners
It can take some trial and error to find the best jacket for running in the rain. Everyone has different preferences for features and fit. So just take my word for it – go and try a few rain jackets out.
If you've found this review helpful, you may enjoy my other gear-related articles: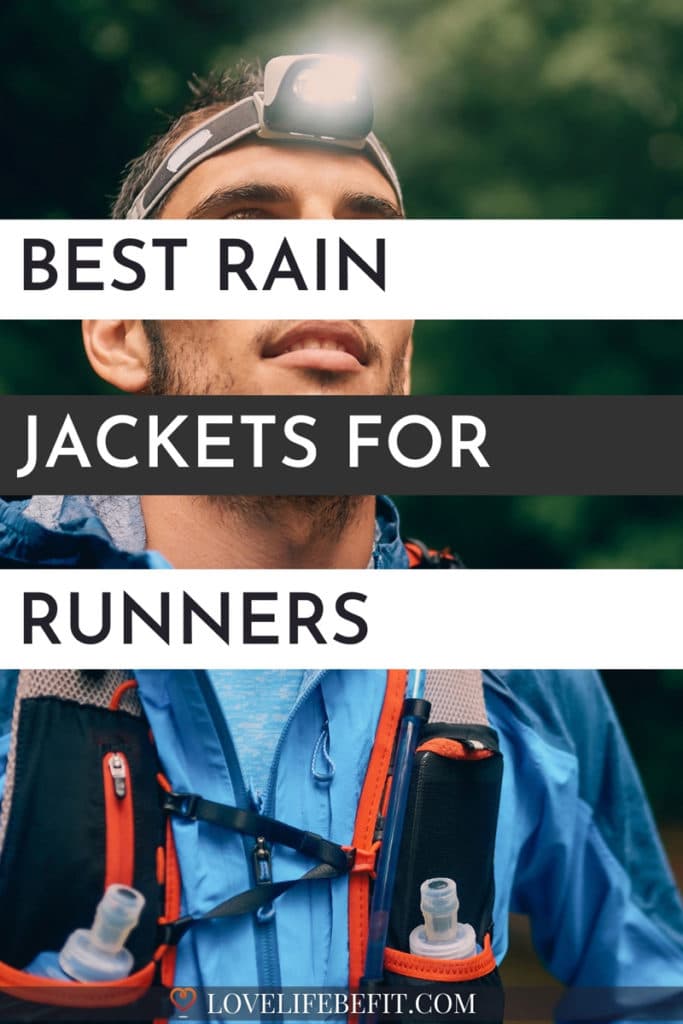 What is the best rain jacket for running?
The best overall is the Arc'teryx Norvan SL Hoody. It's extremely breathable, fully waterproof with GORE-TEX 3 layer technology, super lightweight, has an excellent hood design to keep out the rain, comes with a single pocket, and packs into its own little bag.
How do I choose a running jacket?
If you want a running jacket for all-weather, look for a fully waterproof jacket with great breathability. The jacket needs fully taped seams, with an adjustable hood, and close-fitting cuffs. Fit is important; avoid jackets that hinder movement. The jacket should be lightweight and packable if your trail running. For road running look for reflective fabrics and trims.
When should you wear a running jacket?
The right running jacket can protect you against the wind and rain. When temperatures drop you can get cold and wet very quickly without a good jacket. Running on cold days try and stay dry. Put on your running jacket as soon as it starts to rain or before you start to suffer from wind chill.