Oman is one of the friendliest countries on the planet. It's also a country with endless scope for exploration. From caving to canyoning, hiking to trail running, an Oman holiday can be filled with extreme adventure. Pack your sunblock and read on…
Majlis Al Jinn
Billed as the second largest cave chamber in the world, the entrance is via a 120 m abseil. Descend through a 30 m slot in the roof until the cave opens out beneath you. It feels as if you're hanging in space and it's a huge descent to the cave floor.
The way out is to jumar back up the rope; your whole upper body gets quite a workout! Twenty3Extreme provides trips including essential training if you're brave enough to add caving to your Oman holiday.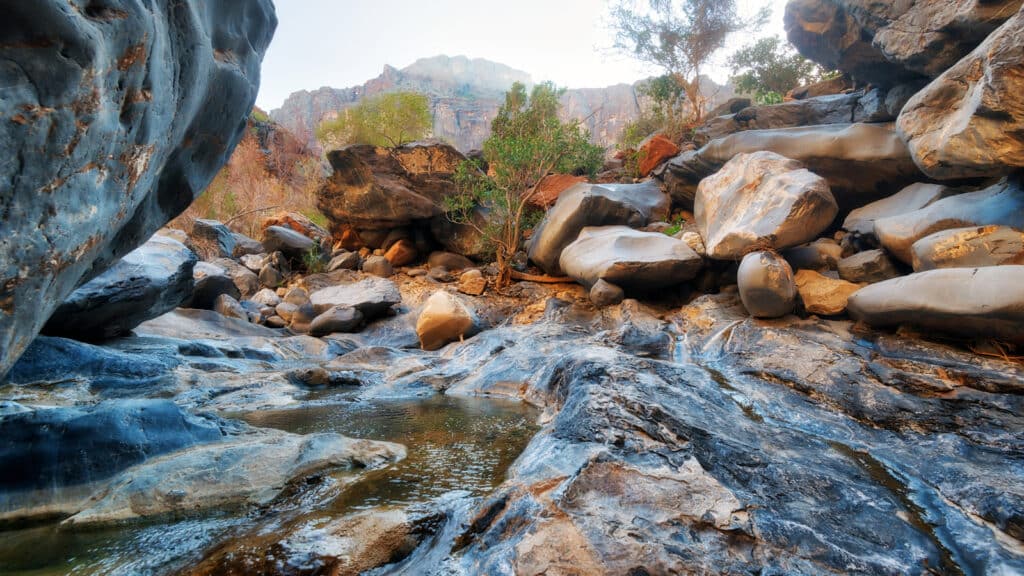 Snake Canyon
Yes, this canyon does contain water snakes but they're unlikely to bite you! The route starts with a big cliff jump (5 – 6 m high) into a deep pool. Psyching up for the jump can take a while, but there is an option to abseil. From here on in, there's no going back, the steep, unclimbable canyon sides tower above you.
The route takes 4 – 6 hours. It's a mixture of trekking, wading through pools, a few smaller pool jumps, and two short abseils. Safety is important; be aware of the risk of flash floods and get a reliable forecast. Don't go anywhere near the canyon if there's a risk of rain in the surrounding mountains.
If you're taking this trip as part of your Oman holiday, it's best to go with a guide.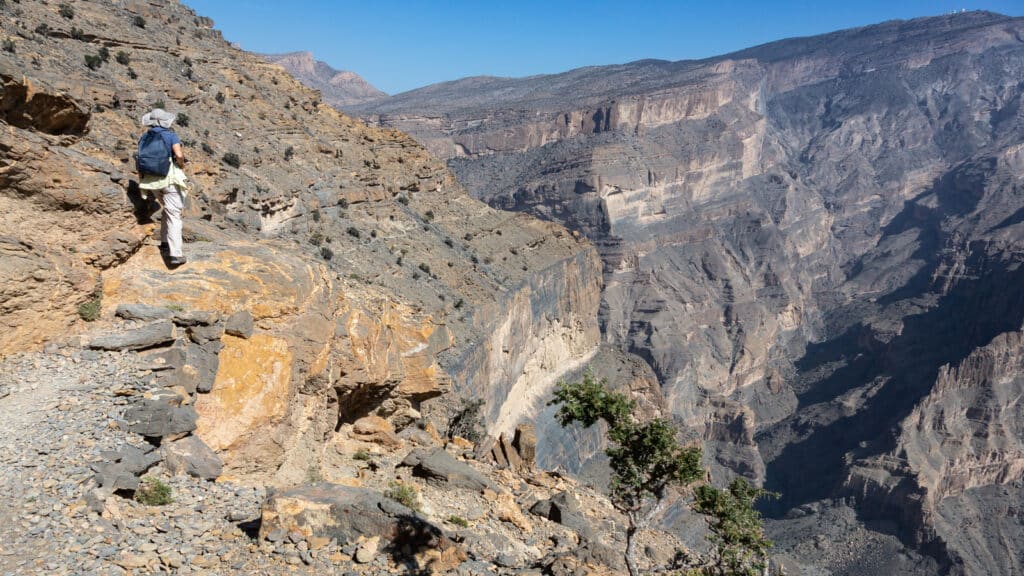 Jebel Shams And The Balcony Walk
Jebel Shams (3009 m) is the place to head when the going gets hot in Oman. You can drive to the plateau at Khateem, and hike up the mountain from there or take the Balcony Walk.
The Balcony Walk is an exposed footpath above Oman's impressive "Grand Canyon". Most of the walk is above a 900 m sheer drop with little in the way of handholds and certainly no safety rail! Not advisable if you suffer from vertigo.
You need a 4WD drive to access the plateau. Yes, you can make it in a 2WD in dry conditions but it just takes some light rain for the descent to become treacherous.
It's a must-do trip for any holiday in Oman!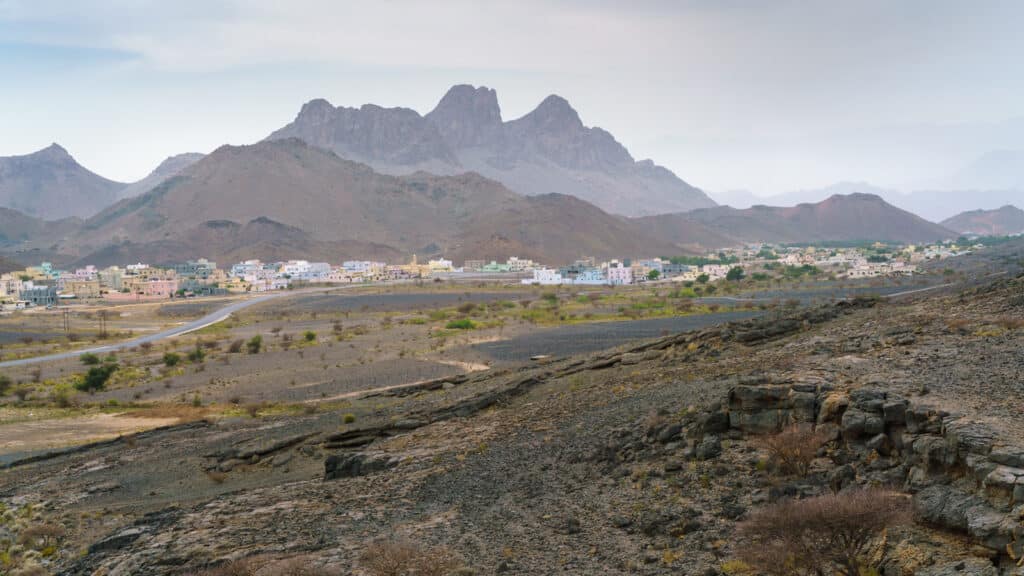 Al Hoota Cave
Formally known as Hoti cave, the lower section of this cave system has been opened up to the public complete with concrete walkways and lighting systems. Fortunately, the upper part of Al Hoota is still untouched.
Take a 6 m abseil into the upper cave entrance, followed by a longer abseil where you descend into total darkness. Follow narrow passageways that lead to massive chambers and visit the Al Hoota Lake, home to rare blind fish. It's a true hobbit experience – you'll be imagining whispers of "my precious" and expect to see Gollum emerging from the shadows.
Wahiba Sands
For off-road enthusiasts, the Wahiba Sands should be top of your to-do list. This is a real desert, with stunning dunes and solitude. Camping out under the stars, in total silence, is a magical experience. (A backup tent can be a good idea in case there's a sudden sand storm).
If you're exploring under your own steam you need to know what you're doing. Experienced sand drivers only. Go in a small convoy of at least 3 vehicles, (tow ropes, shovels, and sand ladders are essential), and take plentiful supplies of water and fuel.
There are tracks through the sands but navigation is tricky. For most people on an Oman holiday, the best option is to join a tour.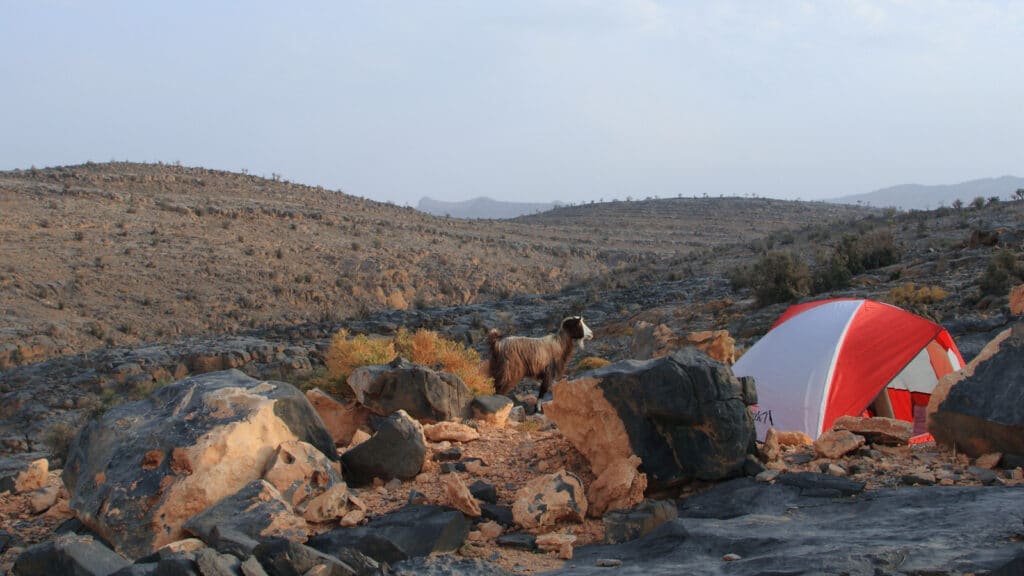 Wild Camping
There are few places on this globe where wild camping is so easy. Explore Oman's amazing coastline and take your pick of secluded coves or head into the mountain areas.
Tents are optional – most places in Oman are mosquito free. It rarely rains and the biggest risk of sleeping out under the stars is finding a scorpion in your shoe the next morning. Avoid camping in wadis in case of flash floods.
If you're camping in the mountains, it can get really cold at night in the winter months. If you're not using a tent, a bivvy bag is a good idea. It's not unusual to wake up with your bag covered in frost!
Oman By UTMB Race
I don't have direct experience of this ultra trail race but looking at the locations it could be a good way to explore some of the best mountain scenery Oman has to offer. Choose from 3 race distances 50 to 170 km, it's billed as the World's Toughest Adventure Race…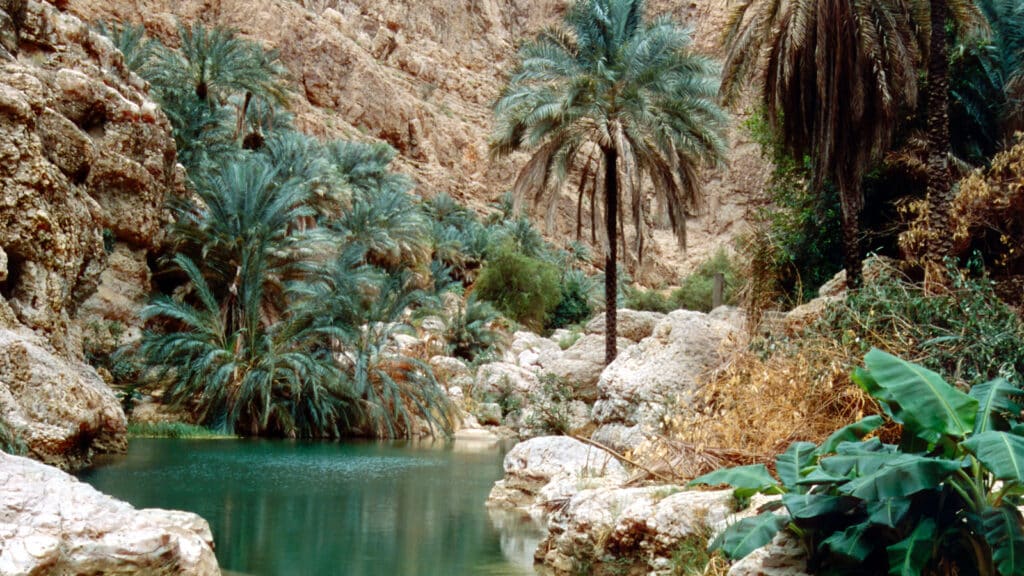 An adventure holiday in Oman is a unique experience. It's a safe and welcoming country with incredible possibilities for adventure travel. If you're planning a trip I'd love to hear your plans…